Shortly after moving in to our new house one of the first and most important projects on our list was the kitchen. Our own ~Grand Central Station~ was in need of some desperate loving when we first saw her. I had a pretty good idea of the total look I was going for however the colors and materials seem to just fall into place during the course of the project. I quickly realized how impatient I really am when it came down to actually tearing things apart. We have conquered some projects in the past but none to this extent. We were committed though to doing this project ourselves…so we (which usually means mostly my hubby) put on some gloves and got busy. On the to-do list … Appliances, cabinets, countertop, backsplash, sink/faucet, flooring, paint … well just about the entire kitchen!
Here are some pictures taken during one of our walk-throughs prior to buying the house…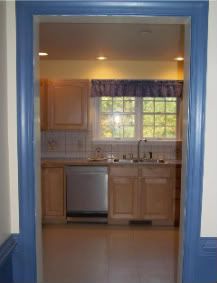 Yellow walls, cobalt blue tile countertops, a lovely Dutch style tile backsplash, white tile flooring and honey oak cabinets…a whole lot of potential just not our style as is!
The appliances definitely had seen their day and all needed to be replaced…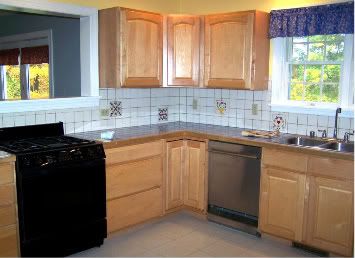 I will say that not having a kitchen for a month drove me insane! My hubby pulled through though and for the first improvement project on our list got an A+++. So welcome to the heart of our home…
Tearing up the old tile on the countertops and backsplash was quite a job. It was fun for the first ten minutes (ok I mean five) but quickly became cumbersome. I originally had my heart set on a butcher-block countertop in my visions though after visiting several showrooms and speaking to different sales reps my mind quickly changed. We were just not ready for butcher-block…well I should say butcher-block was not ready for us. Left to make a quick decision (remember how impatient I am) I was talked into porcelain 6X6 tiles for the countertop and 2X2 porcelain tiles for the backsplash. I would have never thought of using tile on a counter as I must say I was quite turned off by the previous owner's concoction of the cobalt blue/Dutch tile. After a little research and a few months of use I have to say I love it! It is perfect for us and oh so durable…I can cut on it, put hot pots and pans on it and not have to worry one bit! Definitely a great choice for us in the end!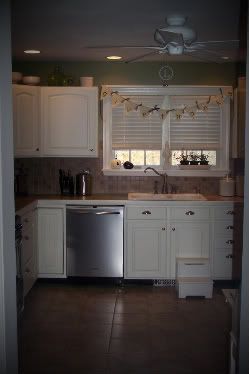 The flooring was done in coordinating 12X12 porcelain tiles. The neutral colors created the perfect background for the cabinets.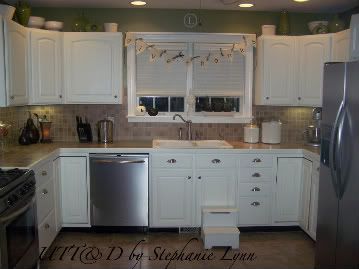 Linen white cabinets were in my vision from the start I just never thought I would be using the same cabinets that were originally in the kitchen. First thought was to replace the cabinets until we were told they were high quality cabinets to begin with. Our budget would not allow us to replace them with the same quality so I hopped on the internet and started some research. I would much rather re-do a high quality cabinet then replace it with something less just because I wanted a different color. After several days on the internet I decided to take the plunge and paint them! I used a couple coats of primer and a couple coats of paint and they were as good as new! Betsy's Linen is the exact shade I was looking for – a nice clean creamy white. We dressed the cabinets with Satin nickel knobs and cup drawer pulls to finish the look. Future plans involve molding on the cabinets…stay tuned!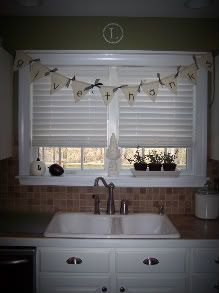 The sink was replaced with a white double bowl 60/40 sink. I love the fact that the deep bowls are contoured so larger pots and pans can easily sit in the bottom – huge plus for me! A little Vintage French Country was brought in with a Satin Nickel Price Pfister Marielle faucet. I have always loved the convenience of a single hand faucet and the soap dispenser is an added bonus!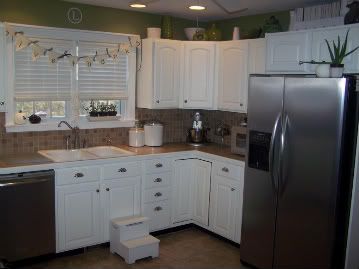 The walls were painted with Homestead Resort Olive and all trimming and molding was left bright white. I love the final look of this color with the natural tones and white. I was a little unsure about it to be honest but with the lighting the kitchen receives it turned out to be the perfect touch!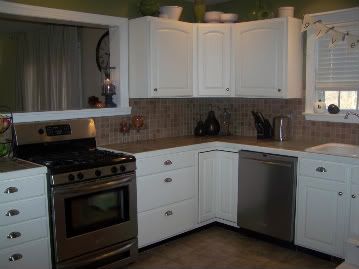 The appliances were replaced with all matching stainless steel. I made sure they all were equipped with the protective coating to reduce fingerprints and smudges this time around! Yes they make them – Real stainless steel with an overlay coating – such a great idea with a husband and a three year old – brilliant!
And the highlight of this project…my computer nestled in this white secretary located in the corner of my kitchen! I have always wanted my computer in the kitchen for some odd reason…not the laptop but my pc that holds my entire life on it. I guess it is just something about sitting in a lonely office or dedicated space that has always made me incorporate this into my plans somehow. As soon as I saw this white secretary with bead board doors I was sold. It just so happen to fit perfectly in the space and best of all I can quickly close it up when need be and it looks like a lovely piece of furniture that somehow belongs in the kitchen – love, love, love it!
Just a few side by sides…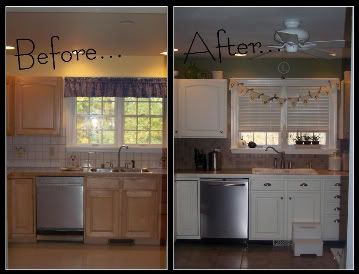 So is your kitchen the Heart of Your Home…My sure is! Enjoy! XOXO