Lately I have become very fond of stepstools, mainly because I have a charming three year old. They are the perfect little addition to any room around here to give our little charmer just enough boost to check out what is going on. You can find them in every bath we have and the kitchen as well. I have spent up to $30 for these things brand new. Now of course I am talking about the solid wooden double step stools, but still. My mom was parting ways with things she has had ~forever~ and was getting ready to toss this poor little footstool to the curb. It was definitely outdated and totally not my style but I had better plans for this little guy!
The whole entire stool was the same color wood as the inside but I went a little crazy with the white primer before I remembered to take a picture! For some reason I just can't wait to spray a little paint…I get all excited!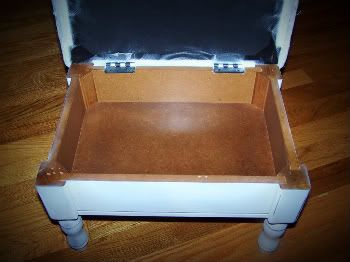 I knew with a little love this footstool would make the perfect stepstool for our powder room. I gave him a good bath and removed his lid (after I had to test the spray paint out a little of course). A couple coats of primer and two coats of high gloss white and he was on his way. I happen to stumble across a fabulous moiré' silk fabric that was the perfect color for our somewhat monotone, first floor powder room ~ It brings just a tiny touch of elegance in.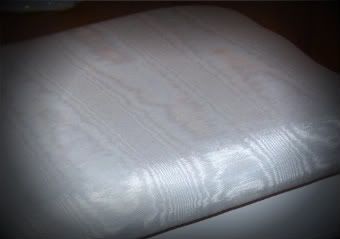 A few staples later and he was as good as new enjoying his new job underneath the pedestal sink.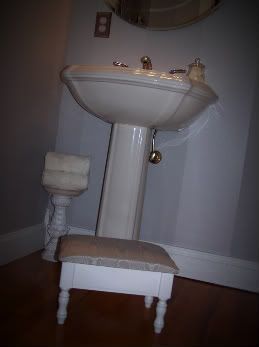 Now our little charmer can reach the faucets to turn on the water to wash his precious hands…….and make a huge mess all by himself…wait…what was I thinking!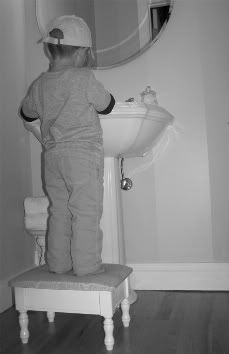 Since the footstool was free and I already had the primer and paint, the only thing I had to purchase for this little guy was the fabric. I bought .375y which covered the stool (and gave me a little extra) for a whole $1.13! Not bad for a little stool that is sturdy enough to hold my baby boy and
~Frugalicious~
at the same time! Enjoy! XOXO