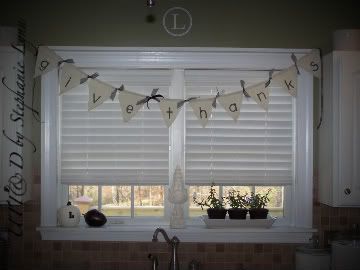 Burlap is all the rage right now – and so cost effective to use. This little banner costs next to nothing to make and it's simply an adorable way to dress up a window sill or mirror for the holidays! Added bonus – it does not involve any sewing making it quick and simple!Materials needed include: Burlap (I used a creamy white color), Pinking Shears (to give the edges of your burlap a finished look), Ribbon (I used sheer narrow ribbon to hold the banner together and pieces of sheer ribbon for decoration), No Sew Stitch Witchery (I love this stuff!), Black Acrylic Paint, Foam Alphabet Stamps, and an iron.
I made a template for the individual pendants. You can find the image
here
. Simply copy and paste to your favorite editing program and adjust to the size you would like your banner to be. I made each pendant approximately eight inches long. Print out and cut around the image for your template.Once you have your pattern you are ready to cut. I traced the pattern onto the burlap and cut out using pinking shears. You'll need ten pendants all together.Now you are ready to stamp your letters. I purchased a set of foam alphabet letters a few years ago and they come in handy for so many projects. They make getting perfect letters a cinch! I brushed on black acrylic paint and stamped each pendent – it's that easy!Once dried, you could easily stitch the pendants on your ribbon; or if you look for the easy way out you can use the no sew stitch witchery like me. I started in the middle of the banner and folded over the extra flap of burlap on the pattern – added a strip of the stitch witchery and ironed together. Each pendent takes only seconds to adhere.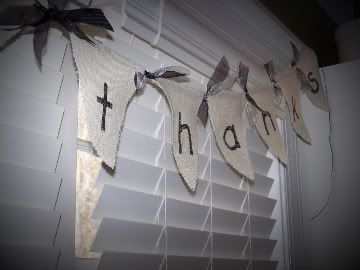 Once completed I tied strips of sheer ribbon in-between each pendent and voila… you're done! Happy Thanksgiving ~ Enjoy! XOXO