An adorable little package arrived today ~ It was so neatly packed and decorated oh so cute (lovely coordinated mailing labels).This is what was inside: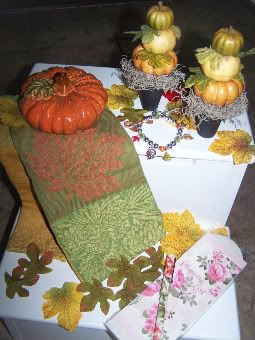 Special thanks to Tara from Just Devine Style for the box of festive goodies from her 'Just Can't Wait Giveaway'. It was so exciting opening the box and seeing all the wonderful treasures inside plus a few extra goodies she added in too! Aren't the mini topiaries just too cute ~ they are made from floral picks! What a great way to end the week! Thank you Tara!
I have two projects that I have been working on this week that I can not wait to share! =) Stay tuned!