…becasue I am going to just make them myself! I finally finished one my favorite PBK inspirations to date! I love their advent calendars, more so now that I have a counting three year old, than ever! I just don't like their $60 price tag.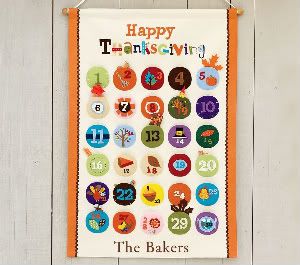 Photo courtesy of Pottery Barn Kids
I love the colors of the previous years Thanksgiving calendar and was disappointed when they came out with a
new one
for this year. I had checked EBay only to find the previous versions going for $99 – $120!!!(WHAT!?!) I was ecstatic when I read Laurel's post at
Ducks in a Row
to find out she made a version of this years calendar and it gave me the motivation to take this project on!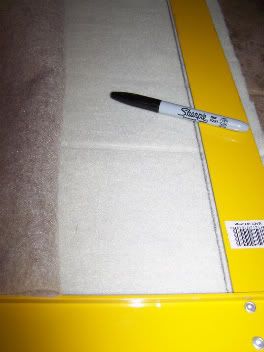 I started with two sheets of felt cut to size. I actually made mine a little different than the original dimensions to fit perfect in the space I have designated our 'calendar' nook. The main sheet was cut to 21X35 and the inner layer cut to 17.5X35. I borrowed my husbands t-square to measure and cut the lines. This is probably one of the best tools to
take
borrow from your husbands tool stash! I changed the colors of my calendar a bit as I am not a huge fan of the orange in such large amounts!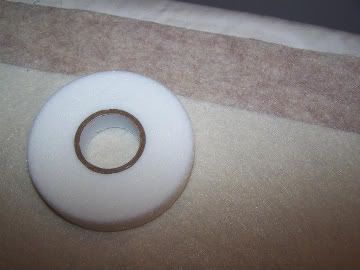 Using my *favorite* BFF, Stitch Witchery, I ironed these two layers together. If you have not used Stitch Witchery, I strongly encourage you to give it a try! It works perfectly on felt and all other fabrics and is perfect for those projects you just do not want to pull out the sewing machine for. I find this much much easier to use! Just cut a strip to size, lay between your two fabrics, place a damp washcloth on top and press with your iron set to the wool setting for 10 seconds…that's it! It creates a strong bond that you can't tear apart and stiffens the fabric just a bit for durability.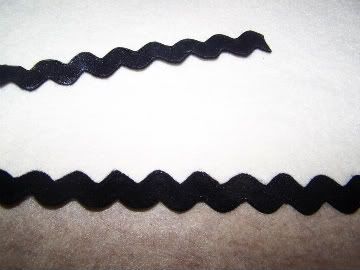 I found some great ric-rack at the fabric store that already had the stick witchery backing. I used this to cover the seams of the two main felt pieces. I just used the same iron method as above to apply.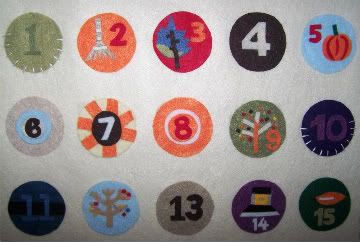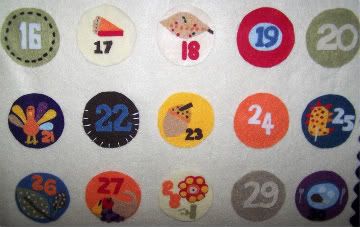 The circles were cut from a template I made in publisher. The circles are 2.5 inches to fit the size of my calendar. Once I had all thirty circles cut I was ready for the fun part of decorating…and I admit that I had a lot of fun decorating each circle! I free handed all the shapes and used publisher again to make templates for all the numbers. Like Laurel said, this is not a project for the weak as it is very time consuming. But to me a much better alternative and worth it compared to $100!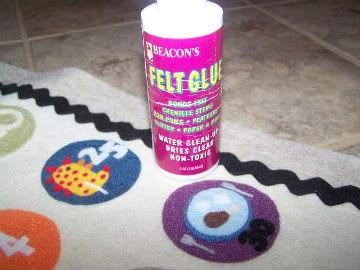 All the pieces were glued together using Beacon's Felt Glue. (Excuse the label on the bottle ~ I did a lot of squeezing!)This stuff works wonders and is the best glue for felt. If you have ever tried to glue felt together you know exactly what I mean. It dries clear so you can pile it on the smallest pieces and not worry about it looking a mess! The bond is incredible though you have to let it cure for at least 24 hours. This definitely adds to the project time but when all your pieces are dry they are practically permanently in place. Again, the dried glue stiffens your pieces for durability.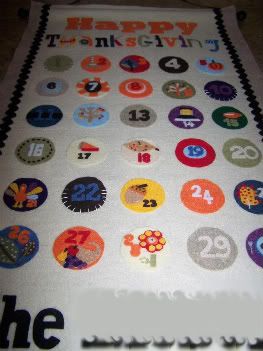 Once all the circles were decorated I used the t-square again to line the pieces up. I used the felt glue again to adhere the circles to the calendar leaving a small opening at the top. Remember after gluing to let this sit and cure – it is very important to create a strong bond.
Of course I had to add the personalization, which PBK charges an extra $6 for, but I could re-create for next to nothing using my left over felt pieces. I printed the letters again in publisher to create a template and cut out in black felt. Note: When you print in publisher make sure you change the font to outline so you are not wasting all your black ink!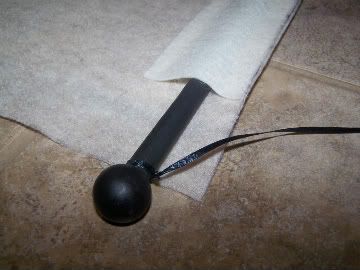 To hang I made a pocket on the back again using the stitch witchery to adhere the pieces together. I purchased a long dowel which I cut down and a pack of wooden dowel caps. Gave them both a coat of black spray paint and slid the dowel into the pocket. I used a simple ribbon for the hanger, tied to each end of the dowel.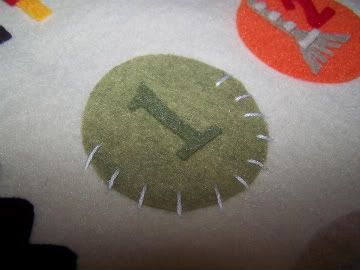 To finish off I hand stitched a few circles with embroidery floss like the original.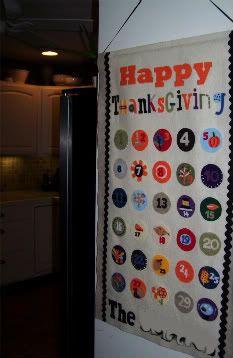 This project did take a bit of time and tedious work but I absolutely love it! I still have to make the 'what I am thankful for' cards for each pocket out of card stock but may pass on that until next year. I'm just glad I finished it in time to at least count down the last five days until turkey day! Enjoy! XOXO