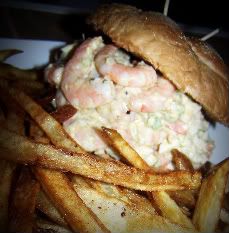 I know it is almost the end of fall and we are thinking hearty warm meals but shrimp salad is a nice refresher every now and then (plus hubby loves it and it is a quick easy meal to prepare ahead and leave in the fridge for go-to weekend snacks). I always have a tendency to jot down recipes on a tiny post it and somehow manage to keep them in a tin container so I honestly have no idea where this recipe actually originated from but it is a tried and true recipe that never fails. Now that I have it posted on here I can quickly access it in the future – hee,hee!
Ingredients
One Pound of Cooked Shrimp , Peeled and De-veined
Three Hard Boiled Eggs
Three Celery Stalks
½ Cup of Mayonnaise
Dash of Onion Powder
Salt and Pepper to taste
Old Bay Seasoning to taste
Sprinkle of Celery SaltI like to leave the shrimp whole but you can also cut them in half. Instead of cooking the shrimp myself I always cheat and buy a large bag of pre-cooked, peeled and de=veined frozen shrimp from a local grocer…shhh! To thaw my secret frozen shrimp I simply run them under cool water.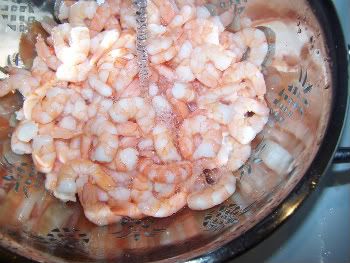 Enter one my favorite little kitchen helpers…The Mini Chopper. These things are great especially for salads as they chop food so fine.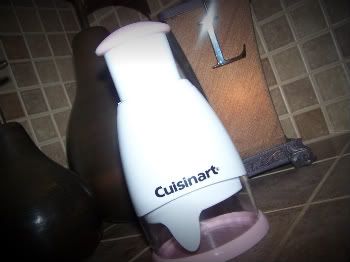 Chop, chop, chop away the celery stalks and hard boiled eggs. Tip: Here is a great article on Hard Boiling Eggs that I have been using forever! They turn out perfect every time. You can read it by clicking
here
.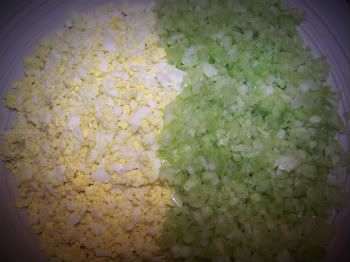 Next is the fun part of combining everything together. The seasonings are used to taste however after making this a few times you will know exactly how much to use. Start slow on the Old Bay and Celery Salt – they have the most flavor and you can easily over due it.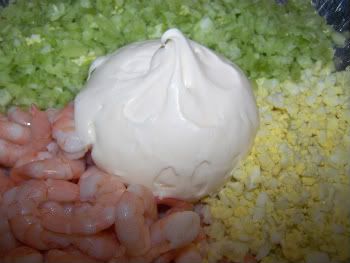 Stir, Stir, Stir….{taste}….Mix, Mix, Mix…{taste}… and your done! Plop on Kaiser Rolls with some frilly toothpicks and serve with some fresh cut fries! Ummm- Yummy! Enjoy! xoxo