I have always wanted one of these. Just something about them that I love and cannot get enough of! Even though they have been around forever you can find them now in all shapes and sizes not to mention the array of colors out there. I truly ♥ them!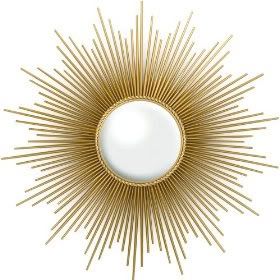 One of these babies has been on my 'look for a good deal' list for ages! I have particularly had my eye on this beauty but at $239.00 and the fact that it was gold I just could not pull the trigger. There had to be away around this!
I happen to stumble across a 10 inch beveled edge round mirror for $3.99 and it bloomed from there! The mirror was in the candle section so I believe it was meant to be used as a candle plate.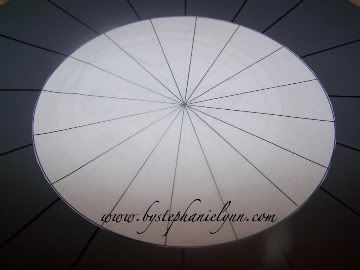 I brought the mirror home and began my layout. Using Publisher I created a template by dividing a circle into 16 'slices'. You can find the template
here
. I then printed this baby out and glued onto the back of the mirror. You can see this was my second method as I originally tried to draw lines directly on the mirror itself…trial and error…as this did not work as I thought it would!
I purchased two packs of wooden skewers from Wal-Mart at $0.97 for a pack of 100. You can also find these at your local dollar store. You have to sort though them once you open the pack because a lot of them are bent and not perfect. Still you will be able to find enough in a pack of two to complete this project. I simply used the grout lines in my tile as a guide to finding the good ones…hey, it worked!
I started by gathering sixteen good sticks and marking them all one inch from the pointed side. These will be the main sticks used to create your starburst pattern. Get your glue gun ready girls because it will be put to the test for this one! Using the template as a guide I began gluing the sticks on the designated lines; making sure the marked lines matched up with the edge of the template as shown. Be very generous with your glue gun…it is your friend during this project!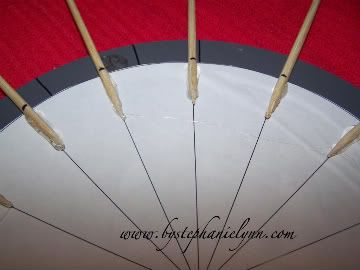 Once all sixteen skewers are in place you are ready to create your sunburst pattern. I used my inspiration photo as a guide; however you can create any pattern you wish.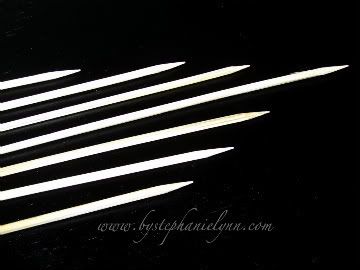 I started with six sticks laid out in the pattern above which I repeated in-between each of the original sixteen sticks already glued to the mirror. You will have to trim some of the sticks in order to get them to fit – I just cut off the ends.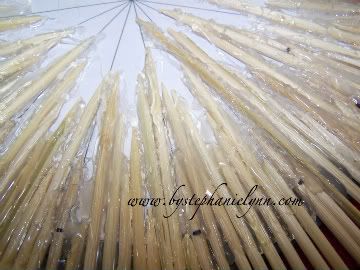 Work your way around the entire mirror using the same pattern. Once I completed each section I went back and filled in any empty spaces with additional sticks cut down to fit. I also went crazy with the glue (can you tell) to ensure a ~forever lasting hold~. Fill in every nook and cranny; I even went as far as putting an extra layer of glue on top of all the sticks! (a little glue over kill doesn't hurt)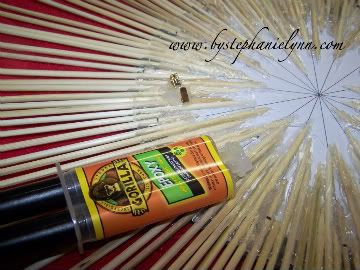 Once my mounds of glue were dried I attached two simple picture hangers on the back with Gorilla Glue. I piled on the glue here too and left to dry for 24 hours. I know this looks like one hot mess but I promise it gets better! After
impatiently, watching and tapping my fingers for 24 hrs
the glue has dried I took braided picture wire and threaded it through the hangers and wrapped together, twisting the ends.
Now your ready for the paint! I carefully covered the face of the mirror with saran wrap and taped off the edges. These little sticks soak up a lot of paint and need a couple of coats. I started off with a couple coats of flat black spray paint. Once I had a nice base coat I topped it off with two coats of Krylon Satin Oil Rubbed Bronze.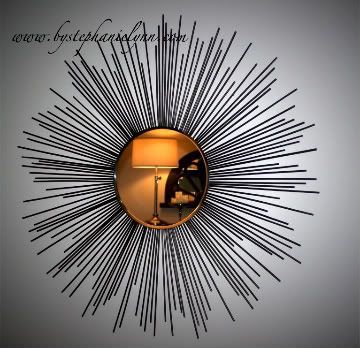 My finished mirror measures just over 32 inches in diameter and has found its home rested on the perfect wall in our dining room.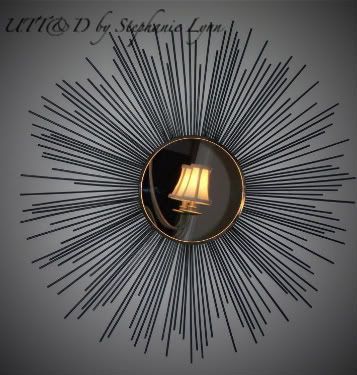 For just under $6.00 ($3.99 Mirror + $1.94 Skewers) I am more than ecstatic to say I now proudly own my own starburst mirror!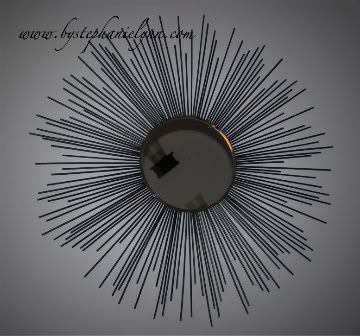 Now I can cross this baby off my list! Enjoy! XOXO