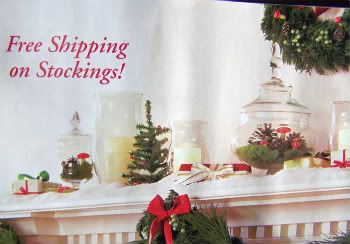 Photo Courtesy of Pottery Barn Kids Catalog
Have you seen these faux moss terrariums in the PBK catalog? I have ~ and I just adore them. Something about them makes me want to crawl inside and sit peacefully for a few hours! Although I love the mushrooms I decide to add my own little twist to this one.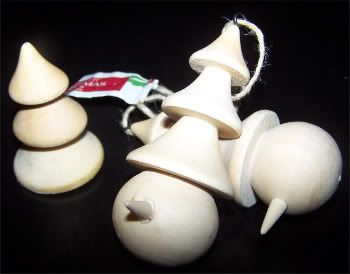 While at Michael's Craft store I found these little unfinished wooden ornaments on sale for 50 cents each. I am pretty sure they are suppose to be snowmen, or something of the sort, but I loved the look of the top which reminded of wooden carved trees that I have seen around. I have Googled ever possible name for these guys and can not find a picture – so if you know what I am talking about please let me know! With a little saw action I cut the ball off and was left with the perfect little tree.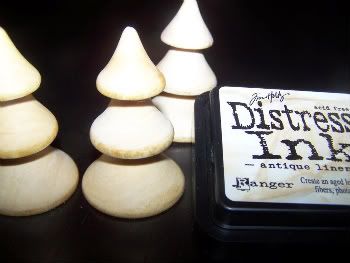 To make the edges a little darker I used my Tim Holtz Distress Ink pad and gently rub around each layer.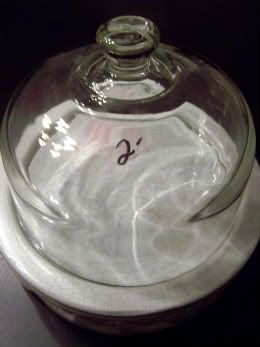 Browsing my local thrift store I stumbled across this find! What a steal at $2.00 ~ yes, you are reading that correctly $2.00. The kind of score that makes you giggle as you slowly pick it up and try to act as if you are not sure you really want this piece of crap…meanwhile, your heart is pacing and you are nonchalantly looking over your shoulder to make sure no one is behind you ready to wrestle you to the ground for it! Yeah, that kind of deal. A couple coats of Rustoleum Heirloom white to the base finished with some acrylic antiquing and this baby was ready to go!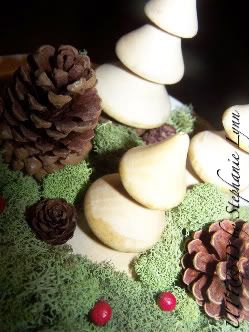 I started by arranging the trees on the based and added some mini pinecones. Then I went back and filled in all the open spaces with a nice layer of reindeer moss. To finish I popped off some red canella berries and randomly placed them about. The original lid was a bit too short for the trees so I had to use a lid from another cloche I had that just happen to fit perfectly.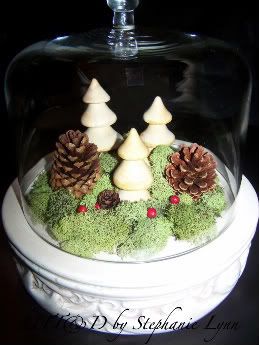 I love how this little whimsical world came together. Anyone wanna come sit and dream for a while? Enjoy! XOXO