Just wanted to share these adorable rag balls with you all. They are so easy there is almost no need to explain! I actually forgot about these little guys until I needed a filler for a ceramic basket that sits atop my secretary desk in the kitchen. (Yes, I am still decorating every nook and cranny for Christmas) These were perfect!
For the base I use wiffle balls. You can find these at the Dollar Tree in packs of two for the large size. They also have baseball size and minis too! You can also use styrofoam balls or practice golf balls which are made just like the wiffle balls just smaller.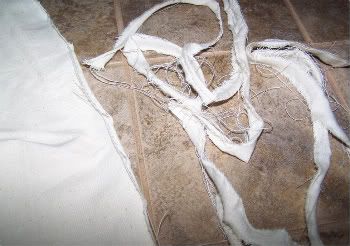 The only other thing you need is scraps of fabric. I have used everything to make these little guys; old quilts, flannels, calicos, yarn, twine ~ really anything works! For this project I chose muslin and burlap (they fit with my theme and I had them on hand). I started by cutting my fabric into 1/2 to 3/4 inch strips. For the muslin I simply cut a starting point and tore my strips – I love that worn tattered look! The burlap I had to obviously cut.
All that is left is to wrap the balls! I use a dab of hot glue at the beginning of each strip as well as the end.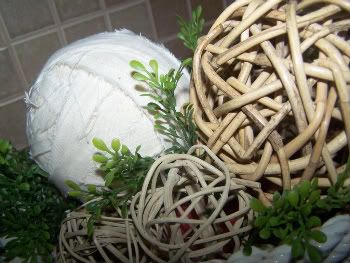 There you have it ~my bowl fillers!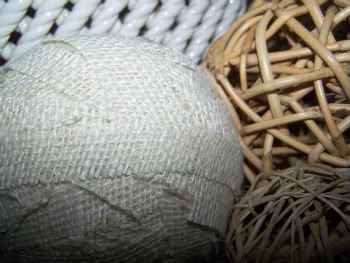 And the burlap just for all you crazed fans!
And here is Frosty. (For him I used tea-stain muslin and painted on his face with acrylic paint) The possibilities are endless! Enjoy! XOXO