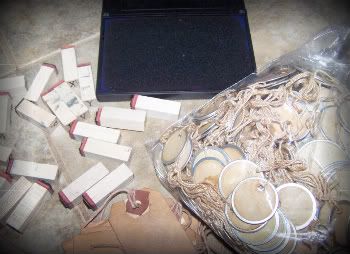 I started by taking several metal rimmed paper id tags and simply stamping different letters in black ink. I adore these little tags as they have so many uses and always have some on hand. I previously tea stained these particular tags ~ I love the vintage look it gives them!
I repurposed an old tin bucket and used it as the base for the tree. A quick coat of black flat and it was as good as new. Cream burlap was tucked into the top of the bucket to hide any gaps.
I love little spurts of prim, vintage, and whimsy around! It makes me feel all cozy!