I have had this PB Numbers Canvas in my inspiration file since they first listed it on their website. I love the colors and the graphic arrangement of the numbers; simple, fun and perfect for my son's playroom. Unfortunately the size of the canvas was huge (60X42) and it's discontinued.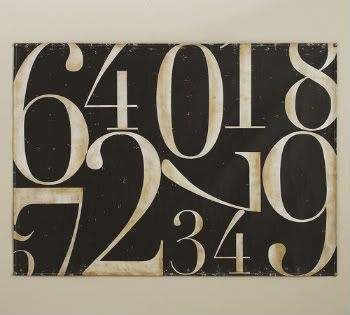 Photo Courtesy of Pottery Barn
I had one wall left to decorate and needed something much smaller and vertical none the less. I turned to my favorite editing program and got to work. I played around with some different fonts and backgrounds until I liked what I had. The fonts are a mix of Century School Book, Engravers MT, and Lucida Bright. I added a distressed black background and printed it out on cardstock. To make the numbers a little more imperfect I took a paintbrush dipped in plain water and lightly brush over the numbers creating a slight variation in the colors.I already had a black frame that was previously used at our old house. It already had a white mat, which I liked, but still wanted to add a little something extra. Using black grosgrain ribbon, I lined the inner mat and hot glued in place. Here is how it turned out…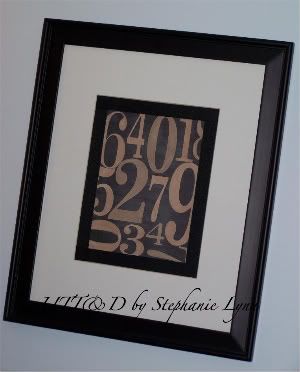 Wall art is relatively expensive in my opinion, unless it is obviously an exclusive piece. Next time you need to fill a wall on a dime think about turning to your computer and get creative. You can still get a nice finished piece for a fraction of the cost, even if you have to buy a frame. This piece cost me the ink it took to print it out, that's about it, considering I already had the frame. It is just the size I needed and the look I was originally going for. Enjoy!
P.S. I am still chugging along at the Craft Room Workshop. I have to say I am really enjoying putting everything in its place and am not bothered that it is taking forever. I hope to have some pictures up by the weekend. Thanks for following along.