Our weekend was wonderful but wet, gray and dreary ~ Perfect soup weather. I always like to make soup and stews in double {or triple} batches so that we can easily enjoy it for a few days following without much work. This recipe is creamy, delicious and very filling. The idea of pureeing the soup is great for hiding the sight of veggies that normally would not get eaten {my husband still has no idea carrots were anywhere near this soup} plus I think it adds to the thickness and creaminess too! I've modified the
original
recipe just a bit by adding in additional broccoli florets as we like the extra texture of whole broccoli pieces, however, this step could be skipped. Either way this is sure to please and comfort your soul!
Panera Bread Inspired Broccoli Cheese Soup
~To print 4X6 recipe card click image below~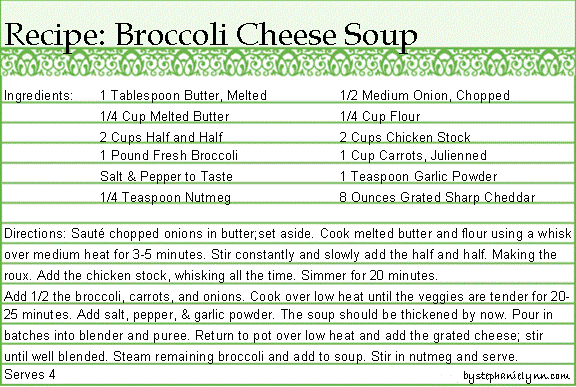 Ingredients Needed:
1 Tablespoon Butter, Melted
1/2 Medium Onion, Chopped
1/4 Cup of Flour
2 Cups of Half and Half
2 Cups of Chicken Stock
1 Pound of Fresh Broccoli
1 Cup of Carrots, Julienned
Salt and Pepper to Taste
1 Teaspoon of Garlic Powder
1/4 Teaspoon Nutmeg
8 Ounces Grated Sharp Cheddar
Sauté chopped onion in 1 tablespoon of melted butter and set aside.