Glitter Starburst Ornament
{Ornament Number Sixteen}
Materials Needed:
Sugar Gum Ball Pinecone
Wire or Ribbon
Glitter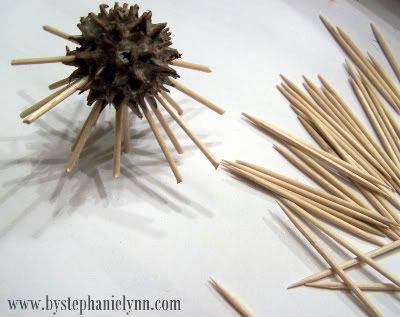 Begin by sticking wooden toothpicks into a sugar gum ball pinecone. They naturally have tiny holes on thier surface making this extremely easy. Randomly trim each toothpicks a little to create a starburst pattern. I left the back of the cone mostly flat.
Once you have a design you are please with, squeeze a bit of hot glue on the sweet gumball. This will hold the picks in place.
Once the glue is dry, spray the entire ornament with Clear Spray Adhesive and quickly sprinkle
PK Glitter Glitz
in Copper. The Mirco Glitter works best as it is very fine and can get in all the little cracks an crevasses of the Sugar ball. Shake off the success powder.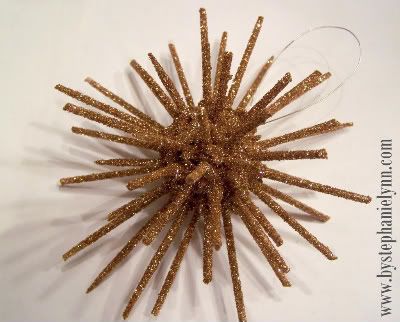 Cut a piece of floral wire, bend and twist onto the back for the hanger.All of the ornament tutorials featured are very basic and allow you to create them to your own personal taste and style ~ be creative and have fun! Enjoy!