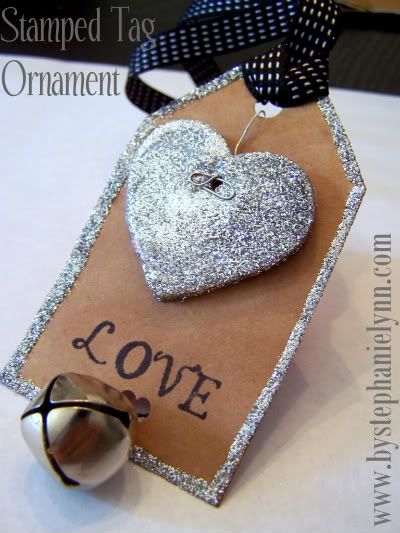 Stamped Tag Ornament
{Ornament Number Nineteen}
Materials Needed:
Tag
Wooden Heart
Ribbon
Wire
Mini Alphabet Stamps & Ink Pad
Glitter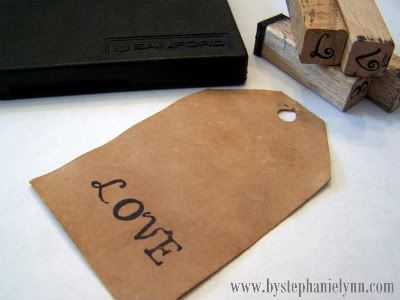 Begin with a paper tag. You can purchase tags at an office supply store or simply cut your own out of cardstock.Stamp a word of your choice onto the tag using mini alphabet stamps & an ink pad.
Outline the tag in glue and sprinkle on glitter. I used my trusty
Gorilla Super Glue
and Silver
PK Glitter Glitz
. I really like using the
Gorilla Super Glue
with the glitter because it dries very fast and somewhat seals the glitter.

Drill a small hole in the wooden heart to easily hang. The wooden heart can be found in the unfinished wood section of your local craft store for about 20 cents. Using the same process as above, glitz up the heart.

Punch a small cut out into the bottom of your tag using a scrapbooking punch. Thread a jingle bell onto a small piece of floral wire and thread through the hole, twisting the wire to the back to hold in place.
Using a second piece of floral wire, attach the wooden heart to the top through the tag hole bending the wire to the back, and securing into place with a dab of hot glue.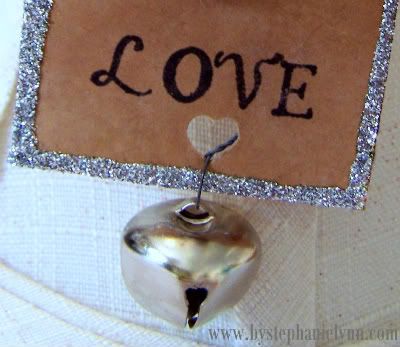 I love the little jingle bell dangle!
All of the ornament tutorials featured are very basic and allow you to create them to your own personal taste and style ~ be creative and have fun! Enjoy!