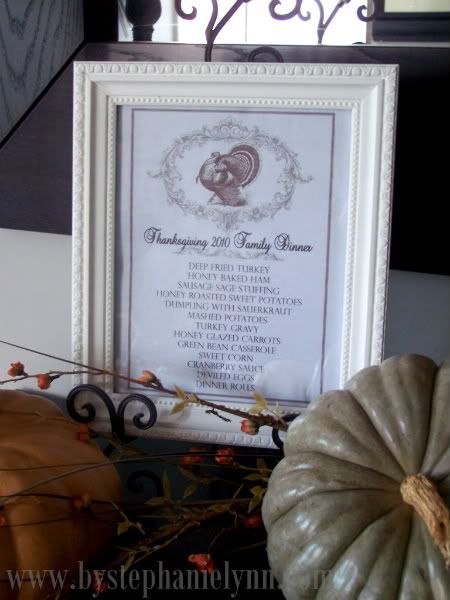 In preparation for the upcoming Thanksgiving feast I have created another printable menu template. I always like to have a list of what dishes I am planning on serving; as it not only lets the guest know what's coming but it also keeps me on track as I am running around preparing the last few things before we sit down to eat. {yes, like I have admitted before, I have been known to leave dishes in the fridge only to remember them after the meal is done}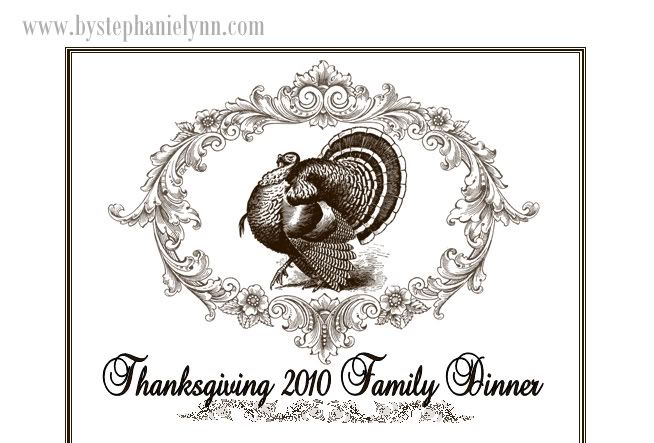 This template can be download {
here
} and customized by adding your planned dishes. {To print click the download button in the upper right hand corner on the download page. That will open the pdf file and you can print from there} It is sized to fit an 8X10 frame. You can also simply print out the template, place in a picture frame and hand write the menu on the glass using a dry erase marker {like I did for the menu board –
here
}.The graphics used are the
Fancy Oval Frame
from
The Graphics Fairy
and the
Vintage Turkey
graphic from
Lucky Palm
. {thank you!}
Do you have everything ready to go for your Thanksgiving dinner?
Happy Friday Everyone – Enjoy!

**A few have asked: If you don't have a program to edit the PDF/image you can print it out then insert it back into your printer to print the menu ~ Hope this helps ~ Happy Thanksgiving!
An updated version can also be found here: Printable Thanksgiving Menu