With just a couple days left until Halloween I thought I would share some more festive features that have been submitted to the Sunday Showcase Party.

This week's party sponsored by The Spotted Umbrella is still open if you have a project or idea you would like to share. I would love to have a chance to feature you!

Pottery barn Inspired Burlap Ghost Lights Submitted by
Angie at Burton Avenue

Fall Ceiling Medallion Wreath Submitted by
Ruth at A Trip to Holland

Spider Specimen Wall Art Submitted by
Jennifer at Delightfully Noted

Pumpkin Acorns Wall Art Submitted by
Katie at Creative Outlets of a Thrifty Minded Momma

Paint Swatch and Scrabble Tile Frame Submitted by
Kari at A Grace Full Life

Sound Activated Halloween Pillow Submitted by
Love Sweet Love

Felt Placemat turned Pillow Embellishment Submitted by
Lesley at Freaking Craft

Spray Painted Pillows Submitted by
Little Miss Penny Wenny

Fall Fabric Pumpkins Submitted by
Christie at Portobello Road

No Sew Sweater Pumpkins Submitted by
Angie at The Country Chic Cottage

Pottery Barn Inspired Painted Burlap Runner Submitted by
Colleen at Mural Maker and More

Trick or Treat 'Stache Bags Submitted by
Pitter & Glink

Felt Halloween Candy Pouches Submitted by
Brandy at Gluesticks

Cheese Cloth Ghosts Submitted by
Krista at While He Was Napping

Ribbon Embellished Pumpkins Submitted by
Michelle Paige

Fall Mantle Submitted by
Lisa at Moore Minutes

Fall Mantle Submitted by
Kate at Chic on a Shoestring

Halloween Mantle Submitted by
Leigh at Fun to Funky

Crow and Chains Wreath Submitted by
Vivienne at The V Spot

Fall Stick Wreath Submitted by
Lindsay at Diary of a Crafty Lady

Fall Corn Husk Wreath Submitted by
Brandi at Don't Disturb This Groove

Fall Yarn Wreath with Removable Felt Flower Attachments Submitted by
Life With Lucy

Halloween Tree Submitted by
Christina at I Gotta Create!

Fall Entryway Submitted by
Shenita at Embellishments by SLR

Fall Pumpkin Topiaries Submitted by
Michelle at Prudently Painted Vintage

Paper Mache Pumpkin Topiary Submitted by
Angie at Burton Avenue

Footprint Ghost Boo Boards Submitted by
Kelsey at Tattered and Inked

Ghost Footprint Canvas Submitted by
Love Sweet Love

Handprint Fall Family Tree Wall Art Submitted by
Carmella at Creative Carmella

Fabric Mod Podge Pumpkins Submitted by
Love Sweet Love

Candy Corn Tie Dyed Onesie Submitted by
Alexa at The Swell Life

Felt Fall Tree Hair Clip Submitted by
Christa at Brown Sugar Toast

Scarecrow and Pumpkin Garland Submitted by
Tracy at Cotton Pickin Cute

Painted Candy Corn Paper Plate Garland Submitted by
Melissa at Real Life, One Day at a Time

Swirly Pumpkin and Leaf Paper Garland Submitted by
Happy Clippings

Paper Pumpkins Submitted by
Gretchen at Lolli & Me

Bubble Wrap Painted Corn Wreath Submitted by
Melissa at Real Life, One Day at a Time

Free Halloween Printable Submitted by
Cap Creations

Halloween 'Eye' Bag Toppers Submitted by
Michelle Paige

Simple Scrapbook Paper Bag Tags Submitted by
Brandy at Gluesticks

Apple Witch Heads Submitted by
Lor at Show Tell Share

Chocolate Covered Pretzel Skeleton Cupcakes Submitted by
Jenn at Eat Cake for Dinner

Skillet Restaurant Style Apples Submitted by
Brandy at Gluesticks

Mini Pumpkin Pie Croissants Submitted by
Keri at Pressed Down, Shaken Together
If your project was featured today feel free to grab a button if you like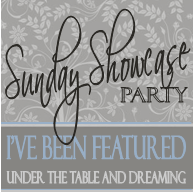 P.S. Please check out the Giveaway Winners page to see if you have won a giveaway – I am still looking for quite a few winners and really don't want anyone to miss out on a prize they may have won. New winners will have to be drawn soon if there is no response. – thanks!
I have a giveaway coming up later tonight. Hope you stop back and join in the fun ~ Enjoy!