Welcome to the Handmade Holiday Series featuring STYROFOAM™ Brand Foam. The next five days will be filled with a total of twenty five inspiring projects to create for the upcoming holiday season.

I am thrilled to kick off this event by welcoming our first guest,
Carolyn from
Homework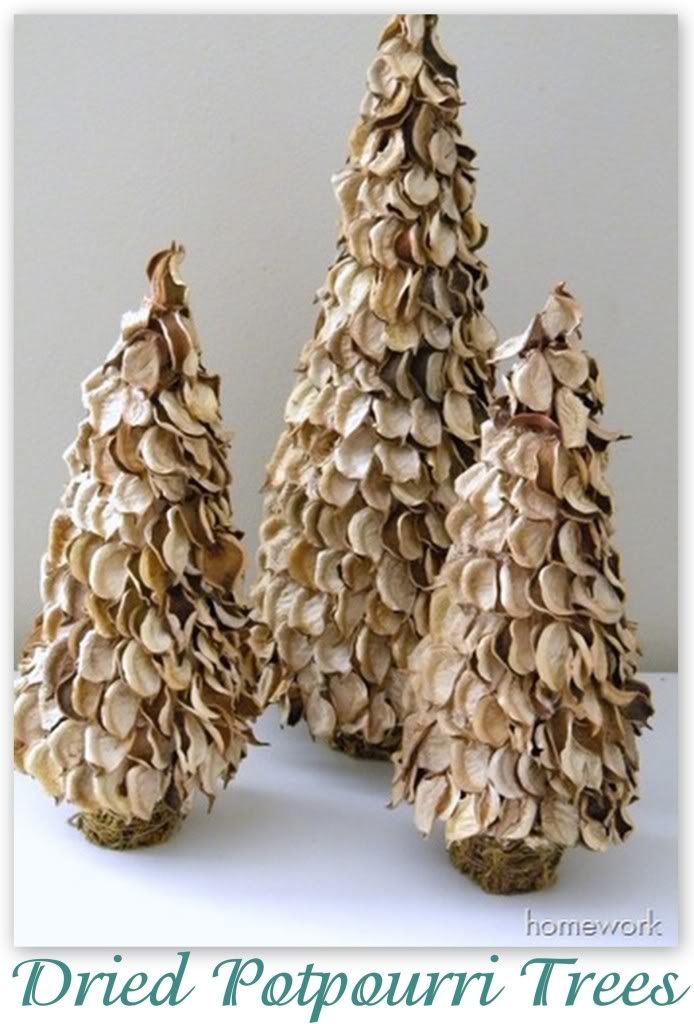 Carolyn's simple and sophisticated Dried Potpourri Trees incorporate natural elements, which are a big trend this season. Please welcome Carolyn as she shares just how simple it is to add a rustic touch of texture to your holiday decor.
The holiday season is upon us and I'm happy to kick off my holiday project list with these potpourri Christmas trees. I'm especially happy to be here at Under the Table and Dreaming for the STYROFOAMTM Brand Foam series.
For my STYROFOAMTM project, I was inspired by Christmas trees I had seen in some of the trendy catalogs. The trees were made from an assortment of natural materials including be driftwood, pinecones and other woody materials.
I searched the craft supply stores and lucked out by finding several bags of potpourri at the dollar store that included these white pods.
To make these trees, here is what you will need:
(2) 6" x 3" cones of STYROFOAMTM Brand Foam
(1) 9" x 4" cone of STYROFOAMTM Brand Foam
Start from the bottom of your cone and working in a circle, glue on your pods.
Fill in any gaps with broken bits of pods.
Let dry.
To make the tree trunk, roll a piece of heavy corrugated cardboard into a circle and glue to secure.
Insert toothpicks into the cardboard trunk and press into the bottom of the cone.
Make sure your tree is balanced and make any adjustments to the trunk as needed.
Secure with more glue.
Cut a piece of sheet moss and glue around the cardboard.
Wrap thread around the moss to secure.
Add some holiday embellishments and enjoy your potpourri Christmas trees.
Thank you Stephanie Lynn for inviting me to be part of the STYROFOAMTM Brand Foam series. It was such fun creating these trees and it got me all the more excited for the holidays.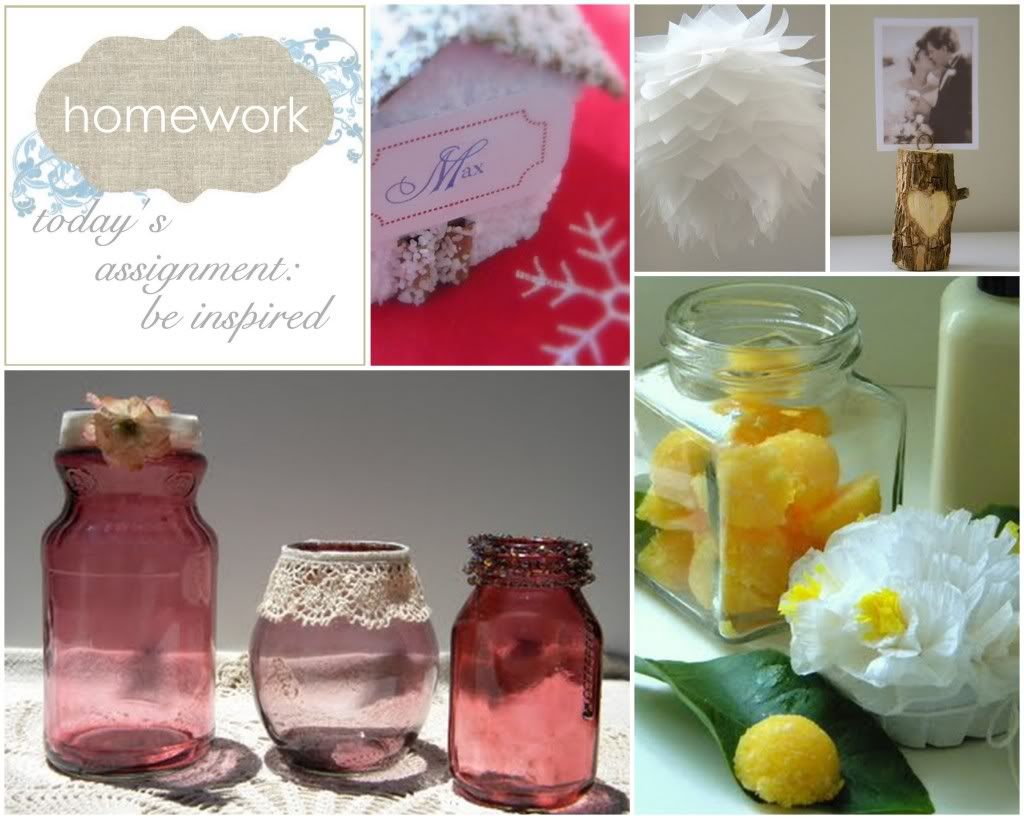 ♦ For more inspiring projects and crafts, visit Homework ♦
Carolyn can also be found on Facebook ♦ and Twitter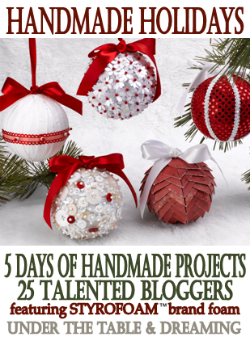 Thanks so much Carolyn for sharing these adorable trees. I love the addition of natural elements to any seasons decor and can see these being used year round.
I'll be back in a few hours along with our next guest blogger sharing more handmade holiday inspiration ~ Enjoy.



The Handmade Holidays series is brought to you by
STYROFOAM™ Brand Foam made exclusively by The Dow Chemical Company.
More crafting ideas utilizing STYROFOAM™ Brand Foam can be found on their
blog Crafts 'n Coffee as well as their Facebook page.
{This post is in compliance with the Federal Trade Commission's 16 CFR, Part 255. Please see full disclosure below.}