Welcome to the Handmade Holiday Series featuring STYROFOAM™ Brand Foam. The next five days will be filled with a total of twenty five inspiring projects to create for the upcoming holiday season.

It's a pleasure to welcome guest number three,
Diane from
In My Own Style

Garlands are one of the most popular seasonal decorations and the perfect finishing touch to top off your Christmas decor. They can be found on trees, mixed in with fresh pines, and hung from festive mantles. Glistening with shiny metal and a touch of glitter, Diane's Handmade Ball Garland is so elegant – I think it would look pretty amazing even on it's own. Please welcome Diane.
When Stephanie Lynn contacted me and asked if I would like to be part of the STYROFOAMTM Foam series here at Under The Table and Dreaming I knew immediately what I would make.
To me Christmas decorating is about 3 things – family, traditions, and memories. I like to decorate my home for the holidays with lots of garland inside and out. To me nothing says Christmas more than a pretty garland made of greenery, balls, beads, or ribbons draped around a tree, swagged over a mantel, or wrapped around the stair banister. Perhaps it is because my mom decked the house with it and is what I got used to seeing and associating with the holidays is the reason I like to decorate with it. Seeing garland draped all over the house gives me that festive, yet warm and snugly holiday home feeling. It makes anything it is draped over instantly FESTIVE.
I like lots of color on my tree and like to have a touch of white to add some contrast to all the piled on color. The shiny beads reflect the light and make the tree dreamy at night. There is nothing more comforting then laying under a lit Christmas tree at night and watching all the shadows dancing on the ceiling – the perfect holiday ambiance.
What you'll need:
To make one 9 ft. garland. I made 3. Each was 9 ft. Break up the total length you will need into sections. This will make it easier to handle and to decorate with.
45 1 1/2 -inch balls of STYROFOAMTM Brand Foam
130 beads Flexible jewelry stringing wire – I used Beadalon .018 diameter that I bought at the craft store White glue Glitter Small flat tip paint brush Toothpicks A sheet of STYROFOAM
TM
Brand Foam 2 small bowls Long needle Pliers
I got my shiny metal beads the last time I was in New York City at a wonderful store called – Metalliferous. It is a treasure trove of beads and jewelry making supplies among other "crafting goodness" that they don't sell in craft stores. Some of the stuff is a bit pricey, but I like to go to get the bargain bags of metal beads that are lined up along the floor. This is a must have stop for anyone who like to make stuff. They have an online store at Metalliferous.com, but it is not nearly as inspiring as going to the store and browsing. It is not a pretty place, but one of those one of a kind places that will become a favorite resource.
How to do it

1. Pour glue and glitter each into separate bowls. Spear a ball of STYROFOAMTM Brand foam on a toothpick.
2. Roll the ball in the glue and use a paintbrush to makes sure the entire ball is covered with glue.

3. Roll the glue covered ball in the glitter. You may have to use a spoon to make sure you get the entire ball covered especially around the toothpick.
4. Stick the bottom end into the sheet of STYROFOAMTM Brand Foam to dry.
5. I like to do the mindless – production line parts of any project while I am watching TV. I just set up everything on a portable table. By the time the movie is over I am pretty much finished, too.
How to string the glitter covered balls of
STYROFOAMTM Brand Foam and beads

6. Making a loop on your stringing wire at the end of your garland will make it easier to hang from the tree branches.
Cut stringing wire to desired length and add 12-inches to that length so you have enough extra wire to make the hanging loops. 1. Fold over end of stringing wire about 2-3 inches. 2. Take the loop and put the two wires together and then make a knot. 3. Push the knot down on the wire to make it tighter. Trim the excess wire or when you thread the first ball on to the wire, just tuck it into the ball. 4. Thread the opposite end of stringing wire through a long needle.
To String


7. Push the needle through the center of a ball.

8. Use pliers to help push the needle through the ball.

9. Use the pliers to pull the needle out from the opposite side. Add 3 beads to the stringing wire and then add another ball. Repeat until you get to your desired length.
Remove the needle from the wire and then make another loop for the end of the garland. Cut away any excess wire. It will look like this.
Drape it on your tree.
Garlands are not just for trees. If you make them long enough you can hook them over two small nails placed on either side of a window and they become a festive holiday window treatment.
At night the glitter and metal beads catches the glow of the tree lights and looks so sparkly and festive.
Thanks Stephanie Lynn for asking me to be part of this series. It goes on all week and then there will be a link up over the weekend for you to link-up your projects made with STYROFOAMTM Brand Foam.
Happy holiday creating everyone.

♦ For more inspiring projects and crafts, visit In My Own Style ♦
You can also connect with Diane on Facebook♦ and Twitter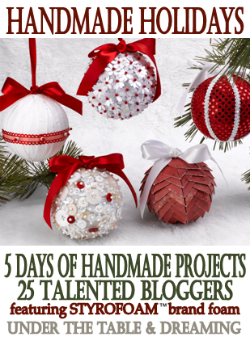 Thanks so much Diane for sharing this gorgeous handmade garland. The traditional metallic beads and festive twinkle of the glitter balls is simplicity at it's best. Plus I can't help but think of the Christmas classic…
Silver and Gold mean so much more when I see
Silver and Gold decorations On ev'ry Christmas tree.
There is more handmade holiday inspiration coming up shortly ~ Enjoy.



The Handmade Holidays series is brought to you by
STYROFOAM™ Brand Foam made exclusively by The Dow Chemical Company.
More crafting ideas utilizing STYROFOAM™ Brand Foam can be found on their
blog Crafts 'n Coffee as well as their Facebook page.
{This post is in compliance with the Federal Trade Commission's 16 CFR, Part 255. Please see full disclosure below.}