I'm delighted to welcome our next guest,
Jessica from
Two Shades of Pink
When it comes to the holidays it's no rules – as sparkles, glitz, glitter and glam all are ok. Jessica's
Hanging Wreath Chandelier
captures all these goodies and more in a fabulous display of chic perfection. Please welcome Jessica.
Well, hey there friends! I am just way excited to be part of this festive series and the fact that Stephanie Lynn's blog is simply FABULOUS, it's a tremendous honor to be here today!
My name is Jessica and I blog over at Two Shades of Pink. I have to confess that I have been in the Christmas mood for months and even started a Christmas packaging and crafts series on my blog the day after Halloween! So this fun and simple project works for my Christmas loving heart. My favorite part of the season is decorating my house and a Sparkly Wreath Chandy hanging over my holiday table is absolutely my kind of thing.
My inspiration came from Martha's 2010 Christmas Issue. Sadly, I can't find a photo on her website but check out another version
here
. And I personally love thinking of ways to hang stuff from the ceiling.
Thankfully the hubster is used to it.
Now let's talk supplies and find out how to make one!
1.
In my eagerness to get started, I began wrapping my 16 inch wreath form of STYROFOAM™ Brand Foam with floral tape prior to taking a "before" photo. Sorry! But here is what you need:
1 16 inch (or larger) wreath form of STYROFOAM™ Brand Foam
2 packages (16 count ea.) 1 inch balls of STYROFOAM™ Brand Foam
fishing line
textured white spray paint
4 faux pine garlands
2.Begin wrapping your wreath form of STYROFOAM™ Brand Foam with one of your pine garlands.
3. Push each wrap tightly together to make it thick. Tuck ends under the wrapped pieces.
4. Here's your wreath wrapped with all 4 garlands.
5. To make the wreath look snowy, I used a textured spray paint that produces a flecked effect.
6. Lightly spray it with a sweeping motion but don't saturate it in one area or it will become too white.
7. When one side is dry, flip it over and do the other side.
8. It takes at least 3 hours to become completely dry and will be stiff to the touch.
After it was dry, my husband helped me tie 4 strands of silver cording I bought at Joann Fabrics (
99¢ per yard
) equidistantly around the wreath in between the wrapped layers of garland.

Push the garland back around the tied cording to hide the part that is tied.
We attached the ends to an O ring (or in my case…a key ring I had on hand) and hung it from a hook on our ceiling after measuring the distance from the ceiling to above the dining room table.
(I have cathedral ceilings which is why the hook is on an angle)
I ended up making 2 small garlands to crisscross underneath the chandelier using a 16 count package of 1 inch balls of STYROFOAM™ Brand Foam for each garland. You will also need Mod Podge, metallic crochet thread, scissors, the fishing line, and a yarn needle.
1. Begin by wrapping the 1 inch balls of STYROFOAM™ Brand Foam with silver crochet thread.
2. Wrap completely but don't worry if some of the white still shows.
3. Glue the ends with a bit of Mod Podge and let dry.
4. Thread each one onto fishing line using a thicker needle used for yarn.
I also strung silver bells to make this pretty garland. I tied a loop at either end of the fishing line to hang it up using ornament hooks.
Now for the fun part…decorate your chandelier! I used all silver ornaments to give it some sparkle.
Here's a shot underneath.
Yes, I totally laid on my back on the dining table to take it. Cool shot though, right? 🙂
It's so pretty hanging over the table and I love how festive it looks.
This does not even have to hang over a dining table. What about a front entry hall table or even in the kitchen? Lots of possibilities!
Hope you are inspired to add some sparkle over your table too!
I am just so thankful to be a part of the Handmade Holidays Series. Thank you Stephanie Lynn for putting this together and I look forward to every single project!

♦ For more inspiring projects and crafts, visit Two Shades of Pink ♦
You can also connect with Jessica on Facebook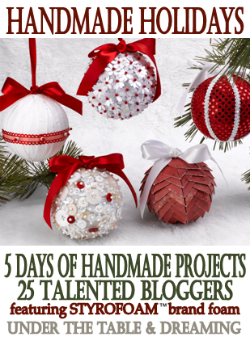 Thanks so much Jessica for sharing this incredible wreath chandelier. The sparkly silver tones are simply gorgeous and I love the idea of spray painting the wreath. The mini ball garland and ornament baubles add the perfect finishing touches! – simply fabulous
I'll be back shortly with one last project for today. For a review of all the previous projects in this series simply click the event button above ~ Enjoy.



The Handmade Holidays series is brought to you by
STYROFOAM™ Brand Foam made exclusively by The Dow Chemical Company.
More crafting ideas utilizing STYROFOAM™ Brand Foam can be found on their
blog Crafts 'n Coffee as well as their Facebook page.
{This post is in compliance with the Federal Trade Commission's 16 CFR, Part 255. Please see full disclosure below.}