Welcome back to the continuation of the Handmade Holiday Series featuring STYROFOAM™ Brand Foam. This week we are sharing a total of twenty five inspiring projects to create for the upcoming holiday season.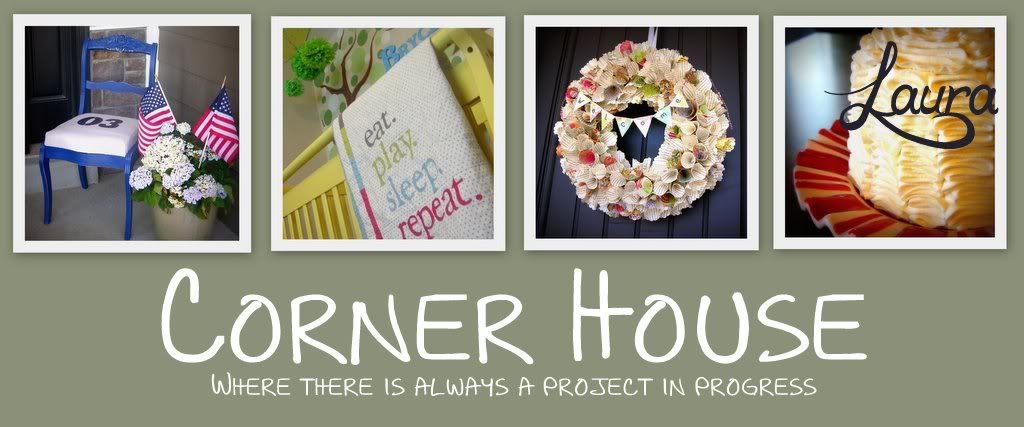 I am pleased to welcome our twenty-fifth guest,
Laura from Corner House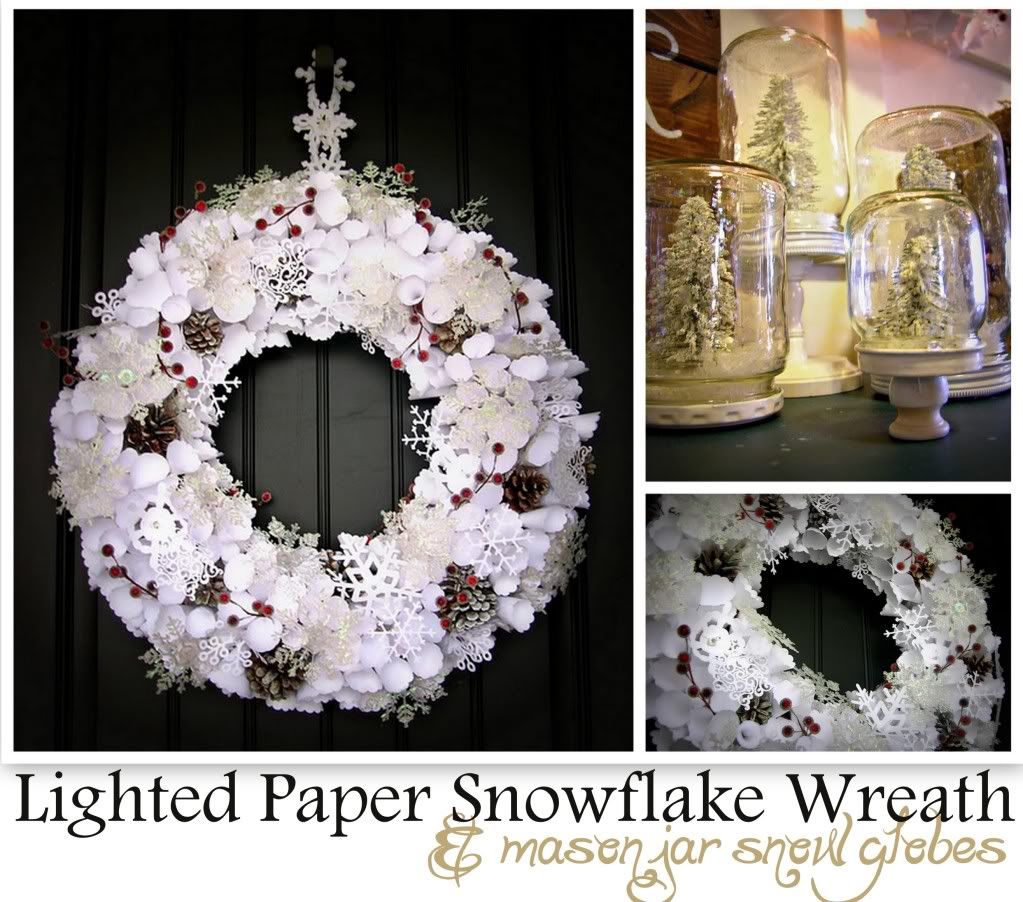 We figured we would end with a treat as Laura has not only one but two projects to share today. The first is an incredibly gorgeous Lighted Paper Snowflake Wreath. It's a winter wonderland all in itself created with delicate snowflakes and cones made of all from paper. Laura is also sharing super cool Mason Jar Snow Globes as well. Please welcome our final guest in this series, Laura.
I am thrilled to be finishing off the Handmade Holidays featuring STYROFOAM™ Brand Foam series here at Under The Table and Dreaming. Last, but not least… right? Seriously though, there have been some AMAZING project this week.
Today I want to share with you my winter wonderland wreath.
Shall we make one?
You are going to need:
A STYROFOAM™ Brand Foam wreath (I used an 18″ wreath because I wanted it big, but that size was a beast, so you may want to use a 12″ wreath, it goes a lot faster.)
A pack of white card stock (about 50 sheets)
A 3″ scalloped circle paper punch
Cut out paper snowflakes (I used my silhouette to cut them out)
A small strand of white Christmas lights
berry sprigs
2 packs of dollar store snow flakes
little pine cones
glitter blast diamond dust spray paint
glue gun and glue
Wrap your Christmas lights around the wreath. Easy enough so far. You may notice the computer in the back ground. Yes, this is a watch a move while you do it kind of project. Also you will see I pressed the plugie-ine end of the lights into the wreath so it is all nice a tucked away. If you are planning on hanging this somewhere where it will not be easy to plug it in you may want to get those battery powered lights.
Before it is too covered in paper tie a ribbon or whatever you are planning to hang it with on the top.
Next I attached the snowflakes to the lights. I cut them down the middle and them glued the two open sides together so it kinda makes a cone shape. Oh and I would like to point out that you do not need to worry about the lights catching the paper on fire. Paper burns at 451 degrees and little Christmas lights will not get anywhere near that hot.
Next I glitter blasted the pine cones and glued them on around the wreath. Sorry I forgot to take pictures of this part, but I have faith that you guys can do it with out them.
Next make your cones.
You are going to need A LOT of cones. Like 300+ cones. I like to make some skinny and some fat and some short and some long. So just make all kinds. Also I make the cones as I go, but you can make 300 first and put them on. Just put a dab of glue on the point and press it into the STYROFOAM™ Brand Foam.
I also glued on plastic and paper snow flakes as I go. I laid some right on top of the wreath and then I broke a few and stuck them in.
keep going until the whole thing is covered.
And you are done. YAY!
I love wreaths as part of a
Christmas vignette.
I also used STYROFOAM™ Brand Foam to make the
mason jar snow globes
.
When I thought of the snow globes I totally thought I was being so original and then low and behold Anthropologie totally stole my idea. But mine are better than theirs because mine are on the cute little stands and mine were $18 for 5 and theirs were $18- $30 EACH. Okay, get yourself some jars. (they are like .25 at thrift stores.) I also used a baby food jar. It is so cute. To make the bases just get little wood disks and candle stick things. Glue them together and to the top of the jar lids, then spray them white. I got the trees at the dollar store. Cut a STYROFOAM™ Brand Foam ball to put the trees on inside the jars. Glue the STYROFOAM™ Brand Foam disk to the base and the tree to the disk. To make the snow I used a little iridescent snowflakes for a craft store mixed with snow I made by rubbing two pieces of foam together. Put a little snow in the jar screw it on the the base, shake it around and you have snow globes.
Thank you so much for the chance to share with all of you today.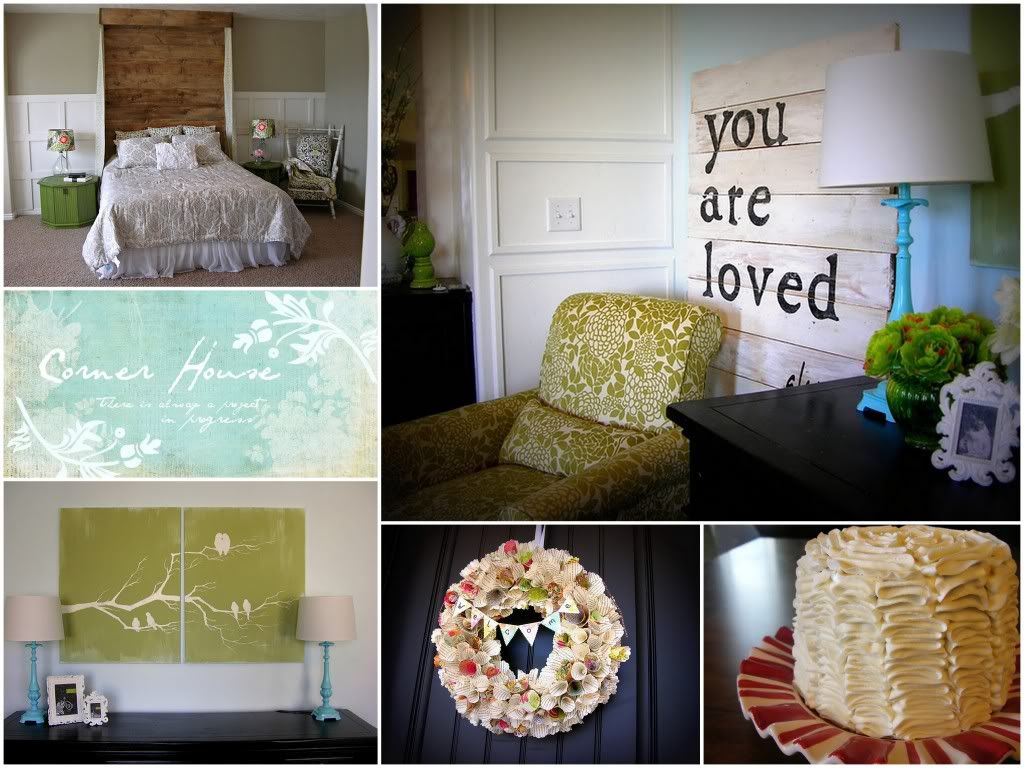 ♦ For more inspiring projects and crafts, visit Corner House ♦
♦ You can also connect with Laura on Facebook ♦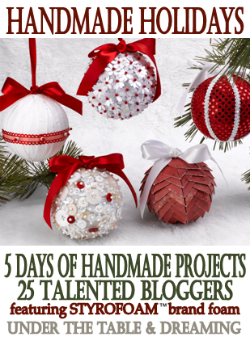 Thanks so much Laura for sharing your wreath and snow globes. The wreath is simply stunning and I bet it is absolutely gorgeous when the lights are twinkling. The snow globes are super cute too and look like a great project for me and my little guy to create.
That concludes our Handmade Holidays Series. I hope you found some inspiration from all of the amazingly creative projects that have been shared. Special thanks to all of the incredibility talented bloggers who participated. To review of all the projects in this entire series simply click the event button above.
If you have been inspired to create a project yourself incorporating
STYROFOAM™ Brand Foam
we would love for you to join us
Next Friday Night as we will be hosting a special
Handmade Holidays Link Up Party.
My friends from STYROFOAM™ Brand Foam will be checking out all of the projects and picking a few of their favorites which will be showcased.
There will also be a special giveaway you won't want to miss.
Have a fabulous weekend ~ Enjoy!



The Handmade Holidays series is brought to you by
STYROFOAM™ Brand Foam made exclusively by The Dow Chemical Company.
More crafting ideas utilizing STYROFOAM™ Brand Foam can be found on their
blog Crafts 'n Coffee as well as their Facebook page.
{This post is in compliance with the Federal Trade Commission's 16 CFR, Part 255. Please see full disclosure below.}