I'm pleased to welcome our next guest,
Erin from
How To Nest For Less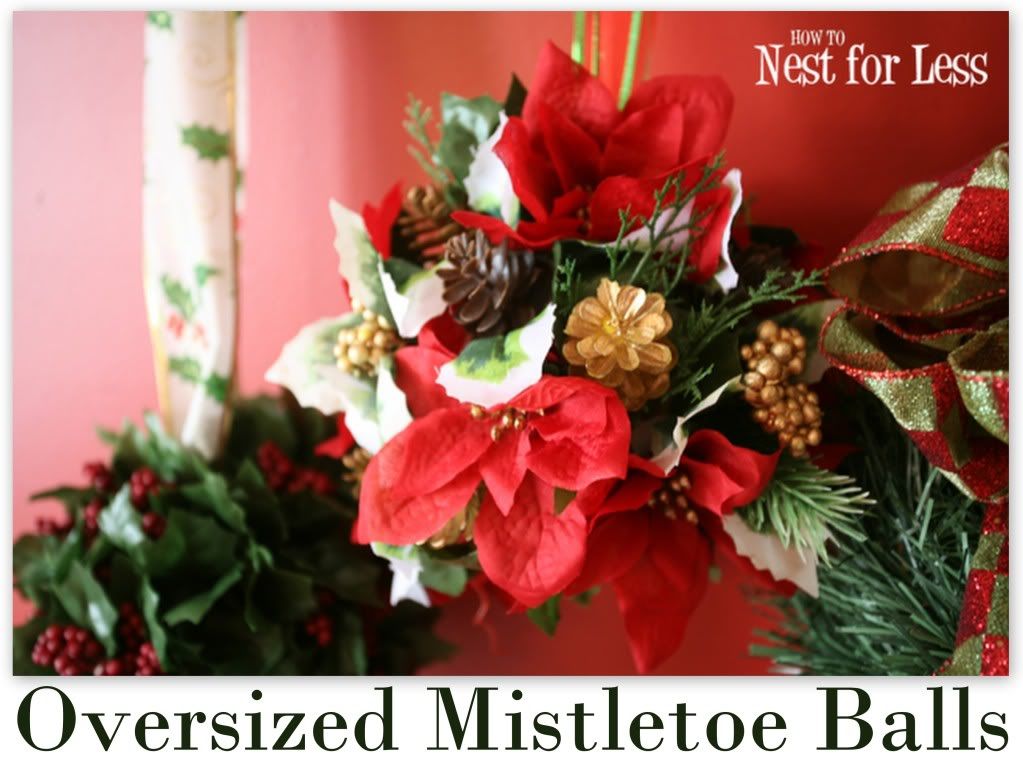 It wouldn't be Christmas without a little mistletoe decor and Erin is here today showing us how to create these
Oversized Mistletoe Balls
. Please welcome Erin.
Hi, I'm Erin from How to Nest for Less. I'm excited to share my latest Christmas project with all of you: my Oversized Mistletoe Balls of STYROFOAM™ Brand Foam.
I'm trying to decorate on a budget for the holidays and wanted to design something to spread love and cheer throughout my home. So what's better than mistletoe, right? But not just any little mistletoe, an oversized collection of mistletoe balls!

Pretty cute, huh? The project was inexpensive and easy to make, perfect for the upcoming holiday season!
First I gathered my supplies…
One 5″ STYROFOAM™ Brand Foam ball
Three 4″ STYROFOAM™ Brand Foam balls
One 3″ STYROFOAM™ Brand Foam balls
(3) Garlands of various mistletoe & poinsettias (from Dollar Tree)
(1) Garland of evergreen
(150) Greenery pins
(3) spools of wired ribbon
Scissors
I started with preparing my garlands of mistletoe and evergreen. I snipped pieces apart with a pair of scissors and set off to the side.
For the smaller balls of STYROFOAM™ Brand Foam I used the mistletoe and poinsettia garlands. I used my greenery pins to secure each piece in place.
Some sections of the garland with larger stems I was able to just stick directly in the balls of STYROFOAM™ Brand Foam.
For the larger 5″ ball of STYROFOAM™ Brand Foam I covered the exterior in an evergreen garland. Since this ball didn't have too much pizzazz to it, I added a large green and red checkered holiday ribbon to the top along with one piece of holly!
Once I had all 5 of the balls of STYROFOAM™ Brand Foam covered in mistletoe and evergreen, it was time to add the ribbon! I chose three different ribbon designs to add a little spunk to my creation.
I cut two pieces of the white holly ribbon into 24″ sections, two pieces of the red and green glittery ribbon in to 14″ sections, and one piece of the green snowflake ribbon into an 18″ section.
I used another greenery pin to add the ribbon to the top of the balls of STYROFOAM™ Brand Foam.
And that's it! The Oversized Mistletoe Balls of STYROFOAM™ Brand Foam are ready for hanging!
I used a curtain rod to hang the Oversized Mistletoe Balls for now, but I might disperse them out throughout the house to spread the love and cheer! Wouldn't some of these look adorable hanging from the Dining Room chandelier?