This post brought to you by Gift Card Weekend. All opinions are 100% mine.
Gift cards have become a popular go-to gift for the holidays and one of the most requested items of the season. Each year our family has a little fun with an extra white elephant exchange consisting solely of gift cards. It's so exciting to end up with a gift card to your favorite store and even more enjoyable redeeming it for an item you have had your eye on.
So did you know there is an official Gift Card Weekend to redeem those sought after cards?

Gift Card Weekend is a once-a-year event where participating retail partners have gotten together to give featured offers for their gift cards that are redeemed from January 6-8, 2012.
Gift Card Weekend participating retailers include  Lowe's, JCPenny, Sephora, Regal Cinema, Subway, Applebee's, Bass Pro Shops, Adidas, Buca di Beppo, Spa Finder, Marriot and Giant Eagle. So if you receive a gift card from one of these retailers your in luck!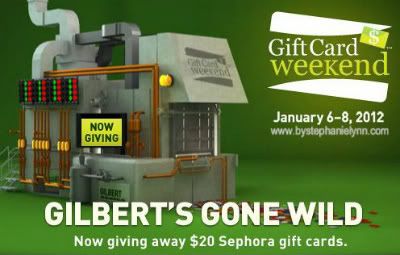 To build some anticipation to the biggest gift card savings weekend, Gilbert the Gift Card Machine will be giving away more than 100 Sephora gift cards a week leading up to Gift Card Weekend.
Just like Gift Card Weekend on Facebook for a chance to win – then stick around throughout the month for more giveaways! You can even share with your Facebook friends to receive an extra chance to win.
♦ For more details check out Gift Card Weekend ♦
♦ and don't forget to like their Facebook page ♦
You may end up winning a little gift for yourself this season!