This post brought to you by iBulb. All opinions are 100% mine.
This time of year I get excited with anticipation as I begin to see colorful blooms appear in my favorite shops and garden centers. The sight of these potted bulbs scream one wonderful thing to me – spring is near. It awakens the little plant addict inside me and I have a really hard time leaving without bringing something home, each and every trip.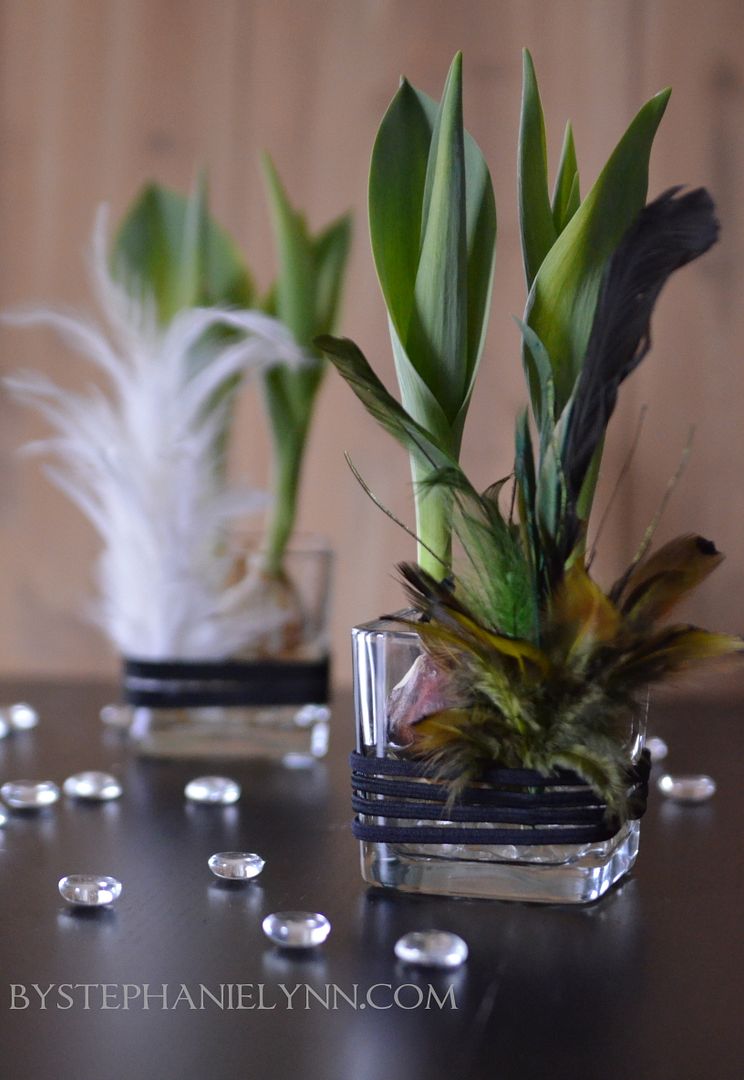 I love the cheerful addition potted plants can add to room and I not only like using them in my own home – but love giving them as gifts even more. With Easter and Mother's Day right around the corner, I have partnered with iBulb to put together a few easy gifts ideas, using
potted bulbs
, to pay it forward  to some loved ones.

The gift of flowers is of course an easy one as potted bulbs can readily be found in flower shops, garden centers and even grocery stores. The secret to personalizing it and making it your own is all in the presentation.
This first idea is simple, easy and inexpensive –
a glass candle holder, pack of elastic hair bands and feather picks.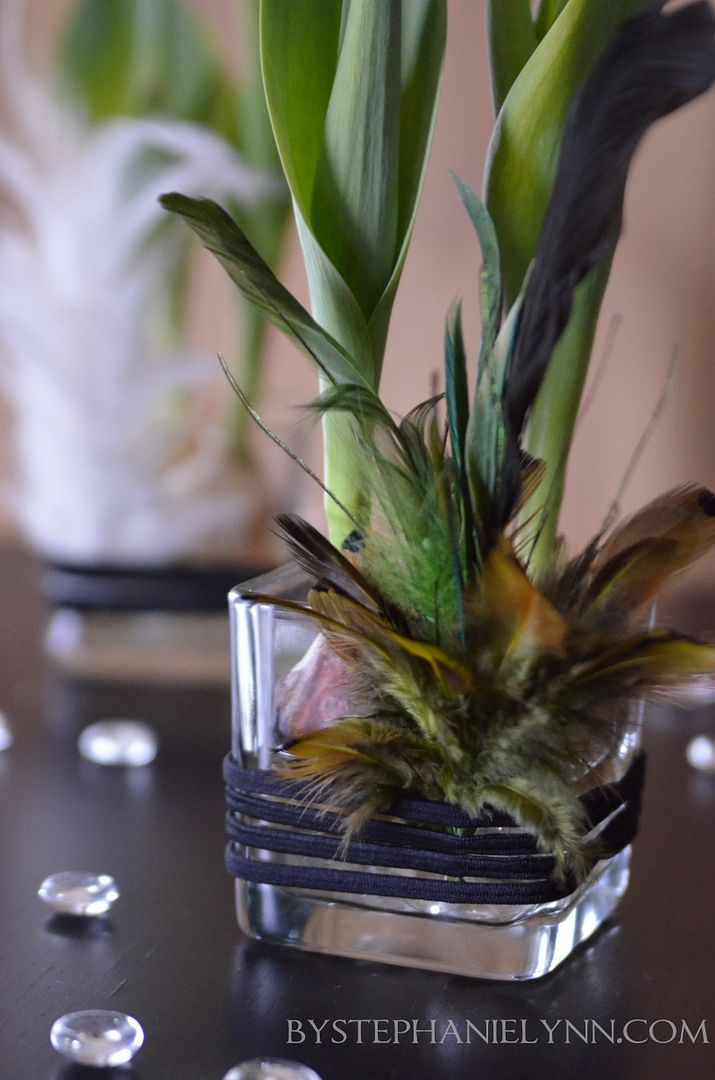 The elastic hairband is just twisted around the glass with the feather pick tucked underneath. I added a dab of hot glue to keep the feather in place since my little guy would be the one handing them out.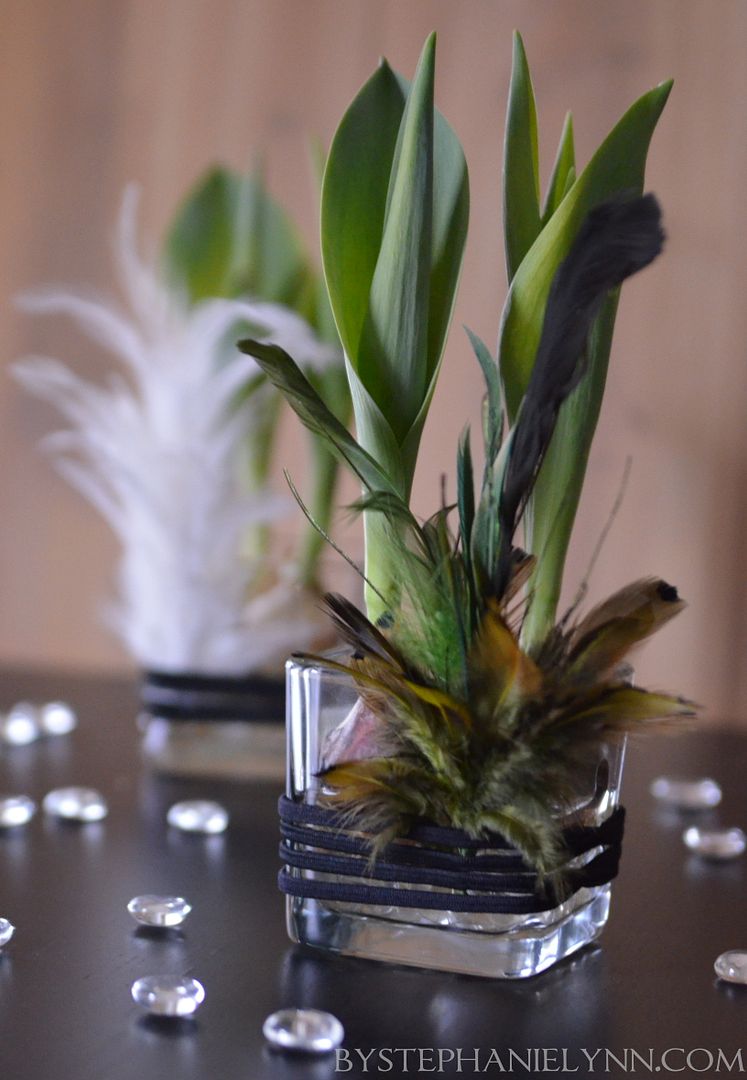 The bulbs inside are tulips – nestled in some glass vase fillers.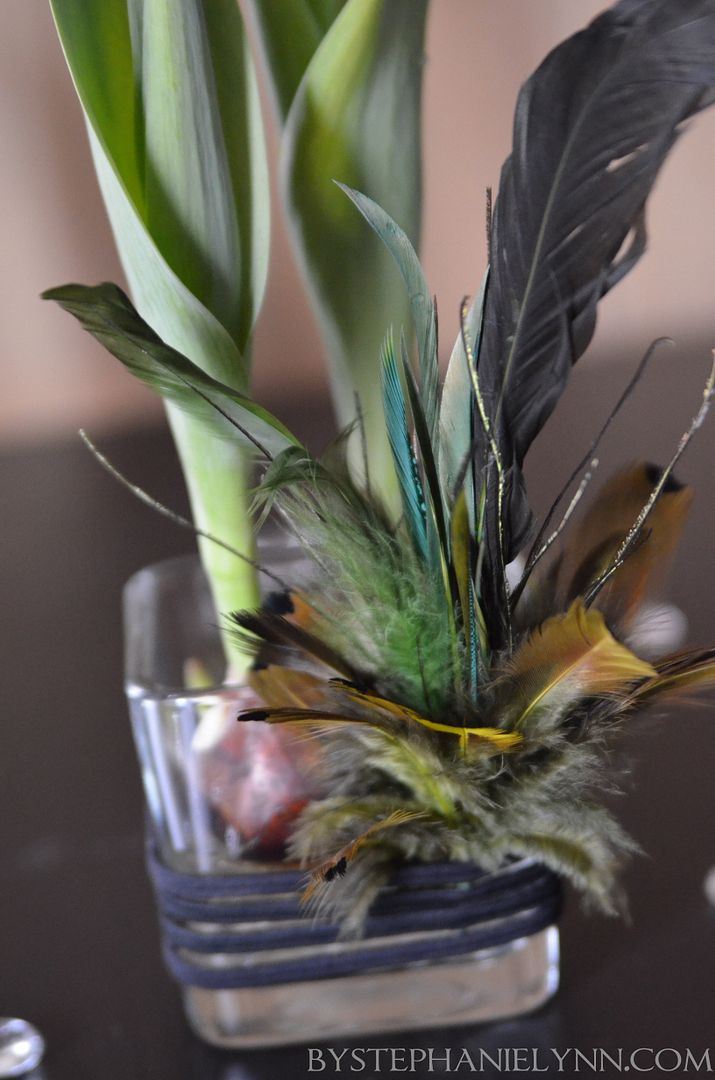 Tulip bulbs can be forced indoors and grown hydroponically, just like we do with paperwhites during the holidays. Many florist sell pre-made arrangements if you do not have the time to start the bulbs yourself. I picked up a bloomaker arrangement right from my local grocery store – then split it up myself to make several smaller gifts to give.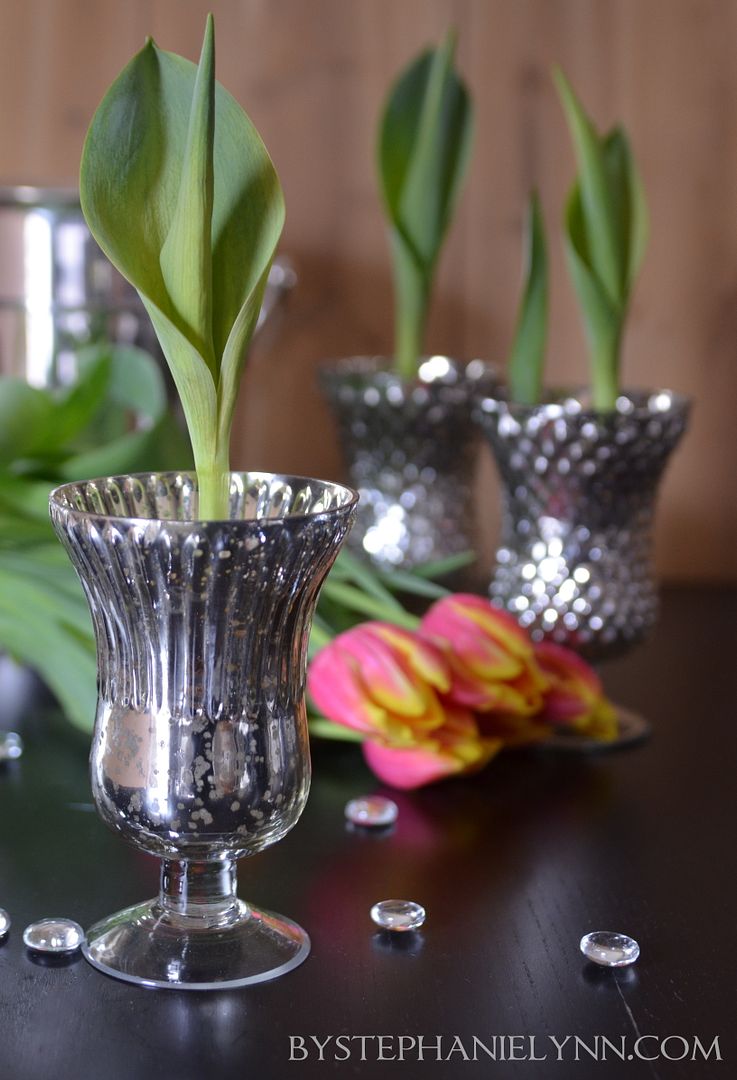 I added more single bulbs to some footed candle holders as well. Any pretty candle holder or unique vessel can make a great presentation and a bonus gift on top the bloom itself.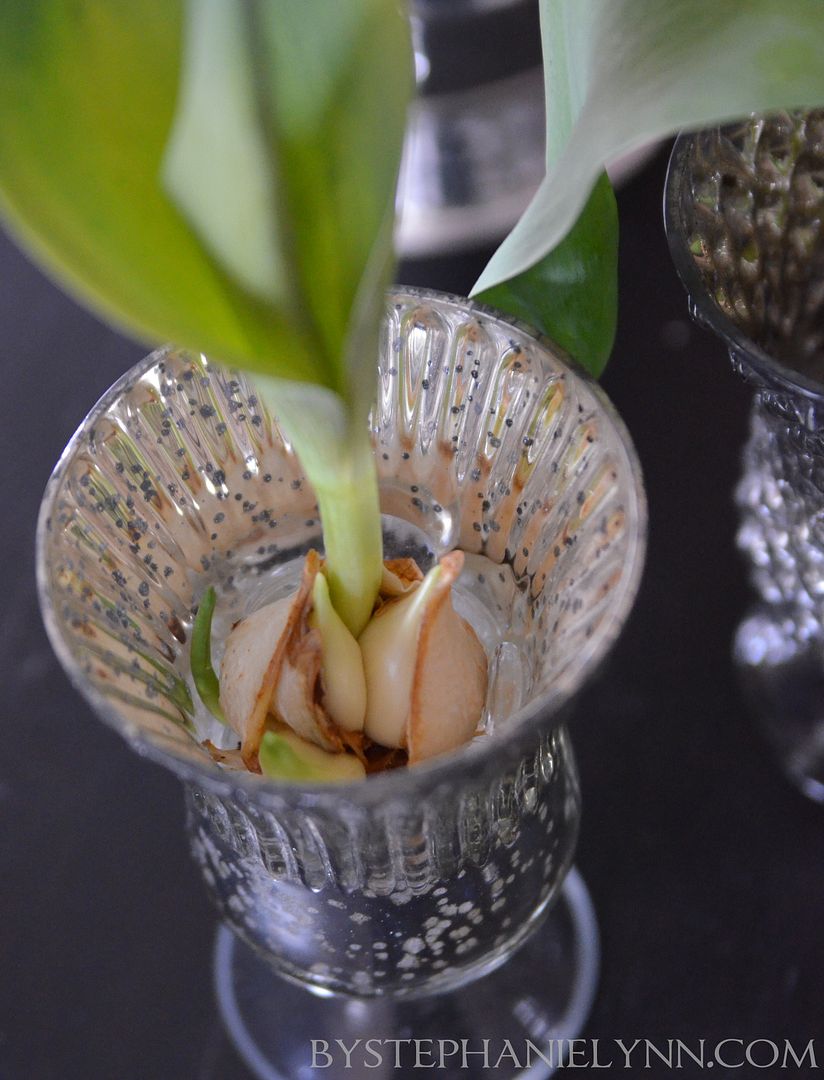 The glass vase fillers were simply placed in the bottom – then the bulb on top. Fill with water just until it reaches the bottom of the bulb and it's ready to go.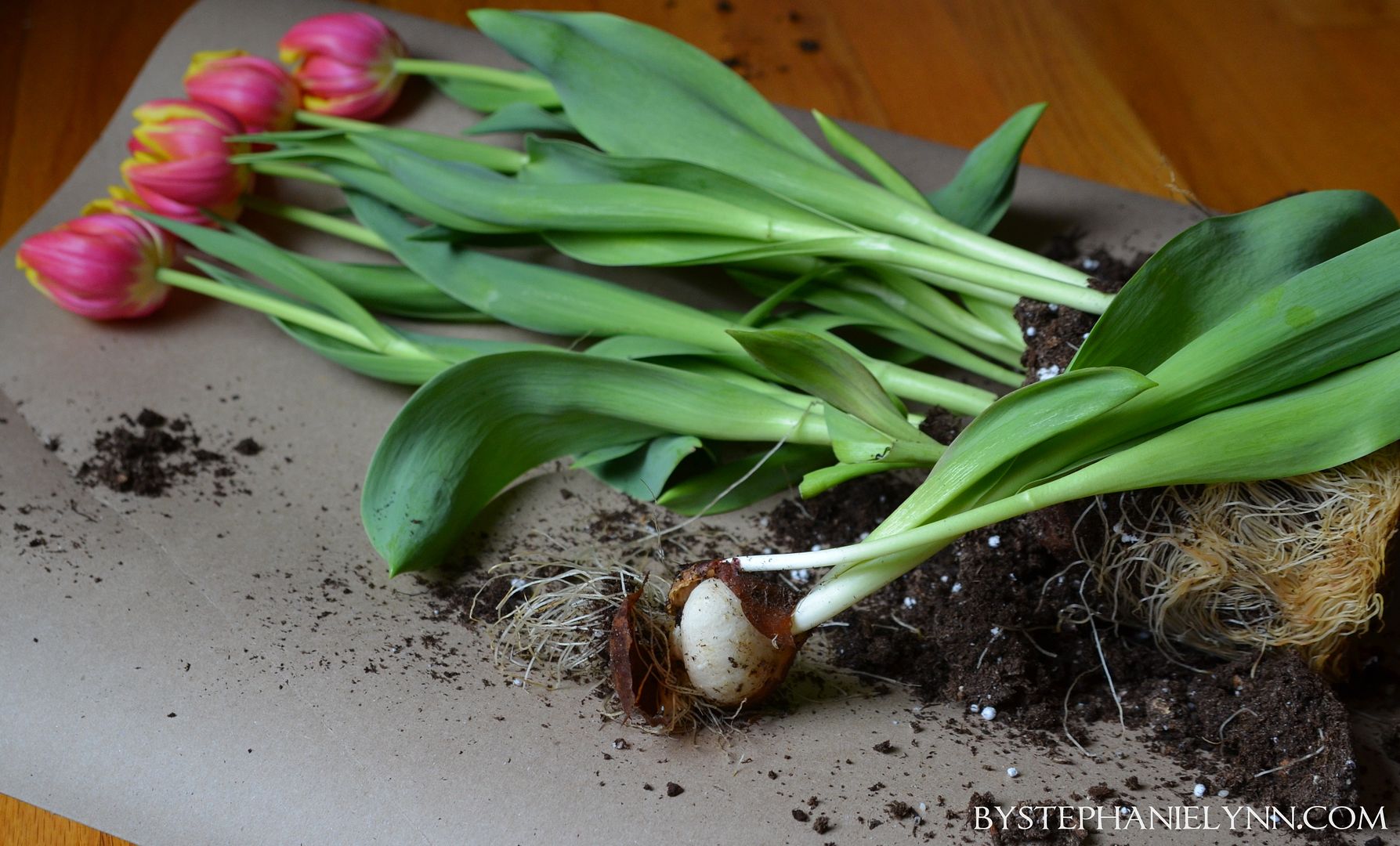 Pre-purchased potted bulbs can also be re-potted, into your favorite pot or vessel, once you get them home. The vivid colors of this particular bunch, found at my local garden center, are pretty amazing.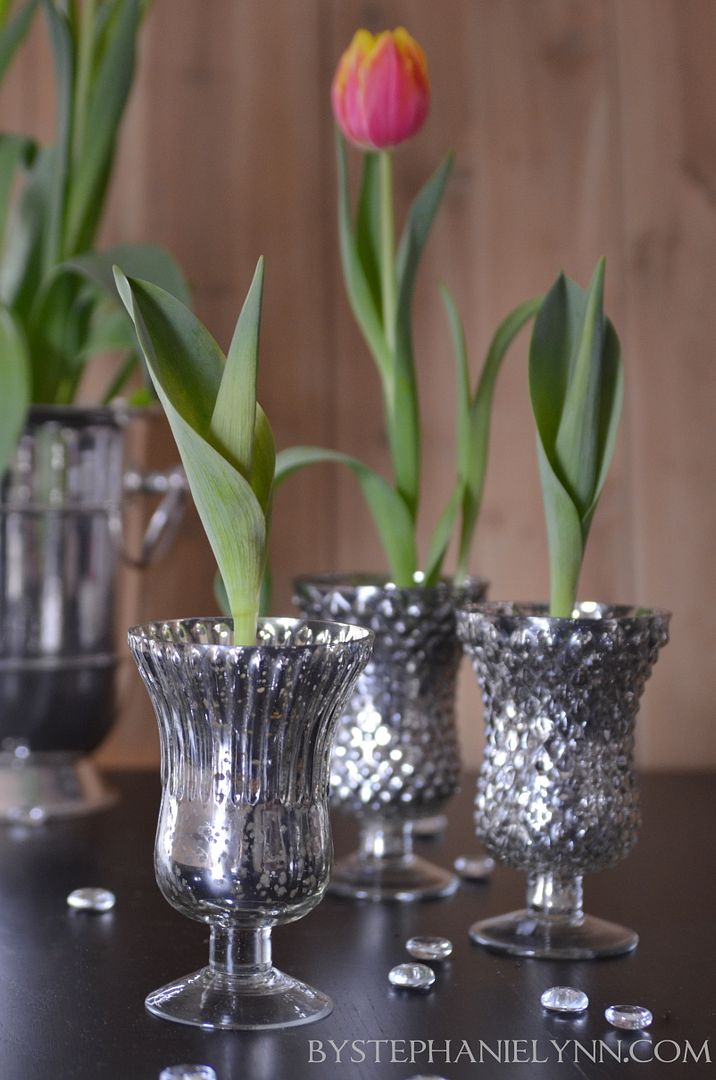 As with all flowers, tulips seek the light and will grow in that direction. So if you want to keep your tulips growing straight, don't forget to rotate them daily.
Potted tulips also like bright locations and to preserve the blooms as long as possible it is suggested to keep them in a cool area to slow their growth.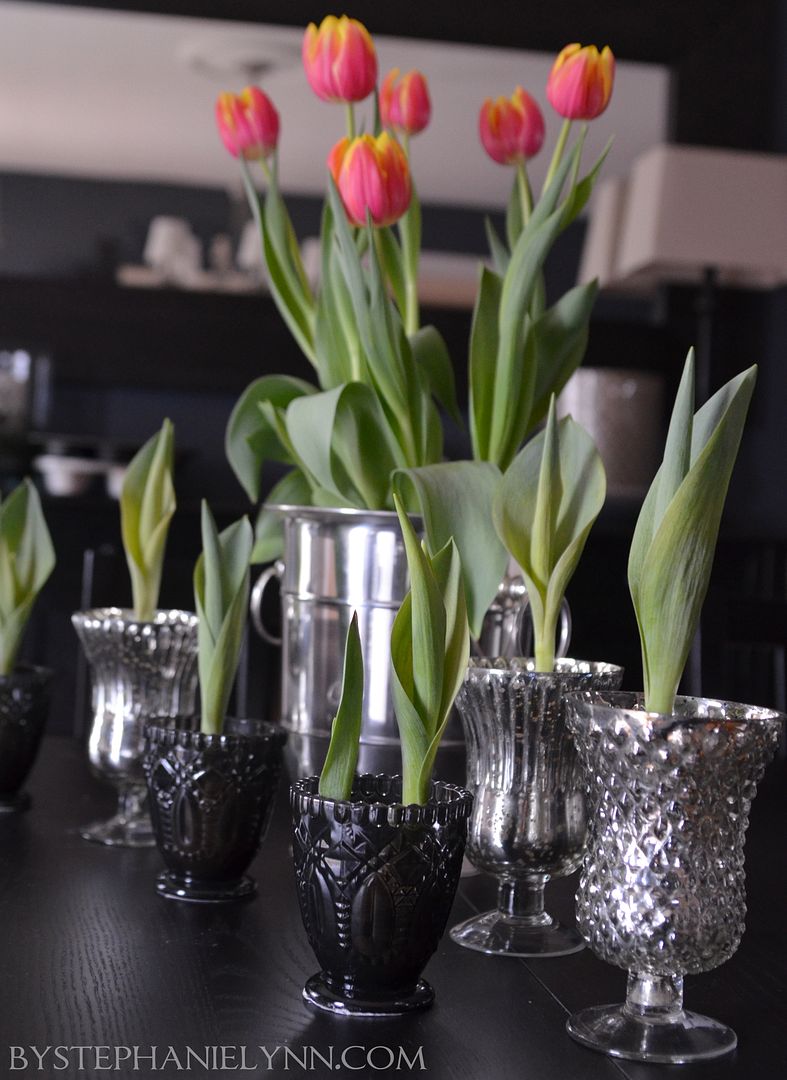 As with many store purchased potted bulbs – forcing the bulbs to bloom depletes great deal of energy and there is no guarantee the bulbs will re-bloom once replanted in the fall…but there is a chance they will.
I personally think it's fun to try and have had much success in my region. It's so exciting to see a peak of green in the spring. To give it a go,  just follow the simple steps below…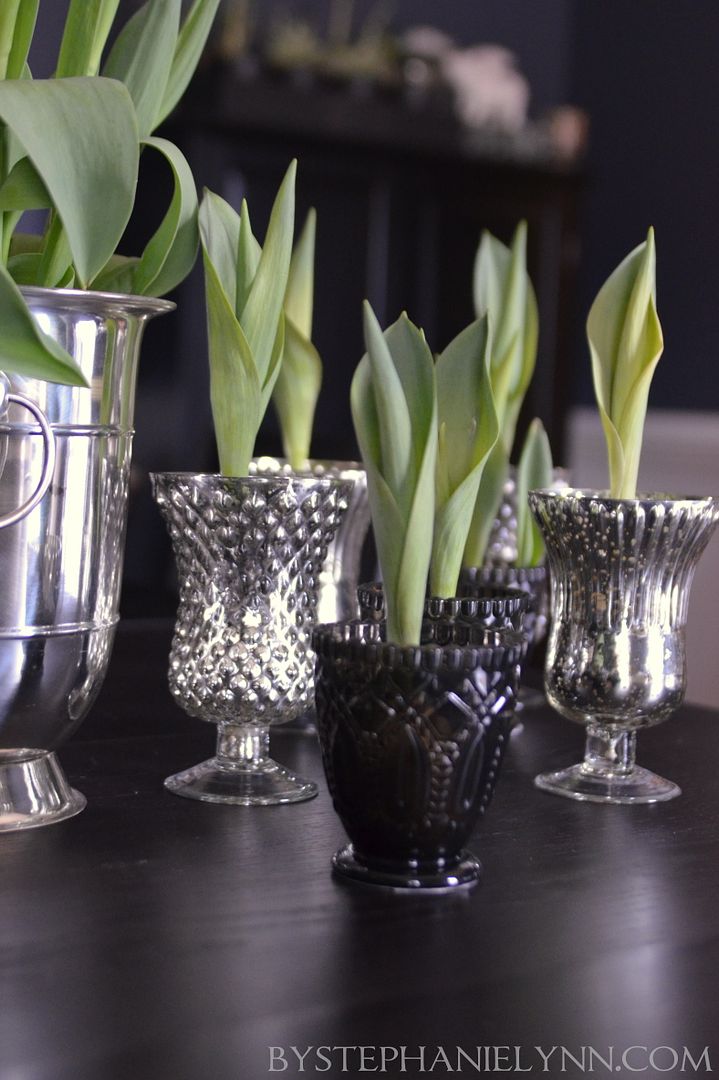 After the plants have finished blooming, clip the dead flower from the stem, leaving the foliage in tack. Once the foliage has completely dried out and turned brown, cut it back and store the bulbs in a cool dry place. If the bulbs are potted you can store them right in the pot. The bulbs can then be planted in your garden in the fall.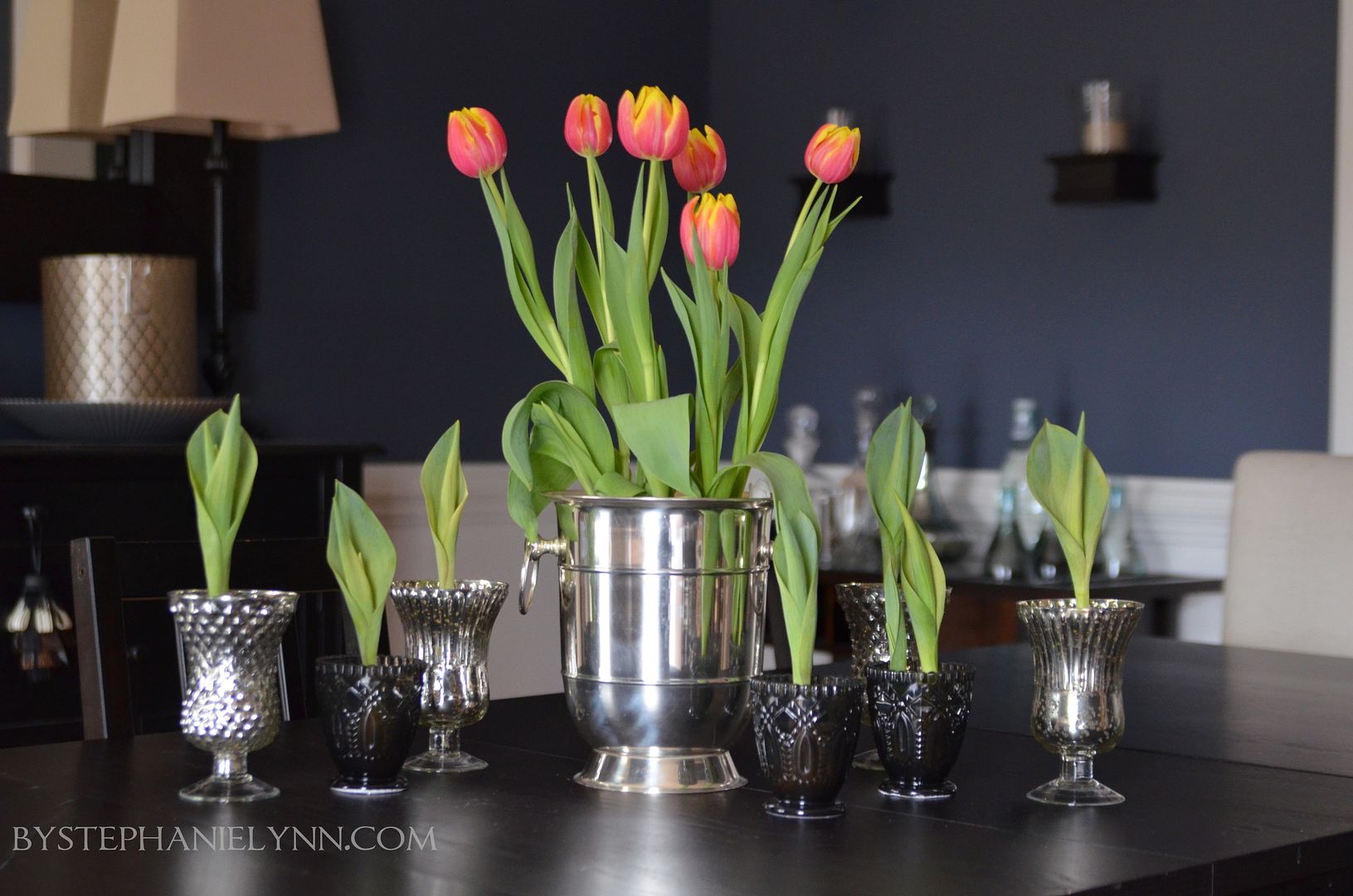 I just adore these little arrangements and while one big potted plant is nice – it's much more fun to spread the love to as many as you can. The smaller candle holders were perfectly sized for my little guys hands since he was the lucky one to pay it forward to those who are around to help him on a daily basis. It's pretty amazing how something so effortlessly put together can makes someones entire day.
iBulb is also giving one of you the chance to pay it forward with potted bulbs by offering one reader a $25 Visa gift card. To enter for a chance to win leave a comment below letting us know who you would give the potted bulbs to and why.
Spring is on its way – enjoy.
Entries will be open until midnight February 27th –
a winner will be randomly selected an notified  February 28th.