This post brought to you by TIKI Brand®. All opinions are 100% mine.
We have been working on our outdoor living space now for a couple of years.  It all began with the idea, layout, and build of our 'diy party deck' – which eventually, today, has evolved into a much-used outdoor extension of our indoor family living room. While it has taken some time for our particular outdoor living space to completely come together – I have always believed the simple addition of a few key essentials could make any outdoor space feel cozy and inviting.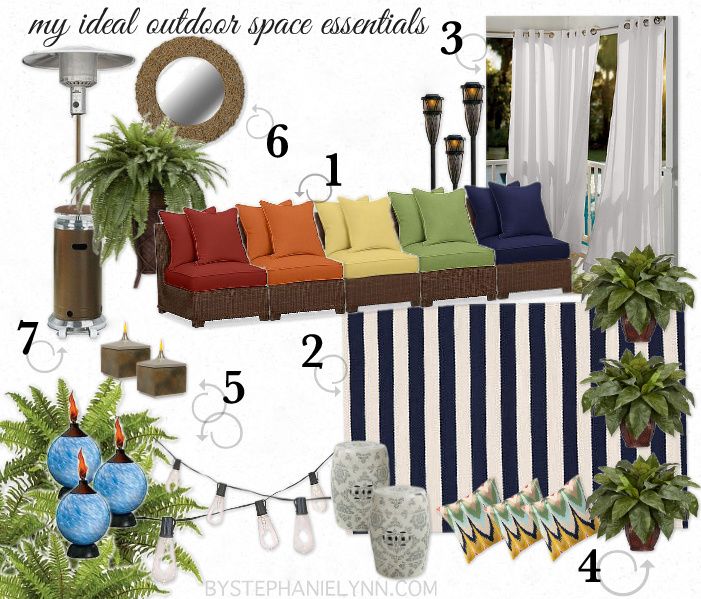 When TIKI Brand asked me to share my ideal outdoor living space – I had no problem putting my list of essentials together.
1- Comfortable cozy seating
2- an Area rug to define the space
3- Outdoor curtain panels to soften the space and add privacy
4- Plants, flowers, and trees – lots of them!
5- Lighting to create that special ambiance – candles, solar lights, torches
6- Accessories & outdoor decor – wall art, decorative pillows, side tables & garden stools
7- a Patio heater – for cool summer nights
* shop these looks and view item sources here
And here's a little peek at how I have incorporated these essentials into our own space….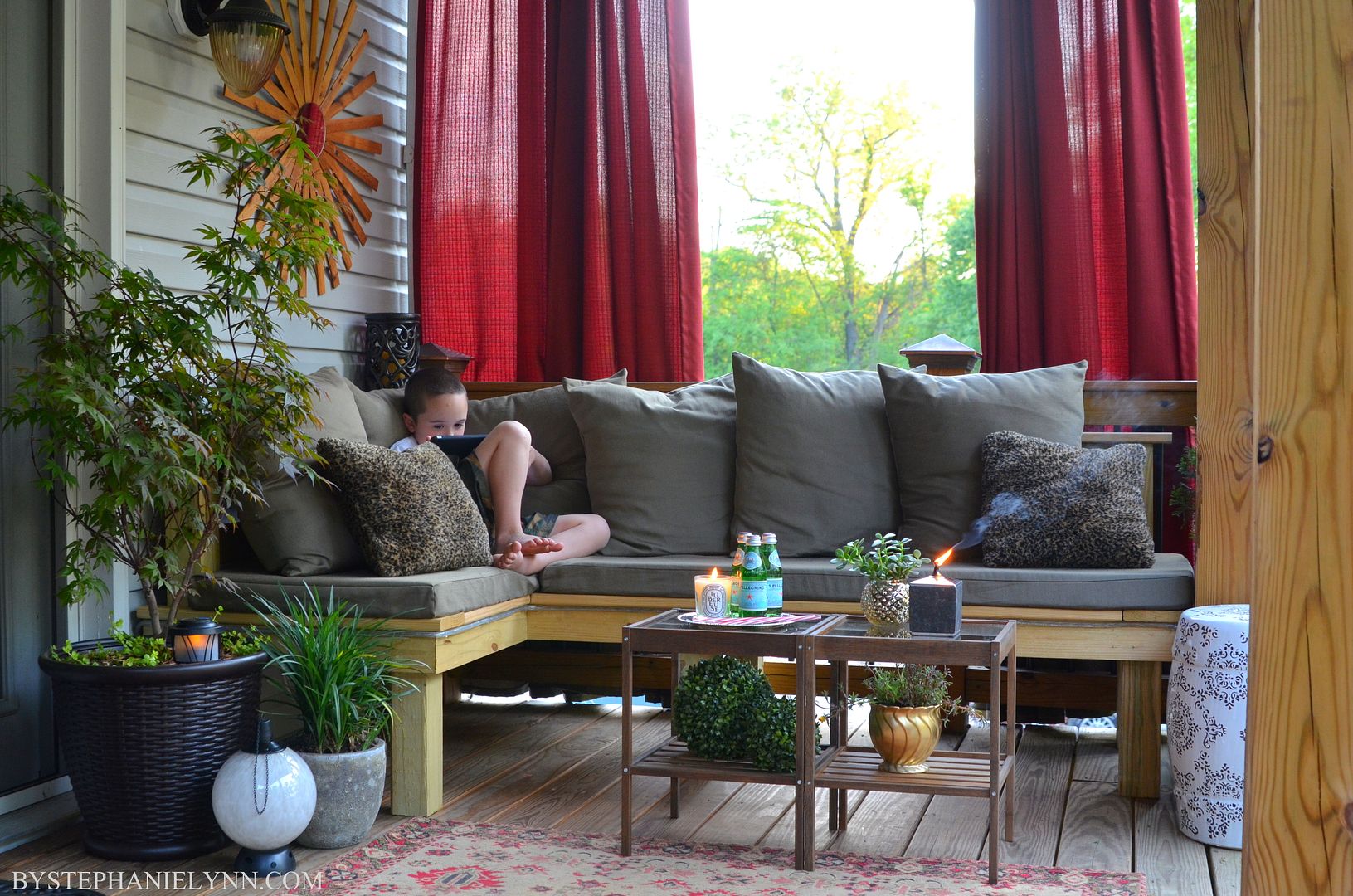 We have been quite busy this spring crossing off some of the outdoor projects on our list. While I share more specifics and details a little later – I thought this would be perfect opportunity to sneak in a preview…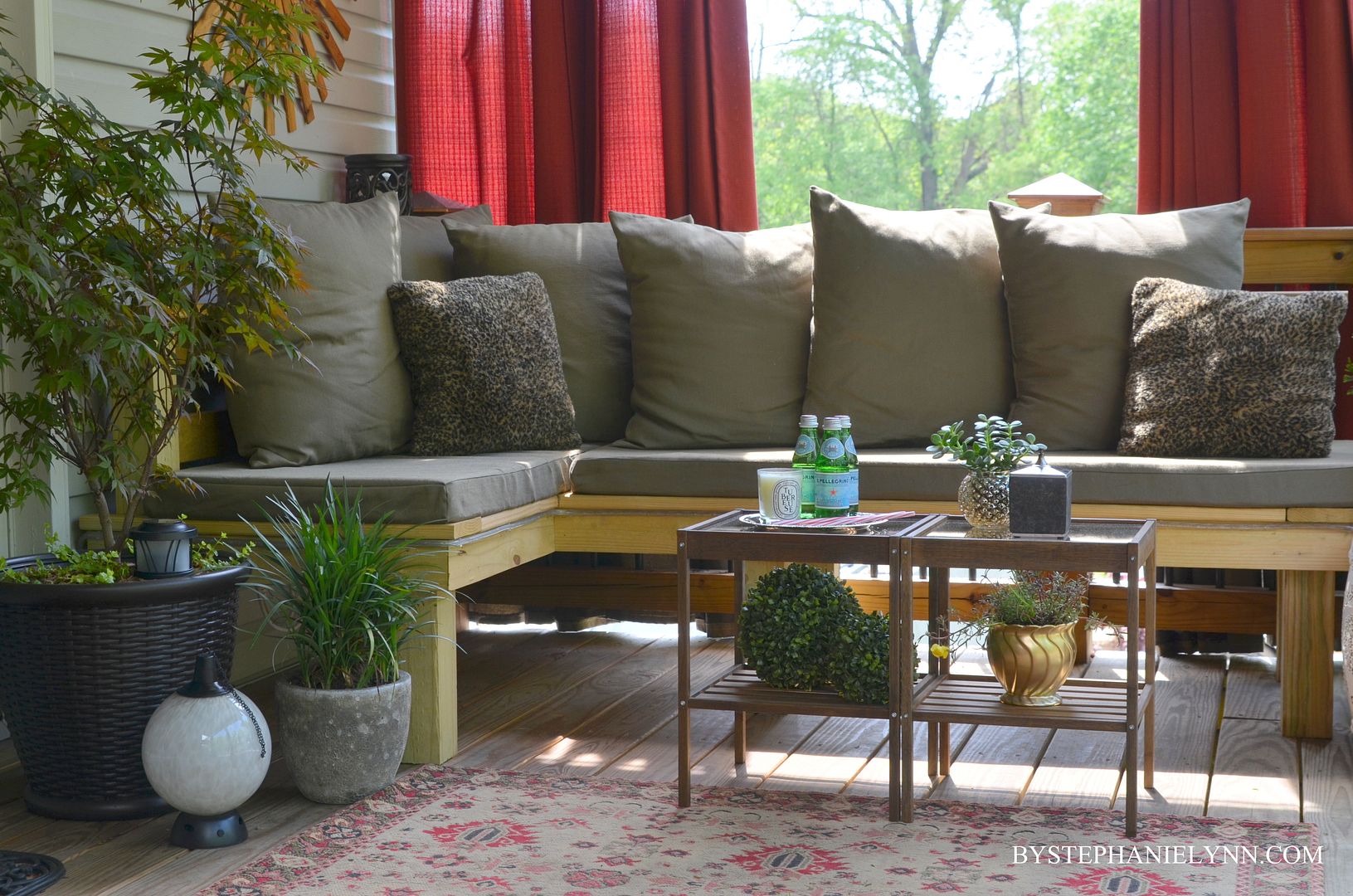 That comfortable cozy seating goal we had set for this year has been achieved with the addition of our new diy outdoor sofas. We designed the plans to fit perfectly in the space and while Butch built them – I painstakingly sewed all of the cushions and pillows.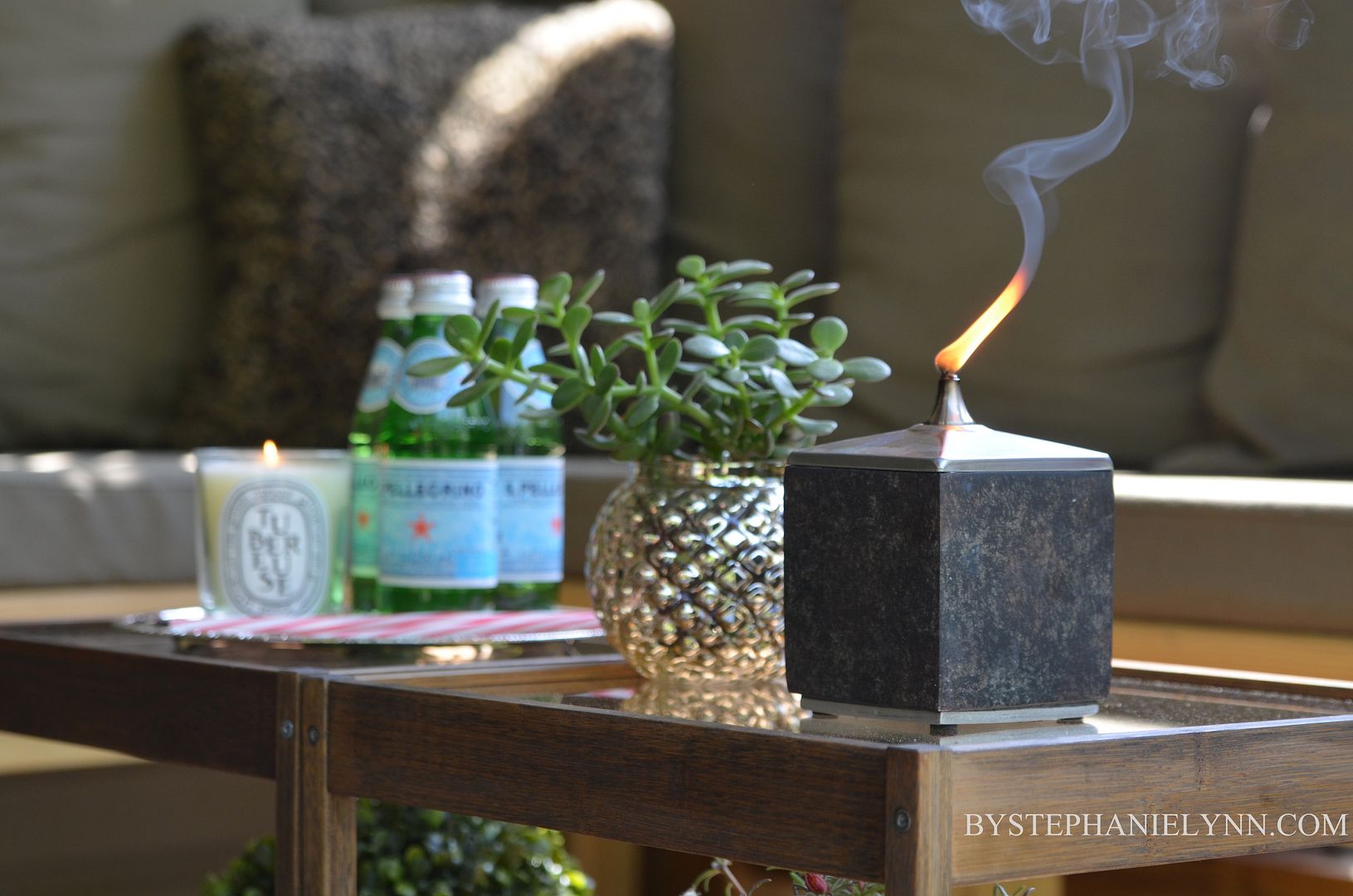 I usually tend to over-think our outdoor lighting situation – I think a variation in lighting plays a big part in creating just the right mood for a space. See, I love the glowing ambiance of a fire element – especially outdoors – however it is not always ideal on a wooden deck with the active boy and an over-sized doggie.
While the actual open flame elements are kept to a minimum – I still feel the need to add a few to the tabletops. In addition to traditional candles I really like the idea of this TIKI Brand Slate Oil Candle. It not only has a sleek slate finish but it is refillable too – perfect for daily lighting.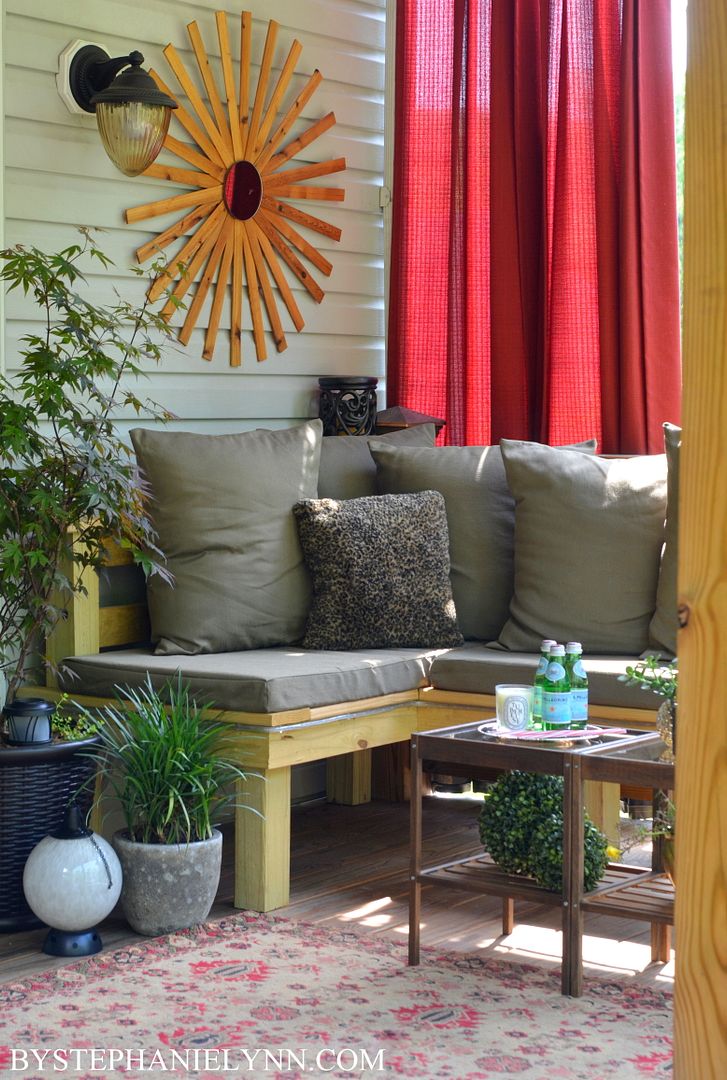 And for those times when we are looking for that soft glowing ambiance without exposed flames – we turn to solar or LED lighting.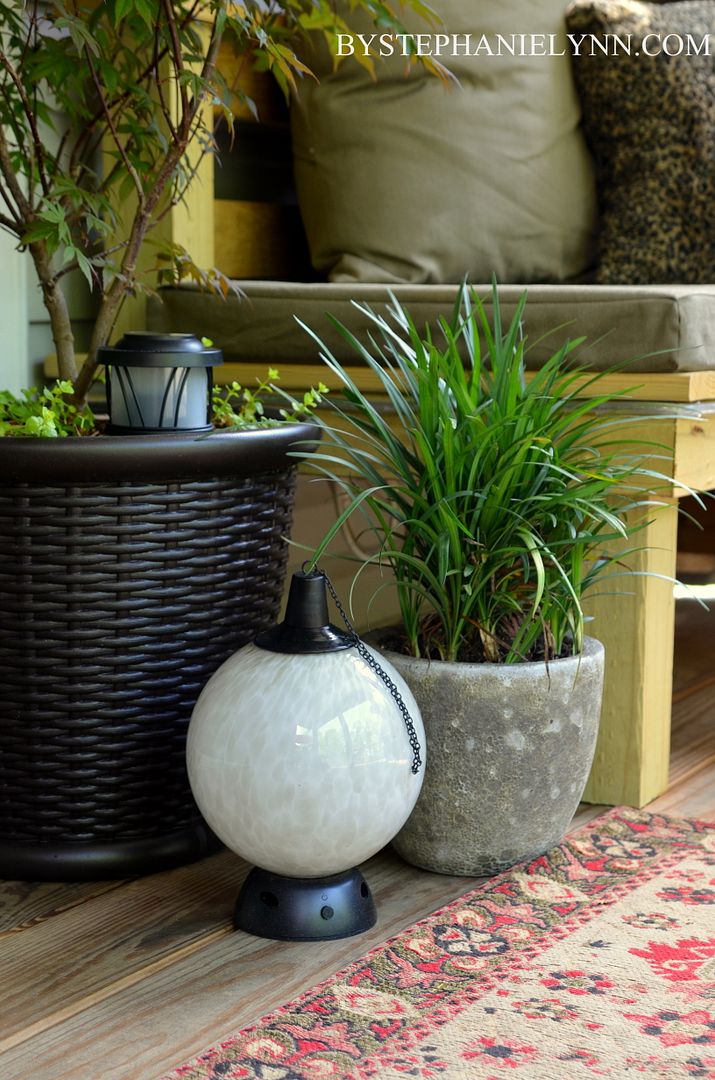 Both of these convenient lighting options can be found in the TIKI Brand Glowing Torch Line which combines the best of both worlds; natural flame and LED lighting.
The TIKI Brand Glowing Table Torch is handcrafted of decorative art glass with a built in multi-color LED display. While the top fuel canister can be filled and lit for natural flame the LED bottom can be turned on to illuminate the glass from within. The LED light can be used with or with the natural flame – and you have the option of choosing a solid white light display or a constantly changing light pattern of red, blue and green – which is my little guys favorite… check out the visual below.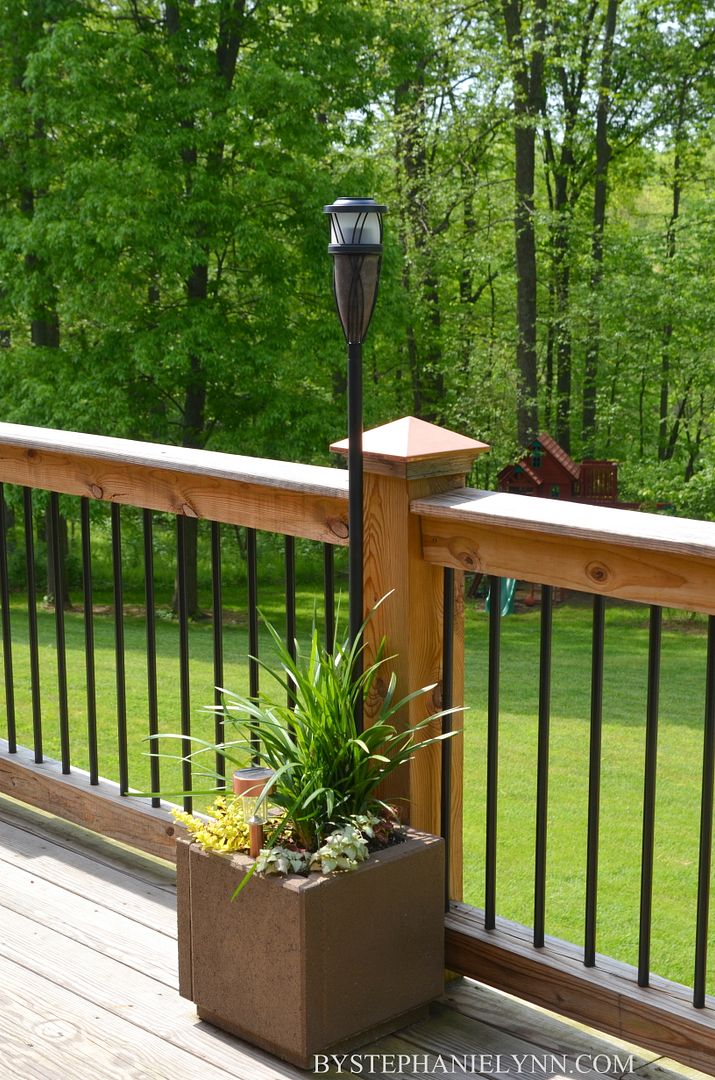 Another new product is this TIKI Brand Flame & Solar Torch. This two in one product combines the natural flame of a traditional torch and a removable LED solar light. I tucked the torch in our homemade patio paver planters.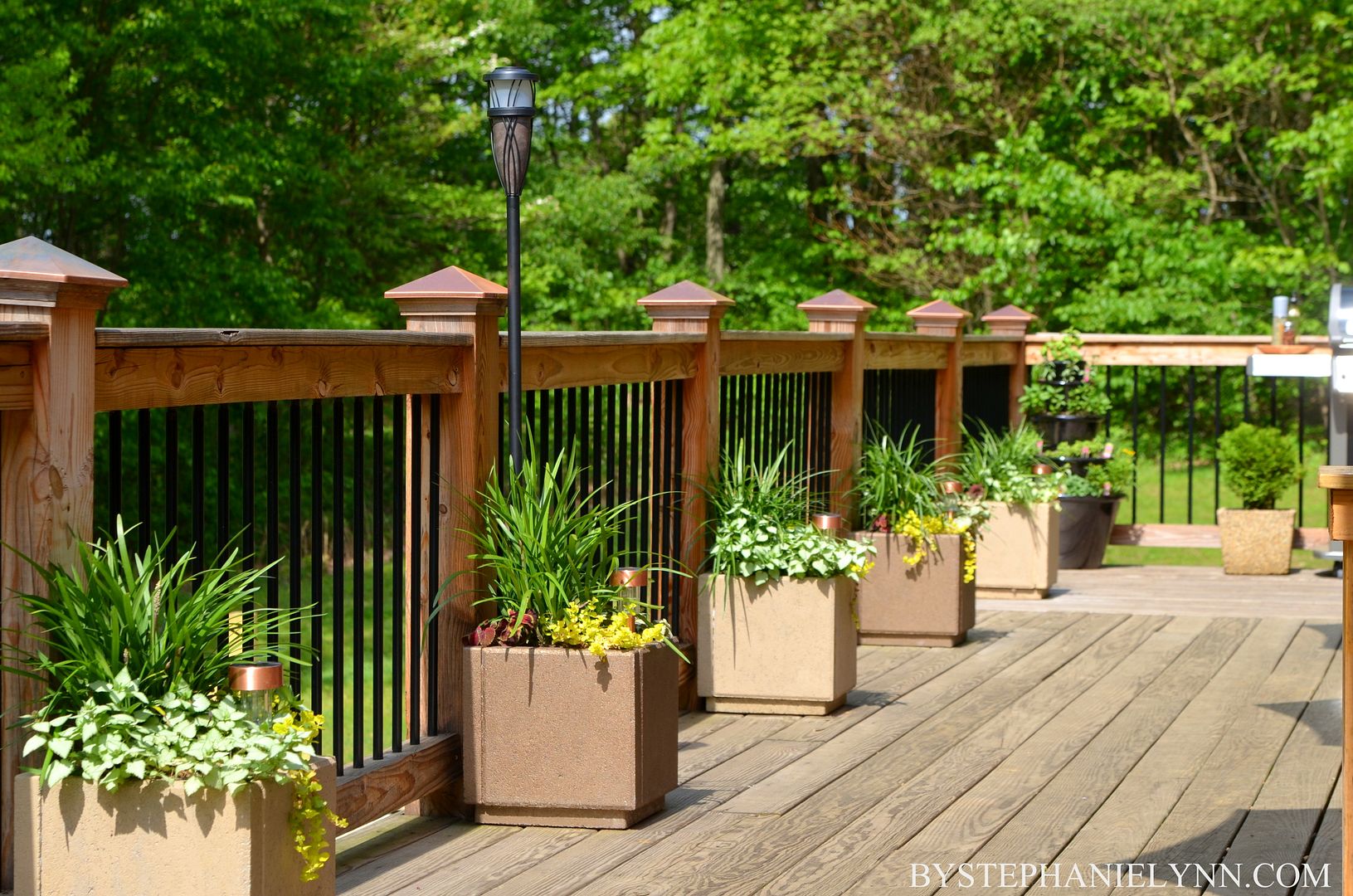 I just need seven more to complete the look 🙂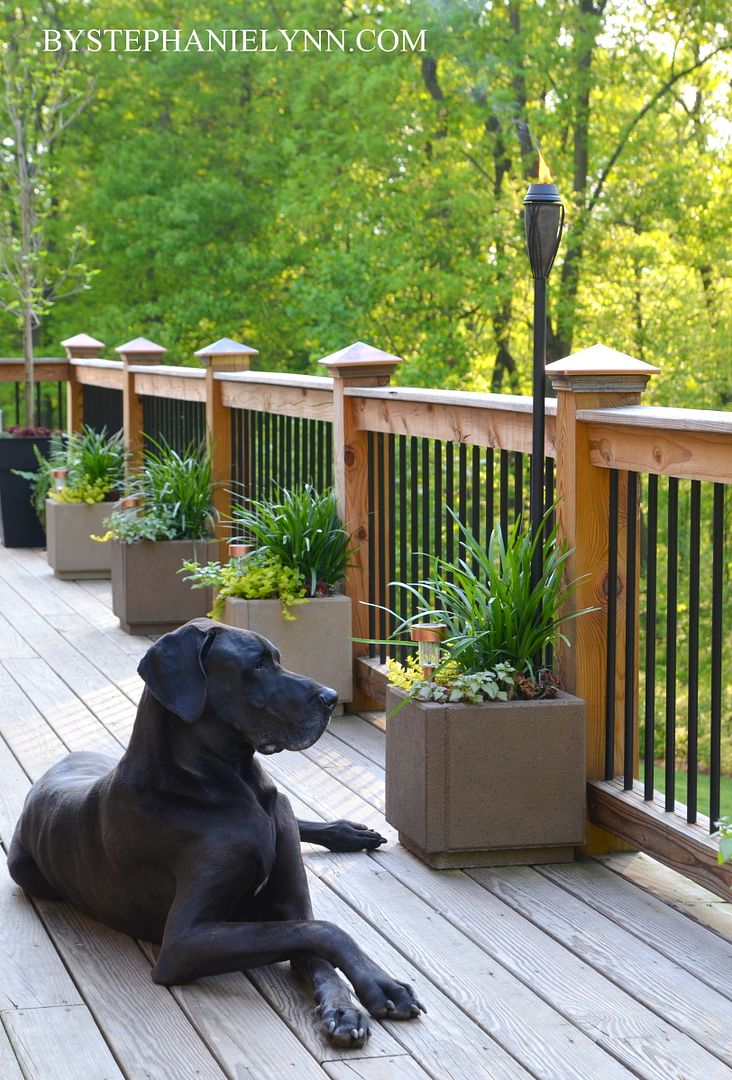 The natural slate finish coordinates with the oil candle shown above – a bit fancier and more durable than a traditional bamboo construction you normally see.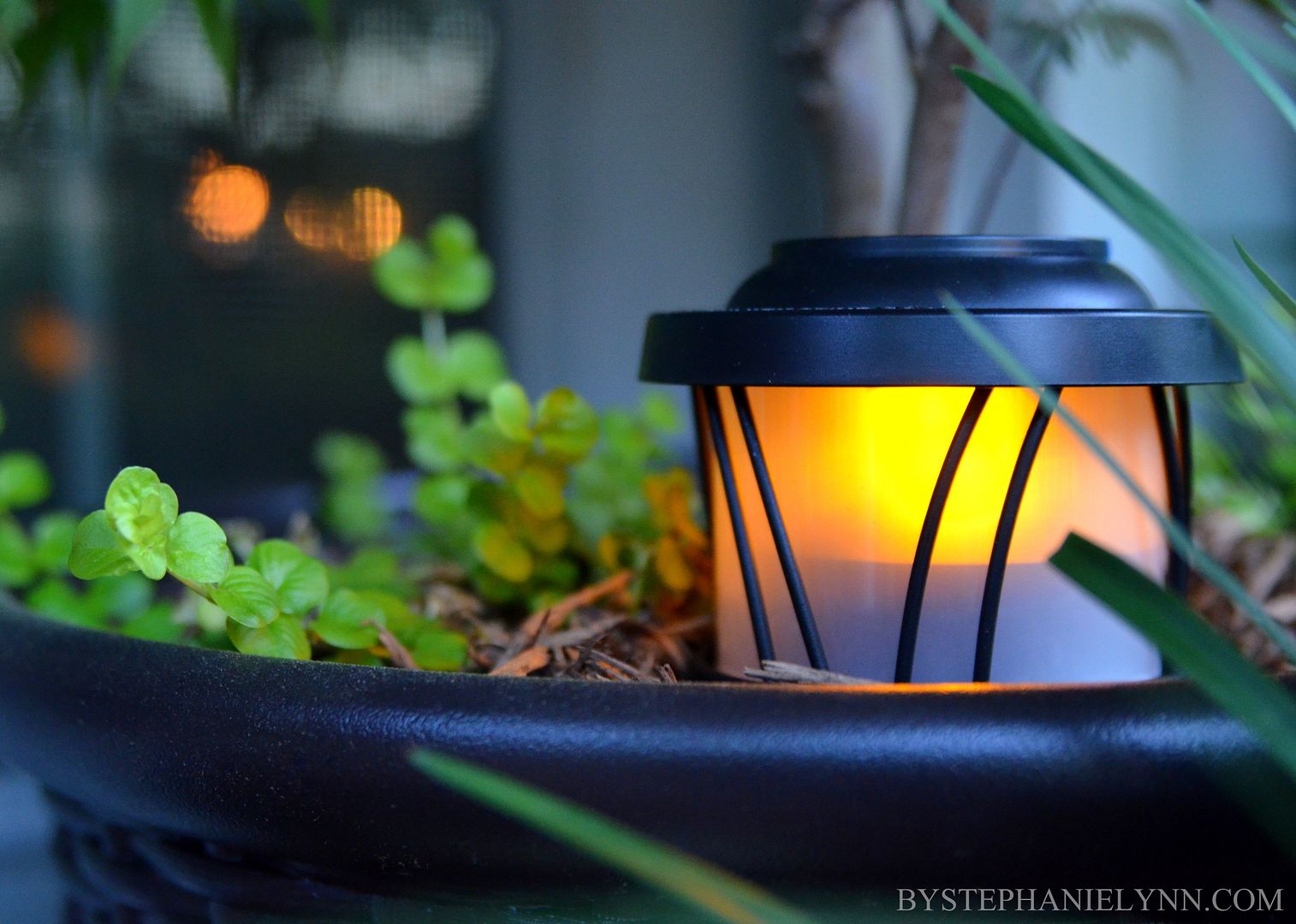 The solar-powered LED top is completely removable and automatically turns on at night. I love that the light flickers just like a natural flame plus it lasts up to 8 hours when fully charged.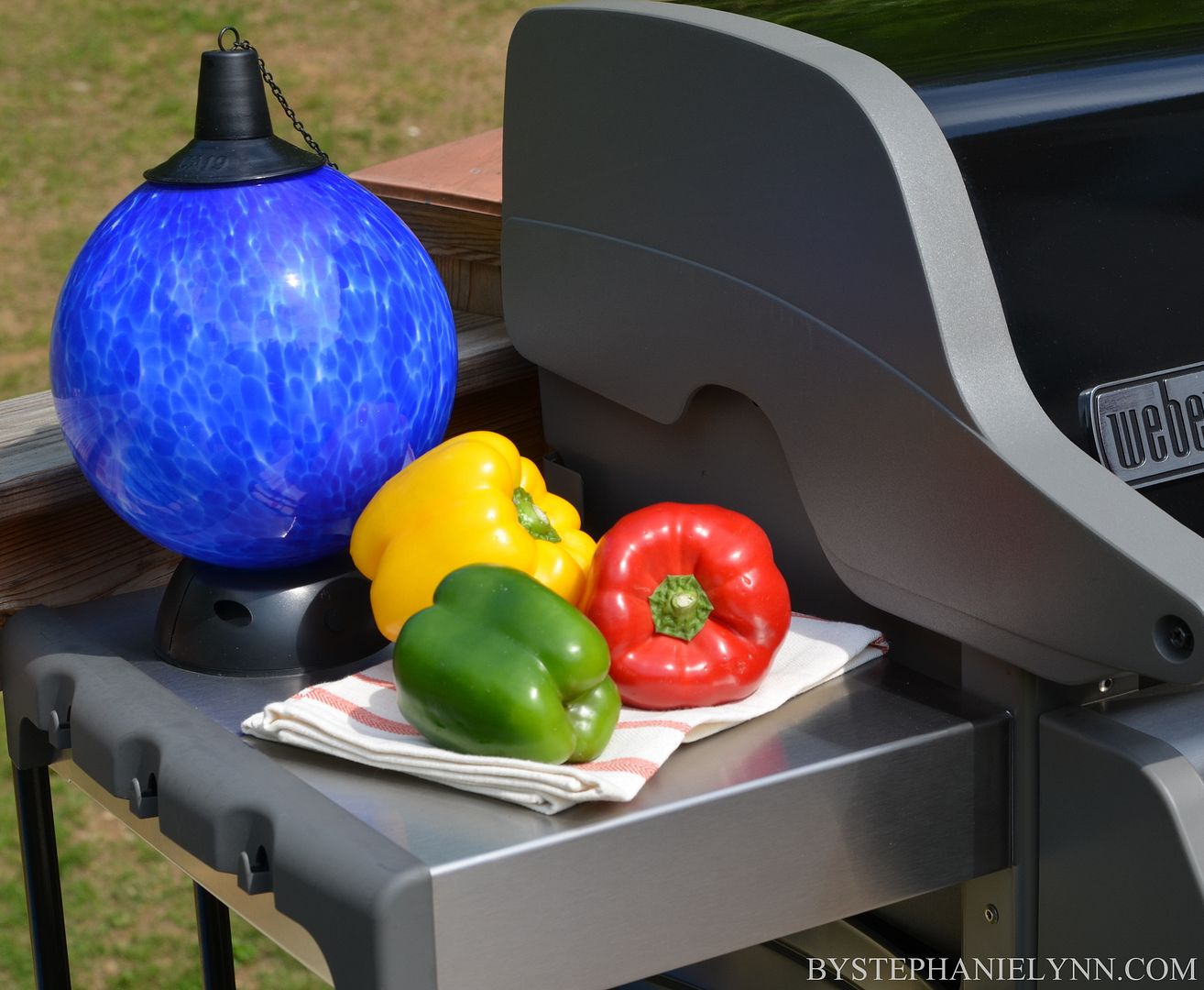 I really like the fact that these products both contain two usable features in one and can be easily moved around the deck to create instant added ambiance where needed.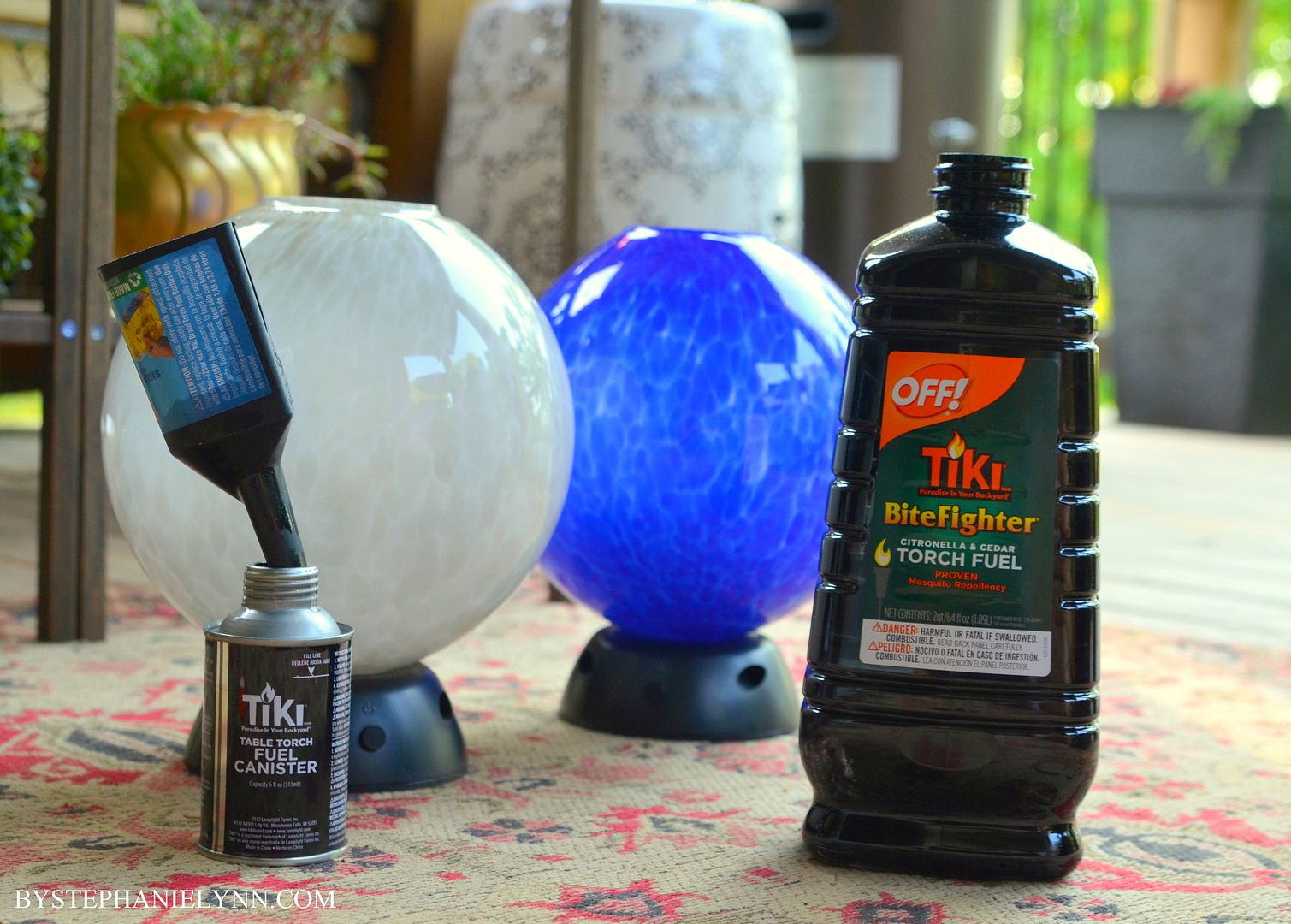 Plus, both of these products can be used with the Bitefighter Cedar Oil Torch Fuel – which offers mosquito repellency to help keep those pesky suckers away – p.s. I highly recommend the snap & pour spout.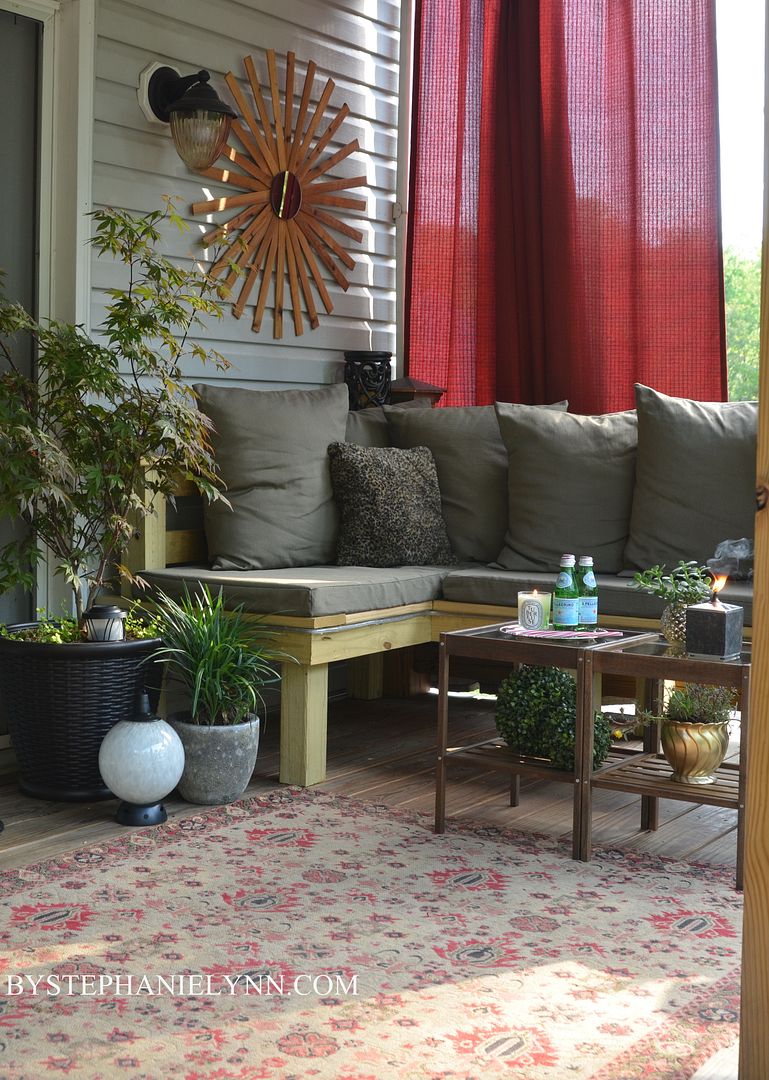 Does your outdoor living space become the best room of the house this time of year?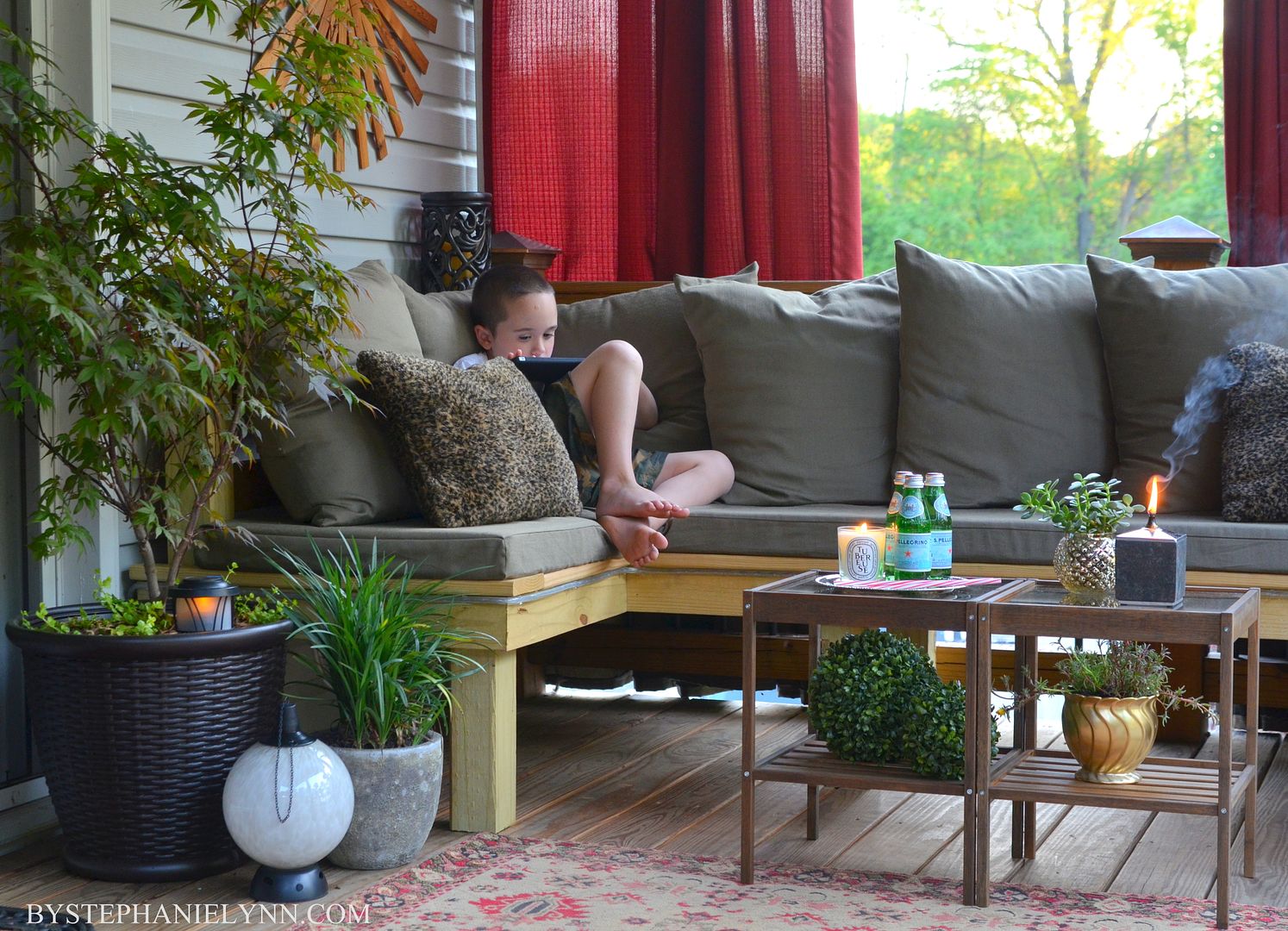 Our does – without a doubt.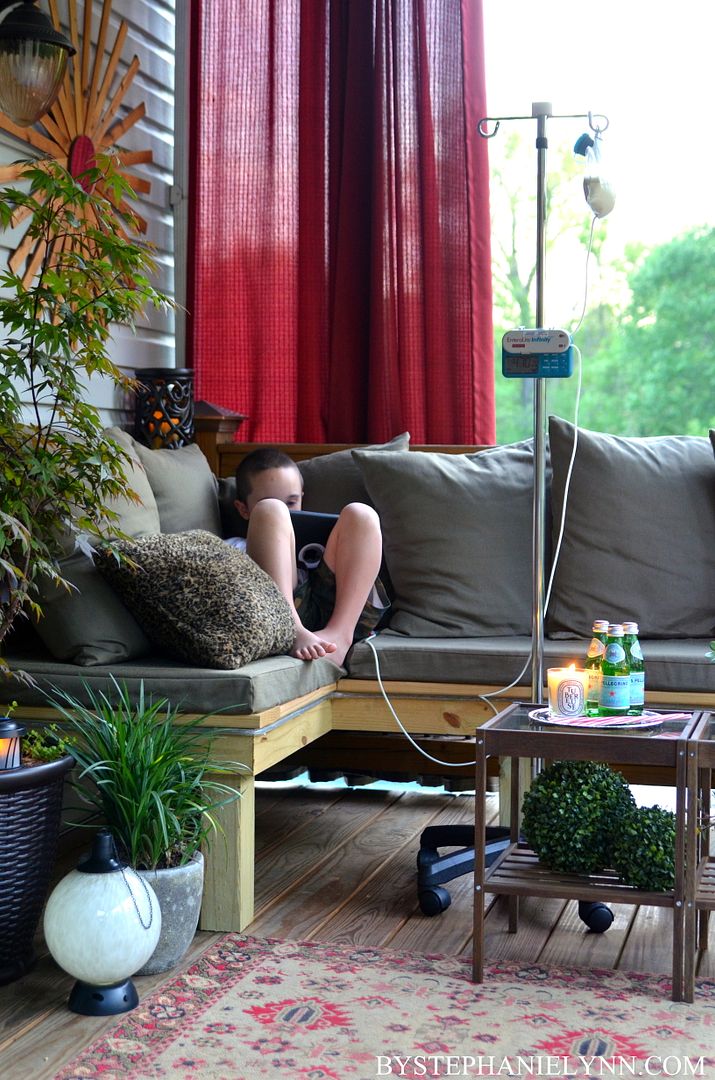 In fact CJ has already claimed this corner as his own little nook.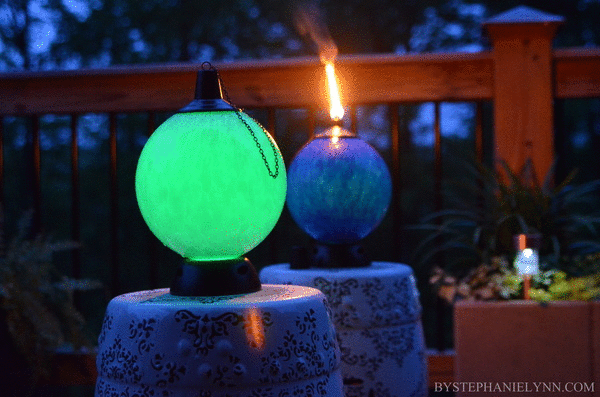 The TIKI Brand Glowing Table Torch and TIKI Brand Flame & Solar Torch  are both available at Wal-Mart & Target. To view all of the TIKI Brand Glowing Torch varieties visit tikibrand.com as well TIKI Brand on Facebook.