Our herb garden this year has finally taken root. While there are still a few spots that need to fill in – I thought I'd better share now before it starts growing wild and out of control.
For the past couple of years I have put together a small sized herb garden to sit on our back deck. I love the convenience of having fresh herbs growing just steps away from the back door. Plus, since they are easily accessible – and right next to the grill – we tend to use them a lot more.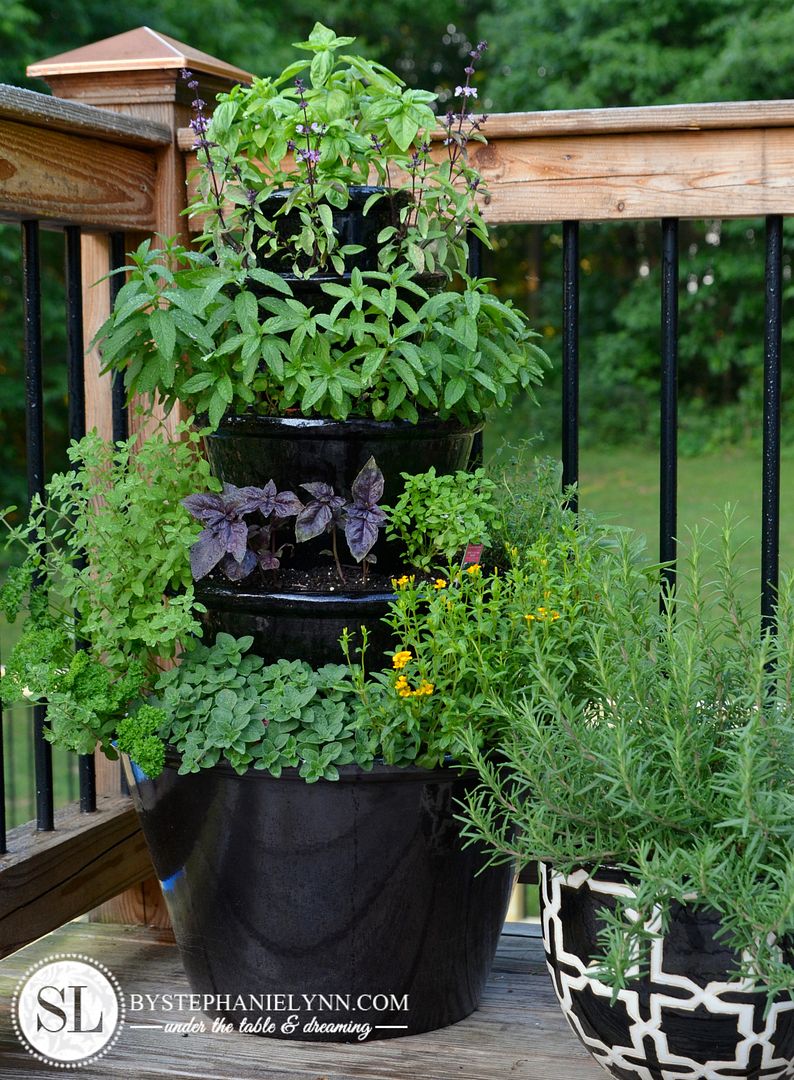 While visiting a local nursery earlier this spring, I happen to stumble upon a complete set of five glazed terra cotta pots. With the largest measuring over 25 inches in diameter – I thought the entire set would make a wonderful tiered planter. The glazed coating was a bonus for an herb garden as well, as it tends to hold moisture more effectively than regular terra cotta.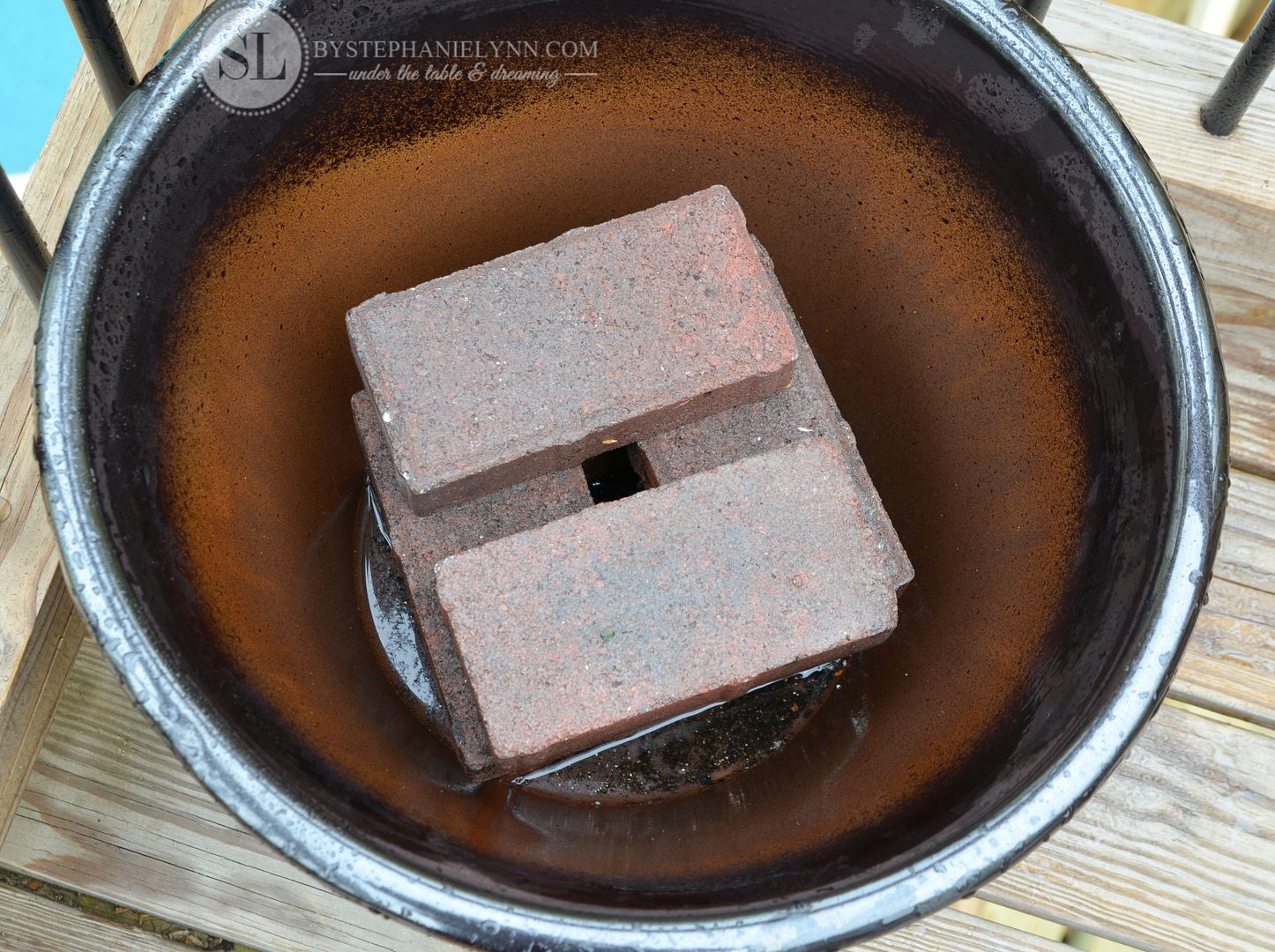 The only down fall of glazed terra cotta, or tiered planters for that matter, is the weight – especially once they are filled with soil and plants. So, I started by placing the pots in the area I intended to keep them and working from there.
There are several different ways to stack the pots for a tiered planter. I used whatever method provided the best, most sturdiest, base – as I worked my way up the tier levels.
Bricks were used in the bottom pot. They were stacked, as shown above, to allow for adequate drainage once the soil was added.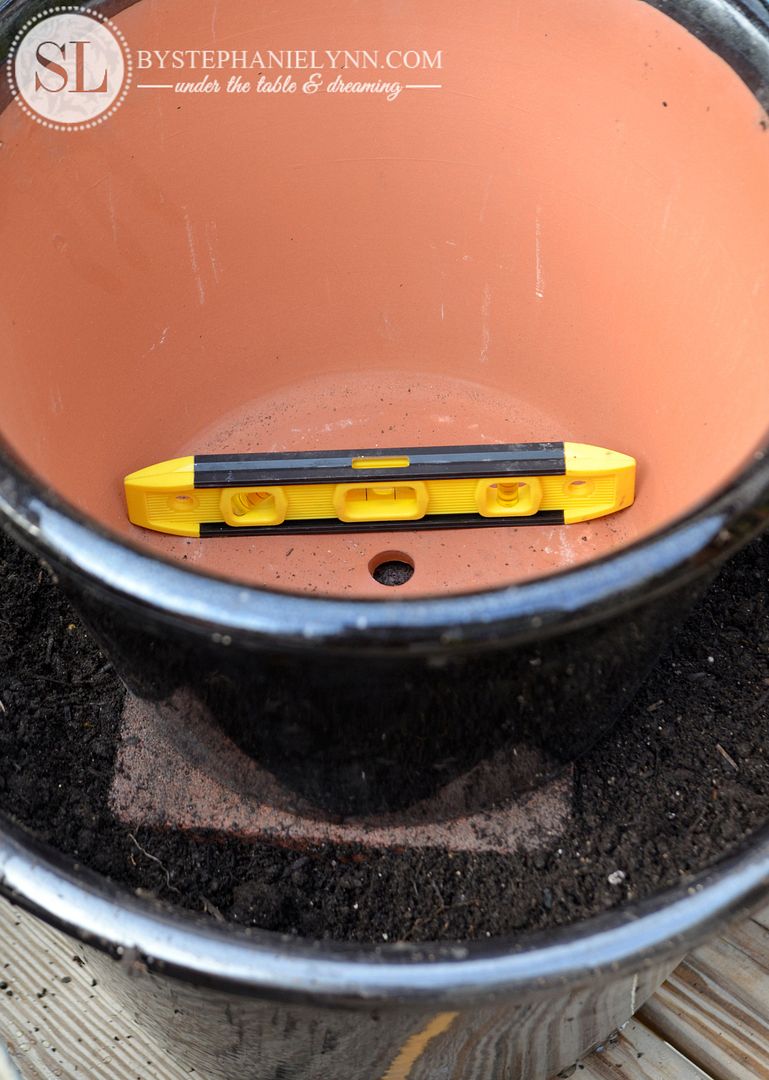 Note once the next pot is placed on top, the drainage hole directly lines up with the open space left in the stacked bricks.
It's always a good idea to use a small level to check each pot that is layered on, as well, to ensure the final look is nice, straight and even.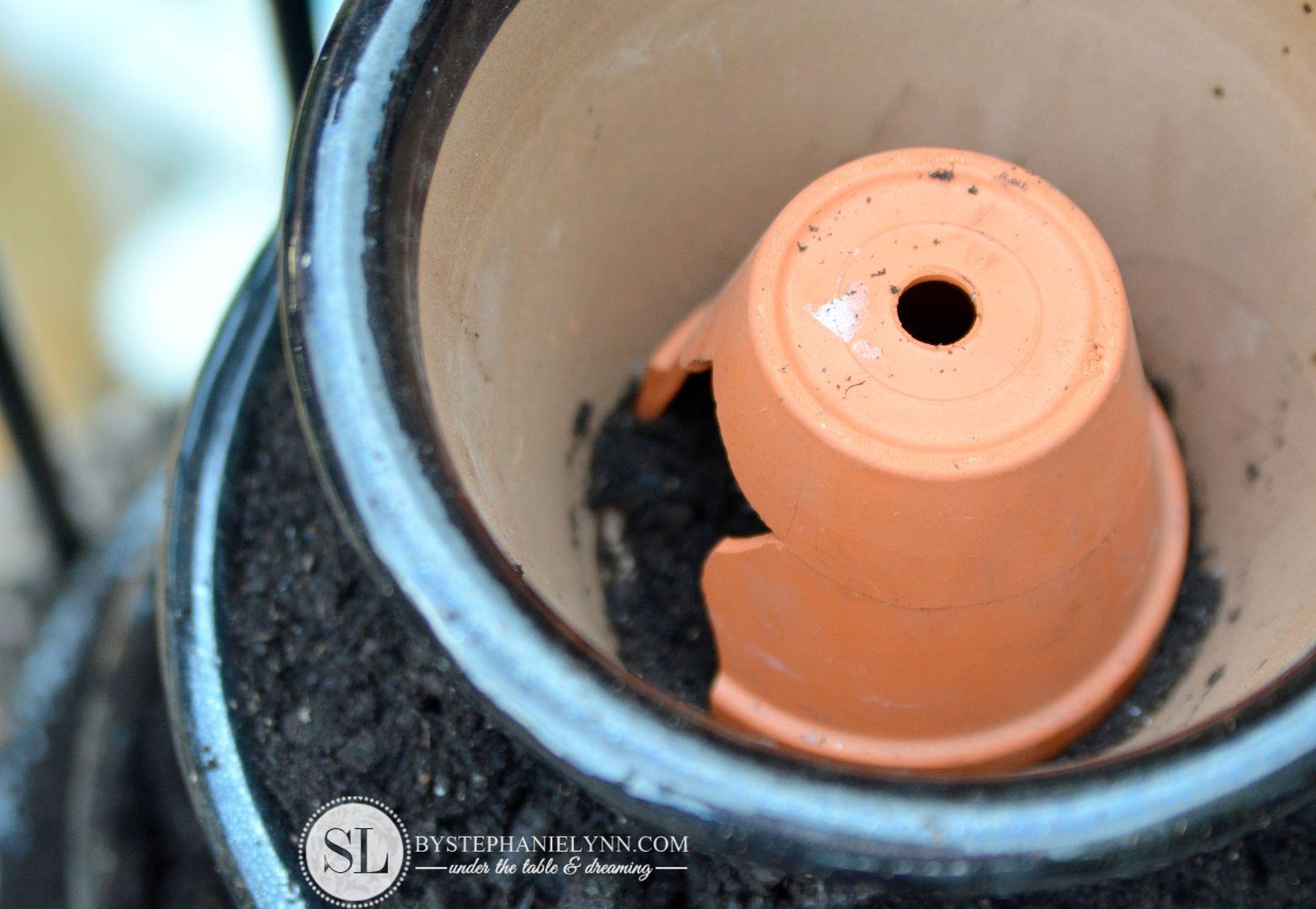 Inexpensive terra cotta pots, along with pea gravel, were used for the 'risers'
in the smaller pots at the top.
To ensure even better drainage in these tiers, I just carefully chipped away a piece of the pot
– as shown above.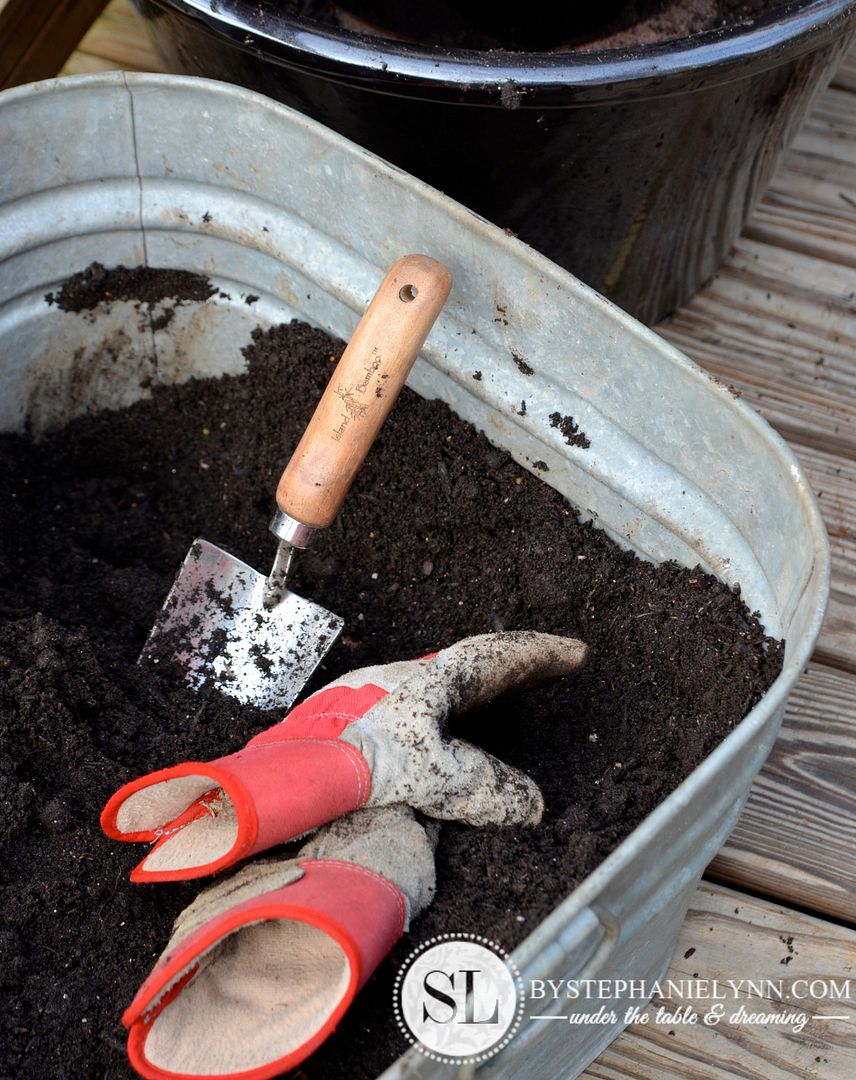 Loose and well drained soil is best if planting herbs in containers. Since regular garden soil can be heavy and has the tendency of drying out quickly, a soil-less potting mix should be used. Soil-less simply means a mixed growing medium that does not contain soil, such as the dirt you would find in your garden or yard. Rather than soil, organic and inorganic materials are combined to grow healthier plants – plus reduce the threat of contaminates and disease.
Quality mixes can be found at your local garden center, however, it is just as easy to mix your own using equal parts of sphagnum peat moss, perlite, and vermiculite.
If purchasing a pre-bagged mix, choose a better quality mix with at least 15% perlite. Some pre-bagged mixes do contain fertilizers and chemical wetting agents – so be sure to throughly check the labels if you are looking for a more organic type of medium for your herbs.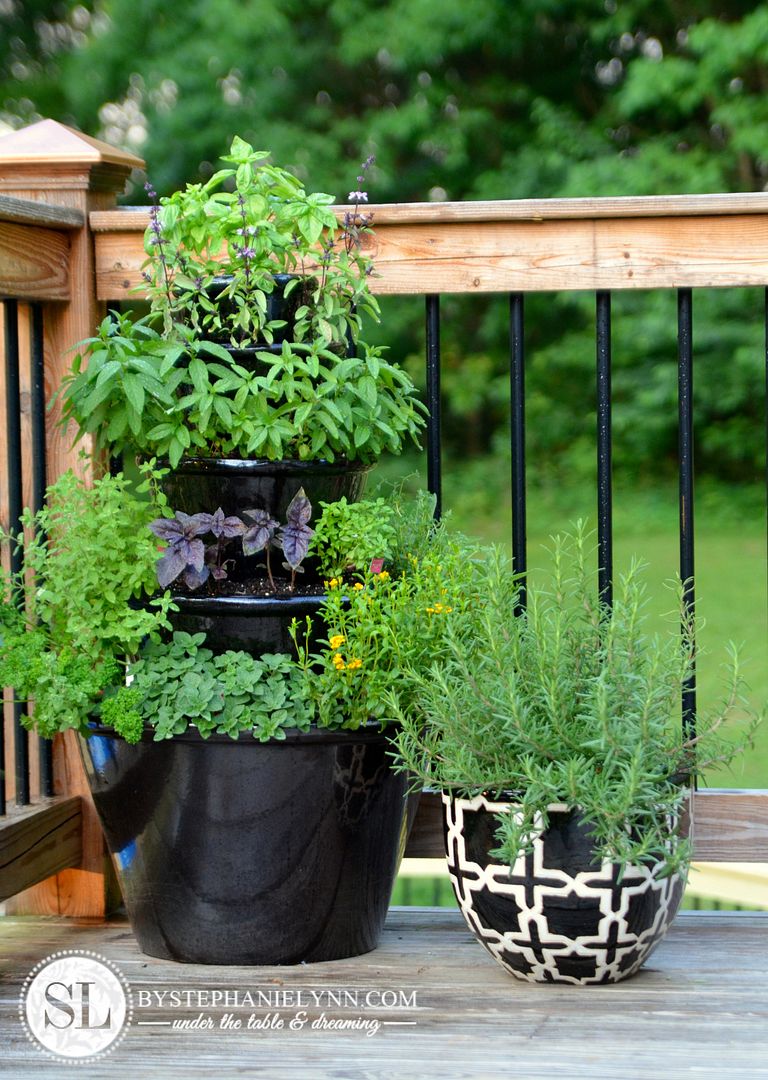 This year I included the following herbs in our tiered planter:
Tier One | Sweet Basil
Tier Two | Thai Basil
Tier Three | Mint – this is in its own pot because it tends to be a bit unruly.
Tier Four | Sweet Marjoram – Red Rubin Basil – Spicy Globe Basil – German Thyme – Fern Leaf Dill
Tier Five| Curled Parsley – Oregano – Mexican Tarragon – Sage – Chives – Cilantro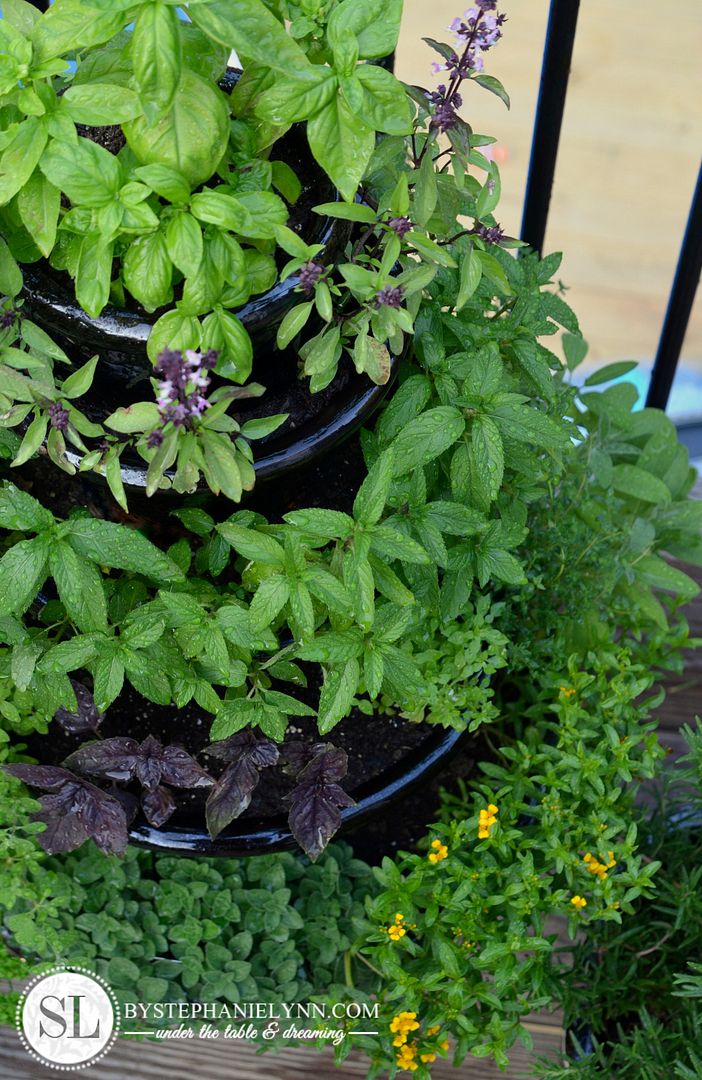 Some of the plants I used are from last years herb garden.  They decided to make a return this year  – like the sage, mint, and cilantro. We only started a few from seed this year and the rest I simply picked up at the nursery.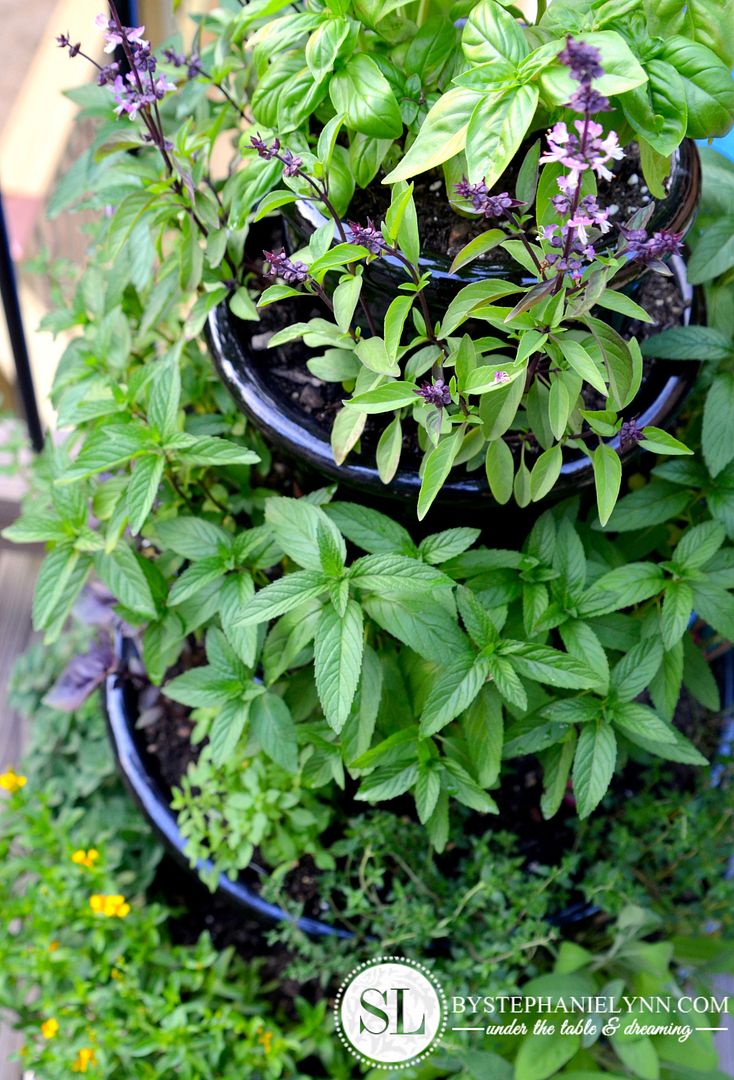 The herbs were planted in spots around the planter according to their lighting requirements.
Did you know that the essential oils that give herbs their aroma and flavor are produced best when the plants receive the adequate amount of required light. Since sunlight is so crucial for an herb garden, it's not a bad idea to track the sunlight in the designated planter area
and plant the herbs appropriately.
Here is a peek at the herb progress so far…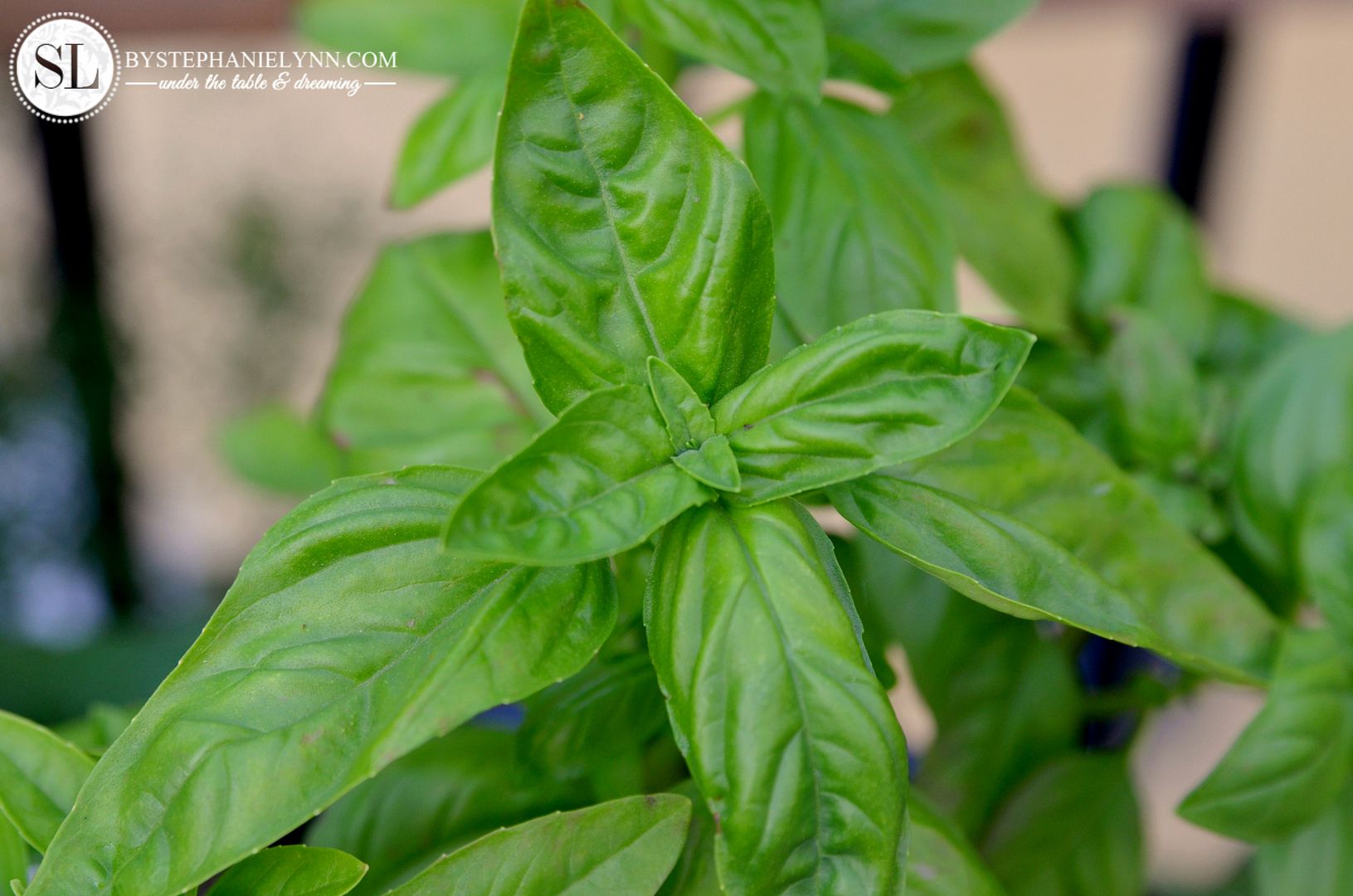 Sweet Basil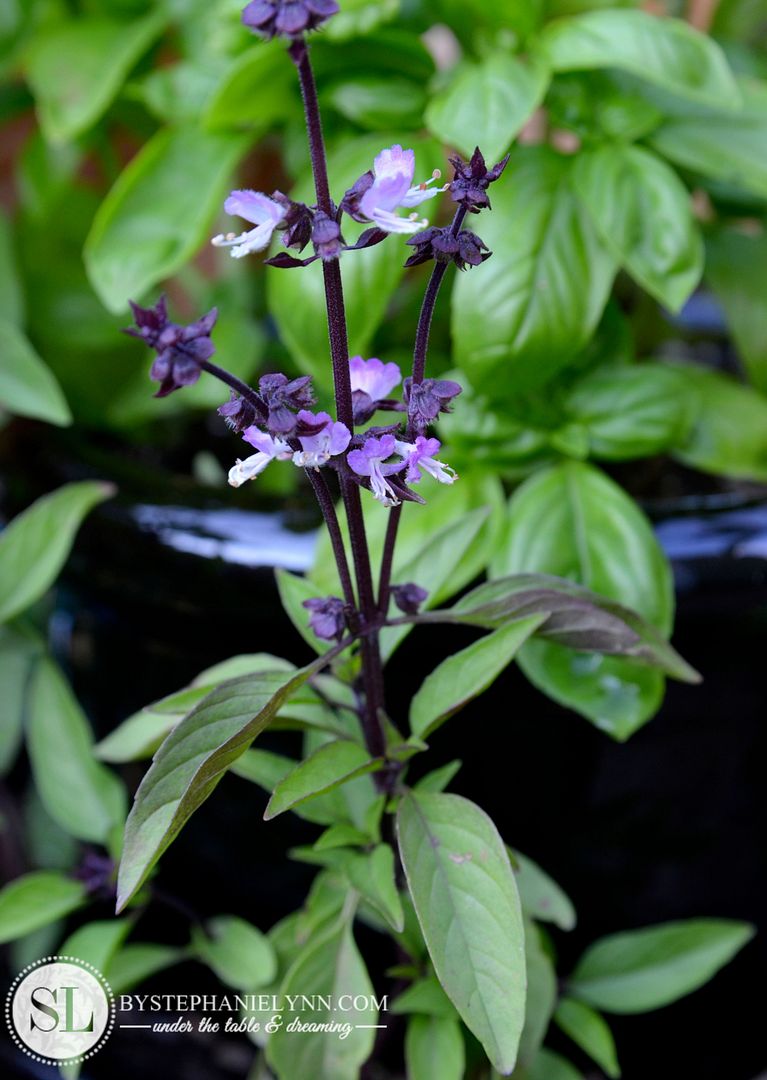 Thai Basil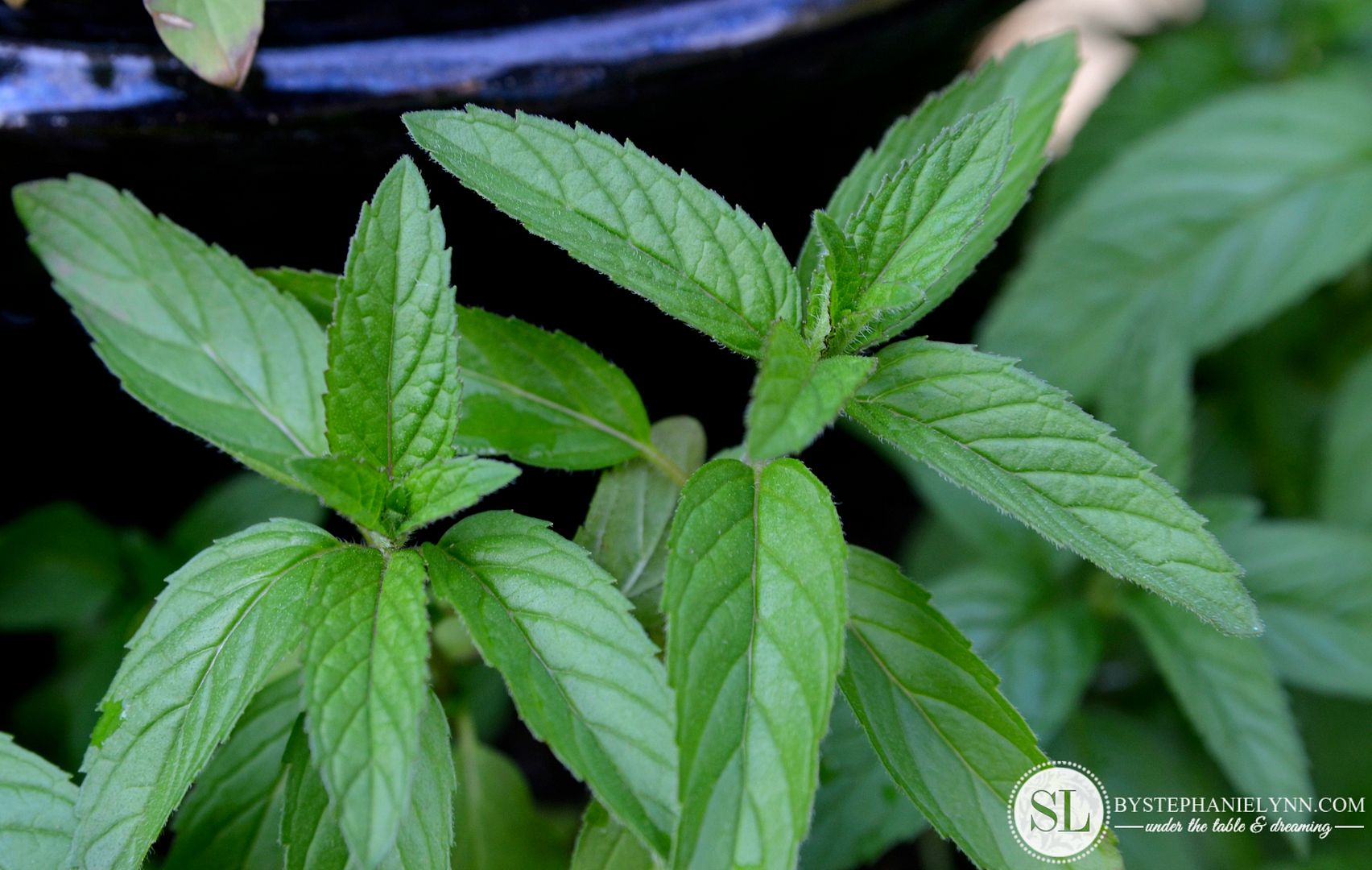 Mint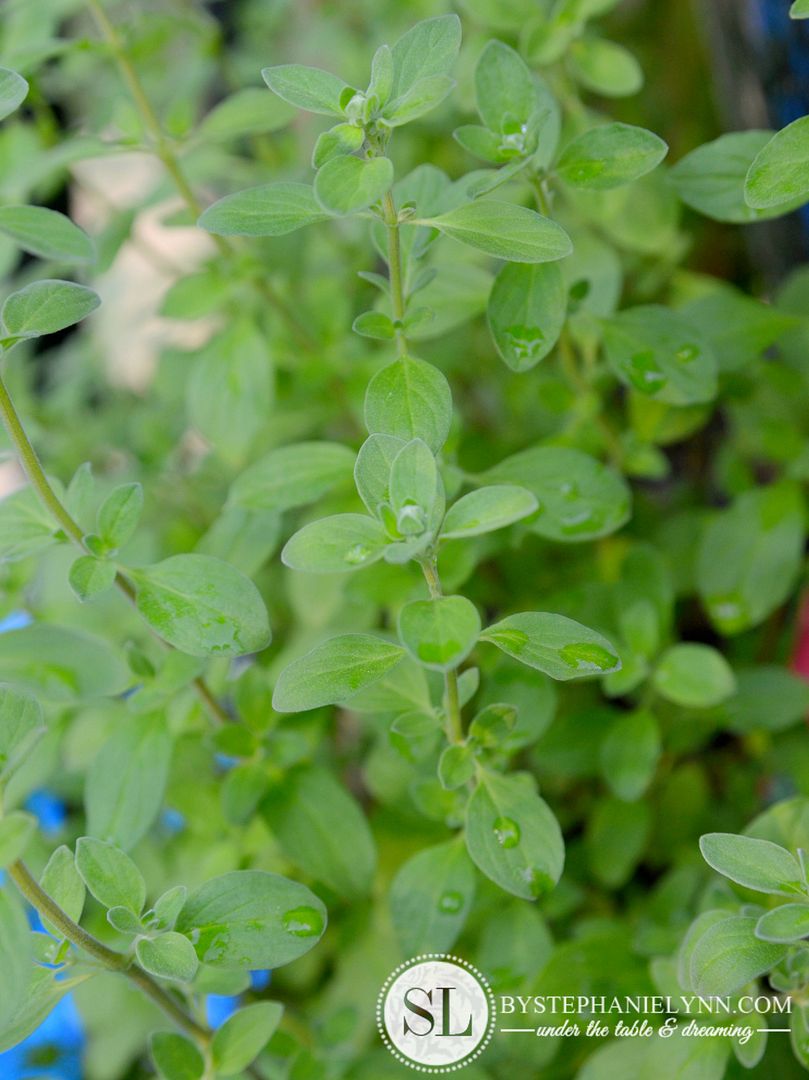 Sweet Marjoram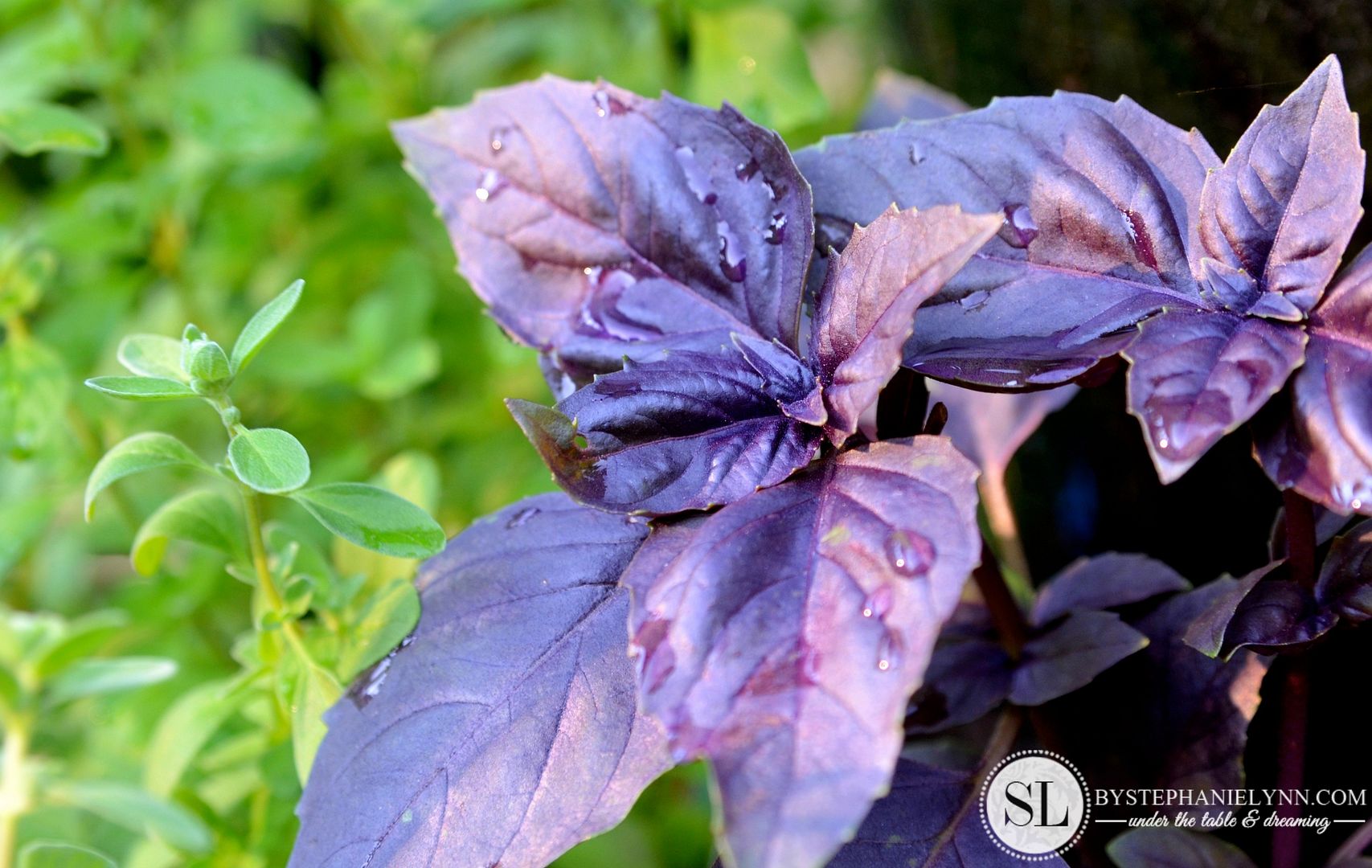 Red Rubin Basil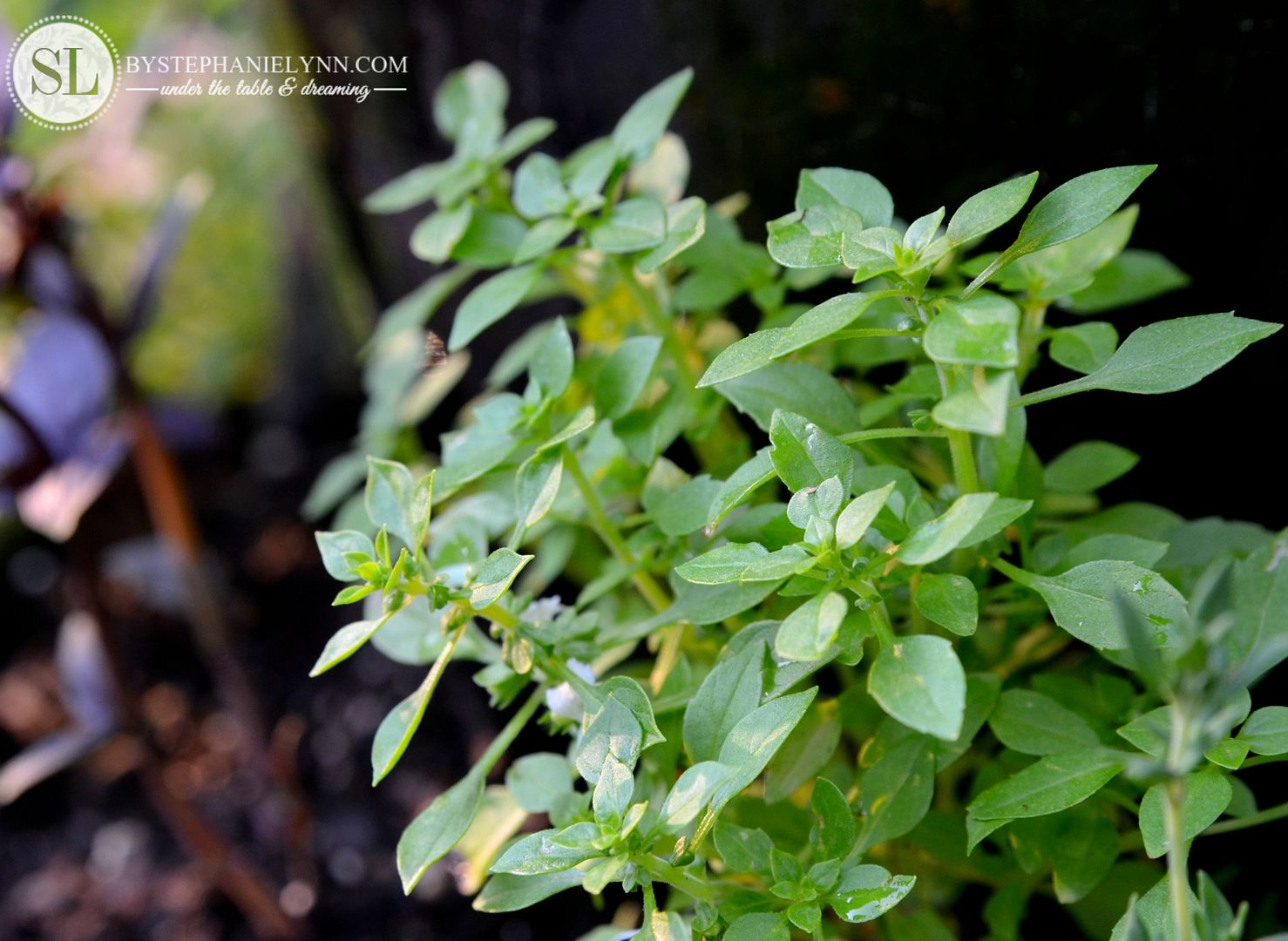 Spicy Globe Basil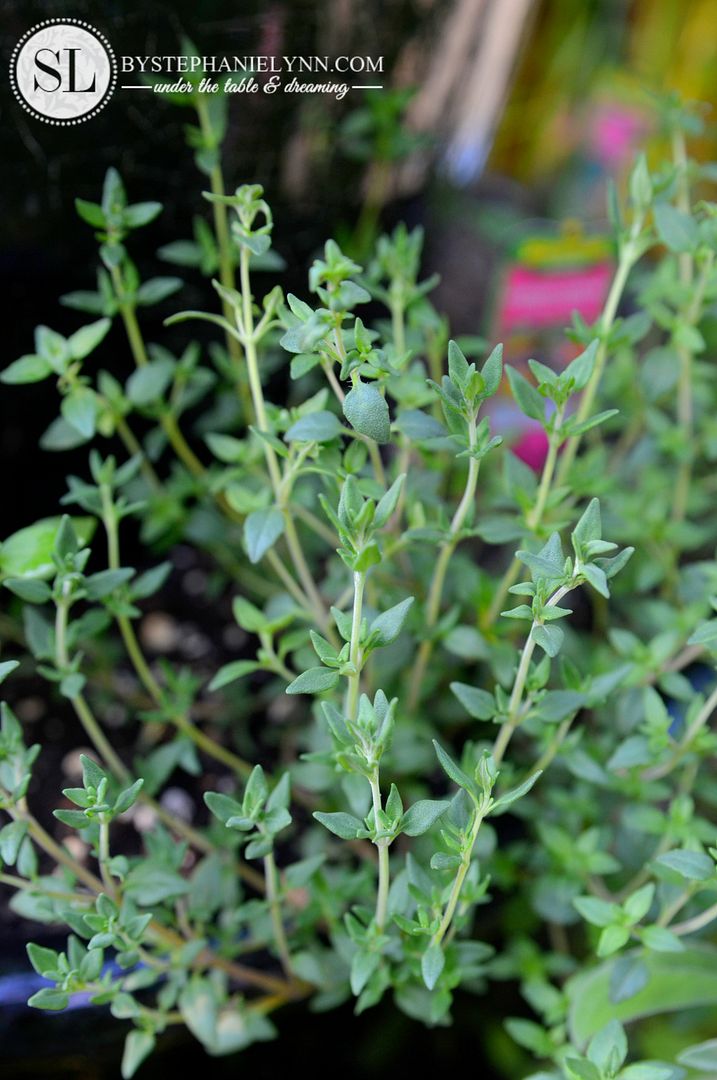 German Thyme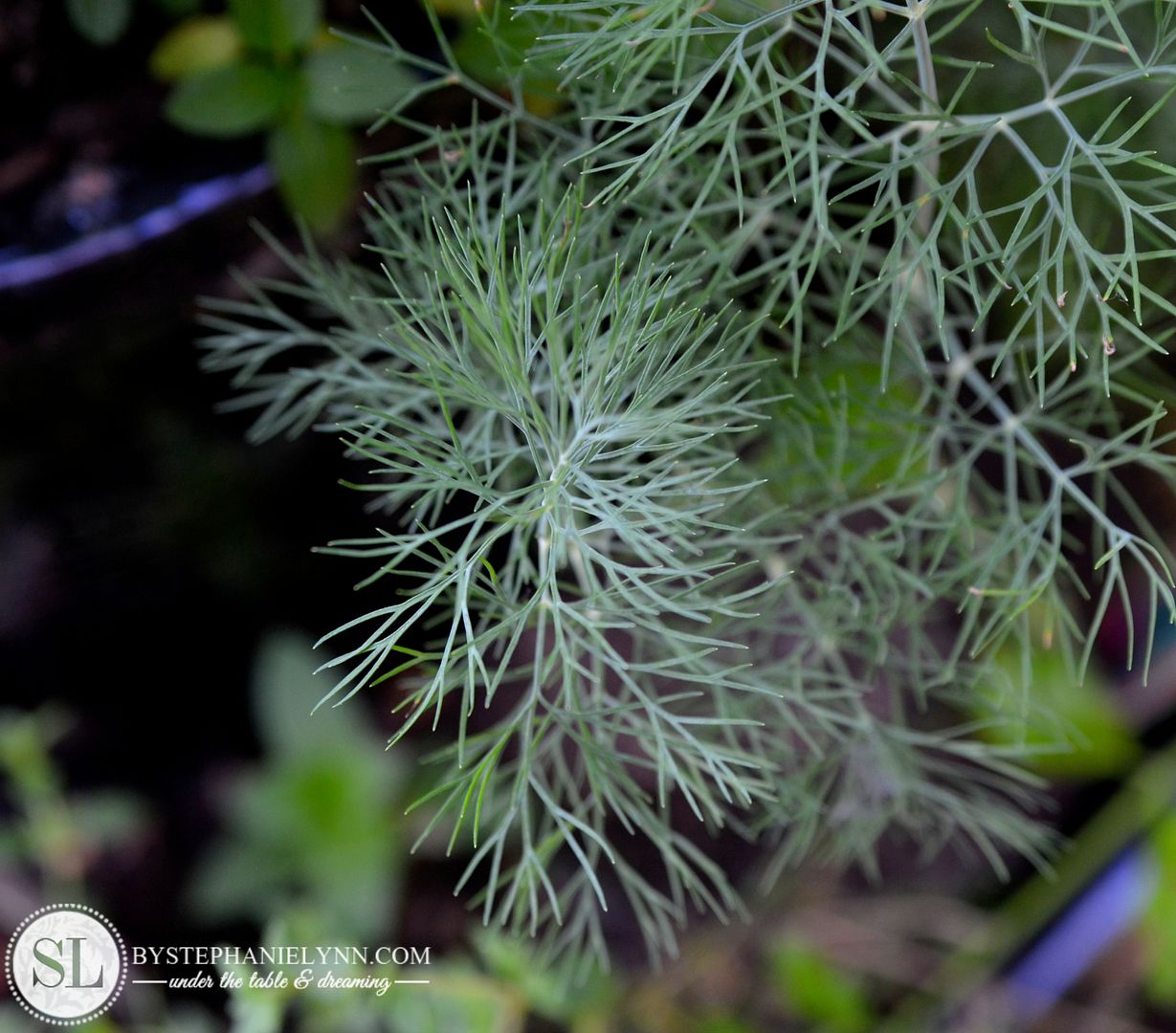 Fern Leaf Dill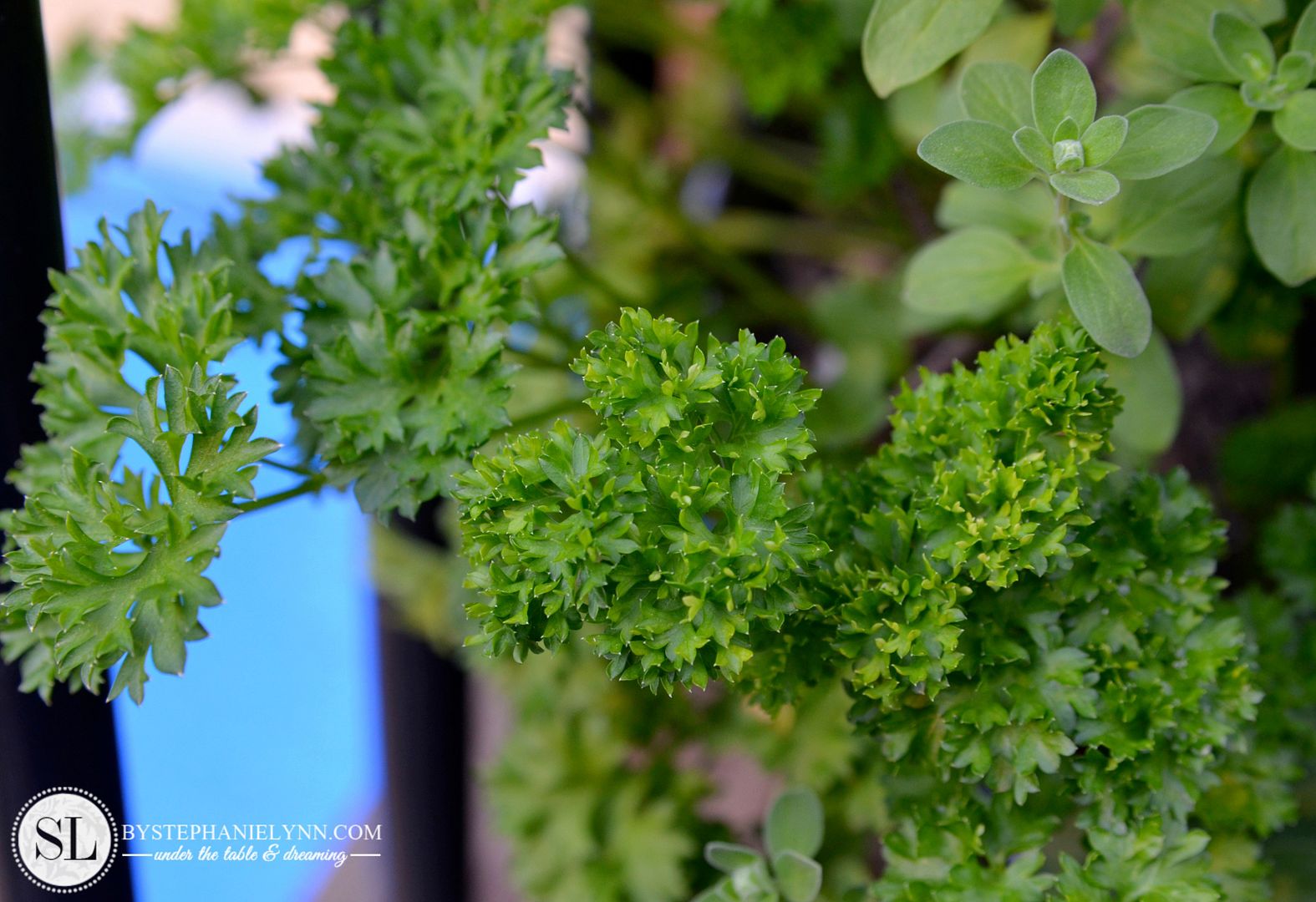 Curled Parsley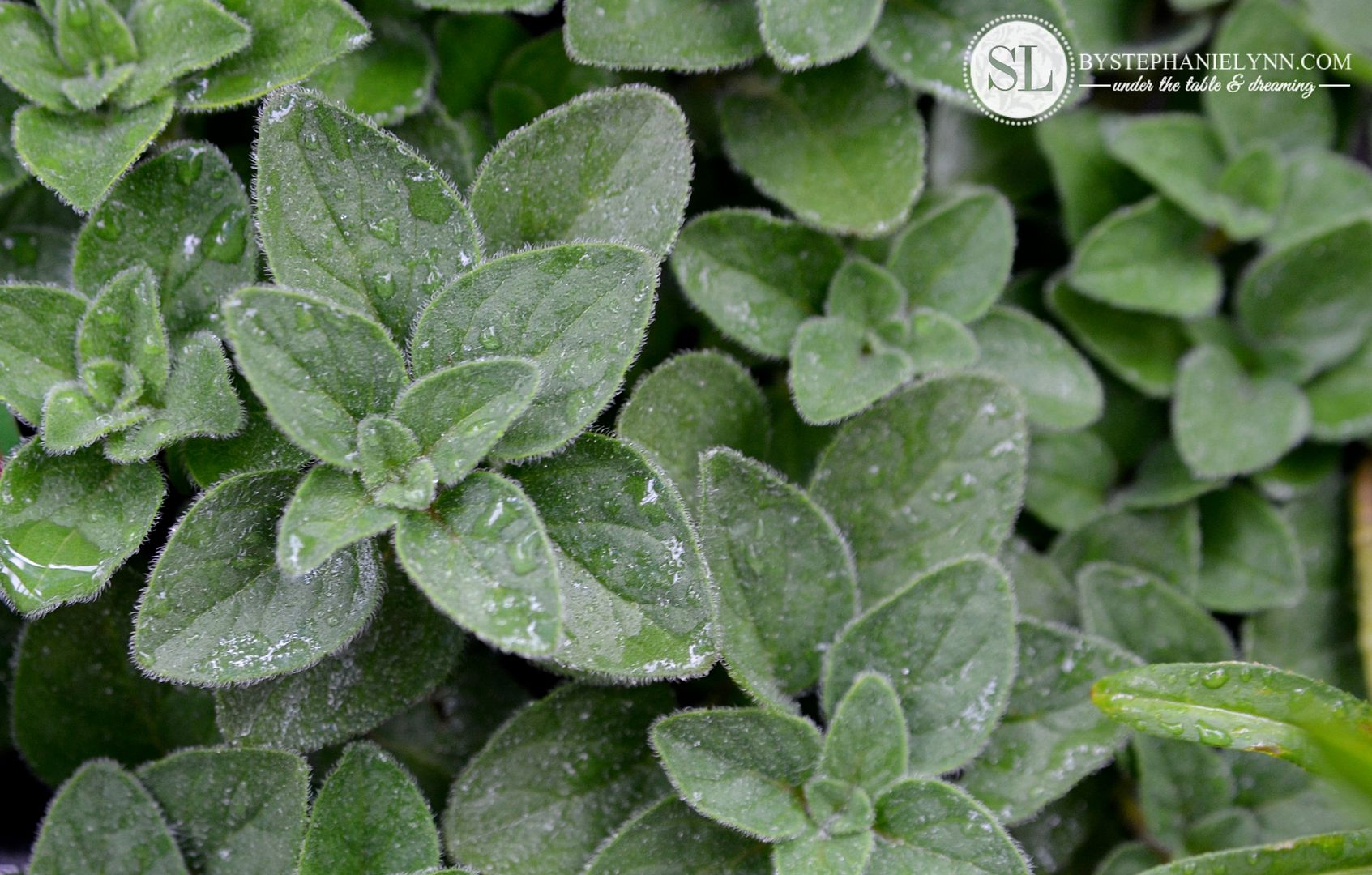 Oregano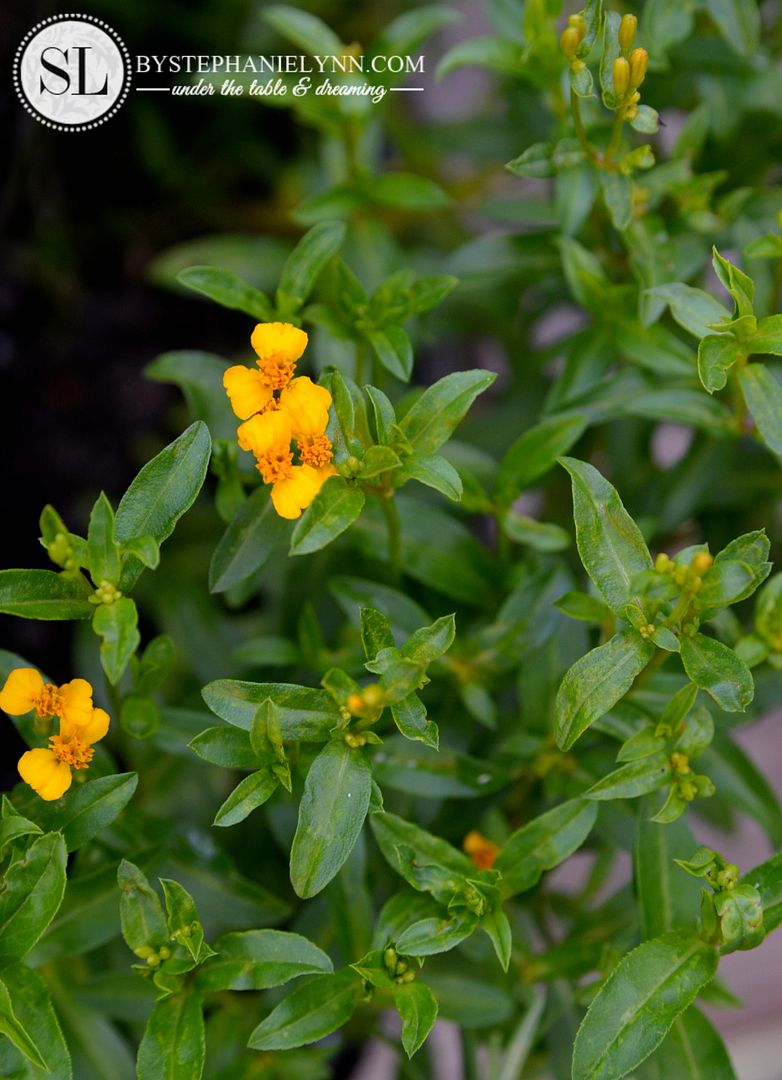 Mexican Tarragon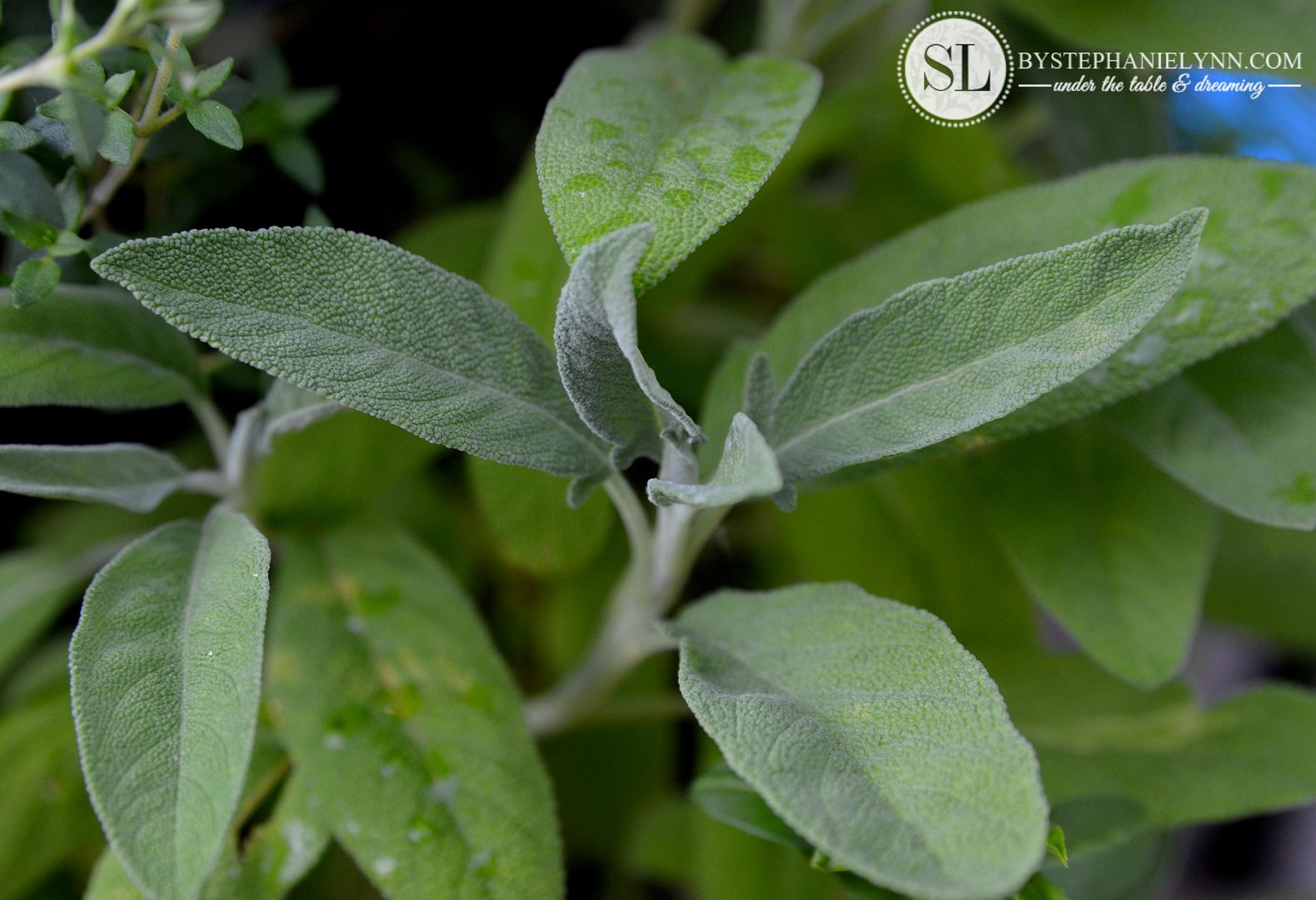 Sage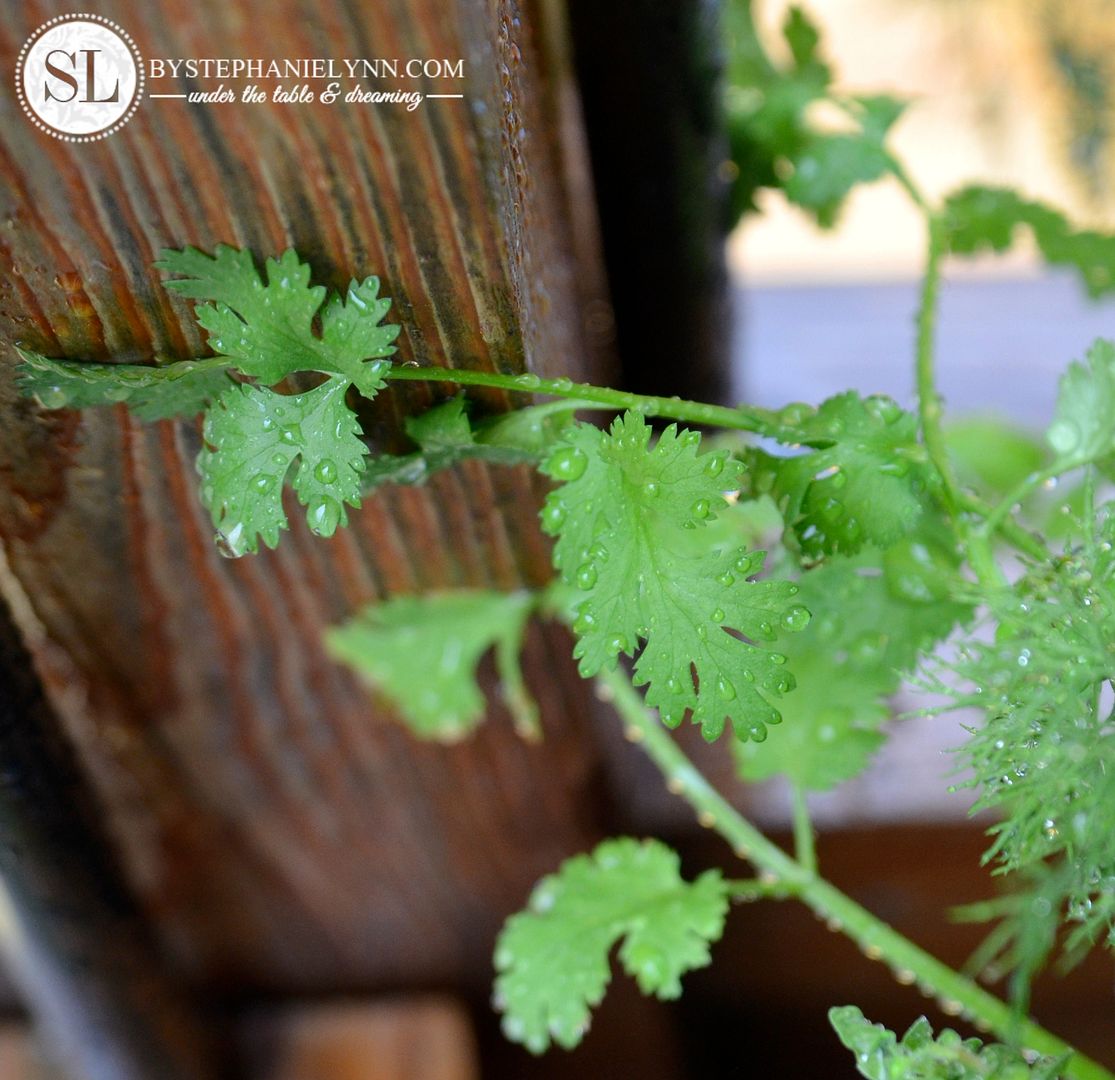 Cilantro

Rosemary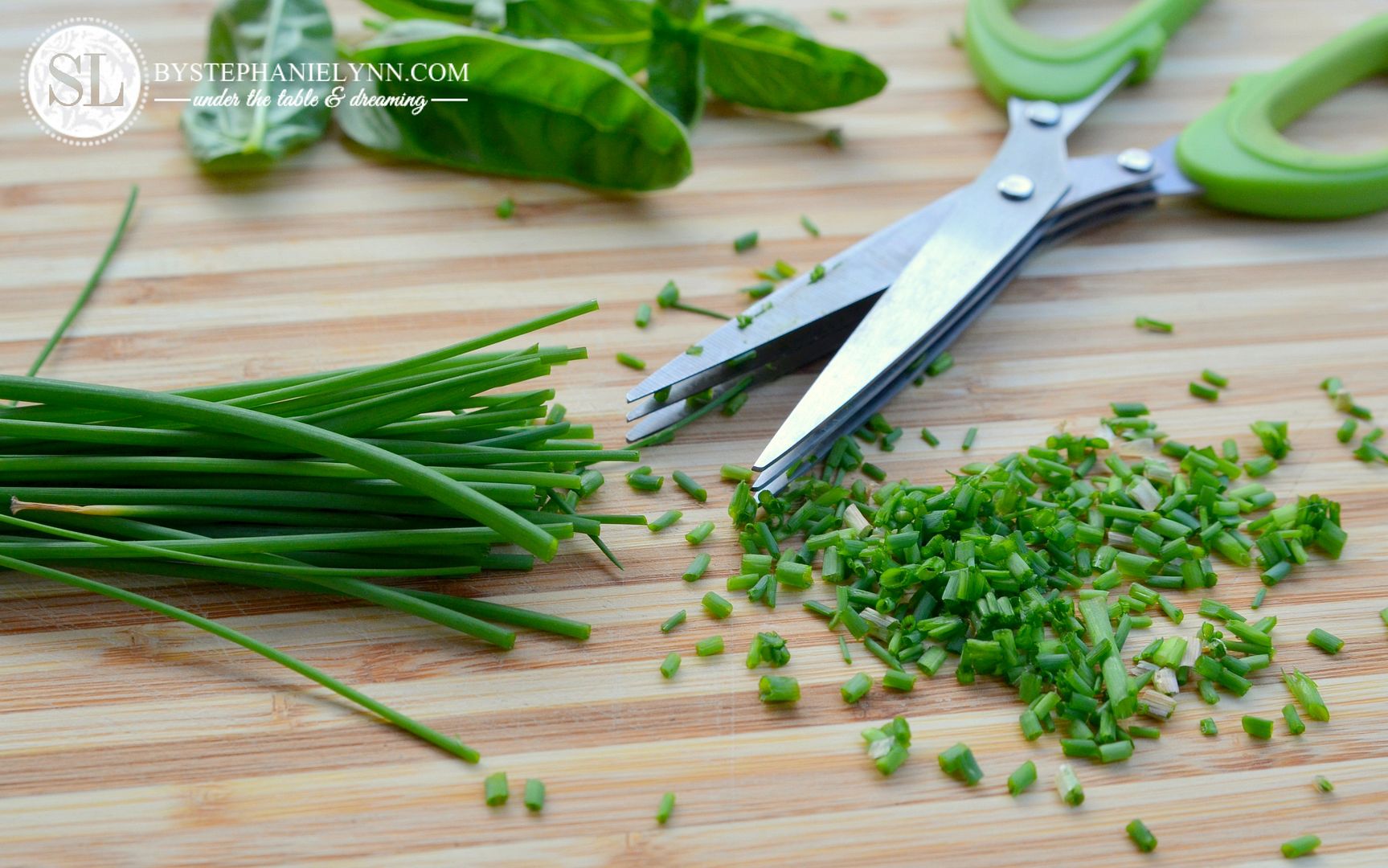 Chives
P.S. If you like fresh cut herbs – Herb Scissors are amazing.
I purchased mine here
– though you can also find them here and here.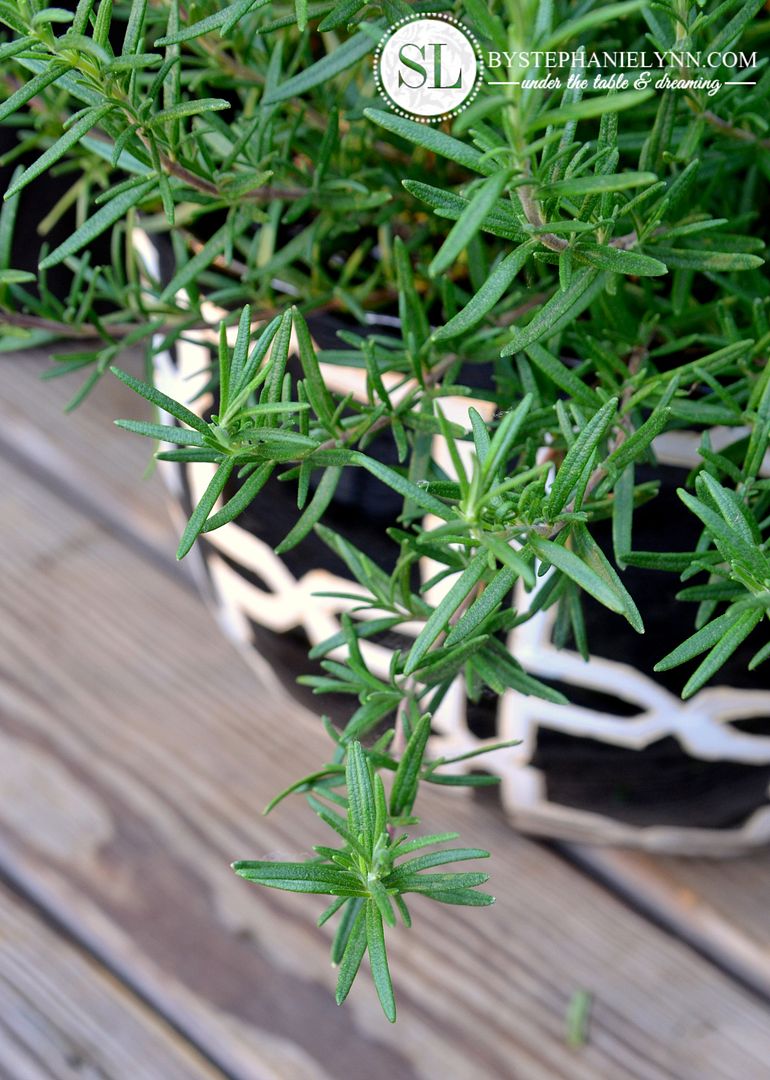 Have you planted an herb garden yet, this year?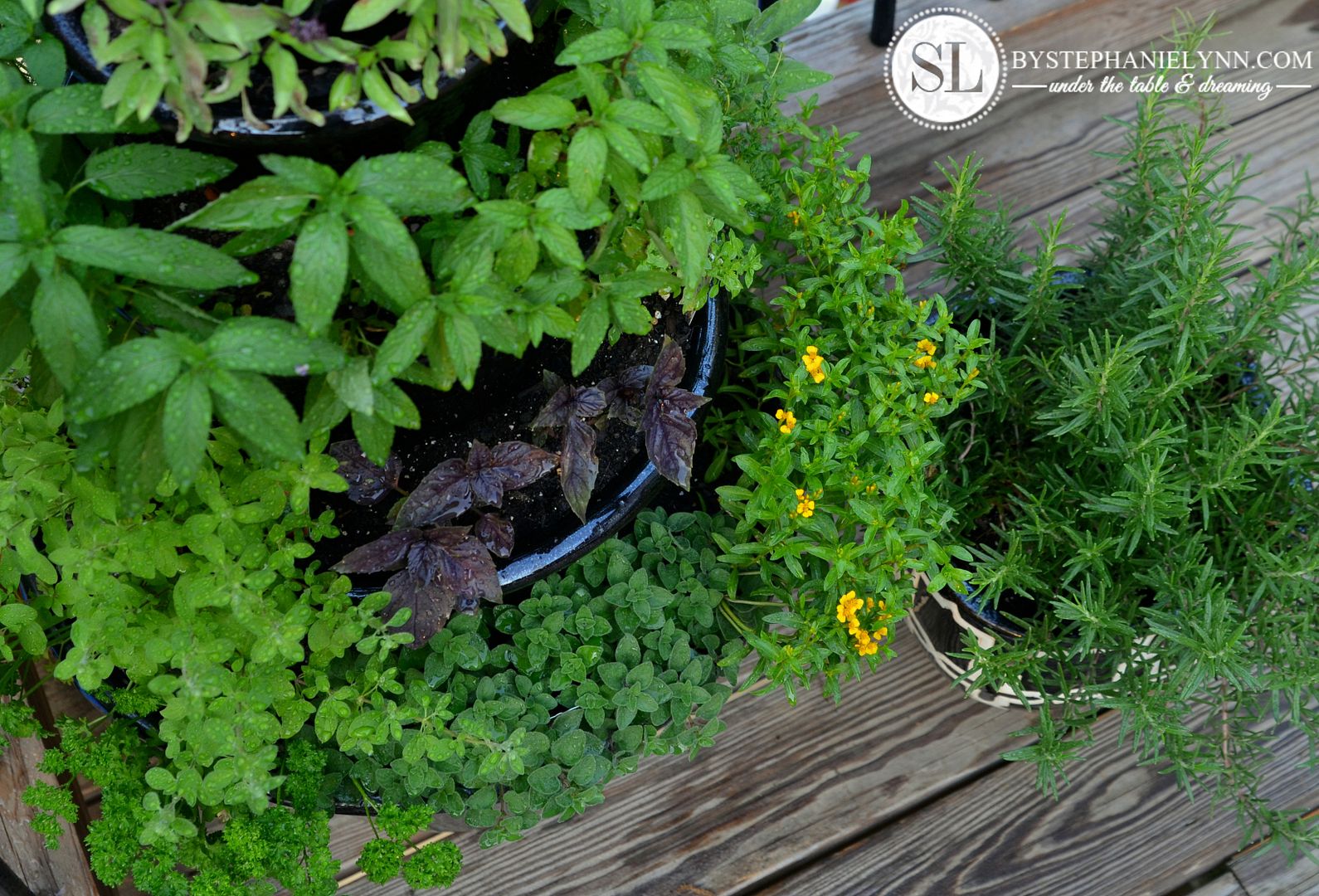 If one is in your future plans, here are three additional posts for some inspiration…
Herb Garden Inspiration and Ideas –
over 50 different ideas for planting herbs in pots, planters and containers
Herb Container Gardens –
35 potted container ideas for planting herbs

Eleven Culinary Herbs Aesthetically Pleasing to Your Garden –
eleven common herbs with growing conditions, care tips and culinary uses
Have a wonderful weekend!