HP 2000 Laptop | With the beginning of a new school year right around the corner we've been compiling a wish list of supplies for a couple of weeks now. This will officially be our second year of homeschooling as our little guy will be entering the first grade!
CJ is a very visual, hands on learner and loves technology. He has been using his iPad now for two years to communicate, learn and play – and it has been an absolutely amazing device all around.
Even though we consider everything he does on the iPad to be therapeutic and educational – last year we found it hard for him to differentiate between his independent learning time and the time we wanted to spend working on specific skills. With that in mind, as amazing as tablets can be, they simply can not replace all of the things a good old laptop can do – at least not yet. So this year we decided it may be easier if we introduced a laptop for him to use specifically for homeschool tasks.

Shopping for a laptop can be just plain overwhelming in today's tech driven world. Luckily Staples made the decision easier for us by sending over the HP 2000-2c32nr 15.6″ Laptop. I hope by sharing our experience with this model it may help some of you in the market for a reasonably priced machine – find just what you're looking for.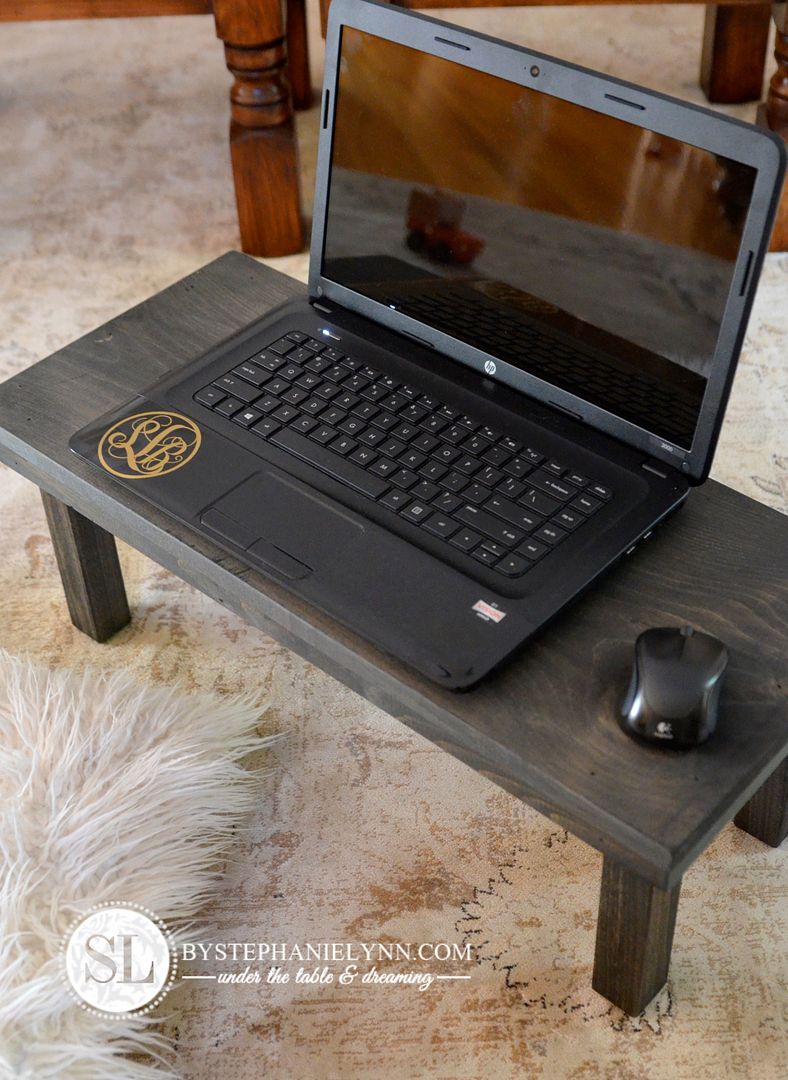 Right out of the box set up for this machine was super easy. We were able to connect it right to our wireless internet during the initial log on process, seamlessly.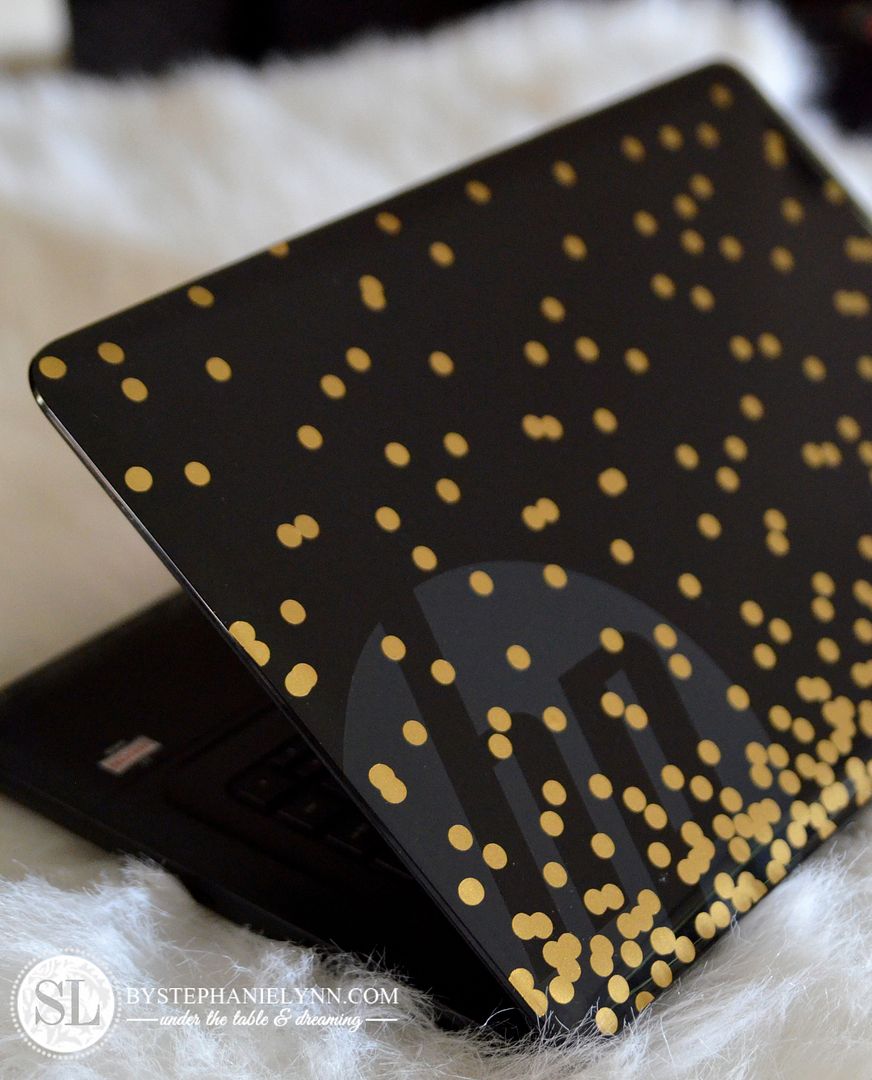 The HP 2000 Laptop comes loaded with Window 8 – which was completely new for us as we currently use Macs. It did take a minute to figure it out – though you do not have to be computer savvy to work this machine. We thought the new interface was very user friendly and my little guy had no problems at all picking it up.
The applications are easy to add and use plus I think the home screen is a fun, colorful way to organize and find the programs that are frequently used.
As with many other laptops, this came loaded with a multitude of software and free trails
– many of which we did not need.
I do however, recommend downloading Google Chrome
and using it in place of the pre-loaded internet explorer
– especially if you have a google account already set up.
Once it is downloaded and set as the default browser –
all of your set bookmarks will  sync and magically appear.

This model omits the number pad leaving room for a full size keyboard – which I personally like better since that is what we currently use on our desktop.
I also like the sufficient palm rest space on each side of  the center touchpad.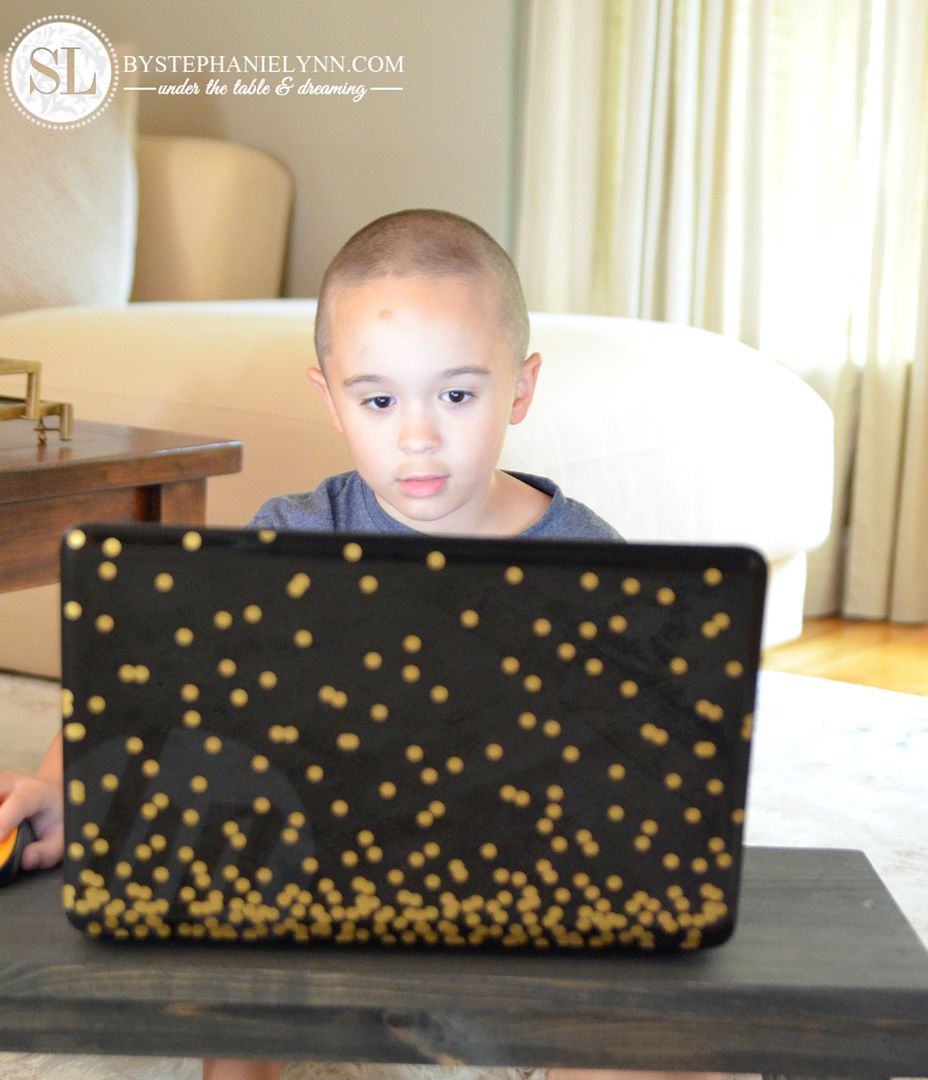 Even though this model is on the inexpensive side when it comes to the price range of similar laptops – it does come packed with some great additional features like a built in web cam, media card reader, and a dvd/cd burner.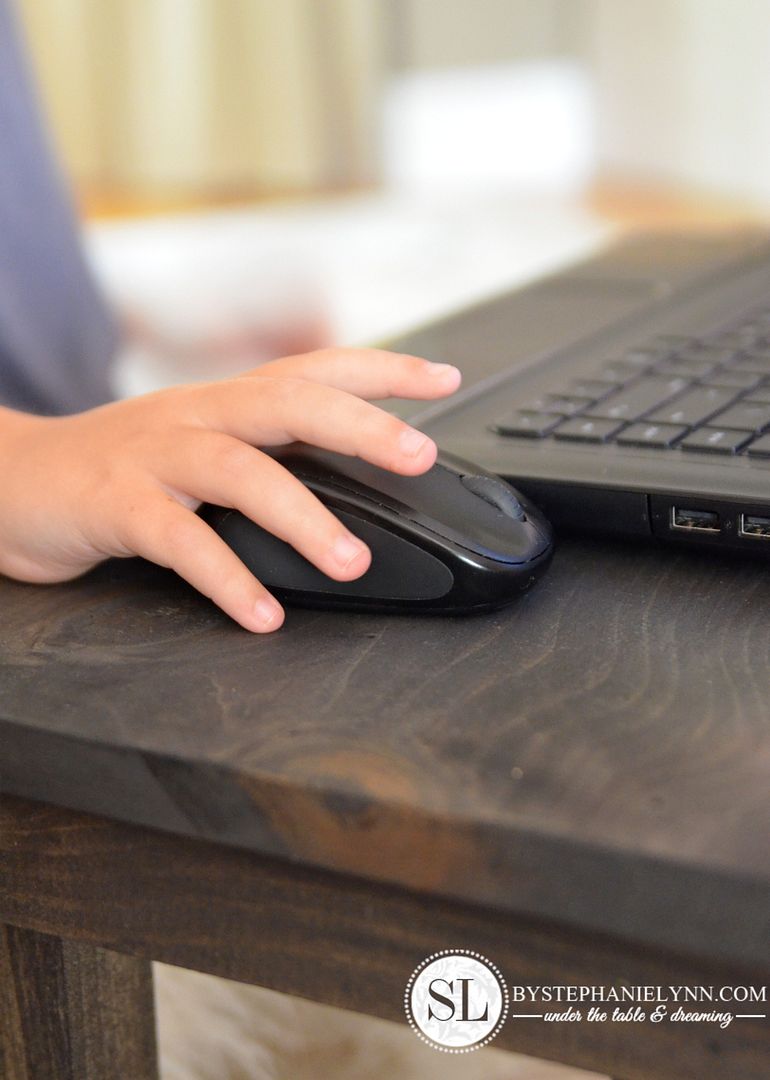 It also has three 3 usb slots –
and I highly recommend a Logitech wireless mouse to fill up one of those spots.

The sound quality is great for a laptop and I found the screen to be good for surfing the web – especially at this price point.
It could possibly be Windows 8, but the initial start up and load does have a little lag – once loaded though, the processor speed between applications is great and very responsive. Video feeds play fantastic as well – as we have not had any problems with slow buffering times.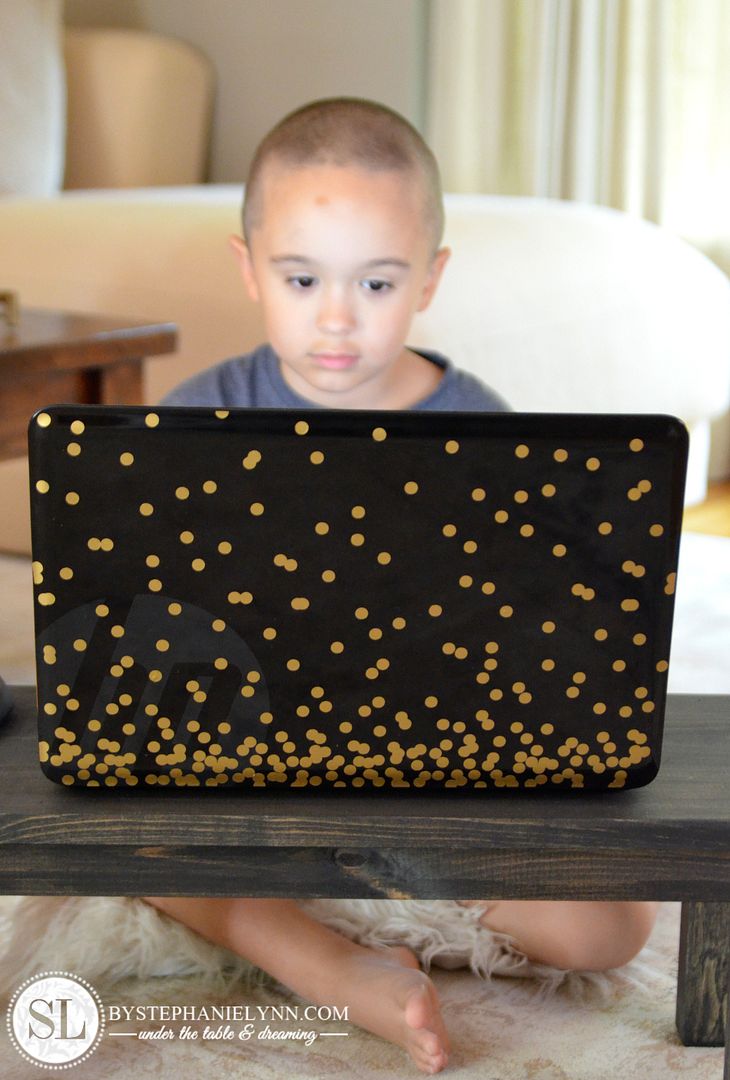 The power cord is really long – which may not seem like a big deal – but it's a plus to us. Especially when we use it in the homeschool room – as the table is in the center of the room.
I know the bottoms of some laptops tend to get really warm – though I have noticed that this one stays relatively cool even when ran for long periods of time.
We did put together the nifty laptop desk shown above – which I'll be sharing the tutorial for later today – and the fun vinyl laptop skin decals you see are from yesterday's post.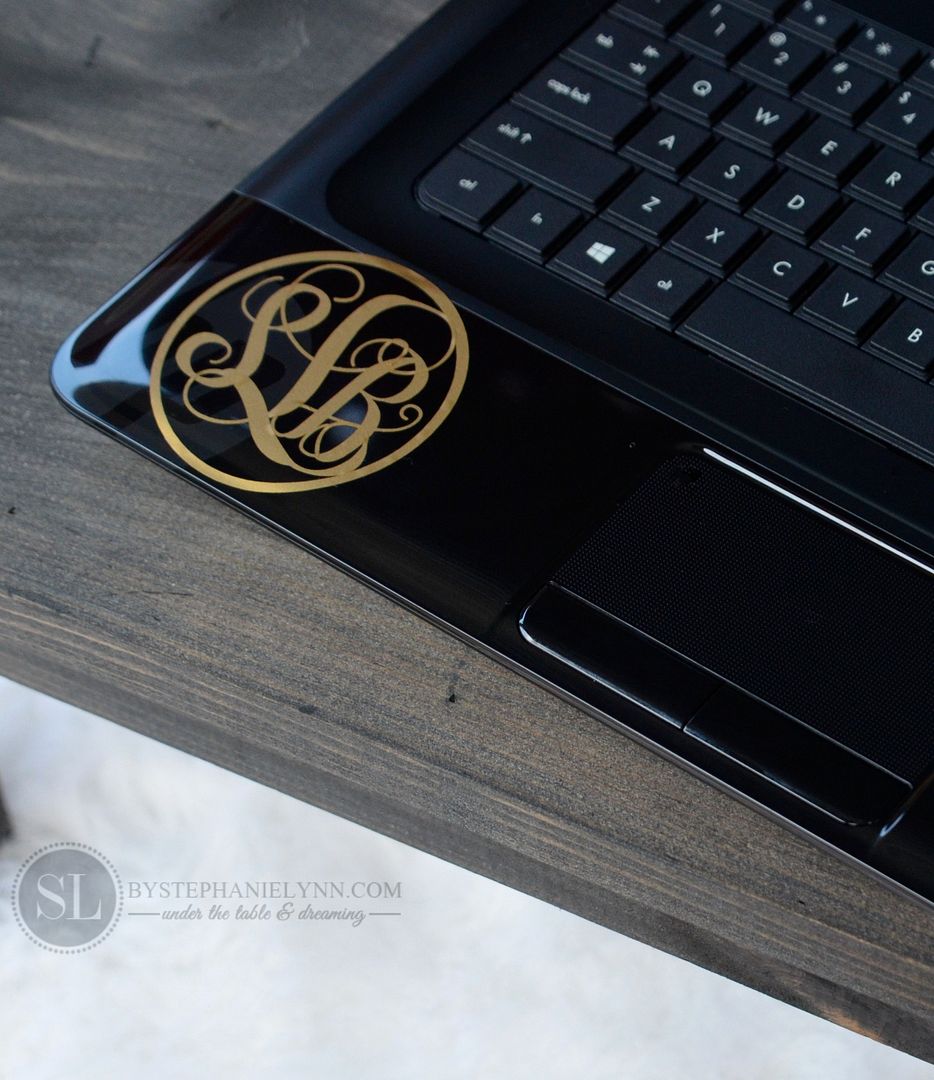 All things considered, we think the HP 2000 is a durable, solid laptop for the price. It has all of the features our little guy will need right now to get him acquainted with the internet and run school work programs – plus teach him a bit of responsibility as well.
A huge thanks to the folks at Staples who have graciously provided me with this HP 2000-2c32nr 15.6″ Laptop. The opinions, thoughts, and ideas expressed above, however, are strictly my own. To view the full line of HP Laptops visit Staples.com.