Michaels Custom Framing | There are just a few things our little guy is truly obsessed with. Among Disney Cars and Nemo, anything Toy Story is one of them. The three are always on full rotation around here. When he is in full blown movie mode it is always one or the other as his world completely revolves around the set of each particular movie.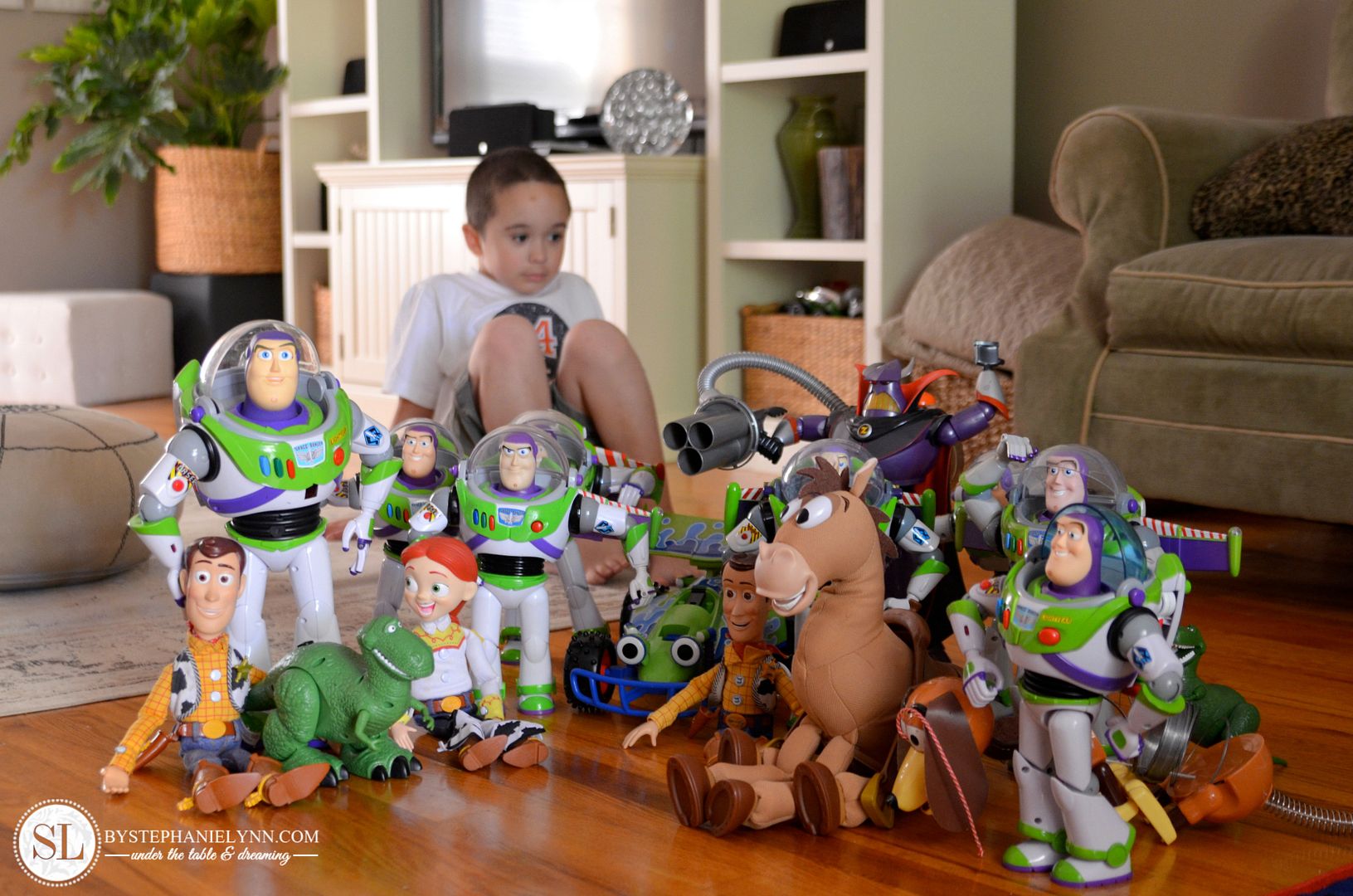 Toy Story has been his absolute favorite from the beginning. The toys, characters and movie lines have become a part of our life when he is in his little zone. So when I recently given the opportunity to try out Michaels Custom Framing, I couldn't help but think of preserving a precious piece of our little guy's childhood.
I have passed the framing counter many times during our crafting trips to Michaels, and always see their coupons, though to be honest I have never really taken the time to see what it's all about. When I think of custom framing I automatically think of preserving a piece of artwork but I was tempted to use my imagination and come up with something unique and special for my little guy.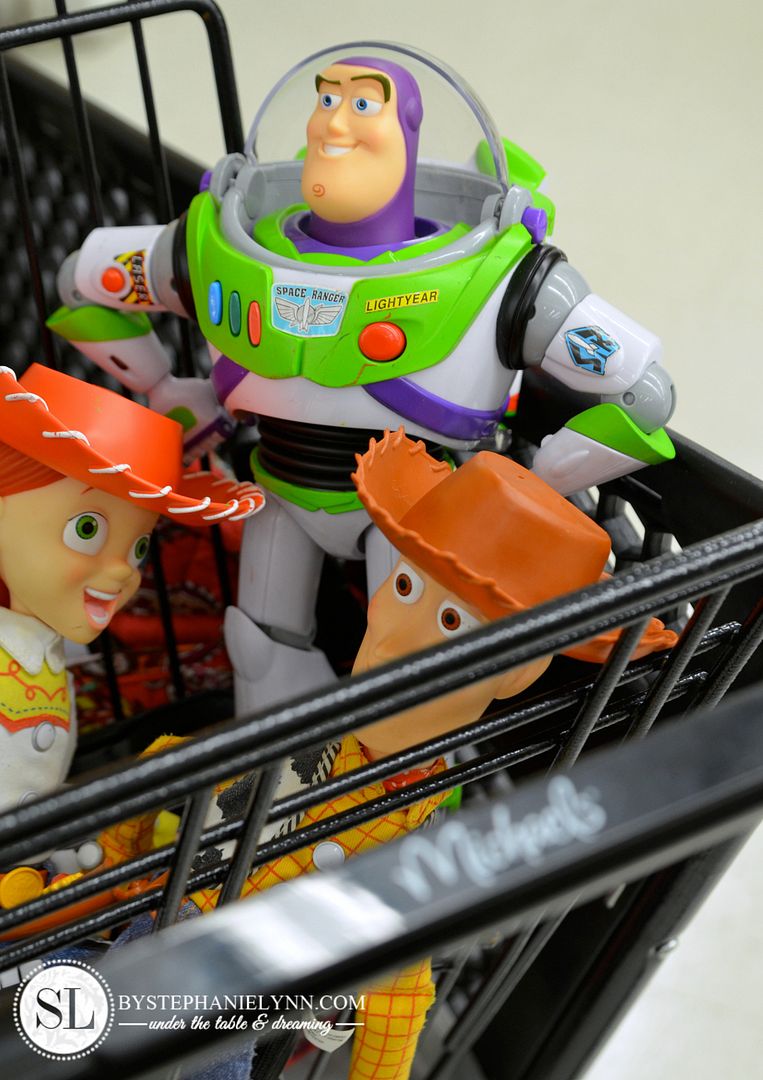 So I headed to Michaels custom framing shop with Woody, Buzz and Jessie in tow. That first scheduled appointment I didn't really know what to expect as I have never had anything custom framed before – plus I wasn't even sure my idea would even work.
I met with Ilana, a certified professional framer, who was able to take my vision and bring it to life. It was comforting knowing that the person who was actually creating the piece behind the scenes was the same person who was walking me through the process at the counter.
As much as I would have love to frame some of my little guys well played with toys, I knew that was not an option since he has his whole collection completely inventoried in his head. So my only other option was to go purchase a new set of dolls for the finished product. While I was there though for the initial appointment Ilana took all of the information and worked with me through the design process.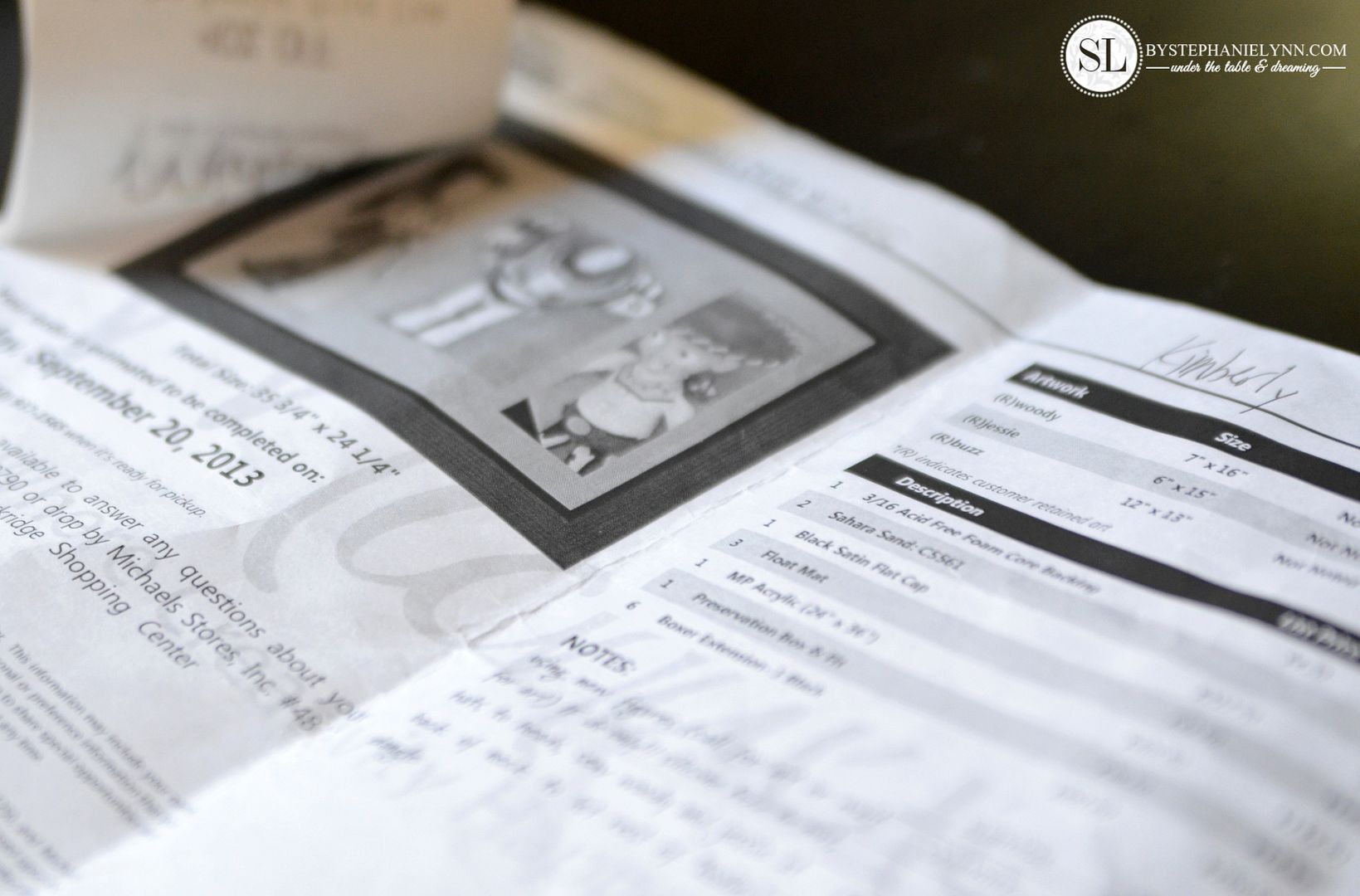 The first step of the process was to capture some photos of the pieces using the in-store custom frame visualizer. This nifty program allows the framer to snap some pictures of your pieces and upload it to the program – giving you a snapshot of your finished product right there on screen, at the counter. They also give you a print out of the information including all of the framing details which is wonderful to keep handy if you plan to have additional items framed down the road, to match the original.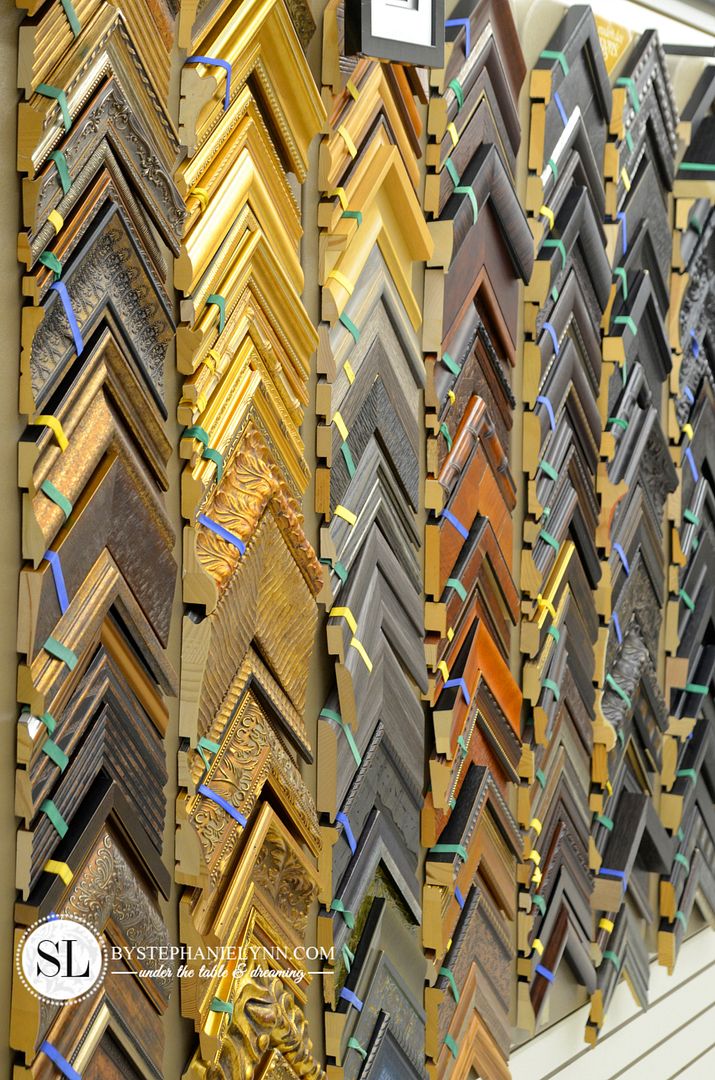 All of the actual framing is done in-store – so your art pieces stay right where you dropped them off until you are ready to pick them up.
For the frame I wanted something classic and time-less so I went with the basic black satin. They have over 550 mouldings to choose from though – in every color imaginable – made from a variety of materials to fit any style and look you are going for. The frames are hand crafted and cut to size at a Michaels manufacturing facility in North Carolina. The custom frame is then shipped directly to the store and put together, right in the back, by one of Michaels certified professional framers.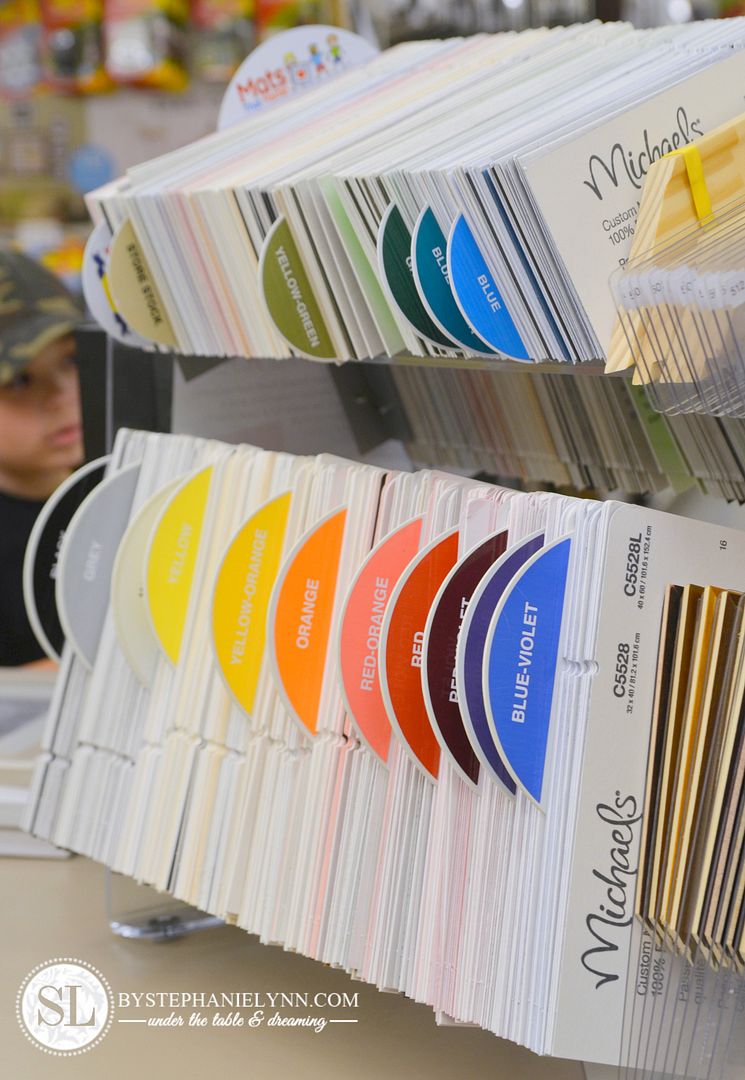 Along with the framing choices, there are over 480 mats to choose from
in every color and texture desirable.

The choices could be a bit overwhelming for an indecisive customer like myself, however, that is where the benefit of working directly with a custom framer comes into play. Ilana was a joy to work with as she listened and took into consideration what the piece was for and where it would be going to help me narrow down my choices. I ended up choosing the Sahara Sand mat which was simple enough to showcase the colorful dolls and add a bit of texture detailing to the background.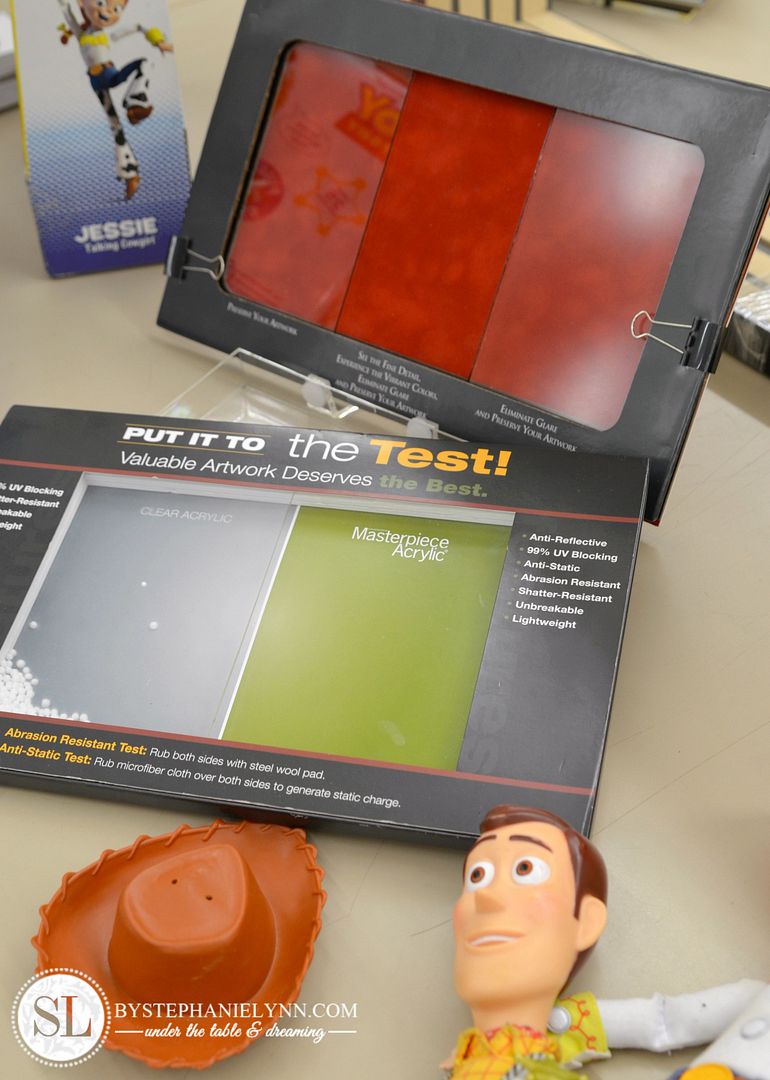 The last step in the process was choosing an acrylic or glass 'glazing option'. Without hesitation Ilana highly suggested the masterpiece acrylic. After seeing the difference in person I wish I could replace all of the glass in my house with this stuff. The clarity is absolutely amazing as you can not even tell there is anything in place protecting your piece of art. Aside from that the acrylic reduces all the reflections and glares typically seen with glass.
The masterpiece acrylic is also lightweight and shatterproof which safety wise is a no brainer for a piece of artwork hanging in my little guy's room.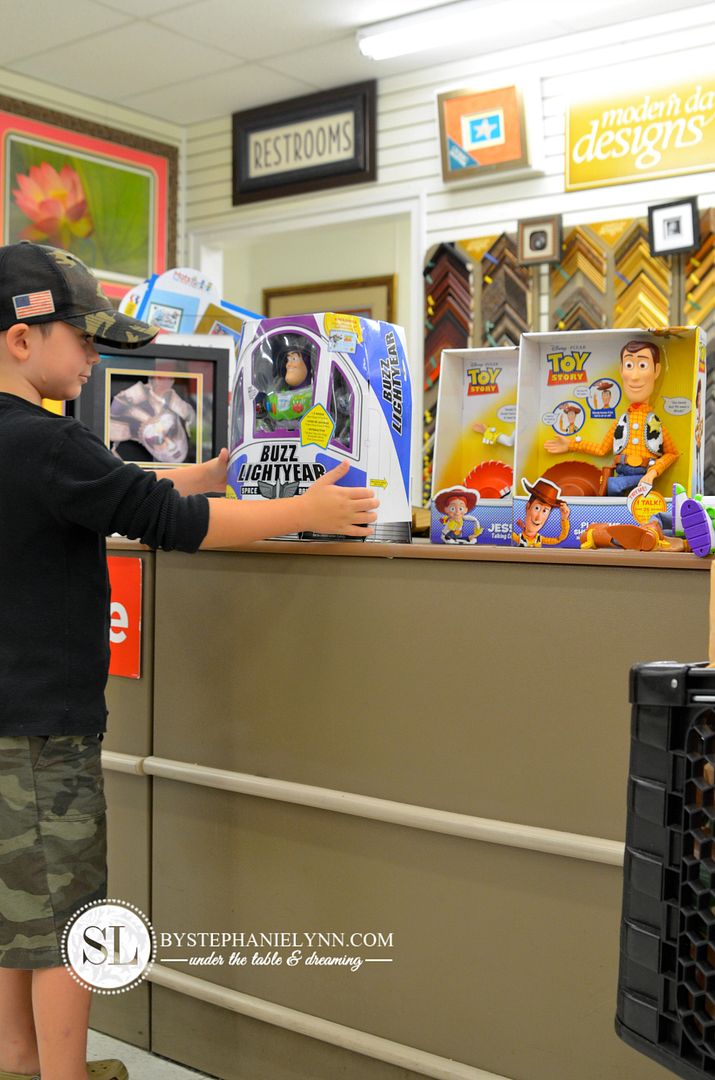 With all of the details lined up and the framing ordered, I set out to pick up a new set of dolls and brought my little guy with me to drop them off.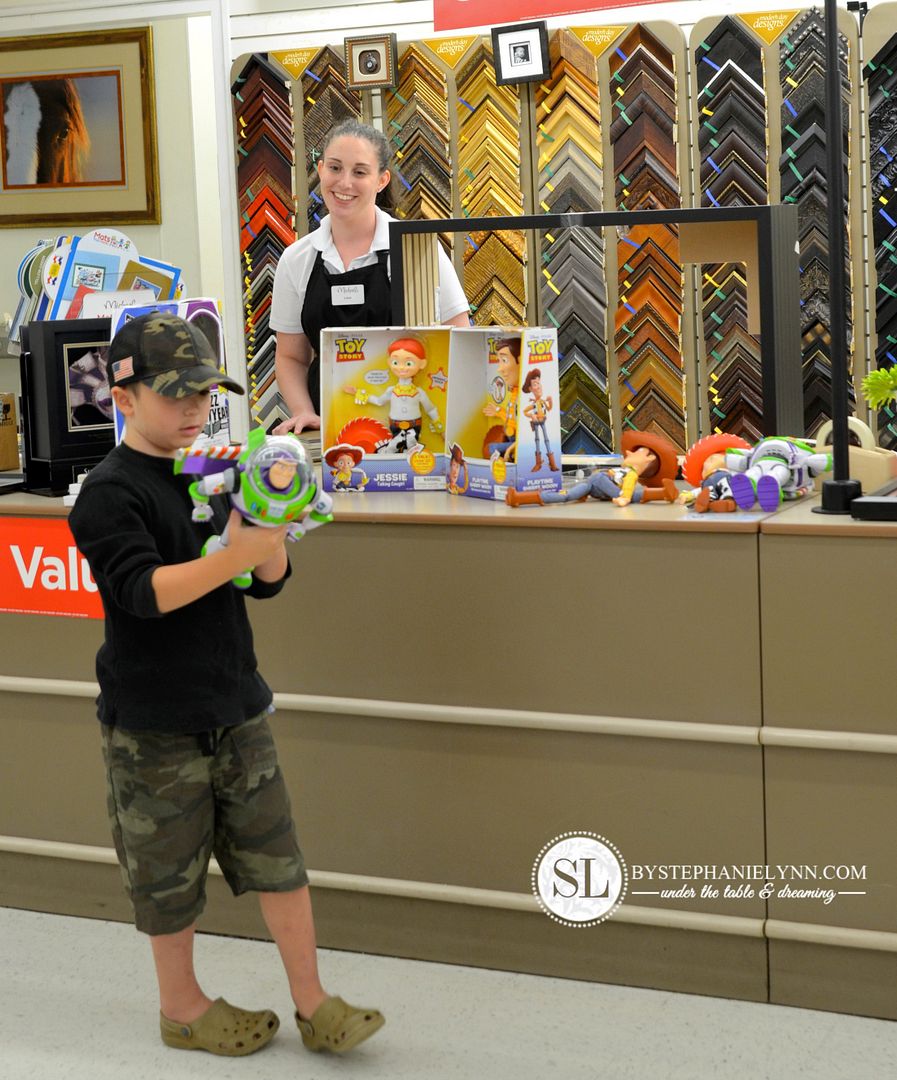 He thought we were taking Woody, Buzz and Jessie to the museum and Ilana was the doll cleaner – except much cuter.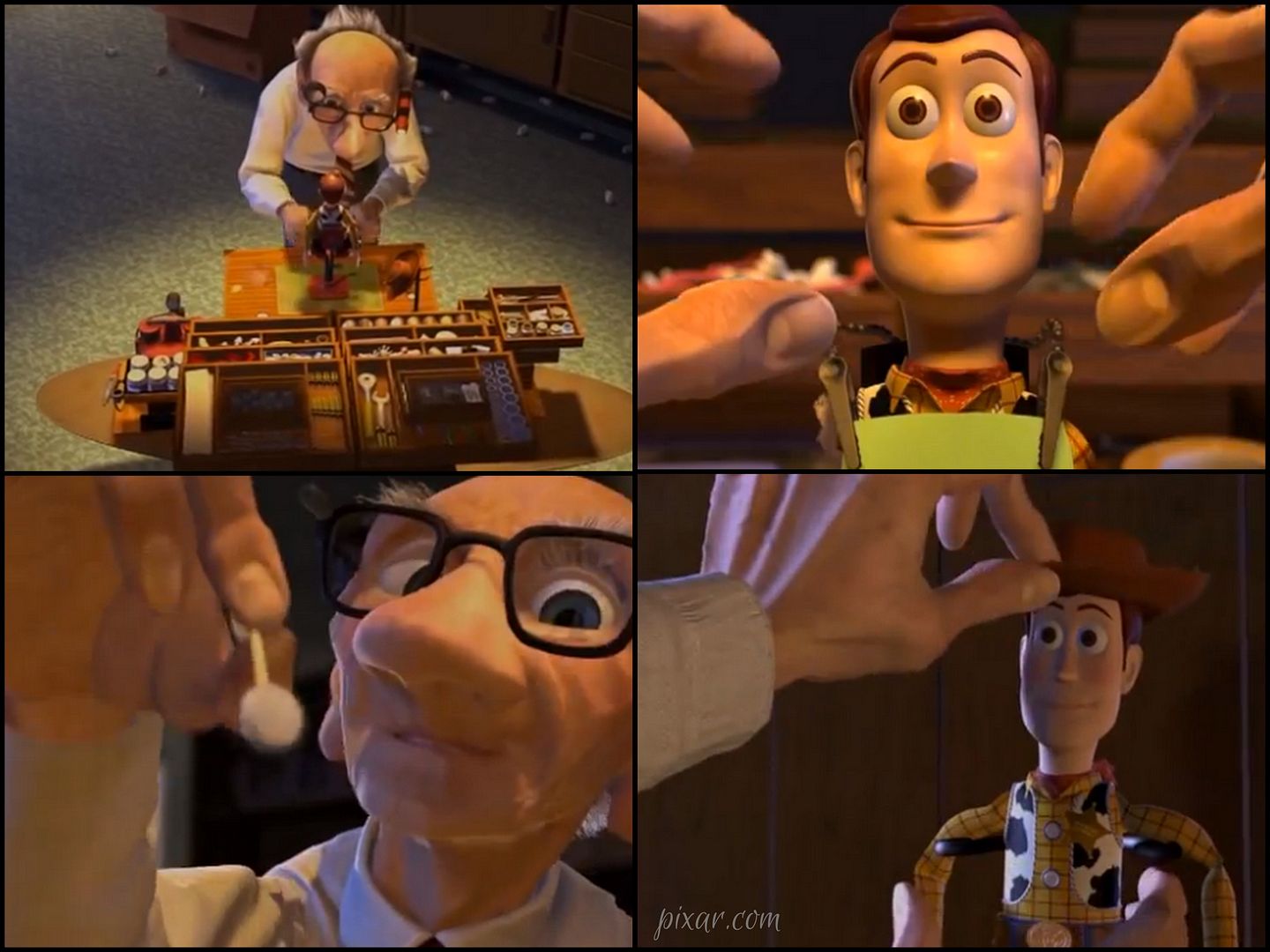 It was a little hard for him to leave his new friends but the movie helped him put it into perspective. He kept saying 'You can't rush art" which if you've seen Toy Story 2 – it makes complete sense!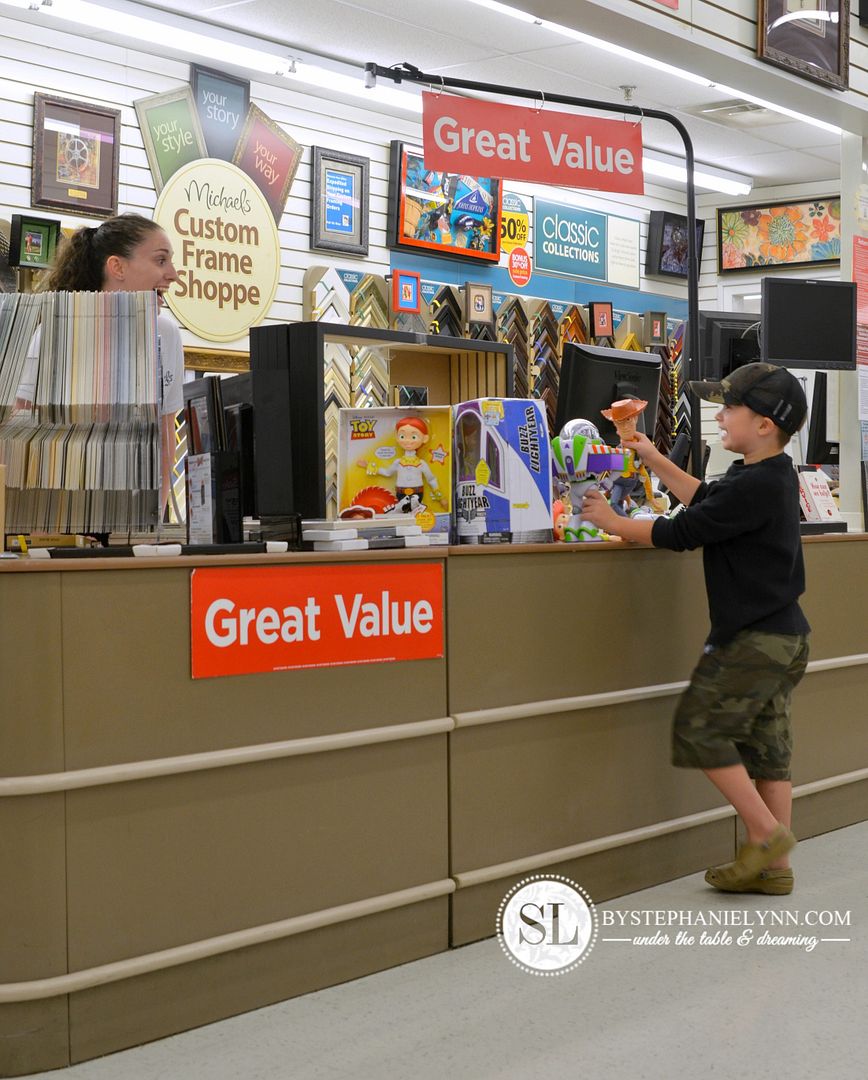 We are scheduled to pick up our new masterpiece in a couple of weeks and I am not sure who is more excited to see the finished product!
To be continued….
Checkout the finished Framed Toy Story Dolls Shadowbox!
This post is brought to you by Michaels. The opinions read here about our custom framing experience are entirely my own.