This post brought to you by FrogTape brand painter's tape. All opinions are 100% mine.
Painting Cornhole Boards | We refer to my brother as the cornhole king. He introduced us to cornhole long before it was the popular backyard game that it is today. I admit, it took us a while to follow suit, however considering there are so many little ones running around in our family – it a much safer alternative to throwing horseshoes – that the whole family can enjoy.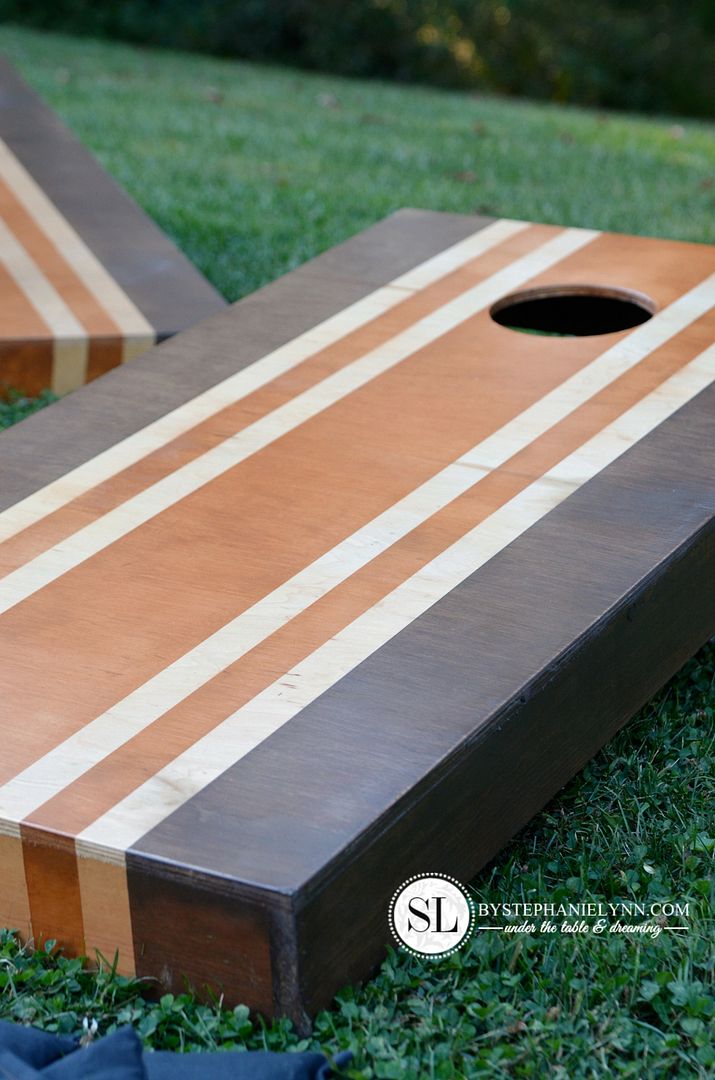 He started making his own boards a couple of years ago and after one game we immediately put a request in for a set of our own. We are not cornhole connoisseurs, by any means, however after playing on one of his boards made with quality materials, like birch plywood – you really can tell the difference.
Our boards have set unfinished for a few years as we have tossed around a couple of ideas to personalize them. With a party planned next month, and a cornhole tournament in the works – it was time to get to work.
If you play cornhole you know having a smooth, blemish-free deck is an essential part of the game. Wether your boards are painted or stained achieving this finish is possible with the right tools and a little bit of patience.
Before customizing your boards be sure to start with a well sanded, smooth surface. Keep in mind using good quality materials is key. Once complete, throughly wipe down each of the boards with a tack cloth
to remove all of the dust and sanding residue.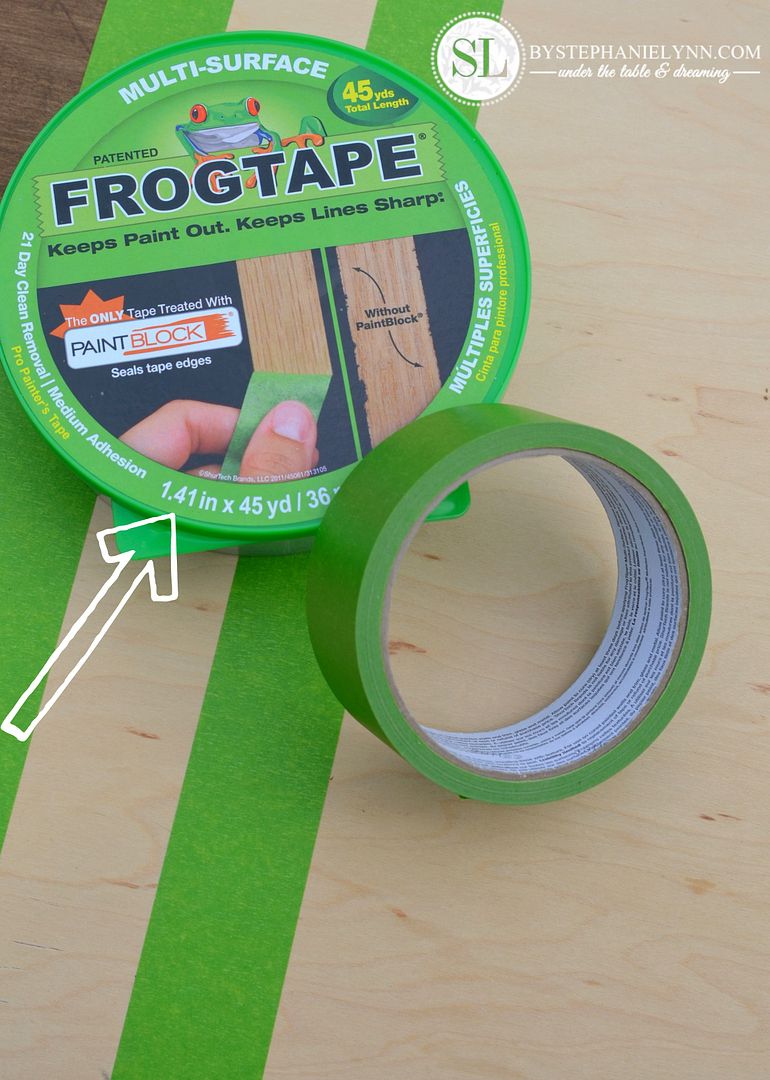 While stripes can be intimidating to paint, we came up with a simple design method using FrogTape painter's tape. We gave it a test run on some scrap wood ahead of time and were highly impressed with the results. There were surprisingly no signs of paint bleed – a common worry when trying to precisely paint straight lines.
We used 1.41 inch FrogTape® multi-surface which is designed to be used on a variety of surfaces, including bare wood. It's the only tape with PaintBlock® Technology which actually reacts with the water in paint to create a gel barrier to seal the edges.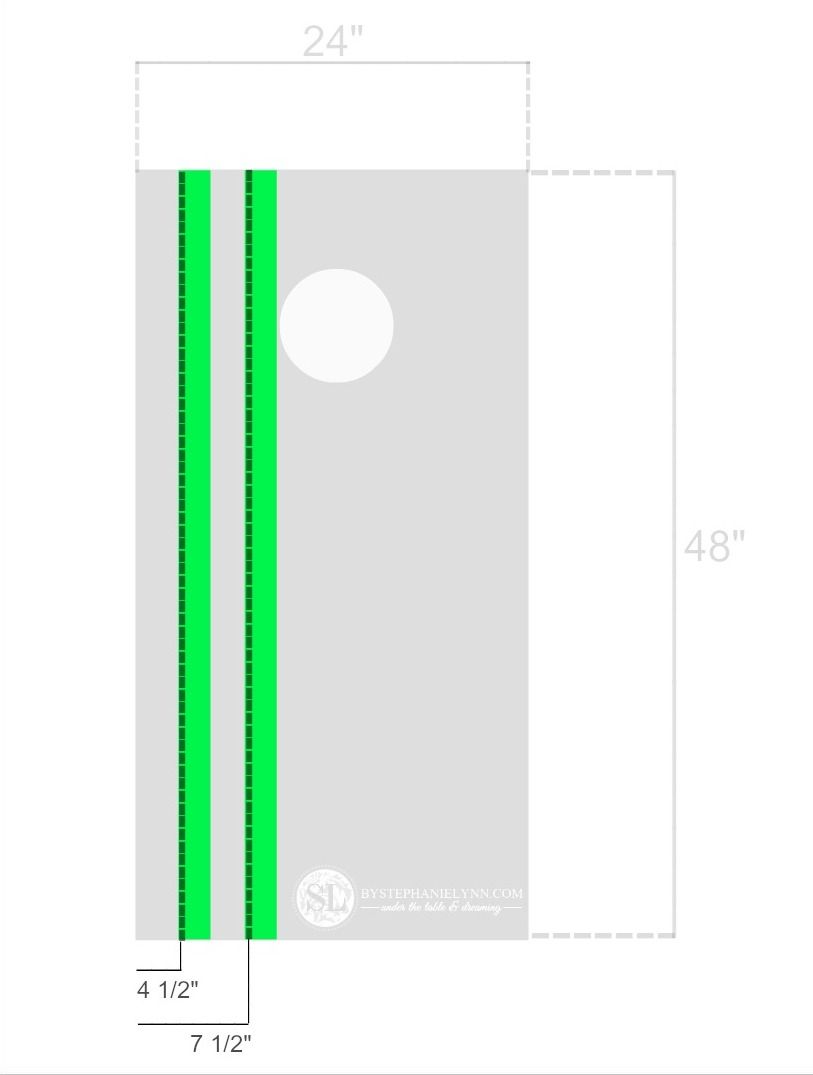 For this easy striped design we simply applied four strips of FrogTape® to our standard regulation cornhole boards.
From the side edge of the board, mark two guidelines – one measuring 4 1/2 inches from the edge and the other measuring 7 1/2 inches from the edge. The edge of painter's tape should be lined up with these measurements as shown above.
Repeat the same measurements from the other side of the board and place the additional two pieces of tape.
Keep in mind if you would like the stripes to continue onto the frame – that the tape extends around the top and bottom of the deck board, onto the frame, as well.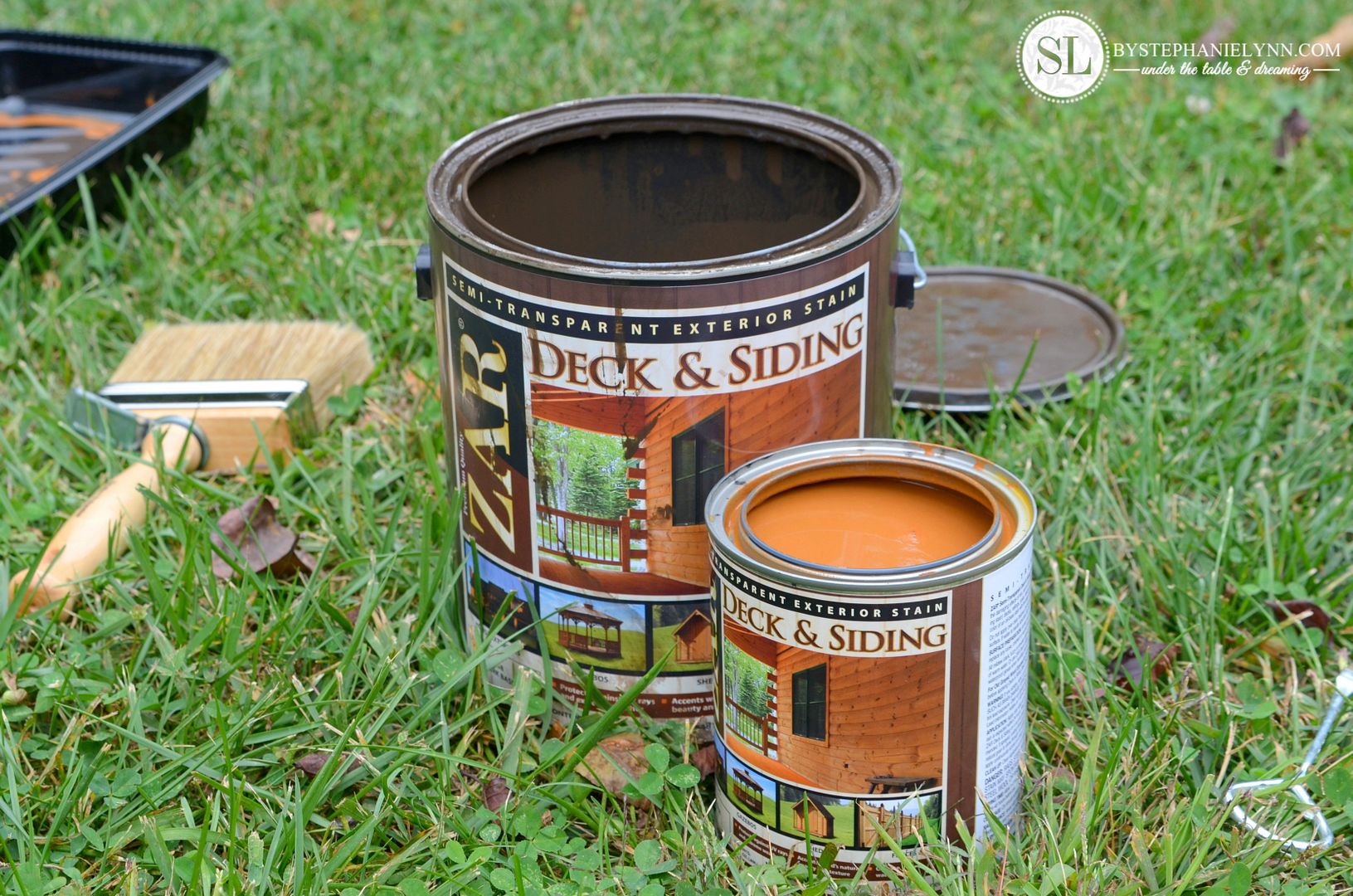 While paint can be used for this design, we decided to use semi-transparent deck stain to keep the character of the wood grain.
We used ZAR brand which is an exterior waterborne oil-base stain. We had the Manor Brown color left over from  Staining our Adirondack Chairs  and picked up another quart tinted to Westwood.
If using any other brand of stain be sure to test the compatibility with the painter's tape prior to using it on your finished product.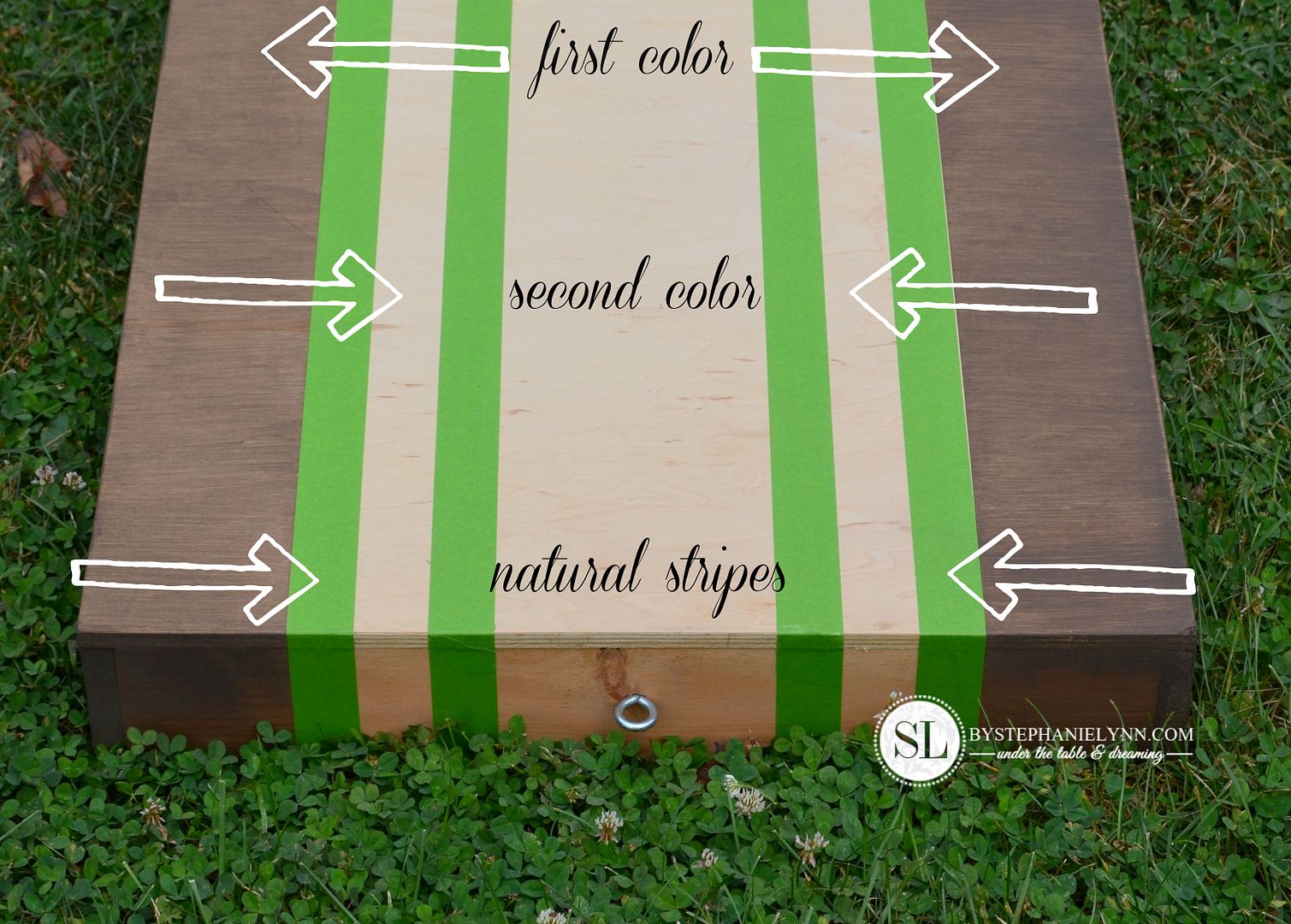 For this basic stripe design: the first color creates the outside stripes the second color creates three interior stripes and the painter's tape itself creates an additional four natural stripes.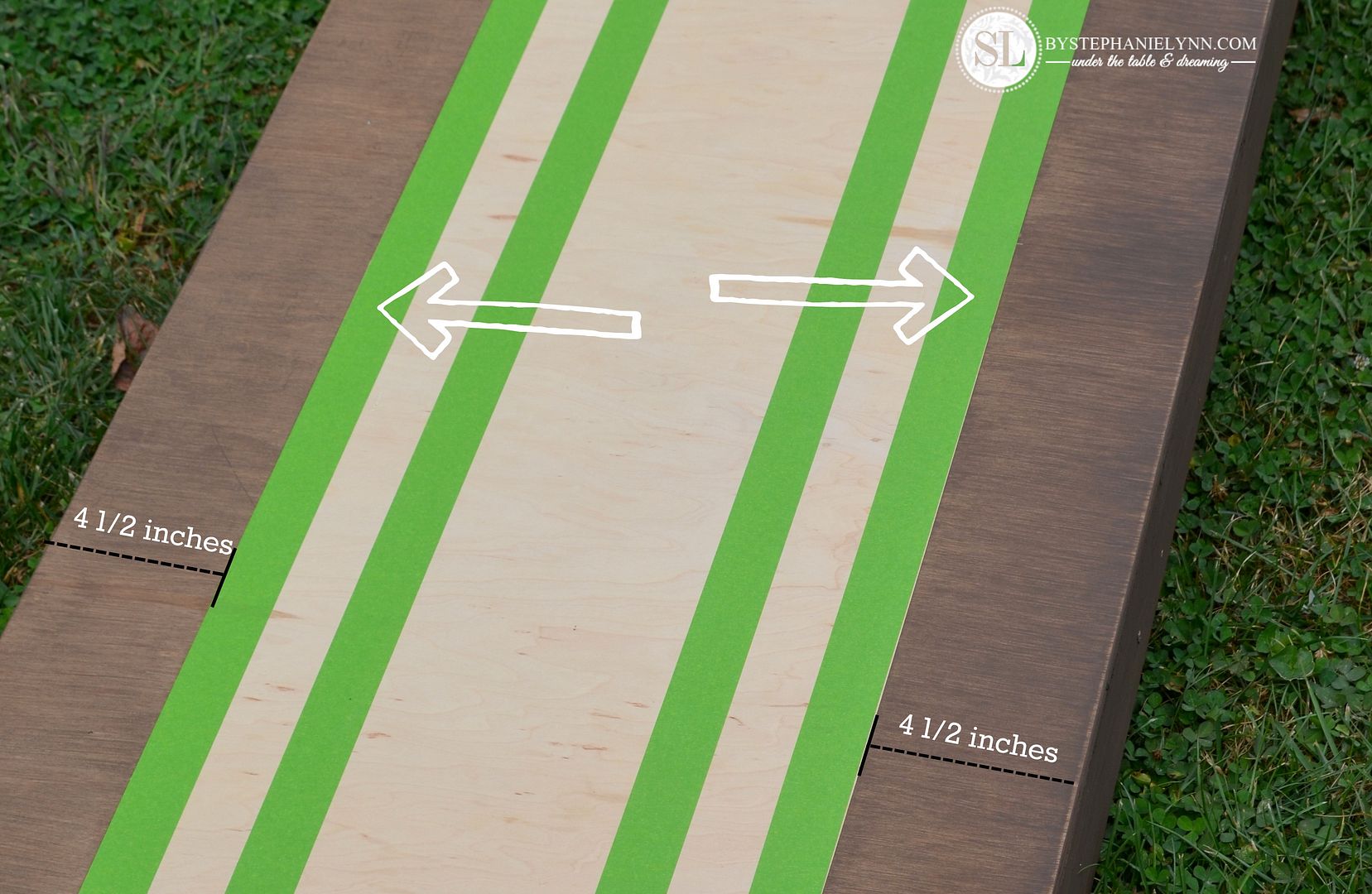 Begin by painting the outside stripes first. Once coated, remove the painter's tape and let dry completely.
If using stain, make sure it is brushed on following the direction of the wood grain with a synthetic polyester brush. We highly recommend Wooster Brushes
.
Re-apply the painter's tape, as shown above,  using the painted edges as a guideline. Then paint the remaining three stripes.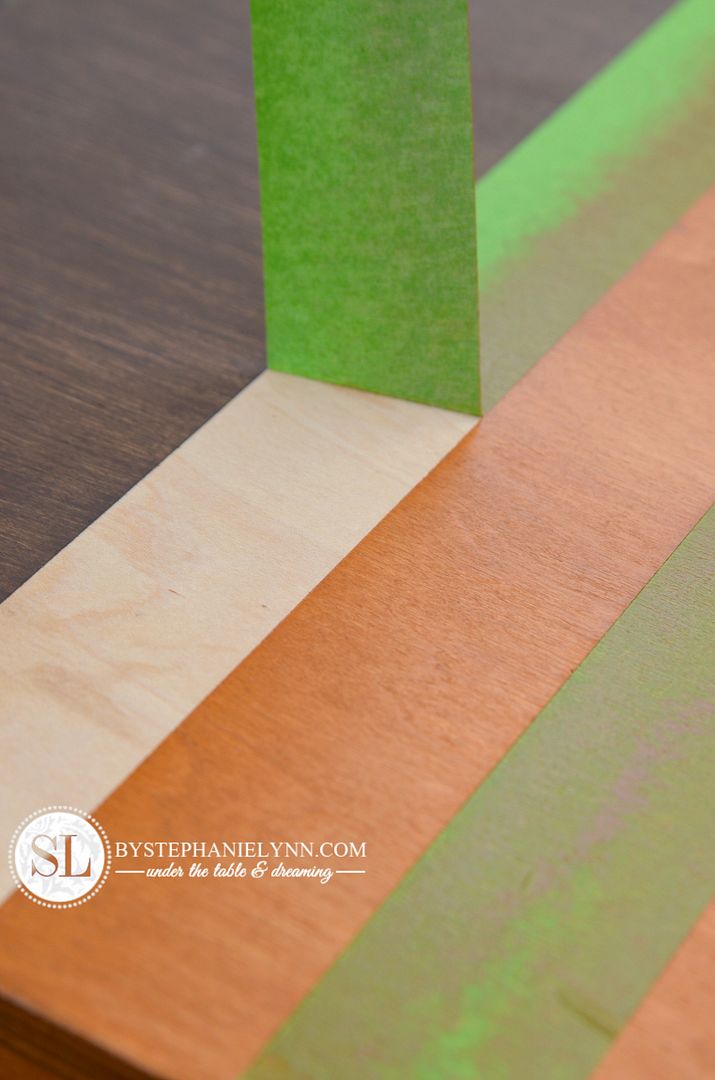 I can not say enough about the quality of this tape and how impressed we were with the sharp, clean edges. The photo above speaks for itself. There was no bleeding what-so-ever.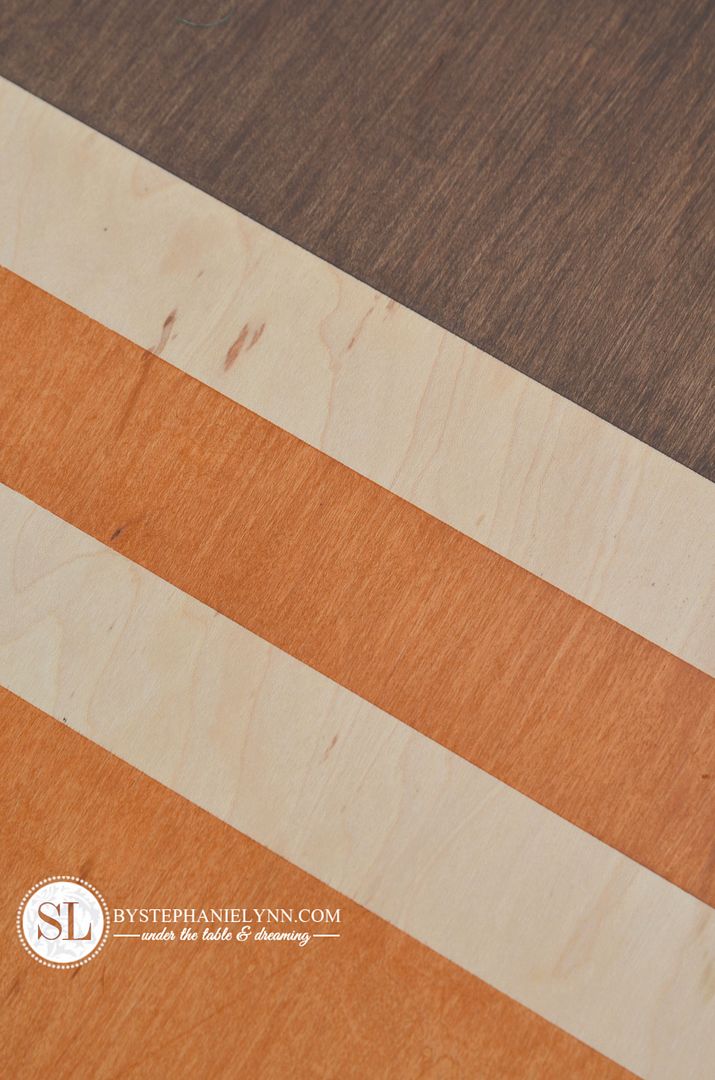 The painter's tape was promptly removed after the stripes were painted – we did not let it sit or wait for the stain to to dry.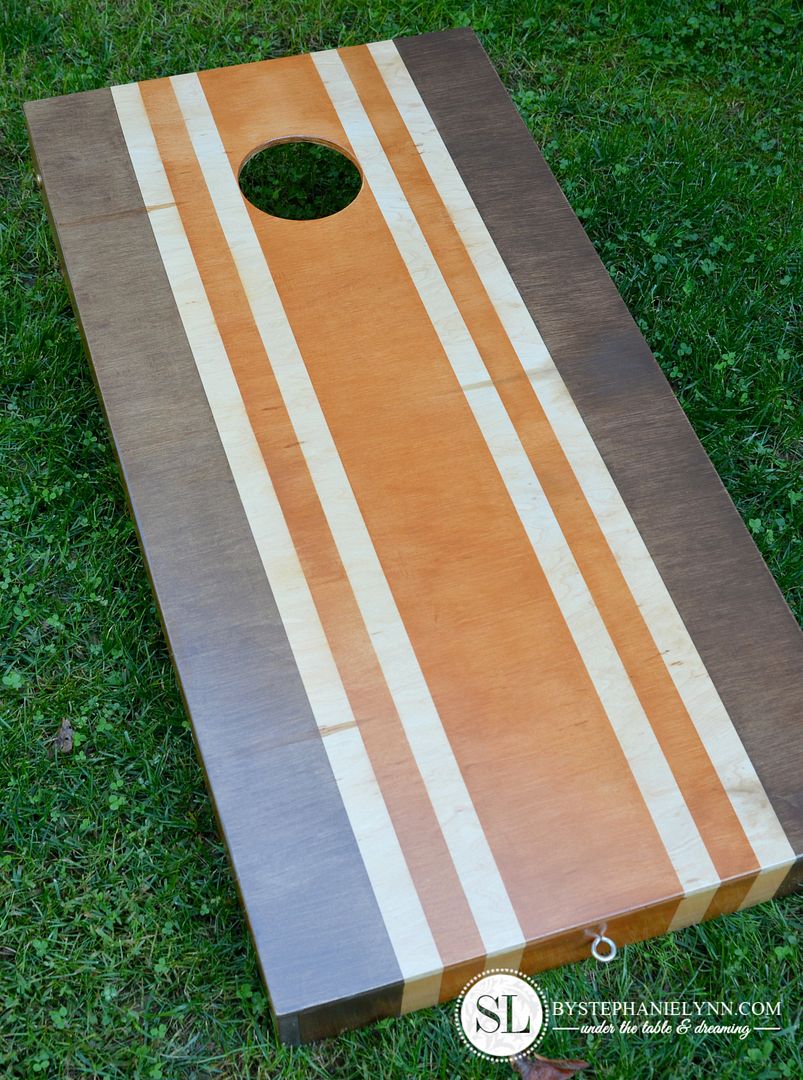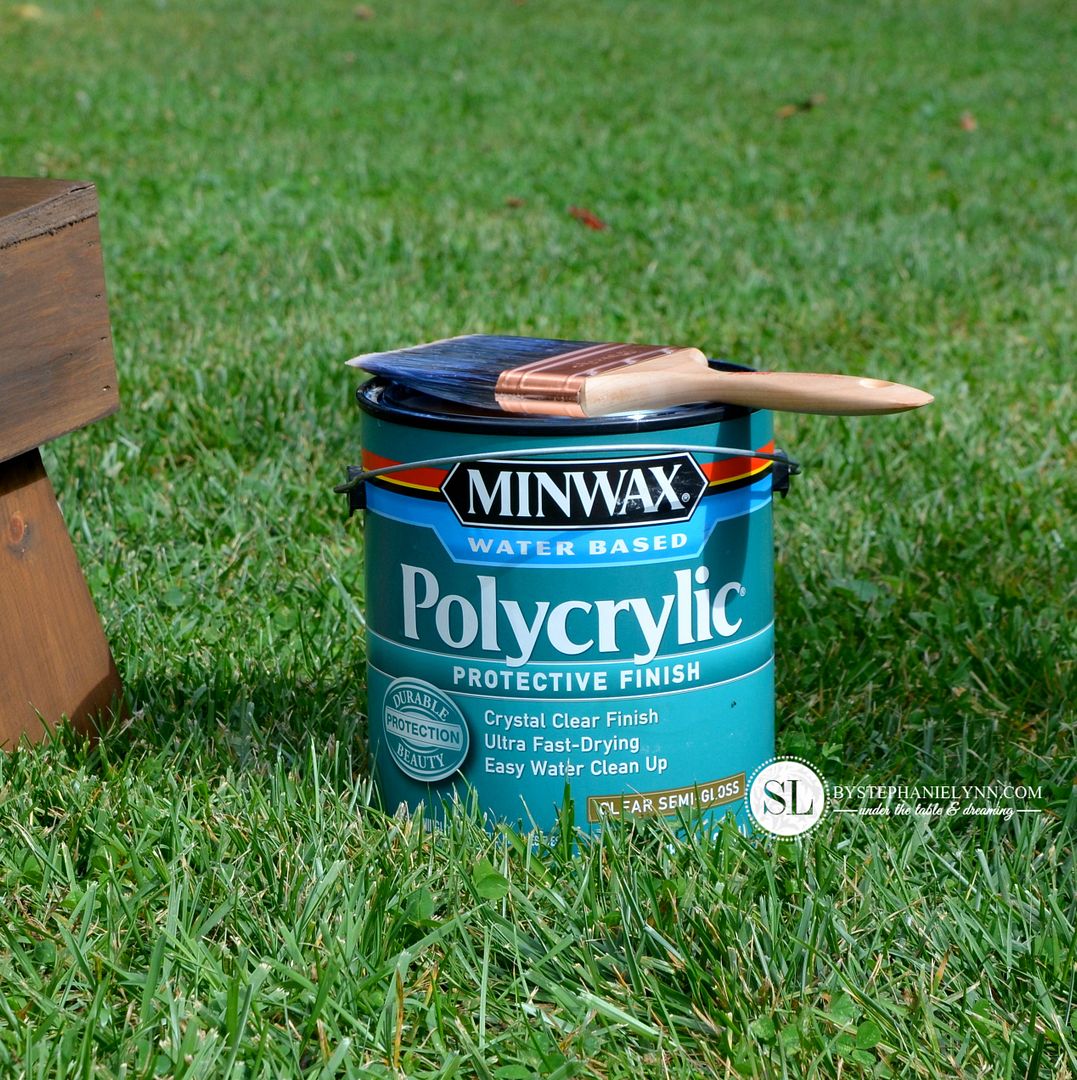 After the boards have cured , typically 24 hours, it's time to apply a protective finishing coat – which helps give the boards some necessary slickness.
We prefer Minwax Polycrylic
 in the clear semi-gloss finish. We like the polycrylic for two main reason – (1) it is water-based and easily cleans up with soap and water  and (2)  it dries quicker than an oil- based poly. Both of these are something to keep in mind when you have seven to eight separate coats to apply.
Prior to using, gently stir the can of Polycrylic. Do not shake the can as it will create air bubbles in your finished product.
The polycrylic should also be applied with a high-quality synthetic brush – never use a roller, as this will create air bubbles as well. We like to use a Purdy XL Nylon Polyester 3 inch Brush
for this step.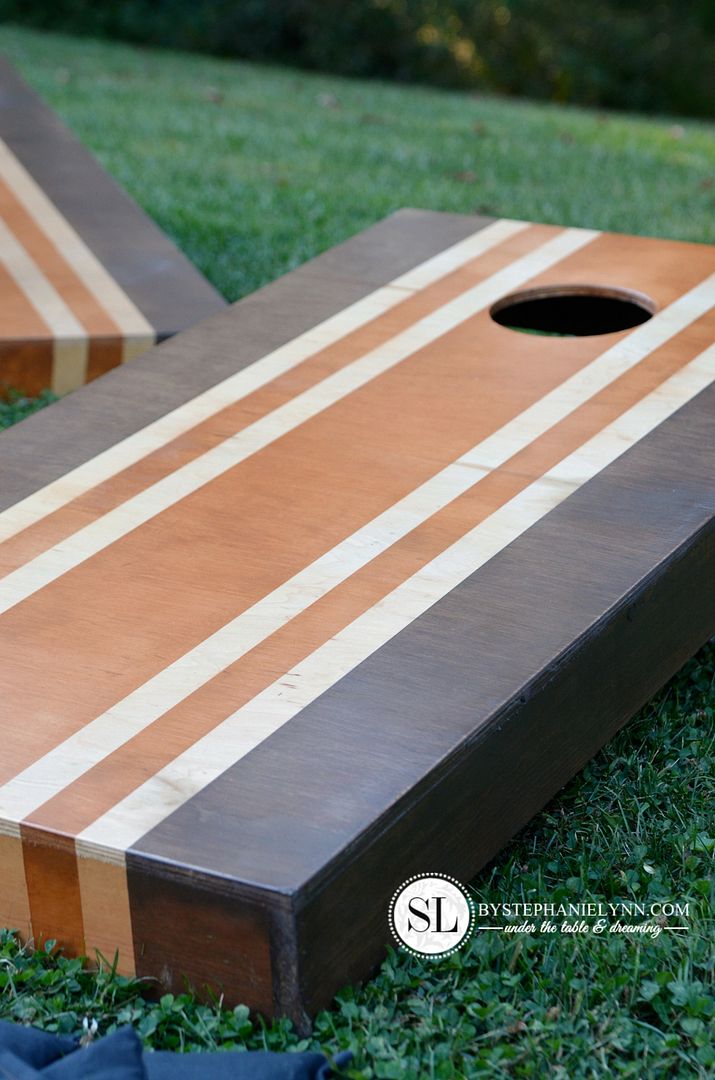 Apply 7-8 coats of the polycrylic – letting each coat dry in-between for at least two hours.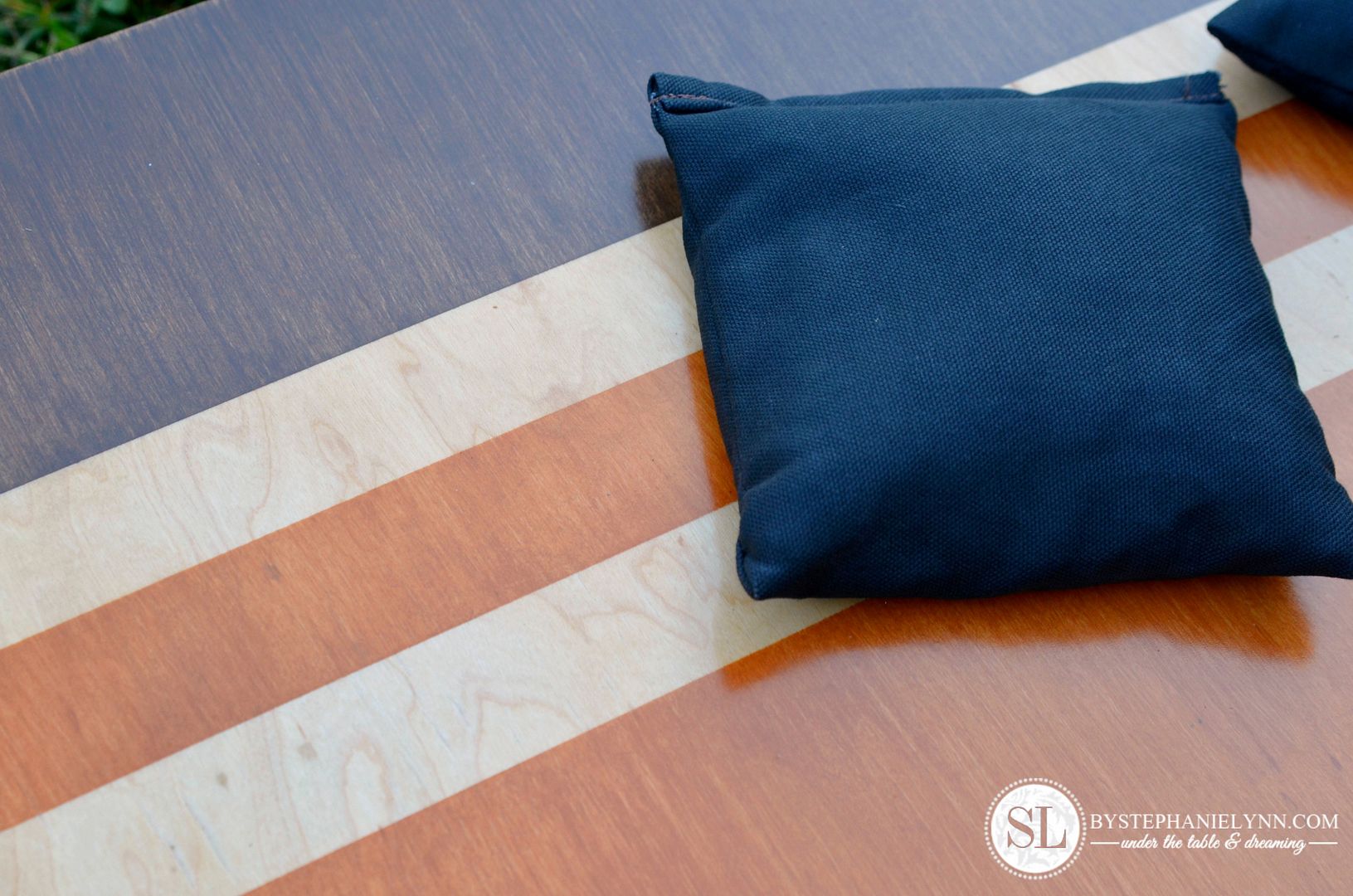 Before applying each coat we also gently sanded with 220 grade, very fine grit (general purpose) sand paper and wiped down with a tack cloth. This step is quick and removes any dust, debris, or raised wood splinters that may occur on the surface and ensures a very smooth, blemish-free finished board.
Once all of the polycrylic coats have been applied let the boards sit for 24 hours before using.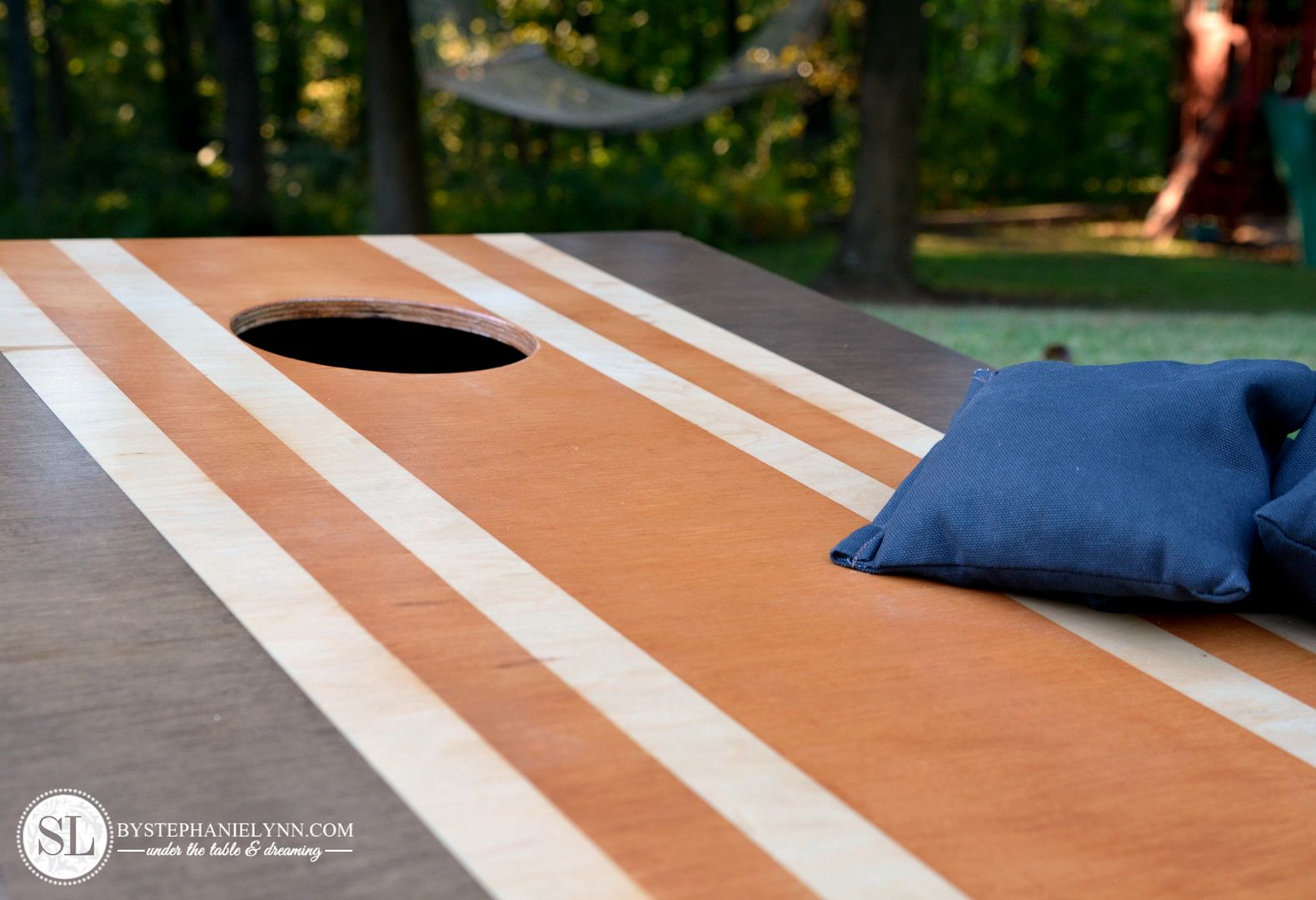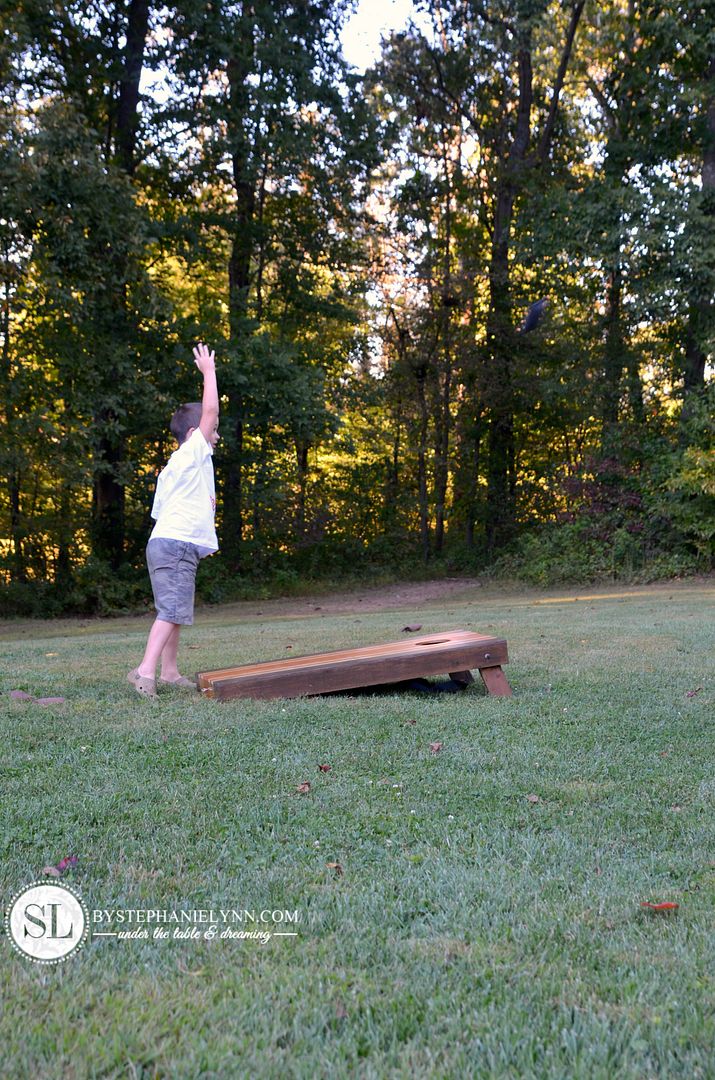 I think my brother needs to watch out – we have a future gusher in the making.