Salted Caramel Pretzel Chocolate Chip Cookies Recipe | This post is brought to you by McCormick. With the back to school underway and the holidays approaching we are heading into prime bake sale season. While cookies and brownies are two of the most popular bake sale items, many of us are always looking for that next unique recipe to set our baked goods apart from the rest.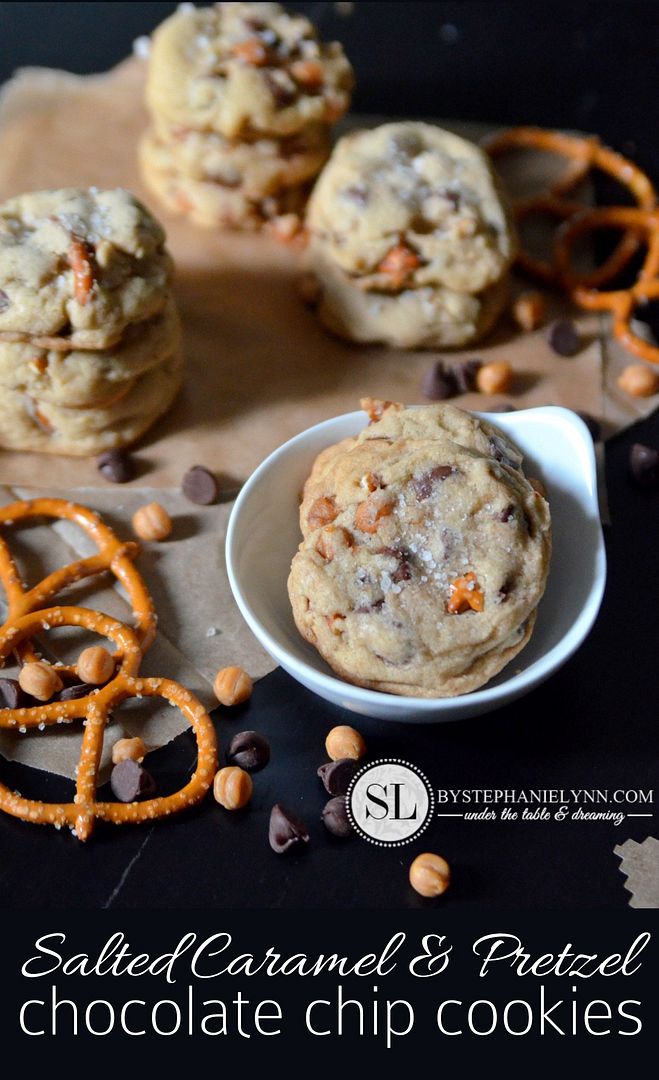 For the month of September I am thrilled to partner with The McCormick Kitchen for the
McCormick Bake Sale Blog Tour.
The McCormick Kitchens, along with 36 bloggers, have each developed some special cookie and brownie recipes to ensure your baked goods are the talk of the table.
As part of the McCormick Blog Tour, the 36 bloggers have been split into six teams to compete in a fun virtual bake sale. Each blogger will be sharing their recipe on the McCormick Pinterest Board. Each of us will also be giving away some McCormick Baking prize packs – which you can win by re-pining your favorite recipes. Each re-pin = one sale for our baking team!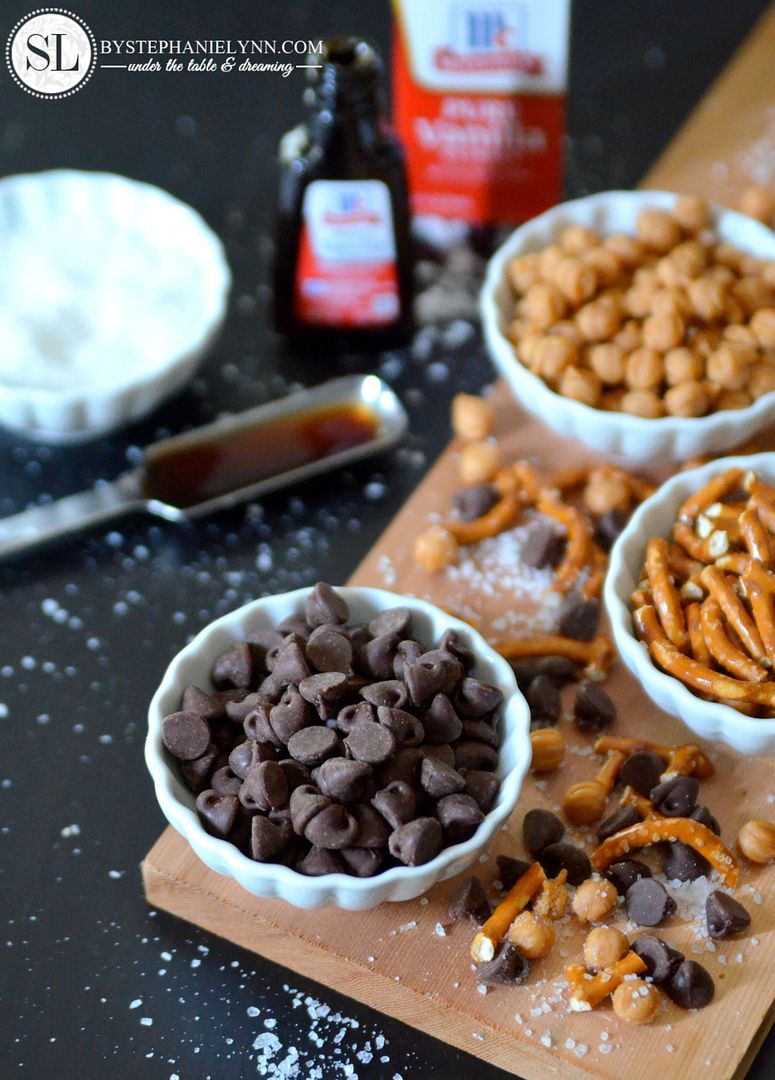 The recipe I'm sharing today is for Salted Caramel & Pretzel Chocolate Chip Cookies. My inspiration came from McCormick's Vanilla Rich Chocolate Chip Cookies which takes one of their favorite chocolate chip cookies and blends in the premium flavoring of pure vanilla extract.
I put a tasty spin on this simple recipe with the addition of crushed pretzels, creamy caramel and coarse sea salt for an unexpected salty and sweet combination.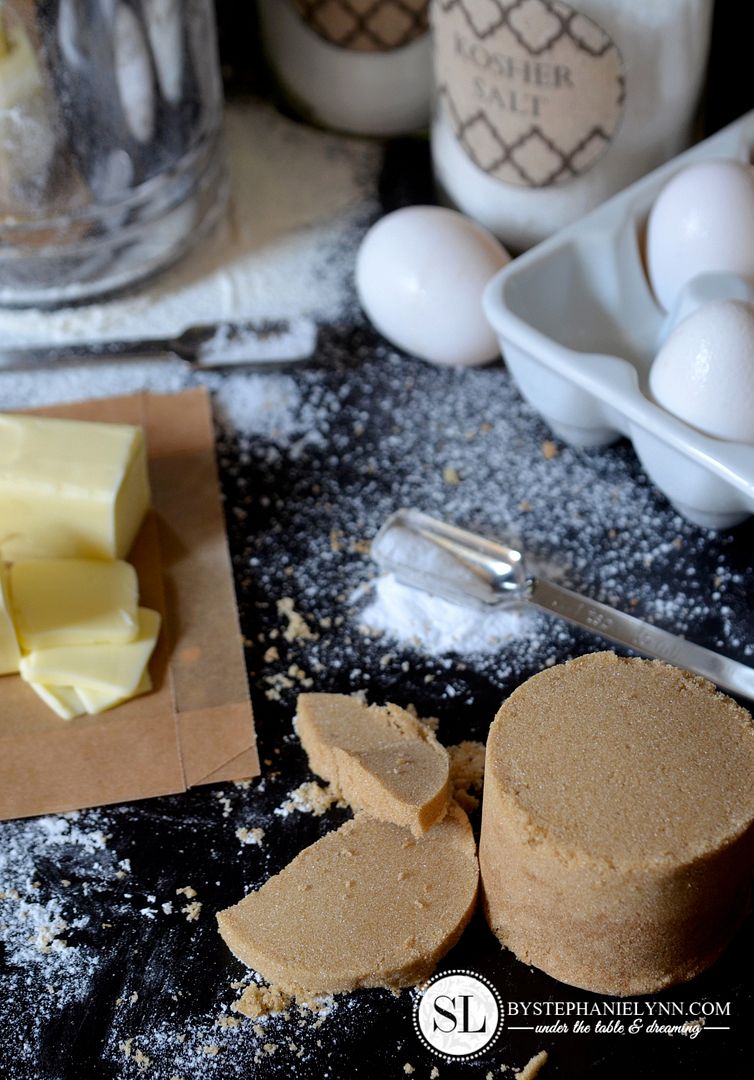 We all know presentation is an important key for a successful bake sale. Typically these homemade goods are being made last minute and it can be so disappointing when they don't quite turn out how we expected them to – especially when trying a new recipe. When it comes to bake sales the way the homemade baked goods look is just as important as how they are packaged and presented. Before I share the recipe (below) here are a few general baking tips to keep in mind for cookies…
Be sure to follow the baking recipe precisely.
Use real butter sticks (instead of margarine) for cookies. Real butter has a low melting point producing a golden crisp cookie on the outside and a soft chewy texture inside.
Remember to soften the butter ahead of time by taking it out of the fridge and placing it on the counter for 15 minutes or so. To speed the process the sticks of butter can be cut into smaller pieces. Softened butter should still be firm enough to pick up without it falling apart. Butter that is too soft or has been melted (in the microwave) should not be used as it will cause the cookies to spread to much as they bake and loose their shape.
Avoid over-mixing the batter. When adding flour to your recipe, mix it just enough to incorporate it – meaning just mix it until you no longer see any white flour spots. Over-mixing the batter activates the gluten in the flour and can result in flattened, tough cookies.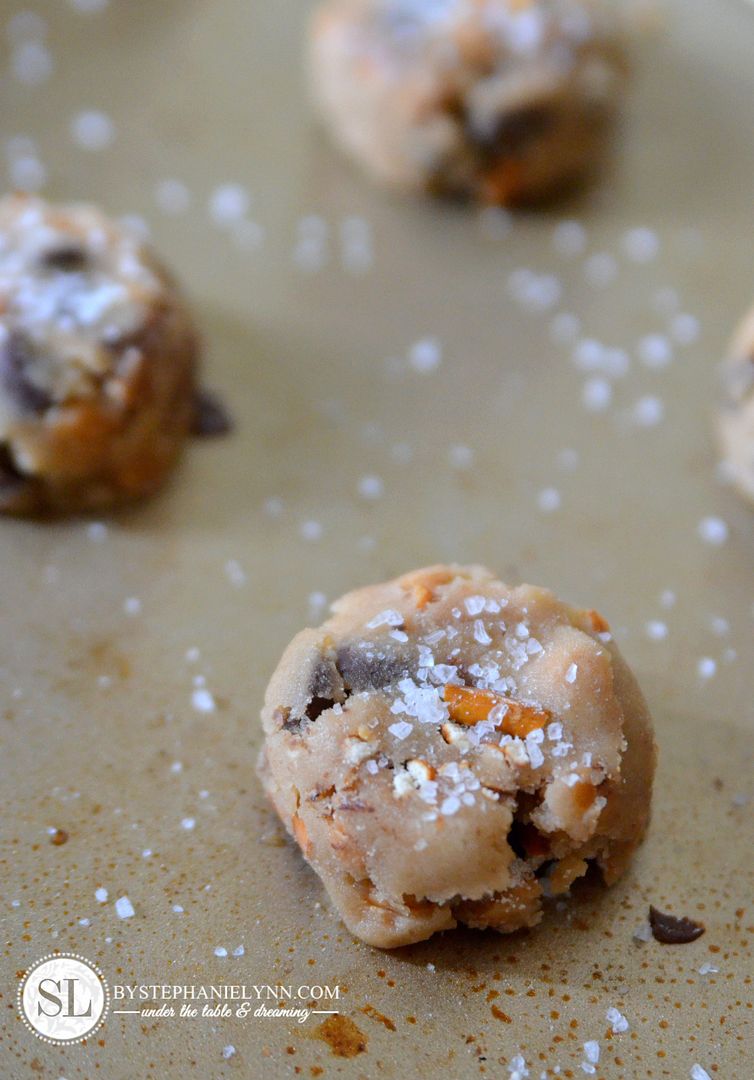 For butter based cookie batters, it is important to keep the batter cold. While you have a batch cooking – place any remaining batter in the fridge. Once the butter warms, the water and fat break down reducing its ability to hold the cookie structure.
To ensure even baking, make sure each cookie is the same size and thickness. Using a small cookie scoop makes this task much easier.
Place one baking sheet at a time in the center of the oven and let the sheet cool before placing the next batch of cookie dough on it.
**Please keep in mind food allergies and sensitivities if you are baking for a bake sale**
Avoiding peanut butter or nuts in bake sale recipes can potentially save a life.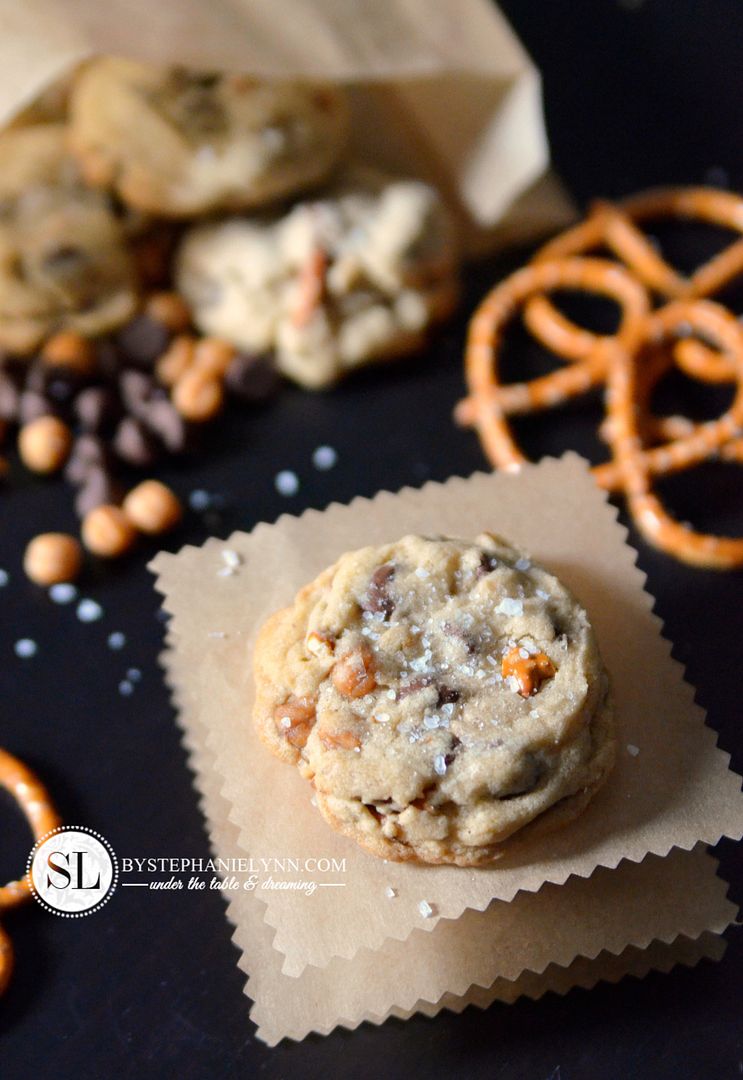 Salted Caramel Pretzel Chocolate Chip Cookies Recipe
Author:
www.bystephanielynn.com
Ingredients
3 Cups of Flour
1 Teaspoon of Baking Soda
1 Teaspoon of Salt
1⅓ Cup of Butter, Softened
1 Cup of Firmly Packed Light Brown Sugar
1 Cup of Granulated Sugar
2 Eggs
4 Teaspoons of McCormick Pure Vanilla Extract
3 Cups of Semi-Sweet Chocolate Chips
1 Cup of Caramel Chips
1 Cup of Crushed Pretzel Pieces
Sea Salt
Instructions
In a medium bowl sift together the flour, baking soda, and salt. Set aside.
In a large bowl beat the butter, brown sugar and granulated sugar with an electric mixer on medium speed until light and fluffy.
With the mixer on low speed, gradually add the eggs and vanilla. Mix well.
Slowly add the flour mixture and beat just until there are no streaks of flour showing.
Stir in the chocolate chips, caramel chips and pretzel pieces.
Cover and chill the batter in the refrigerator for 15 minutes.
Preheat the oven to 350°.
Using a cookie scoop drop rounded tablespoon portions of the dough, about 2 inches apart, onto an un-greased baking sheet.
Gently flatten the top of each rounded ball and sprinkle with sea salt.
Bake 10 to 12 minutes or until lightly browned.
Let the cookies cool on the baking sheet for 1 minute prior to moving to a wire rack to cool completely.
Notes
Make 5 Dozen Cookies


For more cookie and brownie bake sale inspiration
check out what my fellow McCormick Team Members are making:
Orange Cream Cookies by The Crafting Chicks
Raspberry Cheesecake Brownies by Flour On My Face
Cinnamon White Chip Cookies by Andrea's World Reviews
Salted Triple Chip Crownies by Mountain Mama Cooks
and Cinnamon Pecan Chocolate Chip Cookies from The Divine Miss Mommy
McCormick also wants to help you get a jump start on this year's Bake Sale season by giving one lucky reader a McCormick Baking Creativity Kit. The kit includes $75 worth of products to inspire your baking creativity, like spices, extracts, food colors, baking tools and tip sheets.
Start your entry by visiting the McCormick Virtual Bake Sale Pinterest Board and re-pin your favorite recipes. There will be a total of 36 different recipes add to the board once the blog tour is complete!
This post is part of the McCormick Bake Sale Blog Tour campaign with the Mom It Forward Blogger Network; all my opinions are my own. #McCormickBakeSale