Thanksgiving Table Setting | setting a fall tablescape with Better Homes and Gardens 
Thanksgiving dinner is one family tradition I look forward to the most this time of year. Nothing is more precious than gathering friends and family around the table
to celebrate, reminiscence, and give thanks.
Since we won't be entertaining before the big day I finished up our Thanksgiving table setting last week. There are a few things I'll have to touch up before the feast arrives, like the flowers and bread placecards, but for the most part I'm just thrilled to be ahead of the game
and ready to go this time around.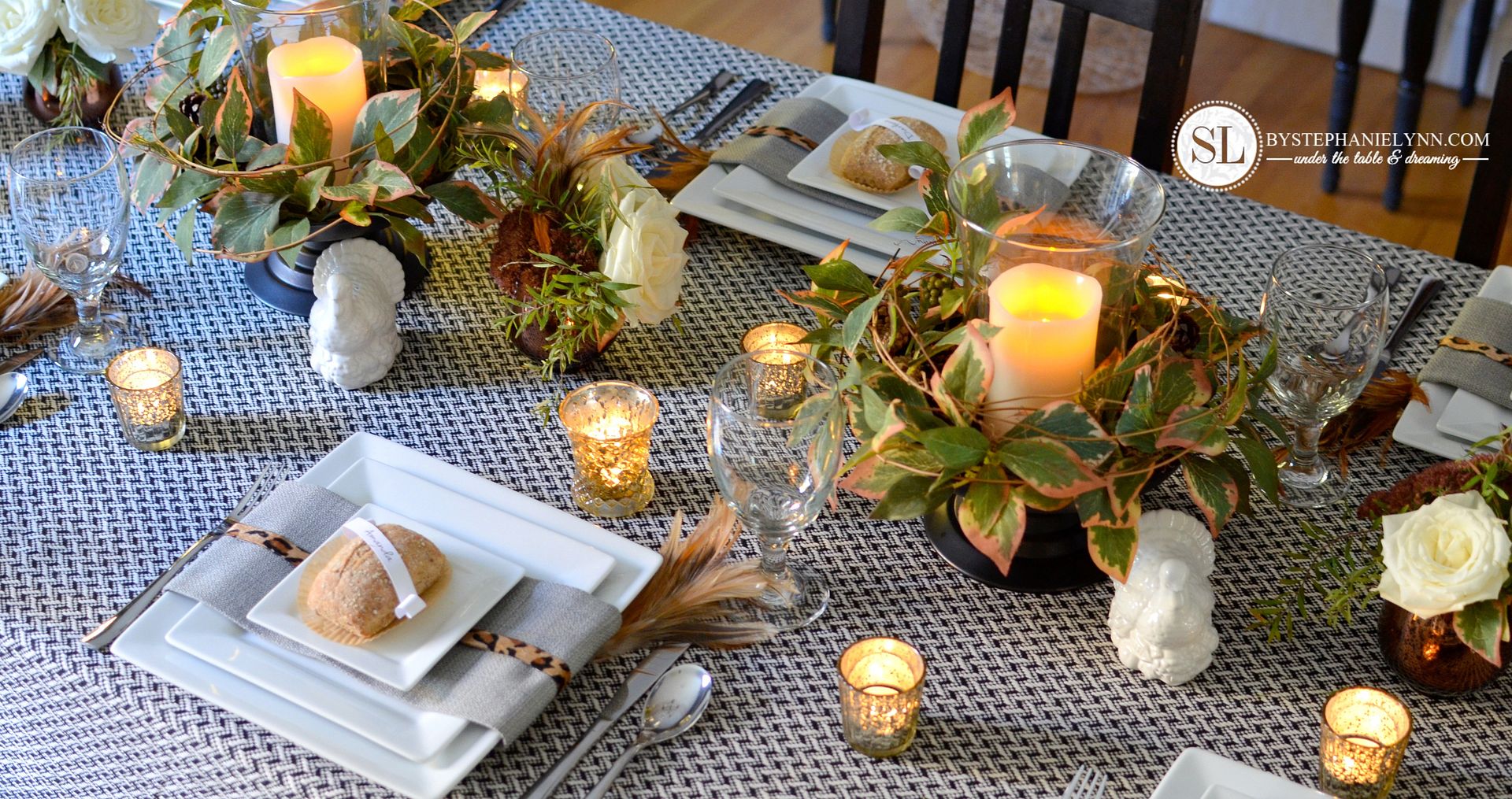 As I have mentioned before, I love the versatility of plain white dinnerware and have used them for pretty much every holiday dinner we have ever hosted. We do not particularly have much space for storing various sets of dishes so having just a couple of sets that meet all of our entertaining needs throughout the year is a huge plus. I have had my eye set on adding some square plates to the mix and was excited to check out the new porcelain line
Better Homes and Gardens released this year at Walmart.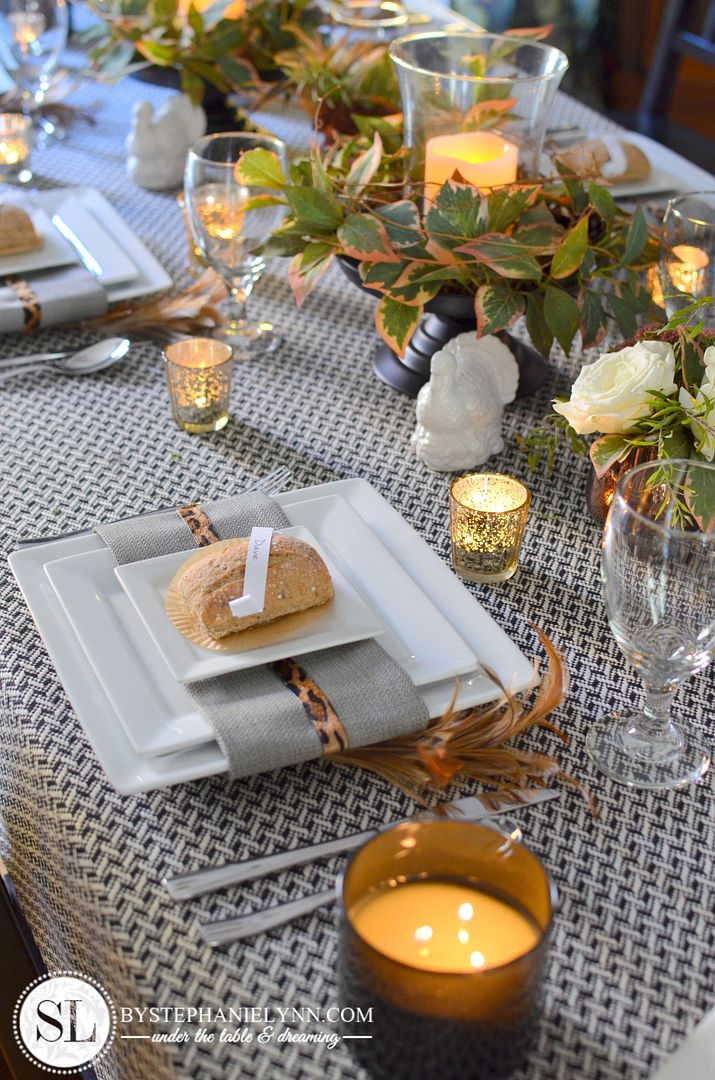 I like having white dishes on hand because they go with everything and can be styled to fit in with any table setting. The quality of these sets are durable enough to use every day and quite impressive for the cost. I snagged a couple of individual white serving pieces as well, which they carry to match the line, along with some seasonal accessories right at my local store. I have listed all of the details and links for the pieces in this table setting below – if you'd like to check them out.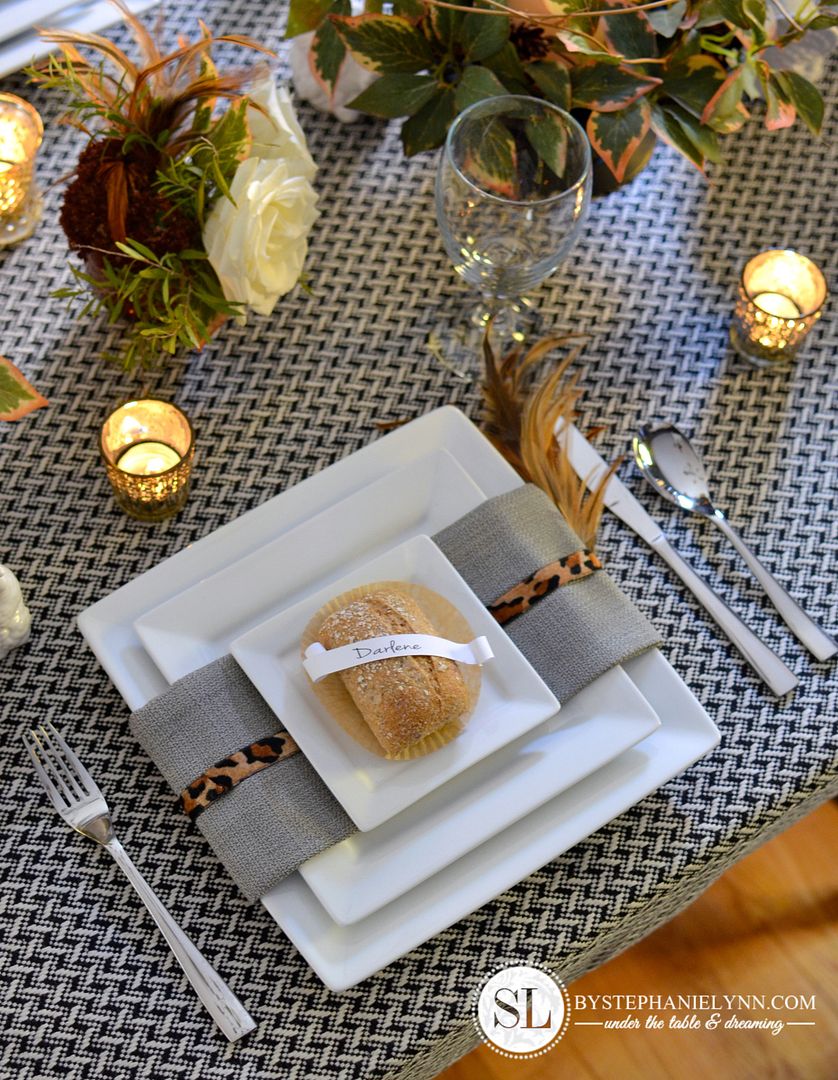 This year I strayed away from pumpkins and orange and decided to do something a little unexpected – by adding in a touch of leopard and some feathers.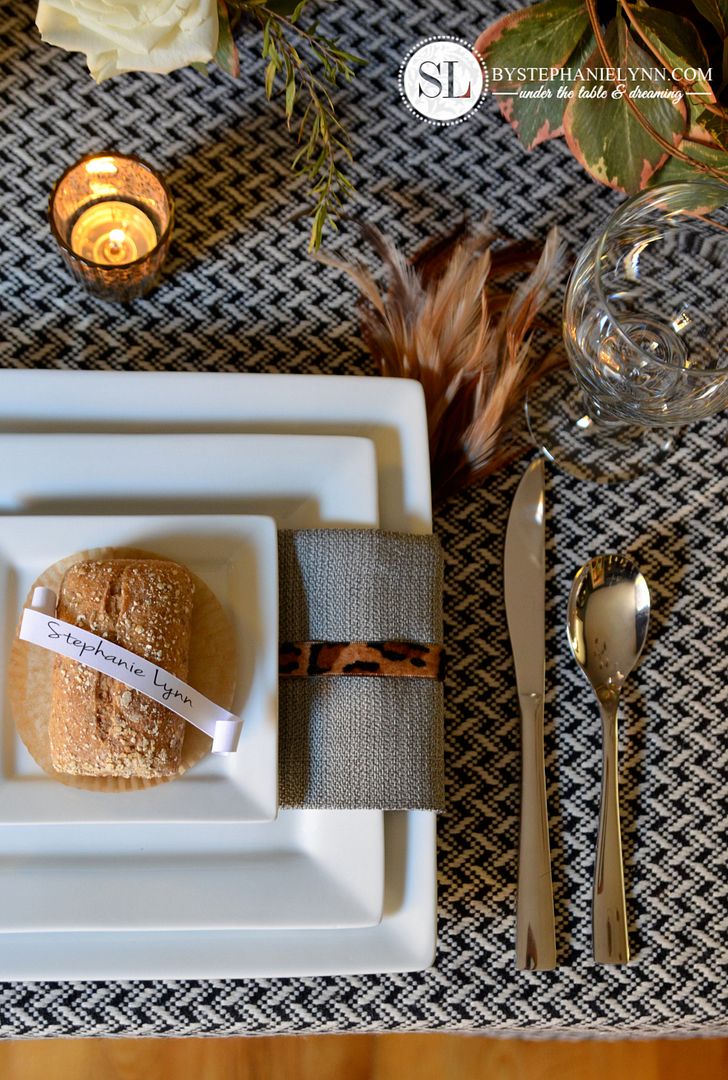 Each 16 piece dinnerware set come with service for four. I used the dinner and salad plates from the set for each place setting and topped them with the smaller appetizer plates
– sold separately in the line.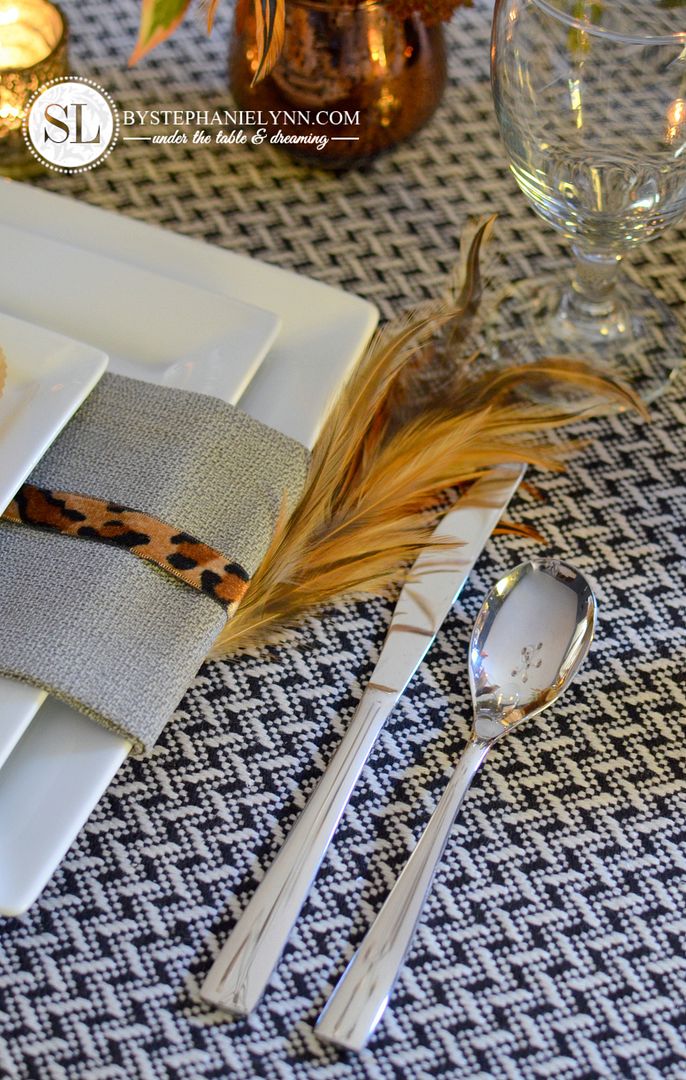 The flatware is also from the line of Better Homes and Gardens products at Walmart. They are the perfectly priced for picking up extras if you entertain quite a bit. Plus I love the weight of them – they are nicely weighted (which may only bother me) and durable for just $1 a piece.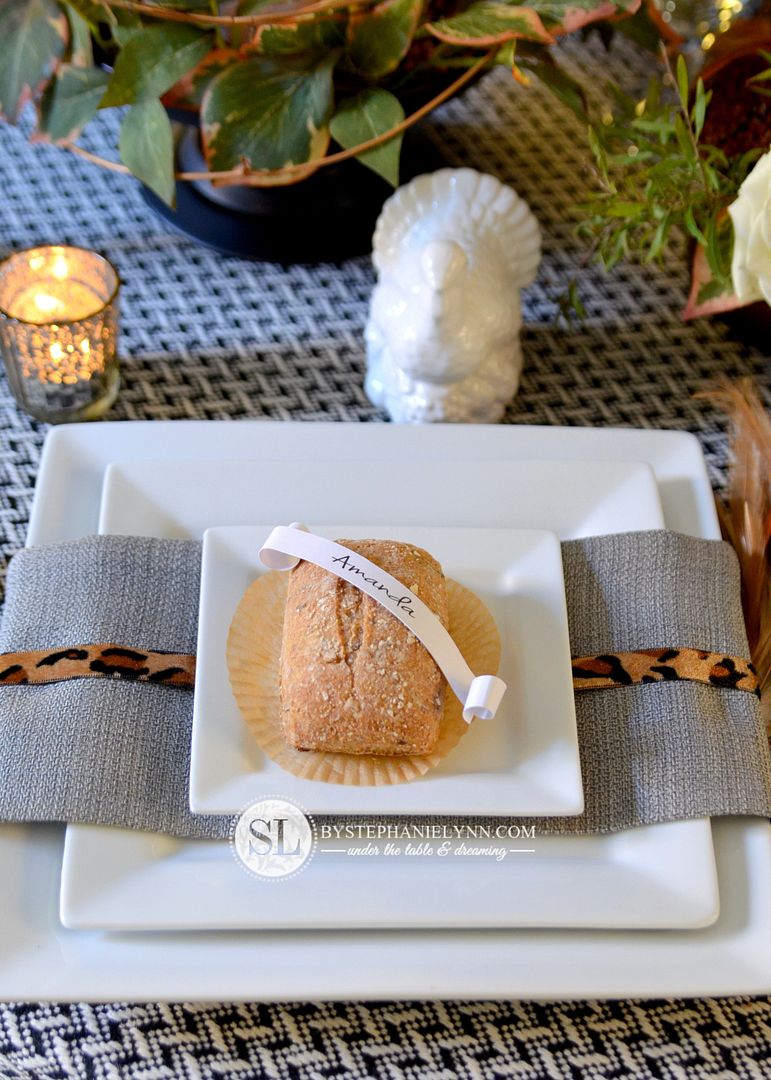 For the placecards I used rolls topped with curled pieces of printed cardstock. These were super quick and easy – and they will not go to waste.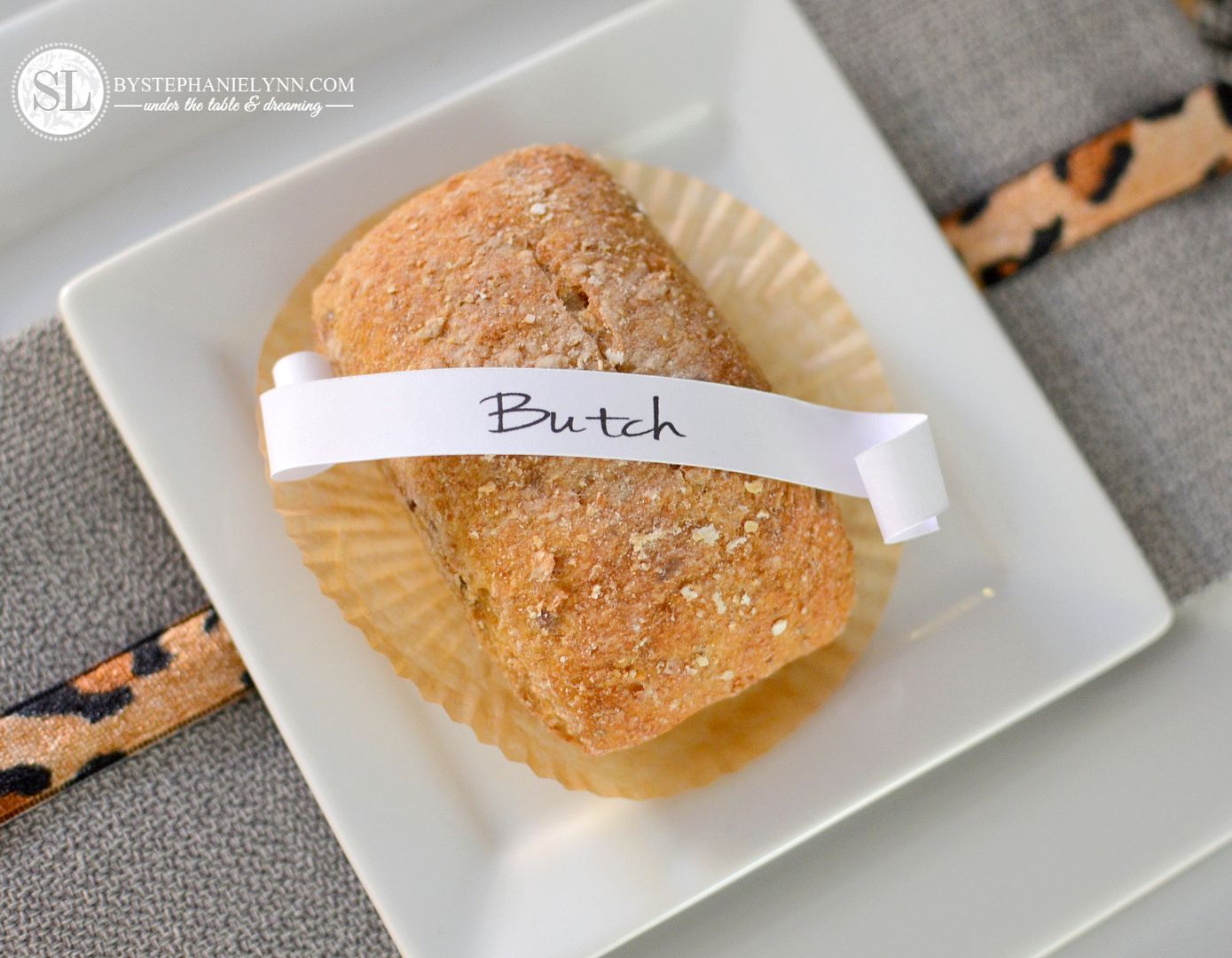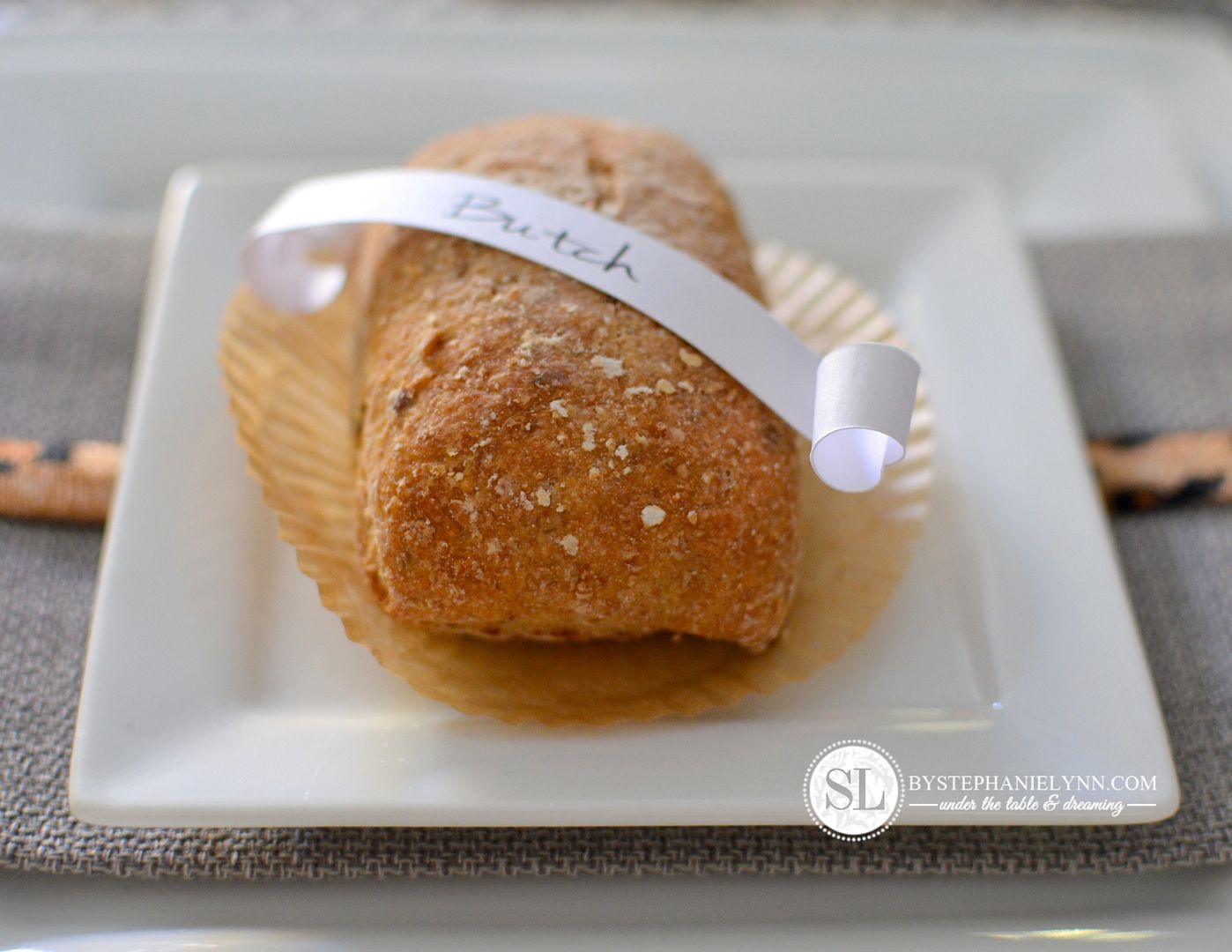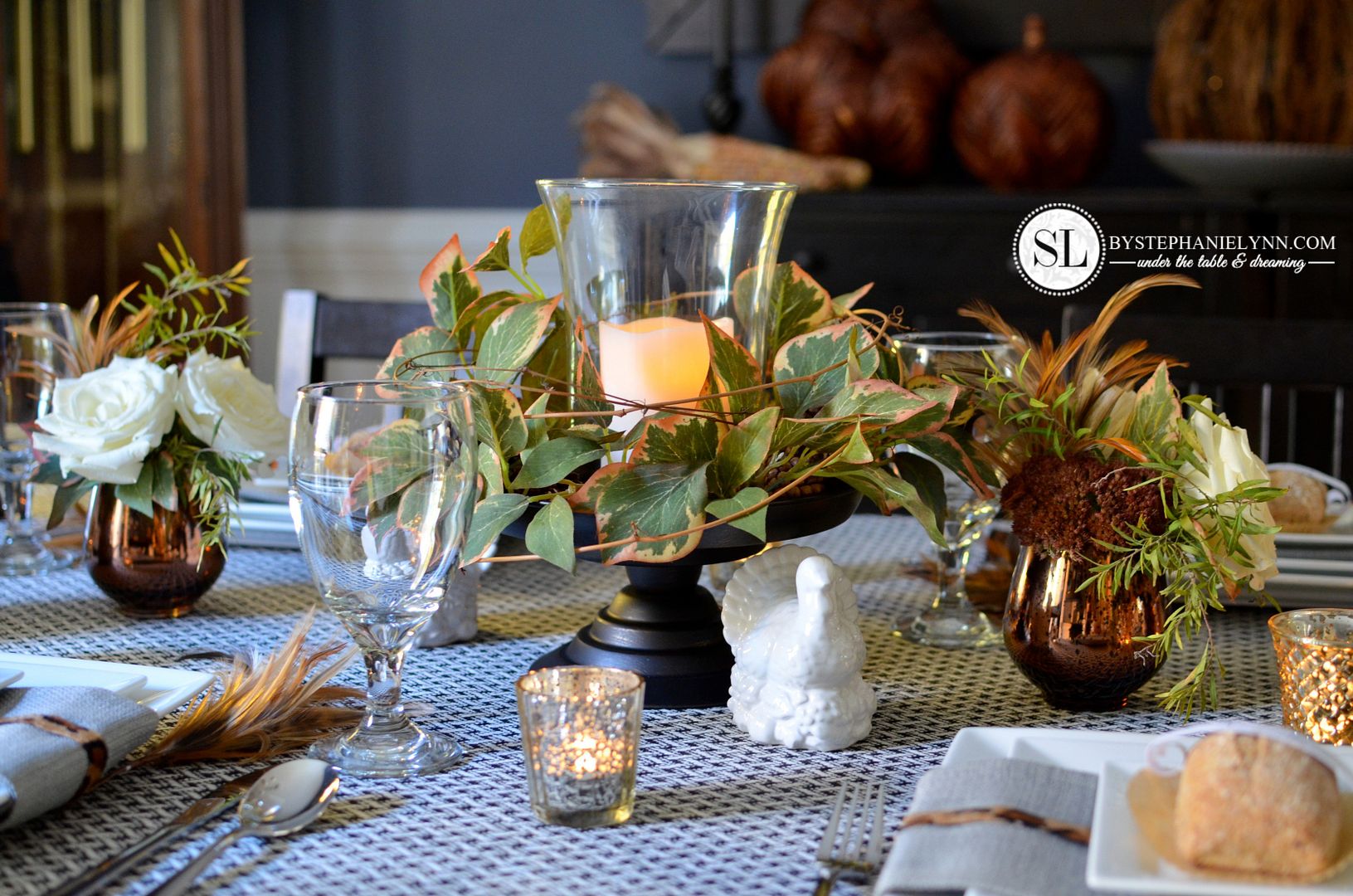 I found two glass hurricane sets to use for the centerpieces.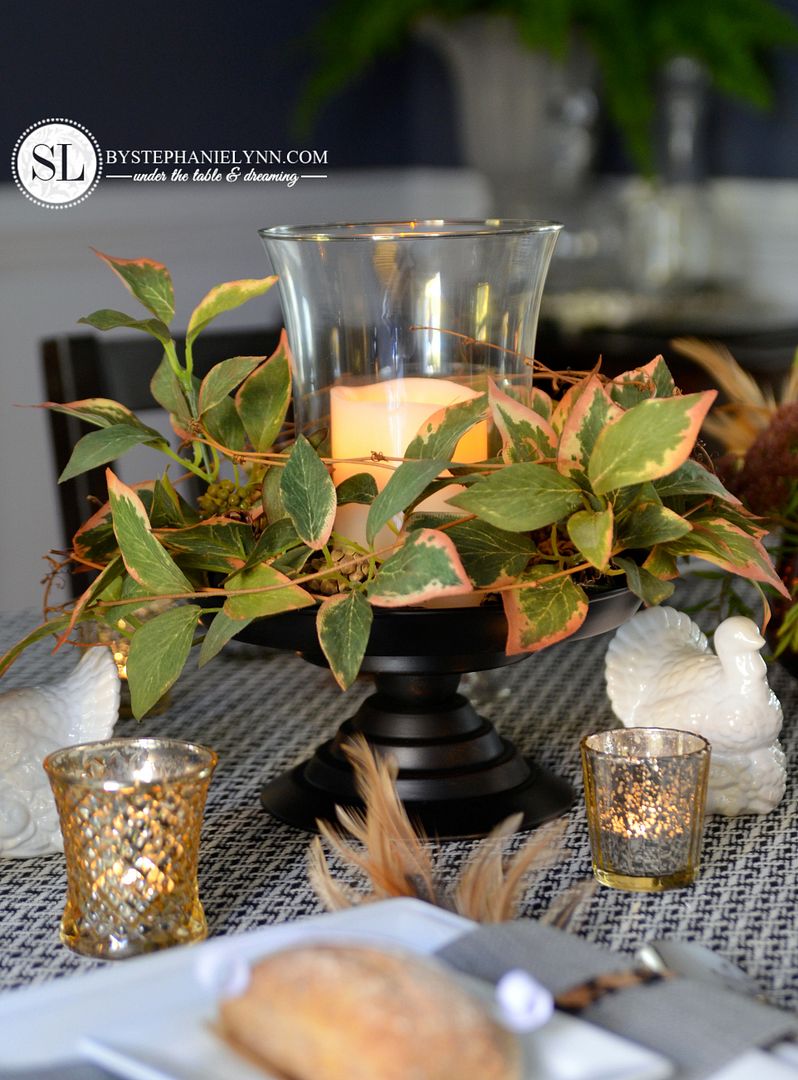 These are one of those fantastic in-store seasonal finds you occasionally find at Walmart from BHG. I gave them both a little update with some added garland and grapevine
– more details about them are below.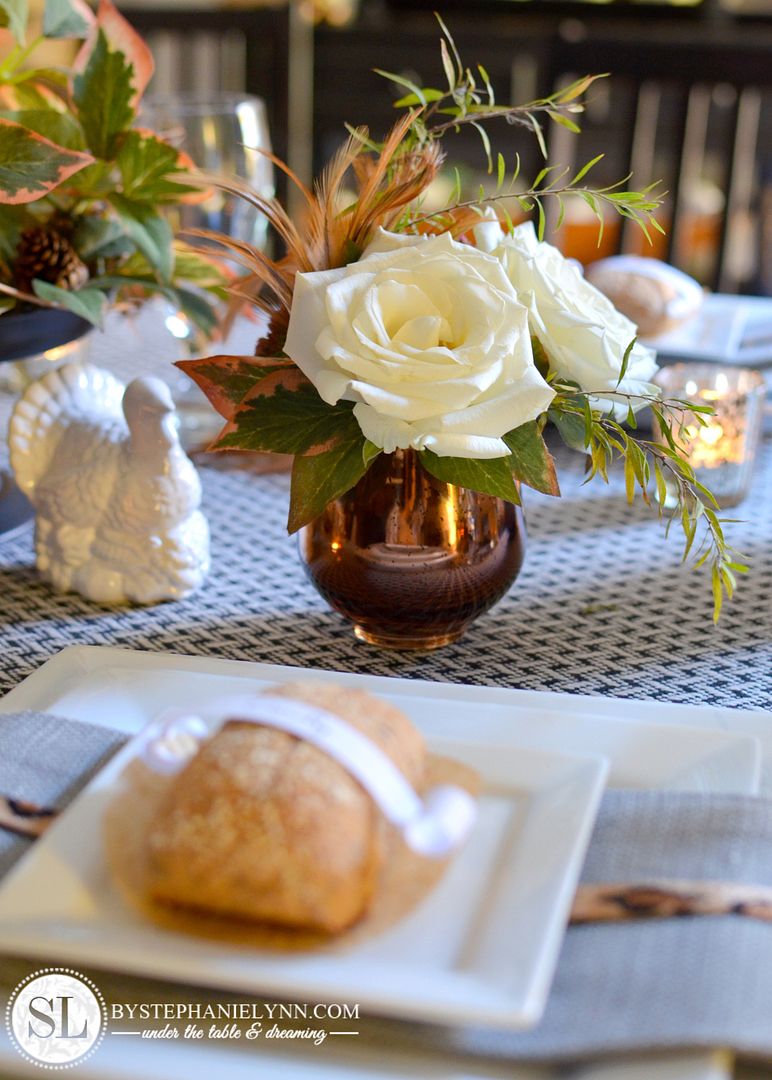 Additional fresh flowers were used to fill in the empty spaces.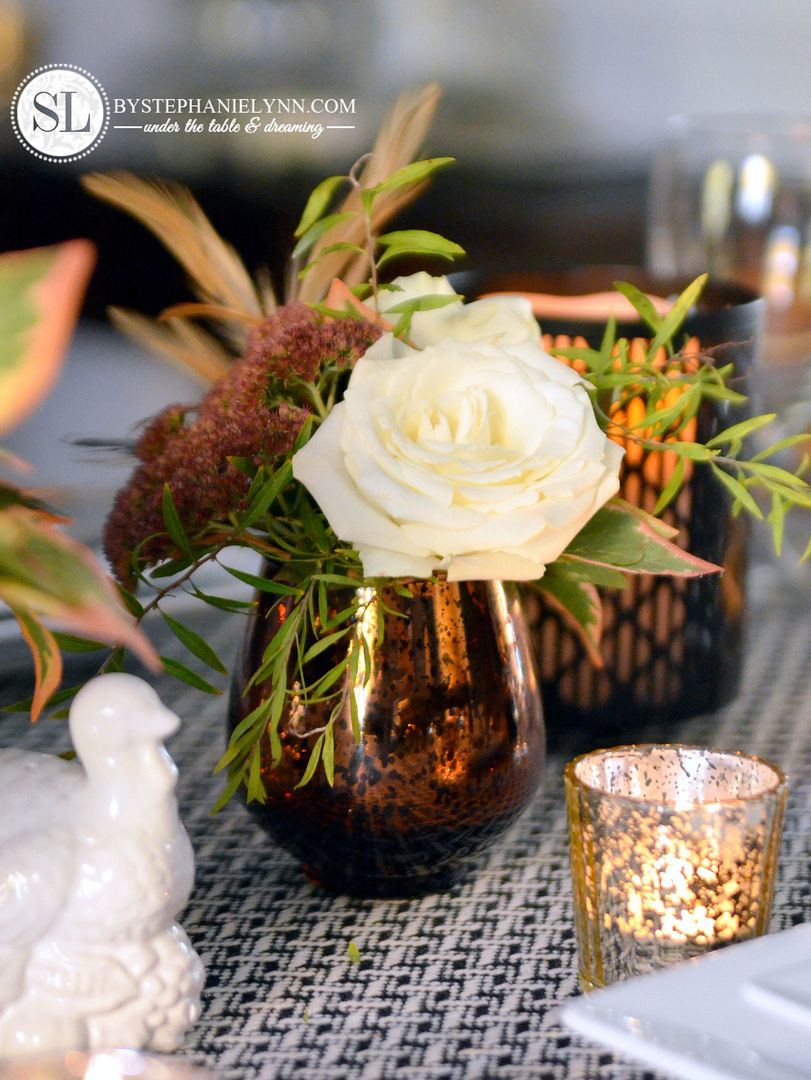 A bunch of store bought roses were cut down and mixed with some sedum and other cuttings found in our garden beds. I also added in some of the faux leaves from the garland I used on the hurricanes – along with some feather picks.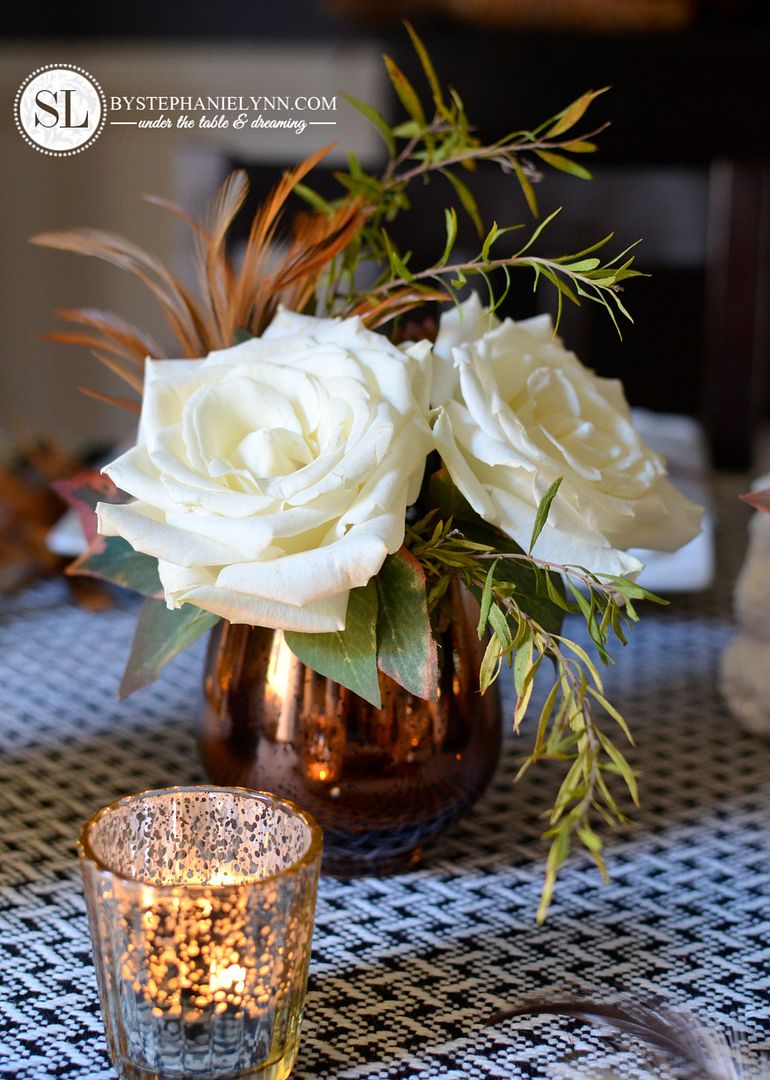 The roses were just $6 a bunch at our local Walmart – and I only used one bunch along with the free garden cuttings. Not bad at all for three separate arrangements.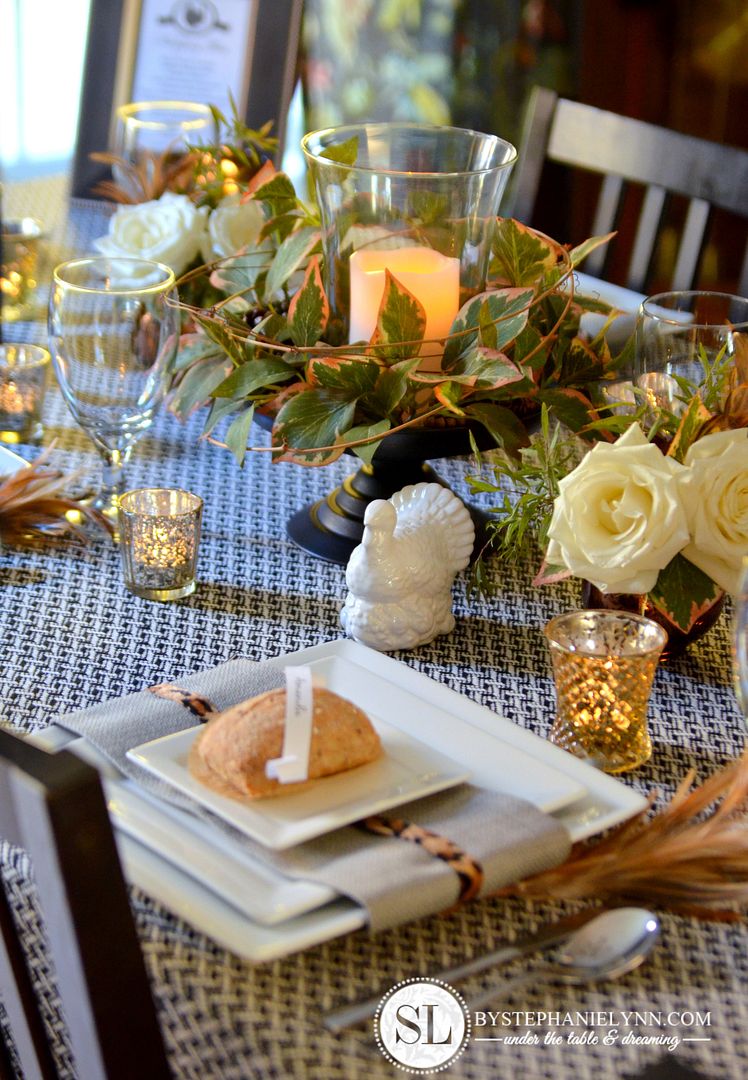 I love the ambiance of a candlelit dinner and filled in the remaining spaces with some mercury glass votives, bronze metal candle holders, and 3-wick glass candles
– also from Better Homes and Gardens.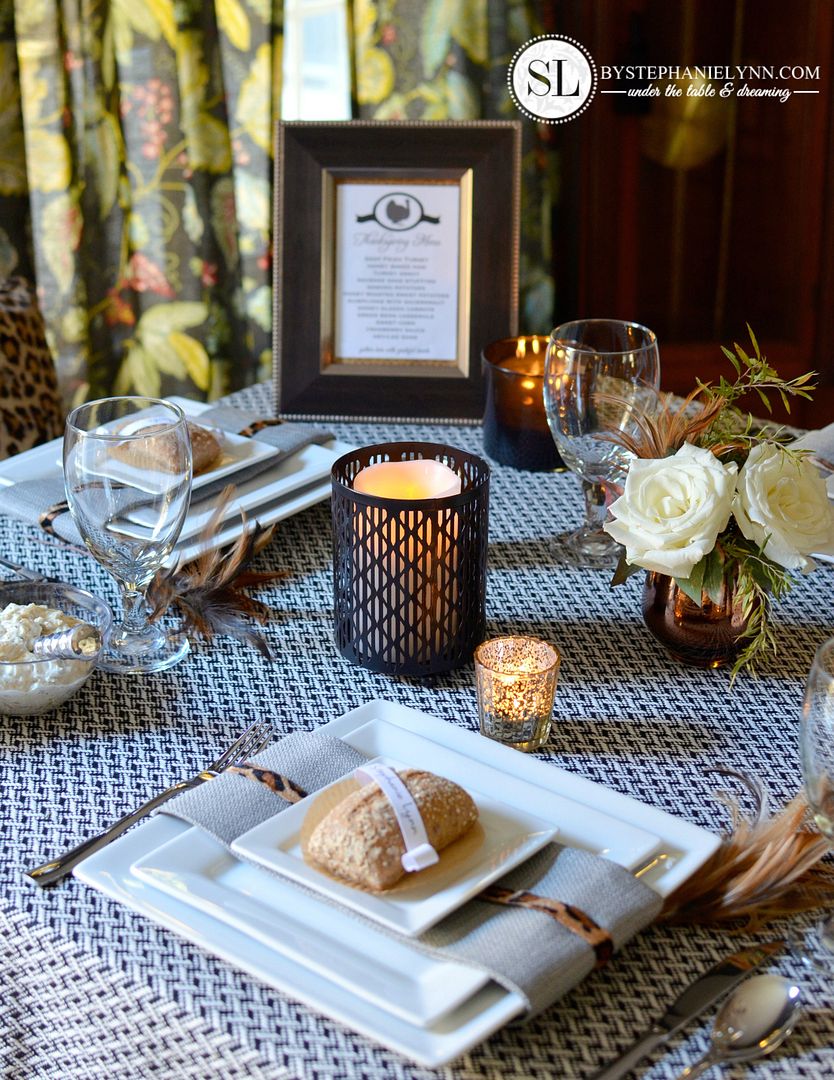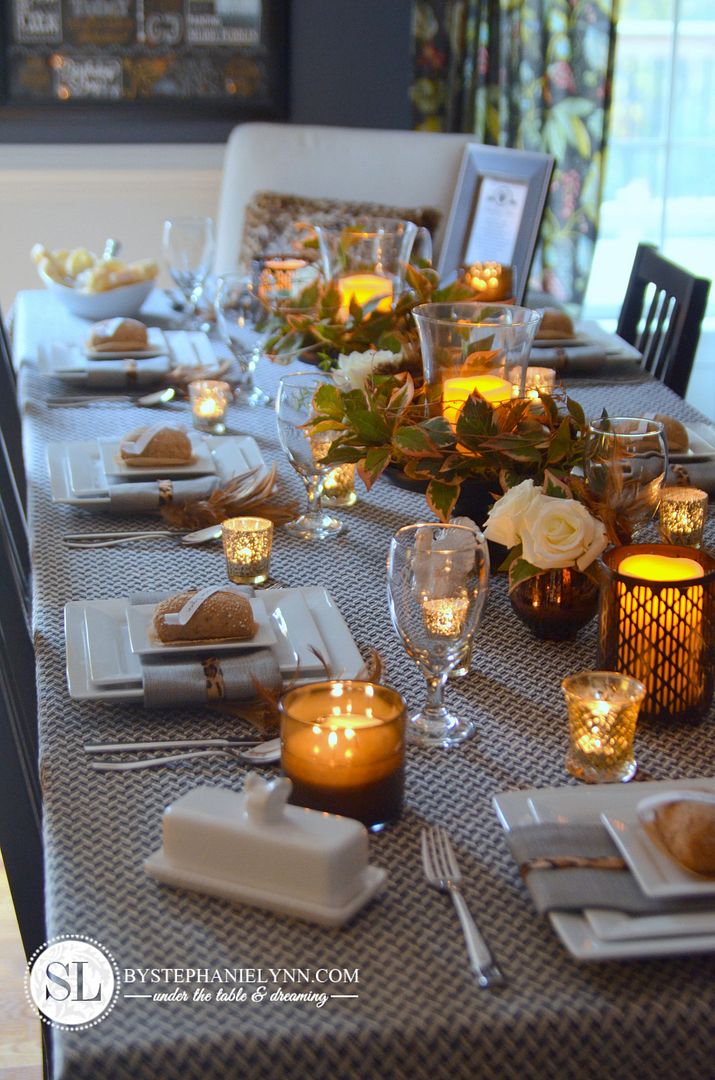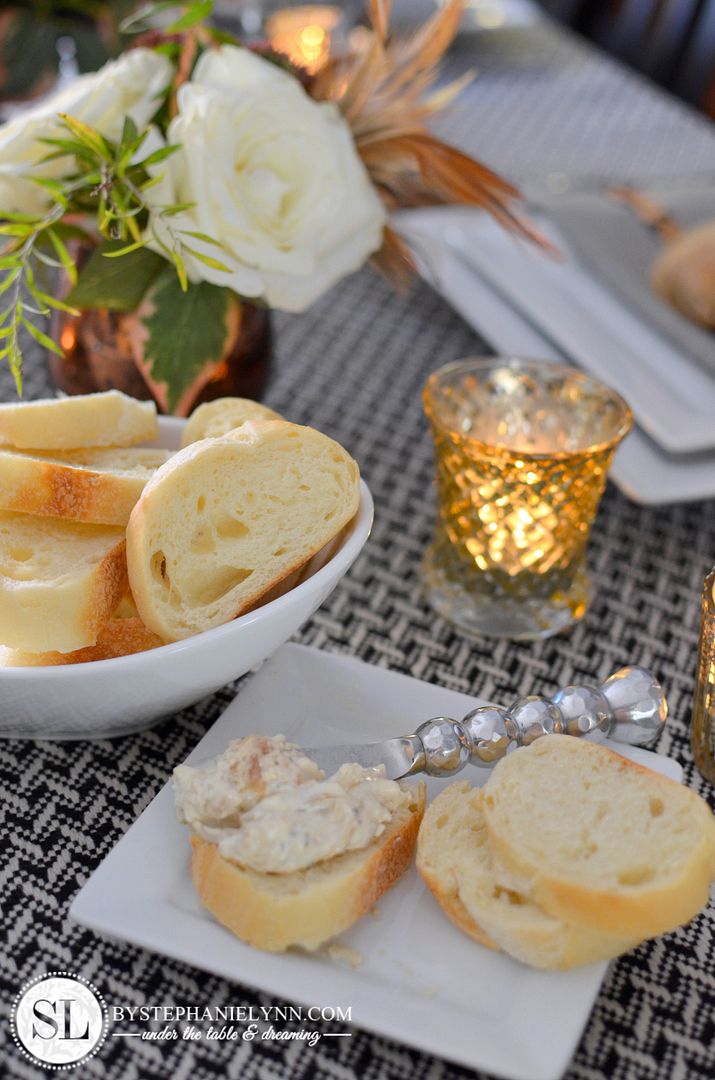 To give the serving ware a test run I whipped up a batch of the Homemade Caramelized Onion Dip Recipe I posted a couple of years ago. Butch appreciated the early treat and we didn't want all of that bread to go to waste. This is tried, true, so simple and delicious. It's a great appetizer to have sitting around for guests that can be made ahead of time.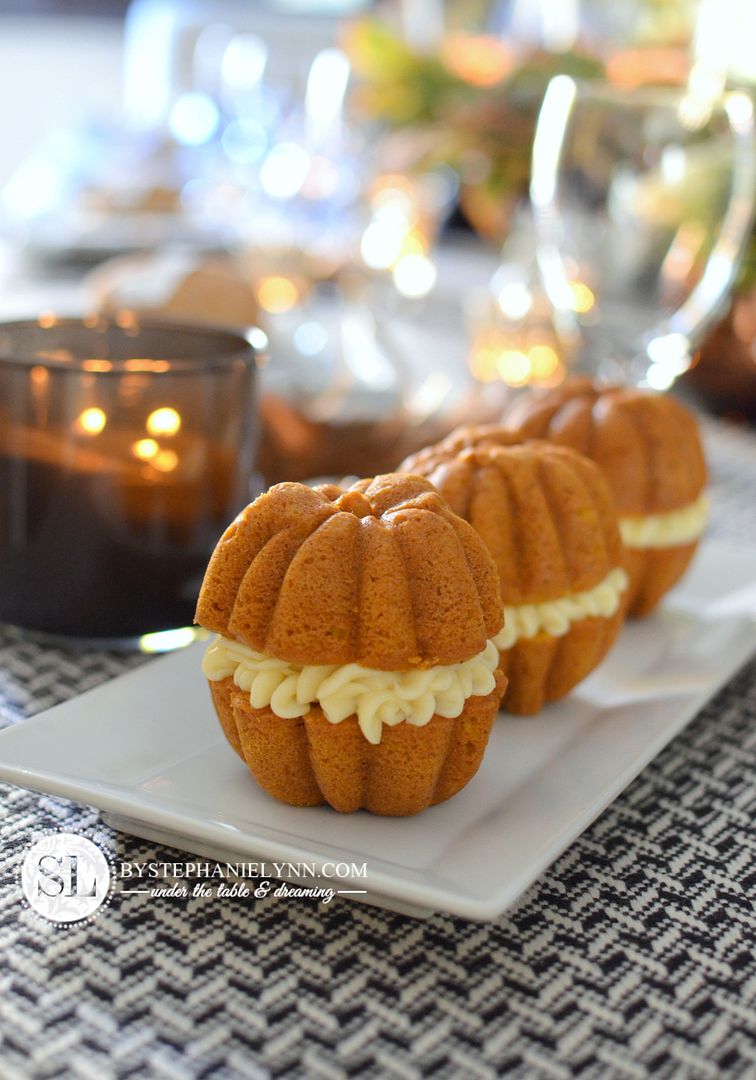 I also tested out a recipe for my new Nordic Ware Pumpkin Patch Pan
.
I'll definitely be sharing this one in the next few weeks.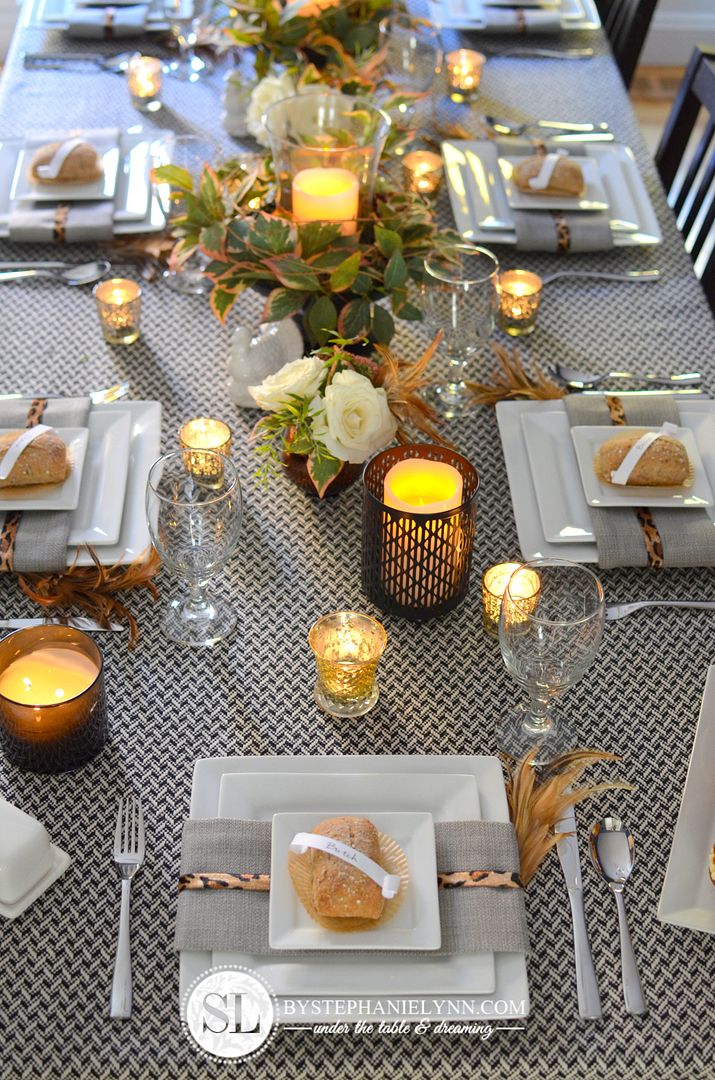 Since we don't use our dining room everyday, I love having it set and ready to go.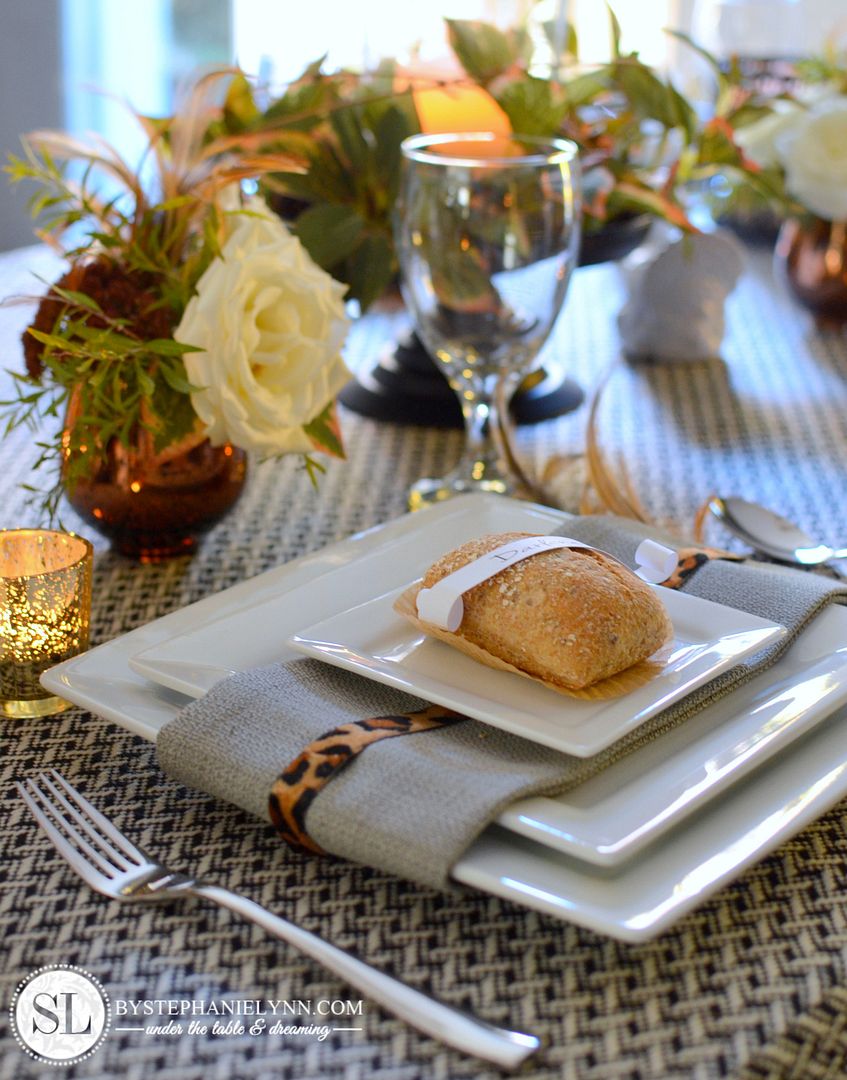 During the dinner, the food is kept and served in the kitchen –  so there is no need to move around the candles and centerpieces.  I usually get questions asking …
I also wanted to mention the height of these particular hurricanes are great for a table setting as they do not obstruct or get in the way of the guests sitting across from each other,
as some centerpieces often do.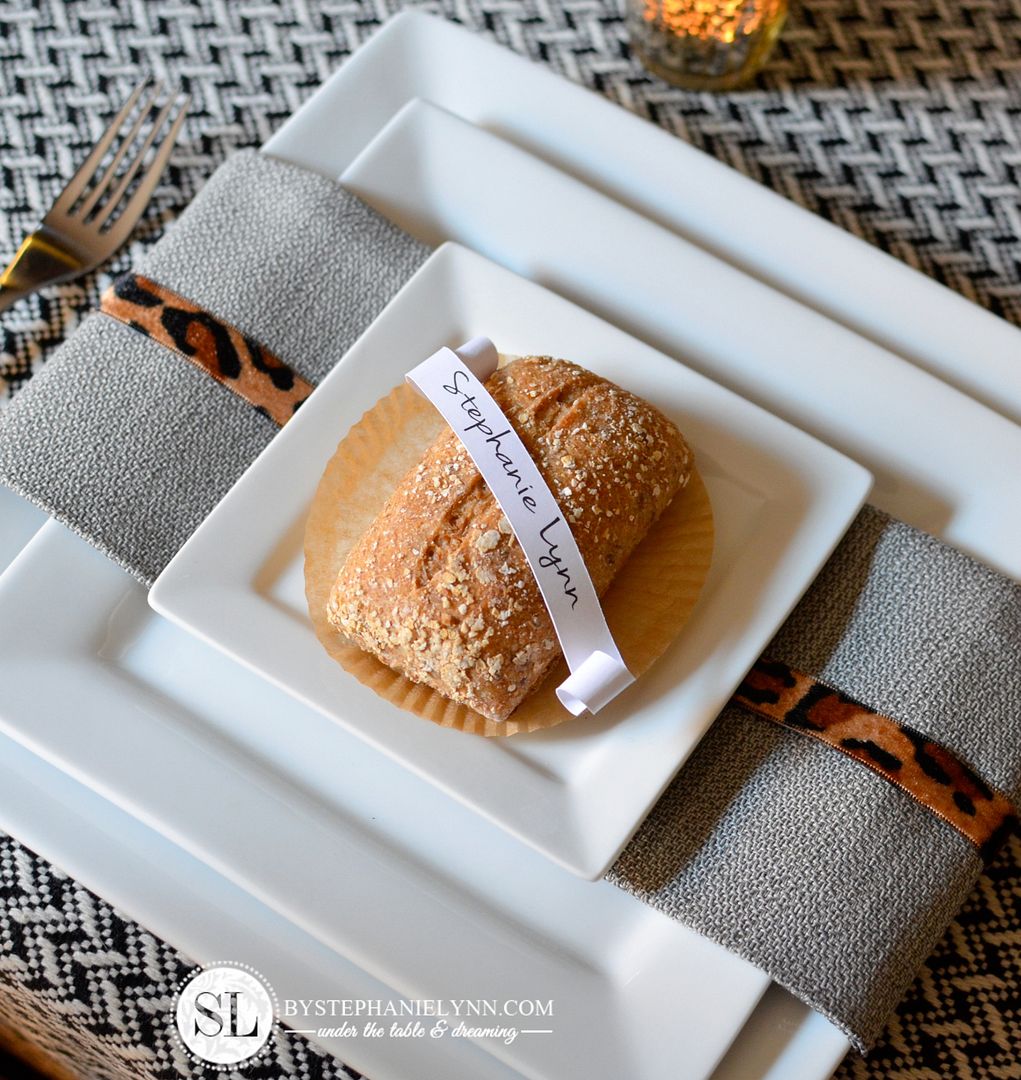 Below are the details and links to the Better Homes and Gardens products
used for our Thanksgiving table setting.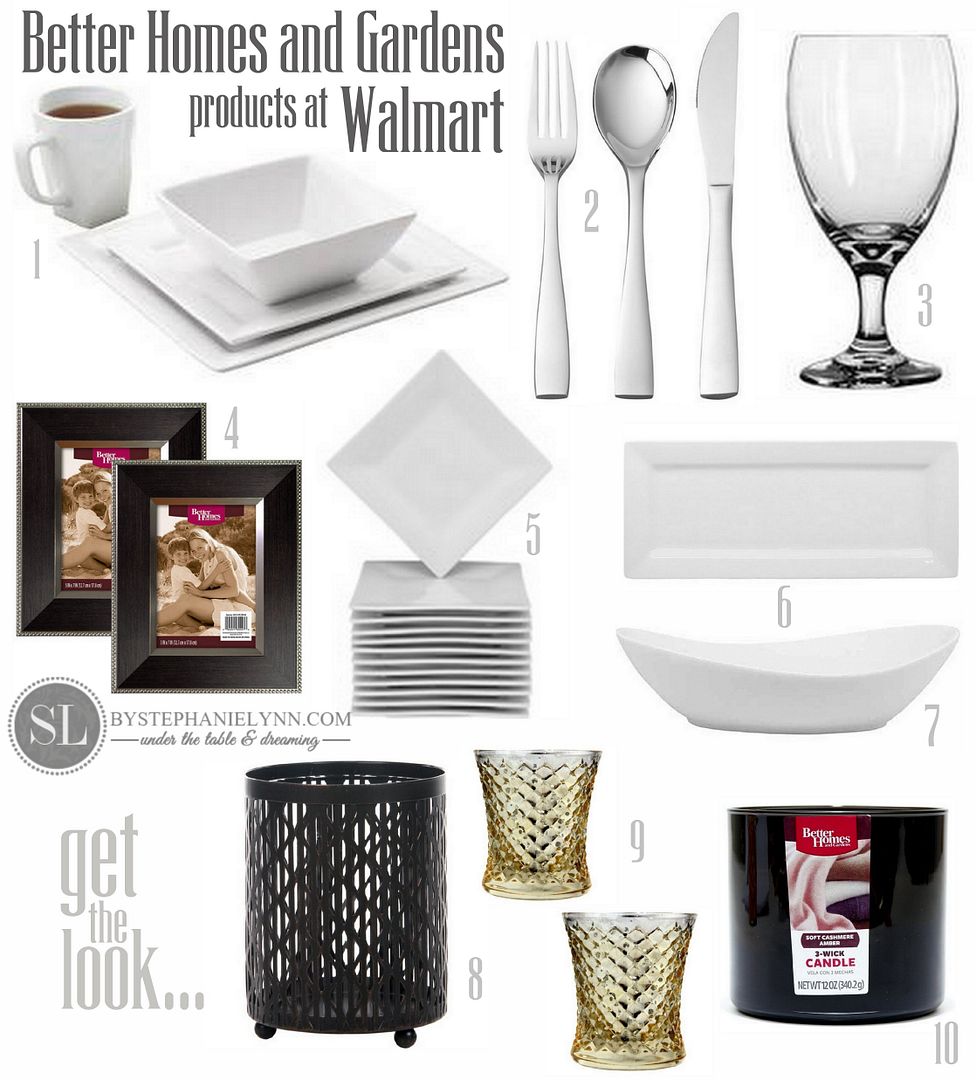 1 | 2a, 2b, 2c | 3 | 4 | 5 | 6 | 7 | 8 | 9 | 10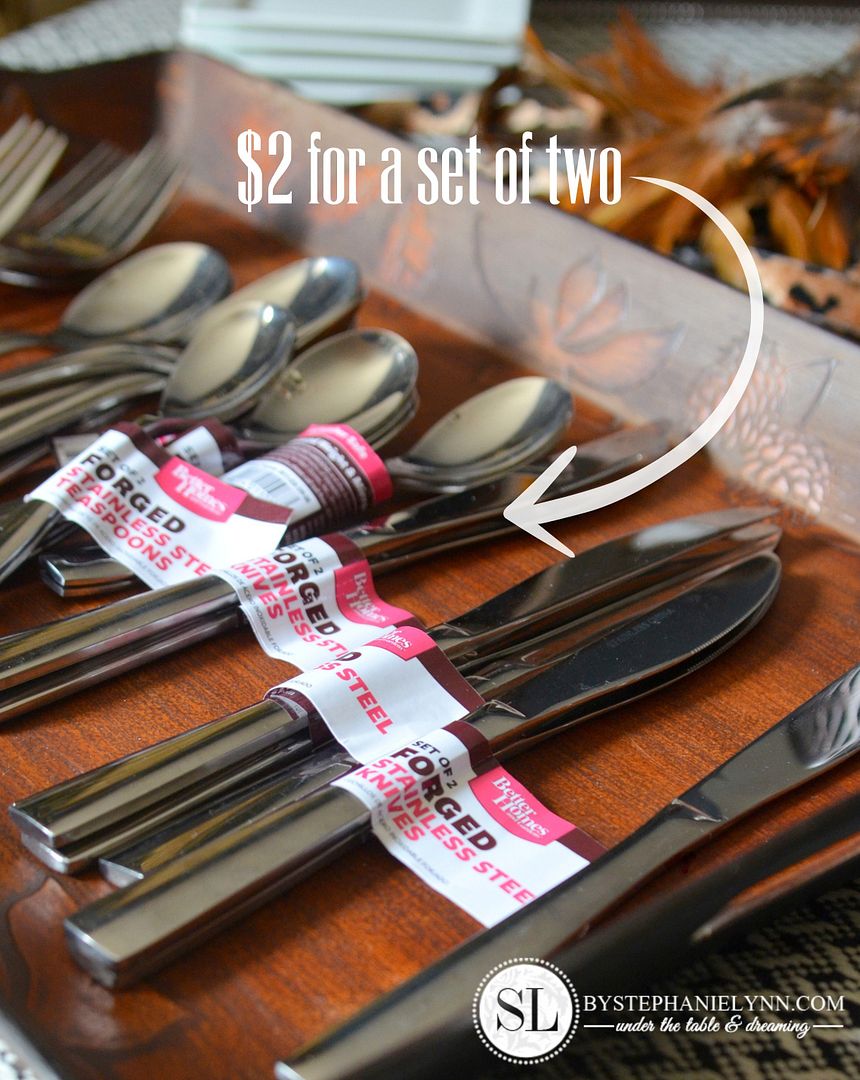 As mentioned above, this is the Better Homes and Gardens flatware. They come in packs of 2 and are a steal for the quality at just $2 a piece.
The tray shown above is also part of the seasonal Better Homes and Gardens line available in-stores ($7). It's made of a heavy plastic material with embossed leaves and pinecones
– but has a neat wood-like finish.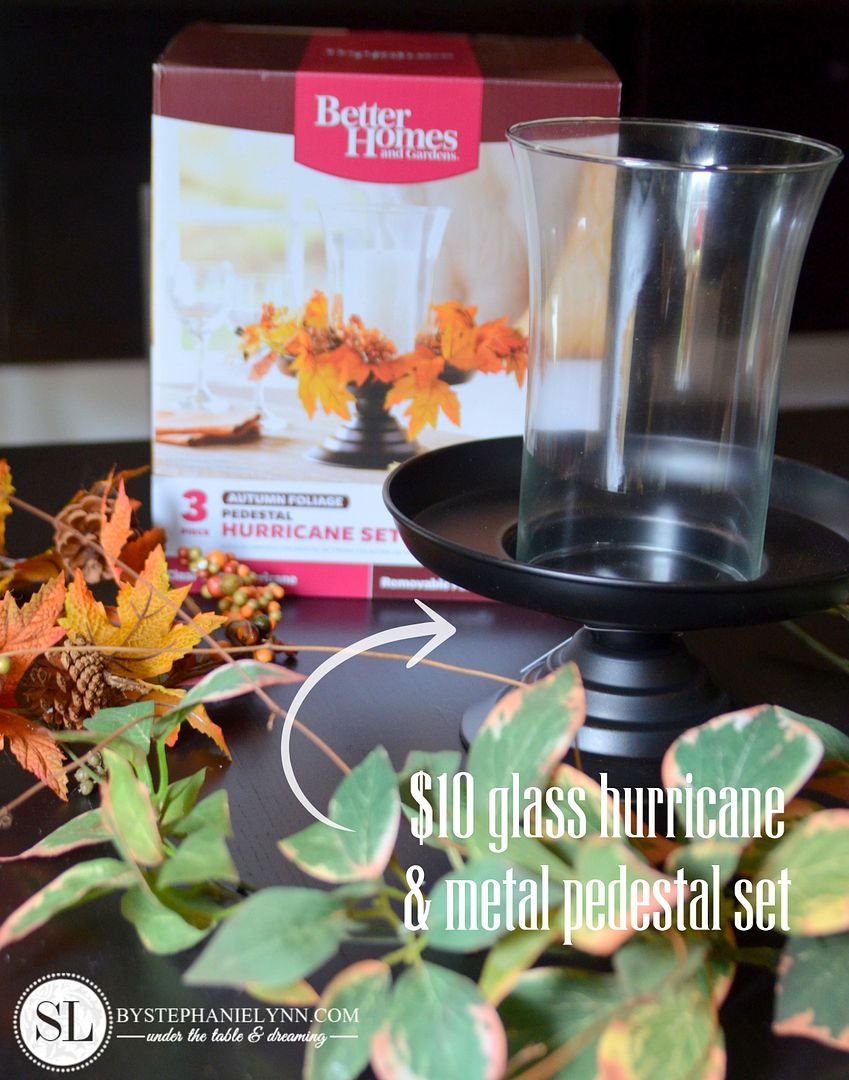 These are the seasonal boxed hurricanes. The three piece set (available in-stores as well – $10) comes with the glass hurricane, a metal pedestal and a fall candle ring. For our table I replaced the candle ring with some faux green garland intertwined with some grapevine.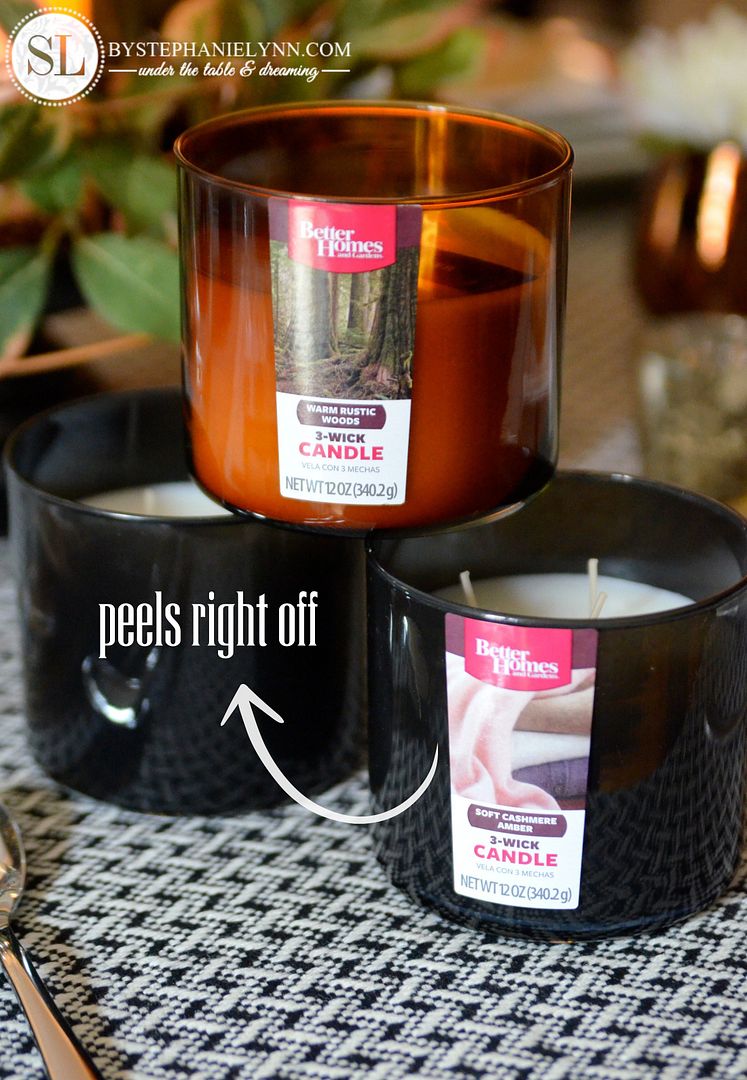 I also wanted to mention these 3-wick candles I found as well. They are soy blend and come in really nice and heavy tinted glass containers. I love warm and cozy scents this time of year and the Soft Cashmere Amber is one of my favorites. These are under $6 a piece
and the label can easily be removed.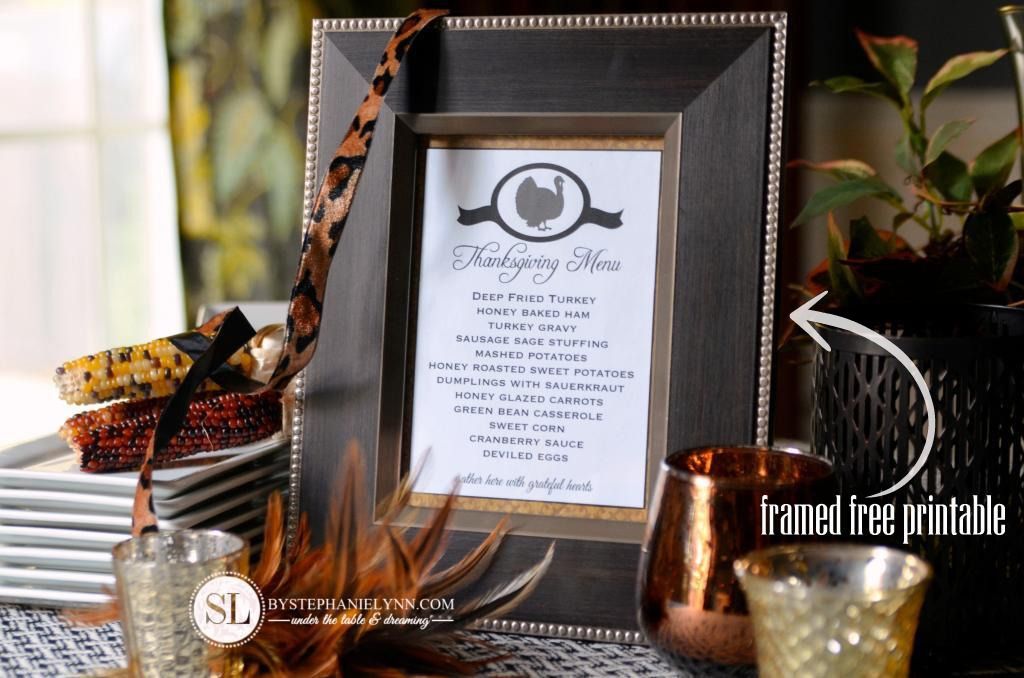 I shared the free printable Thanksgiving menu last week if you missed it. The menu can be customized with your own Thanksgiving dishes and simply printed and framed. It not only lets the guest know whats being served – but keeps me on track in the kitchen as I am getting everything together.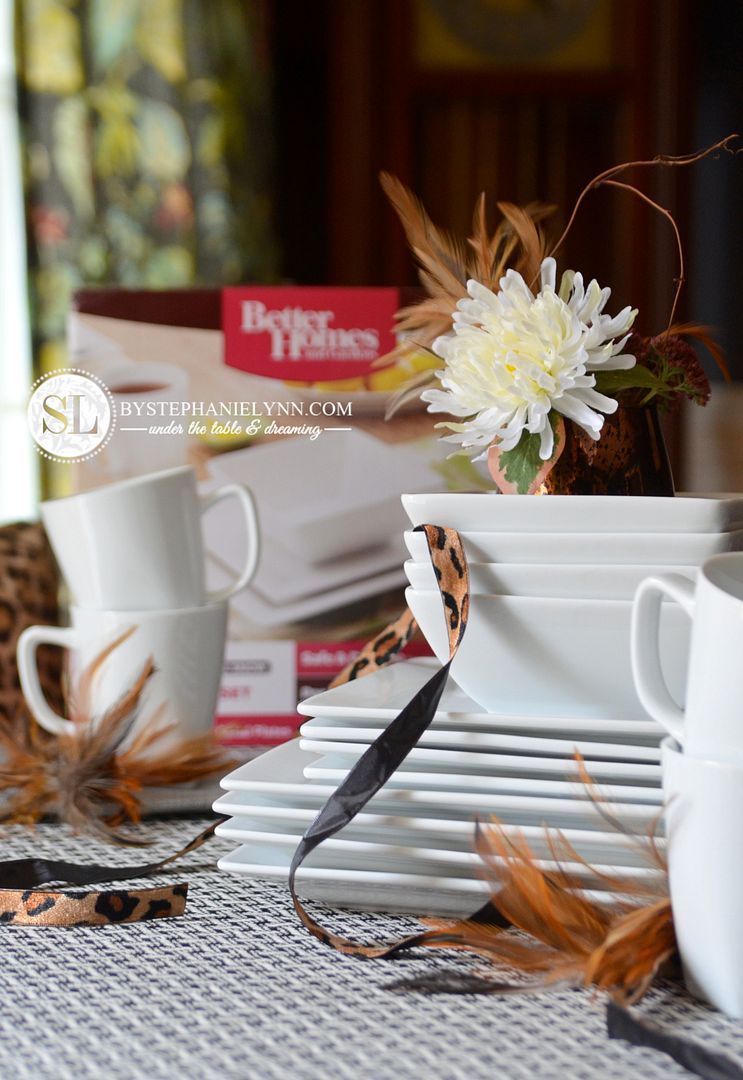 Will you be hosting Thanksgiving dinner this year?
This post is brought to you by Better Homes and Gardens products at Walmart. As always the opinions, thoughts and ideas read here about our shopping experience and products are entirely my own.