Game Day Appetizer Recipes with Mrs. T's Pierogies | I participated in a campaign on behalf of Millennial Central Consulting for Mrs. T's Pierogies. I received a gift card to purchase get-together supplies to facilitate my review and a promotional item as a thank you for participating.
With football season underway it's that time of year again for some impromptu game day gatherings. Entertaining friends for these type of casual get togethers is one of my favorite things to do – as it usually means no planning, no rules and no-fuss food … as long as the beverages are cold and frosty.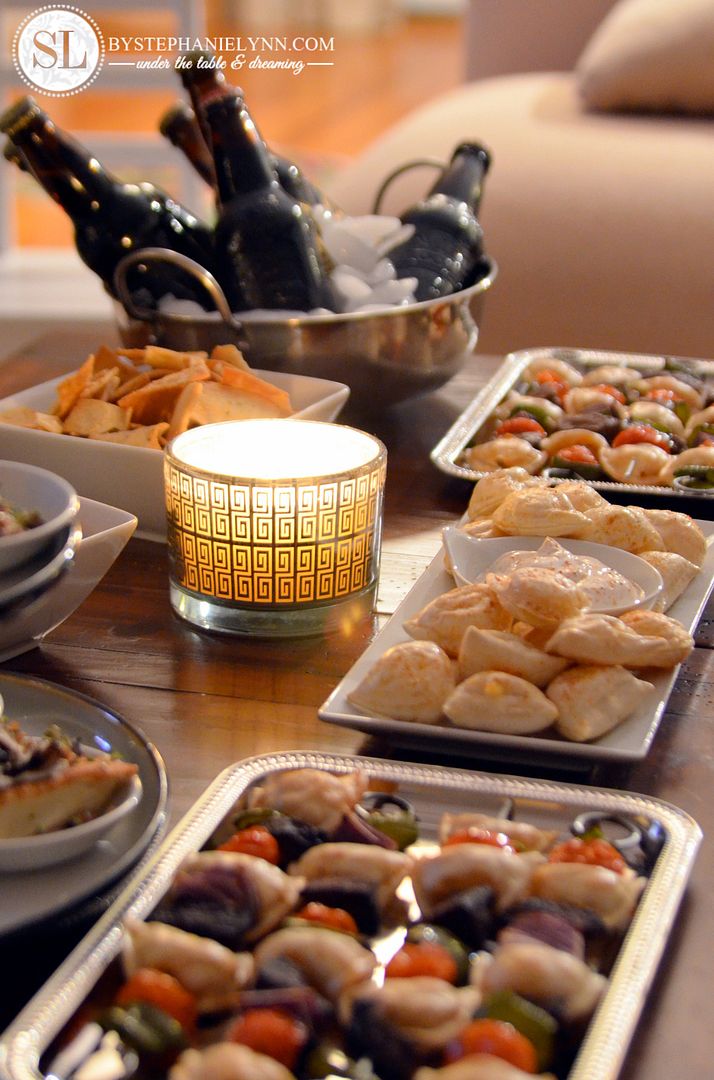 Easy snacks and appetizers are always on my game day menu go to – especially those that do not require a lot of different ingredients to make. I recently teamed up with Mrs. T's Pierogies and put together three pierogy recipes that can be put together effortlessly, allowing us to host a fun and spontaneous gathering – while enjoying the company of our guests.

If you are not familiar with pierogies, they are a perfect pairing of flavorful whipped potatoes gently folded into a pasta shell providing a filling and satisfying solution for your hungry game goers. They are quick to prepare and are a blank canvas that can be easily dressed to the liking of your guest with the simple addition of your favorite toppings or spices.

Here are the three recipes I put together for our last impromptu game day gathering…
They are filling appetizers that can be served right from the coffee table – as they do not require any utensils to enjoy.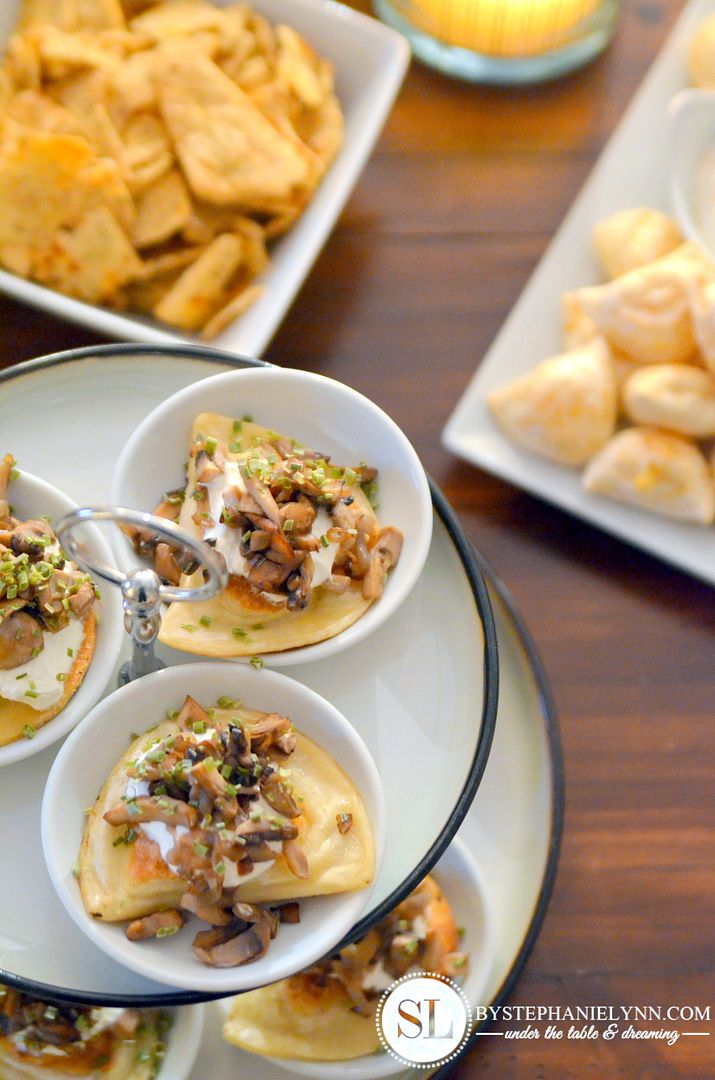 Mushroom & Onion Topped Pierogies
This recipe is a play on a basic crostini combining flavorful sautéed mushrooms and shallots
atop a pan-fried pierogie.

Old Bay Oven Baked Pierogie Appetizers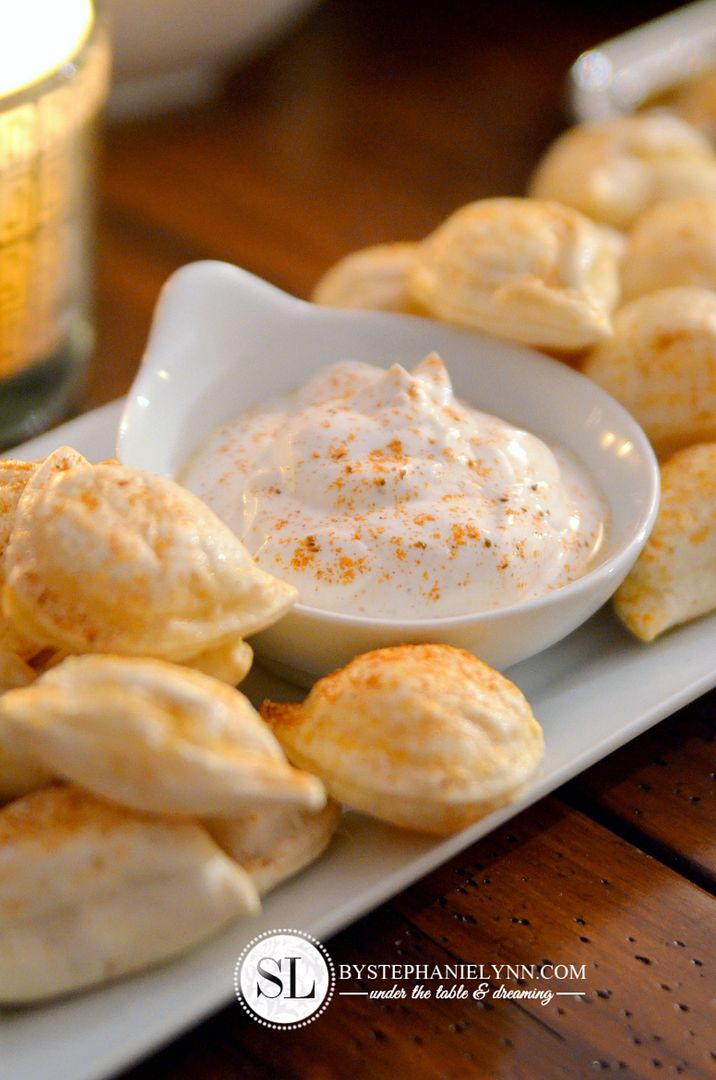 This recipe is the easiest to prepare as it just requires popping a box of Mrs. T's Pierogies in the oven.

Beef and Pierogy Kebabs

This recipe is a twist on a classic beef kebab that can also be made with chicken. The skewers can be assembled in advance and placed in the oven minutes before the guests arrive. Any variety of veggies you have stocked in the pantry can be used to create this colorful dish.
Mushroom & Onion Topped Pierogies
Author:
www.bystephanielynn.com
Ingredients
1 (16 ounce) box of Mrs. T's Potato & Onion Pierogies
2 Tablespoons of Extra Virgin Olive Oil
1 Shallot, thinly sliced
8 Ounces of Button Mushrooms, chopped
Salt and Pepper
Sour Cream
Chives
Instructions
Boil the pierogies according to the package directions. Drain and let cool completely.
Meanwhile, in a medium skillet, heat 2 tablespoons of olive oil over medium heat. Add the shallot and cook until soft, approximately 3 minutes. Add in the onion and cook until tender, 7-10 minutes. Season with salt & pepper.
When ready to serve - Heat the remaining 2 tablespoons of olive oil in a medium skillet. Place the cooled boiled pierogies in the skillet and pan-fry, turning occasionally, until golden brown on both sides.
Transfer the pierogies to a serving dish. Top each with one spoonful of sour cream and a spoonful of the mushroom mixture. Sprinkle each with chives.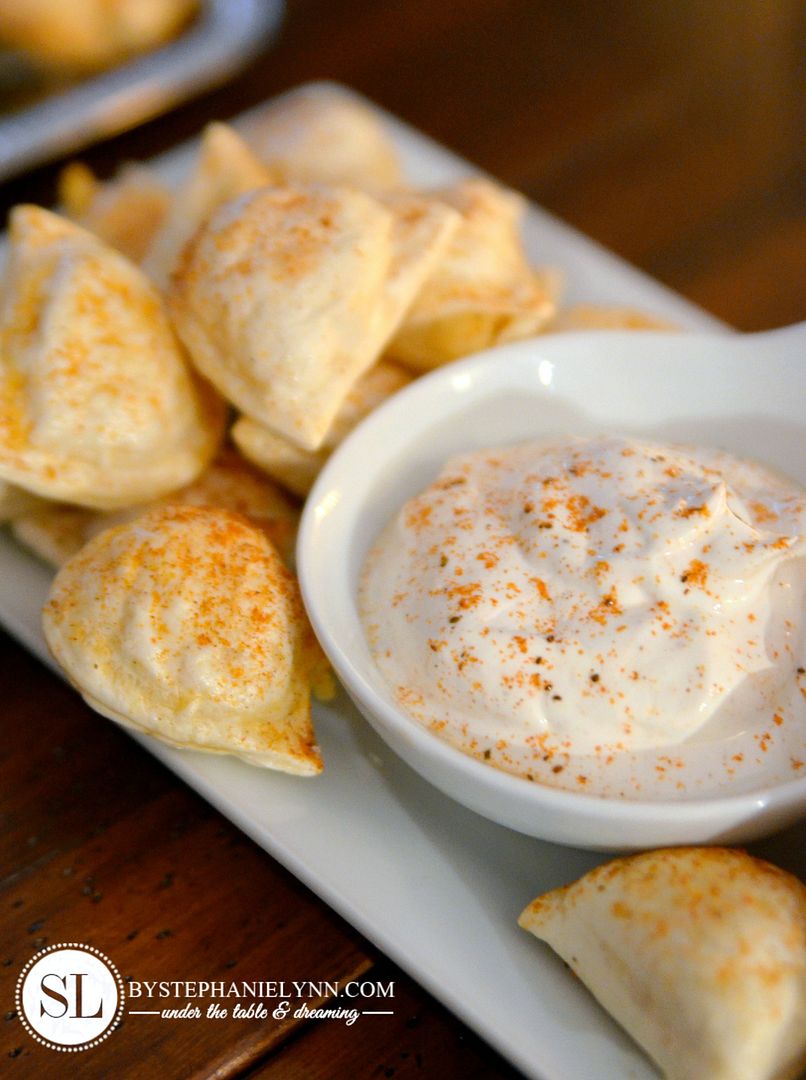 Old Bay Baked Pierogies
Author:
www.bystephanielynn.com
Ingredients
1 (12 ounce) box of Mrs. T's Potato & Cheese Mini Pierogies
Olive Oil Cooking Spray
Old Bay Seasoning, to taste
Kosher Salt, to taste
Sour Cream, for dipping
Instructions
Preheat oven to 400ºF. Line a baking sheet with parchment paper.
Arrange the mini pierogies on the baking sheet, lightly spray with olive oil, and bake for 8 to 9 minutes.
Remove from oven, flip the pierogies over, lightly spray with olive oil and bake for an additional 8 to 9 minutes, or until the pierogies are puffed and nicely browned.
Once they are done baking, immediately sprinkle with Old Bay and salt.
Serve warm with sour cream.
Notes
Makes 28 Mini Pierogies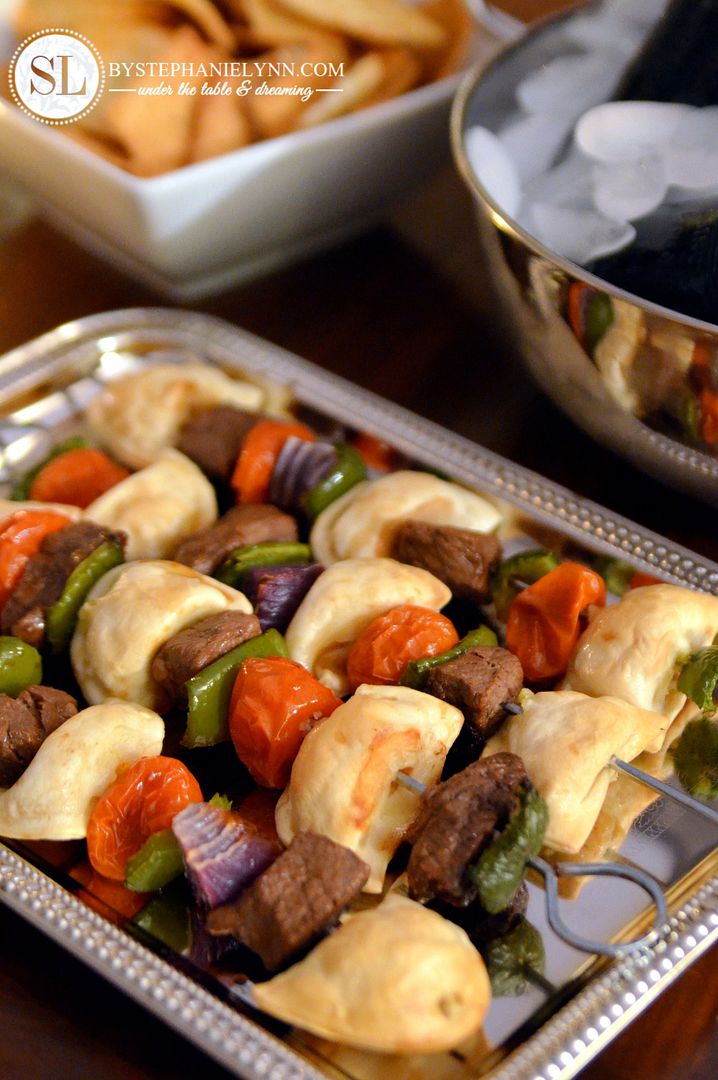 Beef & Pierogie Kebabs
Author:
www.bystephanielynn.com
Ingredients
Beef Marinade
½ Cup of Vegetable Oil
⅓ Cup of Soy Sauce
¼ Cup of Worcestershire Sauce
3 Tablespoons of Lemon Juice
¼ Cup of Prepared Mustard
2 Cloves of Garlic, chopped
Kebabs
1 (12-ounce) box of Mrs. T's Potato & Cheddar Mini Pierogies, thawed
1½ Pounds of Top Sirloin Steak, cut into cubes
1 Green Bell Pepper - cored, seeded & cut into 1-inch pieces
8 Ounces of Glorys Tomatoes
1 Small Red Onion, peeled and cut into 1-inch pieces
Salt & Pepper, to taste
Instructions
Prepare the Beef
Whisk together all of the marinade ingredients. Add the beef and refrigerate up to 4 hours.
Prepare the Kebabs
Preheat the broiler or grill. Using 8 (10 inch) metal skewers, thread the beef, pierogies, green pepper, onion and tomatoes. Season with salt and pepper to taste.
Broil skewers three inches from the heat source until meat, pierogies and peppers are throughly cooked, about 6 to 8 minutes per side.
Notes
Boneless chicken breast can be used in place of the beef.
Makes 8 (10 inch) Skewers.

Good friends, good food, good game!
Additional recipes & information on the eleven flavorful varieties of pierogies, check out
Mrs. T's Pierogies on Facebook.