Homemade Grain Sack Ornaments | Welcome to the Fourth Annual Handmade Ornament Series. This week a line up of fabulous friends will be stopping in each day to share some creative Homemade Christmas Ornament ideas.
Please welcome our next guest Debbie from Confessions of a Plate Addict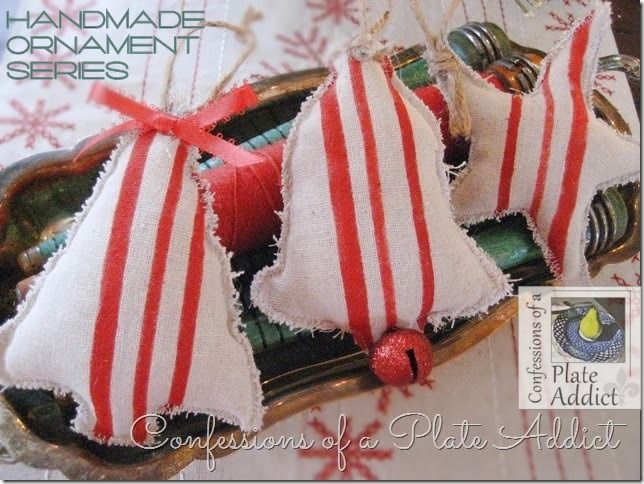 Hi! I'm Debbie from Confessions of a Plate Addict and I am so excited and honored that Stephanie Lynn has asked me to be a part of her 4th Annual Handmade Ornament Series!

And I am also excited to share some of the ornaments I have created for my farmhouse Christmas this year…with lots of galvanized goodies and grain sack accents going on at my house!

I love the look of authentic grain sacks…but they can be very expensive! And…there is really very little out there that can be used as a substitute. But then my clever co-host Baby Kitty came up with an idea…why not make your own? Whaaat? Genius! In looking around, I decided that Osnaburg fabric would be my best choice for starters. It has the natural, nubby look of linen but is super cheap and very user friendly. And it was on sale at Hancock's for around $2.00 a yard…gotta love that!
So here's what you will need:
Osnaburg fabric…The amount will depend on the number of ornaments you plan to make, but 1/3 to 1/2 a yard should be more than enough.
Red fabric marker
Painter's tape…I used the .7 inch size because I find it's easier to position
Fiberfill for the stuffing
Jute twine
Patterns for the ornaments…I found mine here.
Any embellishments you would like to add such as ribbons or jingle bells
Hot glue gun
And, of course, a sewing machine or you could sew them by hand if you wish.
Position the tape on the fabric to create stripes. You don't have to be exact. Then fill in between the tape with the fabric marker. You can add as many stripes of whatever size you wish, but I chose three.
Be sure the stripes have had time to dry (my marker was the kind that needs a little time) and remove the tape.
Fold the fabric so that you have enough on the underside to serve as the backs of the ornaments. I chose to have plain backs for mine. Print the patterns you plan to use (I found mine here ) then position them along the stripes, pin and cut them out
Sew around the edges with a zig-zag stitch, leaving one portion open. Add the stuffing then stitch closed.

As a final step, hot glue jute twine loops as hangers and add any embellishments you wish.

And…taaa daaa!…here they are! Aren't they cute? I love the rustic farmhouse look…perfect for my Christmas décor this year…and they were so inexpensive to make!

And here's a final look…love them! And I hope you like them, too!
Thank you so much, Stephanie Lynn, for inviting me to join your Handmade Ornament Series! It's been a lot of fun! And I would like to invite you, her readers, to visit me at my blog Confessions of a Plate Addict where there's a lot more going on than just plates! You'll find over 100 fun ideas in my project gallery and lots of frenchy inspiration, too! I'll be looking for you!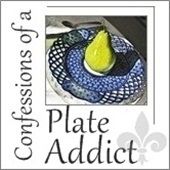 Hi! I'm Debbie at Confessions of a Plate Addict! And yes…I love plates…but my blog is about so much more! I am a retired French teacher who has lived and traveled in France but came back home to Georgia after the birth of my first grandchild…and now I have two more! I loved the French way of life but couldn't be so far away from my grandbabies. And then I knew what I would do…create a little bit of France in my own home! On my blog I share my ideas for decorating French-style on a budget with lots of fun and easy projects to try…all the while aided by my furry feline staff of four. I also take you along with me in my travels to some of my favorite places from Paris and Provence to New Orleans. Hope to see you there!
For more inspiring projects and crafts, visit Confessions of a Plate Addict
You can also catch up with Debbie on







Sheet Music Decorations | Burlap and Plaid Christmas Stockings | Pottery Barn Inspired Jingle Pillow | Mason Jar Christmas Candles