Homemade Rattan Sphere Ornaments | Today I'm thrilled to announce the kickoff of our
Fourth Annual Handmade Ornament Series.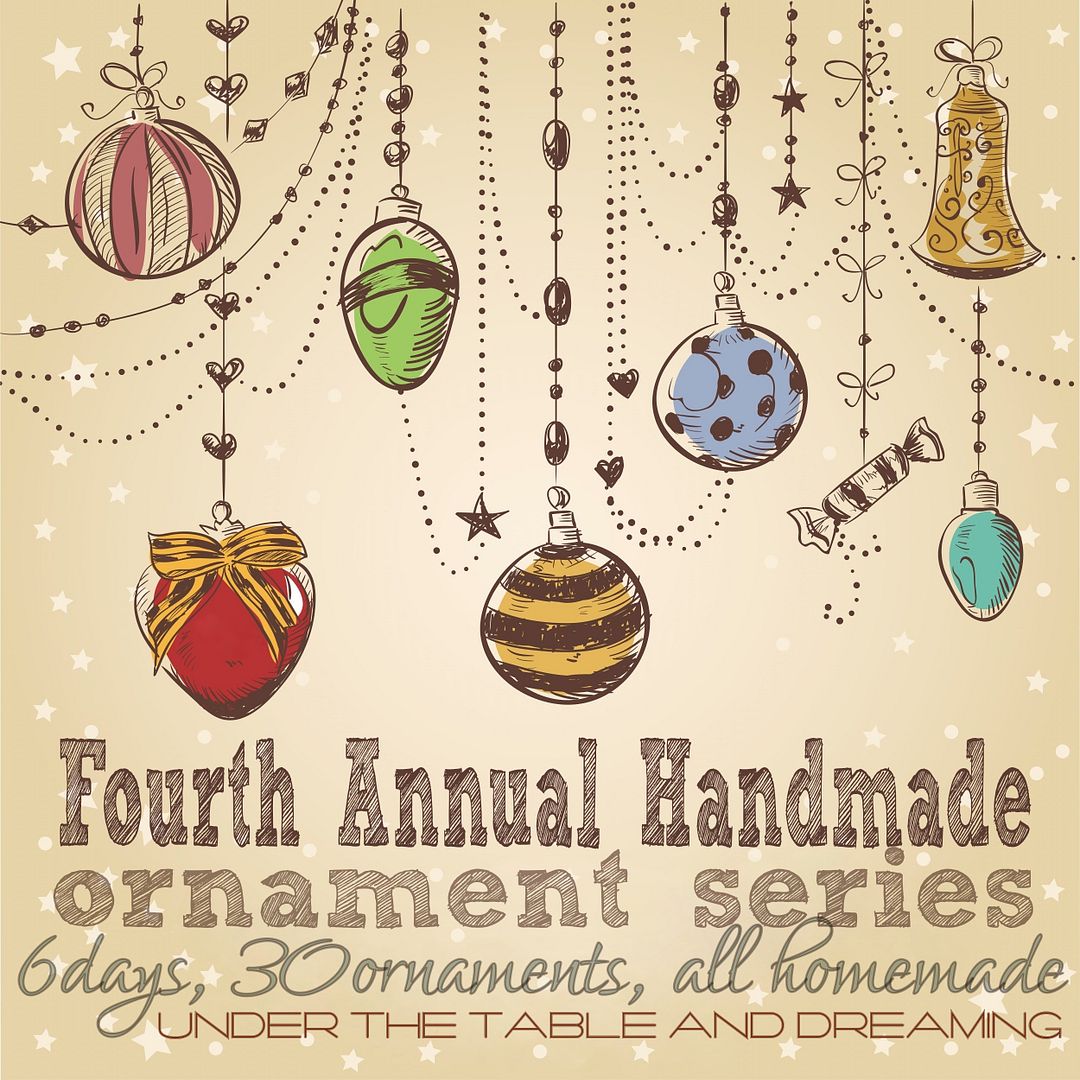 This week a line up of fabulous friends will be stopping in each day to share some creative
Homemade Christmas Ornament ideas.
With over 75 ornaments already in the archives, it's so exciting to see what these talented bloggers will come up with this year. Five new ornament ideas will be shared each day, this week.
Handmade Ornaments just aren't for trees, so if you are in the mist of wrapping those presents consider adding a little topper that can double as an extra, special handmade gift.
Please welcome our first guest Ashley from Cherished Bliss

Why Hello there! I'm Ashley, and I blog over at Cherished Bliss. I am so excited to be here today sharing a handmade ornament with you! Christmas is one of my favorite times of year, and I just adore handmade ornaments! I changed things up this year and went with a White and Gold Rustic Glam look, you'll see what I mean when you see my Christmas Tree. ; ) I'm not usually a glitter person, but Christmas is when I decide I need a little sparkle, and that mixed with a rustic/vintage look… I just adore it!! So today I'm going to share with you one of the rustic ornaments I made. : )
These are a lot easier than they look, promise! I won't make you weave your own sticks ; ) But you will need just a few things.
Supplies:
– 3″ Vine Wreaths. I got my from Hobby Lobby, you can see the exact ones here.
– Scissors
– Hot Glue Gun
– Twine
Tutorial:
First you are going to take your mini vine wreaths and cut one in half. (You will need 2 mini wreaths for each ornament.)
Then take another (uncut) mini wreath and you are going to glue the two halves that you cut onto this one. Start with one and put hot glue on the ends (where you cut it) and hold it onto the full wreath until the glue dries making sure to keep it centered.
 Then glue the other half on, and glue the ends of a small piece of twin to the top and you are finished!
Now you just have to hang your new beautiful ornaments on the tree!
Since I got these on sale, I paid $1.50 for 3 ornaments… you can't get buy ornaments that cheap! And now you have a beautiful handmade ornament that you made with love! You can do so many things with these…. paint them, add something on the inside, I think it would be fun to add a little glitter too! Maybe I'll just do that too!
I hope you enjoyed this little tutorial! I would love for you to stop over by my blog and say hi! I love meeting new people, so feel free to connect with me below:
Ashley
Have a beautiful day!

Ashley is a stay at home mom to three beautiful children and the wife to an amazing husband. While her kids exhaust her, they are the absolute highlight of her life and the inspiration behind what you find on her blog. They have moved four times in the last two years, but have finally bought a house and she is so excited to start the journey of making it their "home"! Her sister is also an author on the blog and shares her delicious recipes! Together they hope to help others turn their house into a home rather it be completing that project on your to do list or making a family meal to bring everyone together!
For more inspiring projects and crafts, visit Cherished Bliss
You can also catch up with Ashley on







DIY Wooden Arrow Wall Art | Rustic Glam Christmas Tree | Rustic Christmas Mantle |
Hot Chocolate Cupcakes with Peppermint Marshmallow Frosting