This post brought to you by Bed Bath & Beyond. All opinions are 100% mine.
Setting up a mimosa bar | There are many reasons to love the concept of a 'build your own' drink bar, especially when entertaining during the holidays.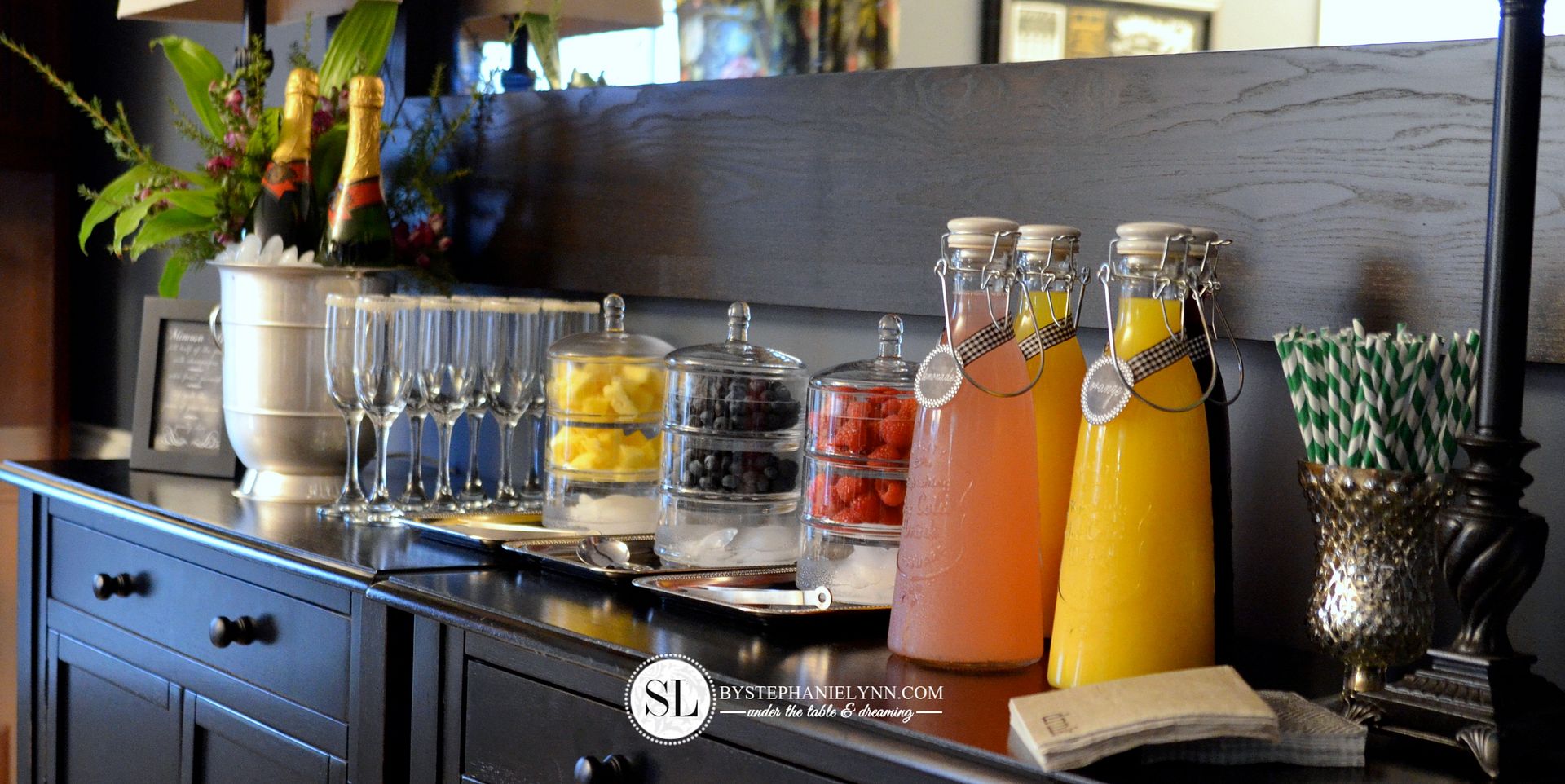 Having the opportunity assemble and customize your own drink creations makes for a fun party atmosphere and guest experience. For the host, it's an easy, time-saving option – presenting a casual, yet creative, way to set up the drink display.
'Build your own' drink bars are not only visually appealing, but are a simple way to offer a wide variety of choices – catering to all guests.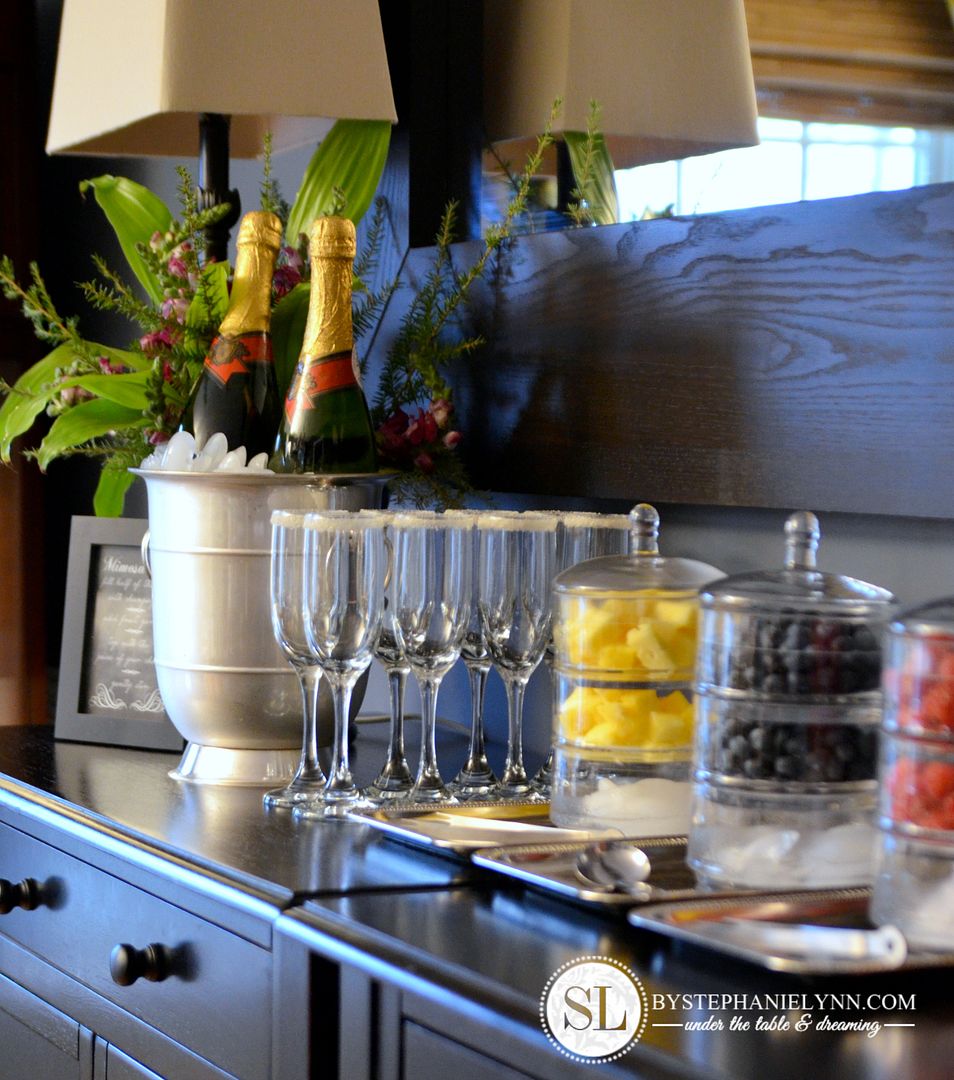 While preparing for some New Year entertaining, I recently read an article on Bed, Bath & Beyond's holiday site, Holiday Your Way. The article was encouraging the use of champagne flutes – not just to ring in the New Year – but to create fun and pretty bubbly drinks year round.
Champagne flutes + the classic mimosa = an easy and affordable bubbly drink bar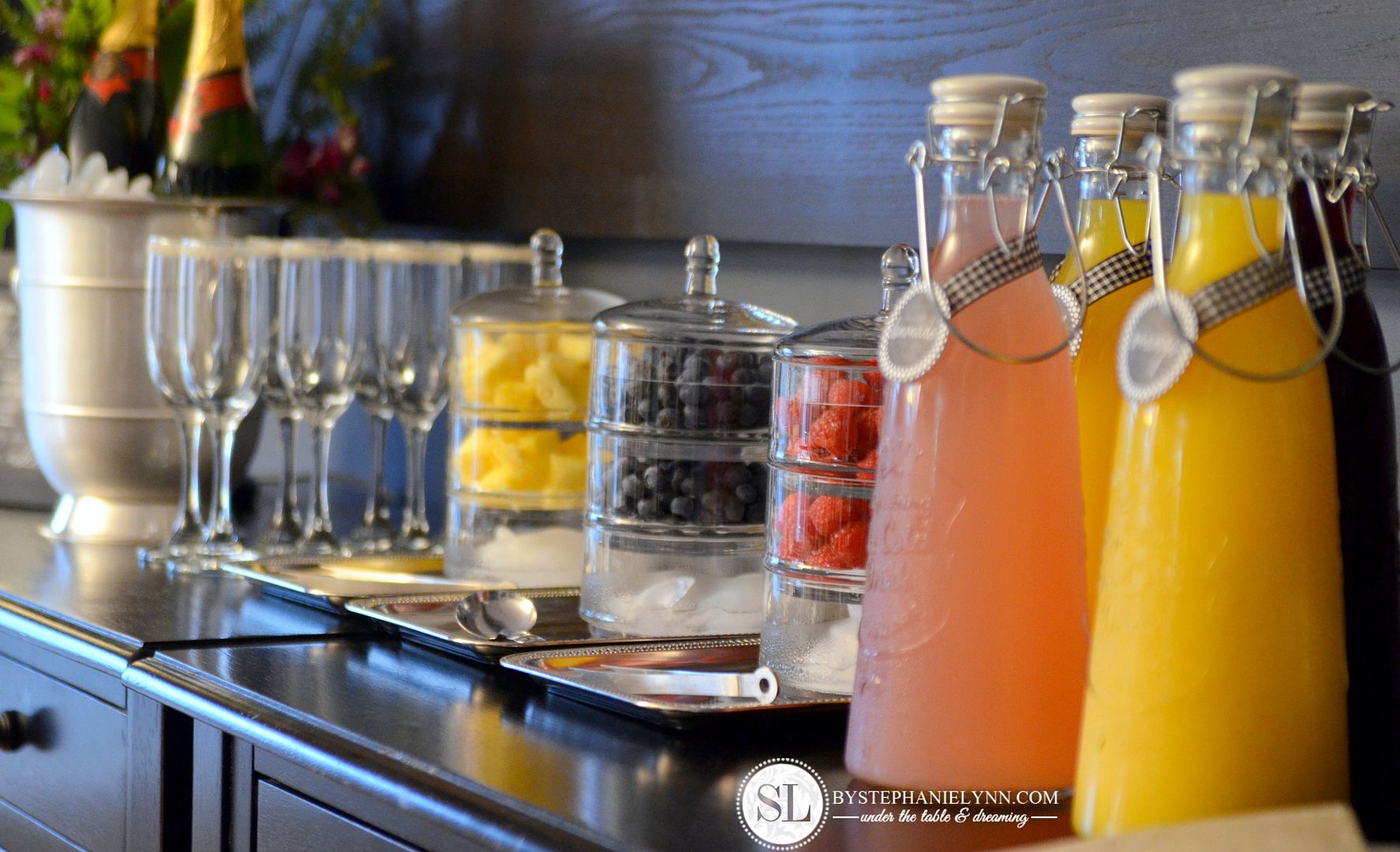 Setting up a Mimosa Bar doesn't get an easier this, as mimosas just require champagne and juice. While fresh orange juice is the classic, to create a beautifully colorful bar a variety of different juices can be offered.
Setting up a Mimosa Bar – Supplies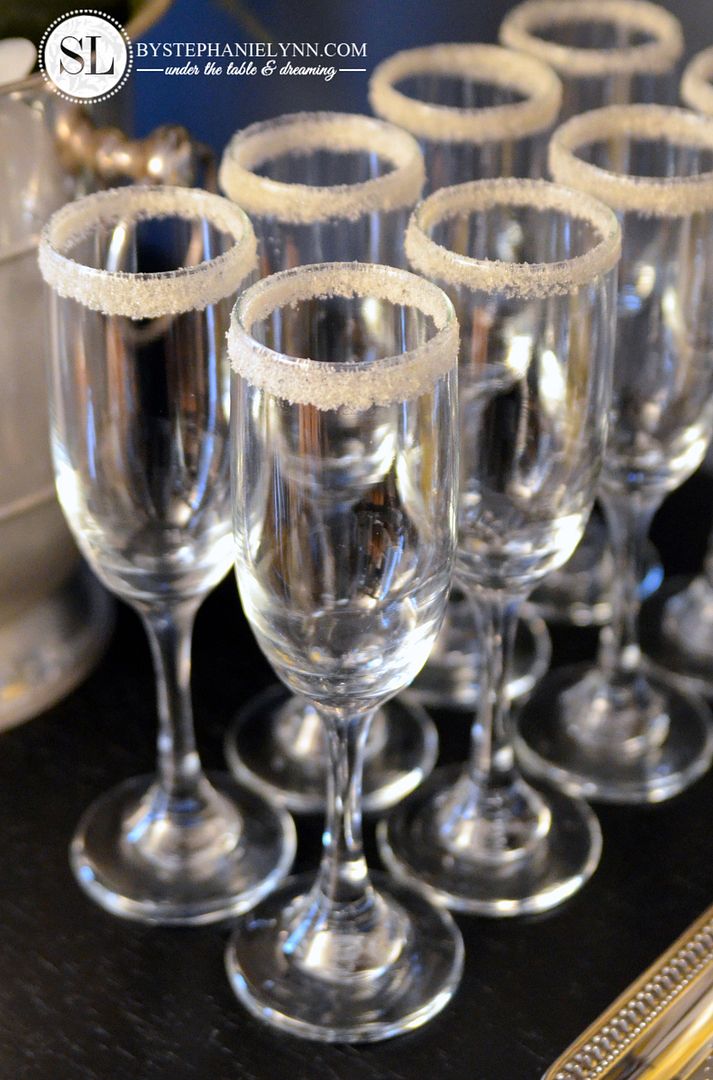 1. Champagne Flutes
The long stem allows you to hold the glass without affecting the temperature of the drink
The tall narrow bowl is designed to retain the bubbly carbonation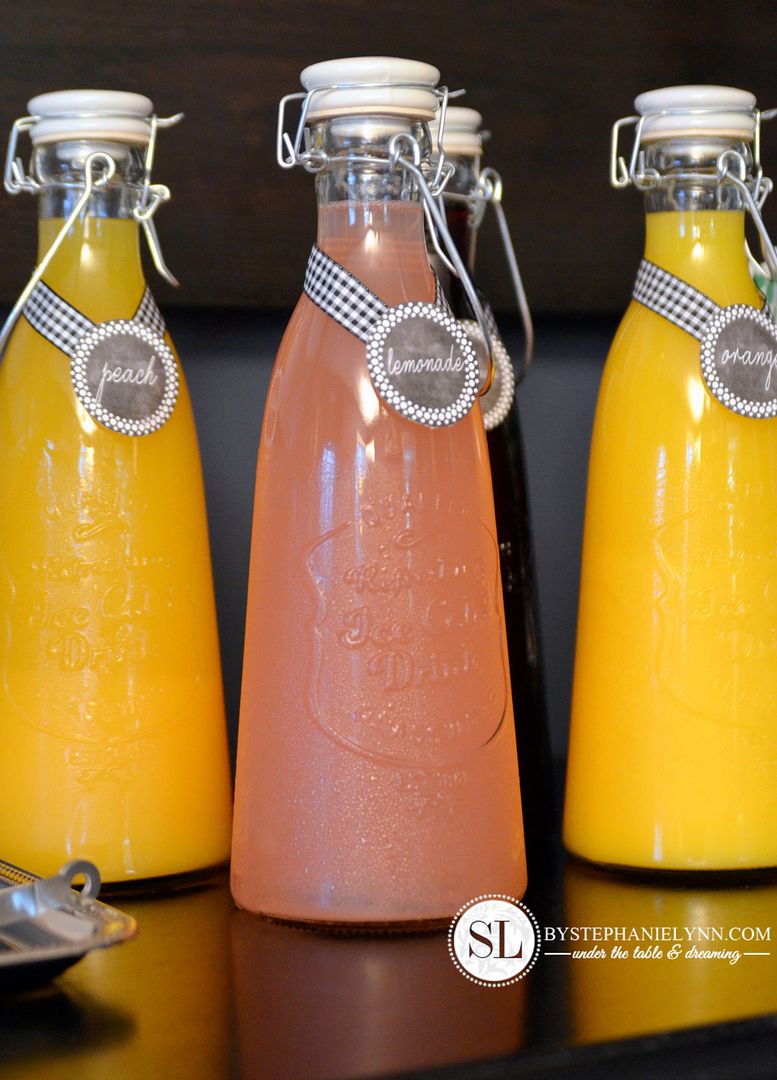 2. Fruit Juice
Orange is classic
Mix it up with Mango, Peach, Lemonade, Strawberry, Grapefruit, Pineapple, Pomegranate, Cranberry, etc.
3. Champagne
Dry or Brut (in champagne terms 'dry' is the opposite of 'sweet')
Club soda can be used for a alcohol-free option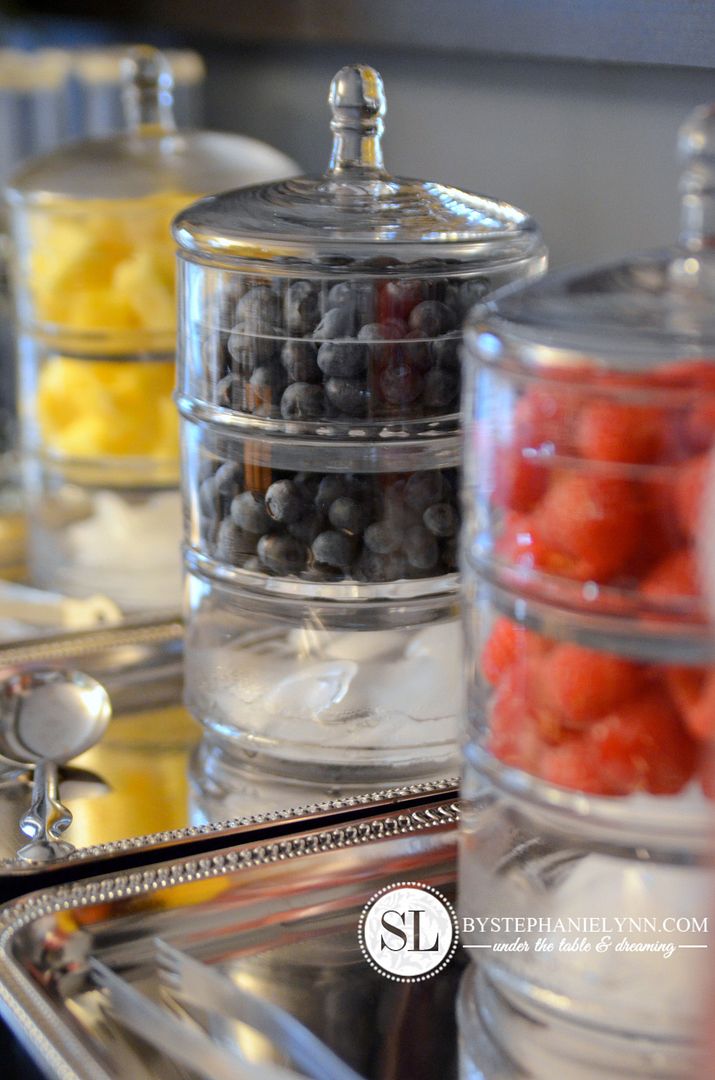 4. Fruit Garnish
Not only adds a special touch to the glasses but a splash of added flavor as well
Slice oranges, pears, cut pineapple, raspberries, blueberries, strawberries, etc.
Setting Up a Mimosa Bar – Prep
Once the supplies are gathered, making your own mimosa bar requires very little prep. Almost all of the work required depends on how many details you would like to add to the presentation of the bar. I believe all of the little details can turn something ordinary into extraordinary so I don't mind the few extra, but very easy, steps.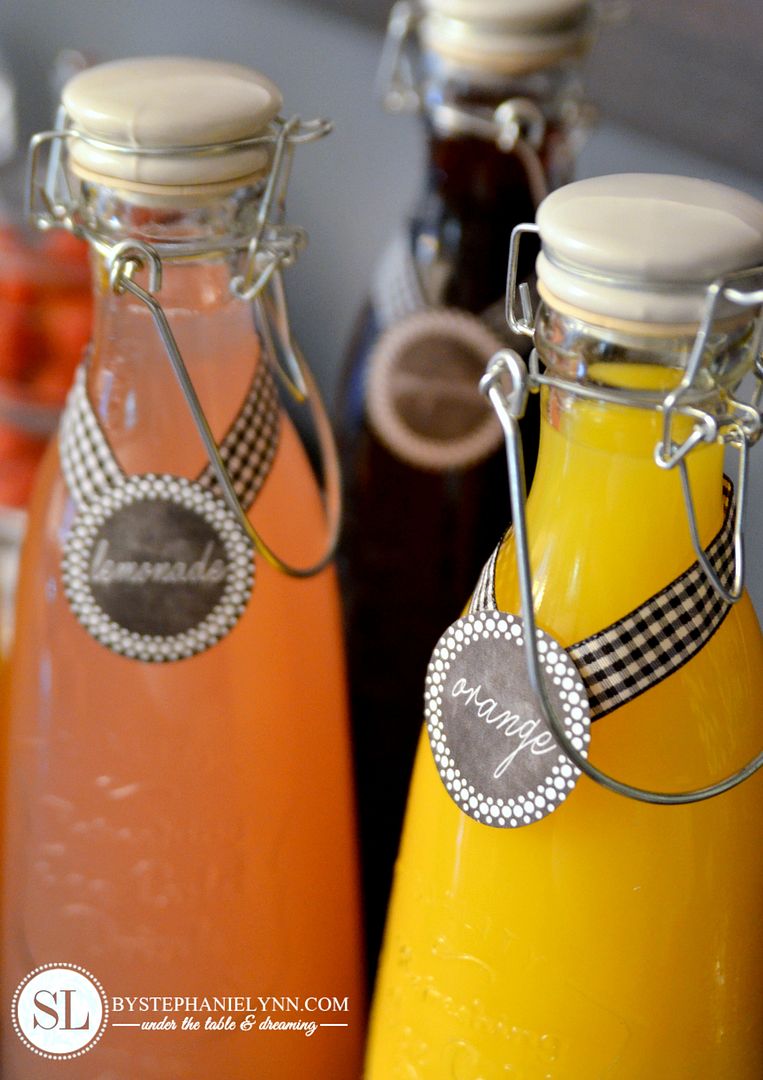 Use glass carafes or clear containers to store and serve the juice – Free Mimosa Bar Printable Tags can be found below.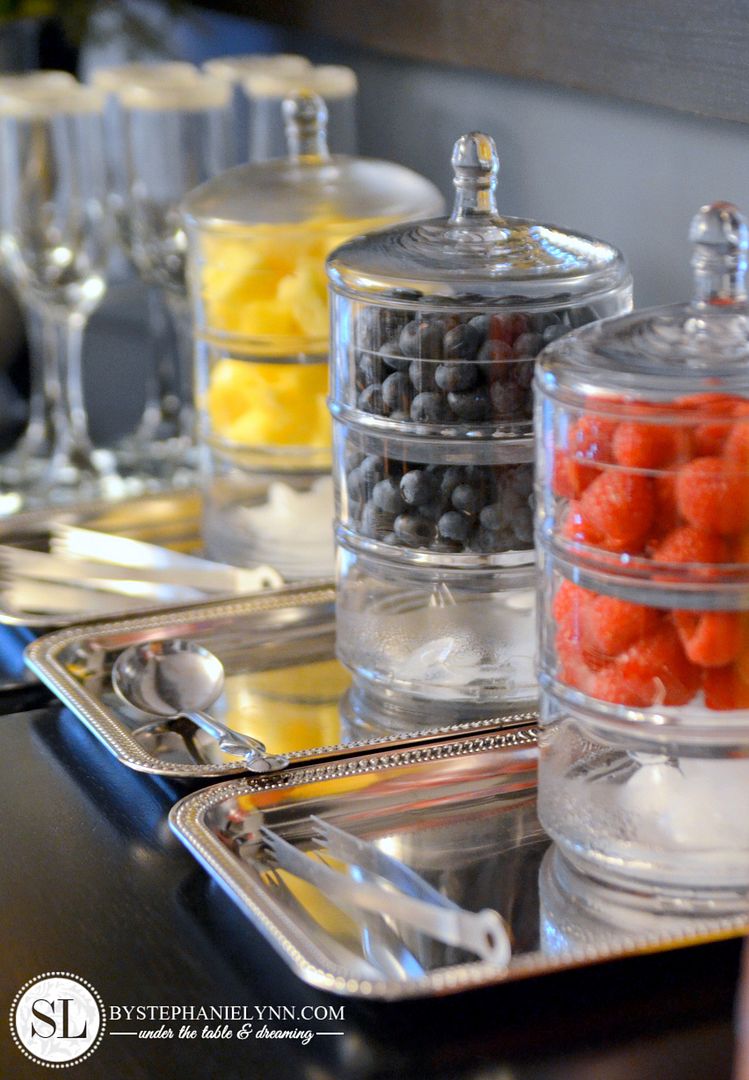 Serve the fruit garnishes in glass or decorative containers with mini tongs or spoons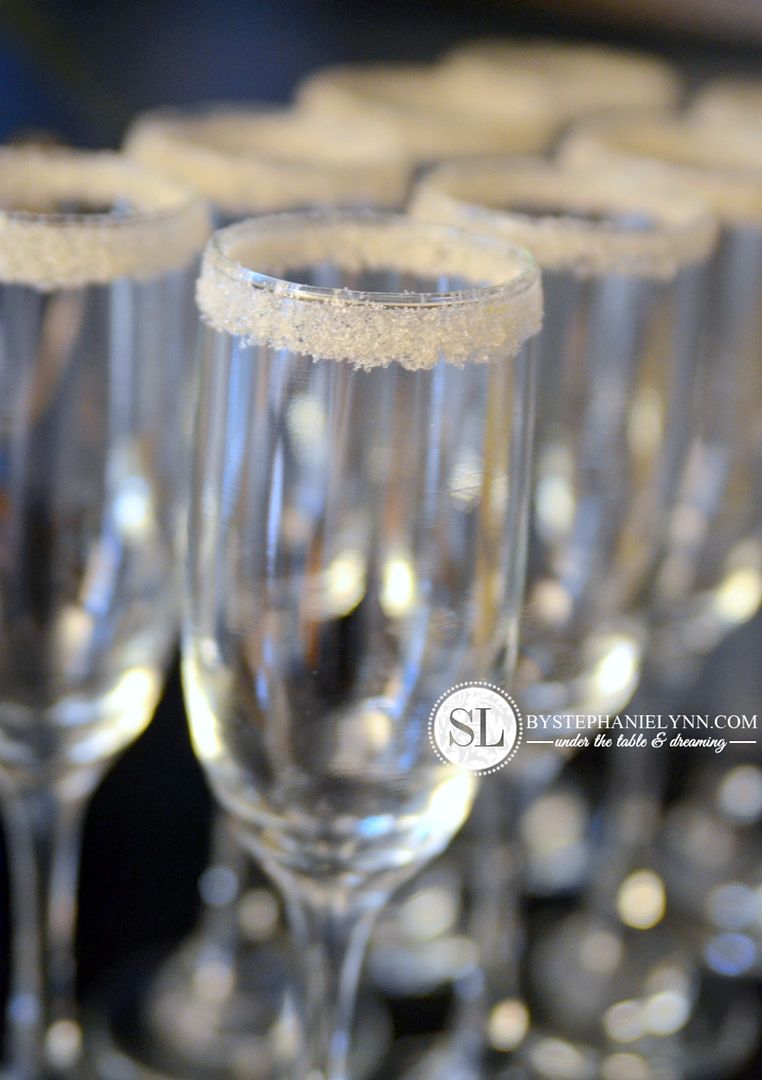 Coat the rim of the champagne flutes with sugar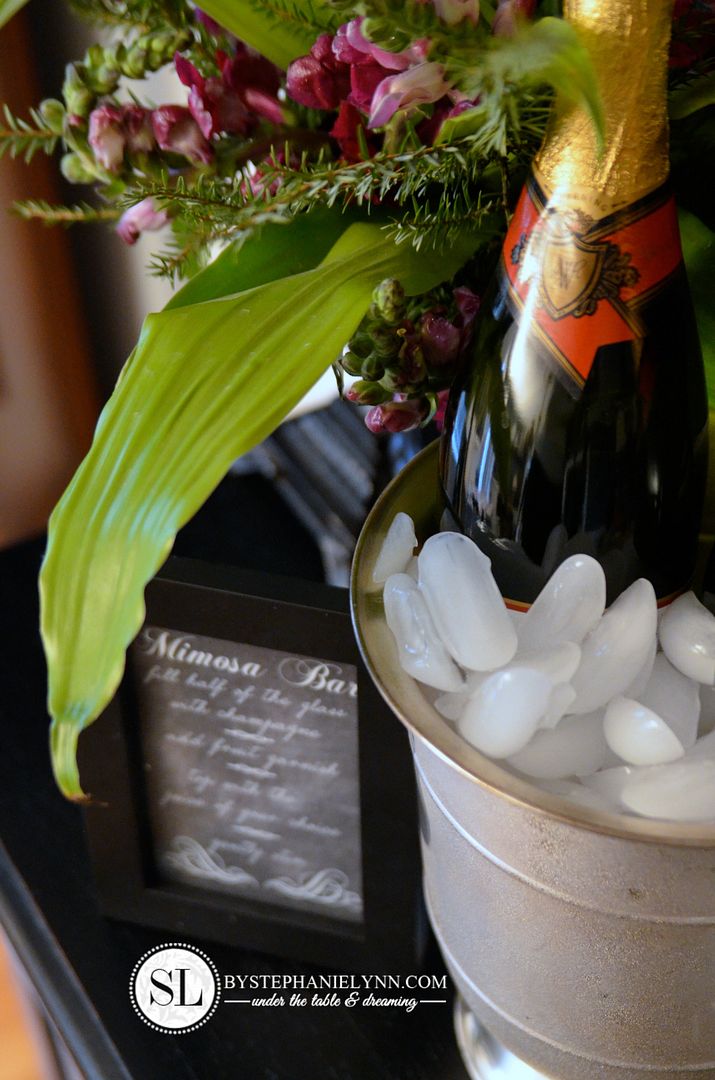 Keep champagne chilled in an ice bucket or party tub
Have paper straws or stirrers available for mixing the mimosas
Setting up a Mimosa Bar – Service
The basic mimosa recipe calls for equal parts of champagne & juice. Throughly chill the champagne and juice in the fridge prior to serving to enhance the flavor. Champagne should be added to the flute first, followed by the juice to prevent overflowing.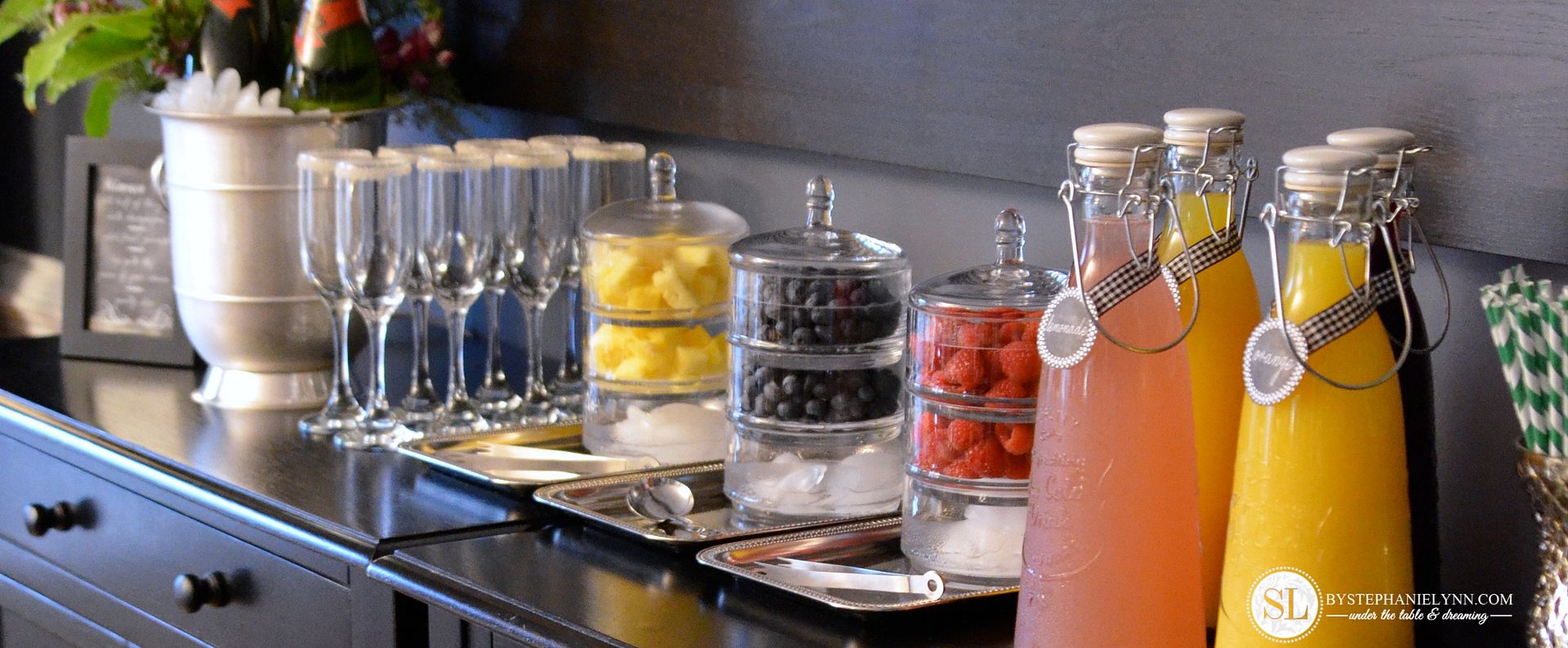 Get this look: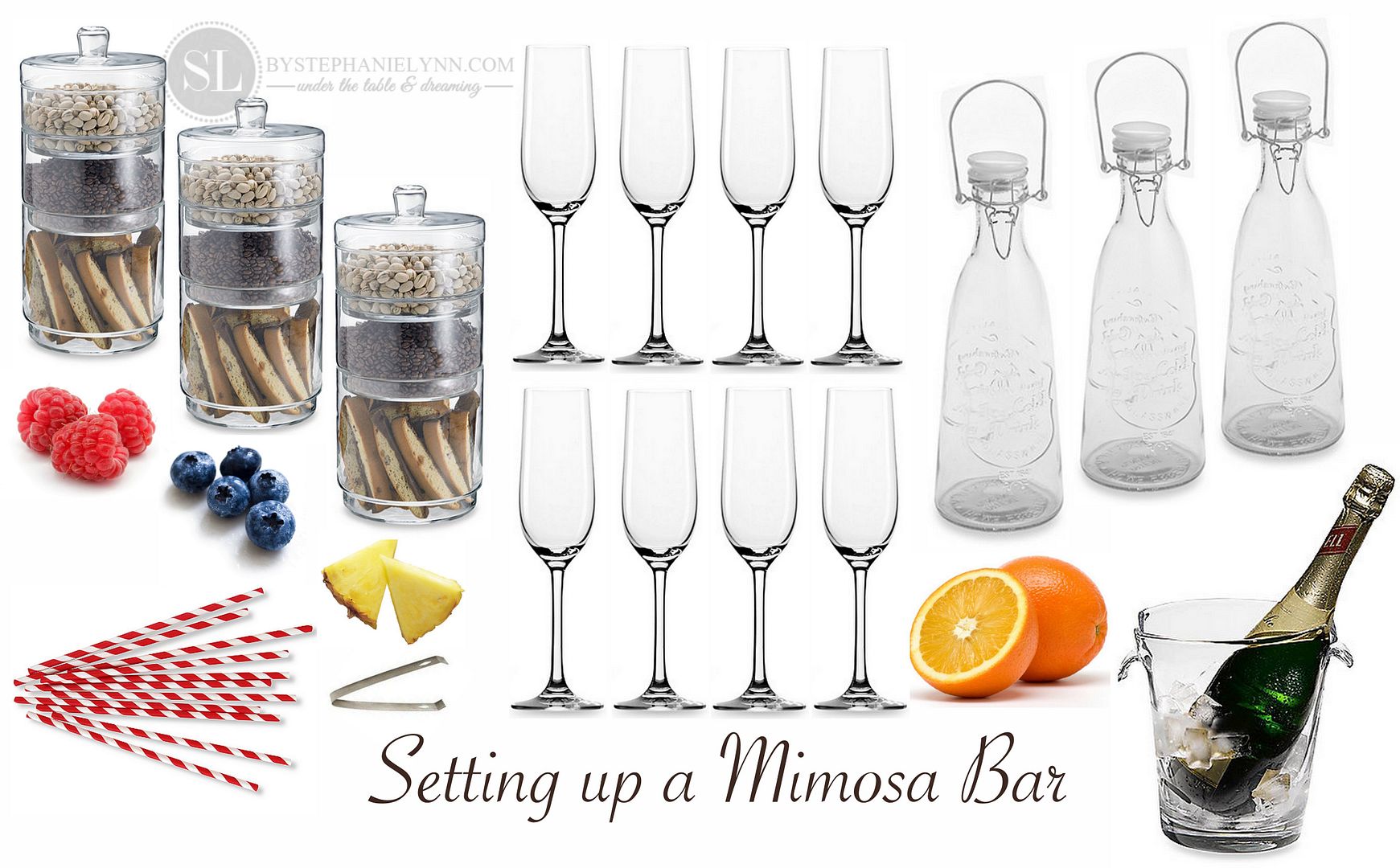 3-Part Storage Jar | Paper Straws | Champagne Flutes | Ice Cold Storage Bottles | Ice Bucket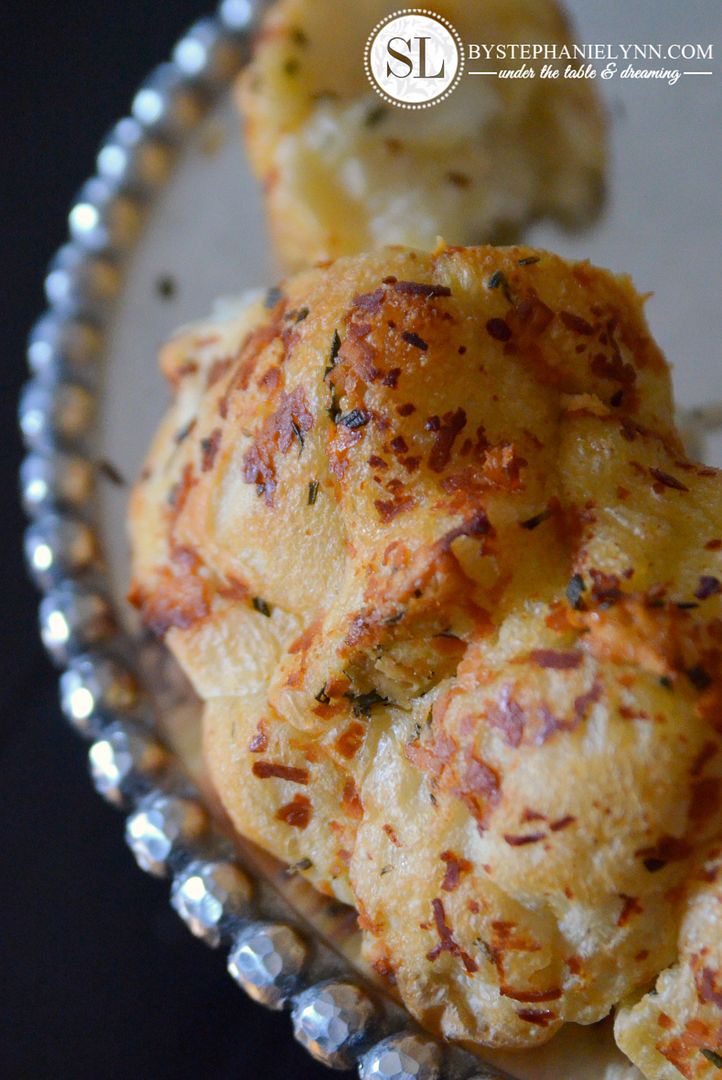 Along with Holiday Entertaining inspiration, ideas, and solutions – the Holiday Your Way site also features some creative Holiday Recipes. I spotted this recipe for Rosemary Garlic Pull Apart Bread and had to give it a try. This simple take on monkey bread is made with frozen dinner roll dough and flavored with rosemary, garlic and parmesan-pecorino cheese. Though it does require some 'rise' time – the prep is super easy. Once cooked the warm savory bread easily pulls apart in bite size chunks. I'll definitely be keeping this recipe handy for a inexpensive appetizer treat.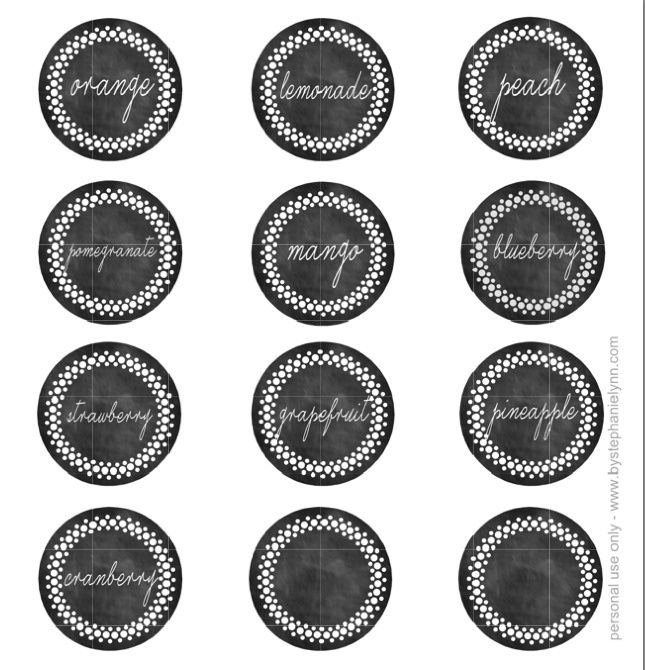 Click to download the Mimosa Bar Printable Juice Tags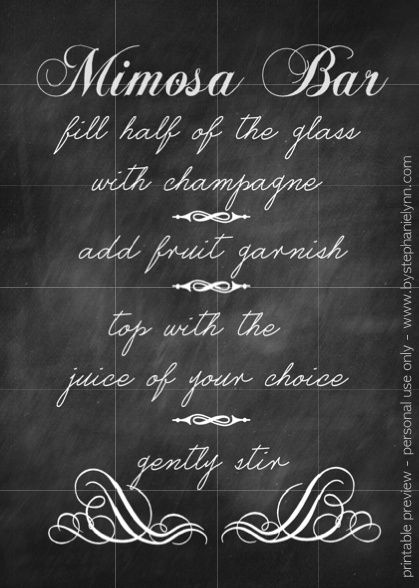 Click to download the Printable Mimosa Bar Sign