Wood Slice Snowman Ornament | Welcome to the Fourth Annual Handmade Ornament Series. This week a line up of fabulous friends will be stopping in each day to share some creative
Homemade Christmas Ornament ideas.
Please welcome our next guest Keri from Shaken Together.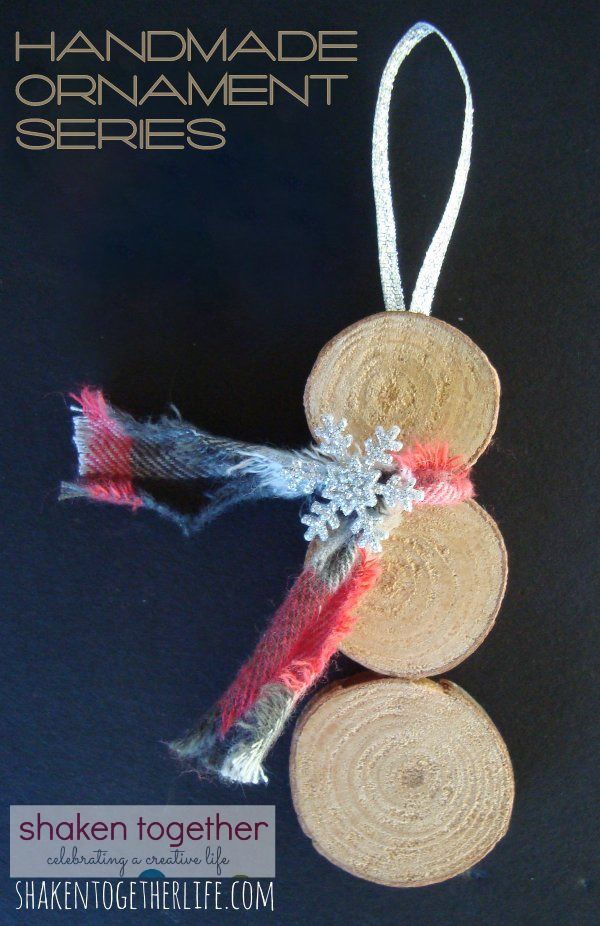 Hi everyone! I am Keri, the sugar-fueled, paint-covered author over at Shaken Together! I am so thrilled to be participating in Stephanie Lynn's Handmade Ornament Series! At our house (despite the crazy warm December weather in Florida), Christmas is in full swing! Our home is decorated, the lights are hung and the eggnog is made … I just absolutely LOVE this time of year! And today, I am sharing one of the handmade ornaments that is hanging on our tree …
a rustic wood slice snowman ornament!!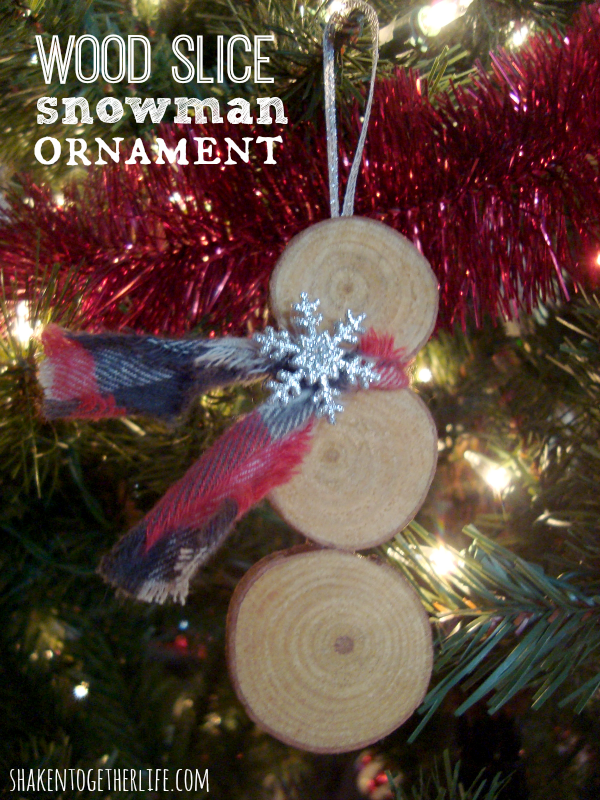 This year, I am sort of obsessed with rustic, warm and cozy. Think pine cones, woodland creatures, cable knit sweaters and hot chocolate by the fire! And this sweet little snowman with a plaid flannel scarf fits right in!! So, here is what you'll need to add this rustic wood slice snowman to your tree:
The Merry Materials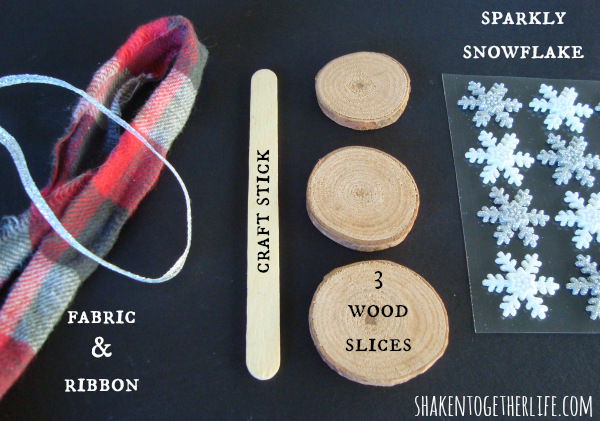 I found a bag of these mini wood slices (the smallest round slices are about the size of a quarter) at my local teacher supply store but you could also cut thin slices from sticks in your back yard.
The How-To
I selected three wood slices in gradually larger sizes and glued a craft stick to the back of them to hold them all together. (Yes, I broke it – I couldn't find my snips, ha ha! You don't have to go all Hulk smash on yours!) Then, I added a knot of silver ribbon with craft glue and allowed everything to dry.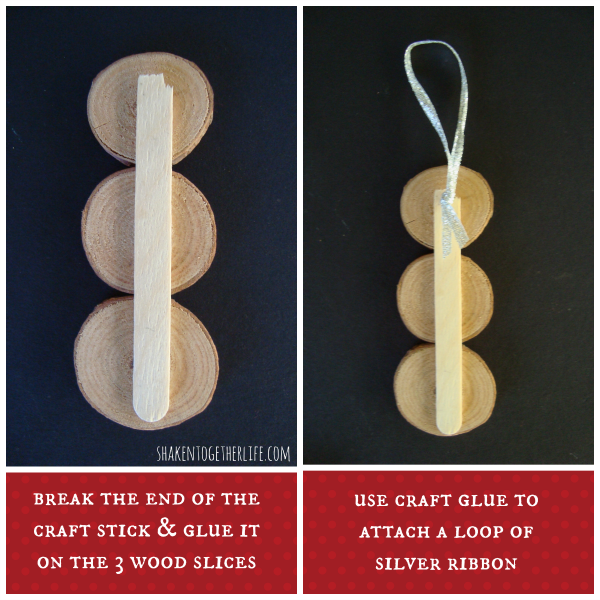 Once the snowman has dried, you'll add the scarf and the sparkly snowflake brooch! I used a red and gray plaid flannel scrap for the snowman's scarf and knotted it between the first and second wood slices. The final touch is the silver snowflake. While the snowflake had adhesive on the back already, I added a dab of craft glue to make it a little more permanent.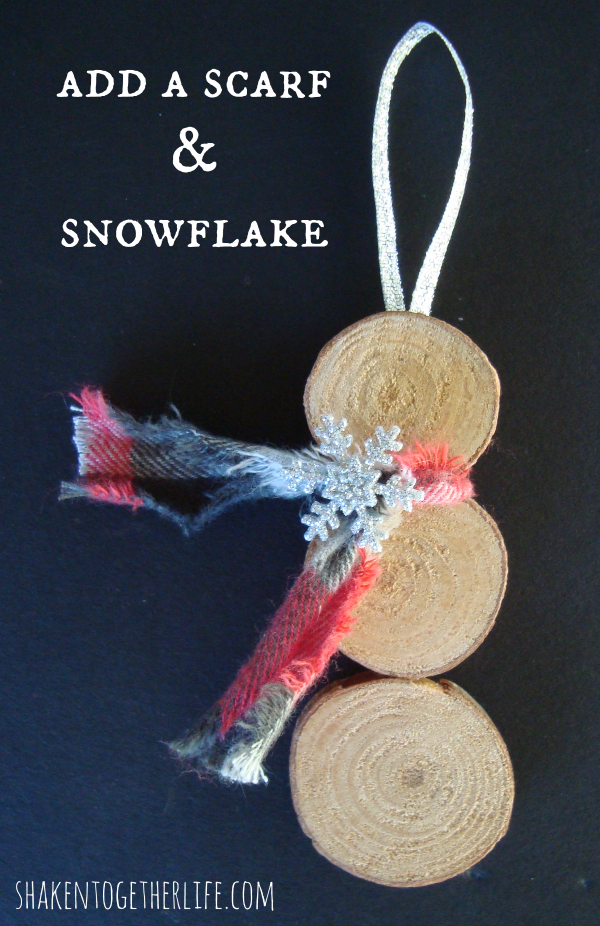 I just love seeing this simple little guy (gal?) tucked in the branches of our tree and that snowflake catches the twinkling lights just right! It is right at home with the cinnamon stick icicles and the little wooden nativity!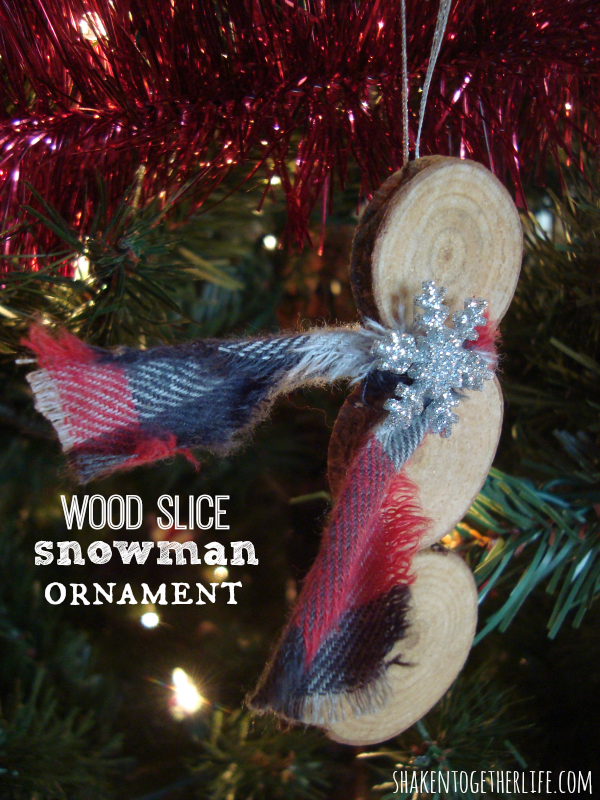 Thank you so much for having me, Stephanie Lynn! Hope you all have the very happiest of holidays and a truly amazing year to come!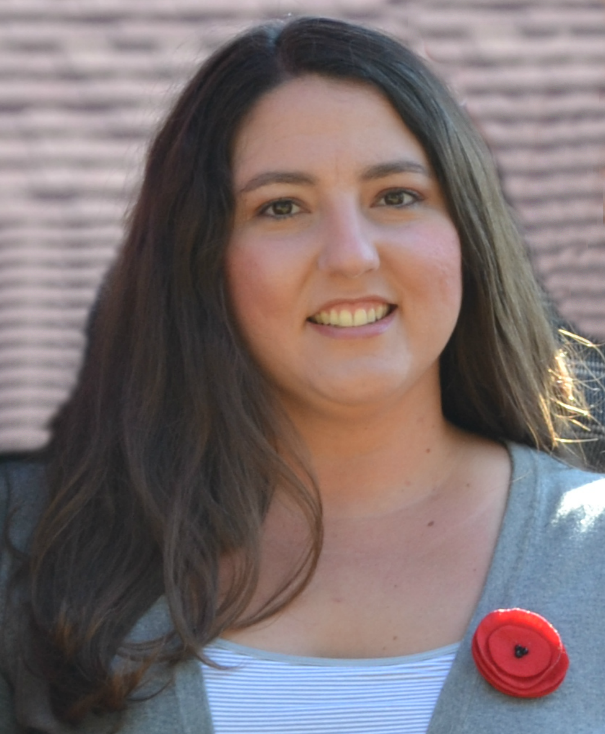 Keri grew up as an only child in a small town and loved it. She thinks she has always been creative, she loves the color red, lists, reality TV, coffee with excessive cream, singing at the top of her lungs, pretty paper, paint, sugar and my family. By day, she works in HR, and by night and between baseball games and school projects and in the wee hours of the morning, she is usually found on her blog, Shaken Together. Her goal is to celebrate a creative life with easy recipes, seasonal projects and gifts, DIY tutorials, crafty goodness and a little of her family life with two boys, two cats and 13 years of marriage!
For more inspiring projects and crafts, visit Shaken Together
You can also catch up with Keri on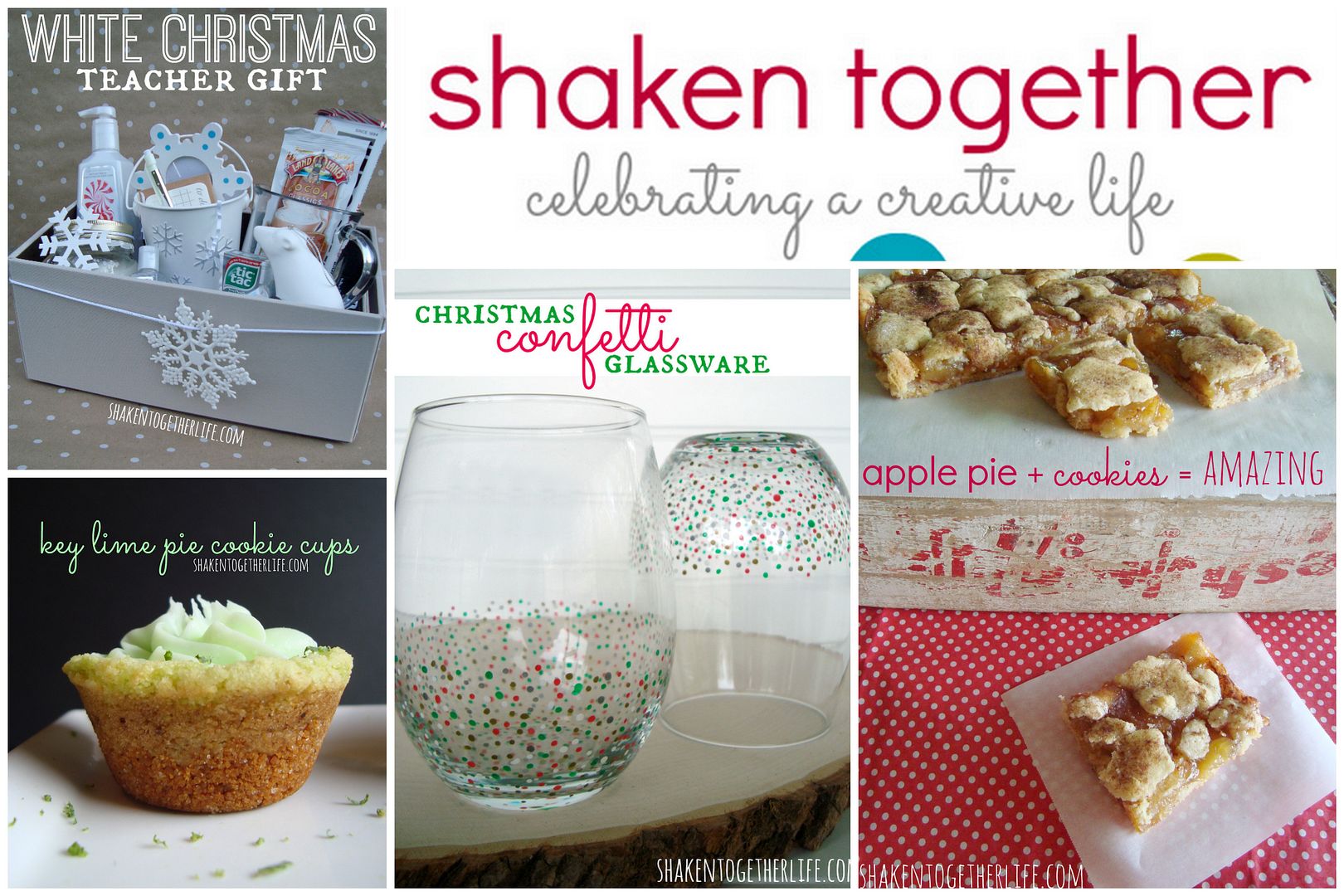 Dreaming of a White Christmas Teacher Gift Idea | Key Lime Pie Cookie Cups | Easy DIY Confetti Glassware
Apple Pie Snickerdoodle Cookie Bars