Wooden Boot Rack – plans to make a boot organizer | While there are still four more days left until the official beginning of winter – we have already had a significant taste of cold, snowy, wet weather.
I do love the snow however, underneath those beautiful glistening blankets of white – lay a
mucky mess of slush and mud. A mess to leave right at the front door.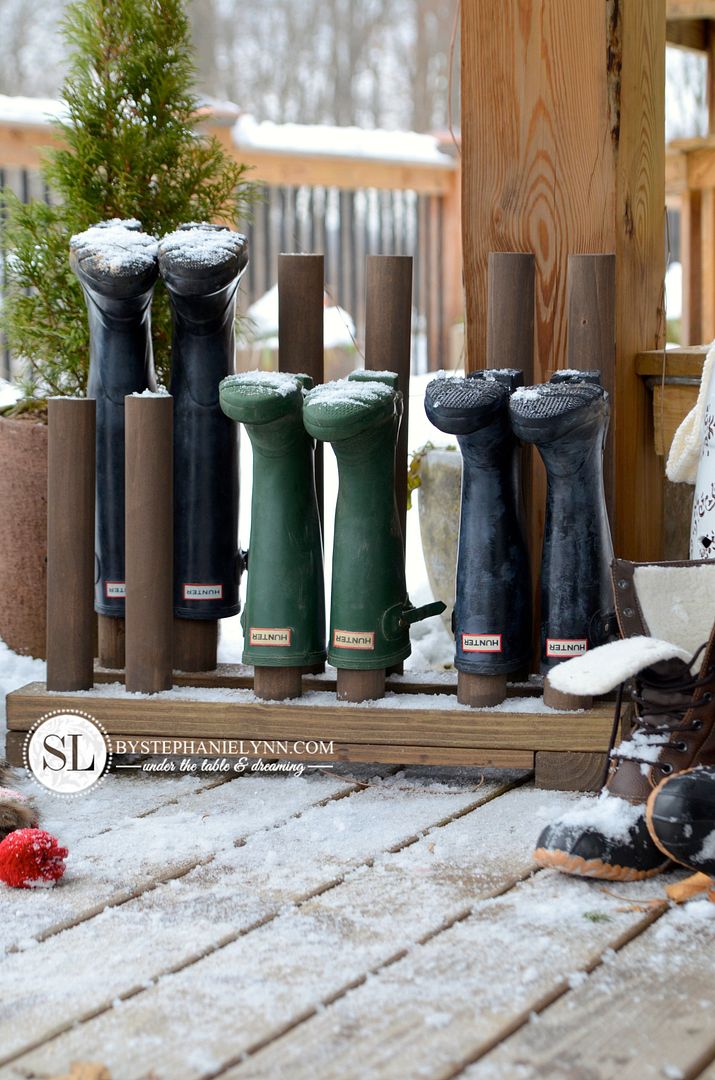 A wooden boot rack has been on our to-do list for quite some time now – so I was pretty excited to add it to our True Value list of projects we committed to complete this year.
Now that it's said and done – and the snow has already began to fall – I have no idea why it took us so long to put together this fairly simple, and totally useful project.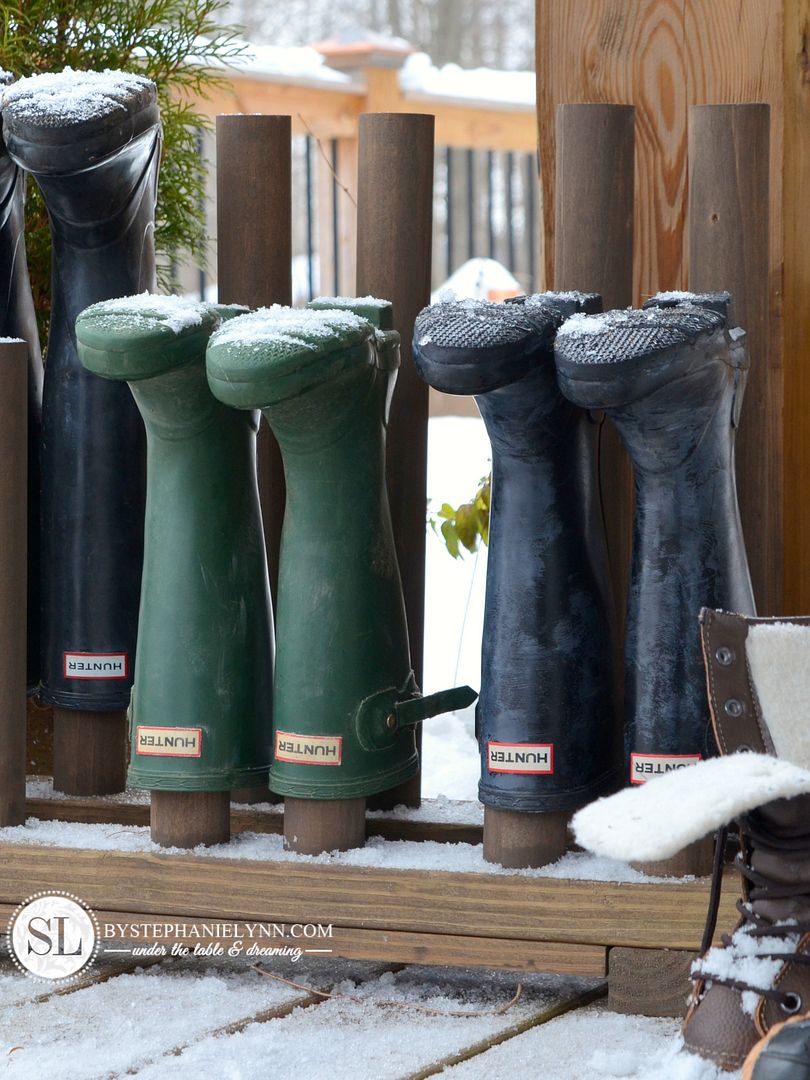 Wooden Boot Rack | Plans to Build a Boot Organizer
Materials Needed:
2 X 4 Lumber
1 X 4 Lumber
2 inch Dowels
Sand Paper
Paint or Stain
Tools Needed: Chop Saw or Hand Saw, Hand Drill, Heavy Duty Hand Drill, 2 inch Hole Saw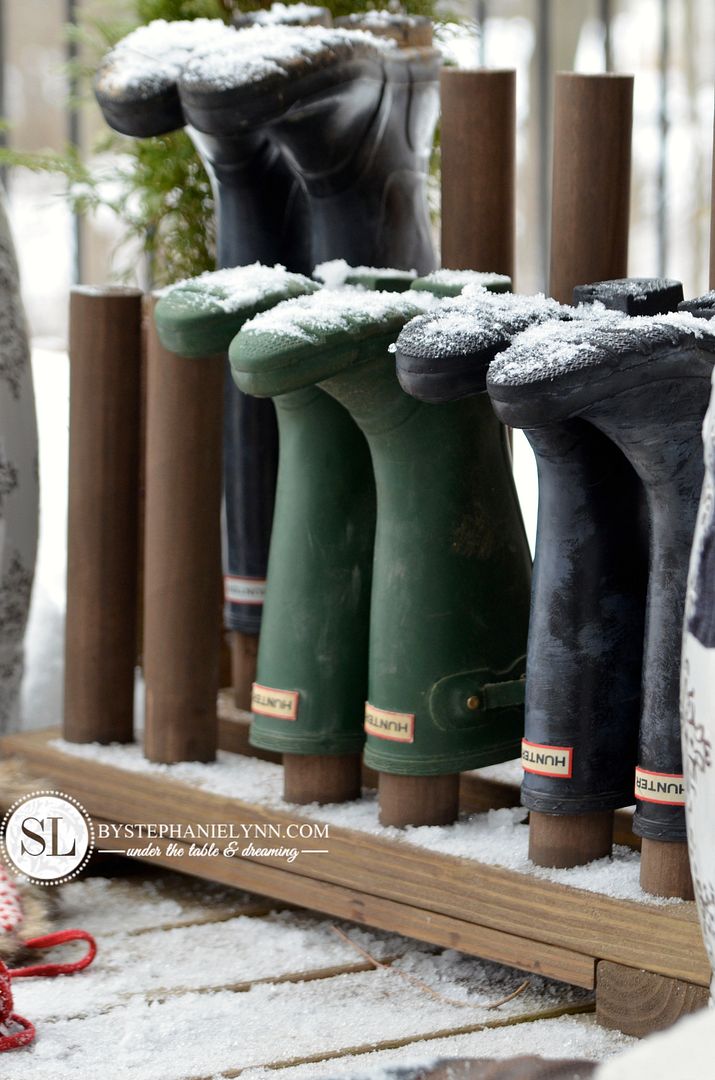 Cut List:
Two 2 X 4's cut 26 inches long
Two 1 X 4's cut 19 inches long
Two 2 X 4's cut 10 inches long
Six 2 inch Dowels cut 14 inches long
Six 2 inch Dowels cut 20 inches long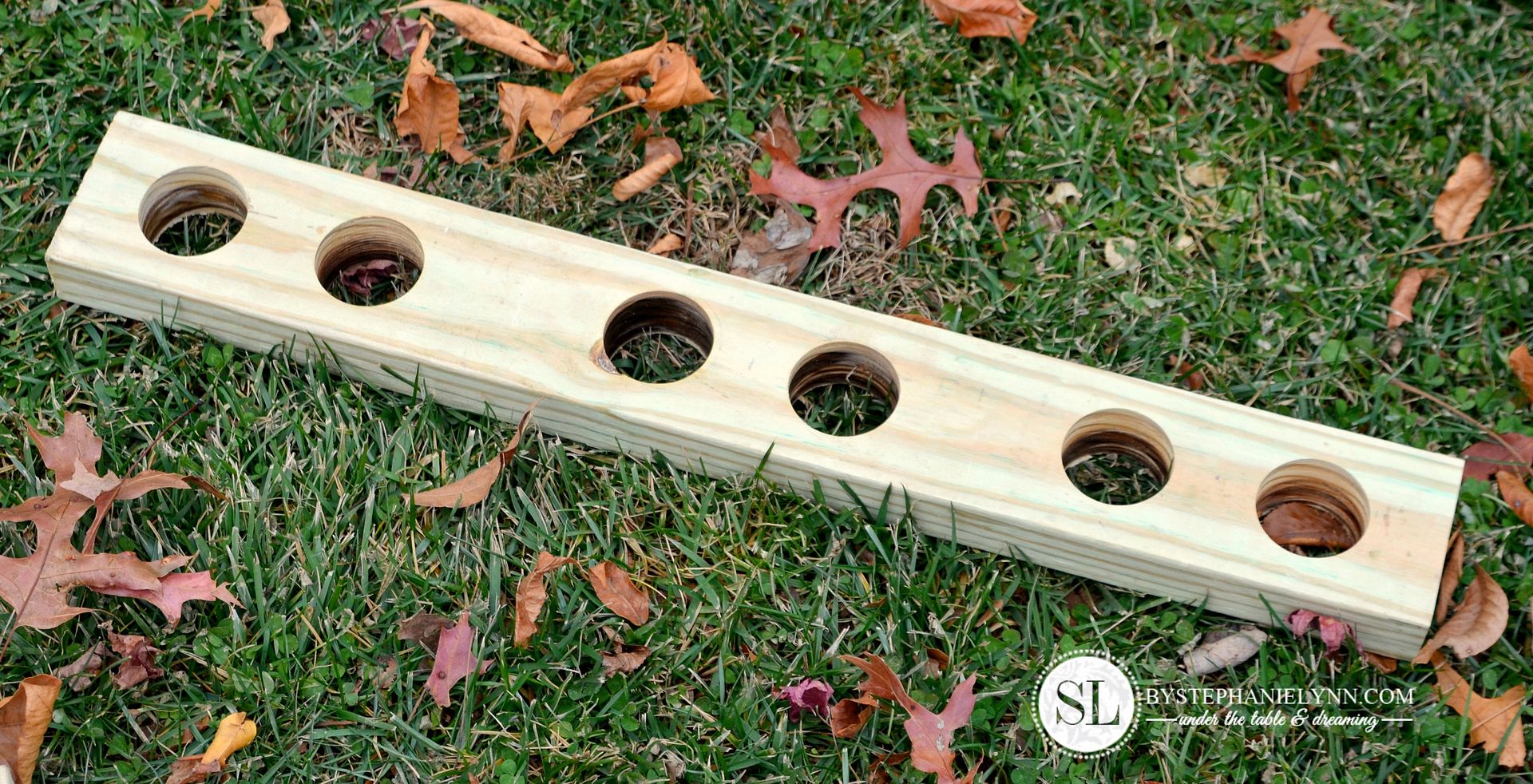 Step One: Make the Dowel Rails.
The dowel rails are made from two 2 X 4's cut 26 inches long.
Holes are drilled into the 2 x 4 using the following measurements for placement:
2 1/4″, 5 3/4″, 11 1/4″, 14 3/4″, 20 1/2″, 23 3/4″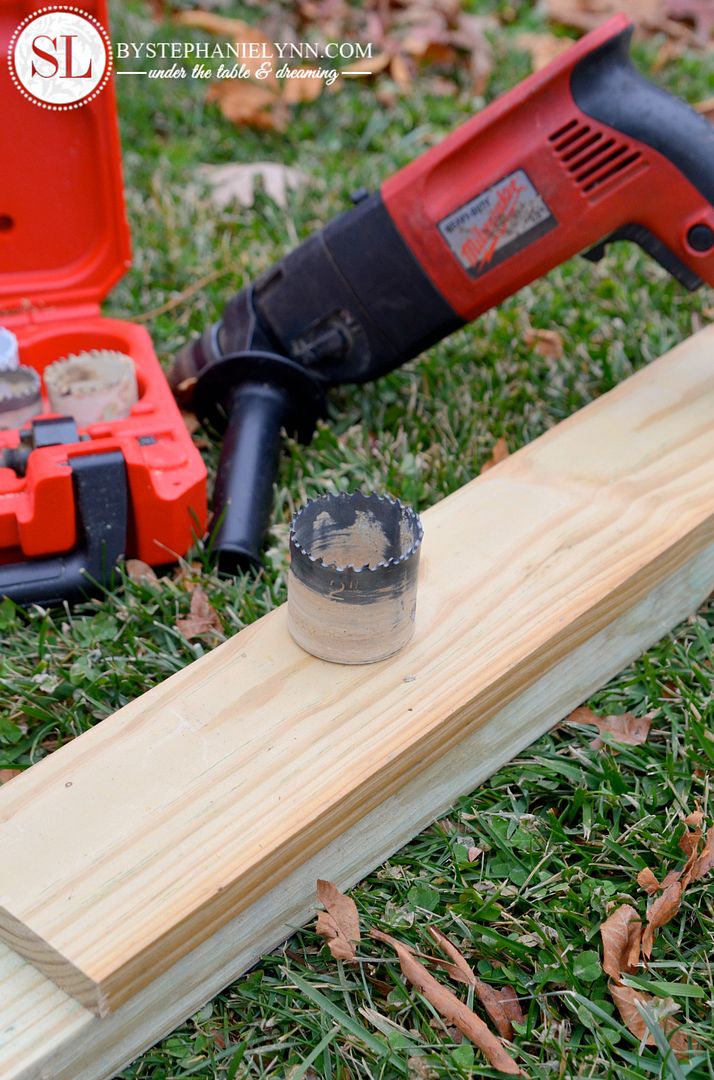 A 2 inch hole saw is used to cut the holes for the dowels. Hole saws are basically cylinder bits that attach to a hand drill or drill press and cut clean, smooth, perfectly round holes.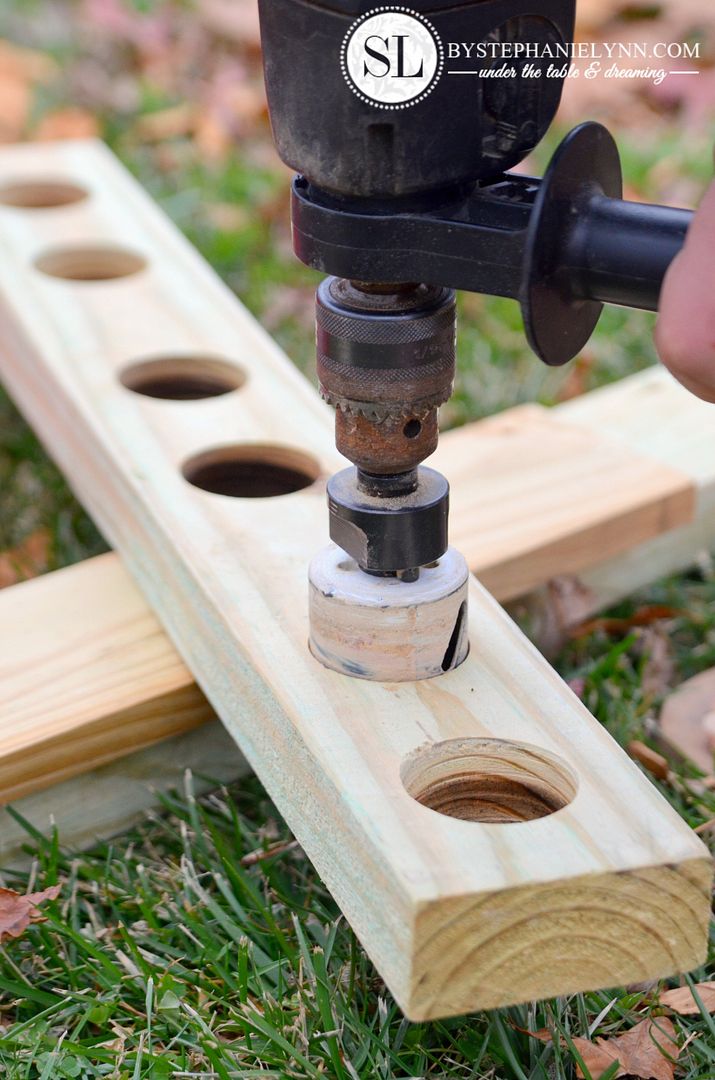 To cut through the 2 x 4, a heavy duty drill hand drill was used.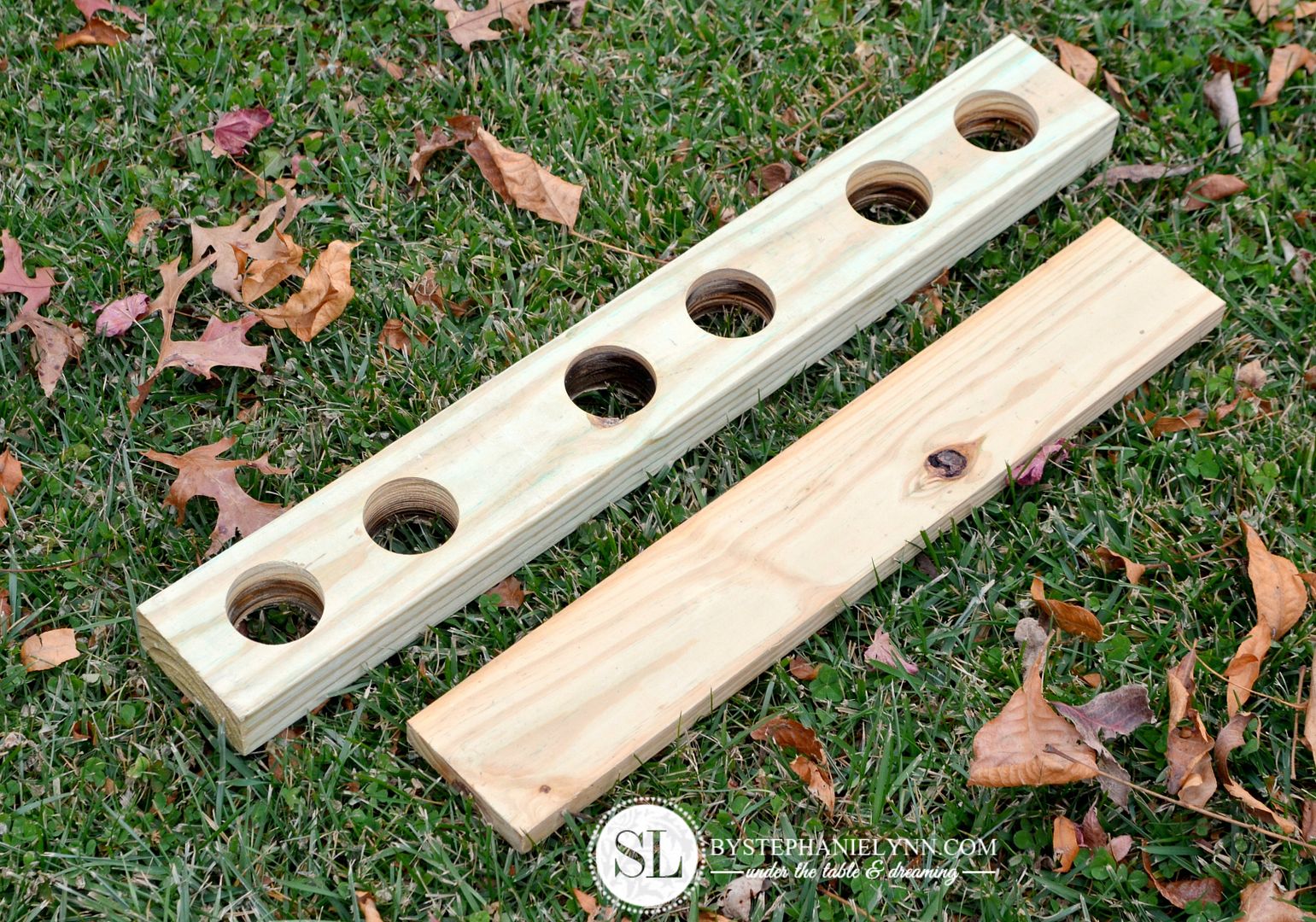 Step Two: Cut and attach the base boards.
The base boards are made from two 1 x 4's cut 19 inches long.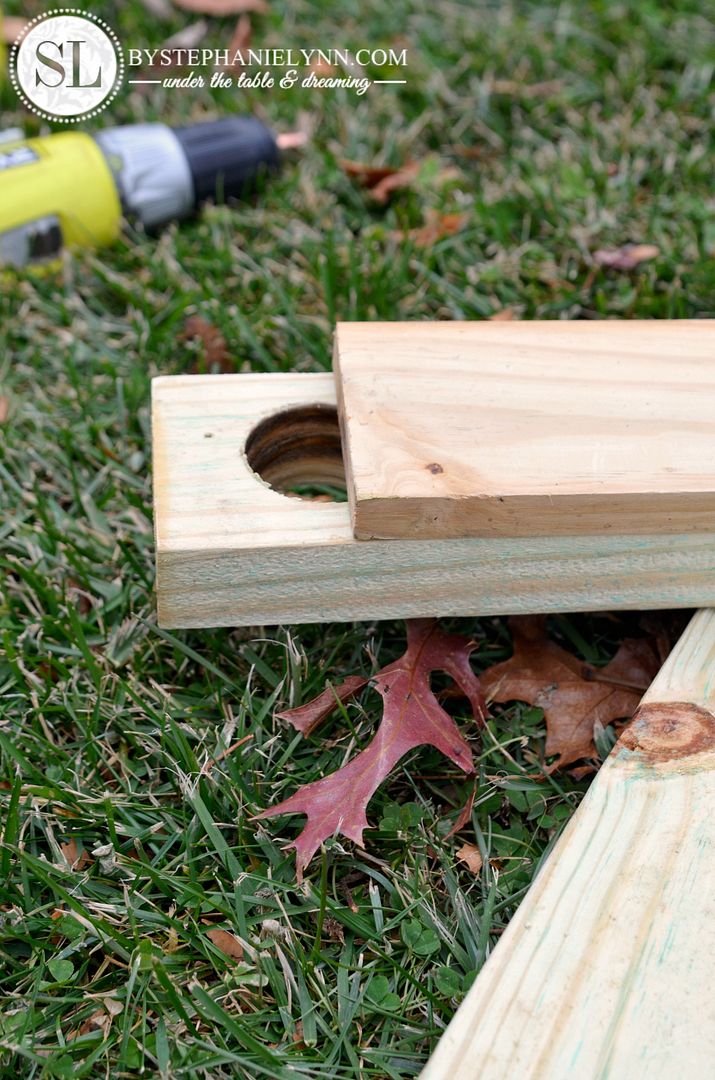 The base boards are attached to the bottom of the dowel rails and create a base for the dowels to sit upon.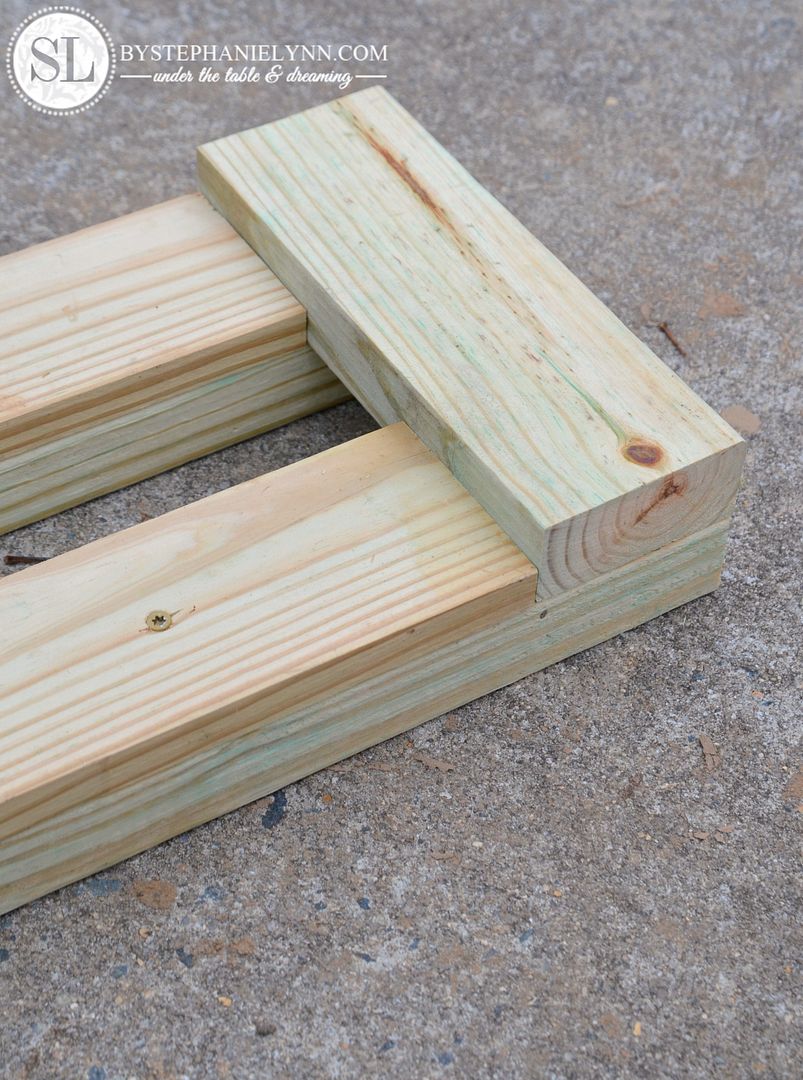 Step Three: Attach the foot boards.
The foot boards are made from two 2 x 4's cut 10 inches long.
They attach to the bottom of the dowel rails, at each end, as shown above.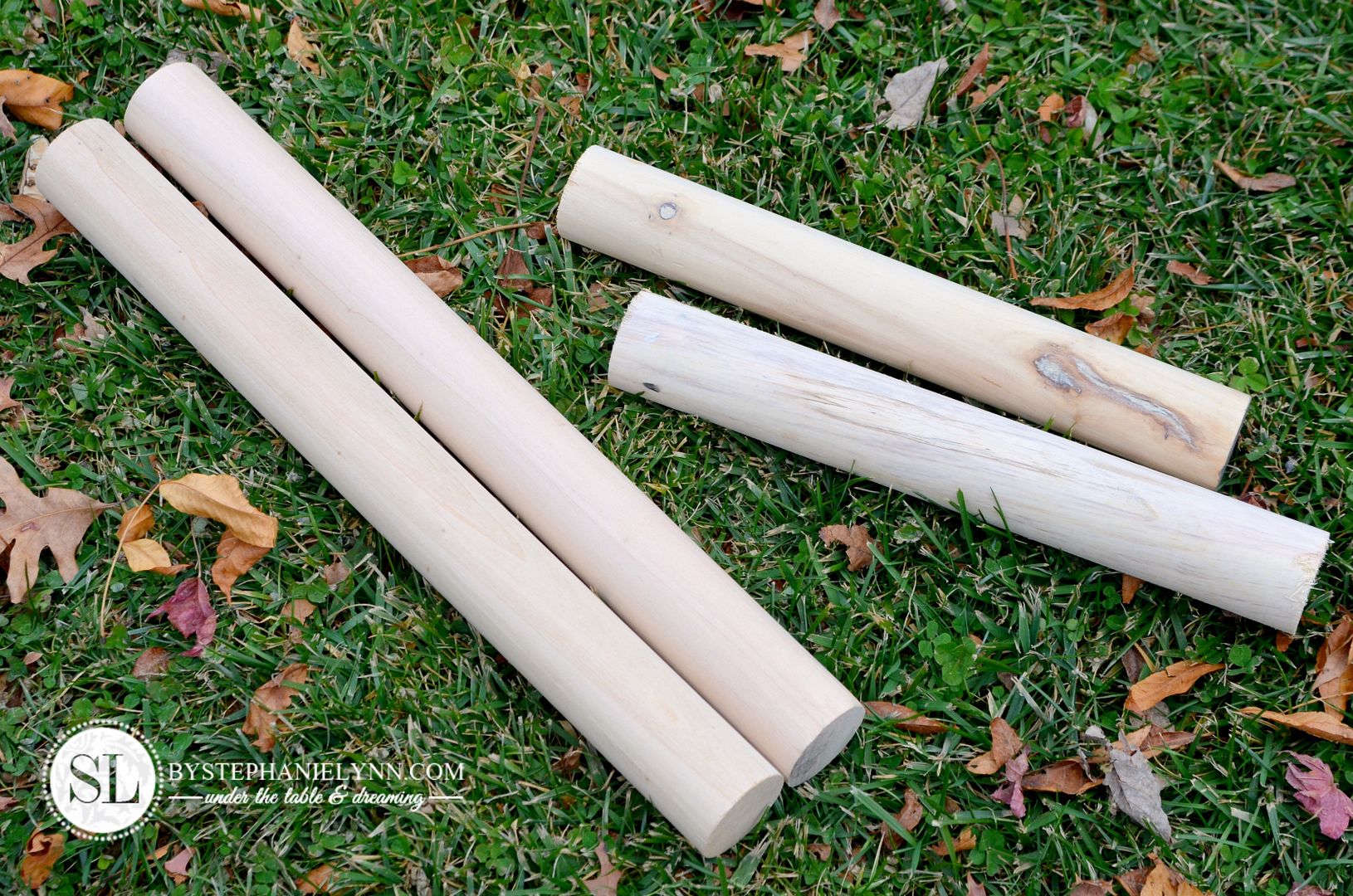 Step Four: Cut the dowels.
A 2 inch dowel is used for the boot holders – six pieces cut 14 inches long and six pieces cut 20 inches long.
The larger dowels are sized for adult boots and the smaller to hold child-size boots.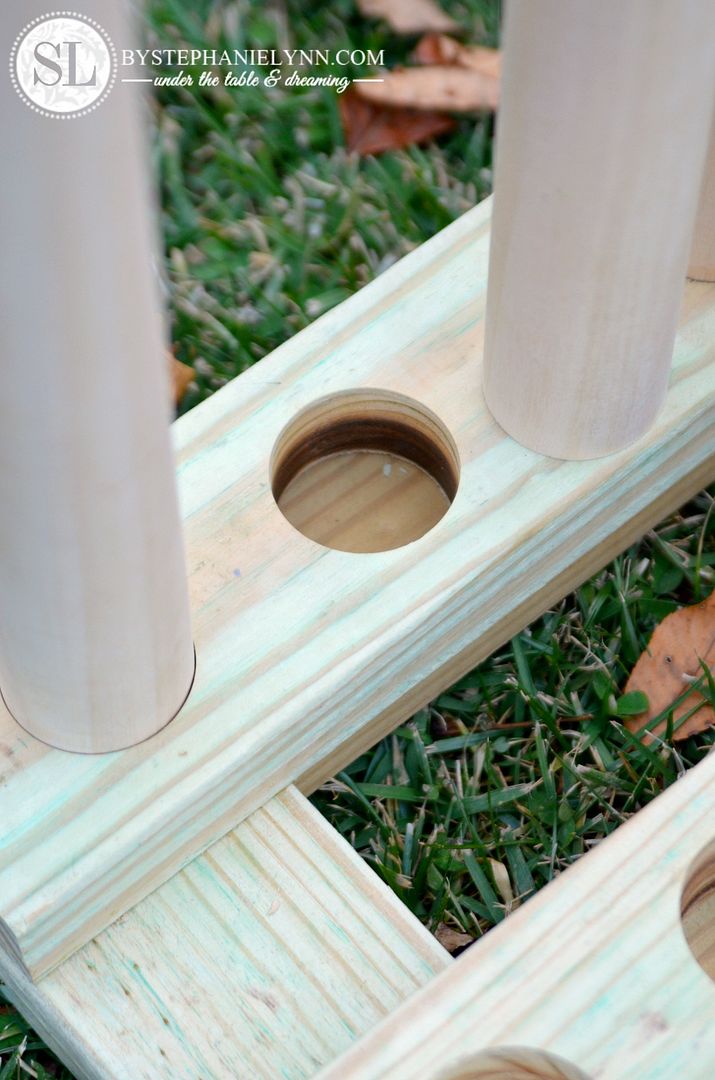 The dowels fit snug into the dowel rails and can be secured with wood glue, though it is not necessary.
We did not secure them into place as we like having the option to take them out to store the rack when not in use.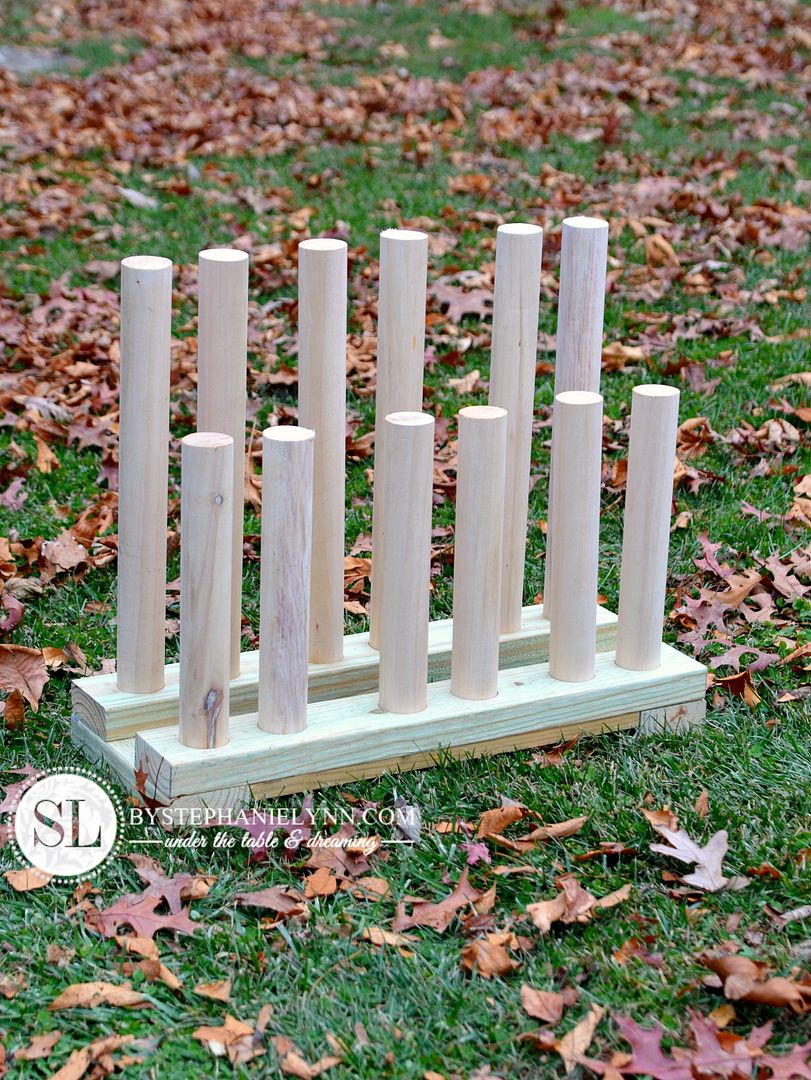 Once the boot rack is complete, sand and prep for paint or stain.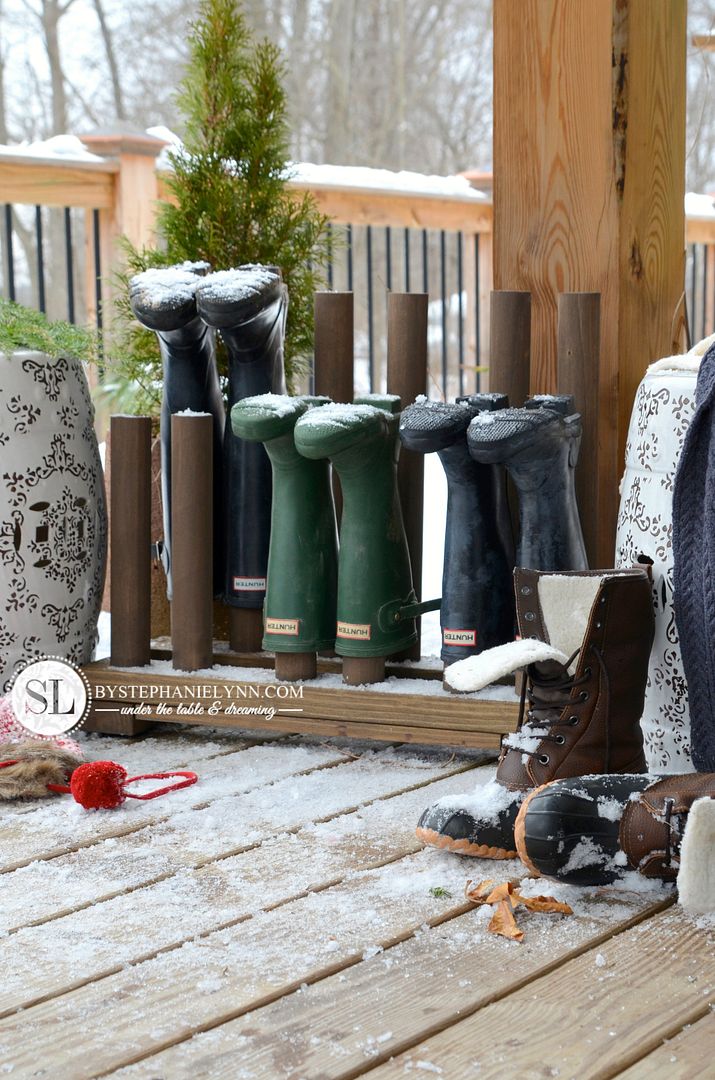 Step Five: Finish the boot rack.
We used ZAR stain we had left over from finishing our adirondack chairs, since we will be using our boot rack both indoors and outdoors, under a covered surface.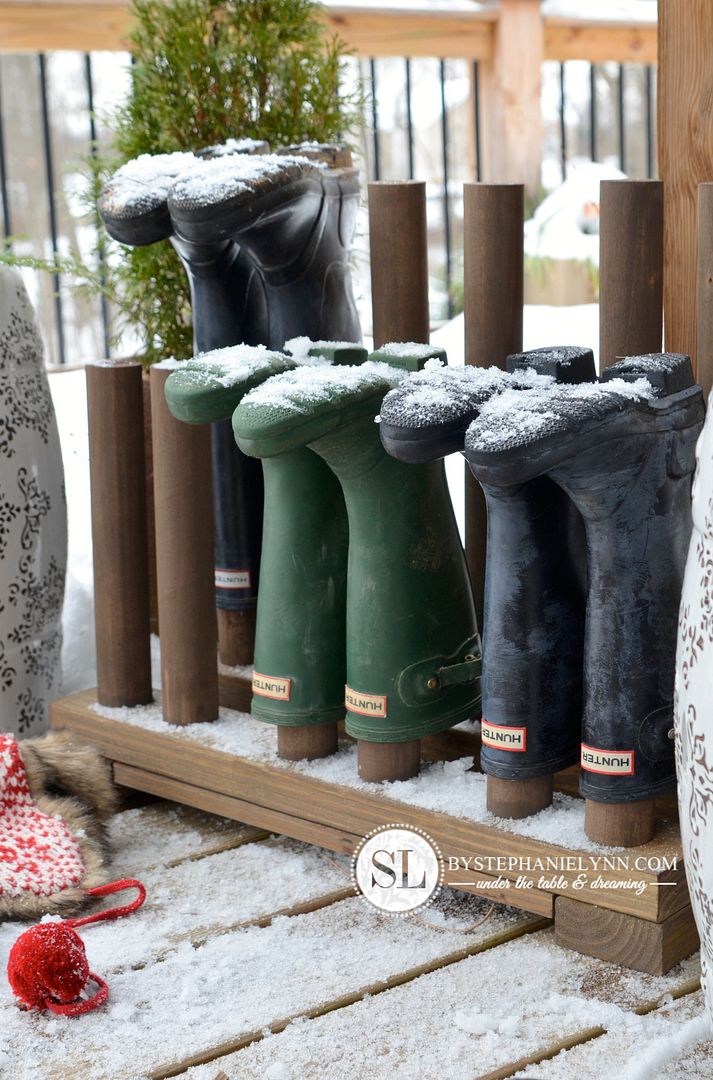 The simple design allows the wet boots to be suspended so they drain and dry much quicker – which is perfect for our snow loving little guy.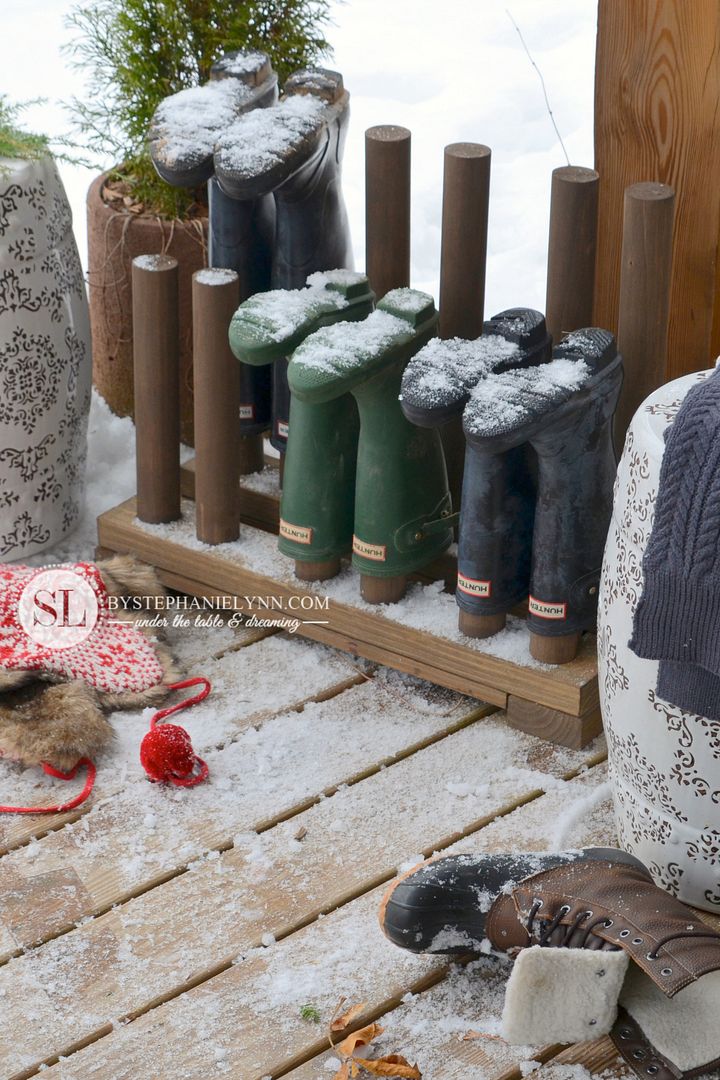 The dowels in the back are made to hold taller boots – while the shorter dowels in the front perfectly hold our little guys wellies.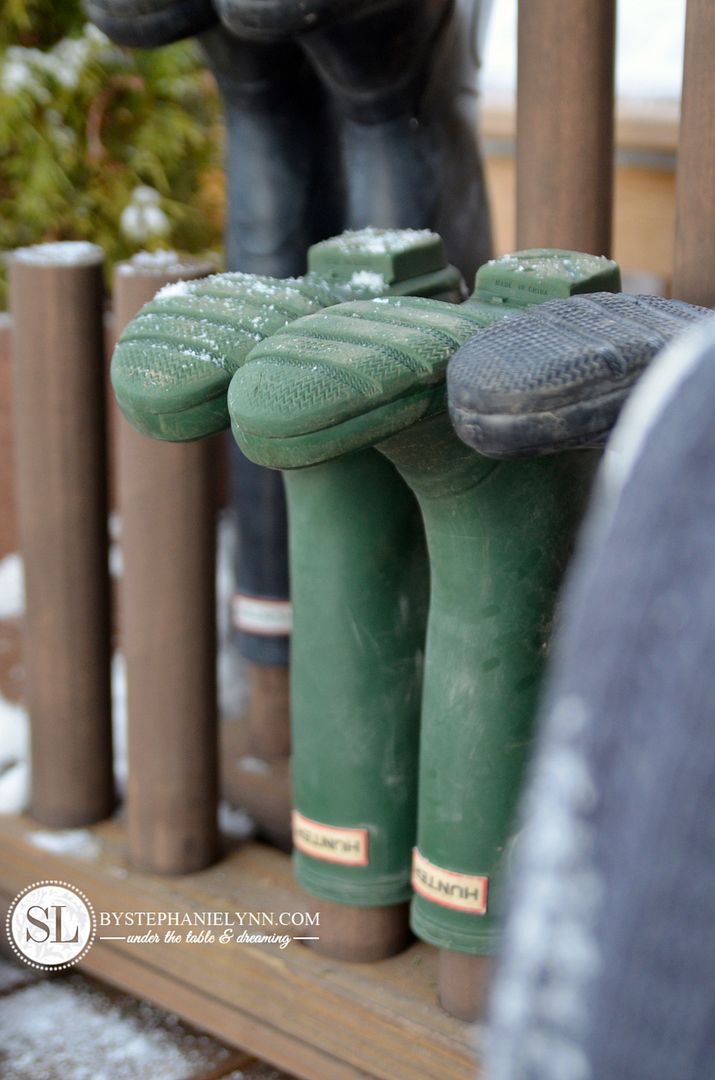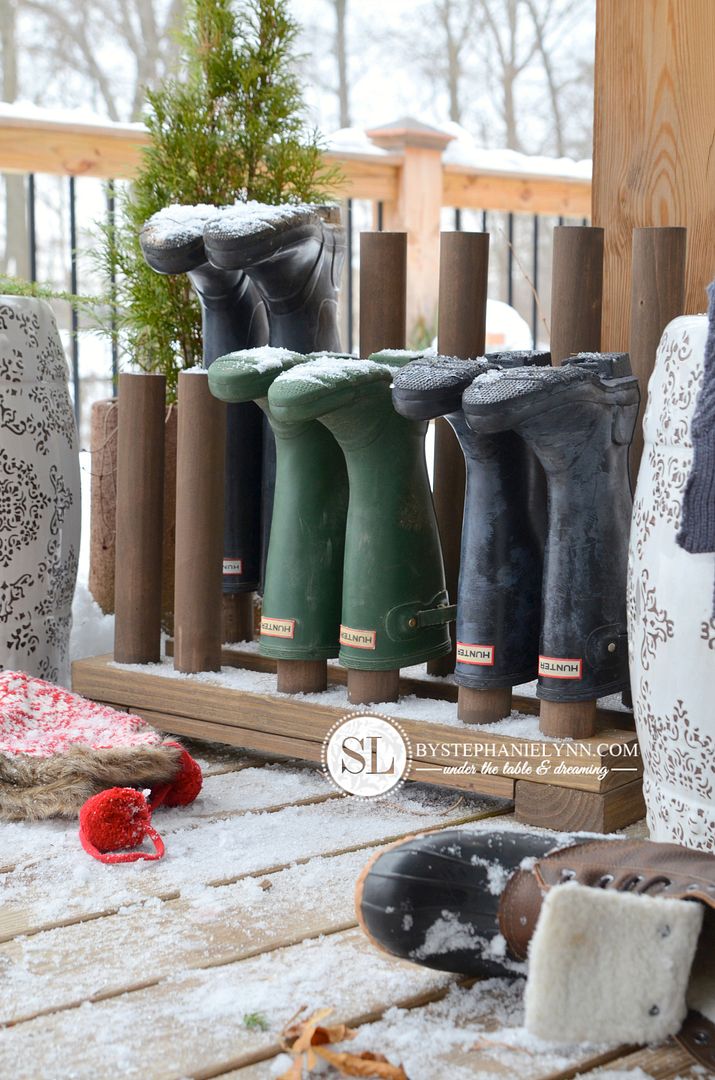 The wooden boot rack is not only for winter – as I see us putting it to good use year round.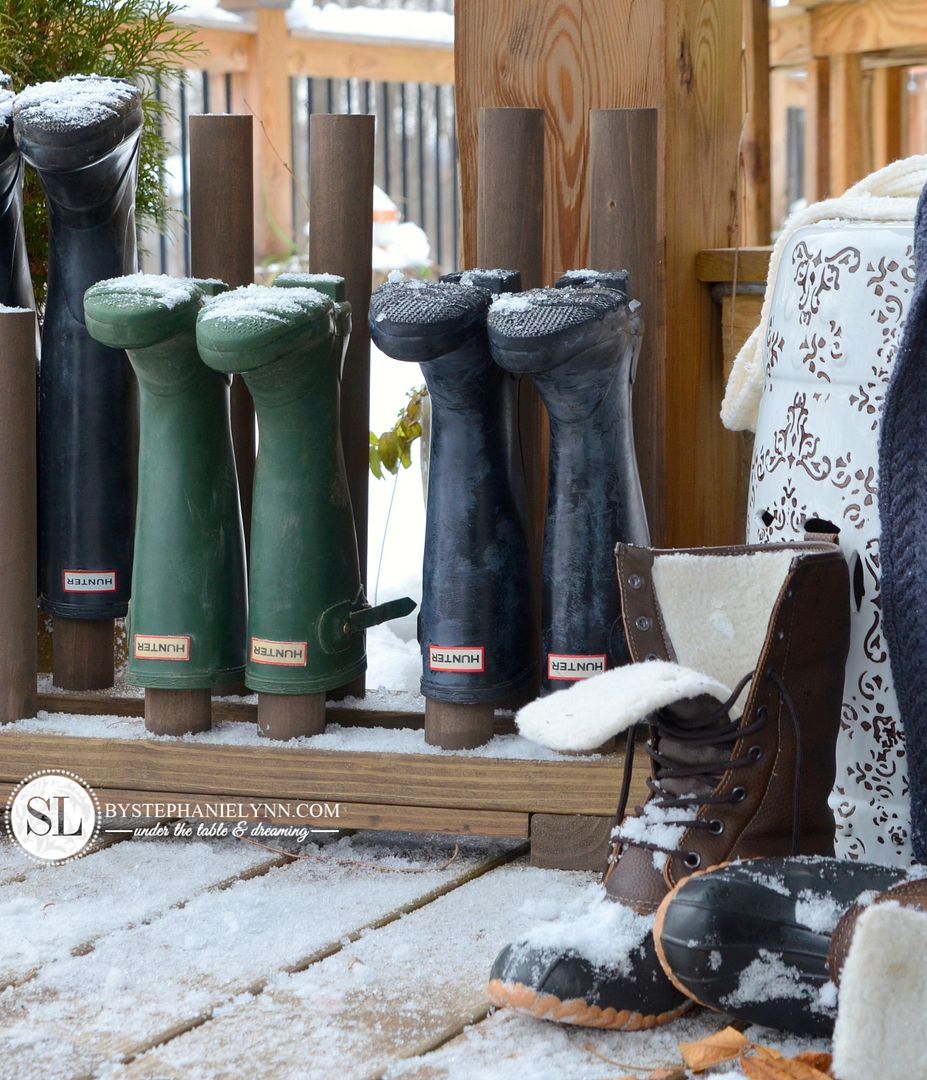 Between gardening, yard work, muddy puddles, trail rides and the Backyard Jeep Rock Garden,
this simple wooden boot rack just may be one of our best (most useful) projects yet.
I was one of the bloggers selected by True Value to work on the DIY Squad. I have been compensated for my time commitment to the program as well as writing about my experience. I have also been compensated for the materials needed for my DIY project. However, the opinions read here are entirely my own and I have not been paid to publish positive comments.