Linen Closet Organization | In an effort to put this brutal winter weather behind us (and 'spring forward' just a bit), I dedicated some time over the past couple of weeks
to get our linen closet in order.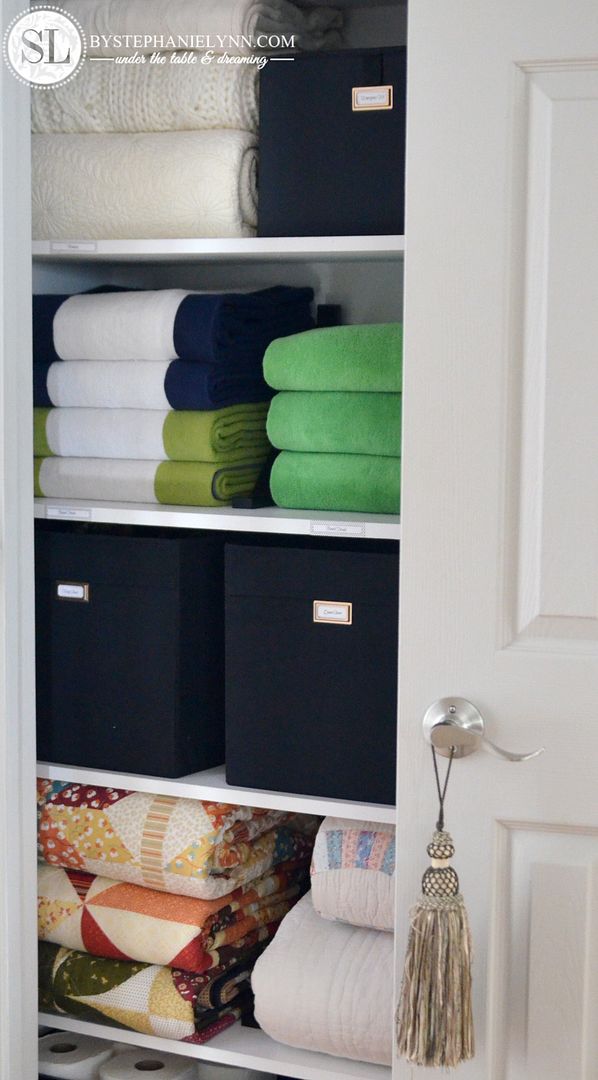 The closet, located right in the middle of our second floor hallway, has been a dedicated stash and store concealed behind two closed doors. I never really gave a purpose to the closet as our laundry room is located right around the corner – and a majority of items that we use on a regular basis
are tucked away in there.
After the closet was completely emptied I let it set for a couple of weeks to determine what really needed to go back in – which gave me a chance to work on the cosmetics.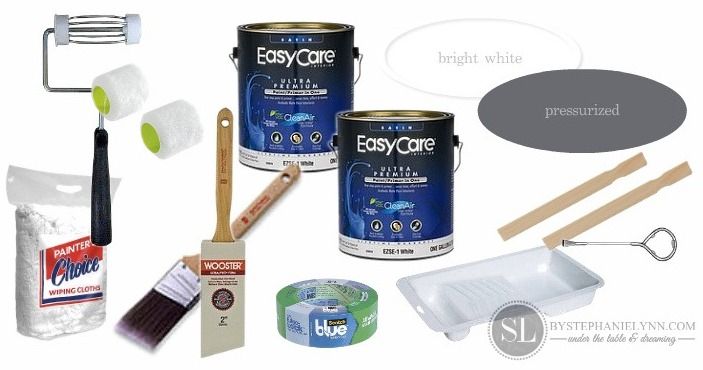 I started off with some paint. Paint is such an easy update and the perfect way to add a little unexpected color to any closet. Here are the supplies I grabbed –
a few that are especially helpful for smaller spaces:
4 Inch Roller Frame & covers
Painter's Choice Cotton Rags
Wooster 2 1/2 inch Ultra Pro Angle Sash Paintbrush – great cut-in control
EasyCare® Ultra Premium Paint & Primer in One – one coat coverage & low VOC
Painter's Tape
4 inch Paint Tray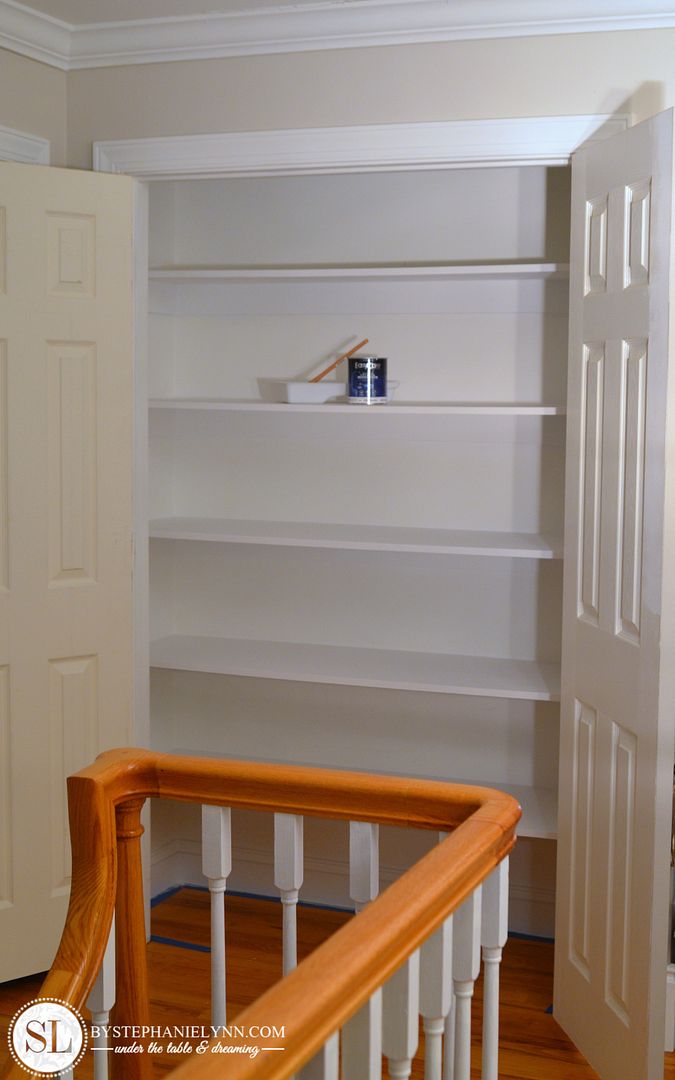 When we first moved in the inside of the closet received a quick fresh coat of white – though you can still see the 'standard beige' still lingering on the doors above.
If you're working with an empty closet here is an easy way to build closet shelves – the same method we used to build closet shoe shelves in our entryway.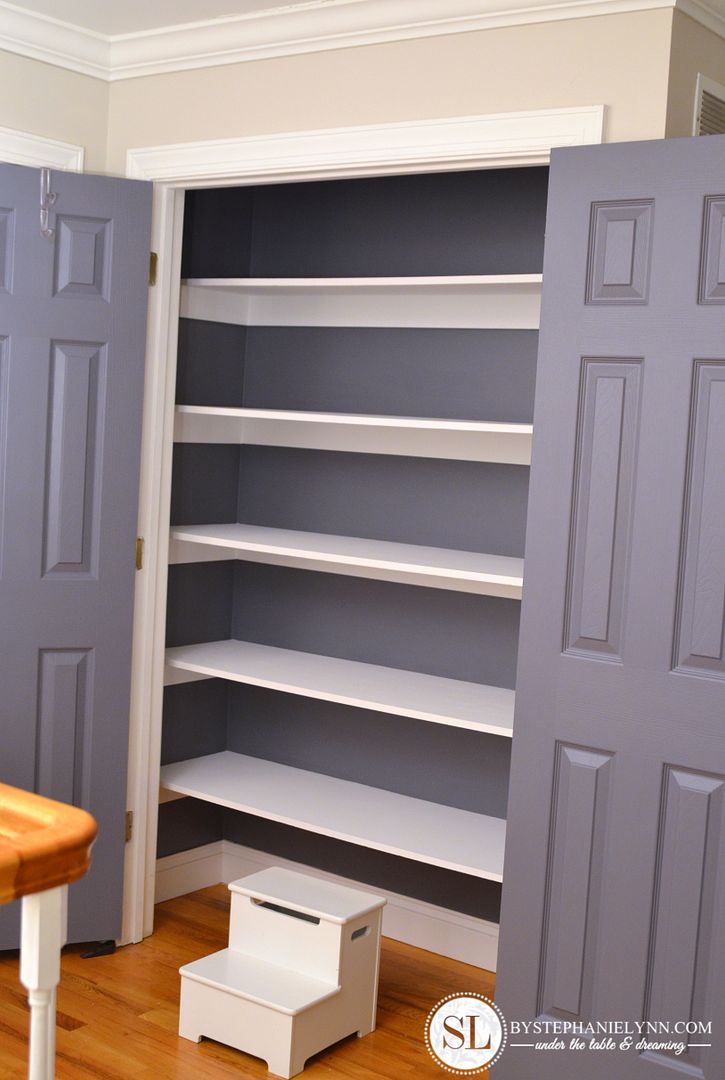 The shelving and trim received a new coat of Bright White
and the walls and doors were painted with Pressurized.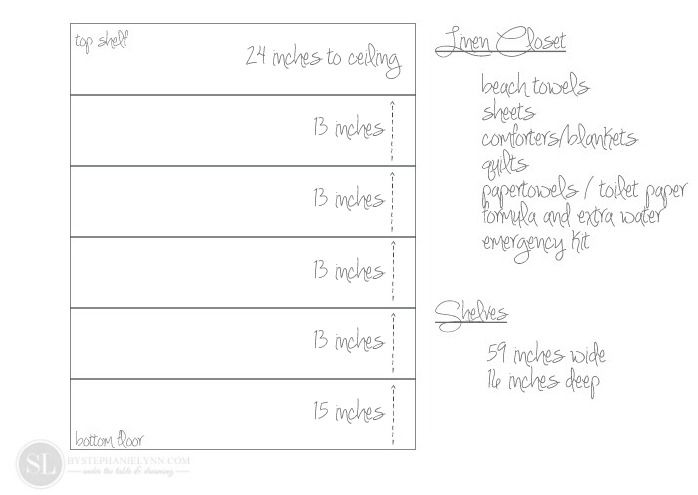 Prior to putting together a plan for the 'accessories' – I drew up a little cheat sheet that contained the shelf measurements and dimensions plus a list of items that needed to fit back into the closet.
Having a little cheat sheet when shopping helps keep me on track and takes the guessing out of whether something is going to fit or not. In this case the shelf dimensions were so helpful in getting the most out of space when it came to shopping for baskets and bins.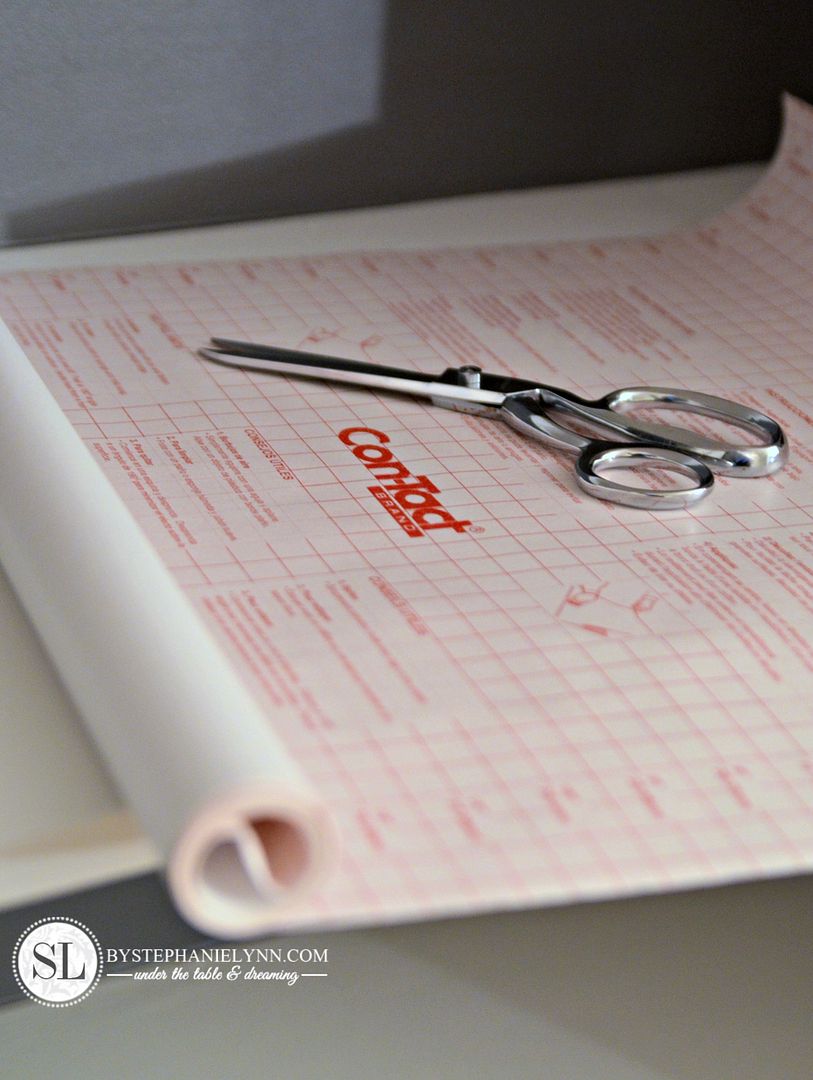 Contact Paper: Each freshly painted shelf was lined with plain, white, self-adhesive contact paper. It took just a few minutes to measure, cut, and put in place – plus you can't even tell it's there unless you look closely.
I find the extra layer helps protect things that do not get used frequently and tend to lay in the same space for quite some time – especially on freshly painted shelves. The contact paper also helps the baskets and bins slide in and out much smoother – while preventing any scratches or damage to the wooden shelves themselves.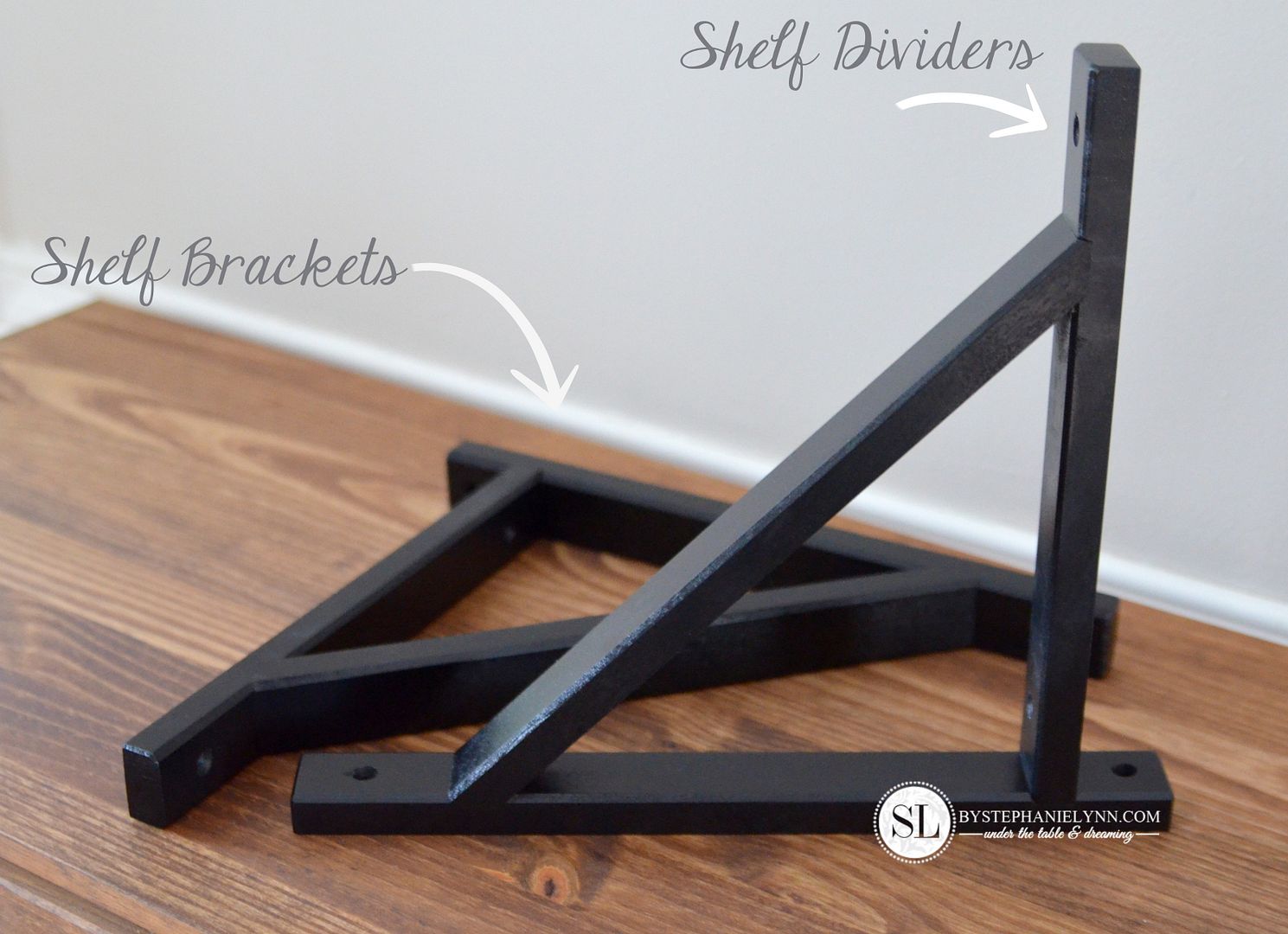 Shelf Brackets: Simple wooden shelf brackets, typically used to support hanging shelves, were re-purposed as dividers for a couple of the shelves.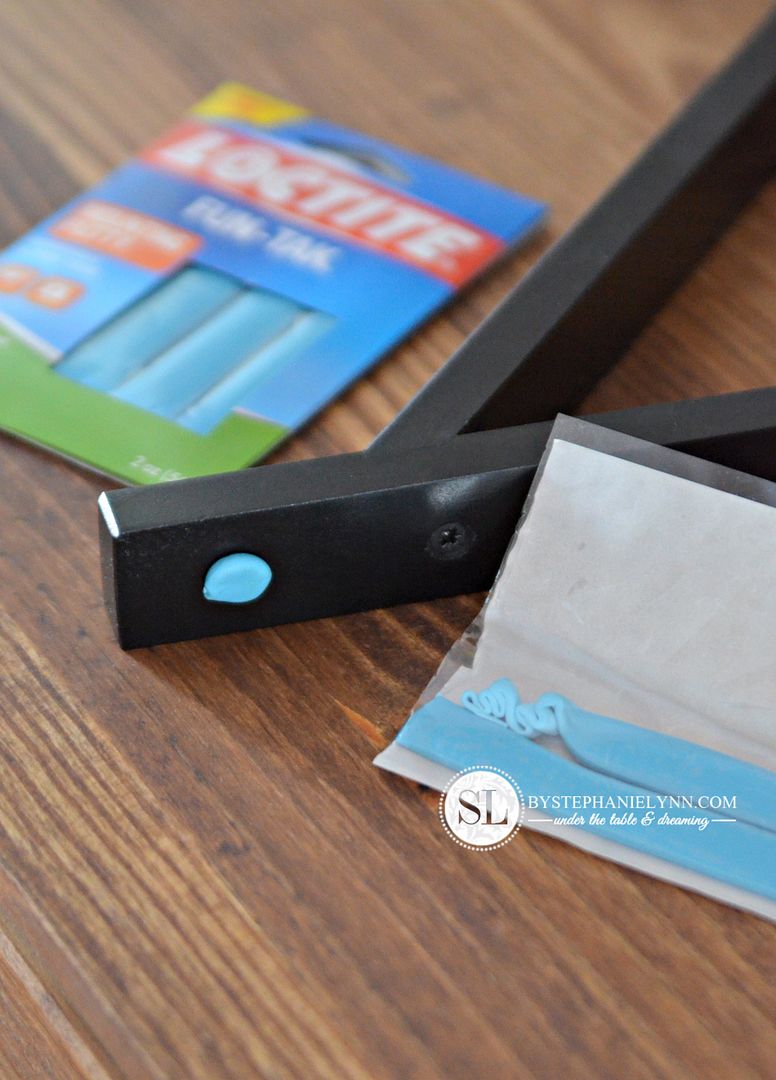 Instead of permanently screwing them into the wooden shelves I decided to use mounting putty. I have had so much success with Loctite Fun-Tak on multiple applications – like the Wooden Alphabet Wall Art in the school room – it holds, and lasts, wonderfully – not one letter has fallen in two years!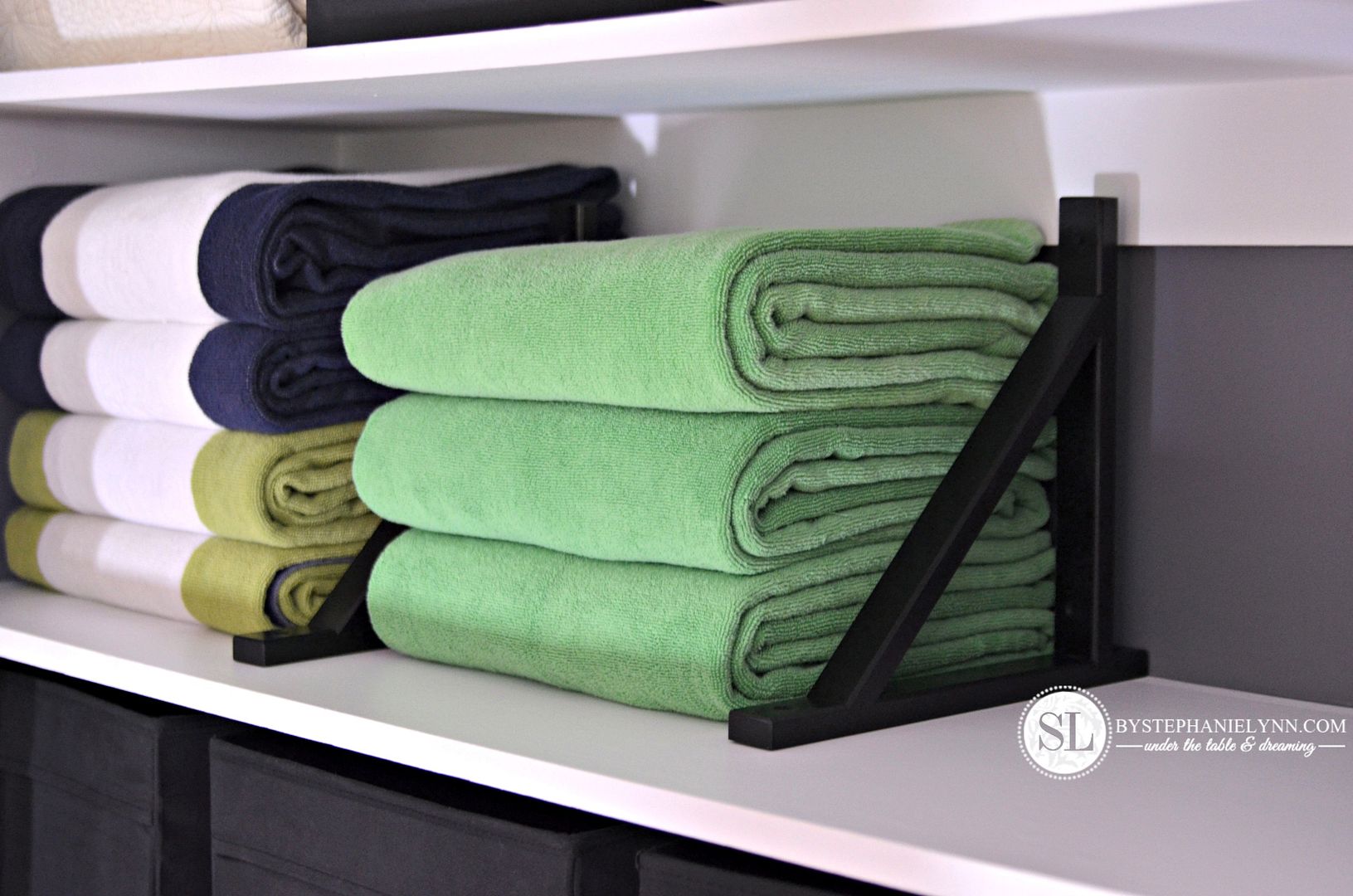 The dividers were used on two of the shelves and when in place – not only look organized but help corral the stacks of towels and quilts.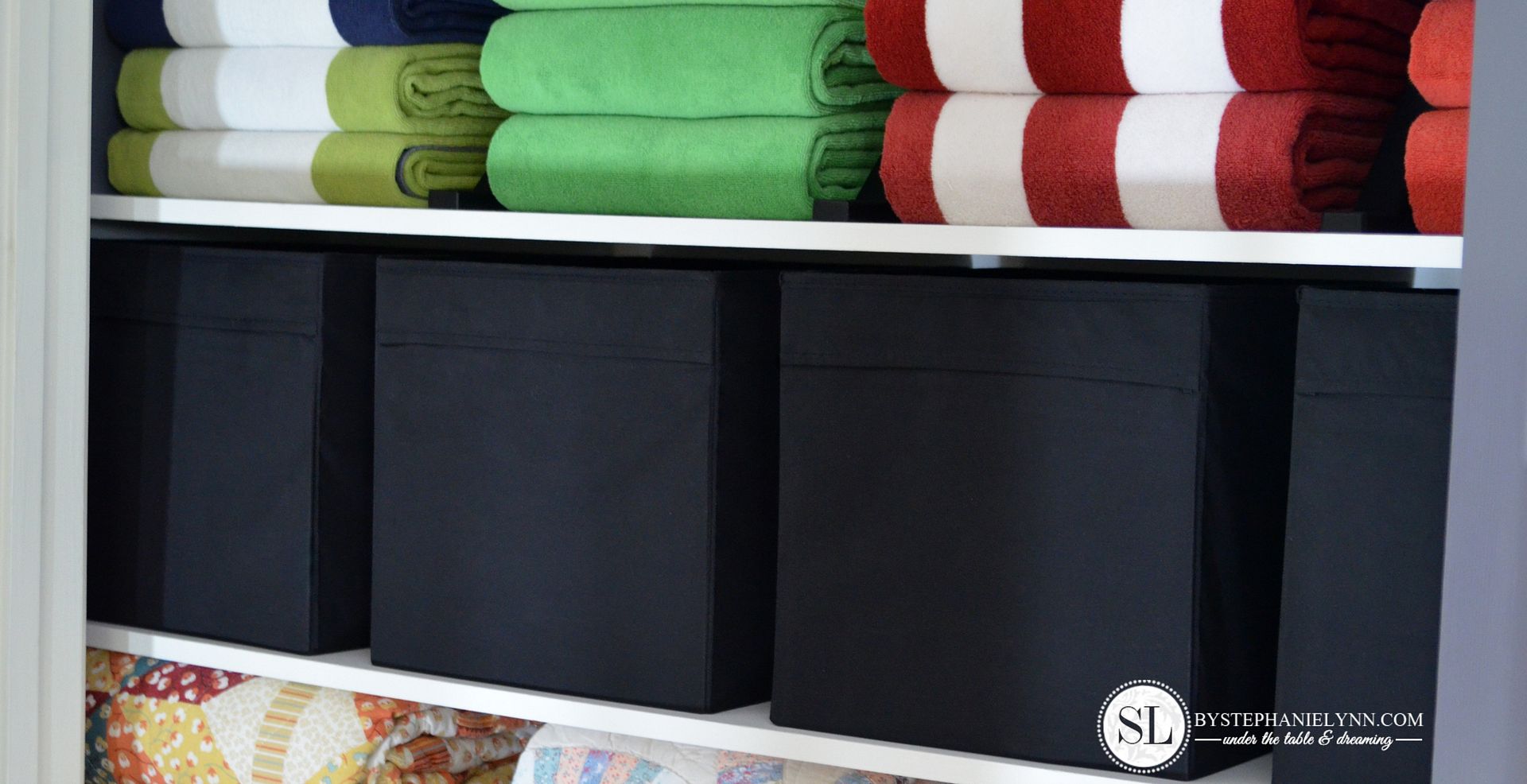 Storage Bins: As much as I admire the beauty of a nicely stacked set of sheets I have to admit, our fitted sheets usually get rolled-up into a ball-like shape. I do fold the flats though – It's my (not so secret) secret.
I decided to line one whole shelf with storage bins help organize such things and keep them pleasing to the eye.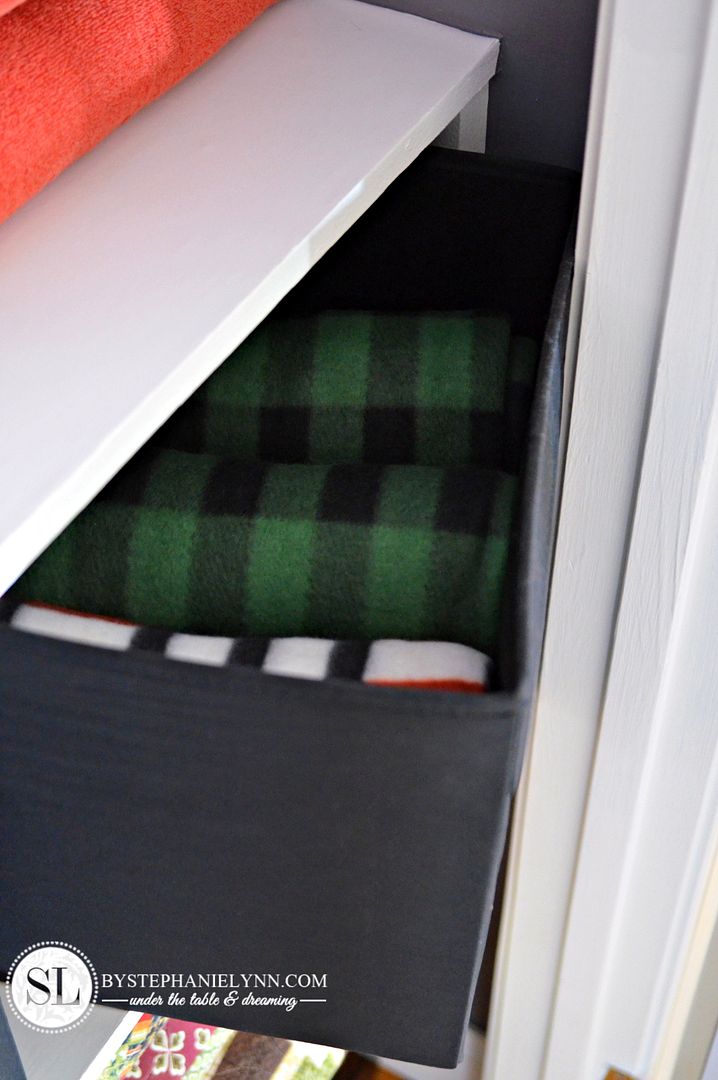 The four bins separate and organize our king sheets, queen sheets, pillowcases, and throw blankets.
I also picked up an extra bin to hold the Home Emergency Kit stored in the closet, for this level of our home.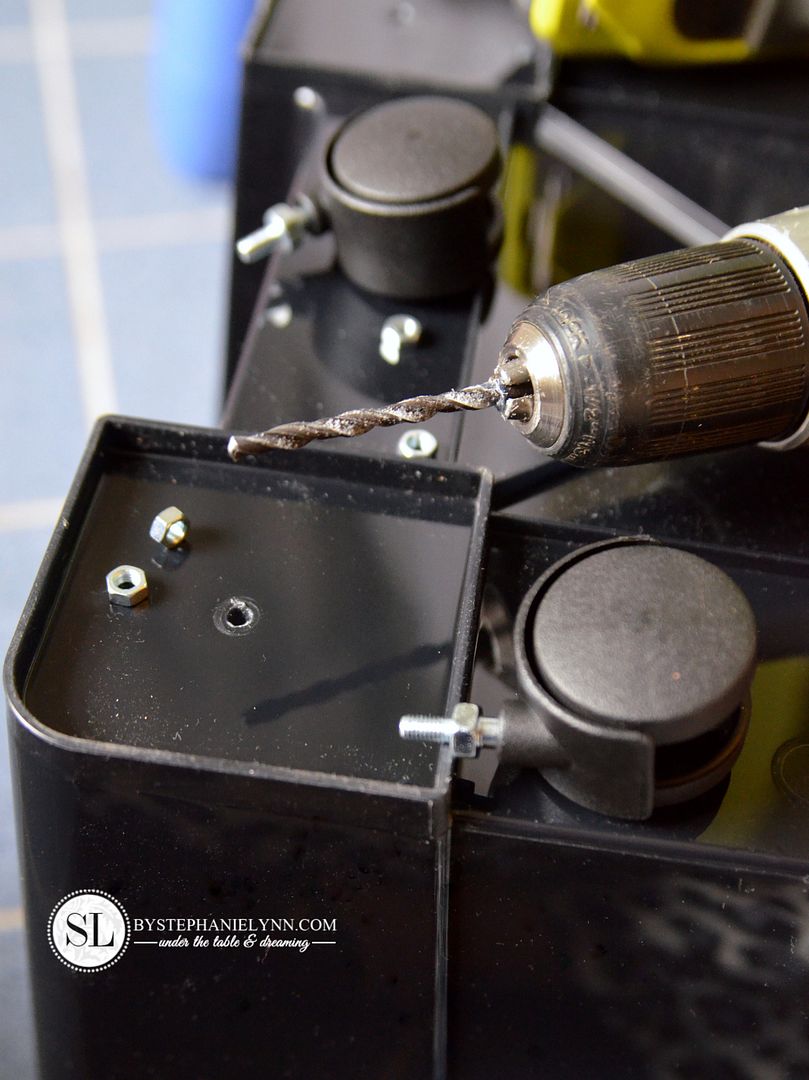 Rolling Storage Totes: To utilize the floor space in the closet I created two rolling storage containers with a few simple supplies from True Value.
First, a hand drill was used to drill four holes into the bottom of a plastic storage container, one in each corner.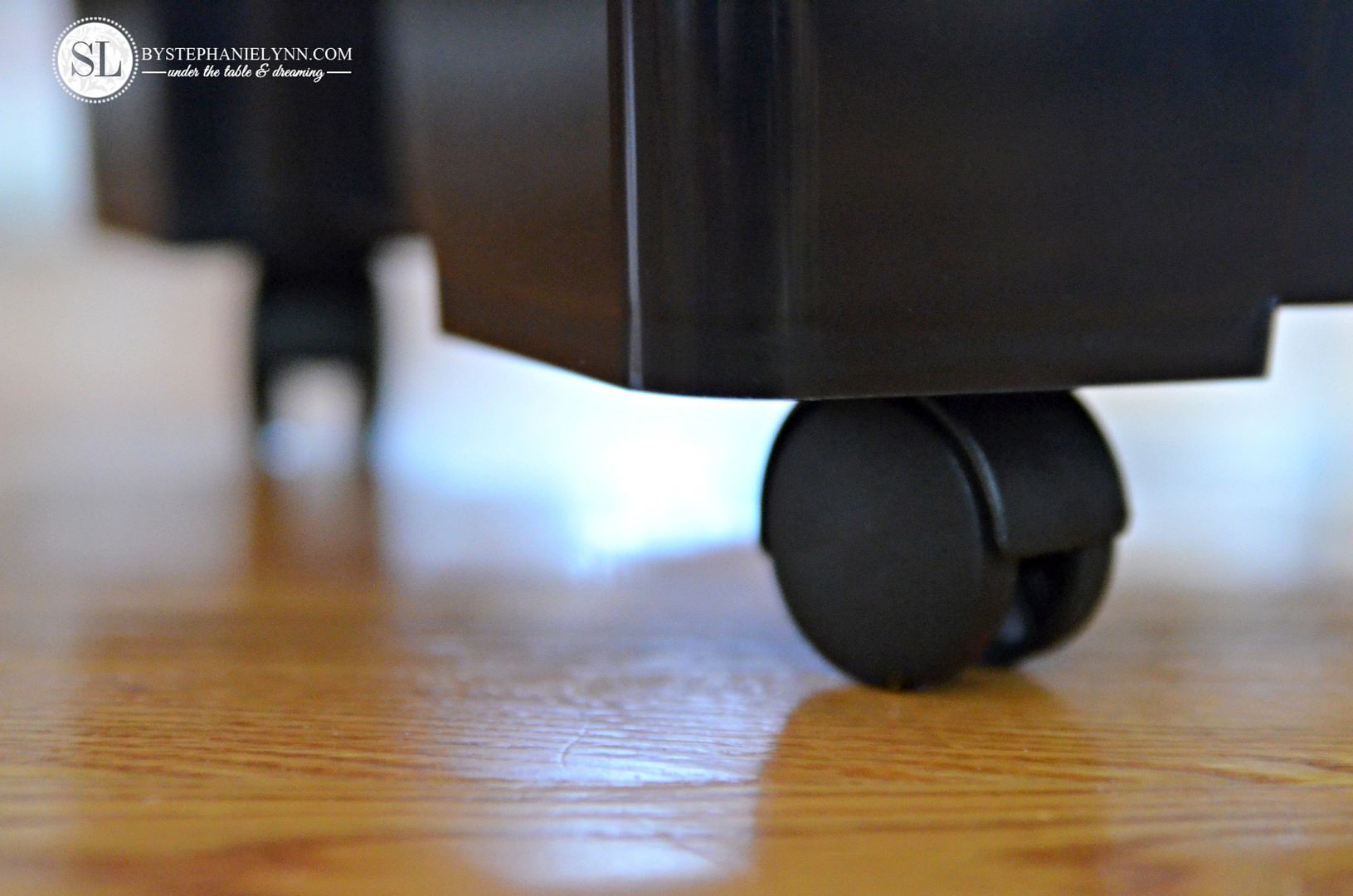 Then four plastic casters were inserted into each hole and secured with nuts.
Quick, easy and sturdy – even though ours will only be holding our extra supply of paper towels and toilet paper.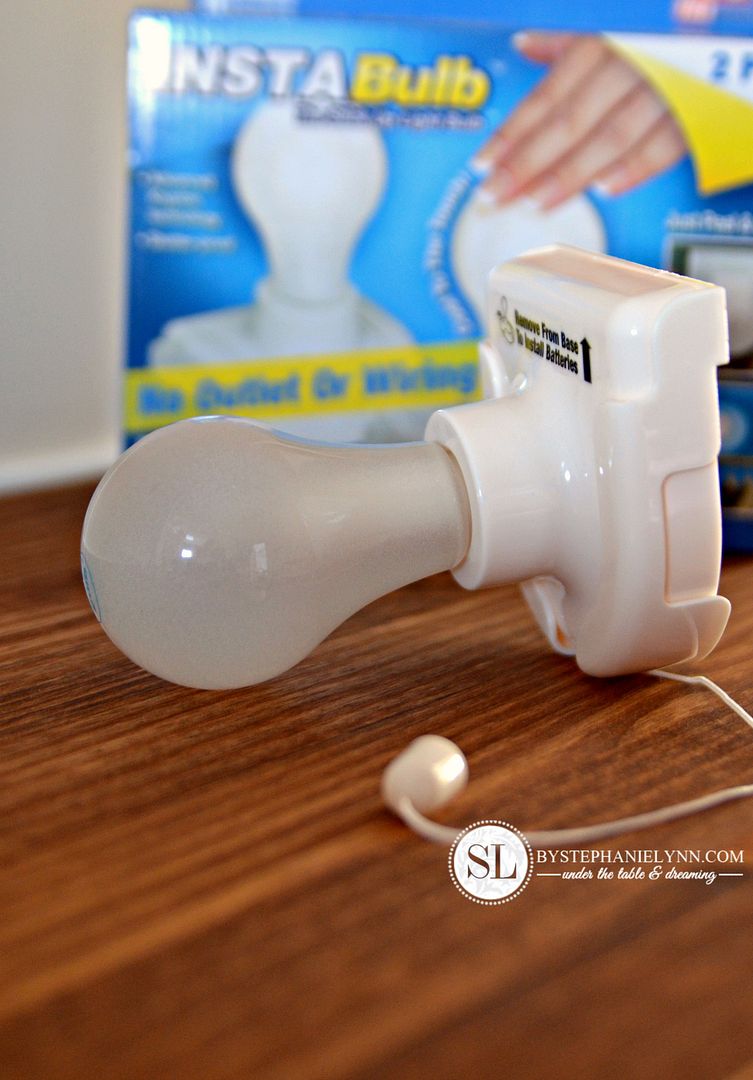 Closet Light: No wiring…just peel and stick – seriously that easy. One of those 'as seen on tv' products I grabbed on impulse and thought what the heck – turns out I'm a big fan.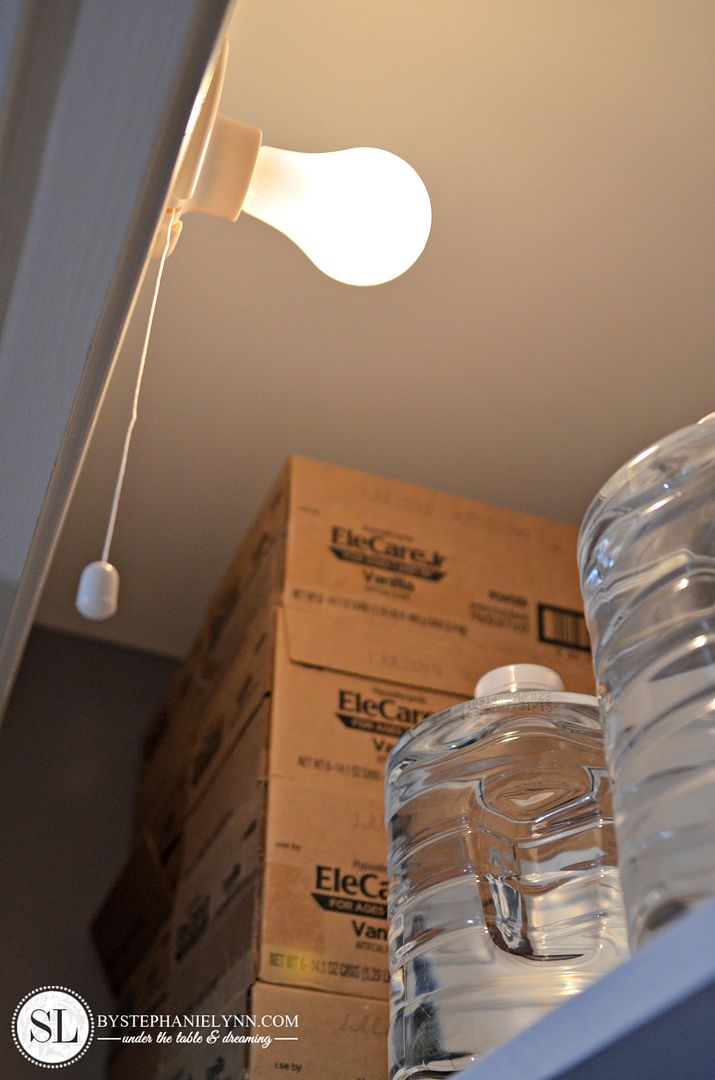 See the little pull cord? The InstaBulb is made of a durable shatterproof plastic and is battery operated. The perfect addition to add a little light to a tall closet without any electric.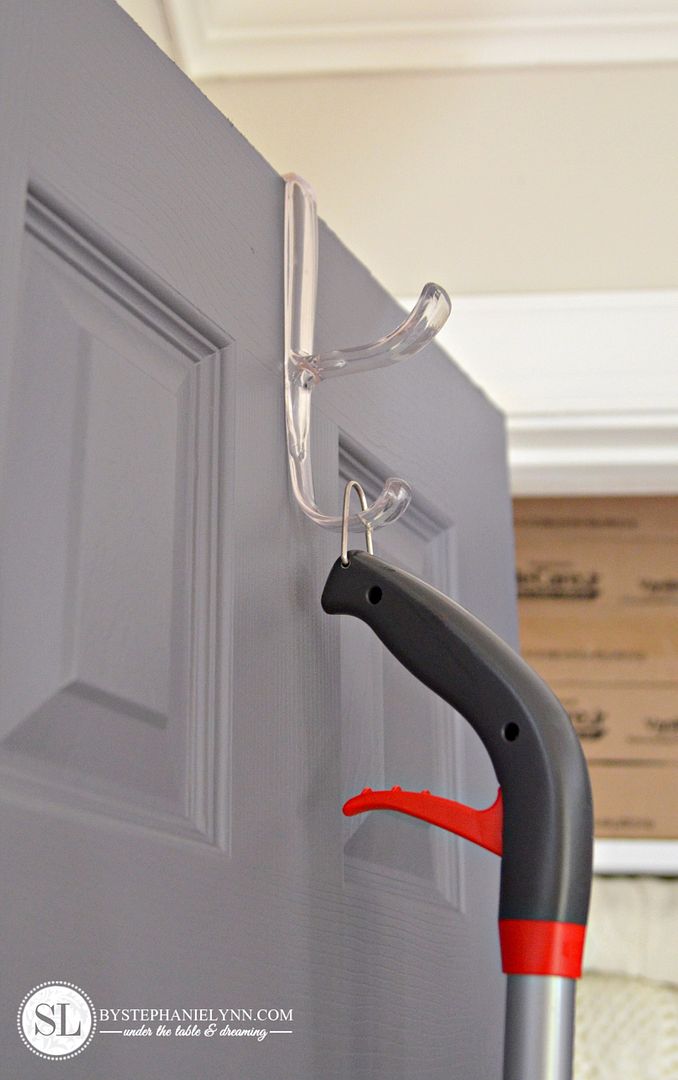 Door Hooks:  Just another additional storage option utilizing typical unused space. I've tried a few different products in the past but still go back to the over the door hooks for anything with some weight to it.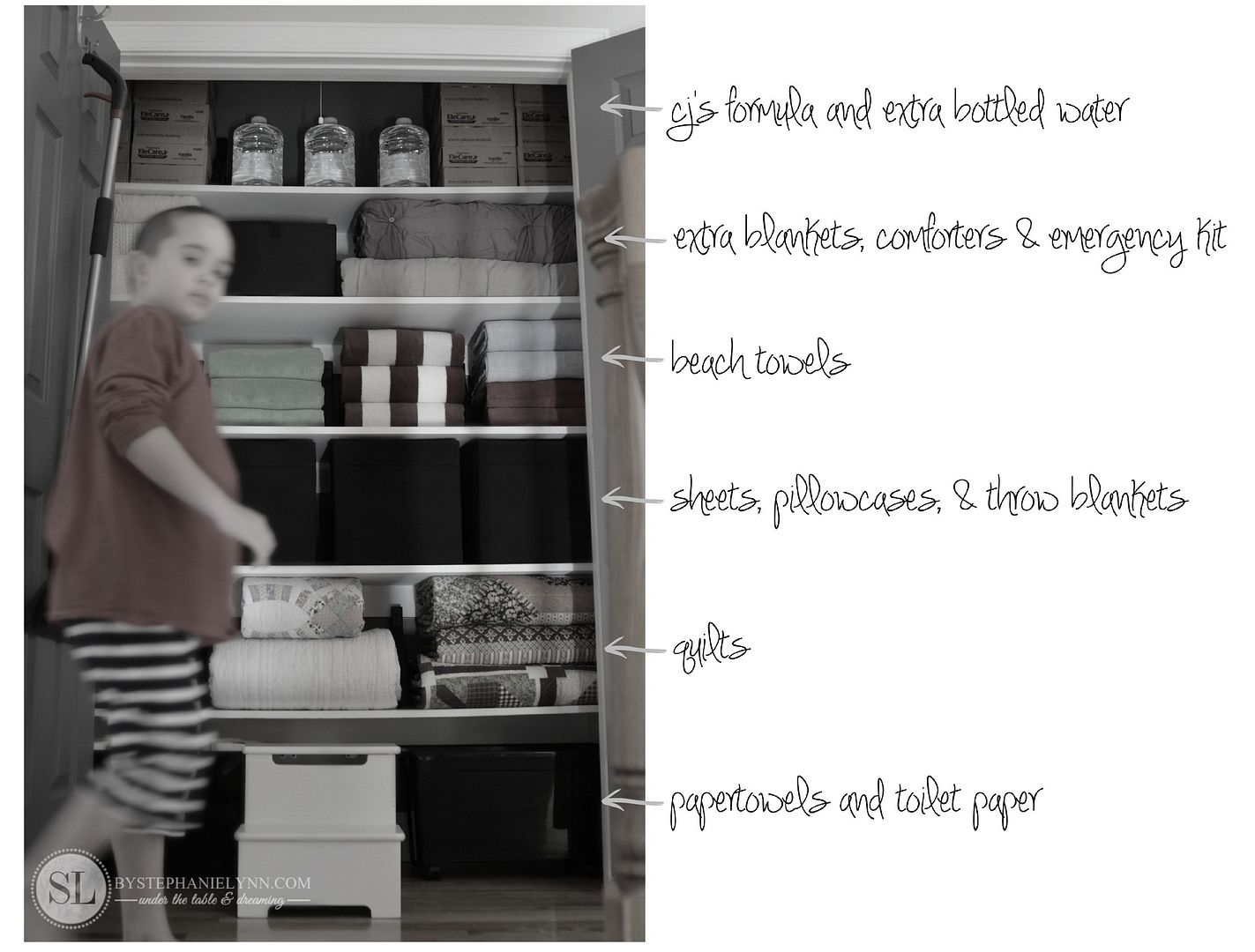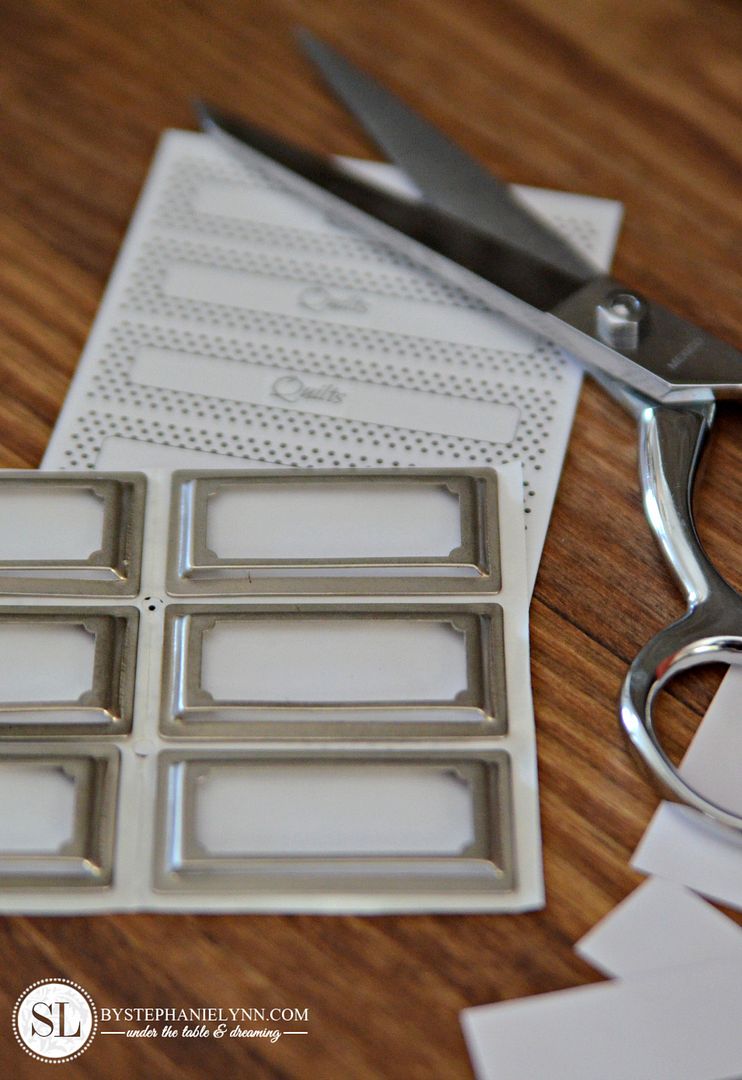 The last thing on the list was a few pretty labels. Mainly for decoration – though perfect for guiding Butch in the right direction when he needs to find something on his own….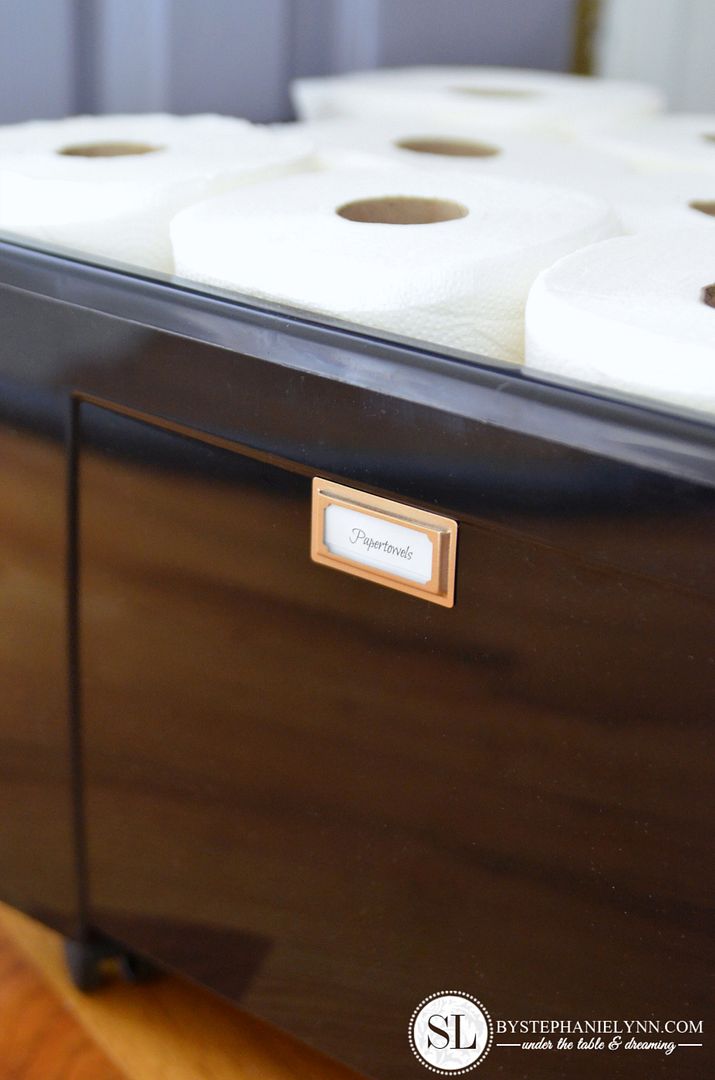 The metal bookplate labels are from avery and they just peel and stick. I gave them a coat of my favorite gold metallic spray paint.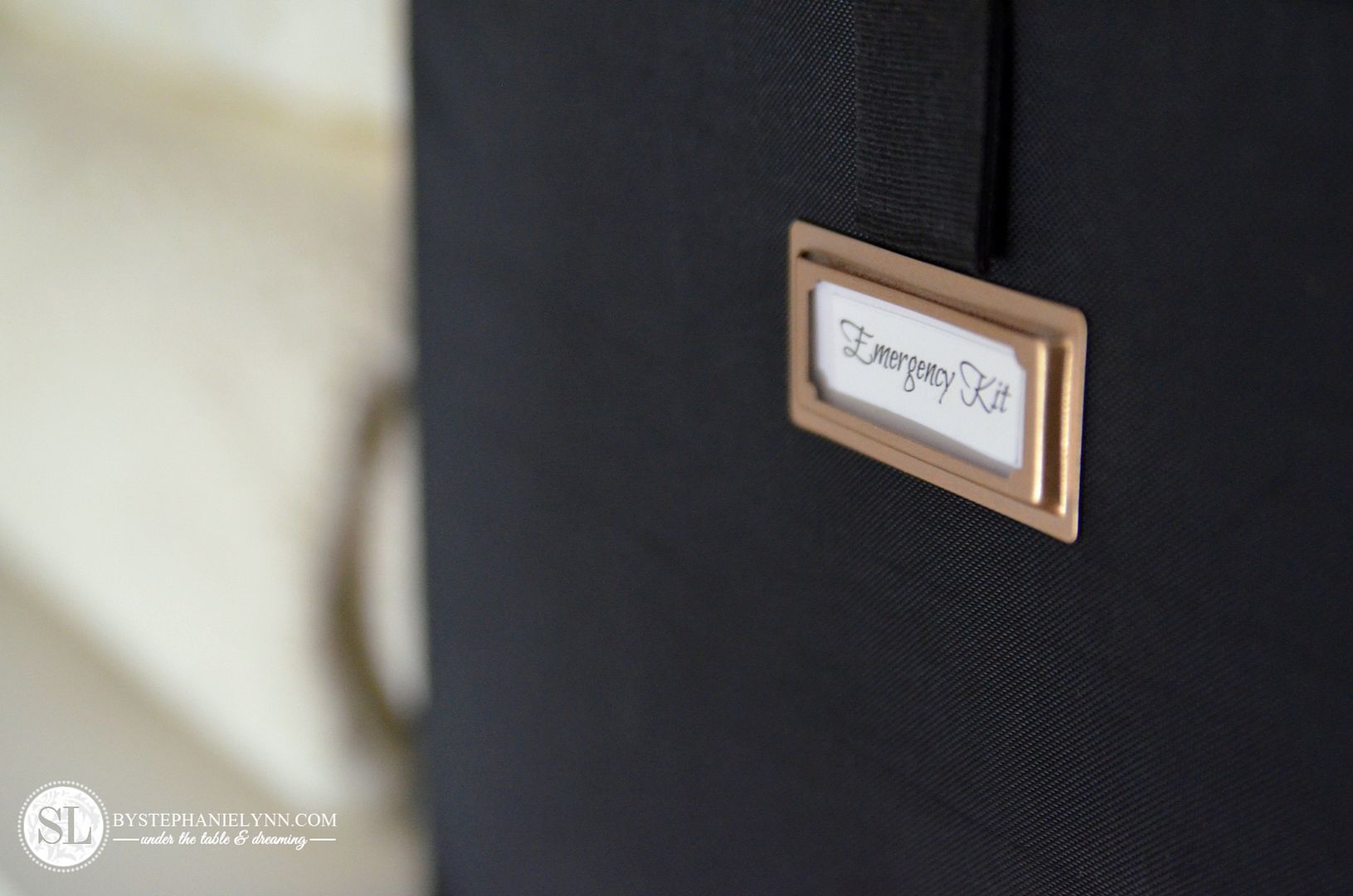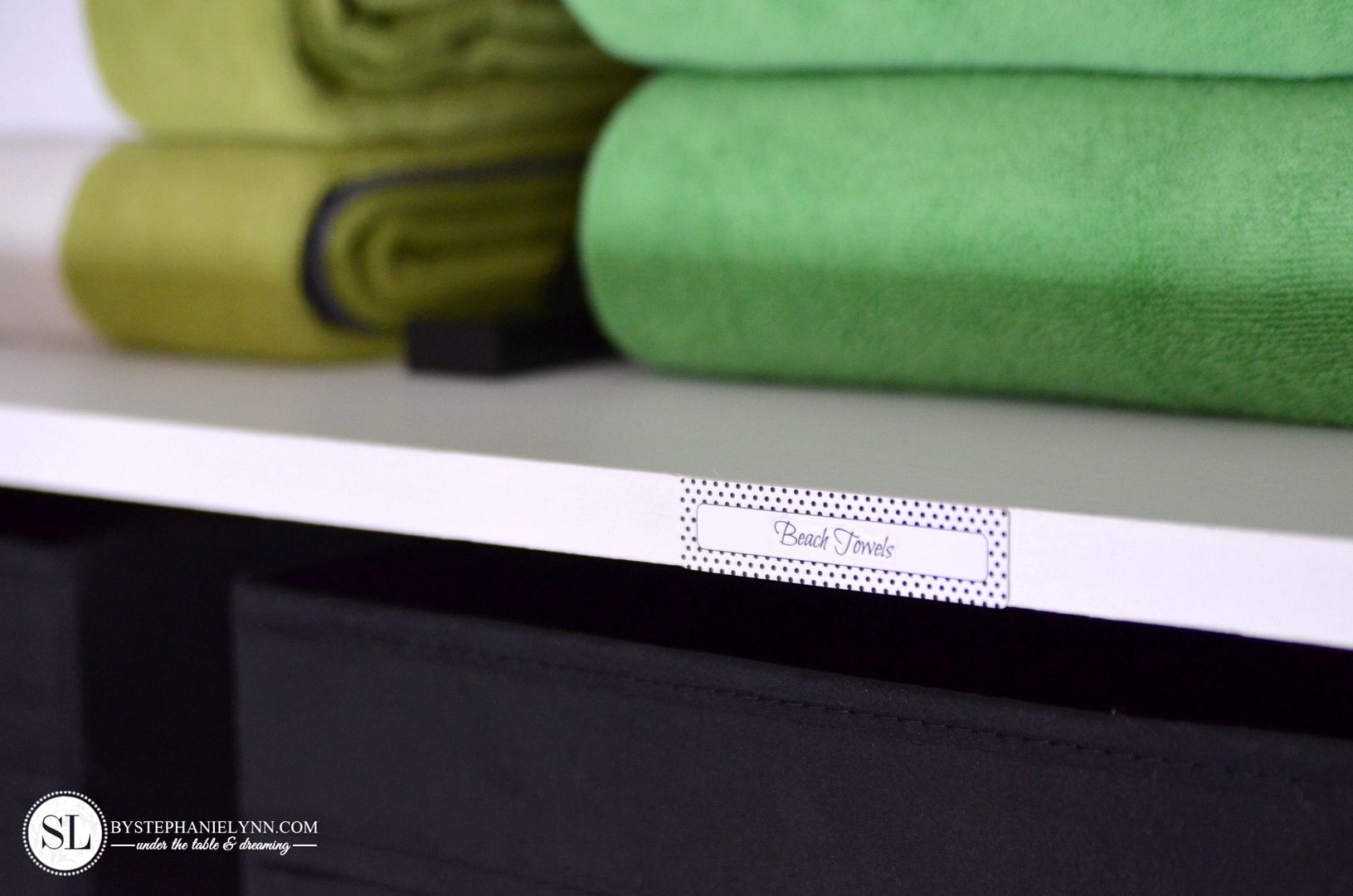 And I found some decorative adhesive labels the same size as the shelf boards – for the 'shelf labels'.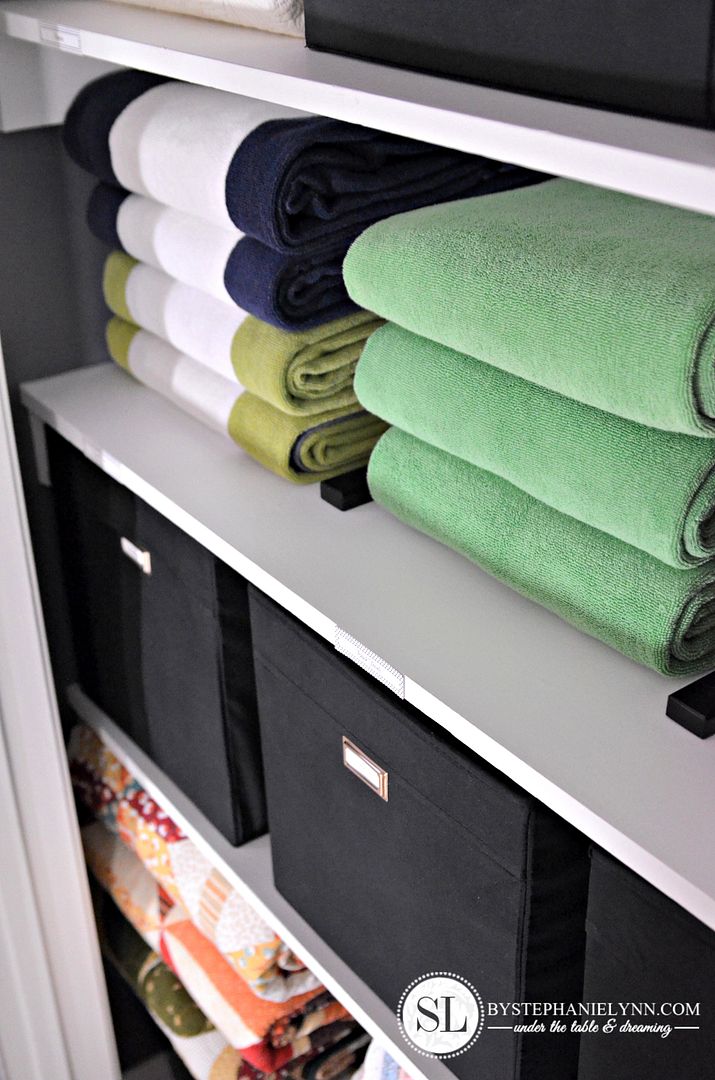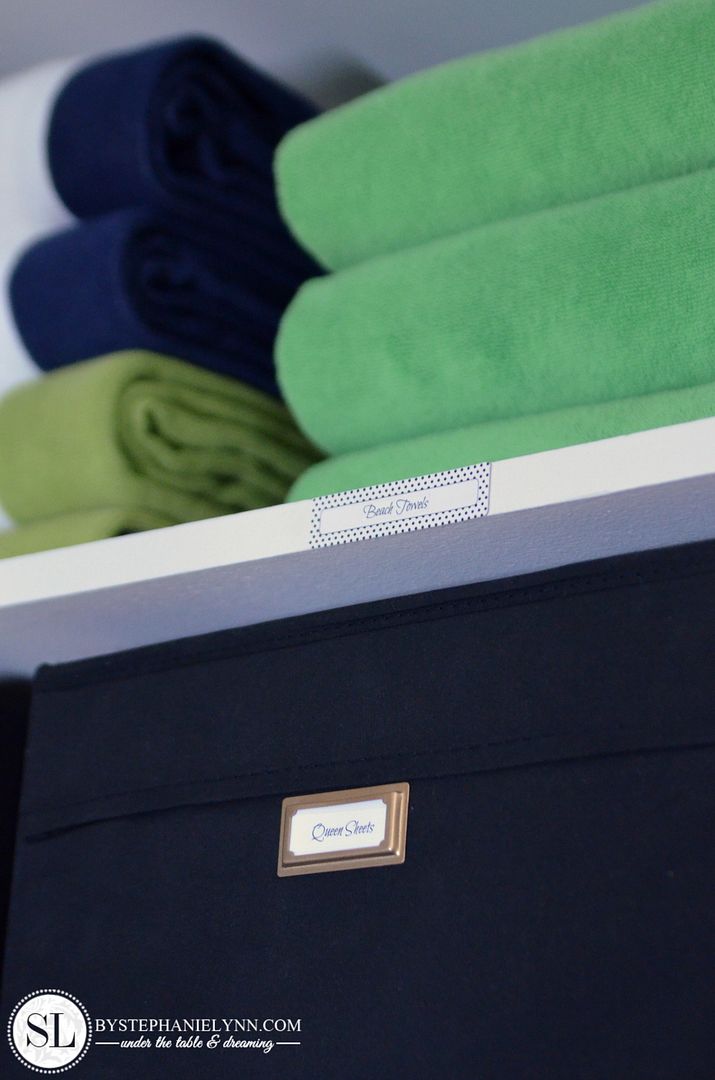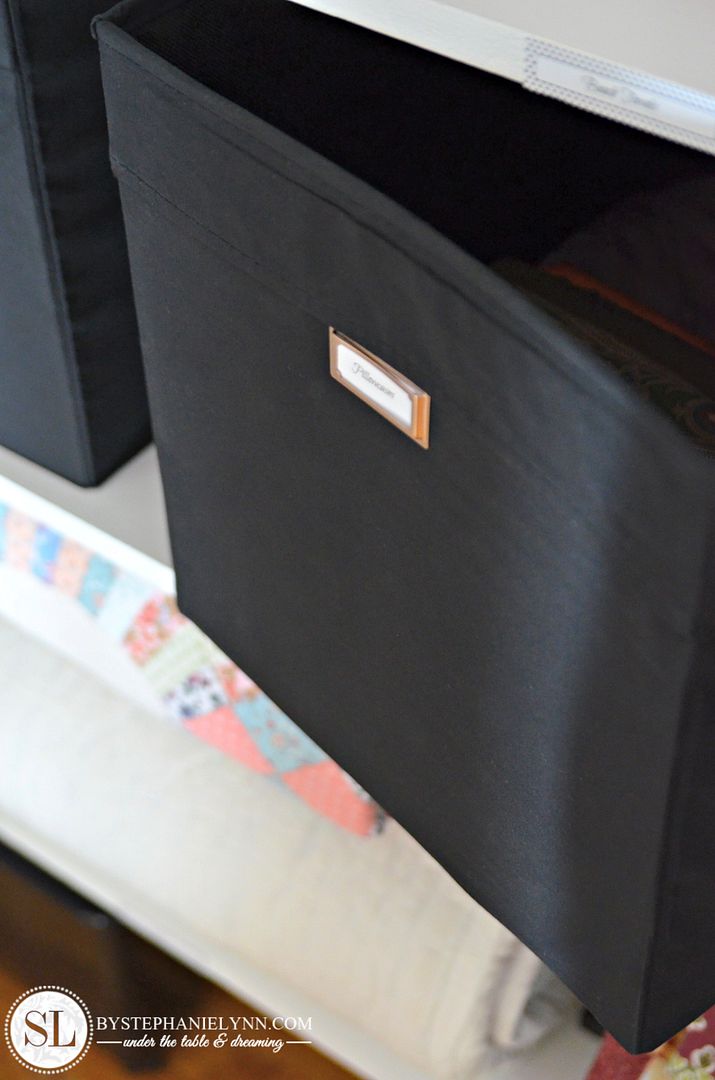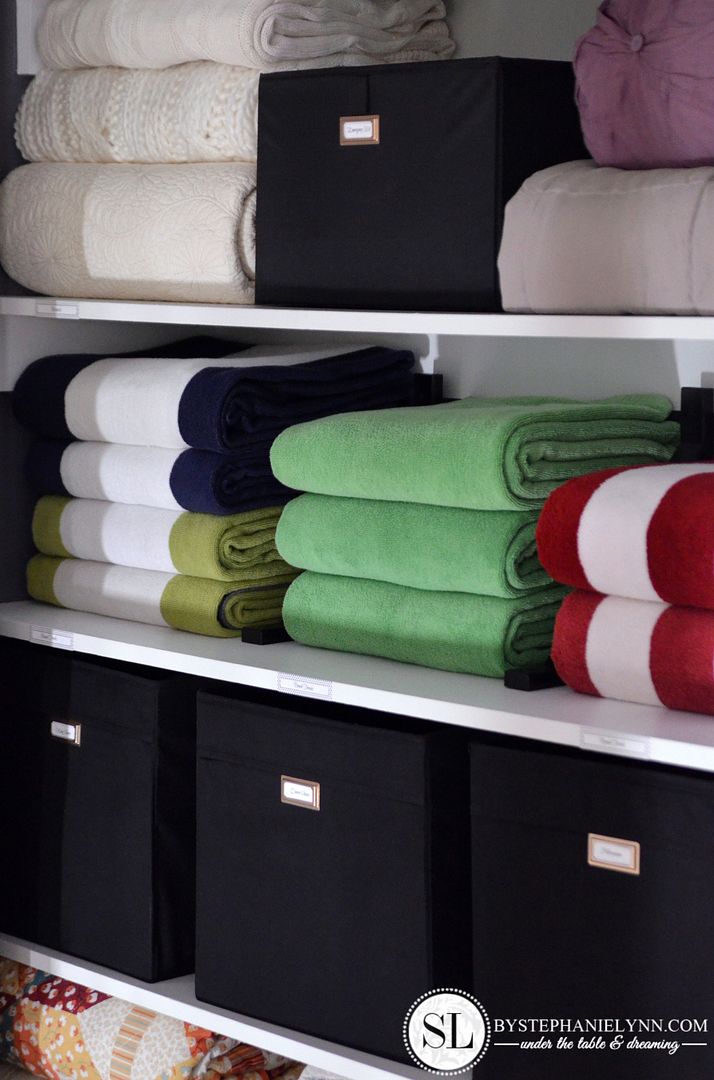 Now the closet has a purpose and everything that needed a home has a place.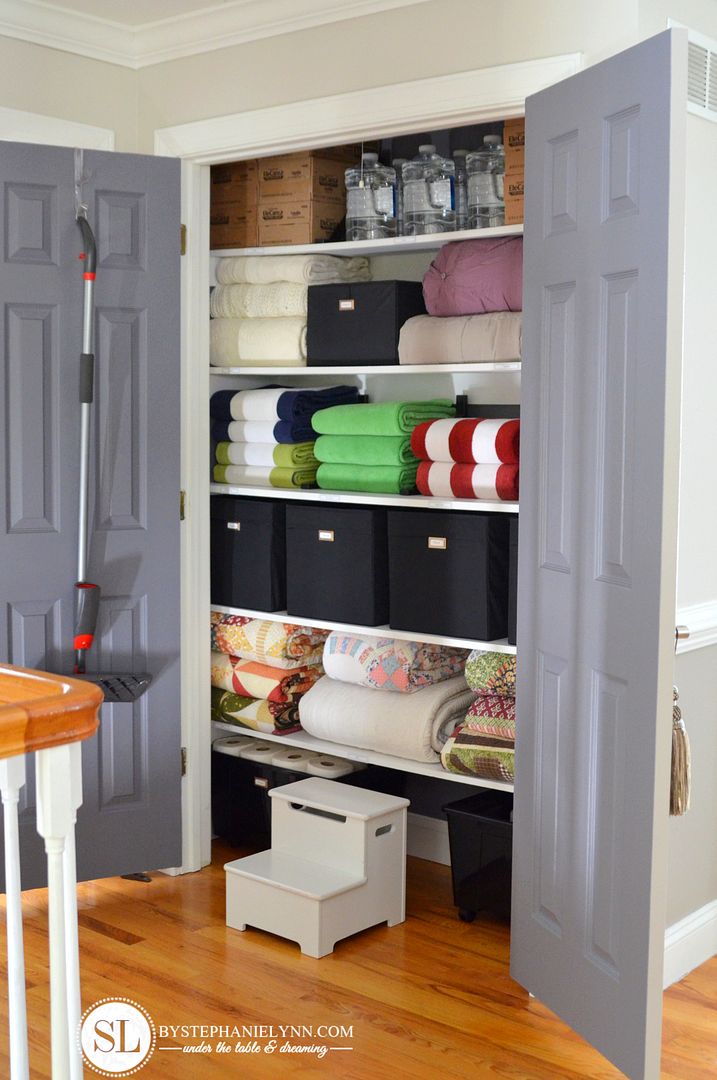 Plus I don't have to worry if a guest accidentally opens either one of these closed doors.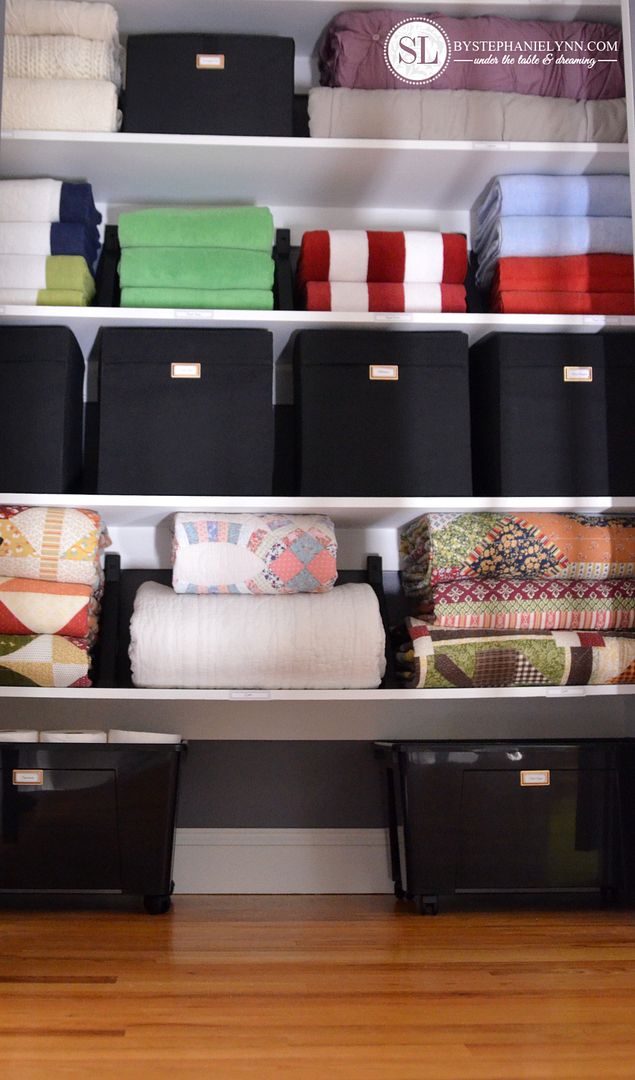 I was one of the bloggers selected by True Value to work on the DIY Squad. I have been compensated for my time commitment to the program as well as writing about my experience. I have also been compensated for the materials needed for my DIY project. However, the opinions read here are entirely my own and I have not been paid to publish positive comments.