Textured Wall Art – sensory tactile wall panel | We have been spending quite a bit of time in CJ's indoor playroom these past couple of months as the frigid weather has kept us indoors a little bit more than usual for this time of year. While the room is pretty much complete there are a few items on the list that I would still like to incorporate.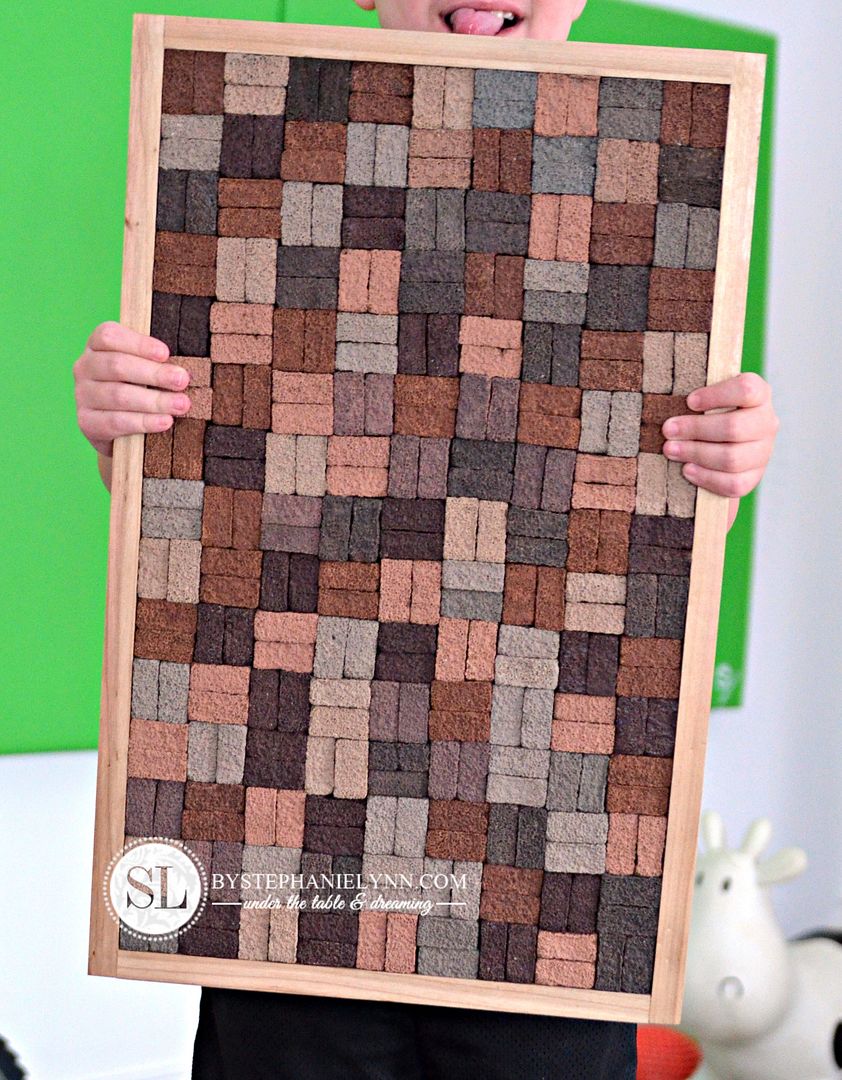 I've been pretty selective about the wall art for this particular space – mainly for safety reasons. A lot of craziness goes on in this room at times. There have been some sensory wall panels though, that I thought would be a great addition to one corner the room
– to help with some sensory processing issues.
To divert some of our cabin fever I enlisted the help of my little guy to create a panel of our own. There are so many other textures I would love to tackle now.
While we made this particular piece for CJ's sensory playroom I think it turned out to be a pretty unique looking piece of art. An easy and inexpensive piece of wall art for any space in the house
– that can be adapted to any size with so many possible color combinations.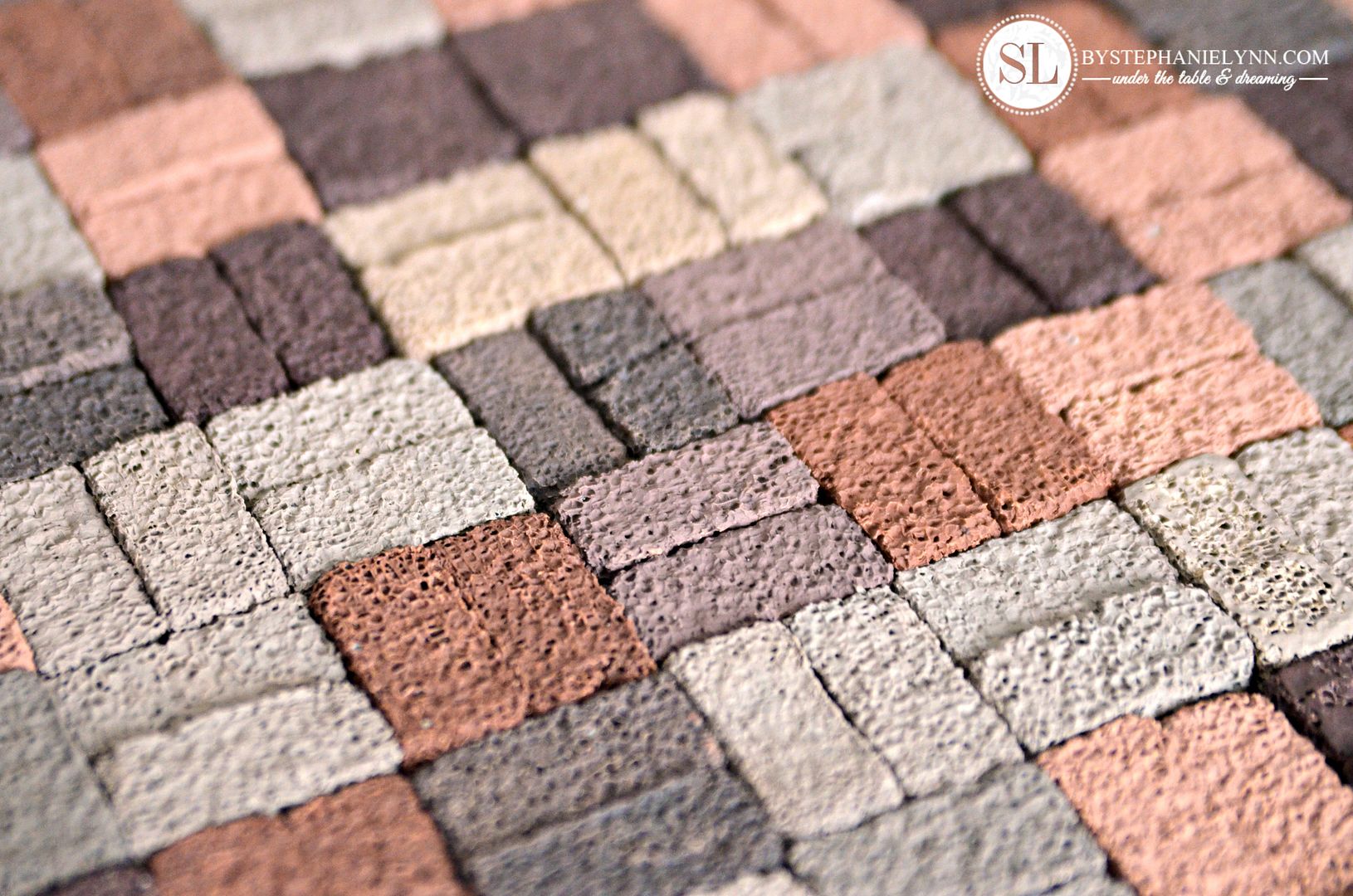 Materials Needed:
FloraCraft® Make It: Fun® Project Bricks
Acrylic Paints
Sealable Plastic Bags
Wax Paper
Plywood
1 inch Square Dowels
Additional Tools Needed: Hand Saw or Chop Saw and Circular Saw.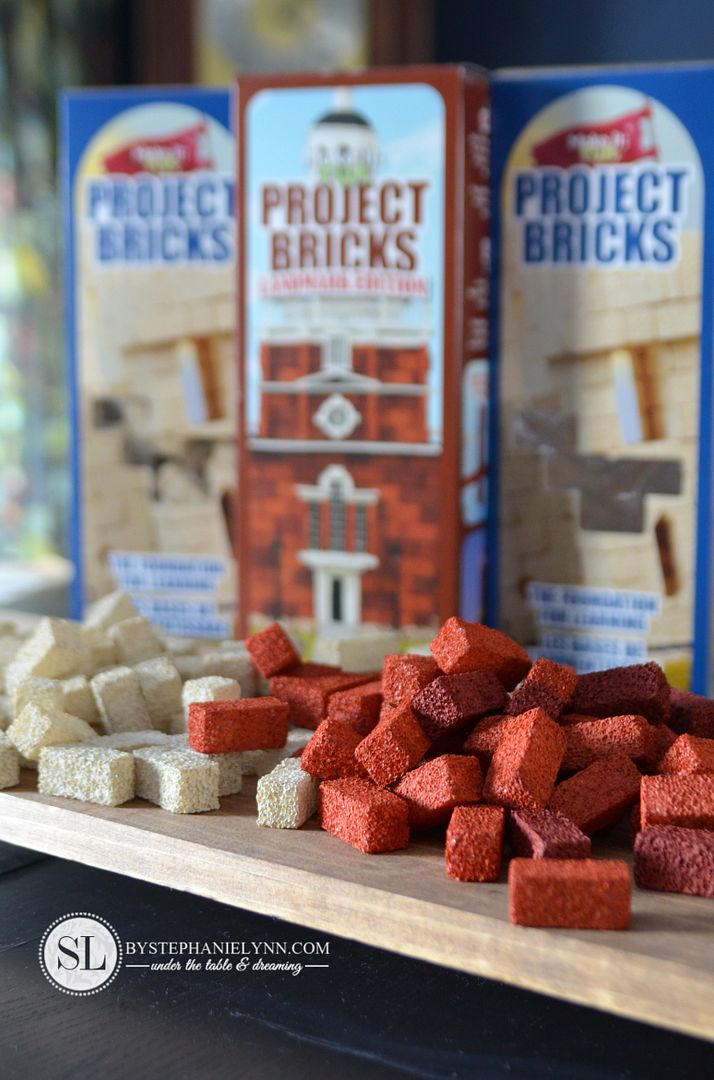 The inspiration for the sensory wall art came as soon as we opened the project bricks – CJ couldn't help but want to touch and feel the different textures of each foam block. By getting him involved in the project we also worked on fine motor skills and problem solving too.
The project bricks – perfect for all of those school projects – come pre-painted in three different colors – Sand
 (used in this project), Landmark Edition Red
, and Monument Edition White.
Note: before we began the frame was laid out to determine exactly how many project bricks were needed. Instructions for the frame can be found in step four below.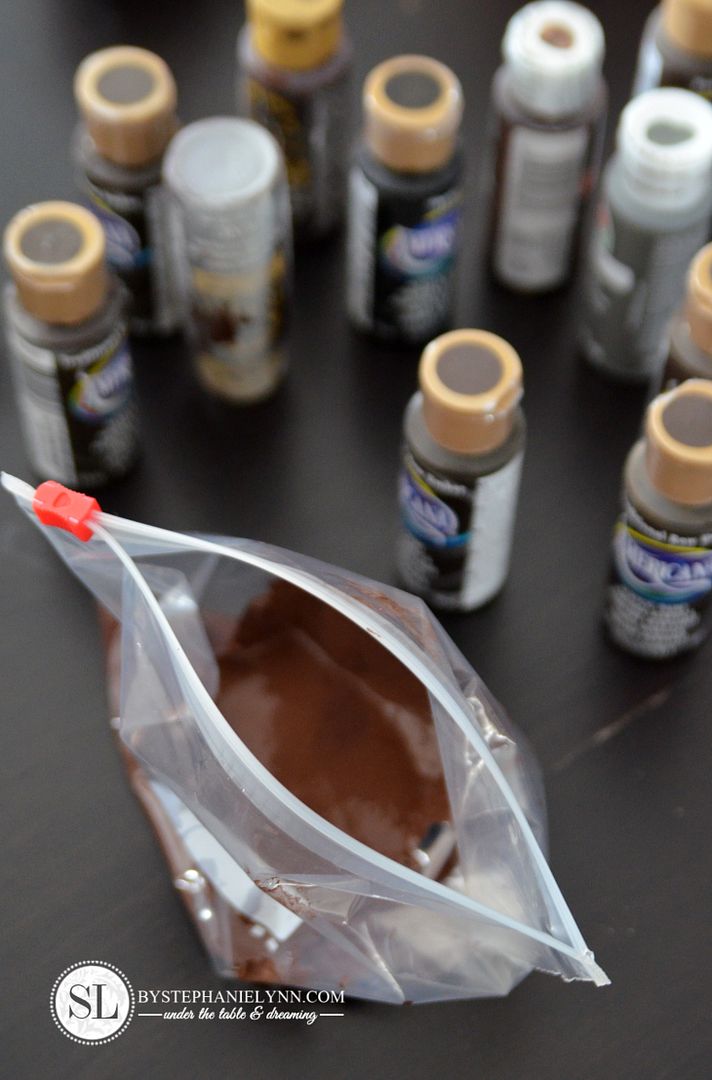 Step One: Fill a sealable plastic baggie with acrylic paint.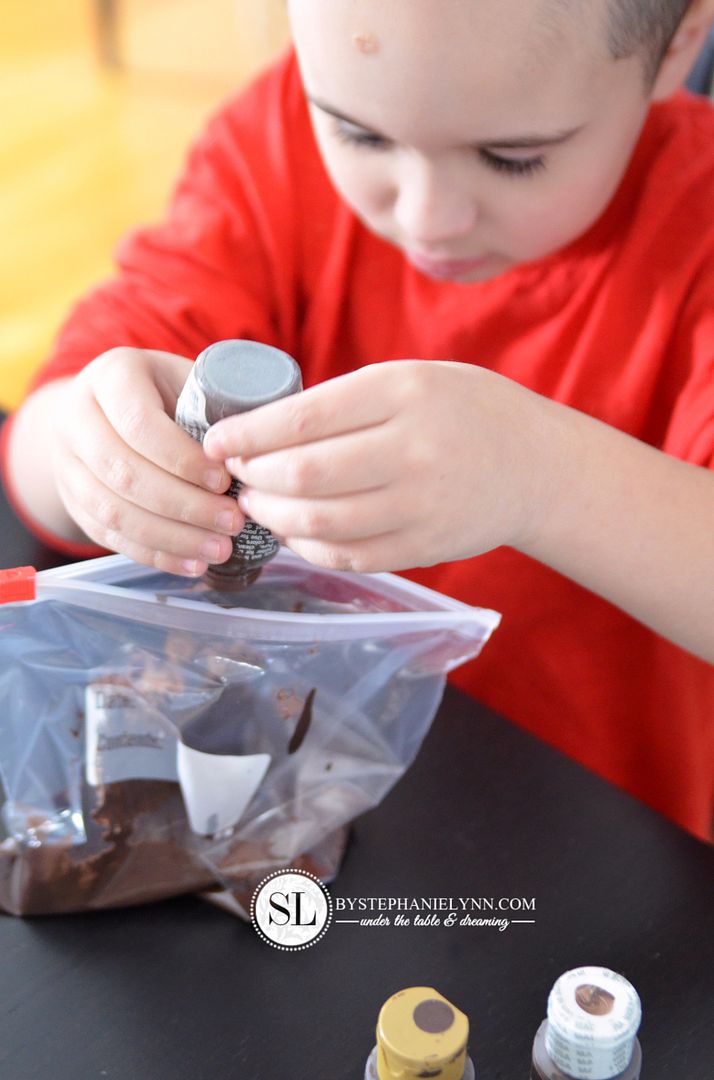 Since I wanted to keep my little guy involved with the creative process I came up with what turned out to be a very easy way to paint small pieces of foam.
The smaller sized pieces and rough porous surface of the STYROFOAM™ brand foam can be challenging for tiny hands to throughly cover with paint. While this method uses quite a bit of paint – it was a perfect way to use up some of the 'near empty' bottles in our supply.
When working with STYROFOAM™ brand foam any water based craft paint can be used. We simply raided our acrylic paint bin and used a variety of natural browns for our textured wall art color palette to keep things a bit neutral – not to compete with all of the other bright colors in the room.
The acrylic paints were simply poured into a sealable plastic bag.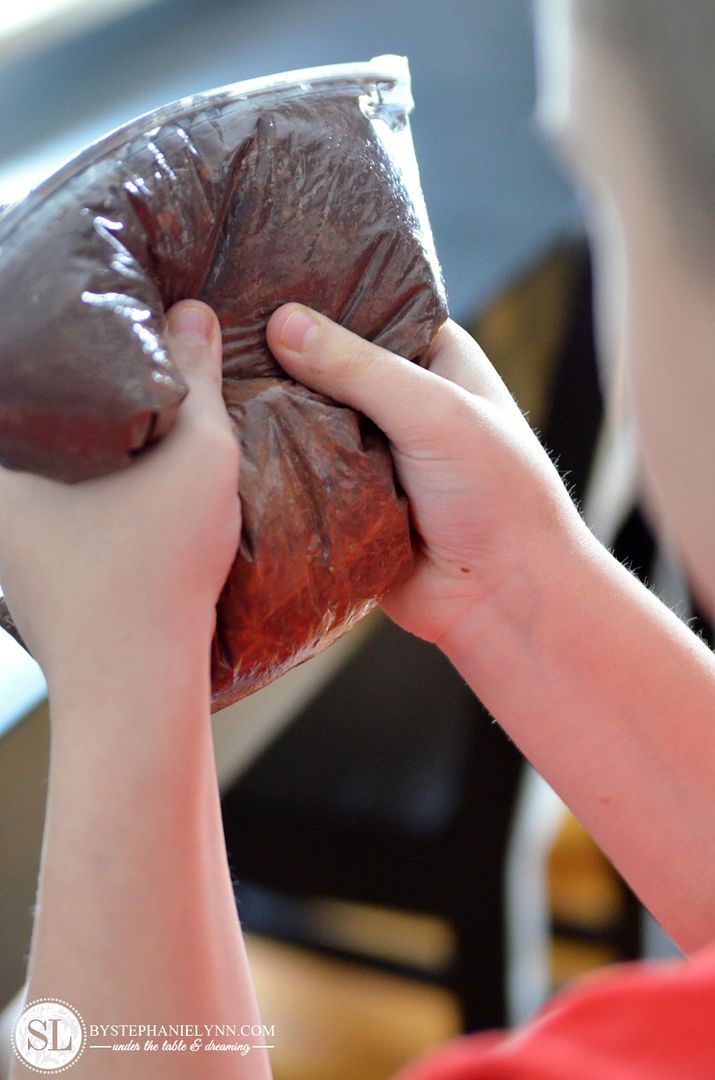 Step Two: Place a few of the foam bricks into the plastic bag, seal and toss around to coat them with paint.
This part was a sensory project all in itself for CJ – without the mess – which typically deters him away from activities like this.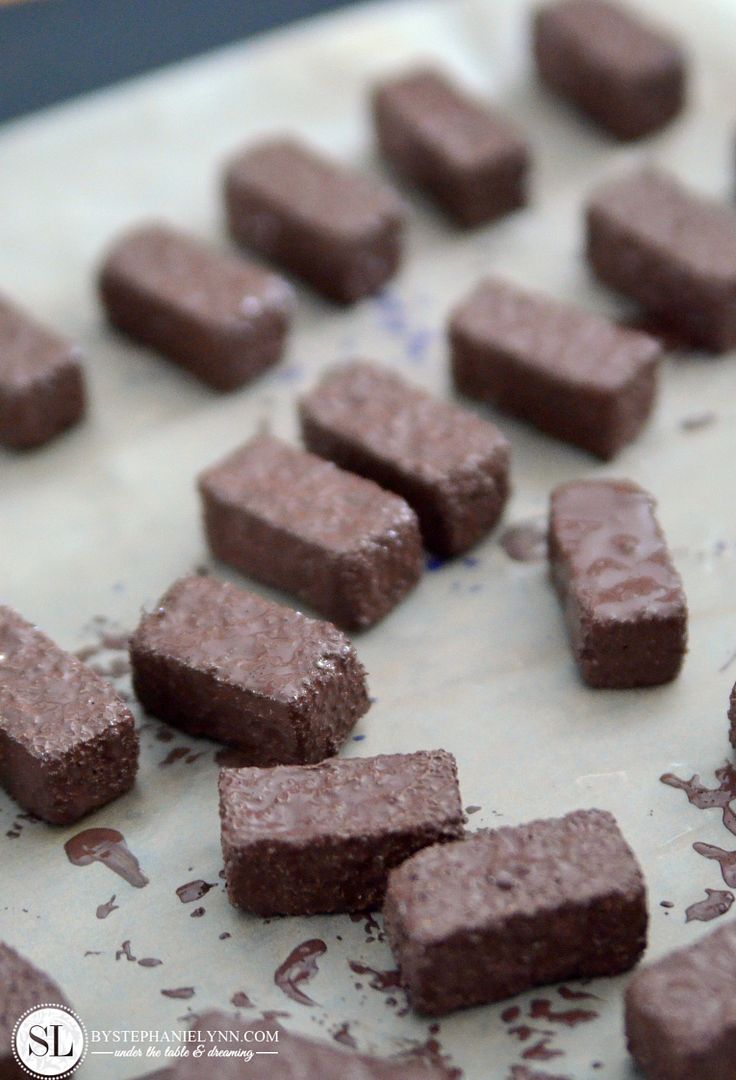 Step Three: Place the paint covered bricks on a sheet of wax paper to dry.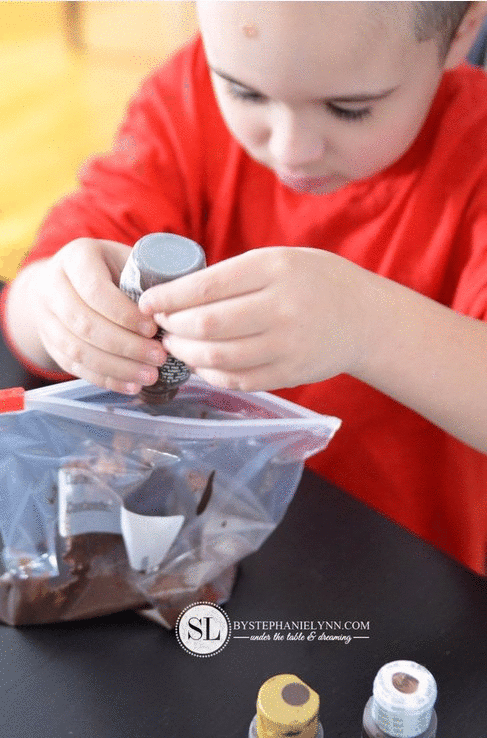 We kept repeating this process using the same plastic bag – until all of our blocks were painted. When we ran out of paint we simply added another color to bag – making a new custom color. That way we didn't waste any paint and since the colors were in the same 'family' – it worked out perfectly.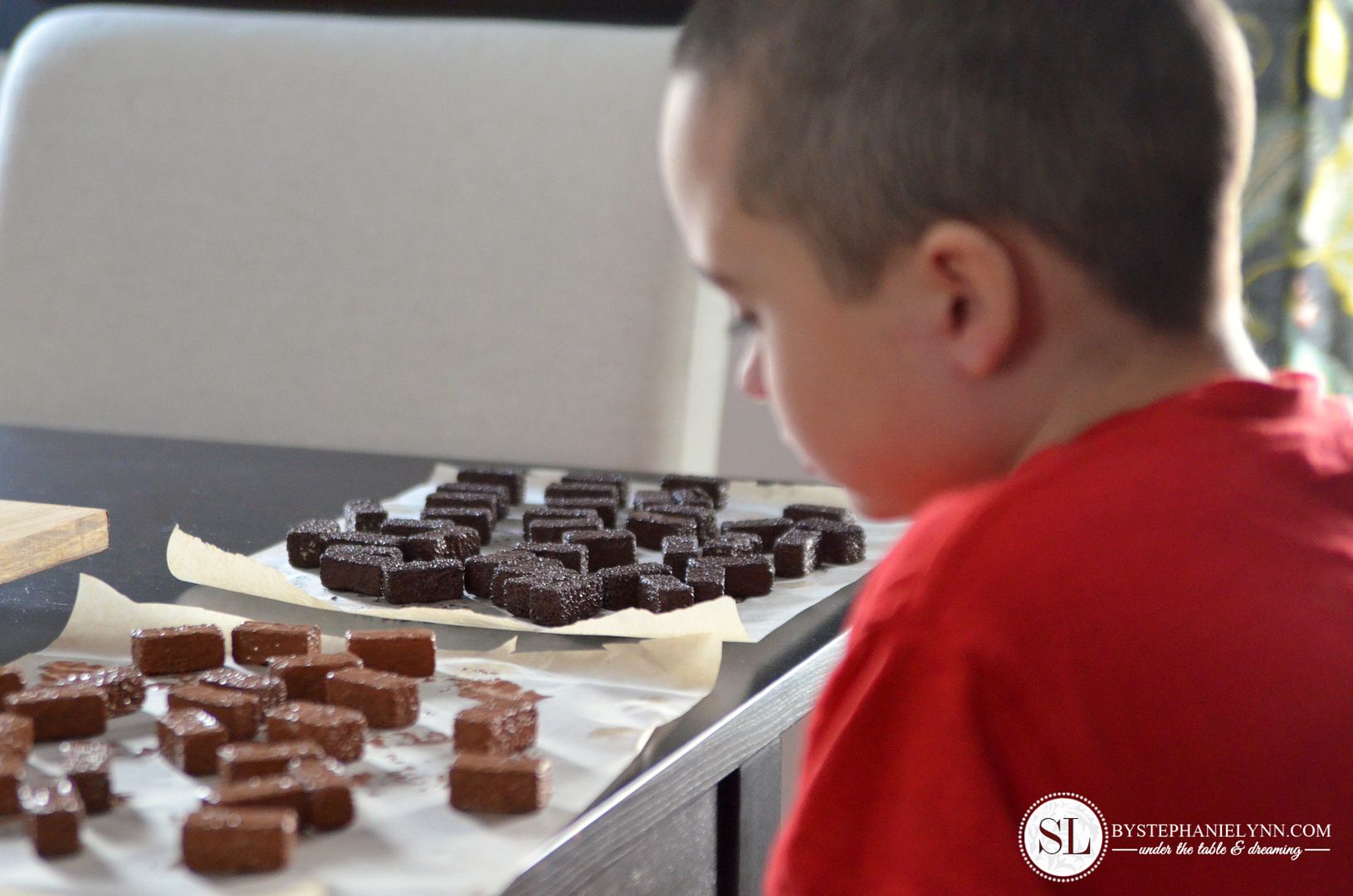 We let our bricks lay to dry overnight. The wax paper made it easy to 'peel' the bricks up without loosing any of the paint. Some of the bricks did need some additional dry time
once they were turned over.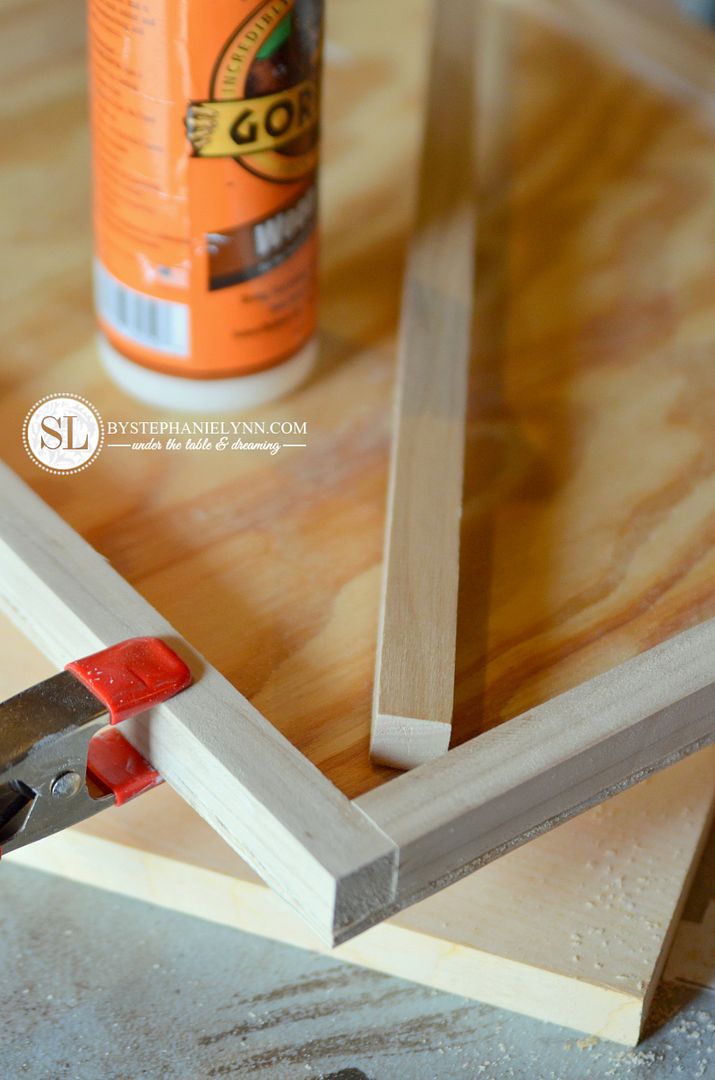 Step Four: Construct the frame.
Our finished framed measures 14 3/8 inches by 22 3/4 inches.  It was made by cutting a scrap piece of plywood to size. In our case the size was determined by two factors: First we determined how big we wanted the art piece on the wall then we tweaked that measurement just a tad so the brick pattern would fit perfectly both horizontally and vertically.
Once the plywood was cut the trim was attached. A one inch square dowel found at our local hardware store was used for the trim. It was sold in 3ft pieces so we purchased three pieces for this project and cut them to size. I didn't even worry about mitering corners – I just butted the trim pieces right up to each other as shown above. Wood glue was then applied (we love and stand by this one
) – then the trim pieces were clamped right on top of the plywood and left to dry overnight.
To finish the frame a coat of  classic oak polyshade
 was used  – the same stain we used on the indoor playroom climbing ladder.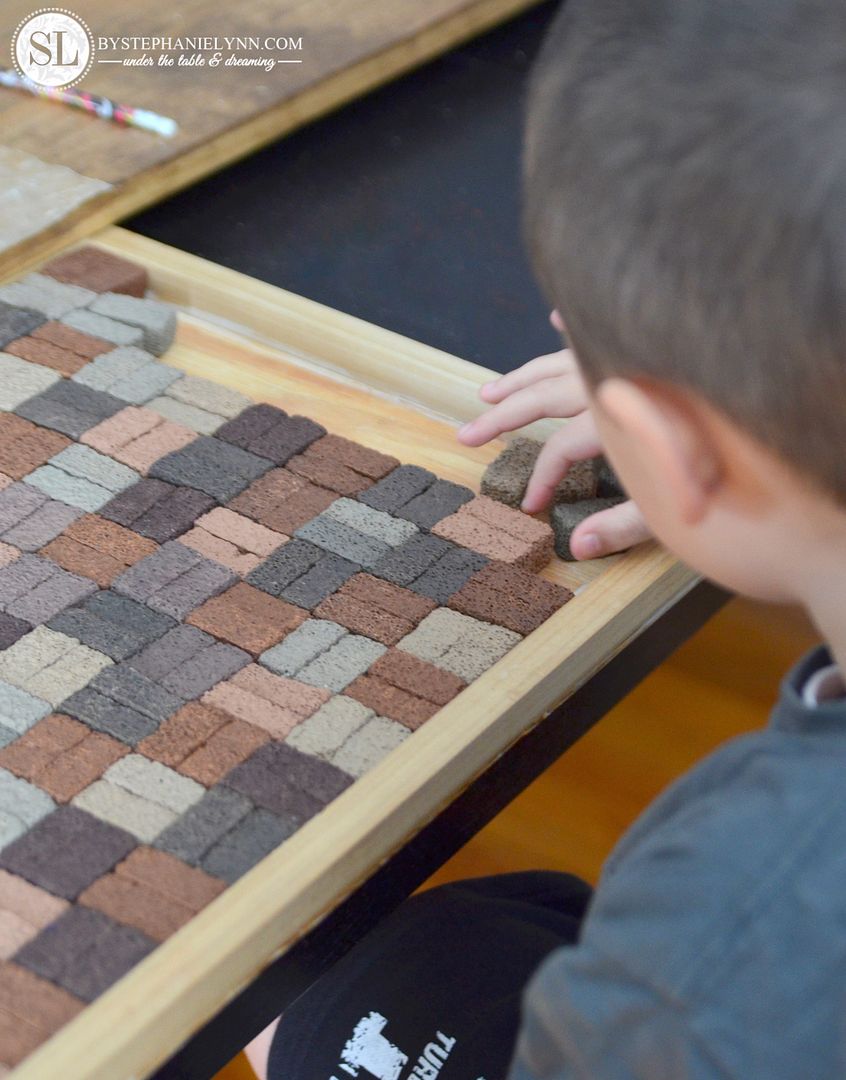 Step Five: Place the foam bricks in the frame.
We assembled the bricks to make a simple pattern – alternating the colors for a patchwork effect.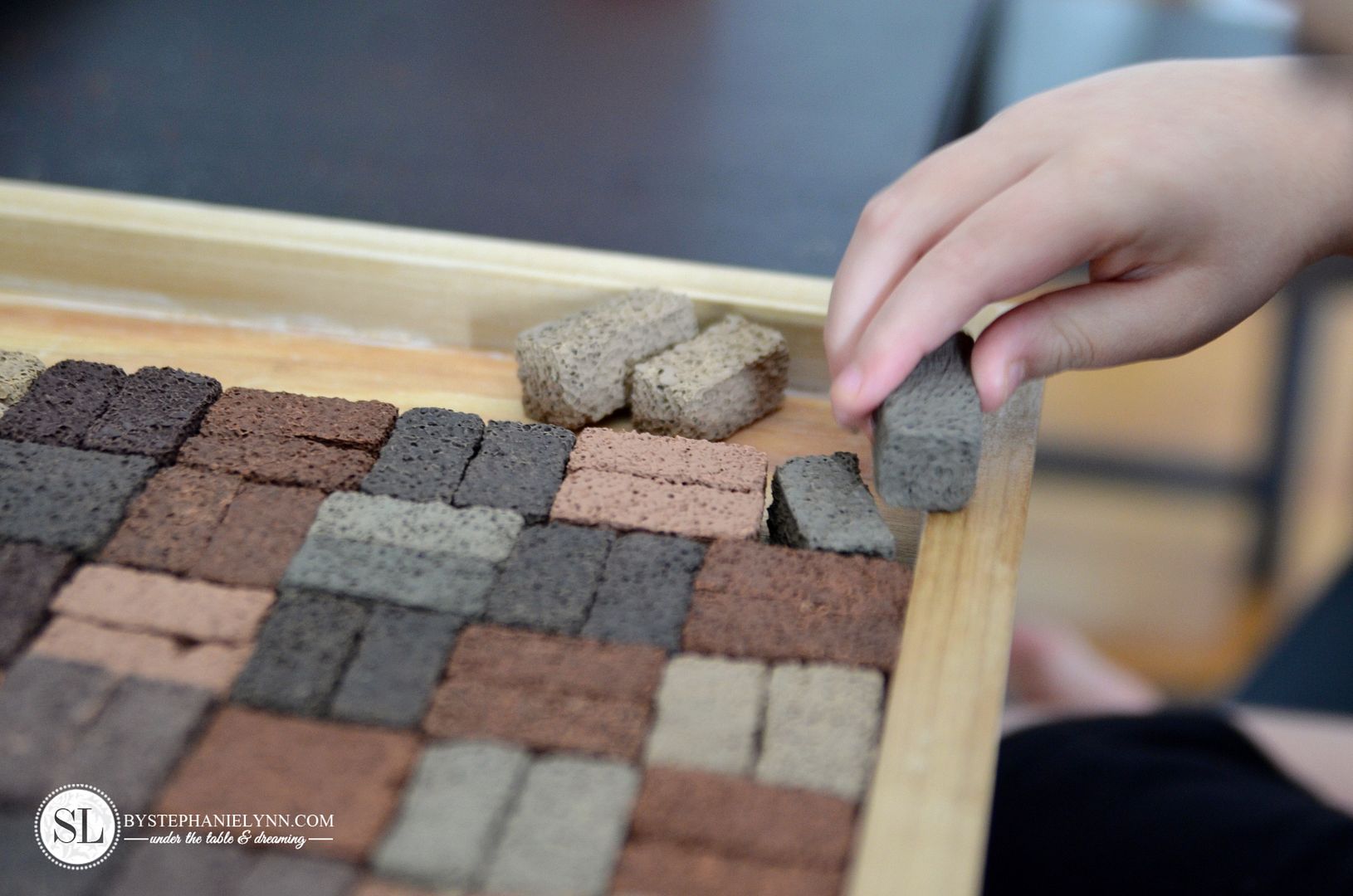 We didn't use any glue to hold the bricks in place as once all of the bricks were in place it created a nice snug fit.
If you wanted the added security I would suggest white craft glue or StyroGlue®.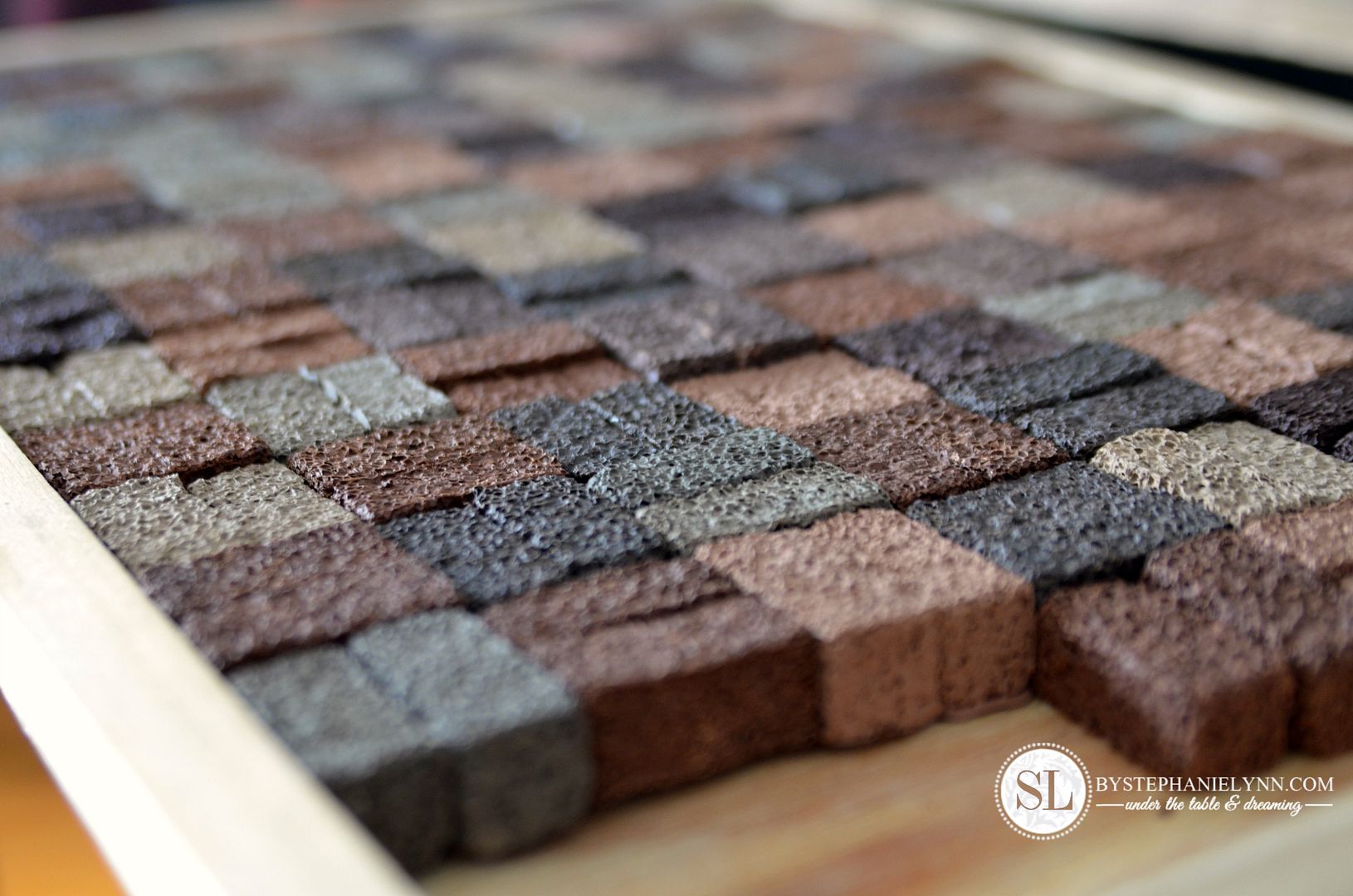 The project bricks not only add texture to the art but dimension as well – as each foam piece is slightly different in shape/size.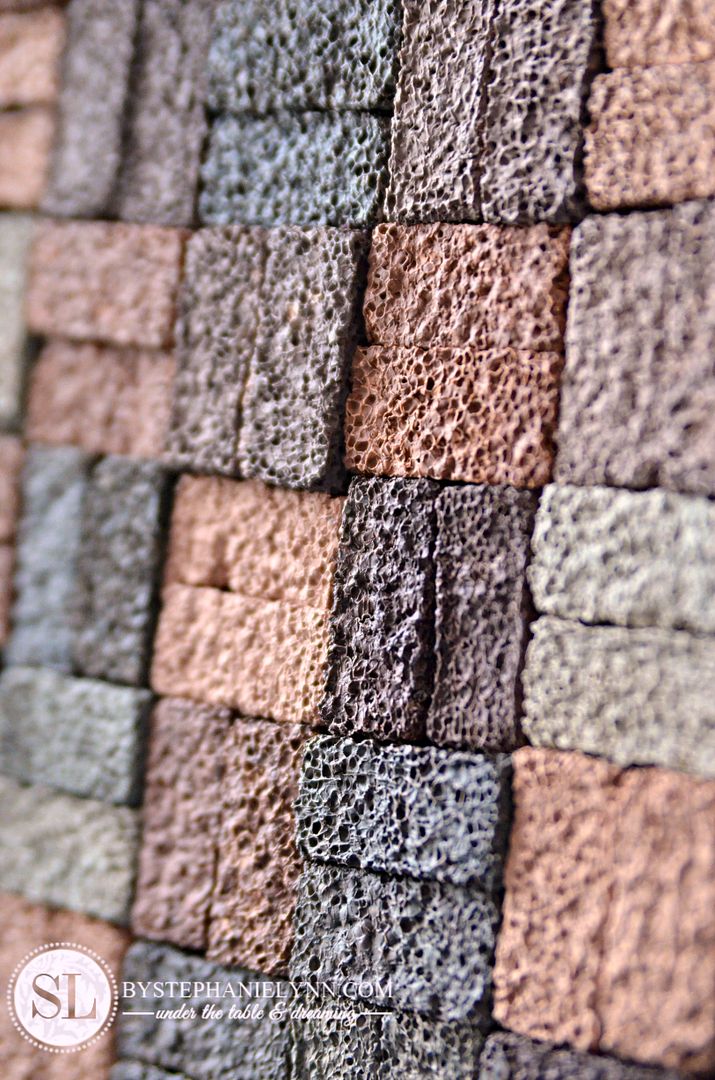 A great tactile surface providing both hand and feet stimulation.
(If your familiar with sensory processing you totally understand how those little feet need just as much stimulation as those little hands)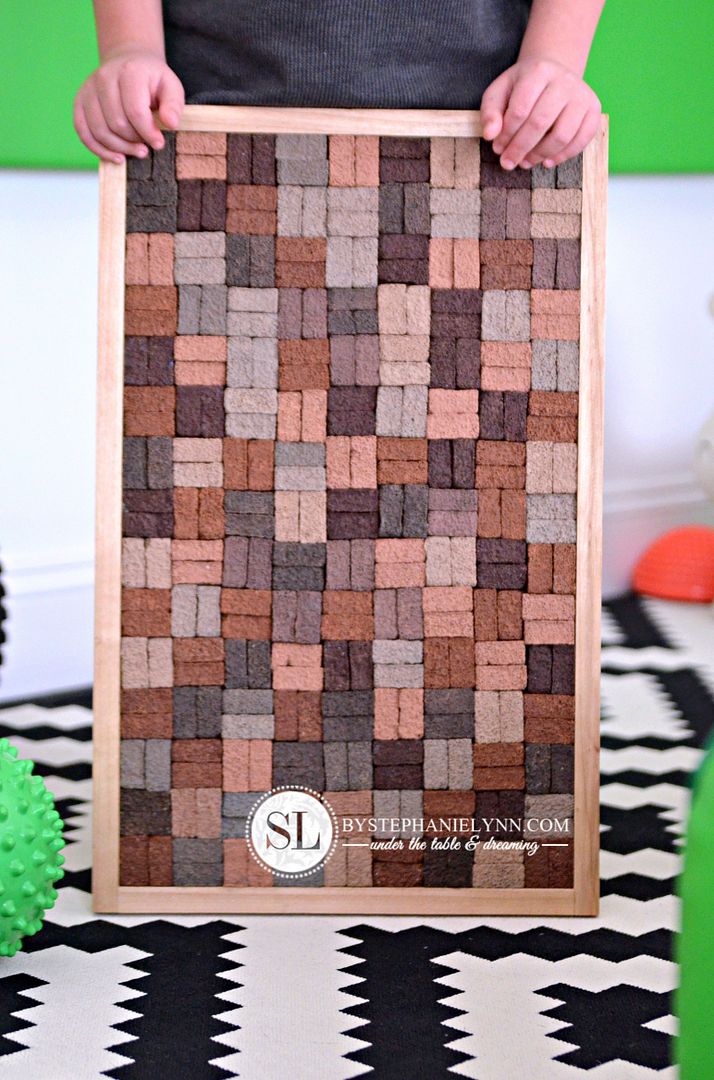 We hung the panel in the sensory playroom using four of these hanging strips
. The foam really makes this piece lightweight.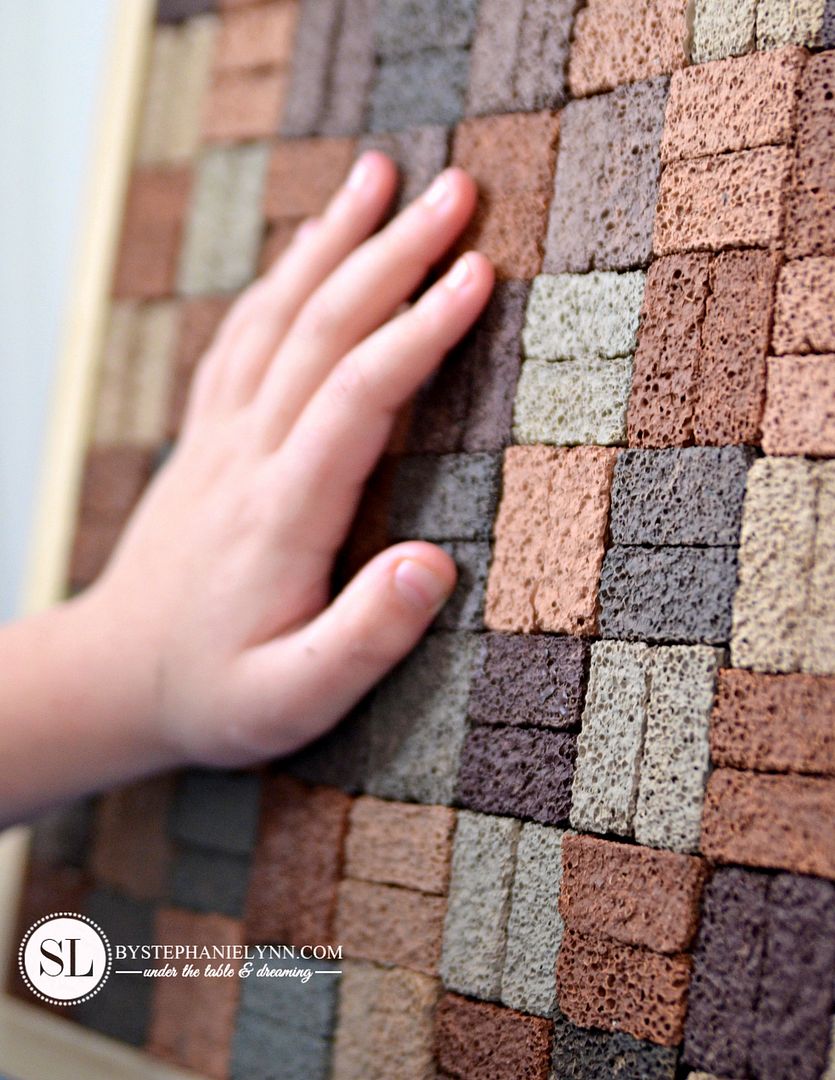 It's an addition to the walls that's not only a unique art piece – but a fun tactile panel that encourages discovery and interaction.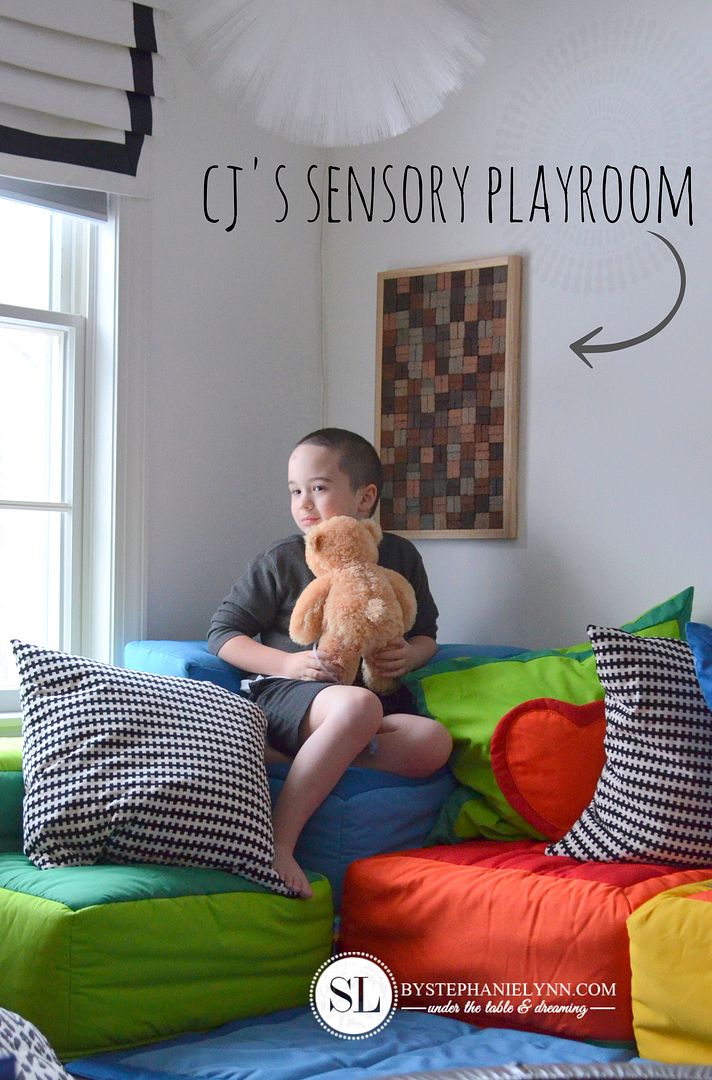 I have been selected as a member of the FloraCraft® Make It: Fun® Team. This post is brought to you by FloraCraft® and Dow. The opinions read here are entirely my own. For more crafting and project inspiration, check out the Make it: Fun Website, as well as the Crafts 'n Coffee blog.