Walking Taco Bar Party – fresh pico de gallo recipe | This post brought to you by Pepcid® Complete® . All opinions are 100% my own. #PepcidTastemakers
Although we love to entertain year round, summer is our absolute favorite season. The carefree days, outdoor activities and spontaneous get-togethers call for some casual party ideas that don't break the bank or require a lot of time or thought.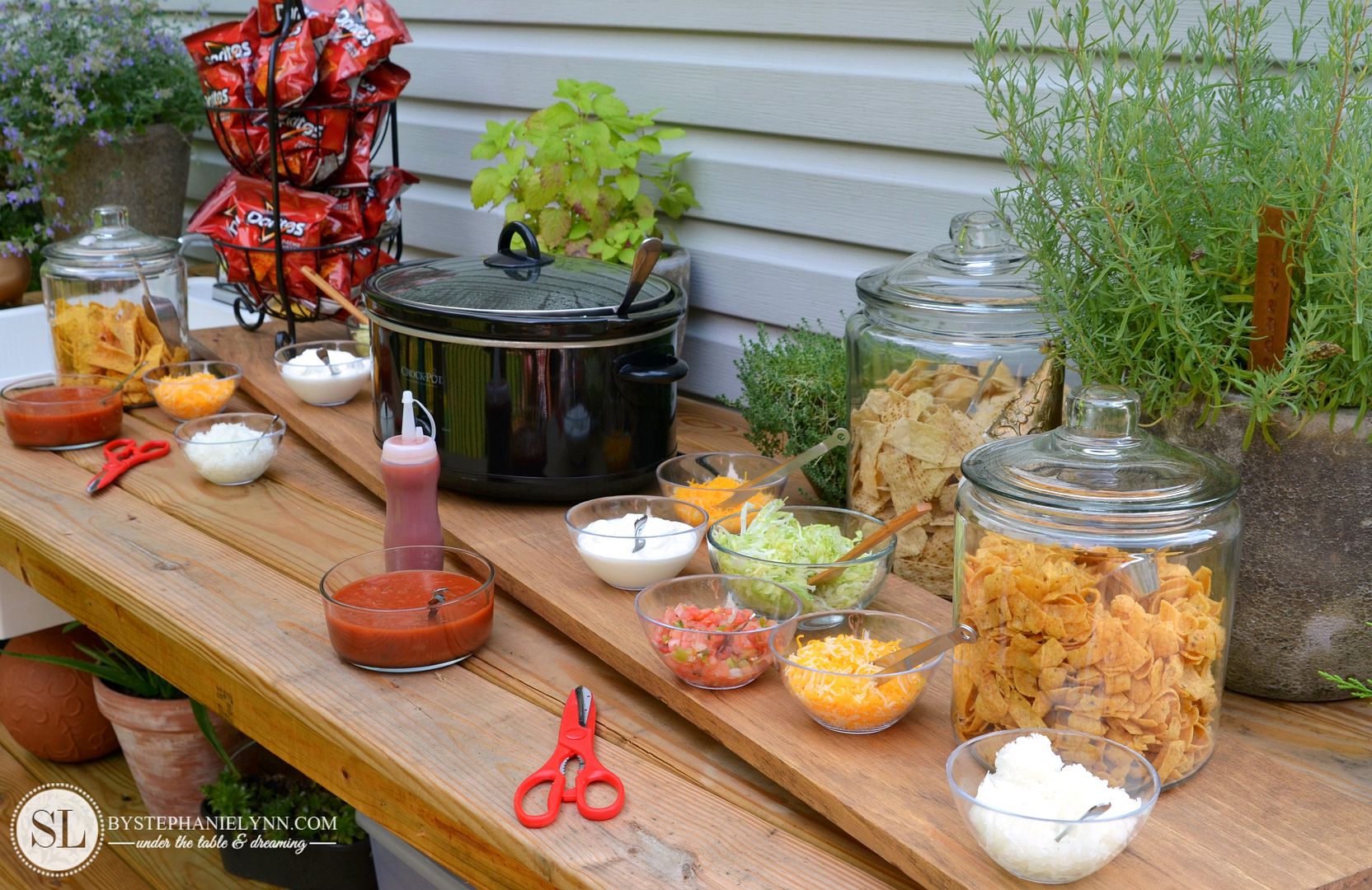 Last weekend we hosted one of those spontaneous poolside gatherings for a couple of friends. A casual party that required a simple menu that was still fun and festive. I decided to put together a
walking taco bar.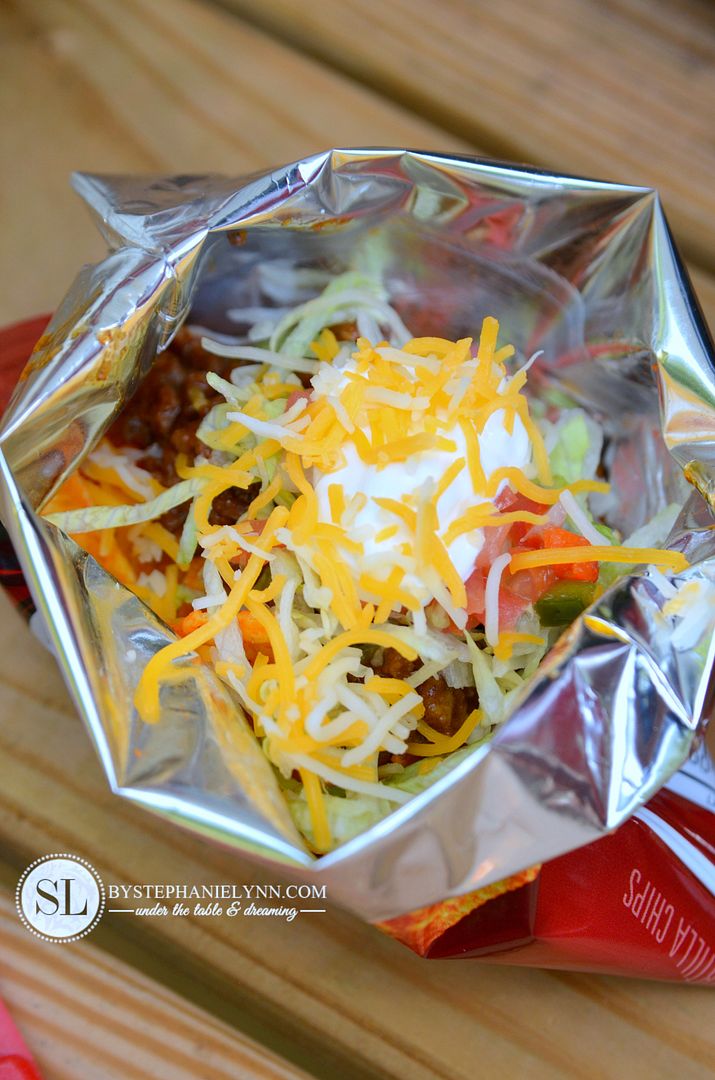 A walking taco bar is a convenient and clever way to serve 'tacos' on the go. The individual sized bag of chips mimics the shell and once opened – is the perfect little pouch to fill with meat and all of your favorite taco toppings.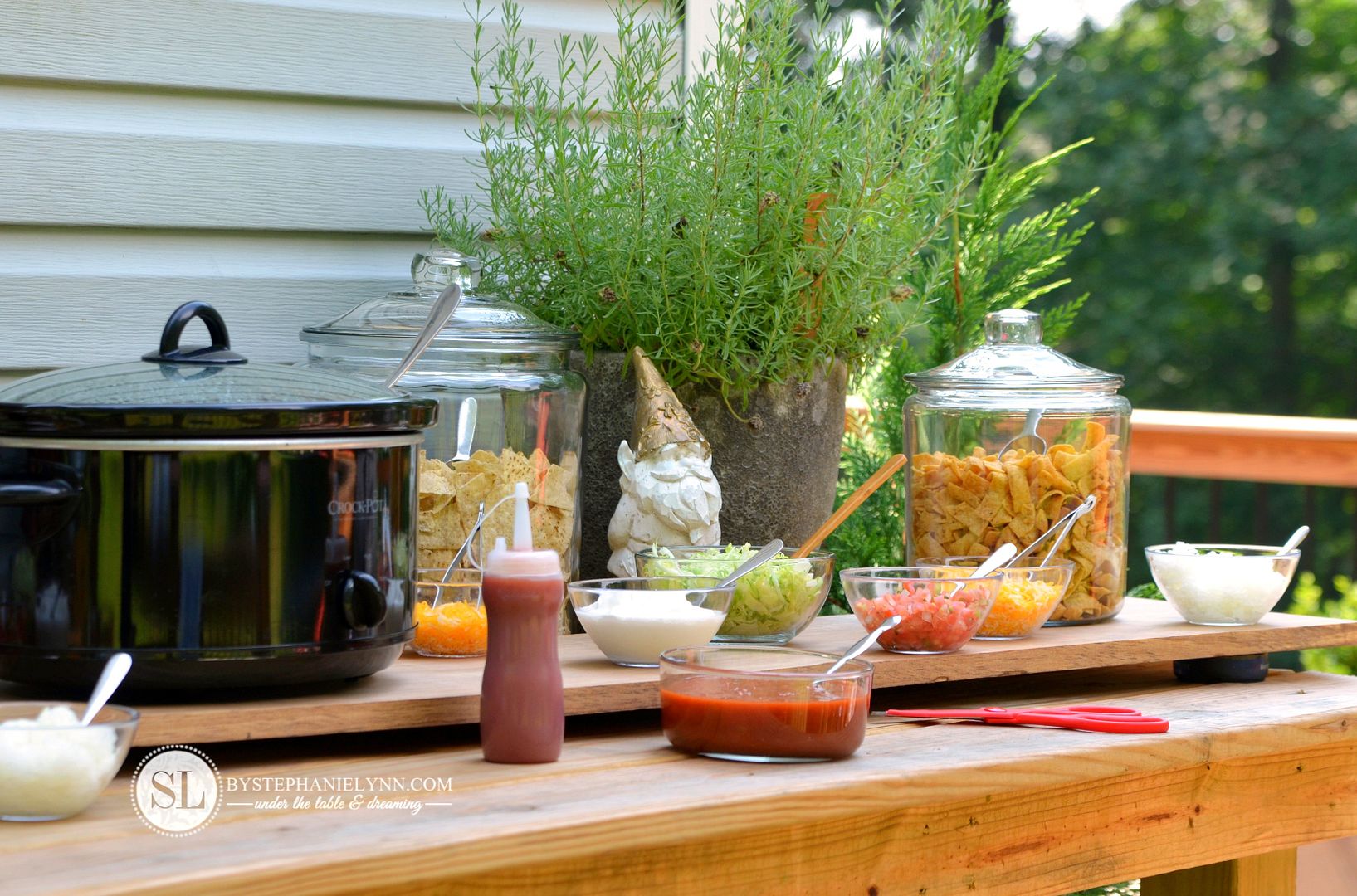 It's one of those bars that guests can help themselves to throughout the day and it does not require a lot of maintenance from the host – so you can enjoy the company of your guests and planned party festivities.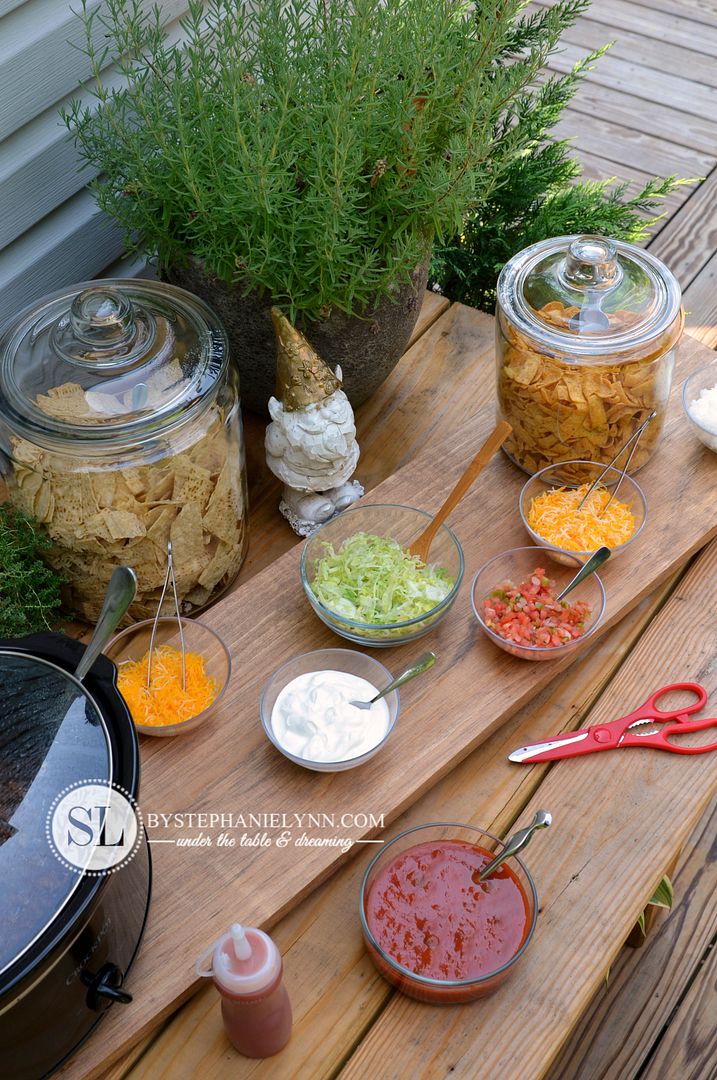 All of the prep work was done in advanced and included a couple pounds of ground beef and a selection of prepared taco toppings.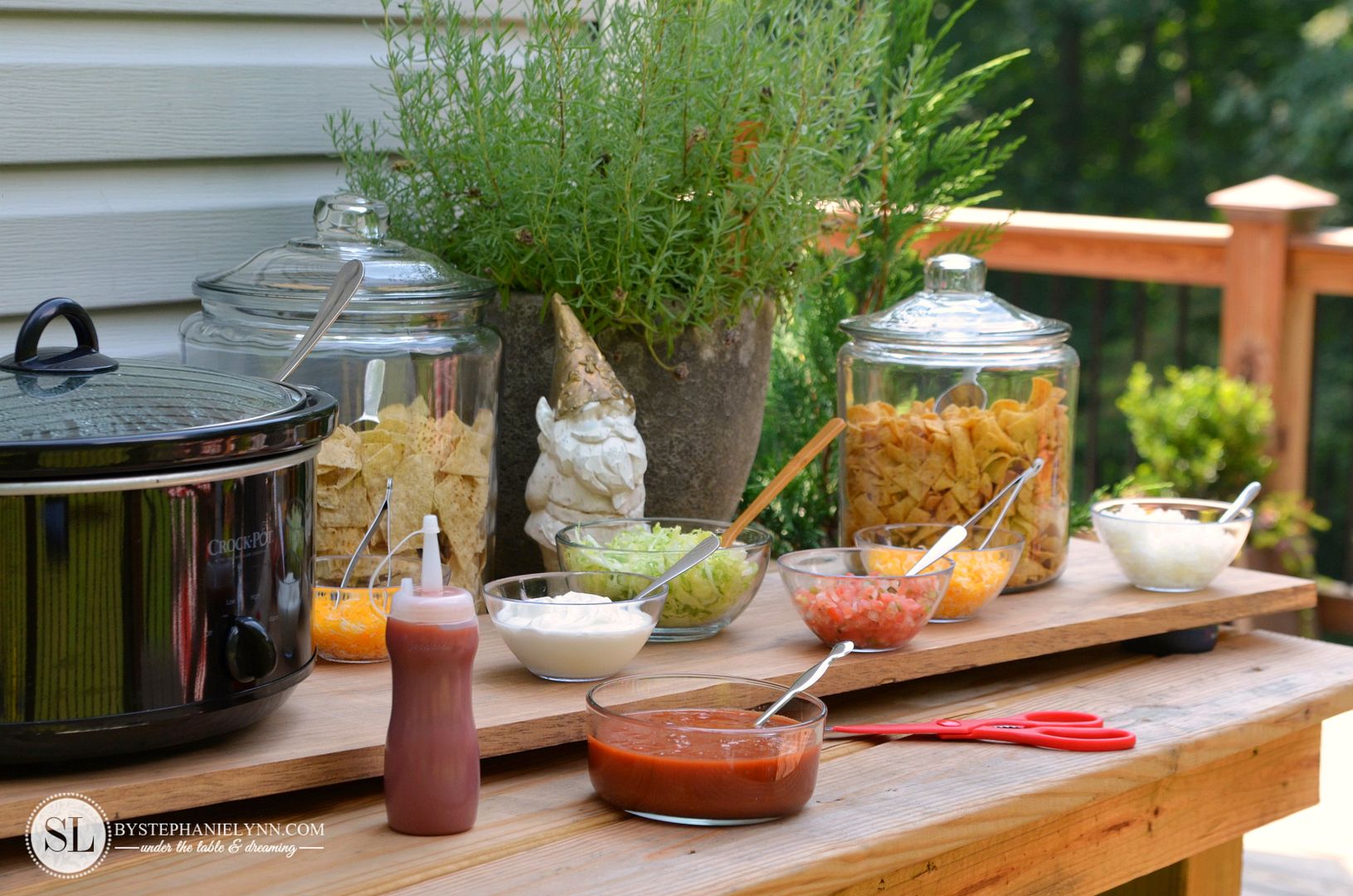 The ground beef was pre-cooked and seasoned with taco seasoning –
then placed in a crockpot to keep warm.
(I calculated approximately 1/4 pound of meat for each walking taco bag –
and keep in mind people will eat multiple bags)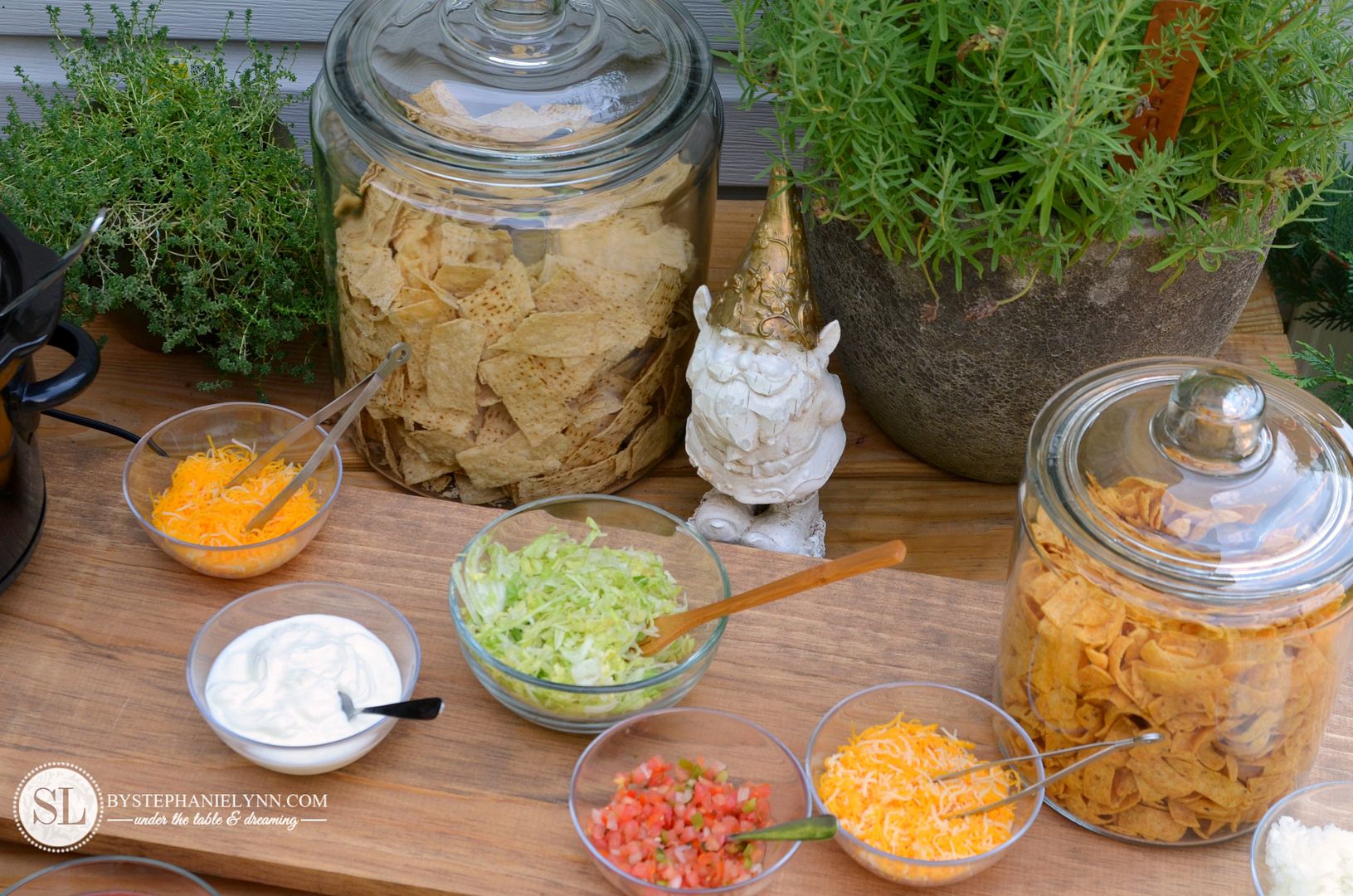 The topping for our bar included shredded cheese, sour cream, shredded lettuce, dicd tomatoes, chopped onions, salsa, and taco sauce.
Some additional ideas include avocado, guacamole, scallions, and refried beans.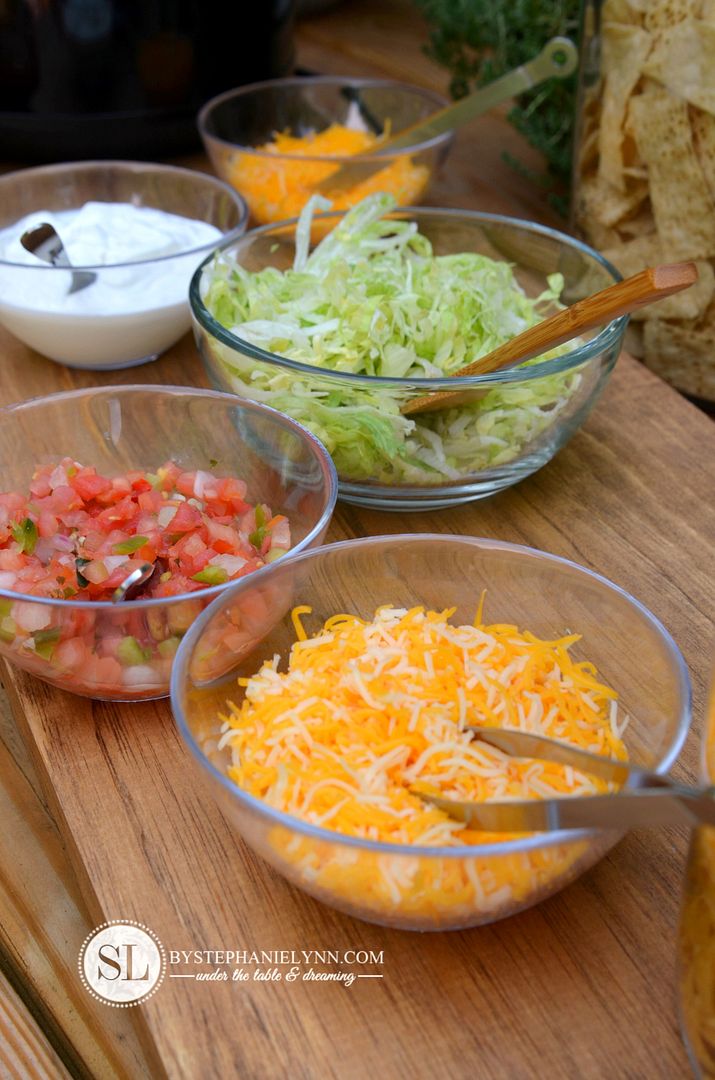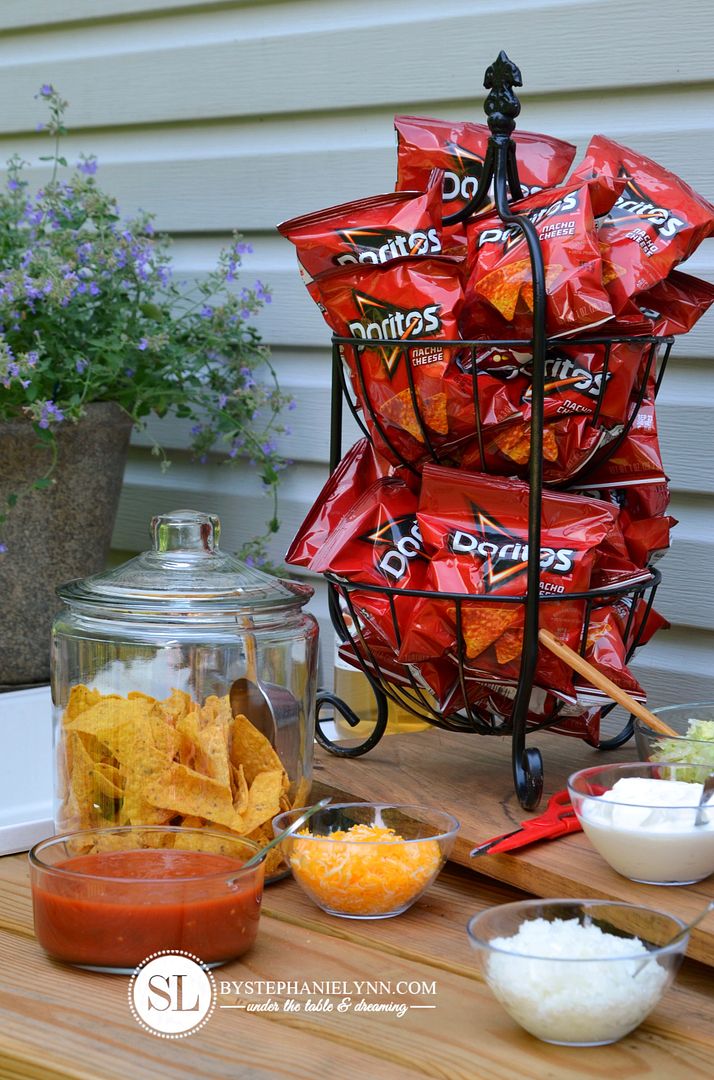 Along with the individual sized bags of nacho Doritos, cool ranch Doritos, Fritos and plain corn chips were also served in large glass containers.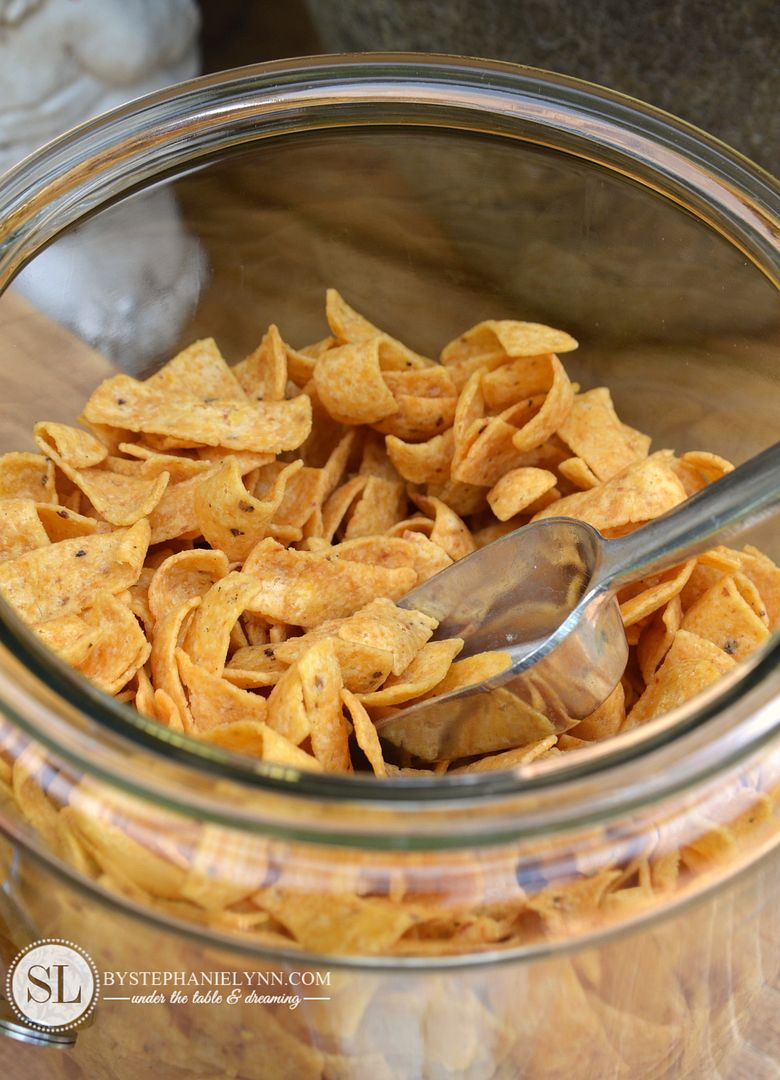 Small cups were available for the chips in the containers – since I was not able to find the individual sized bags at our local store.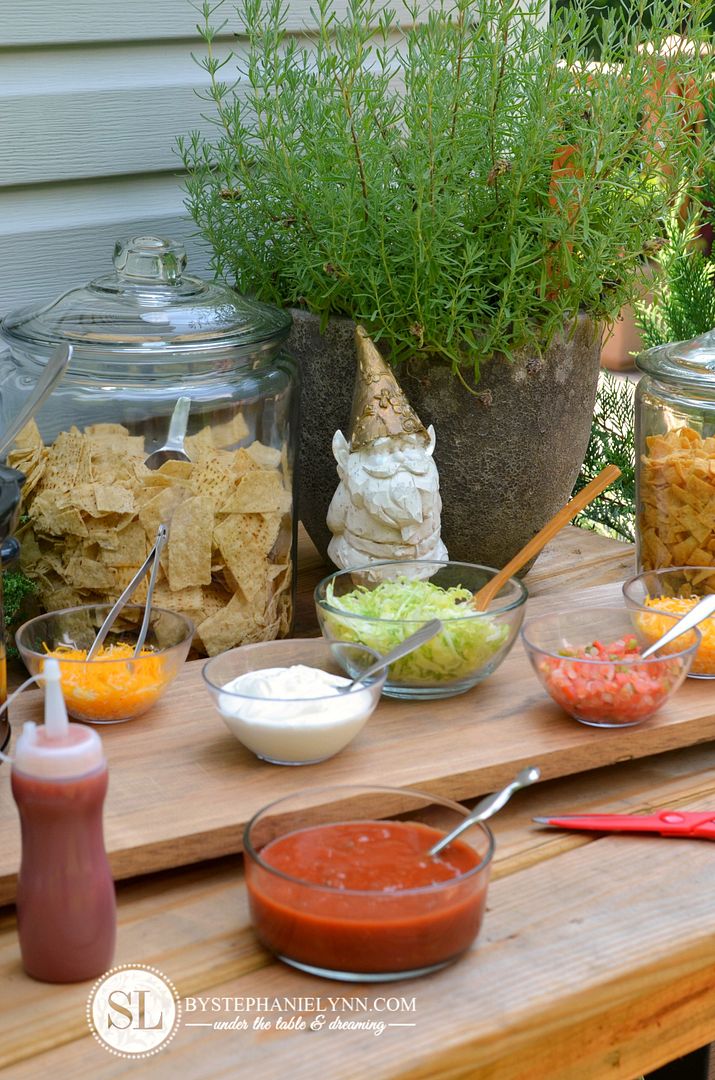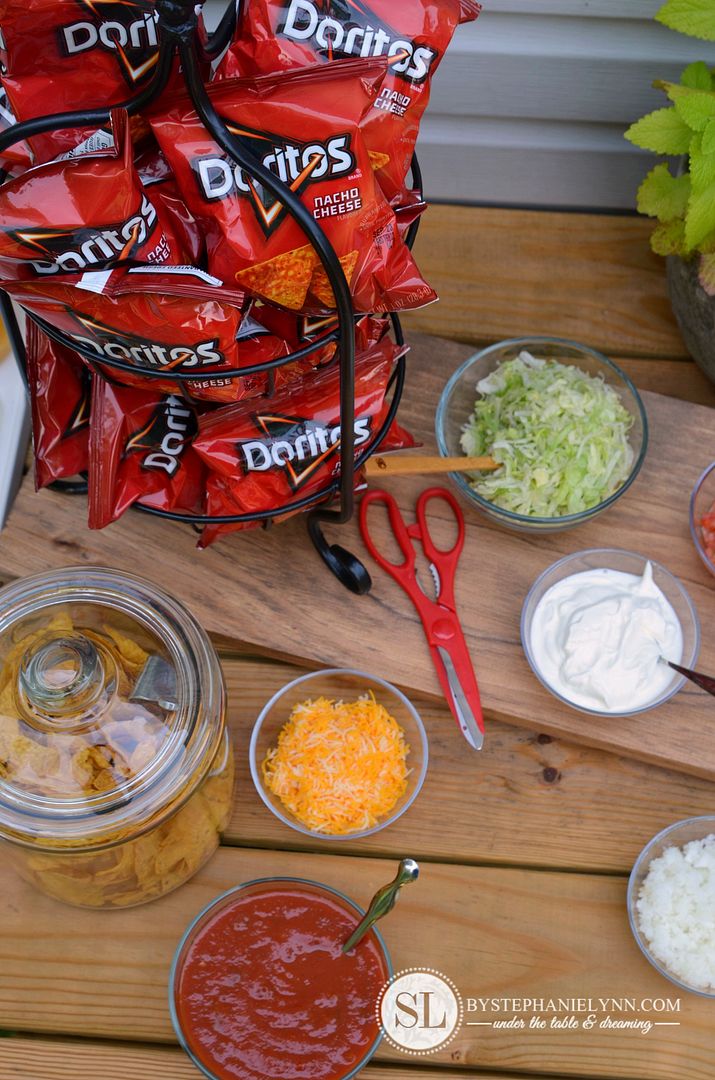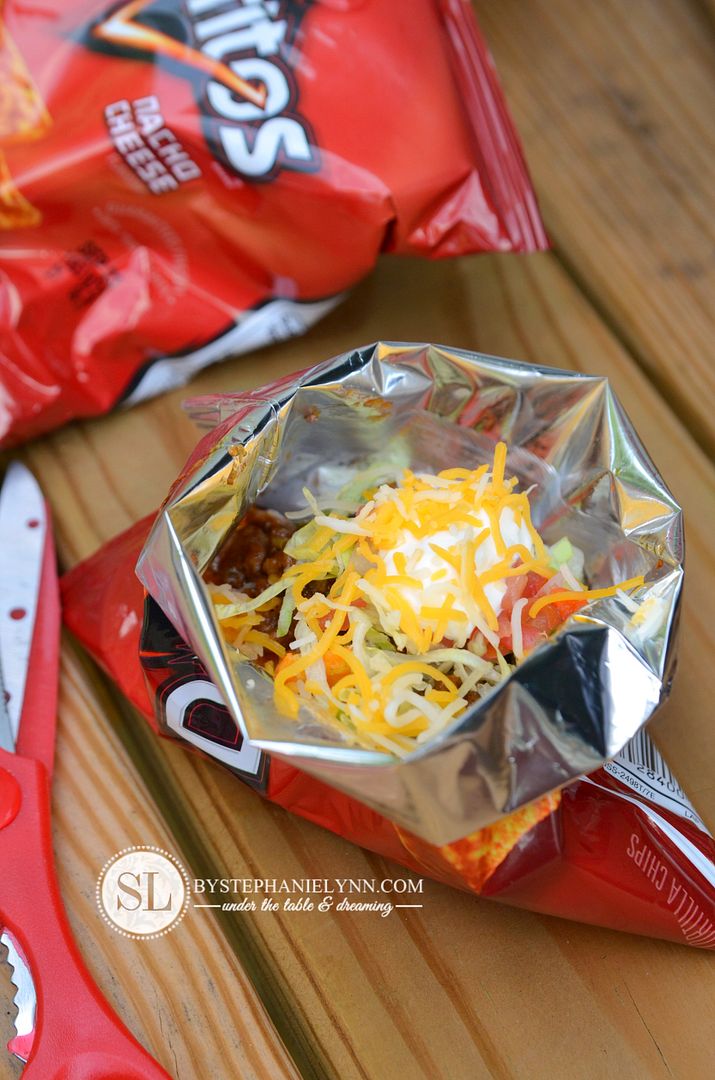 To assemble the walking tacos, crunch the bag of chips – to break them up into smaller pieces – then cut along one side of the bag to open, as shown above.
Fold over the top of the bag and fill with seasoned meat and desired toppings.
*Don't forget to have a couple pair of scissors available at the walking taco bar*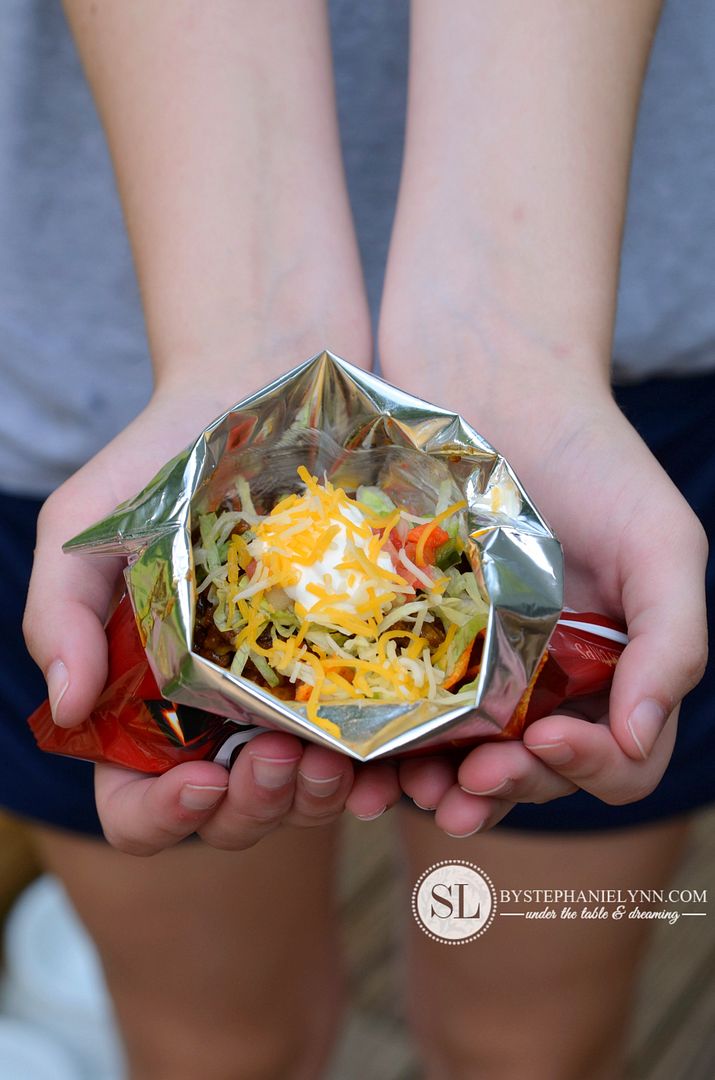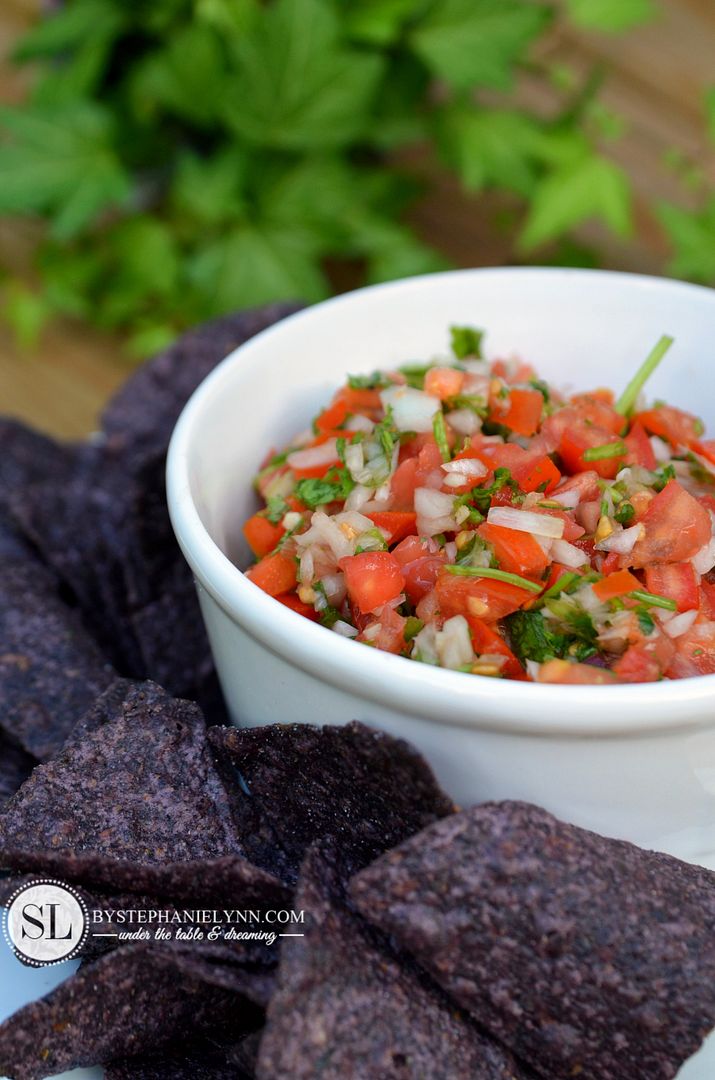 For table snacks I whipped up a couple batches of fresh Pico De Gallo. This simple and tasty recipe can also be made in advanced and is actually better when chilled for a few hours.
Walking Taco Bar | Pico De Gallo Recipe
Author:
www.bystephanielynn.com
Ingredients
1 Medium Onion
3 Green Onions
2 Cloves of Fresh Garlic
½ Bunch of Fresh Cilantro
3 Large Tomatoes, chopped
1 to 2 Small Jalapeño Peppers (hot) or Poblano Peppers (mild), seeded and chopped
2 Limes
Salt & Fresh Ground Pepper to Taste
Instructions
Mince the onion, green onions, and garlic cloves in a food processor or chopper. Set Aside.
Mince the fresh cilantro in the food processor. Set aside.
Combine the chopped tomatoes and jalapeño peppers in a medium mixing bowl. Add in the minced onions, garlic and cilantro.
Squeeze in the juice from two fresh limes and season with salt and pepper (to taste).
Stir until evenly combined.
Refrigerate for at least 30 minutes prior to serving.
Notes
Makes approximately 4 cups of Pico De Gallo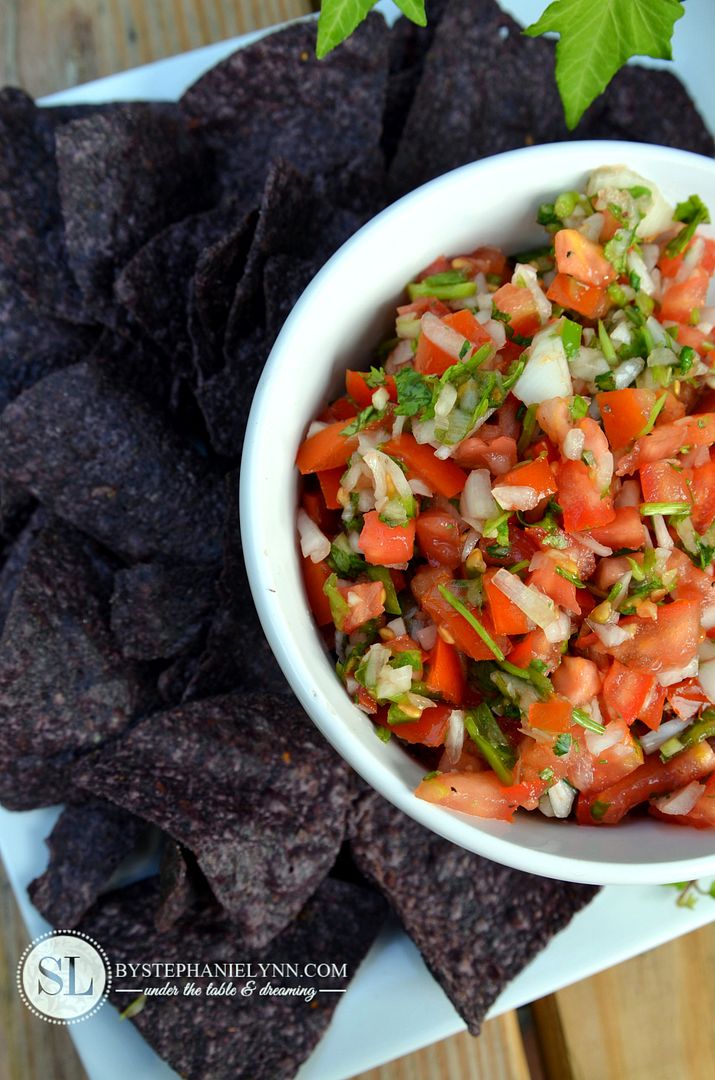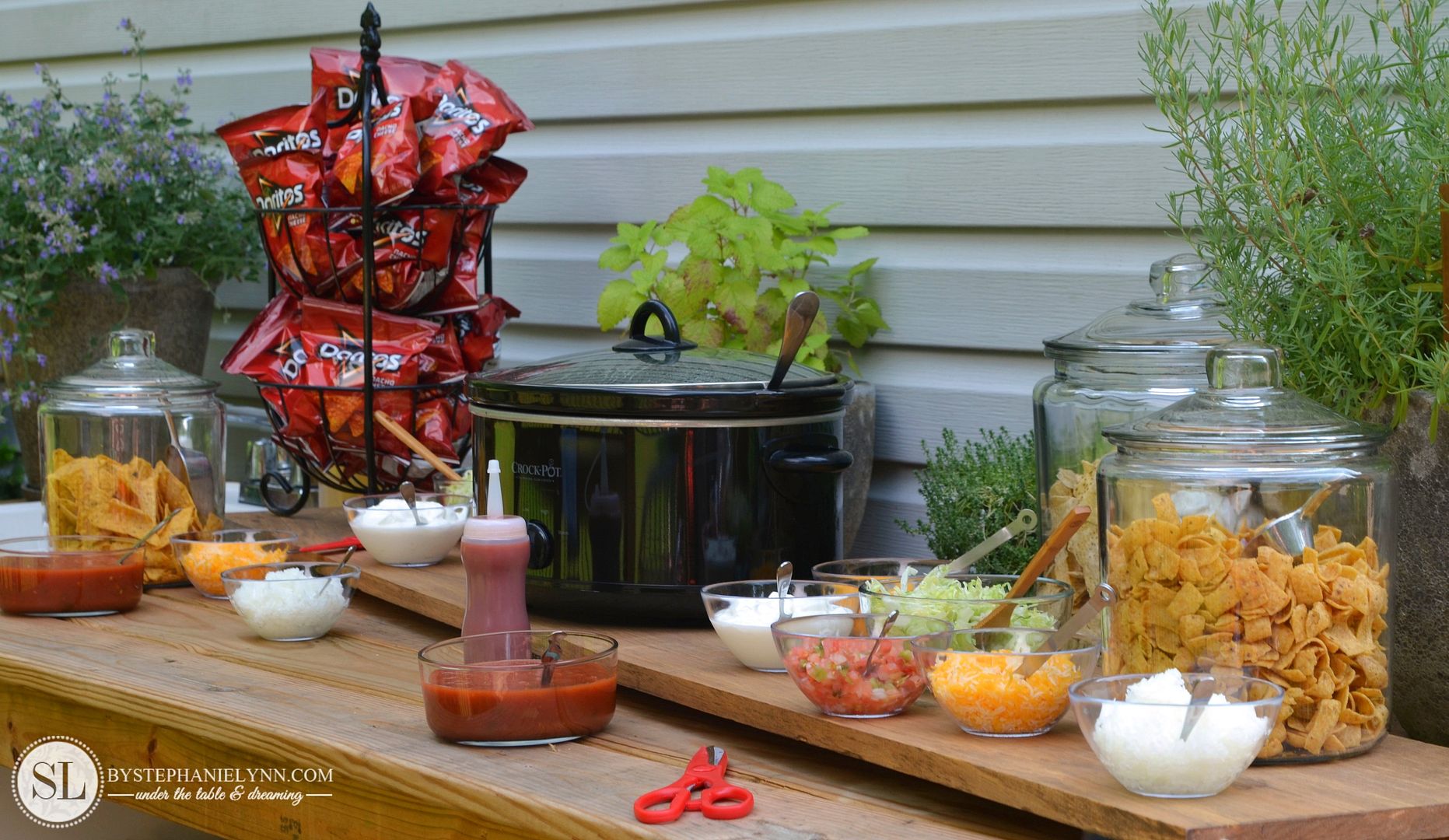 As any hostess will tell you, one thing they want to keep off the party menu is heartburn. Although everyone's triggers may be different, a set up,  such as a walking taco bar, contains some usual suspects such as tomatoes, onions, garlic and spicy foods. When hosting affairs such as this, one thing I always like to keep tucked away is Pepcid®. Pepcid® Complete® starts working in seconds and lasts all day or night – making it possible for guests to eat whatever they like and stick around to enjoy the planned festivities, even when heartburn strikes. To learn more about common triggers and heartburn relief, visit the Pepcid® Facebook Page.


I have received information, product, and materials from McNeil Consumer Pharmaceuticals Co., the makers of PEPCID®. The opinions stated are my own. This is a sponsored post for Mom It Forward.