Kids Art Supply Cart – rolling storage activity cart #michaelsmakers | These past couple of weeks I've been working on revamping my little guys homeschool room. One of the things I really wanted to do this year was make room for all of his art and craft supplies in the space.

 Previously most of the supplies were kept in my crafting space located downstairs. CJ loves to be creative so I thought having his own set of art supplies right in the room, available within arms reach, could open the door for some spontaneous creativity.
As a member of the Michaels Makers Blogging Team, our theme for August was  back to school so I decided to tackle this organizational challenge. I began my making a list of our favorite essentials. CJ loves when everything has it's own place – just as much as I do – so having something to hold and organize and contain all of the little tidbits was a priority. I really loved the idea of a cart to not only  house the supplies but make them mobile. I have been eyeing a few pieces of Recollections™ Storage collection at Michaels
for quite sometime and knew that would be the perfect place to start for building a cart to fit our needs.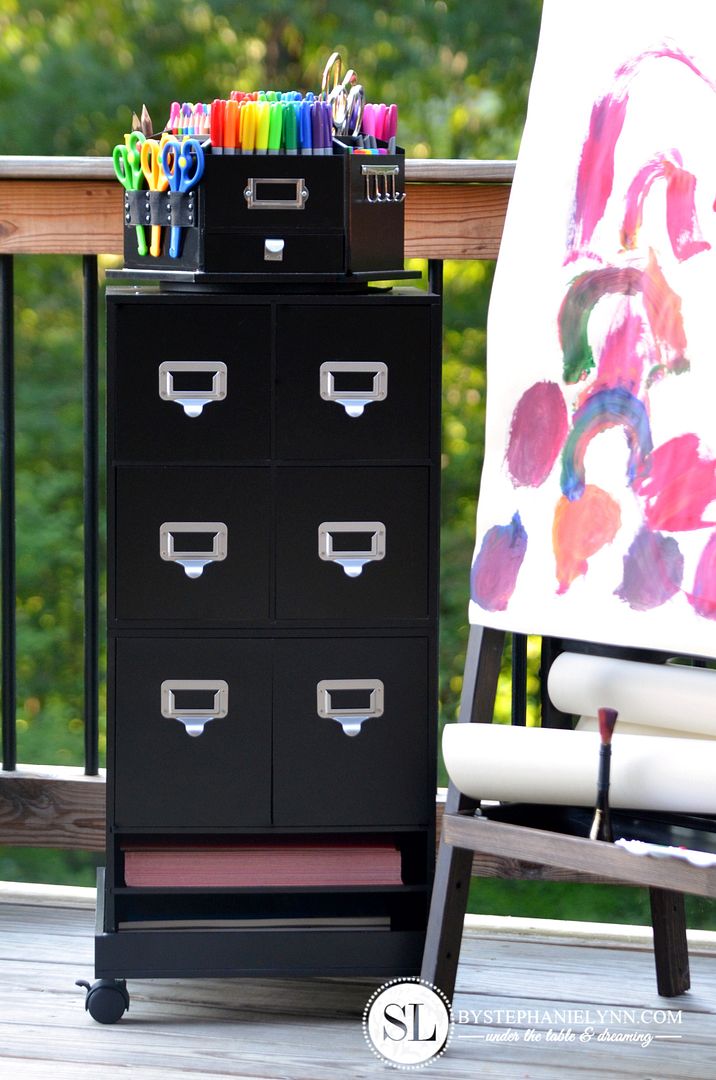 The cart was created using three components from the Michaels Recollections™ Collection. The quality and durability of this storage line is superb. While they do sell a couple preplanned carts, I decided to assemble our own. The variety of different storage cubes allow for so many different combinations based on your needs. They are incredibly easy to stack and all compatible with each other. I used the following components for our cart….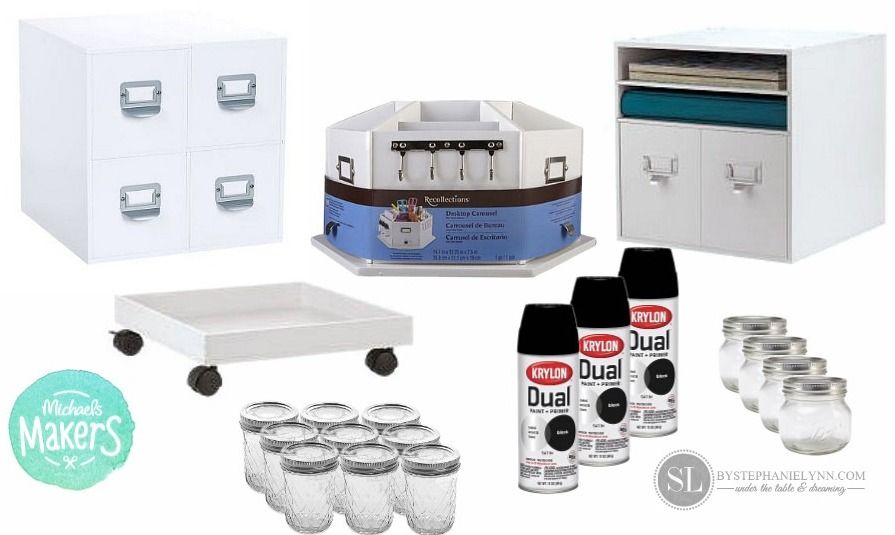 Recollections™ Storage Cube with Four Drawers
Recollections™ Combo Cube with Two Drawers
Recollections™ Mobile Base Tray
Recollections™ Storage Desktop Carousel
Krylon Dual Satin Black
Ball® Quilted Jelly Jars, 8 Ounce
Ball® Wide Mouth Jars, pint size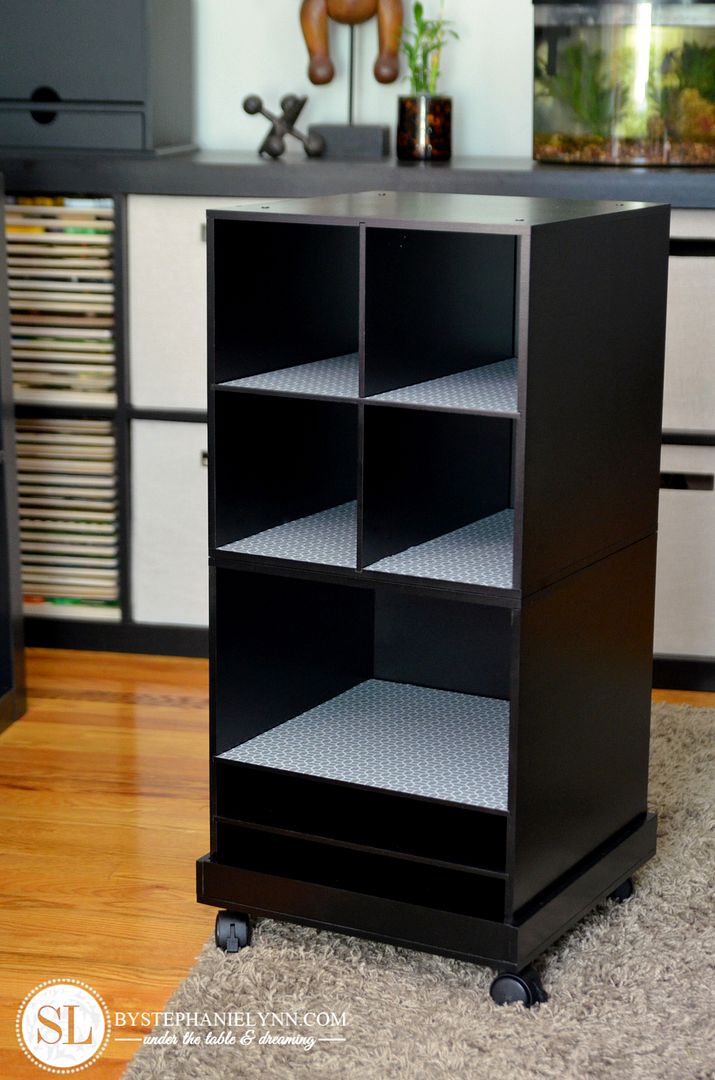 I liked the idea of a rolling cart – so I started with the Mobile Base Tray. It's a huge plus to be able to roll all of your art supplies around based on where you are crafting. Stack on top of that is the Combo Cube with Two Drawers and a Storage Cube with Four Drawers. I thought the drawers would be perfect to contain the supplies when the cart is in motion. There are so many other options as far as what can be stacked together – but this was combo was perfect for our needs.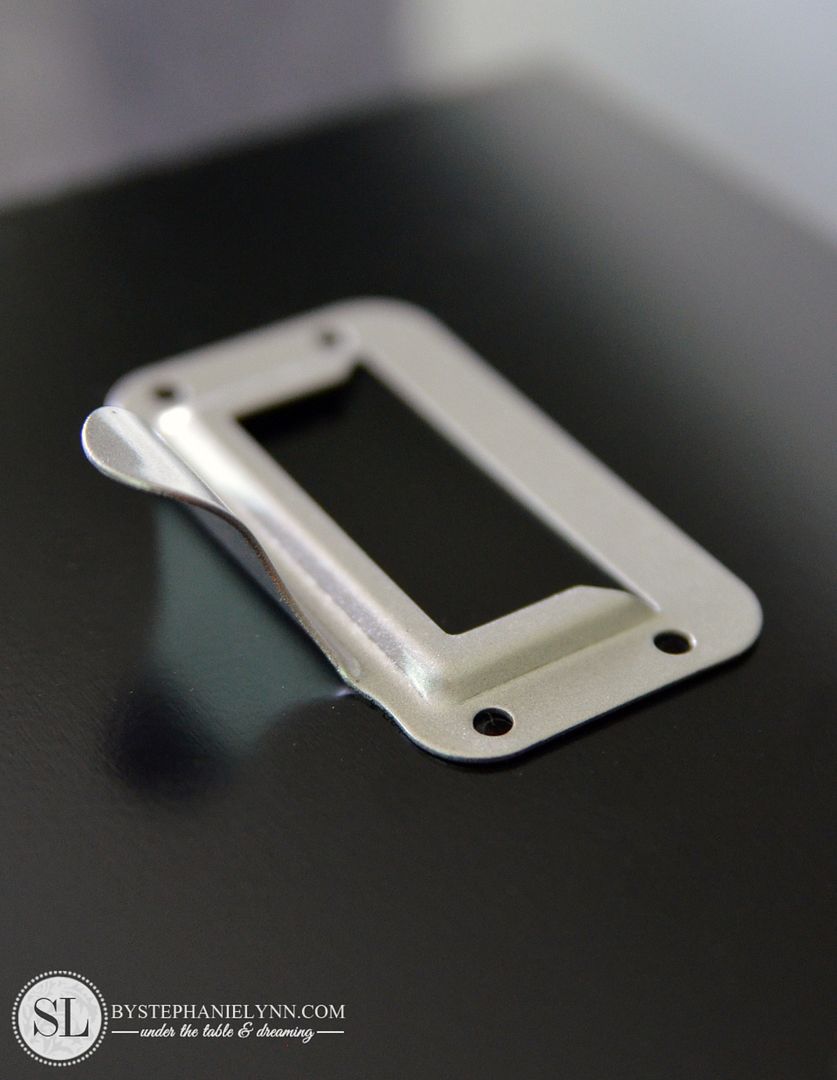 As the cart was put together, each piece was given a coat of black spray paint to match the other furniture in my little guys room. I was a little skeptical at first – using the spray paint – however I tested it out on the Desktop Carousel a couple weeks ago and it has held up perfectly. I used Krylon's Dual spray paint in satin black. The spray paint contains paint and primer in one, so no prep was necessary. The key is multiple light coats and patience. In between coats I let each coat dry completely. The most important part is to let the paint cure once you are totally finished. I let everything dry for 24hours before I began to assemble the cart.
The included hardware is nice and sturdy as well. I'm loving the drawer pulls!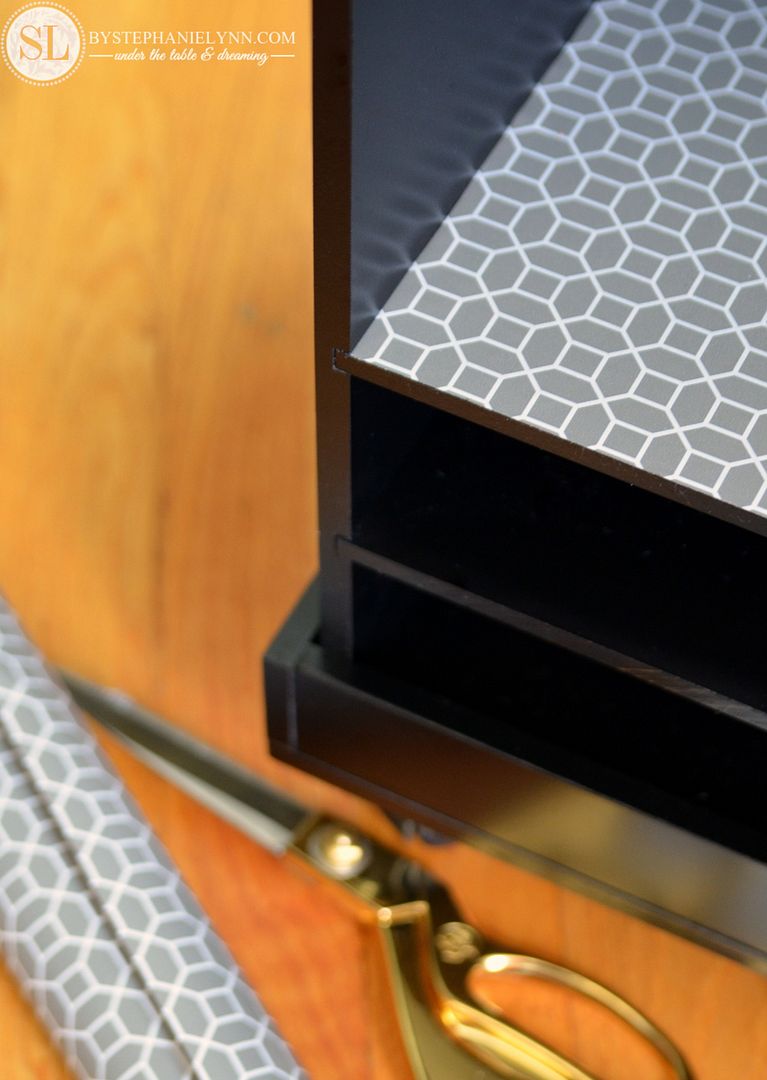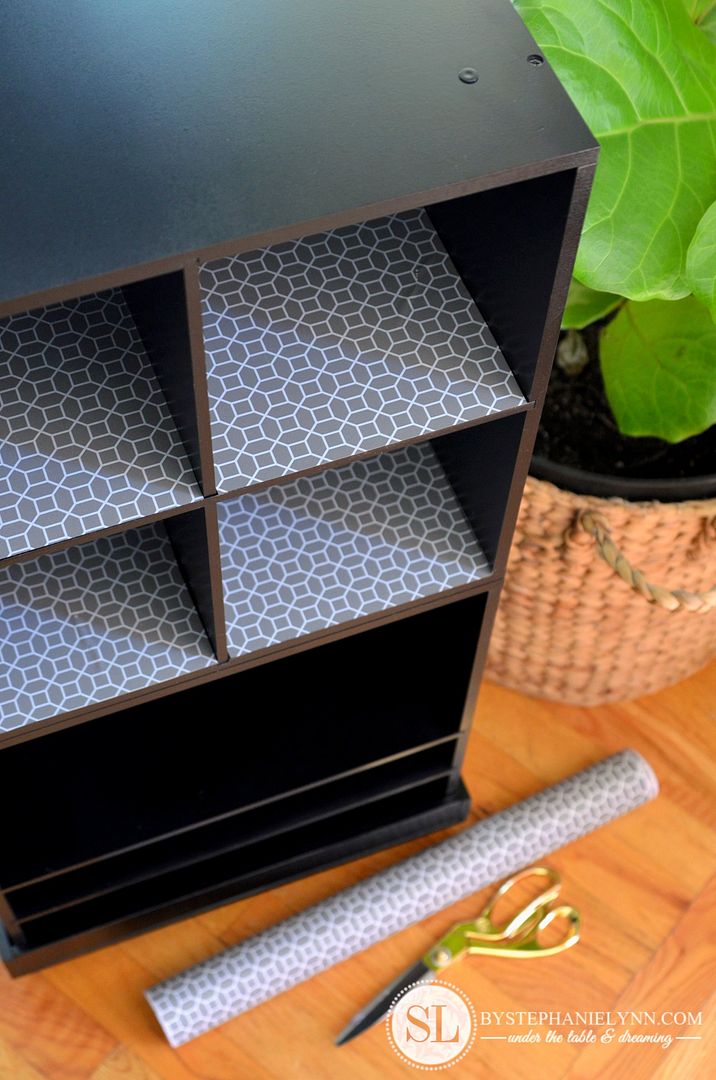 Since there are no rails for the drawers I decided to line the shelves with contact paper. This helps the drawers slide in and out easy and protects the painted surfaces as well.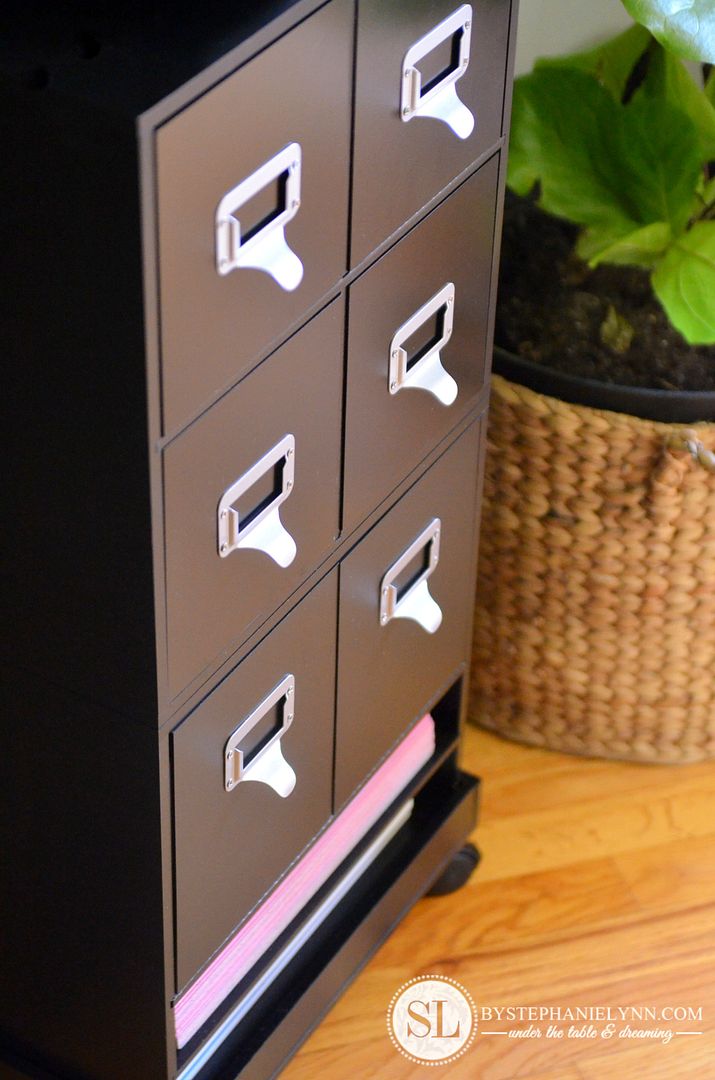 Kids Rolling Art Cart: Supplies
Finally, once everything was put together, came the fun part of filling it. For the past couple of years I've been purchasing many of our homeschool supplies from Michaels
 as they offer all teachers and homeschool educators with a vaild ID a 15% off discount on in-store purchases. My little guy and I browsed up and down the aisles of Michaels together and filled our cart with the basics – along with some fun additions as well. We had no problem finding supplies to fill the entire cart. I have broken them down by drawers below. Canning jars were used to corral the smaller craft items.
Drawer One and Two: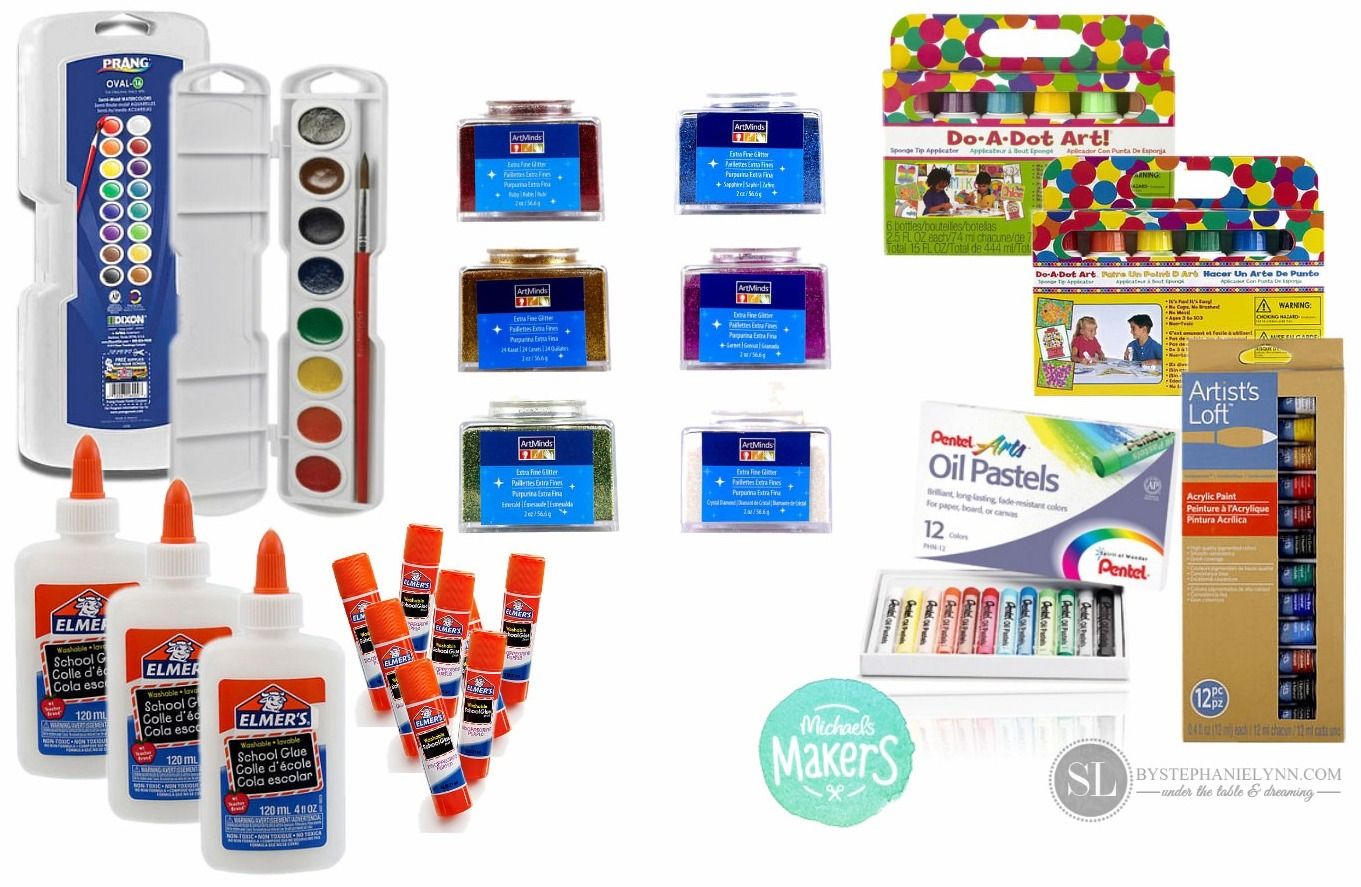 Prang® Watercolor Pan Set
Elmer's® Washable School Glue
Elmer's® Disappearing Purple School Glue Stick
Artminds™ Extra Fine Glitter
Do-A-Dot Art!™ Markers, Rainbow and Brights
Artist's Loft™ Fundamentals™ Acrylic Paints
Pentel Arts Oil Pastels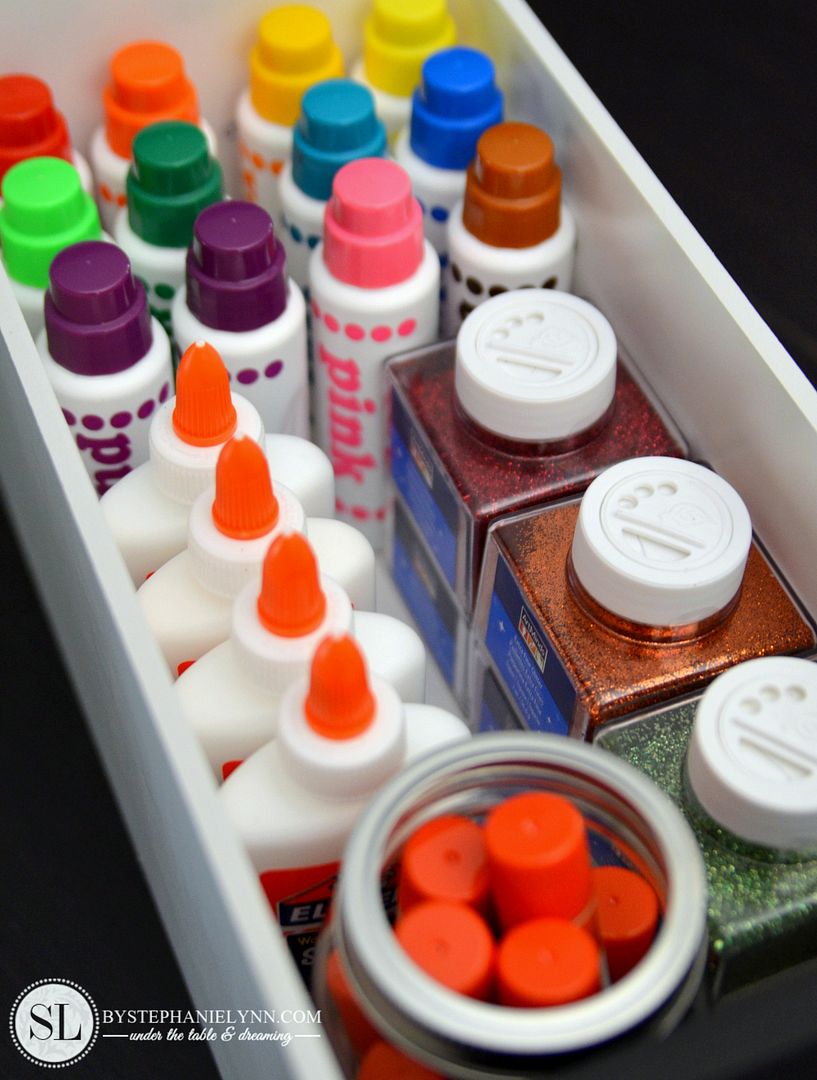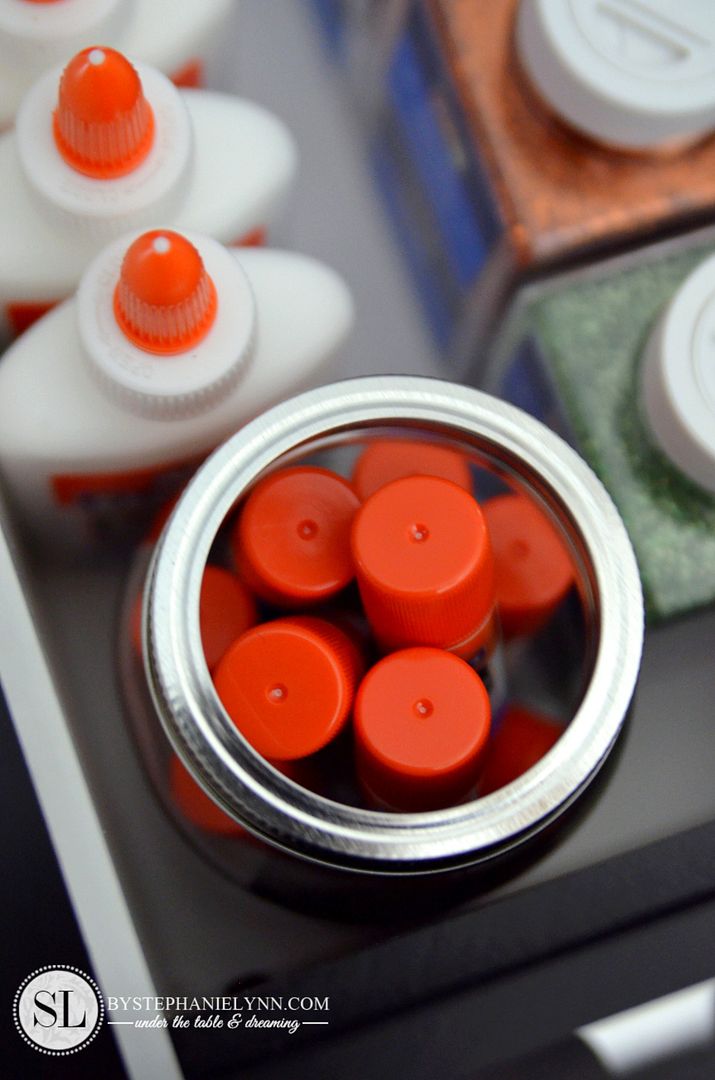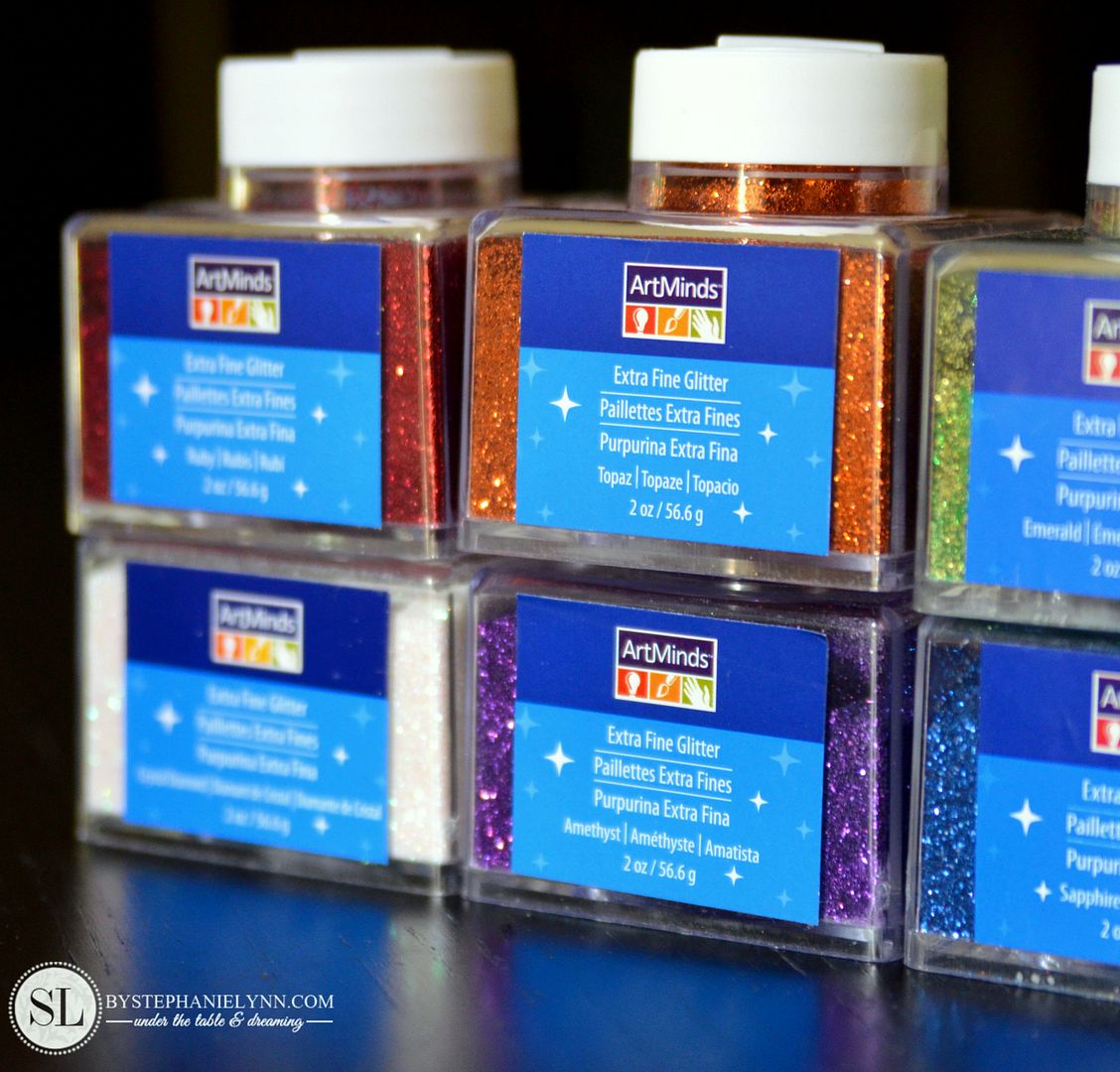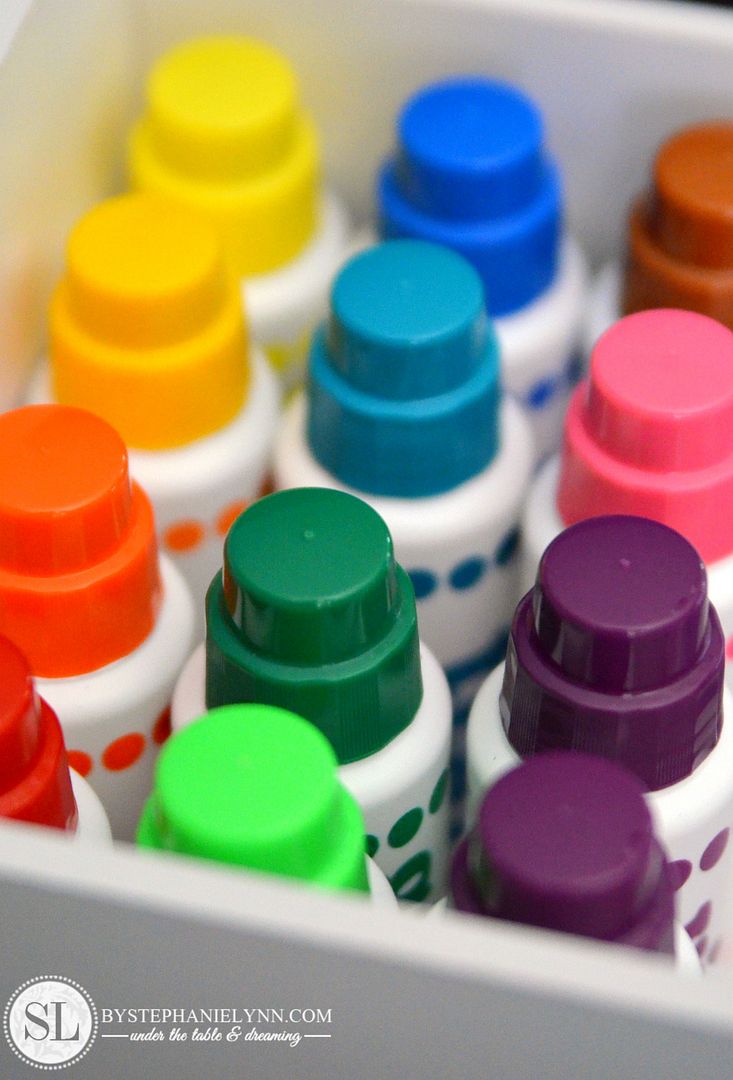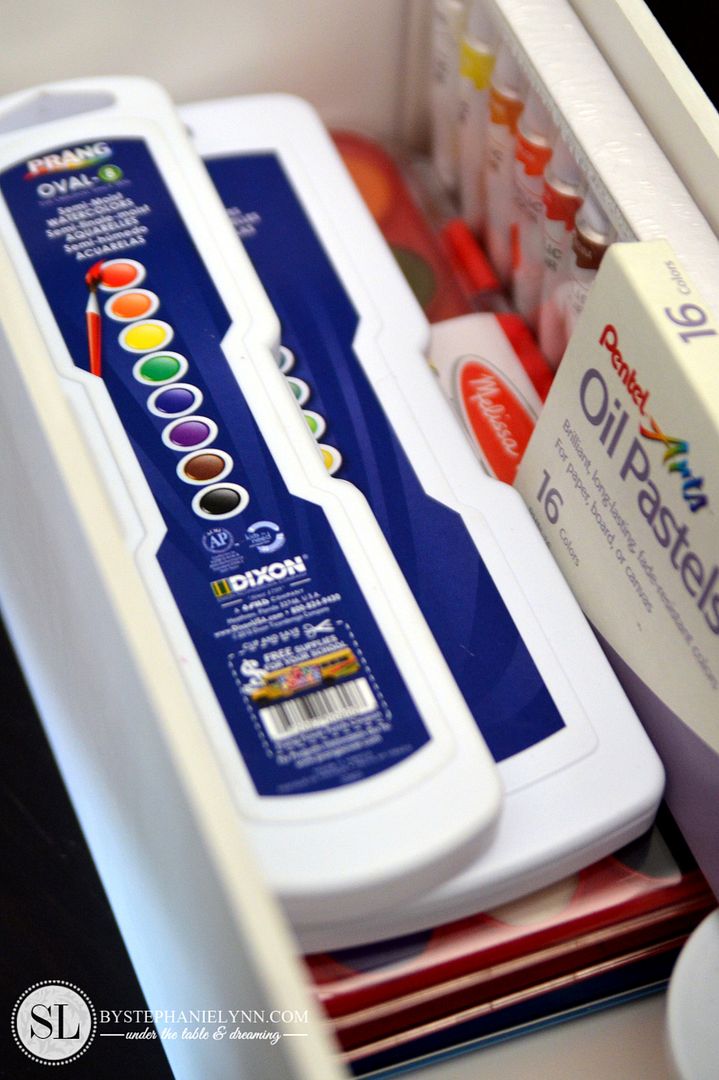 Drawer Three and Four: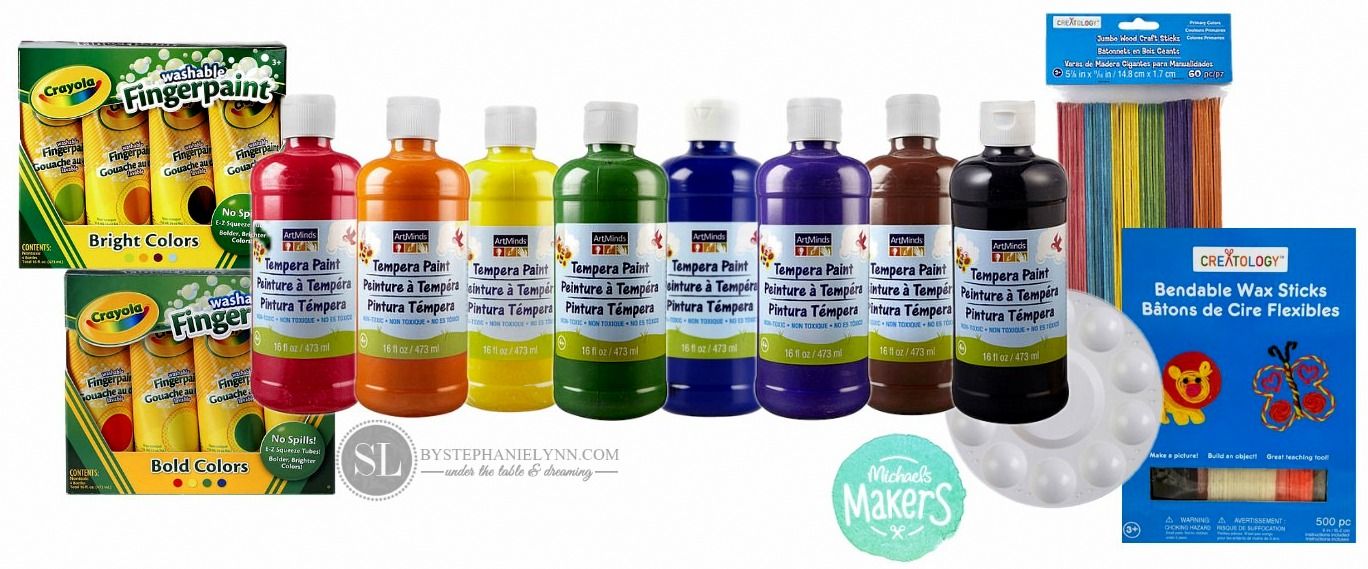 Crayola® Washable Fingerpaint Tubes, Bright Colors & Bold Primary
Artminds™ Tempera Paints
Artist's Loft™ Round 10 Well Artist Palette
Creatology™ Jumbo Wood Craft Sticks, Colored
Creatology™ Bendable Wax Sticks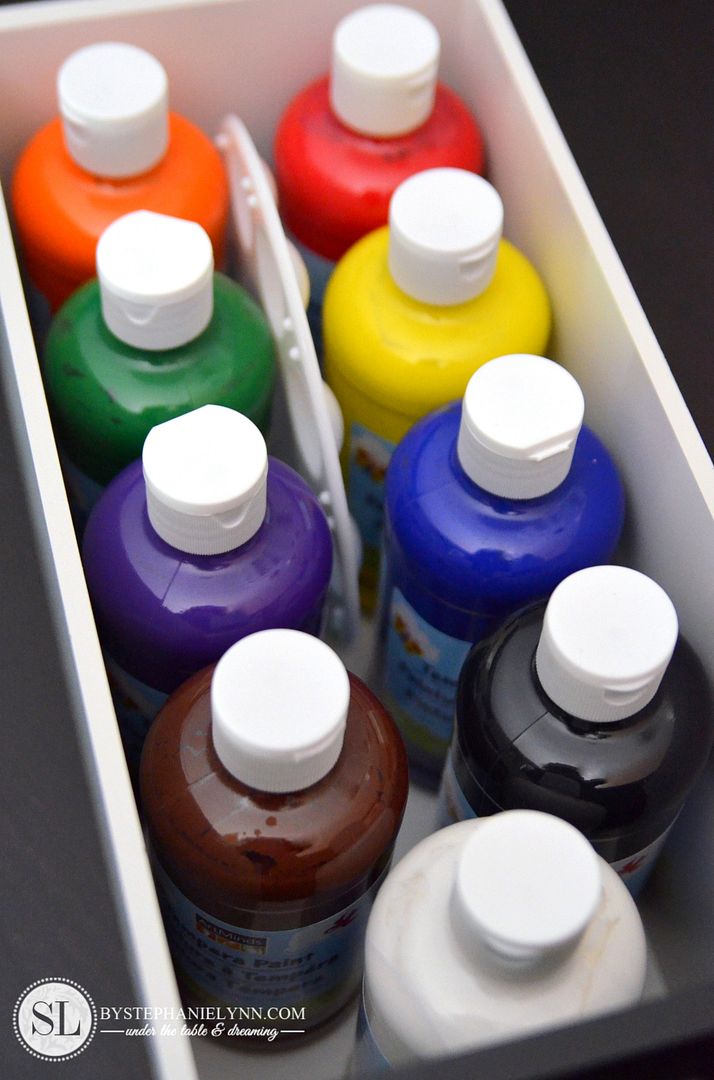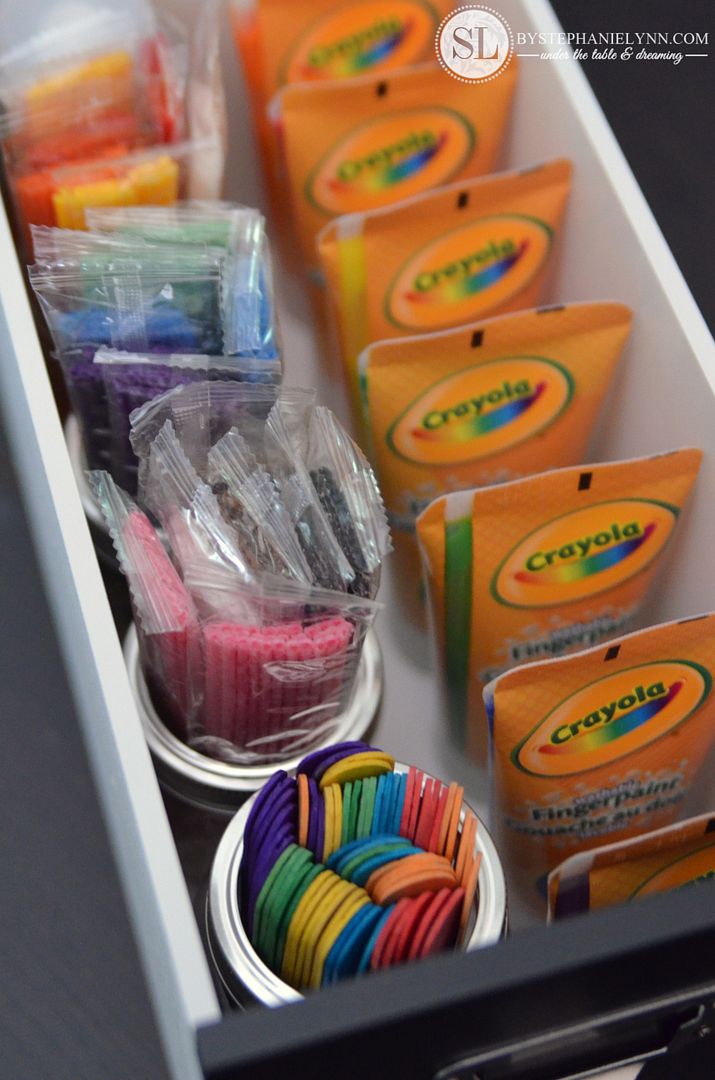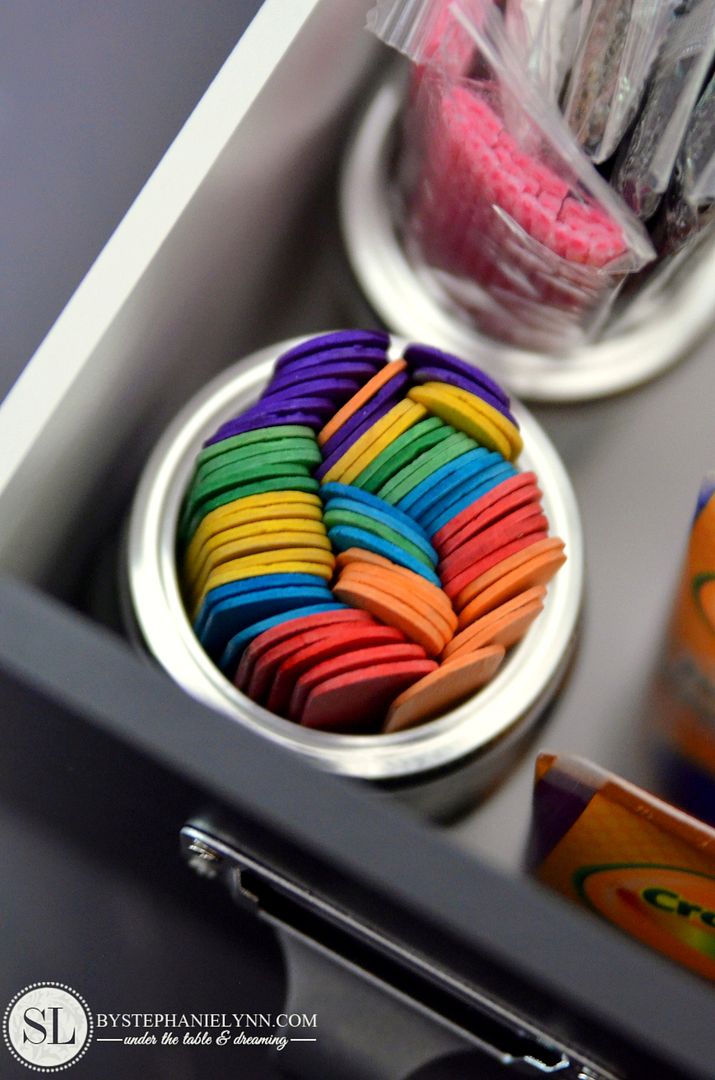 Drawer Five and Six: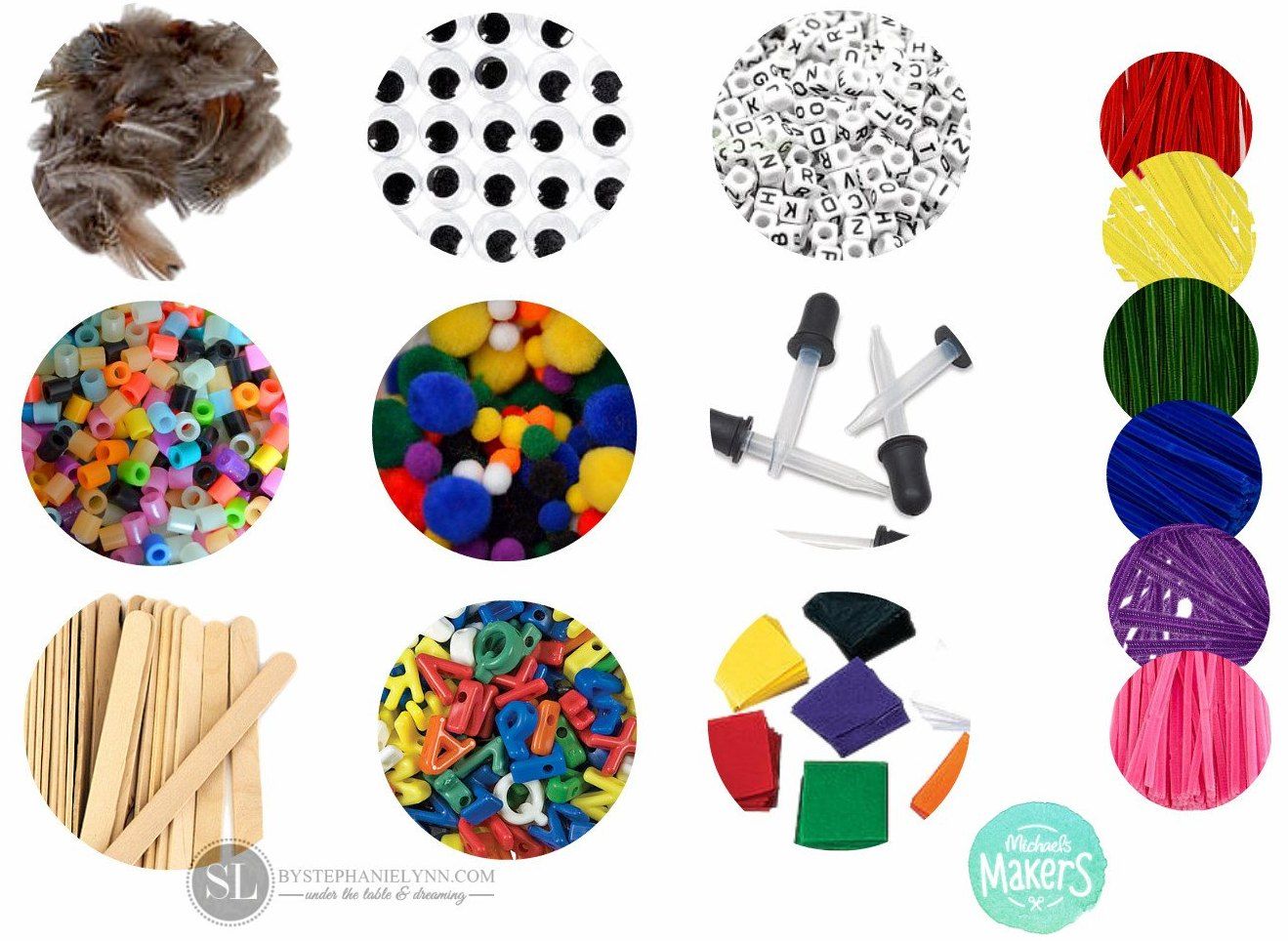 Creatology™ Pheasant Feathers
Perler Beads®
Creatology™ Wood Craft Sticks
Creatology™ Wiggle Eyes
Creatology™ Pom Poms
Creatology™ Alphabet Pony Beads
Creatology™ Black and White Alphabet Beads
Bead Landing™ Bucket Of Pony Beads
Bead Landing™ Bucket Of Wood Beads
Creatology™ Craft Eye Droppers
Darice® Tissue Paper Squares
Creatology™ Chenille Stems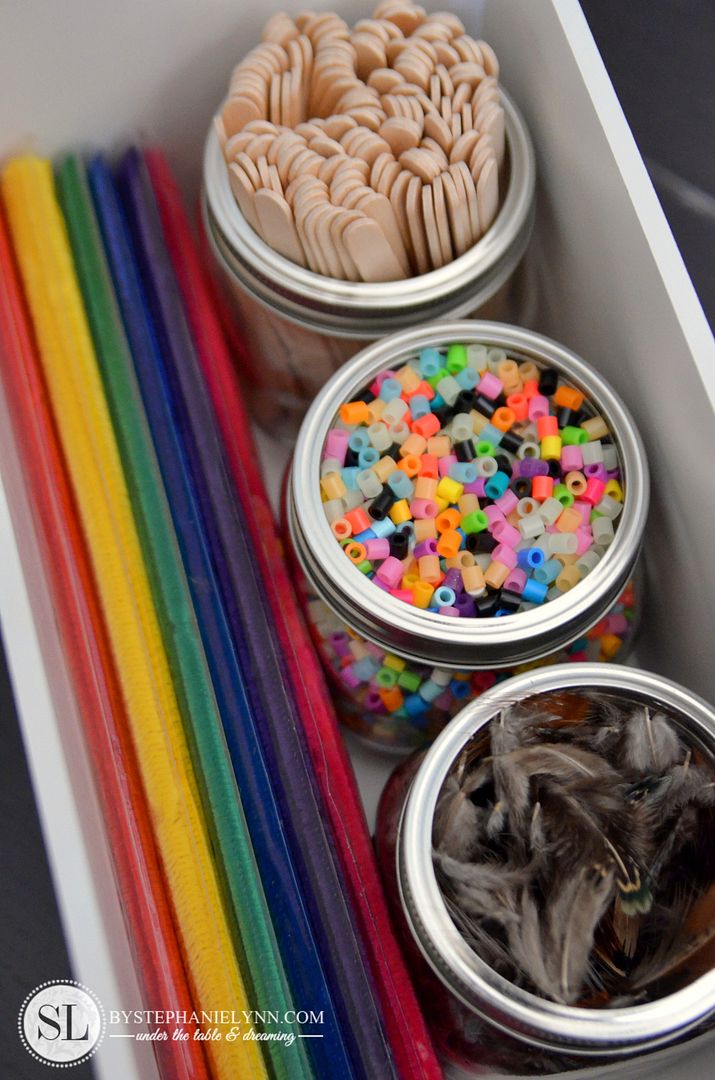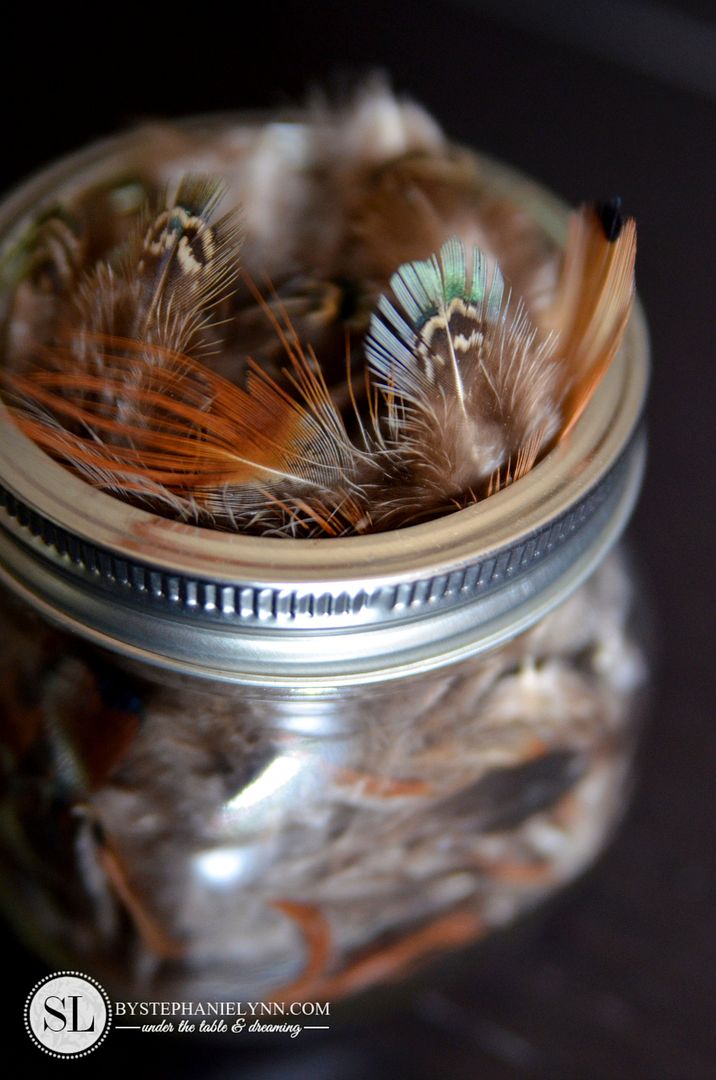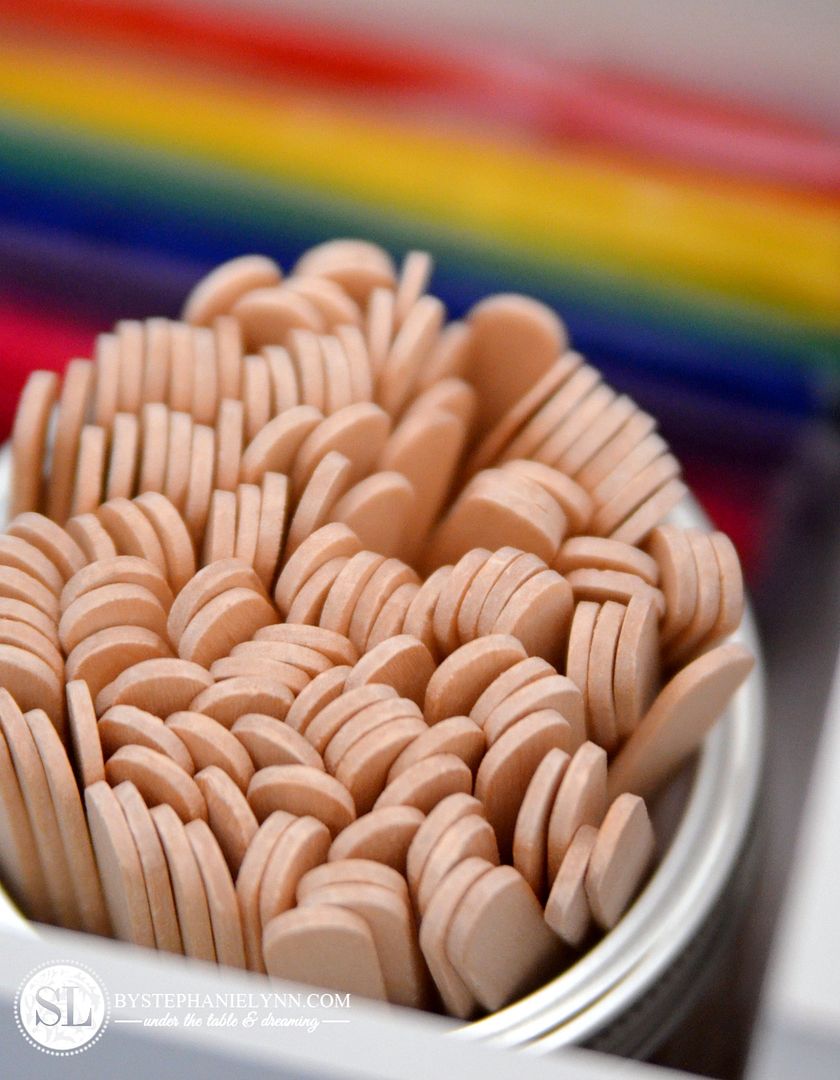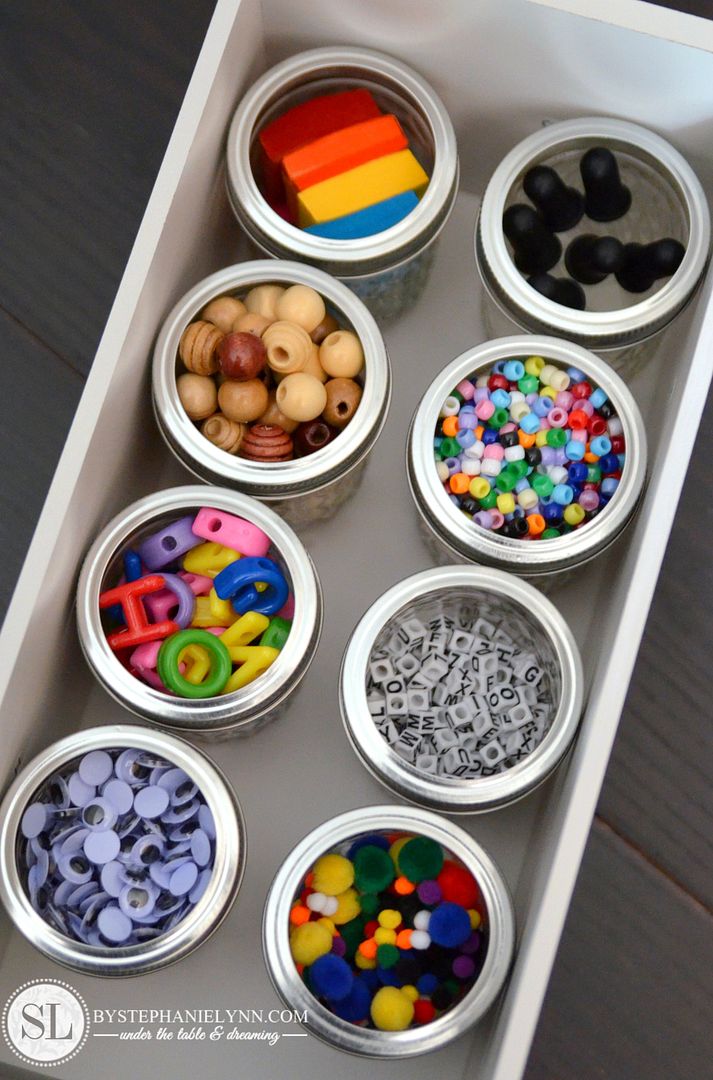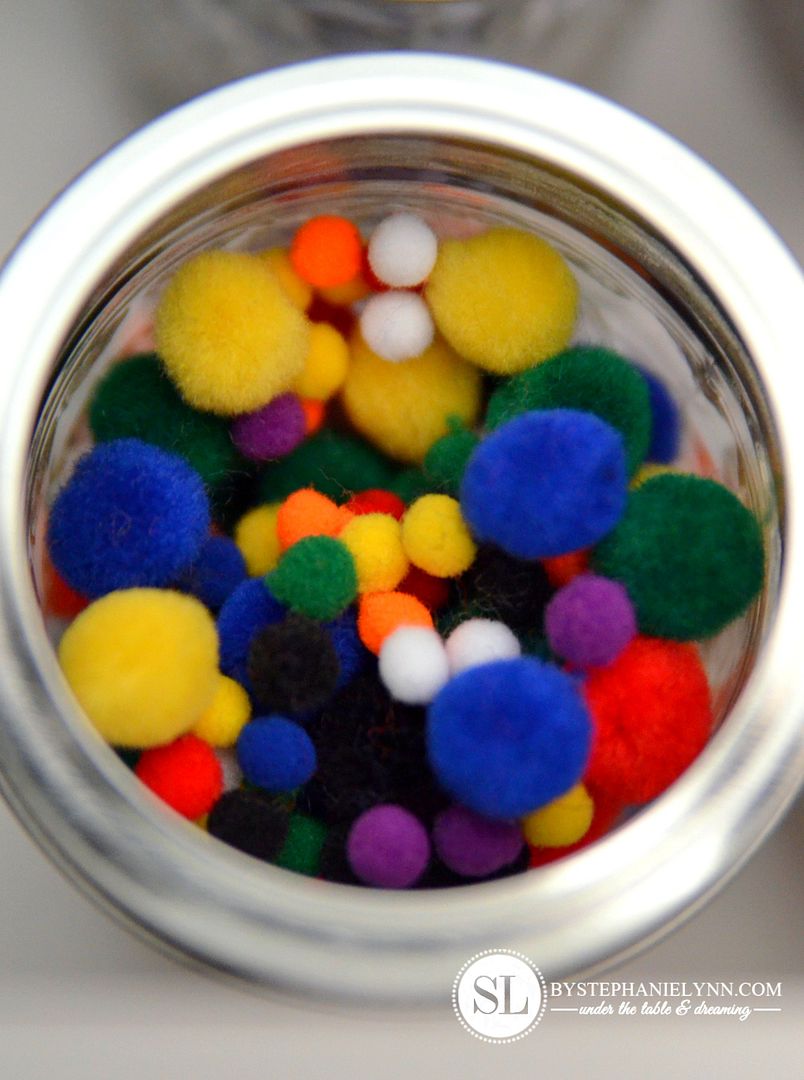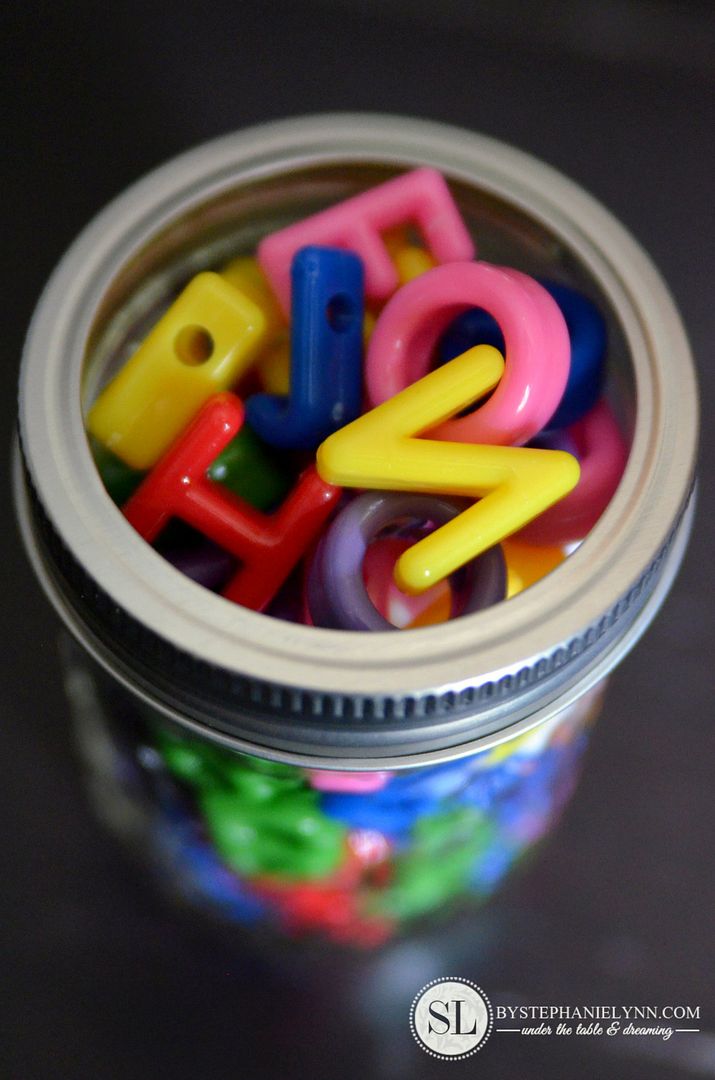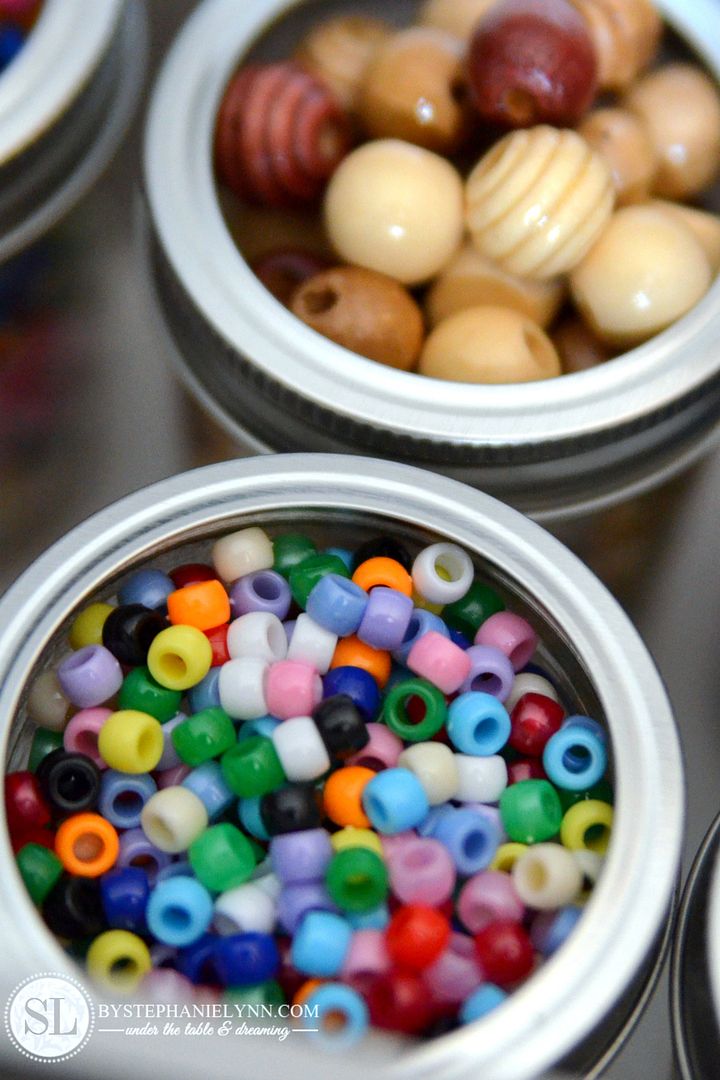 Bottom Shelves: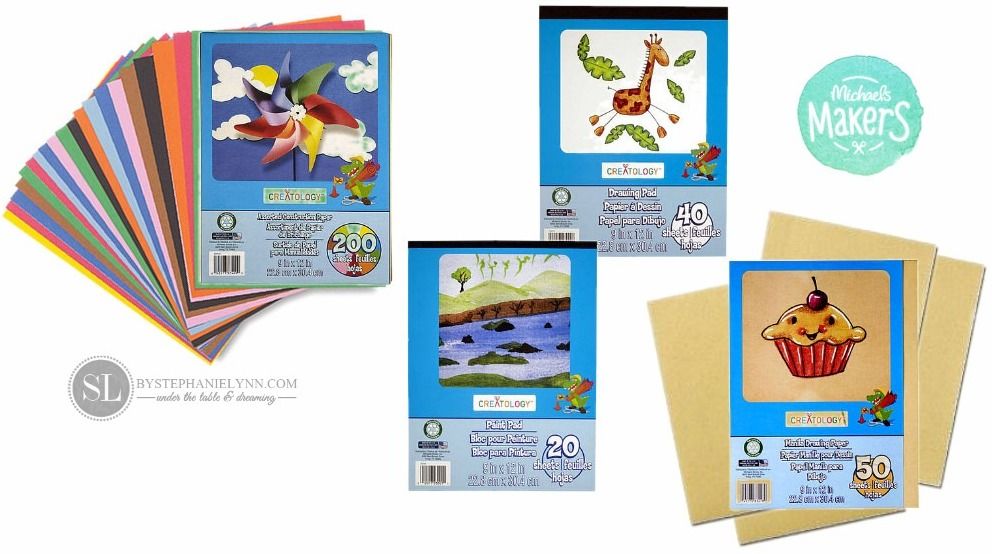 Creatology® Construction Paper
Strathmore® Kids Paint Pad
Strathmore® Kids Drawing Paper
Creatology® Manila Drawing Paper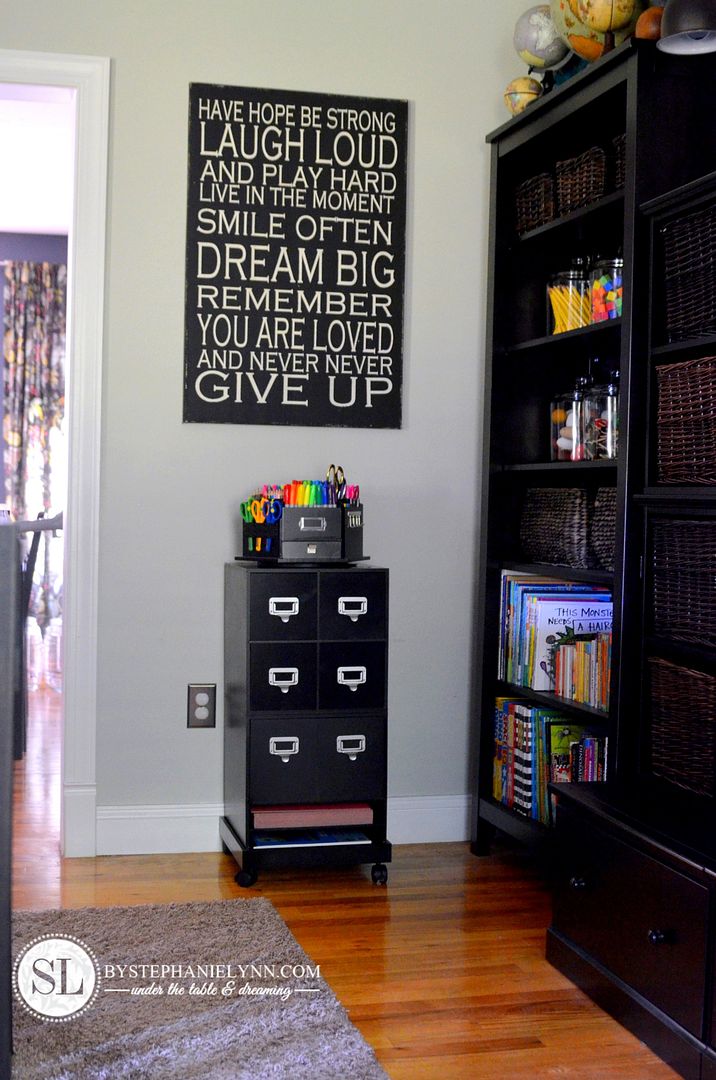 The Desktop Carousel I shared a couple of weeks ago on instagram fit perfectly on top. It received a couple coats of the black Krylon paint to match the cart.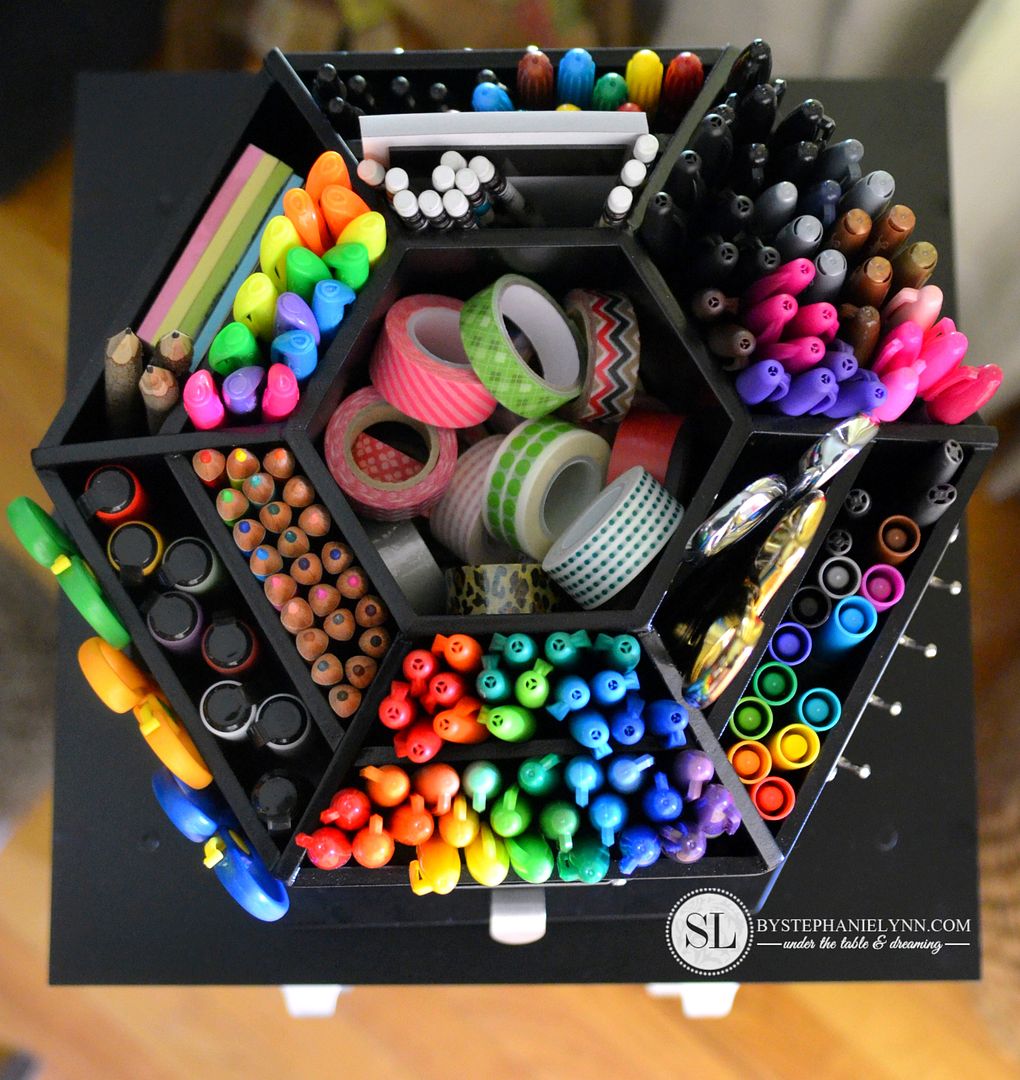 This storage carousel holds so many supplies and keeps them neatly organized and within arms reach.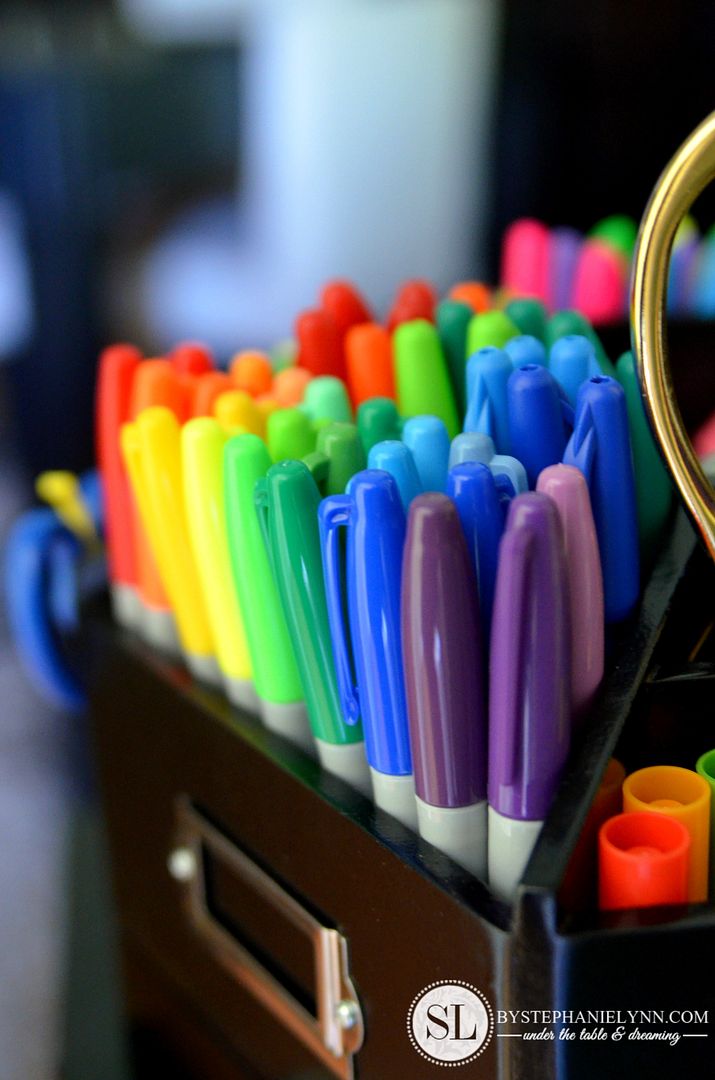 We have filled ours with Sharpie® Markers, colorful pens, colored pencils, Craft Smart® Chalk Markers, scissors, highlighters, pencils, post-its, blendy pens, Crayola® Dryerase™ Markers and Washi Tape.

Outside crafting is one of CJ's favorite summer activities.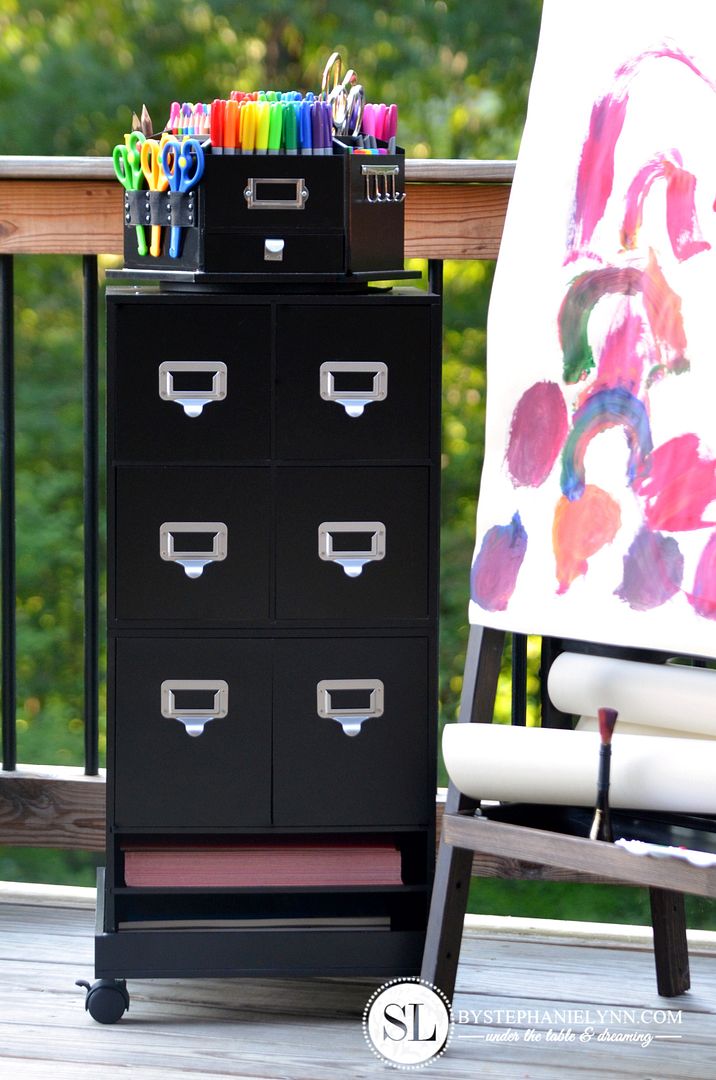 The cart is perfect for this as all of the art supplies can easily be rolled right outside.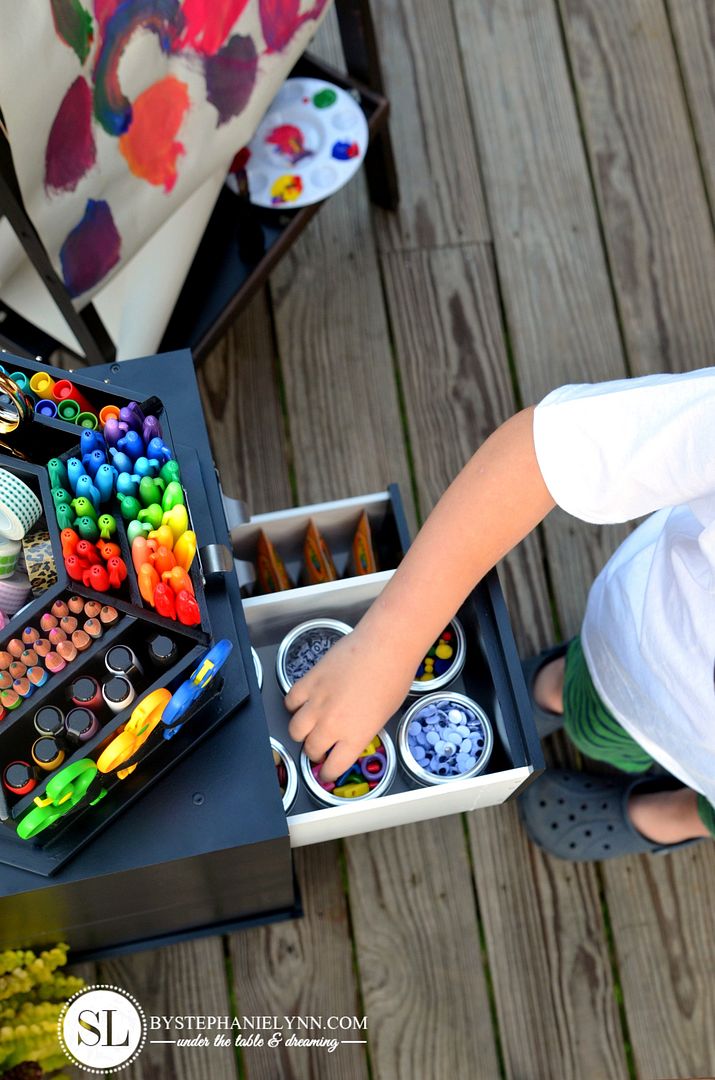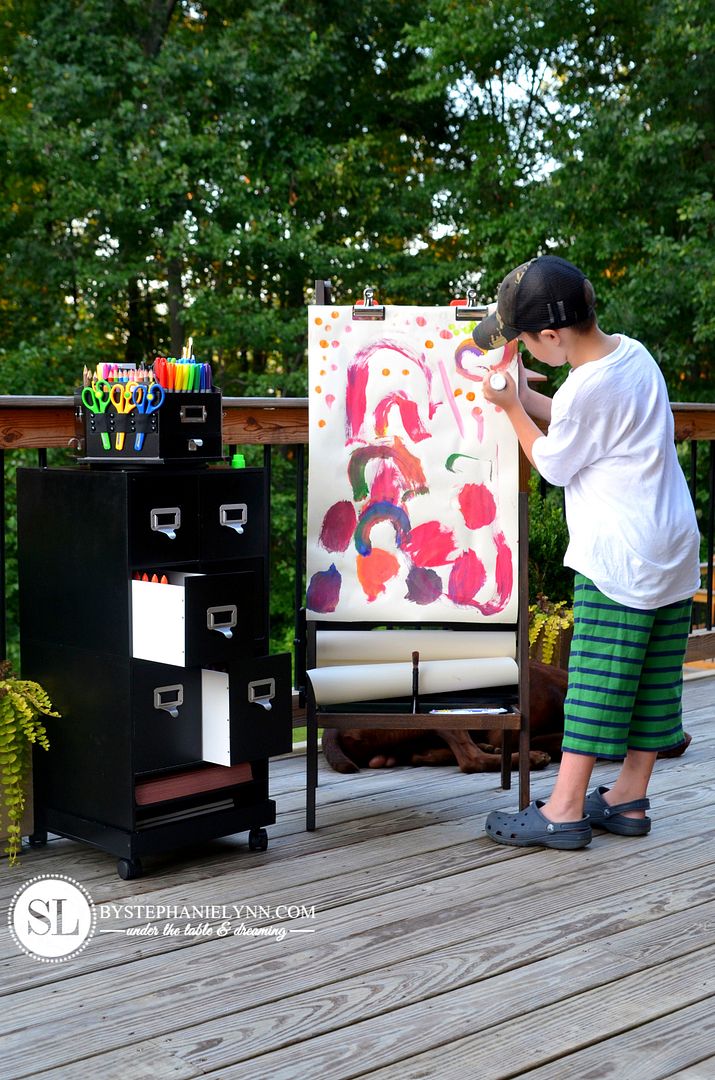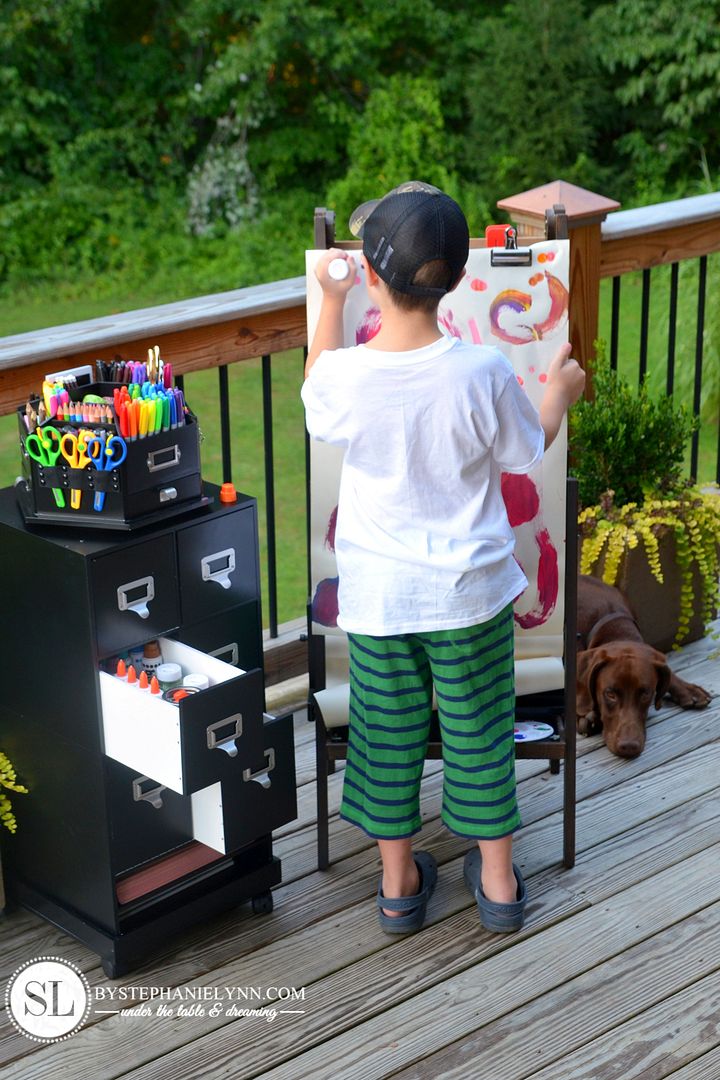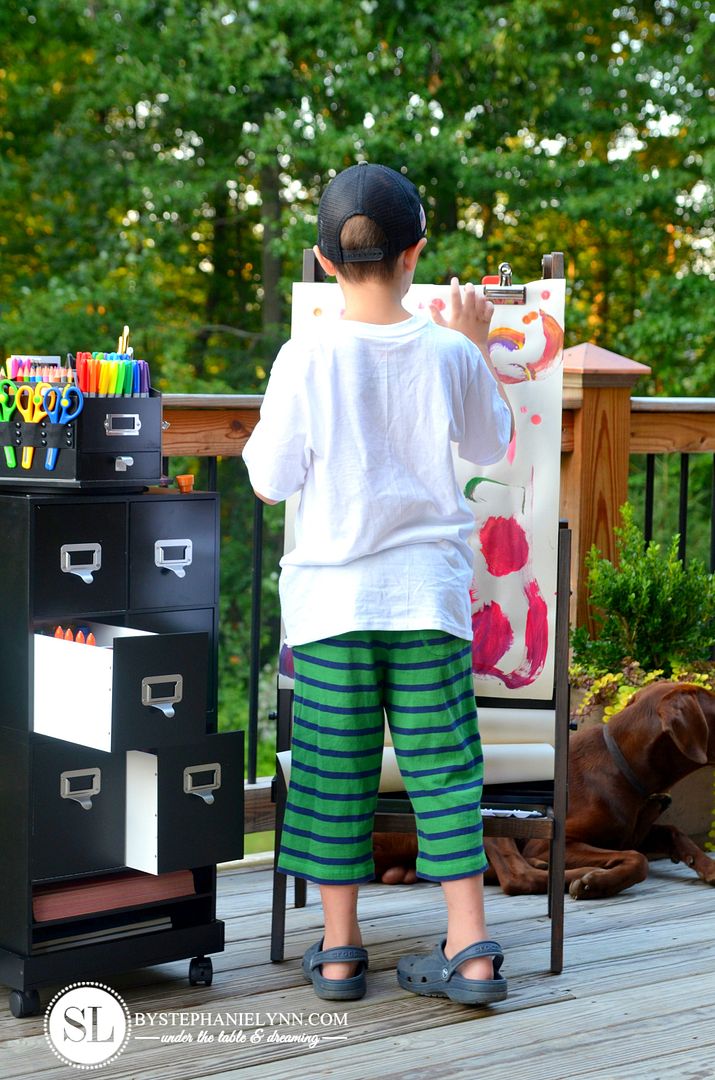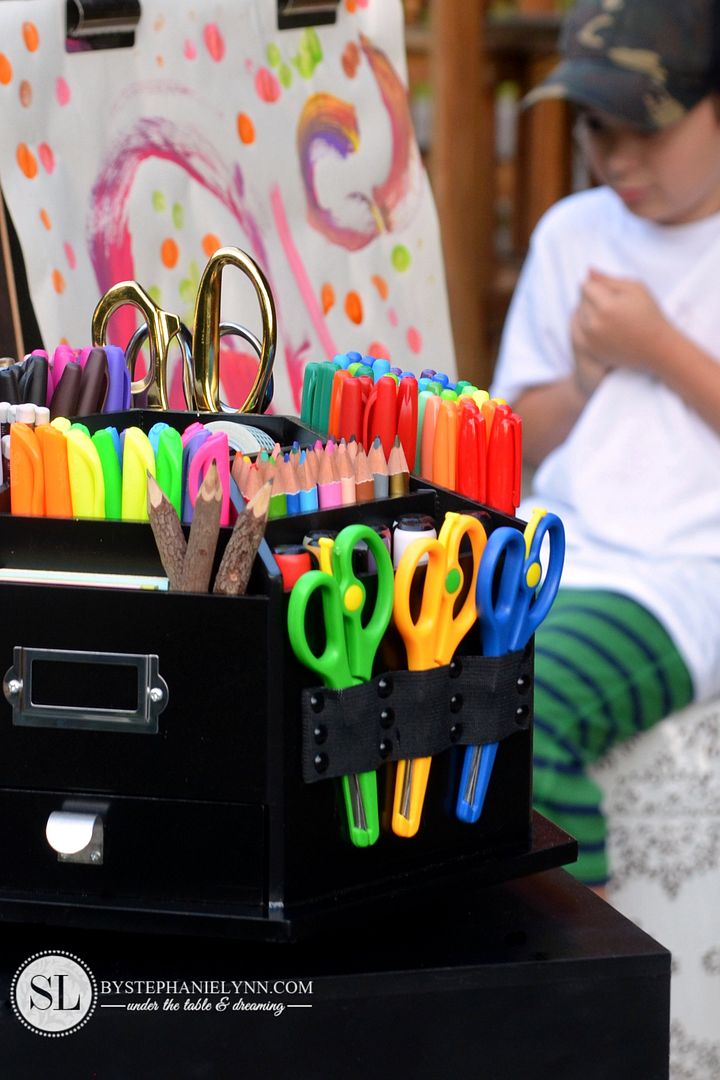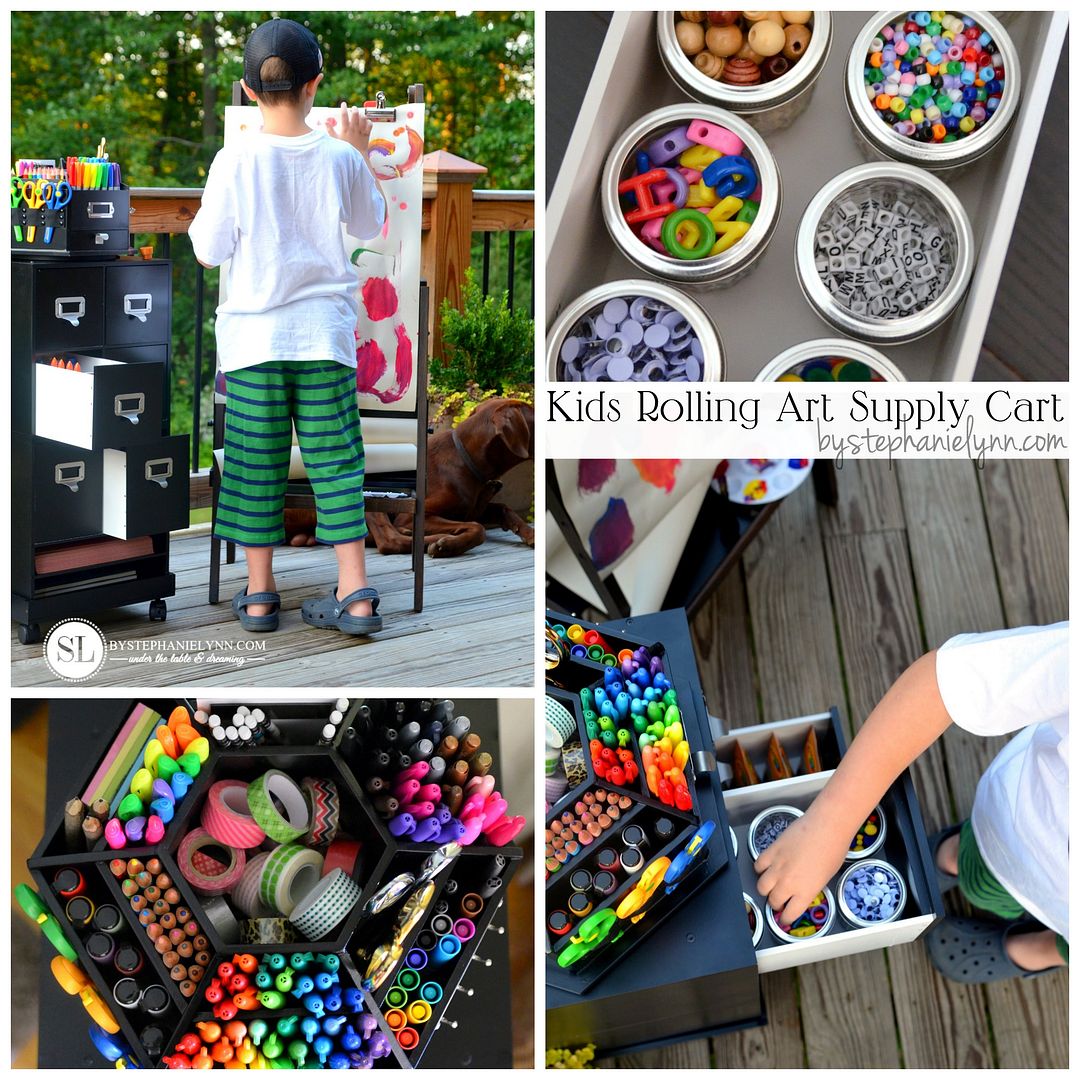 For more back to school inspiration
check out the rest of the projects for this months challenge below – enjoy.
This post is brought to you by Michaels
. The opinions read here are entirely my own. It's time to start planning for the new school year and Michaels has all of the ideas and supplies you need
to create a one-of-a-kind classroom. Did you know Teachers get a 15 percent discount on all classroom purchases plus Michaels now has online shopping
offering Free Shipping on orders over $50 or free in store delivery.
 Check out Michaels' Back to School Pinterest Board to find fun and creative project ideas to kick the year off right!