Snickers Surprise Cookie Recipe – chocolate peanut butter cookies #chocolate4thewin | This shop is sponsored by #CollectiveBias and its advertiser. The story and opinions read here are entirely my own.
The preseason games have begun and that stirs up lots of football excitement in our home. In celebration of last weeks games I made my die hard NFL lover a batch of his favorite chocolate
peanut butter cookies.

If you like peanut butter and snickers, you're in for a real treat with this
Snickers Surprise Cookie Recipe.

These may look like basic peanut butter cookies but tucked inside is a melted
SNICKERS® candy bar surprise.
A delectable concoction of peanut butter, peanuts, milk chocolate and nougat.


Browsing the aisles of Sam's Club, I am sure this recipe would work with a variety of chocolate candy bars, though SNICKERS® are definitely a winner.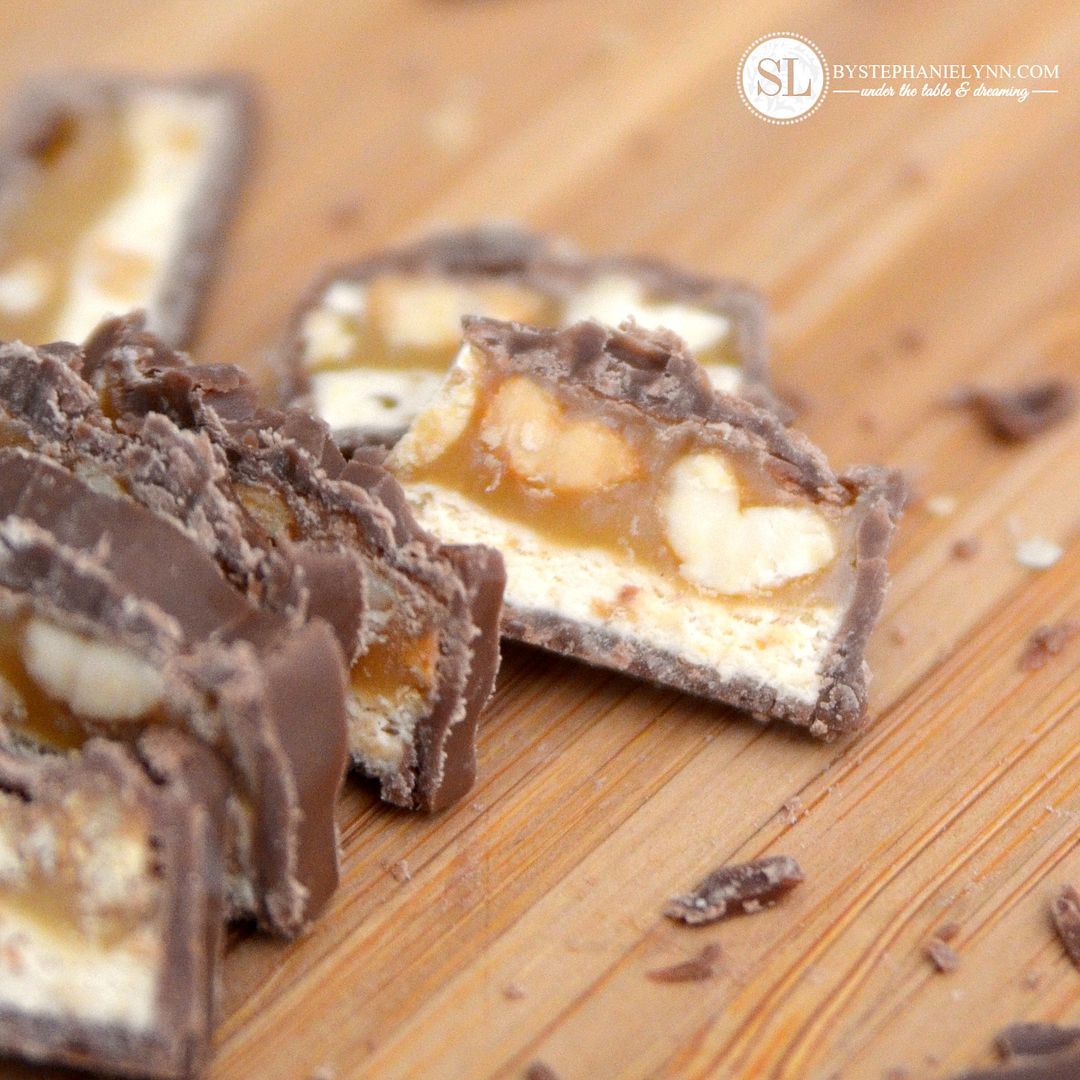 Over the years I have found that thinly slicing the SNICKERS® for this recipe works best. It evenly distributes the candy bar throughout the inside of the cookie –
so you get a little SNICKERS® in every bite.
And check out the little peanut heart I found ♥!

The peanut butter cookie dough is simple to put together – though it does require a two hour chill time. This allows the dough to harden just a bit making it easier to roll the goodies up inside.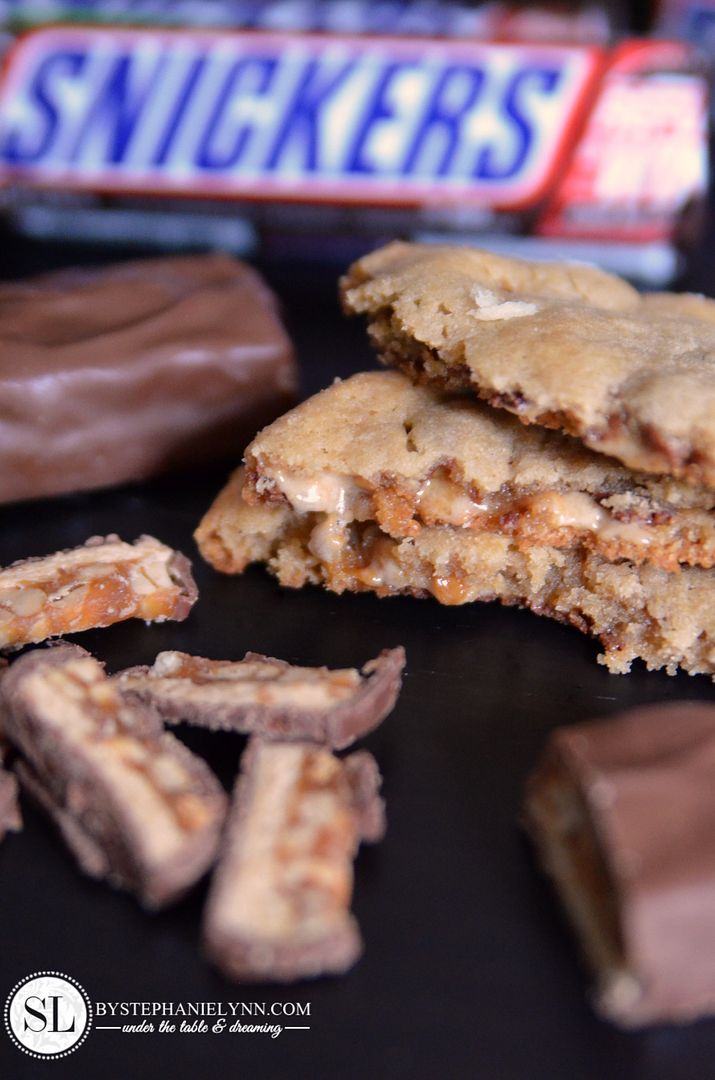 Snickers Surprise Cookie Recipe | chocolate peanut butter cookies #chocolate4thewin
Author:
www.bystephanielynn.com
Ingredients
1 Cup of Butter, softened to room temperature
1 Cup of White Sugar
1 Cup of Brown Sugar. packed
2 Eggs
1 Egg Yolk
2 Teaspoons of Vanilla Extract
8 ounces of Creamy Peanut Butter
2 Cups of All Purpose Flour
1 Teaspoon of Baking Soda
½ Teaspoon of Salt
8 Full Size SNICKERS® Bars, thinly sliced
Instructions
In a large bowl, cream together the butter, white sugar and brown sugar until smooth. This can be done by hand or with a mixer.
Add in eggs, egg yolk, and vanilla and mix until fluffy.
Mix in the peanut butter and set aside.
In a separate bowl sift together the flour, baking soda and salt.
Gradually add the sifted flour to the peanut butter mixture, at low speed.
Refrigerate the dough for at least two hours.
Preheat oven to 350ºF.
Scoop out a spoonful of dough, gently press it flat and place a few slices of SNICKERS® in the center. Fold the dough over, covering the SNICKERS®, and roll into a ball shape.
Place the cookie dough balls on baking sheet lined with parchment paper (leaving adequate room for the cookies to spread) and bake for 12 to 15 minutes, until the edges are lightly browned.
Notes
Makes approximately 48 cookies.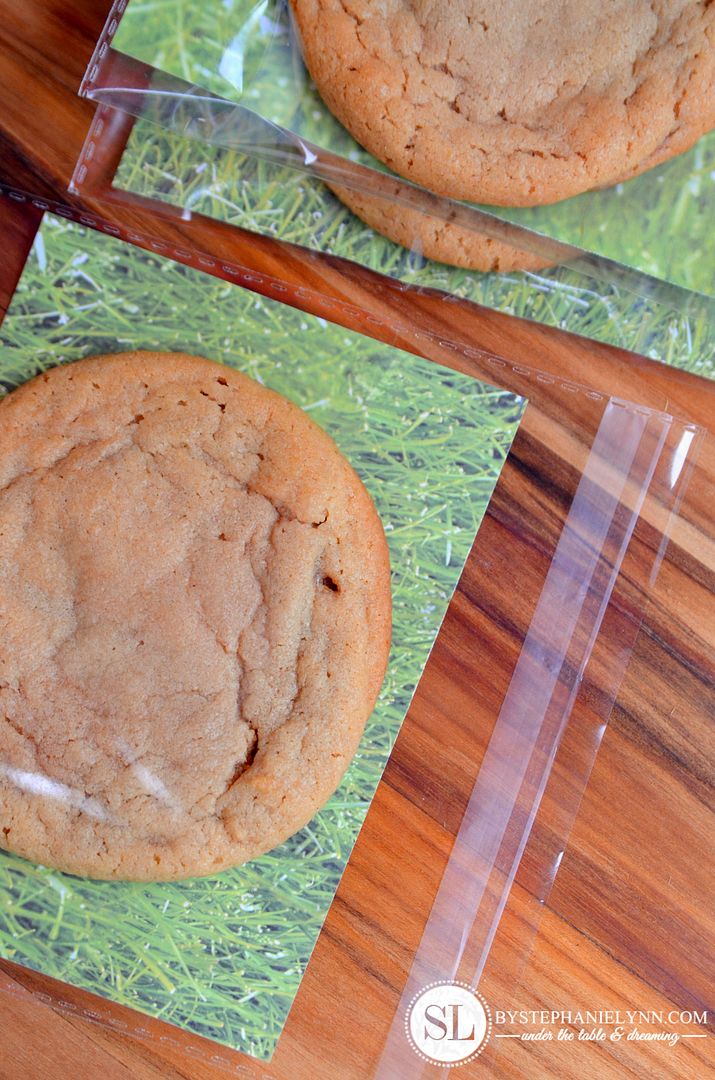 I made a few double-sized cookies for my little guy to hand out this week. The fun and festive packaging was so simple to put together and perfect to tote the cookies around, on-the-go.
The clear envelopes and grass print paper were found right at our local Michaels in the scrapbooking section. The envelopes come with a sticky adhesive strip to seal the cookie inside – and the paper was just trimmed to fit inside.

Two pieces of solid scrapbook paper were simply wrapped around the center and attached with tape. A great way to incorporate your favorite teams colors.
I also made the 'Go Team' wrapper a printable that can be downloaded here –
Go Team Free Printable.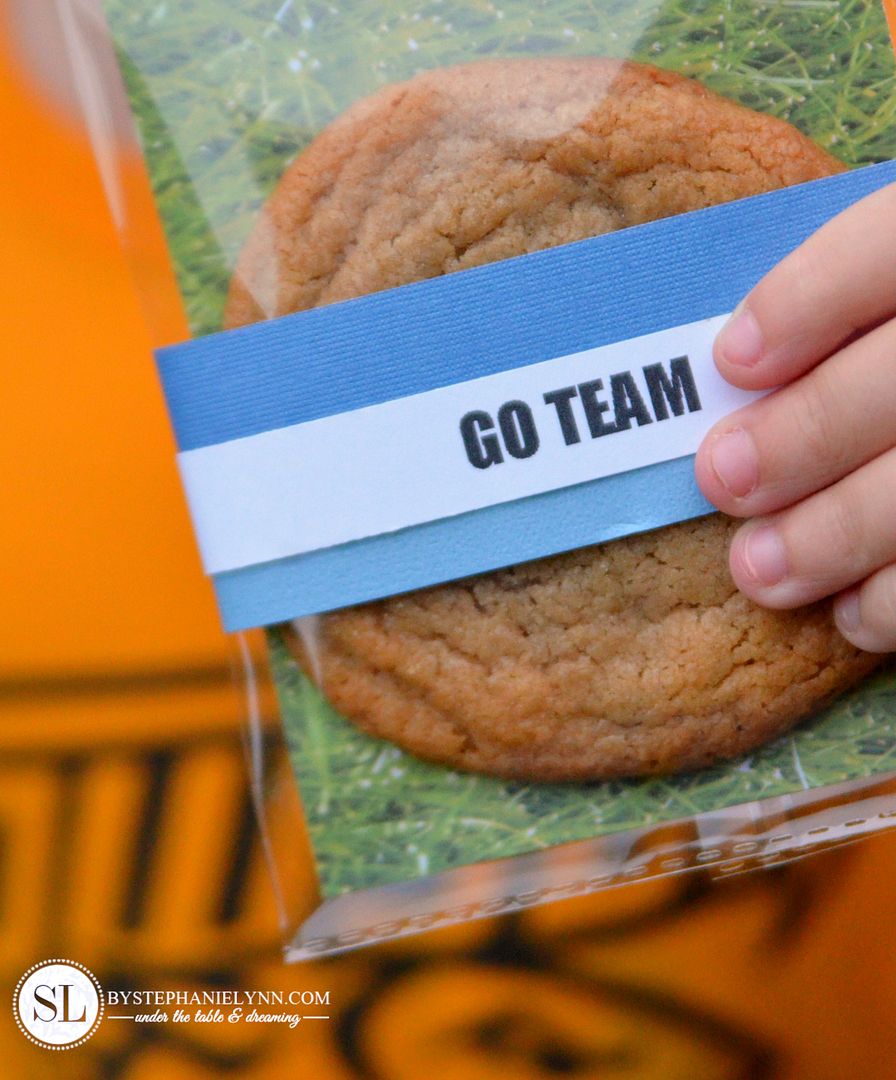 Are you ready for the season?