Back to School Shopping with Zappos – #zapposstyle | I have participated in a campaign on behalf of Mom Central Consulting for Zappos.com. I have received product samples to facilitate my review.
Back to school shopping has always been one of my favorite times of the year – both growing up and now for my little guy.  One thing I enjoy even more than shopping for supplies, is re-vamping my little guys wardrobe for the upcoming season.
When looking for high quality, durable clothing there are a few brands with high reputation I always turn to, that do not disappoint. Shopping certain brands around here though usually entails a trip to the mall. As much as I enjoy a day spent browsing the stores at our local shopping center it can be very overwhelming at times for CJ. The sensory overload alone is more than enough for him to process – not to mention even beginning to explain the 'trying on clothes' process. So for the past couple of years I have turned to solely shopping online each season for all of CJ's clothing, shoes, and accessory needs.
One site I continuously browse, not only for CJ but the entire family, is Zappos. I've been a big fan for years as they carry a wide variety of high quality clothing, shoes, and accessories from some of the top brands I just love. It's definitely one stop shopping at its finest right from the comforts and convenience of your own home. Being a long-time customer I was beyond thrilled to recently be appointed a Zappos Brand Ambassador for the back to school season.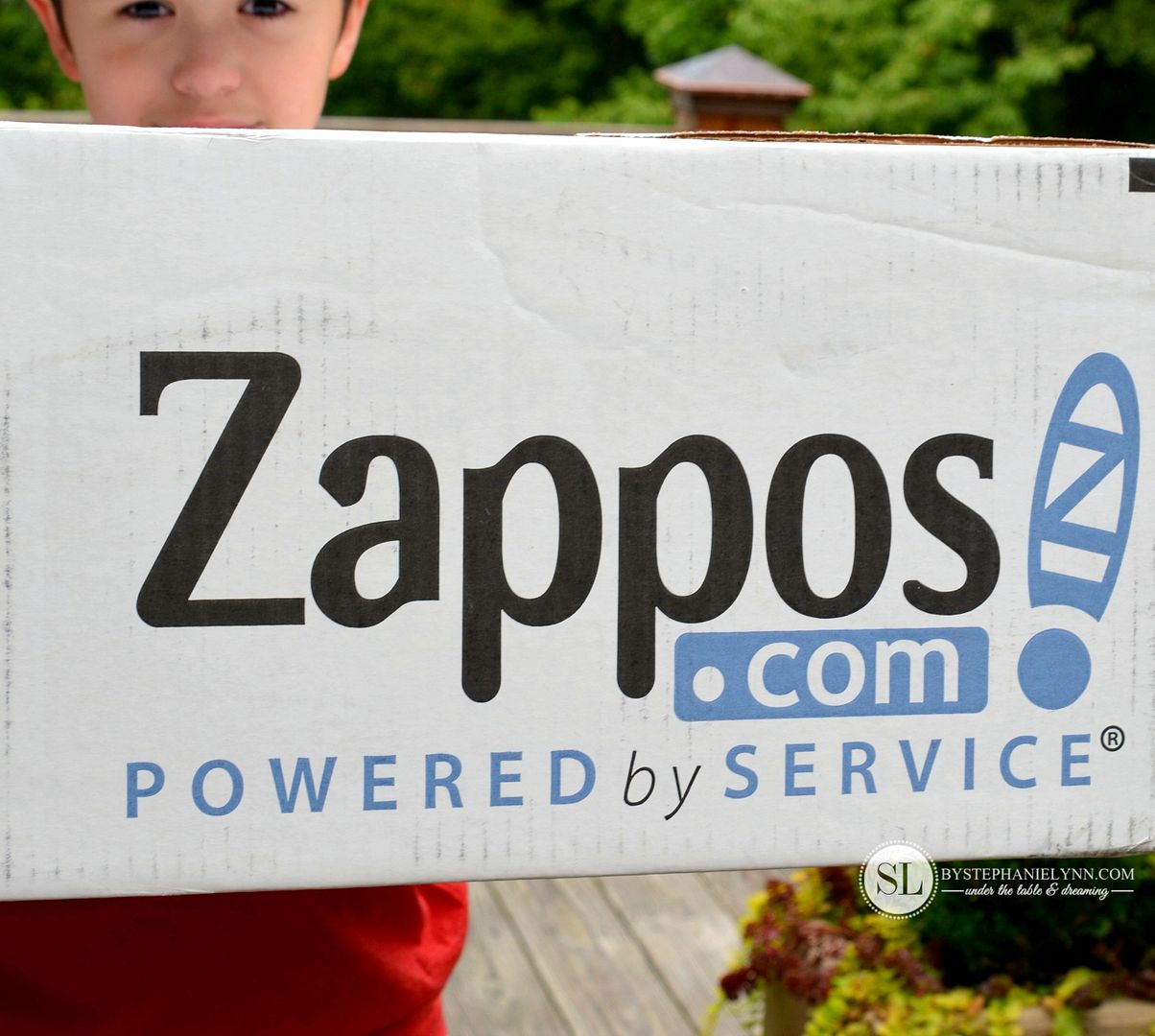 Zappos.com is one stop shop for everyone on your back to school wardrobe list carrying everything from clothing and shoes to backpacks and accessories.
To be honest the thought of shopping online without seeing the items in person or trying them on used to scare me a bit. Zappos alleviates those fears though with their free shipping and free returns policy. You can't go wrong with any Zappos online purchase – if something doesn't fit or isn't what you expected it's very simple and easy to return or exchange the item – hassle-free.
Another thing that eases my mind while shopping online with Zappos is the product descriptions. They are simply the best around – giving thorough details of every item. I love how many of the items, like the backpacks and jackets, have actual video demonstrations as well. This has help me tremendously along with the manufactures sizing charts to get a feel for the true sizing of items…online.
As we prepare for the upcoming seasons here are a few of our favorite Zappos picks…
Outerwear Essentials
Quality and durability play a huge a part in choosing outerwear essentials and are my top priority when shopping for the upcoming seasons. Since items in this category may carry over from season to season, or even year to year, I look for simple, classic pieces with subtle colors. Any trendy items my little guy is loving, like characters or patterns, I like to save and incorporate into the accessories, like hats or scarves – since those items can easily be replaced and tend to be less expensive.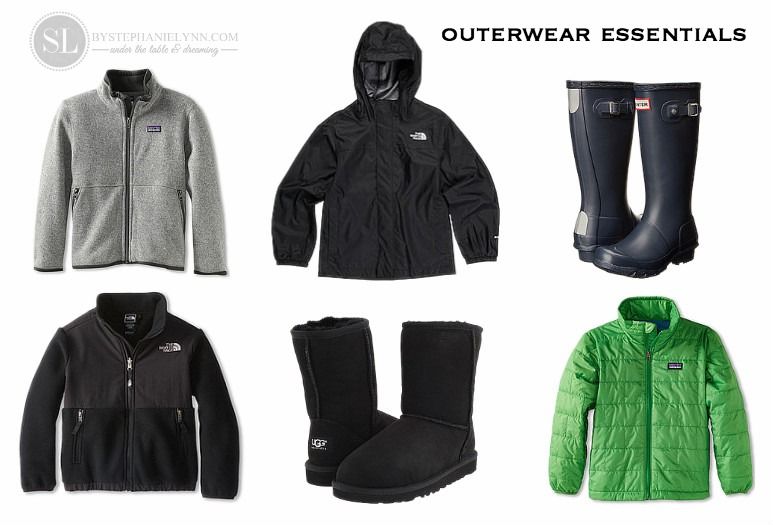 Patagonia Kids Better Sweater™ Jacket
The North Face Kids Zipline Rain Jacket
Hunter Kids Original Boots
The North Face Kids Denali Jacket
UGG Kids Classic
Patagonia Kids Nano Puff® Jacket
Transitional Wear
Below are a few of our outfits picks for back to school. As the weather this time of year can be a bit tricky we like to slowly transition into season by adding some items that are easy to layer. This still allows for some of our warm-weather pieces to work far into the colder-weather months.
Oscar de la Renta Long Sleeve Woven Check
Patagonia Kids Polarized Graphic Tee
Levi's® Kids 505™ Regular Fit Jean
Volcom Kids Frickin Chino Short
Lacoste Kids Long Sleeve Jersey Hoodie Tee
Herschel Supply Co. Survey Kids Backpack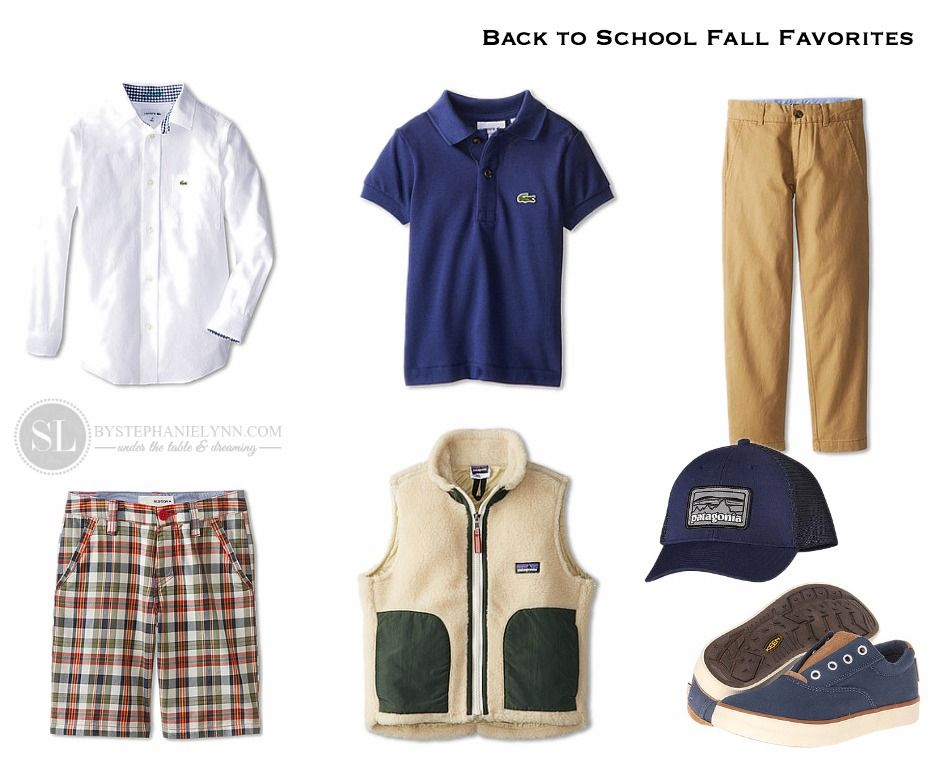 Lacoste Kids Long Sleeve Oxford Shirt
Lacoste Kids Short Sleeve Classic Pique Polo Shirt
Tommy Hilfiger Kids Academy Chino Pant
Burton Kids Basecamp Short
Patagonia Kids Kids' Retro-X Vest
Patagonia LoPro Trucker
Keen Kids Santa Cruz Slip-On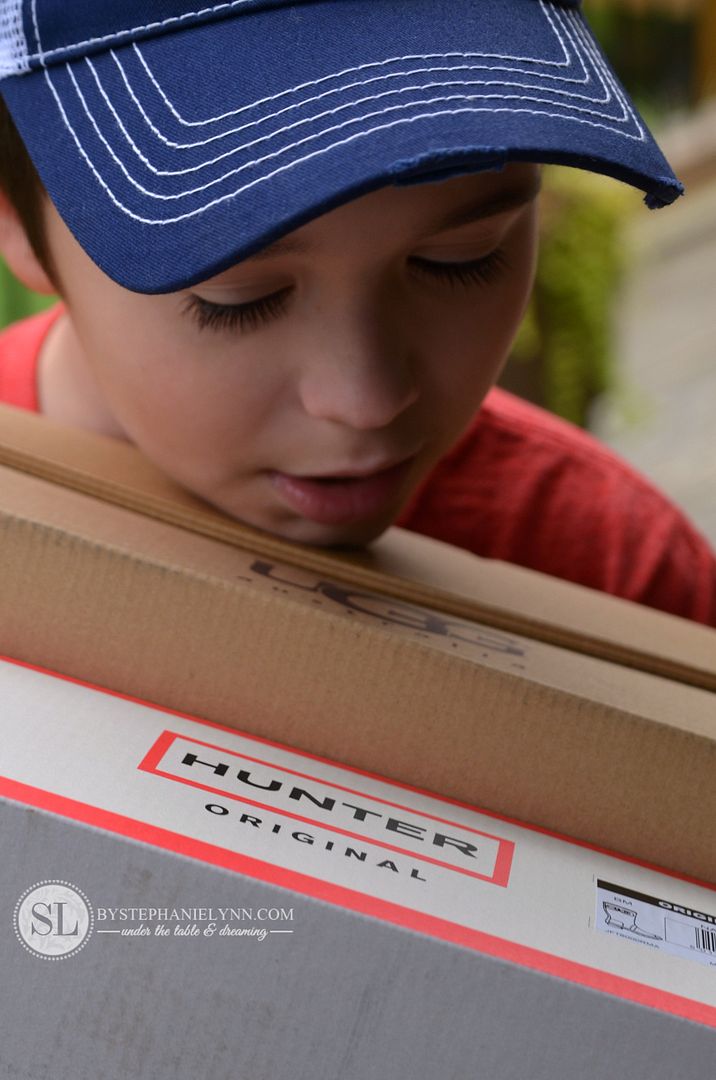 We will be sharing a little fashion show in the next couple of weeks showcasing some of our favorite items from our latest order.
In the meantime, checkout what inspires the Zappos family on
Facebook | Twitter | Pinterest | Instagram