Build a Toy Storage Bin | Toy Emporium DIY Play Food Organizer #TargetToys| This shop is sponsored by #CollectiveBias and it's advertiser. The story and opinions read here are entirely my own.
Over the past seven years our little guy has had the opportunity to work with some pretty amazing therapists. While they all have taught us many great things as a family – one of the most important concepts we learned early on was valuable benefits of play.
From the beginning, I modeled all of our toy selections after the very same educational toys they would bring over for therapy week after week. They openly shared their sources, suggestions, and the value behind buying toys that will last for years and grow with your child developments. I listened, took notes and honestly became a little obsessed with a handful of these specialty brands – many of which specifically make wooden toys.
Wooden toys spark imagination and creativity – not to mention the added benefits of developmental skills, fine motor skills, hand-eye coordination, social interaction…and the list goes on. There is not one toy that these companies make that CJ not only adores – but I truly love as well.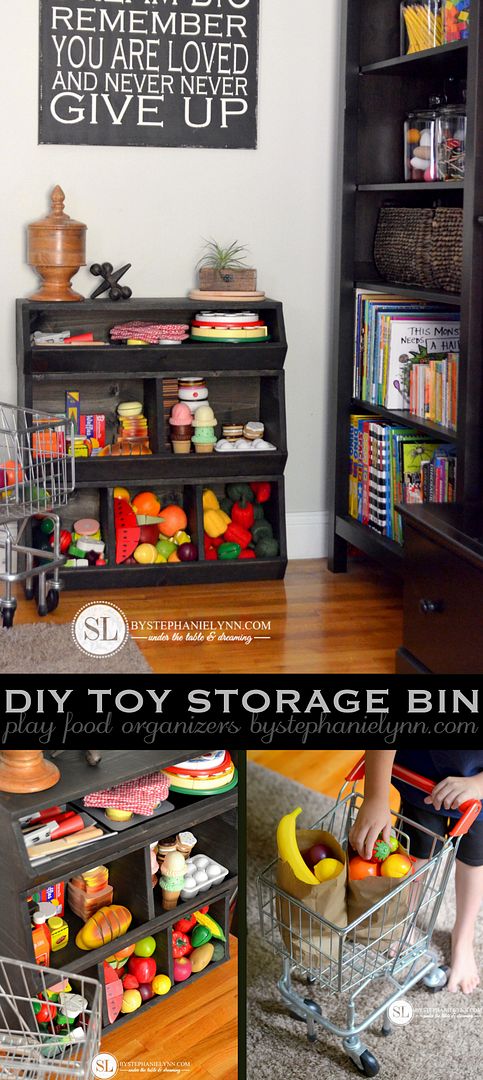 We have had some of our toys now for seven years+ – and they are still creatively being 'played with' today. One of the most loved collections we have is the wooden play food. It is the hit of the playroom and every gathering we have had I have seen children from 2 to 10 years old play cohesively together using it.
Right now we use the play food on a regular basis in our homeschool room. Though it can be incorporated into many different activities – we mainly use it to work on math skills, social skills, fine motor skills and story telling. It also tremendously helps us keep CJ in touch with food and his feeding therapies – as with the feeding tube this can be a real challenge.
Instead of tossing it in the storage unit we already have in the room – I thought it would be fun to display the food in a set of market style storage bins.
The plans below are for one toy storage bin. For the complete unit, shown above, we stacked three of the bins together.
DIY Toy Storage Bin
Materials Needed:
1 inch X 8 inch Common Board (top and bottom)
1 inch X 12 inch Common Board (sides and back)
1 inch X 4 inch Common Board (front lip)
Wood Glue
Stain or Paint
Tools Needed: jig saw or band saw, chop saw, nail gun, sander, measuring tape, pencil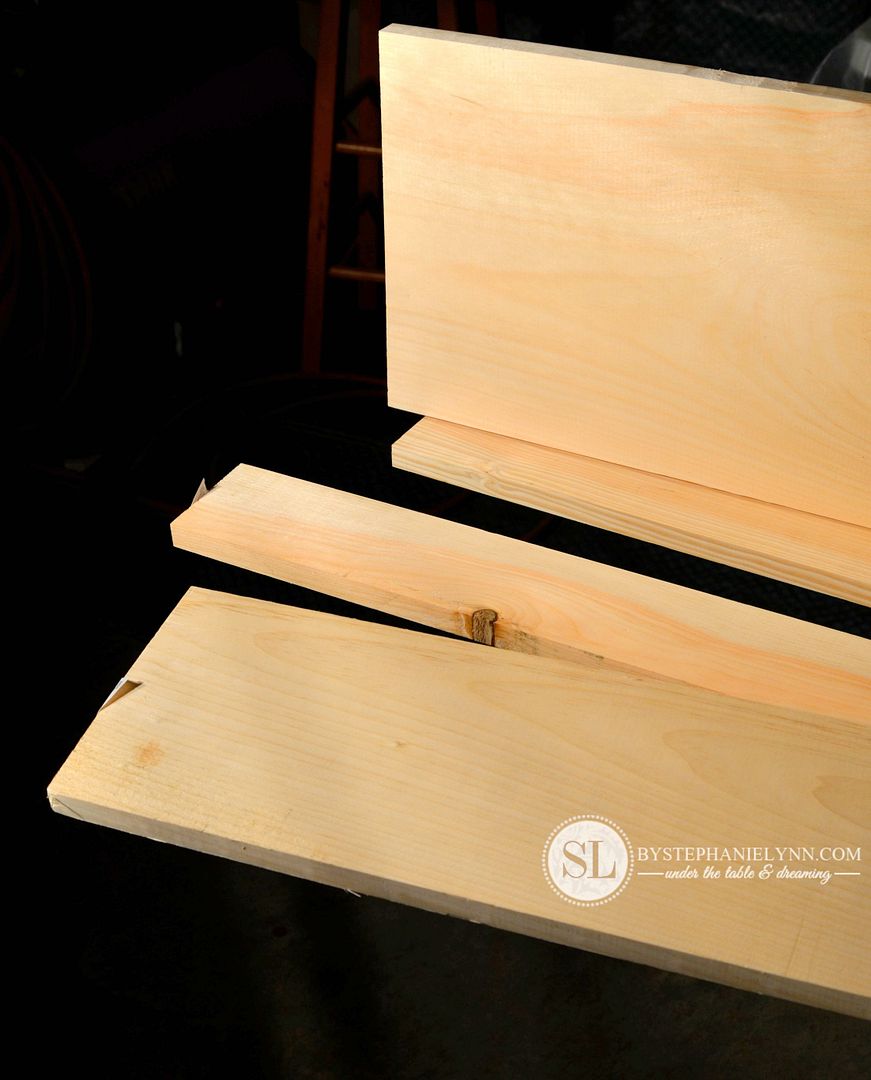 Step One: Measure and cut the wood.
Cut List:
Two 1 X 8's cut 26 inches long  (top & bottom)
One 1 X 12 cut 26 inches long (back)
Two 1 X 12's cut to the measurements in the diagram below (sides)
One 1 X 4 cut 26 inches long (front lip)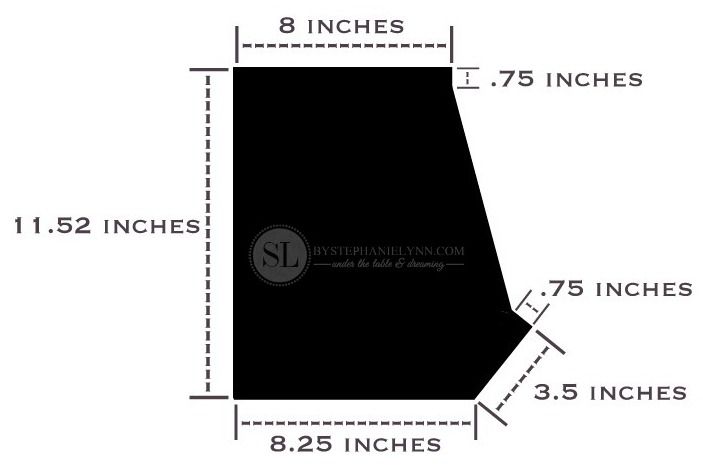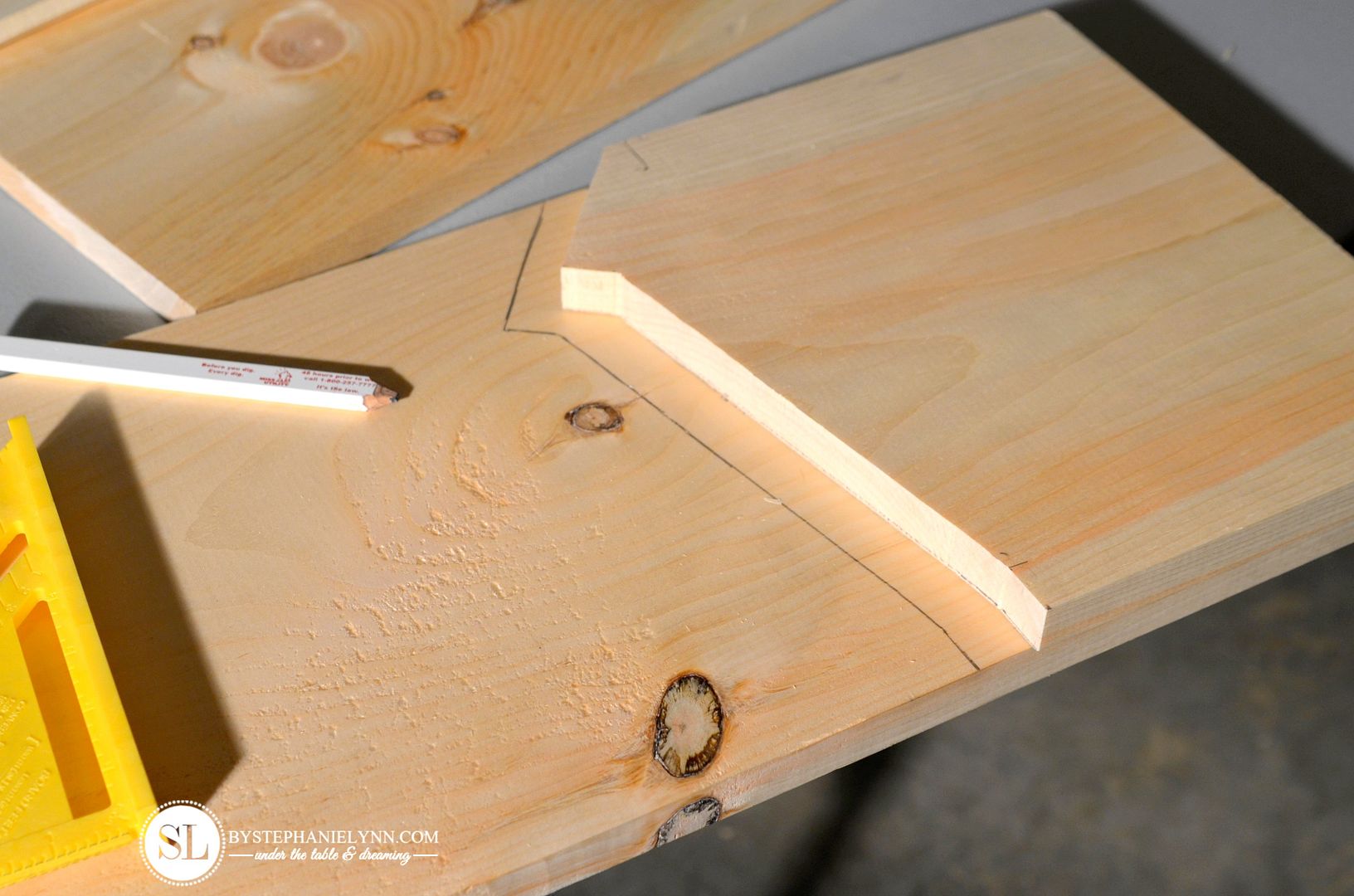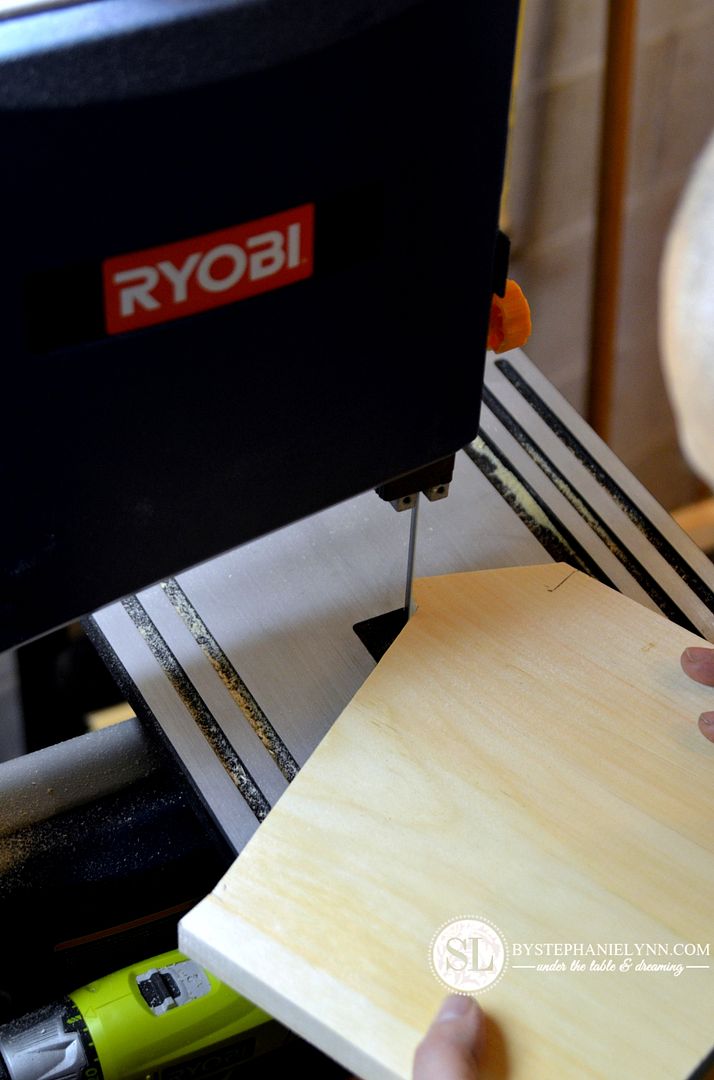 We used a scroll saw to cut the sides – however the cuts can be made by using a jig saw as well.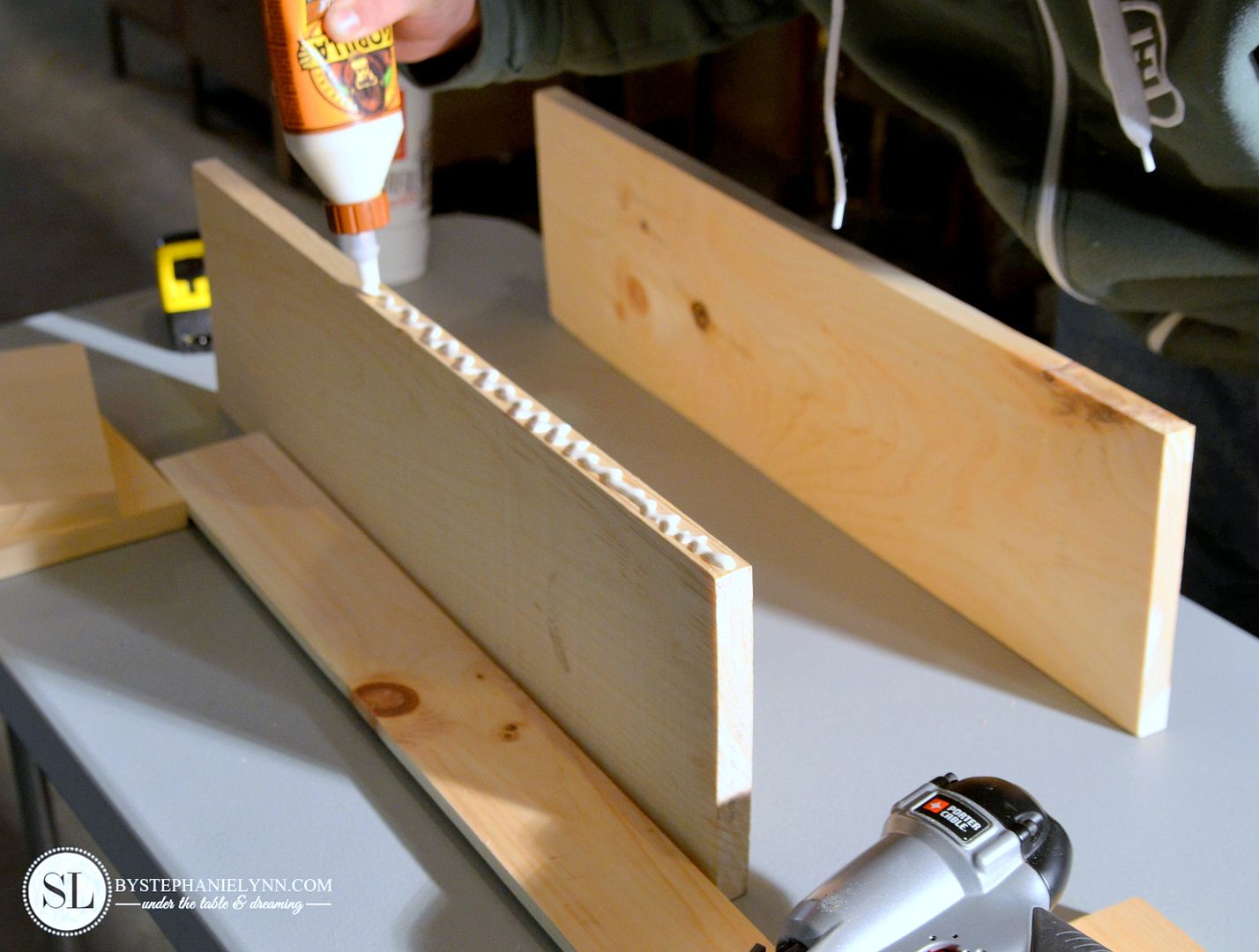 Step Two: Assemble the bin.
Begin by laying out the 'top and bottom' pieces and lining the edges with a bead of wood glue – as shown above.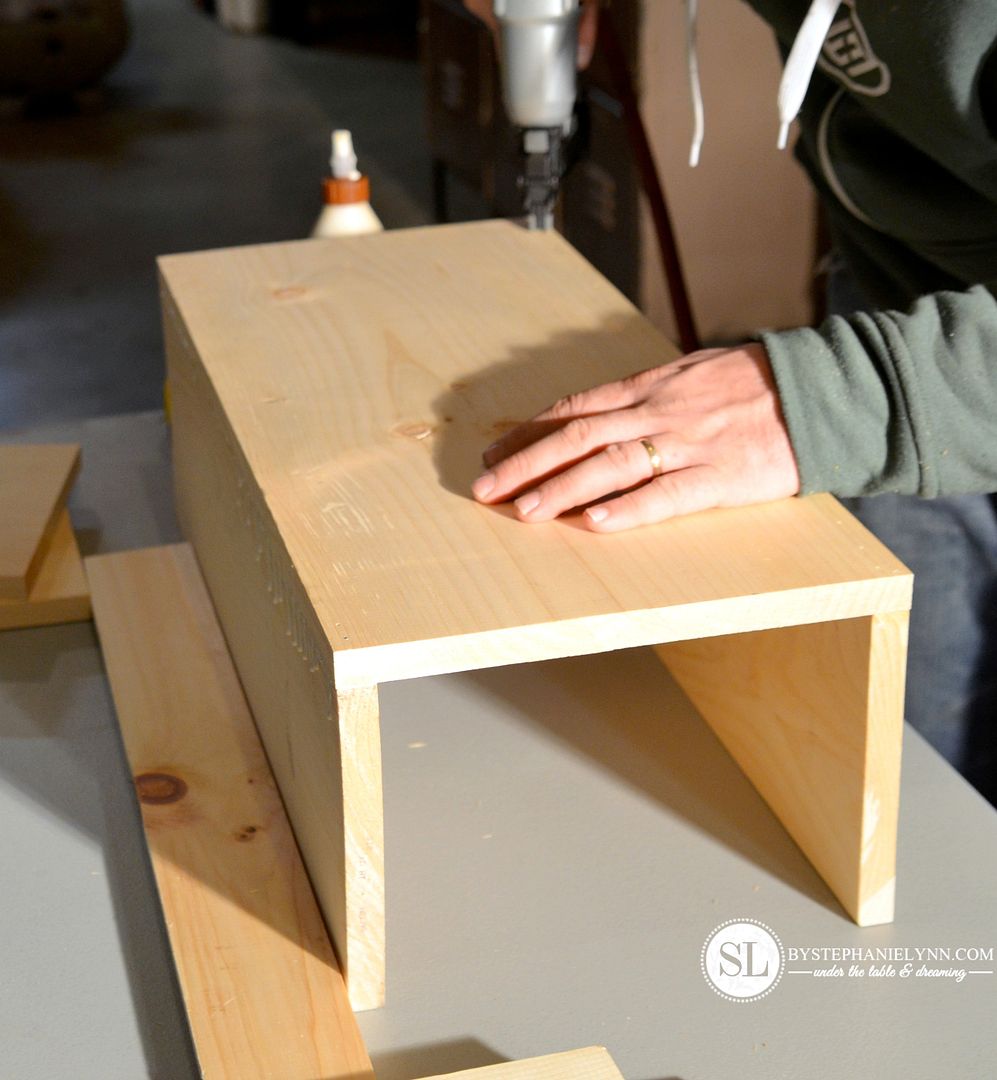 Place the 'back' piece on top – as shown above – and nail into place using a nail gun.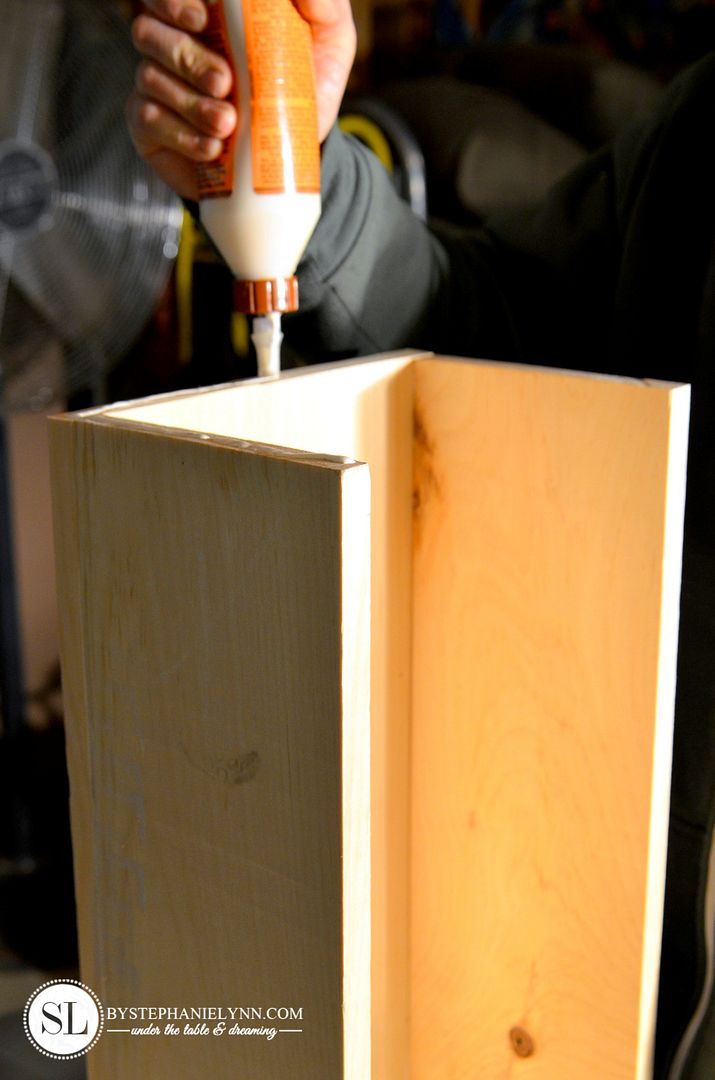 Flip the bin onto the side – as shown above – and line the edge with a bead of wood glue.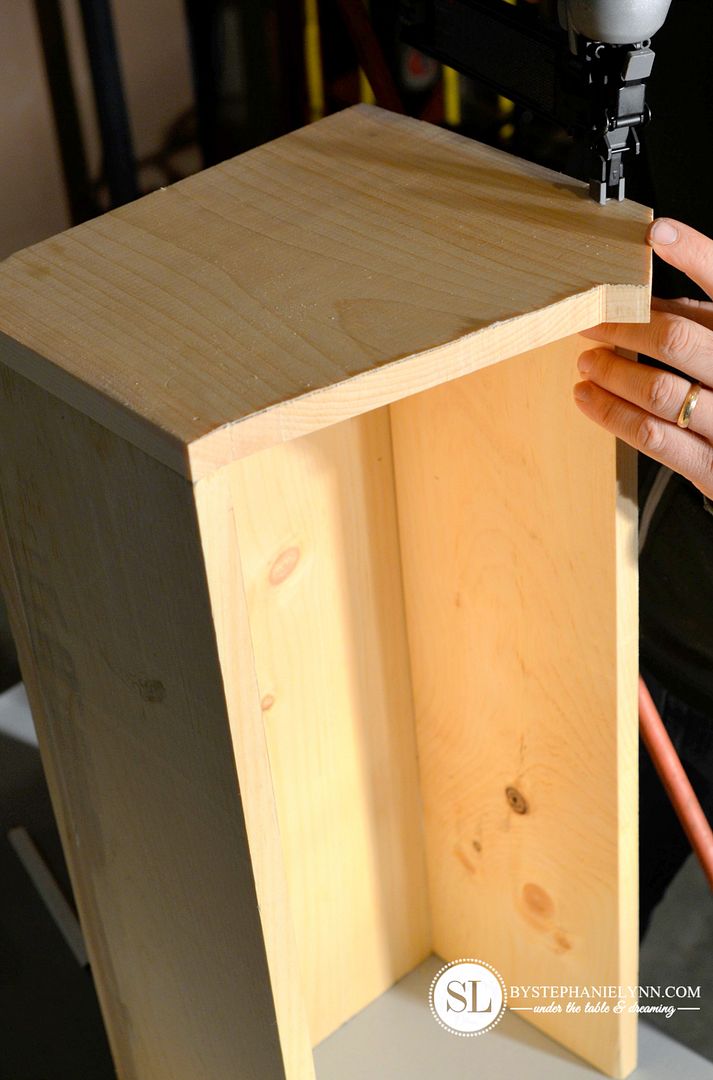 Place the 'side' piece in place and nail together using a nail gun – as shown above.
Flip the bin over and repeat the same process on the opposite side.
Finally attach the front lip into place using wood glue and a nail gun.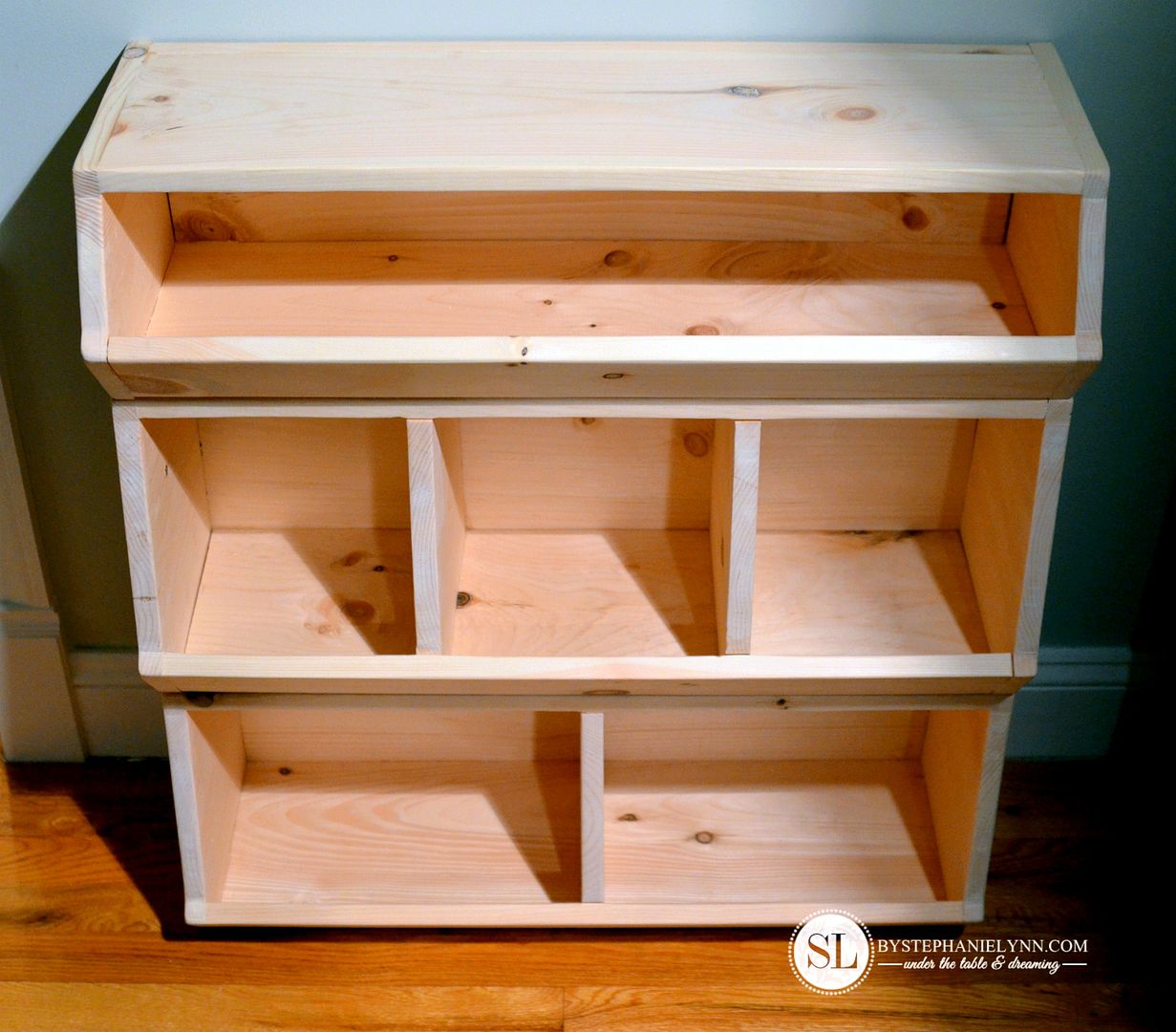 For variety we added a few divider pieces. These were just nailed into place as shown above.
You can also we made the top bin a little smaller.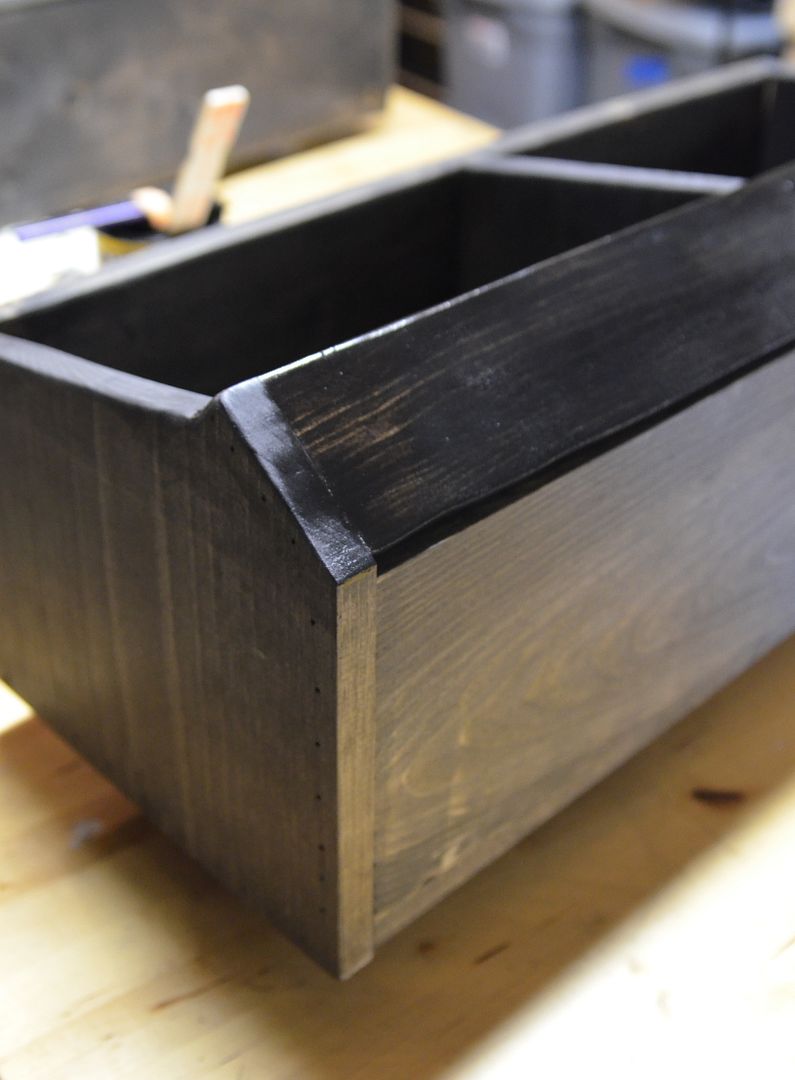 Step Three: Sand and finish.
To prevent any sharp edges we really sanded the corners down using a hand sander.
To match the other furniture in the room the bins were stained a dark ebony.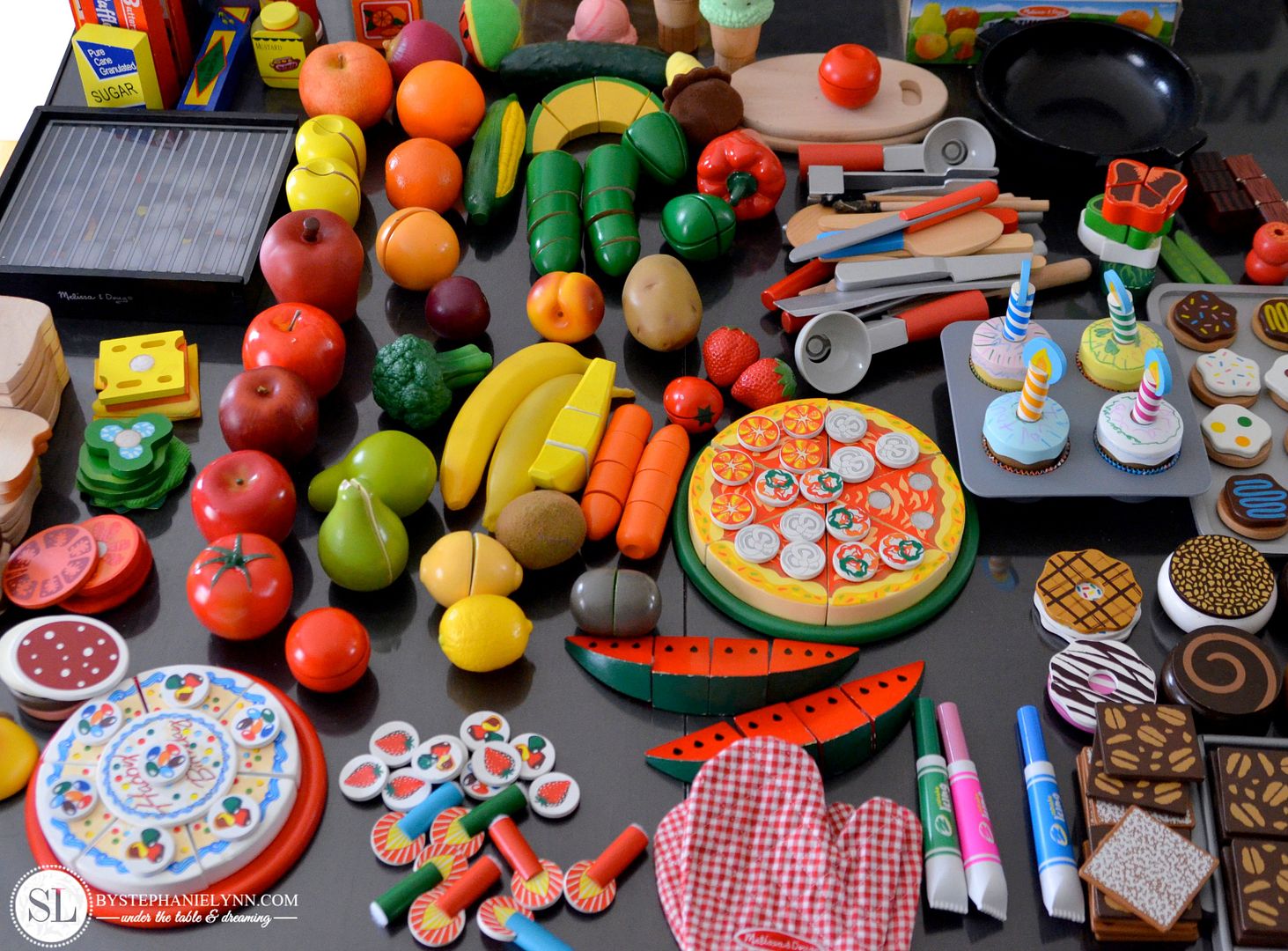 Next came the fun task of organizing the food!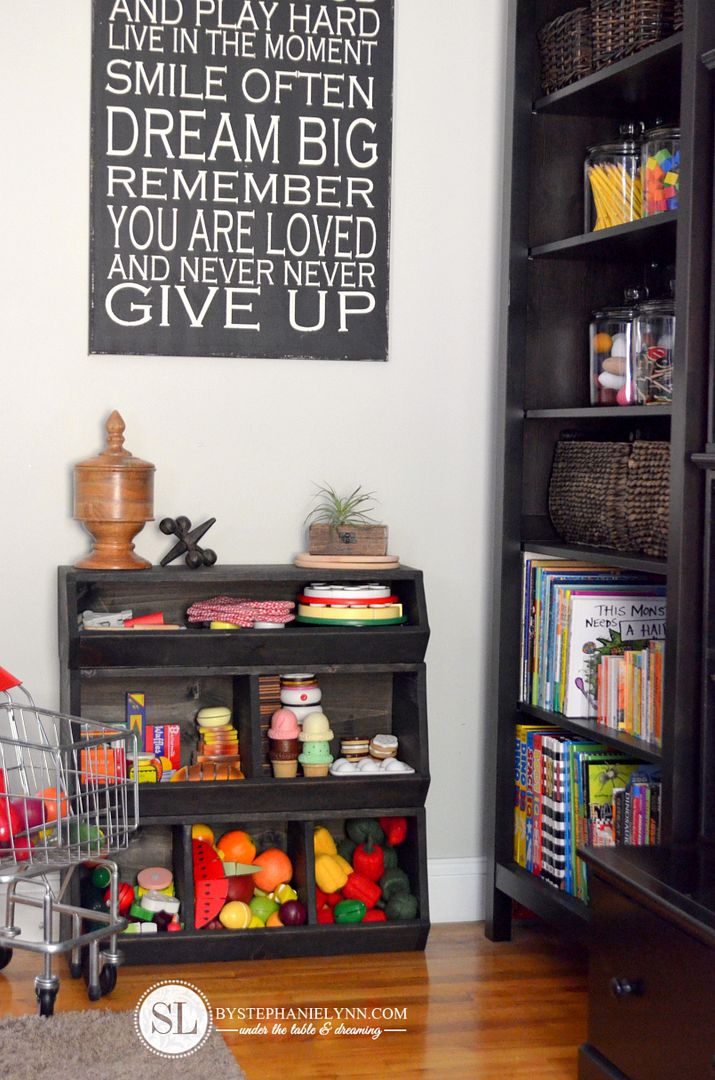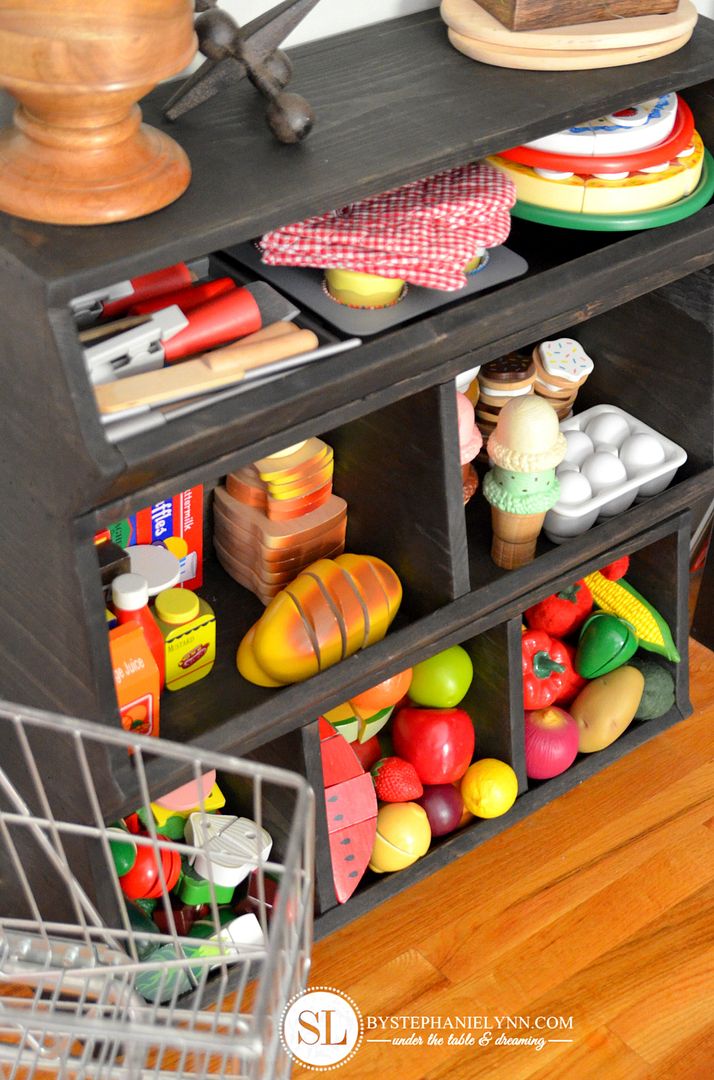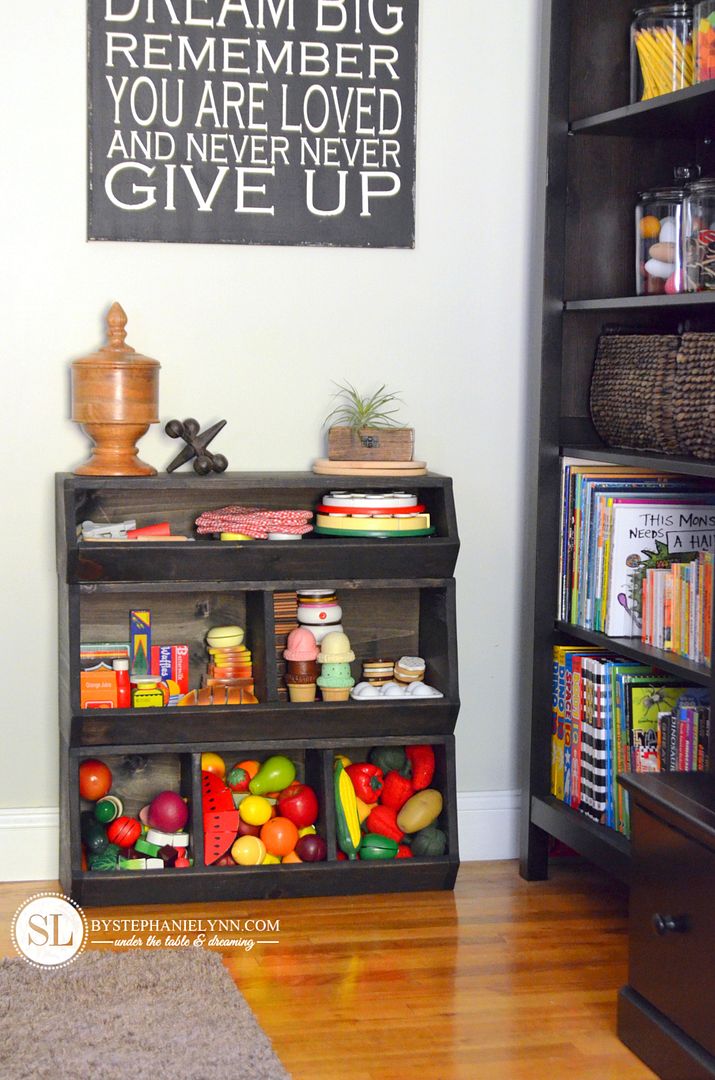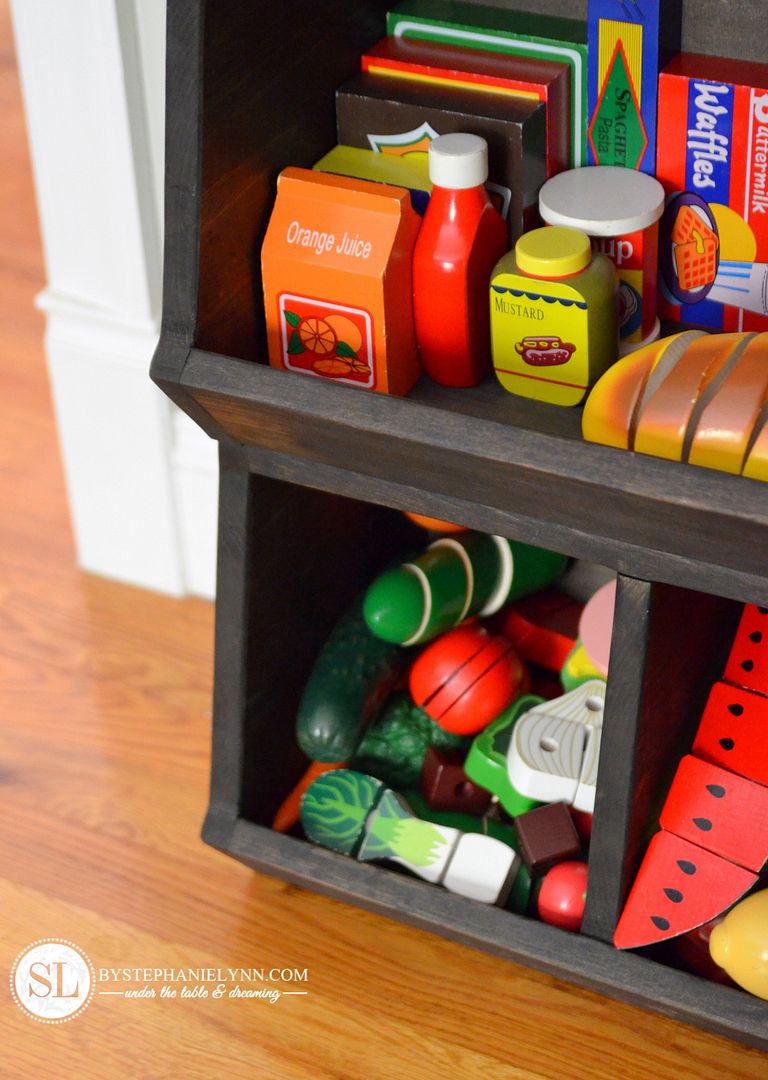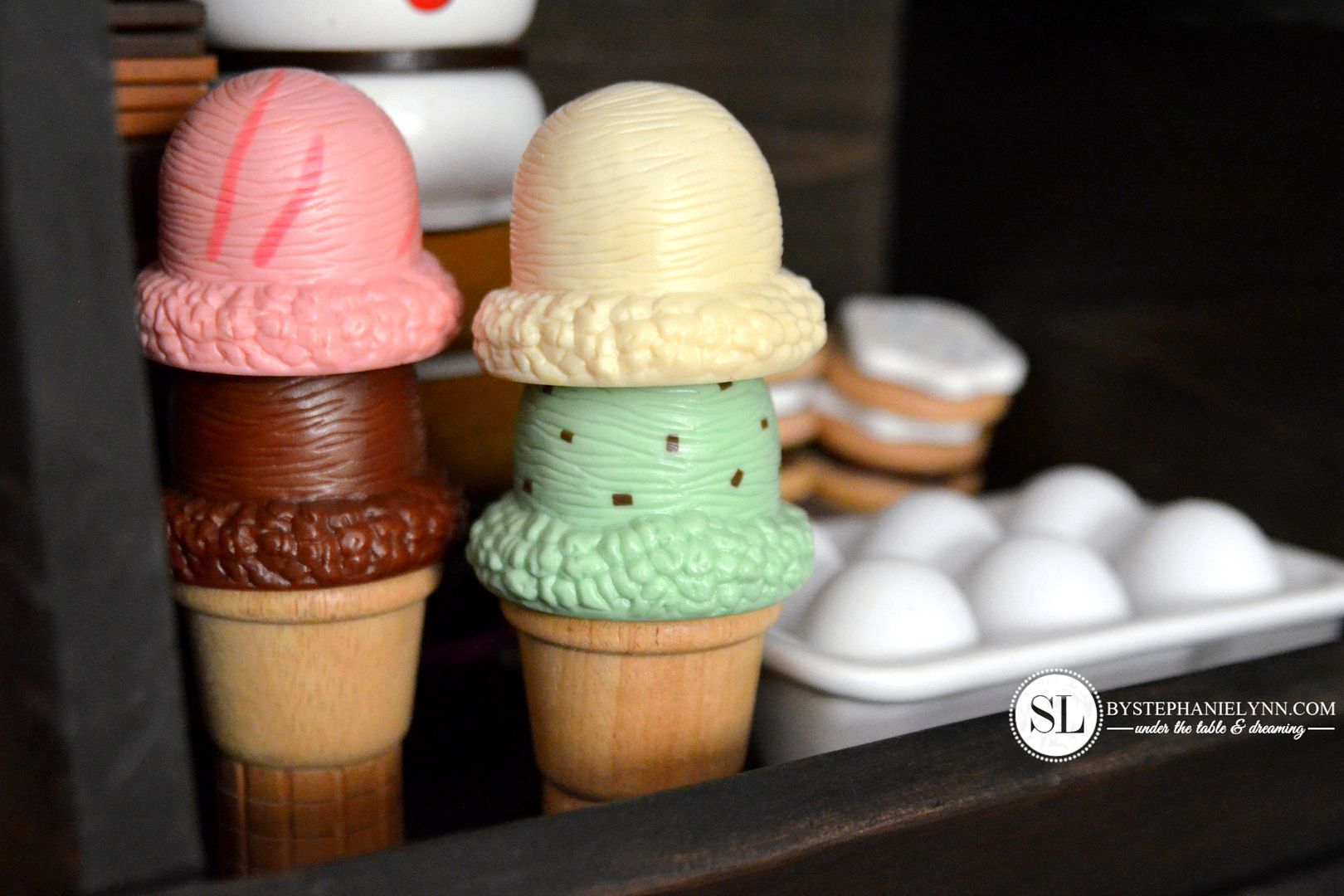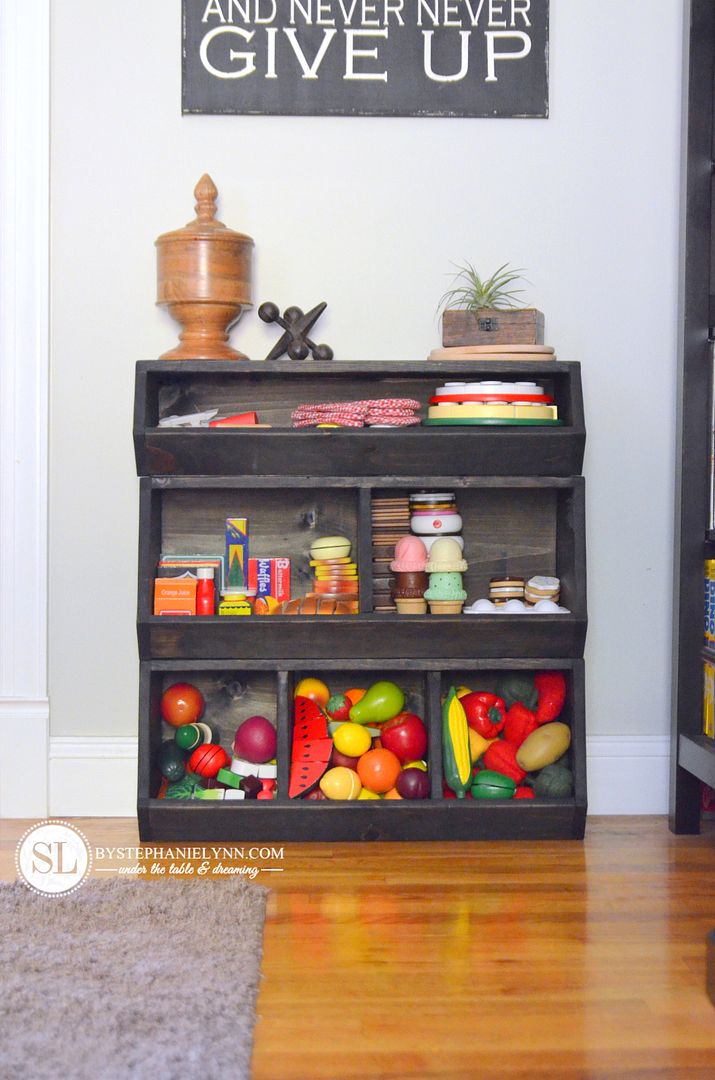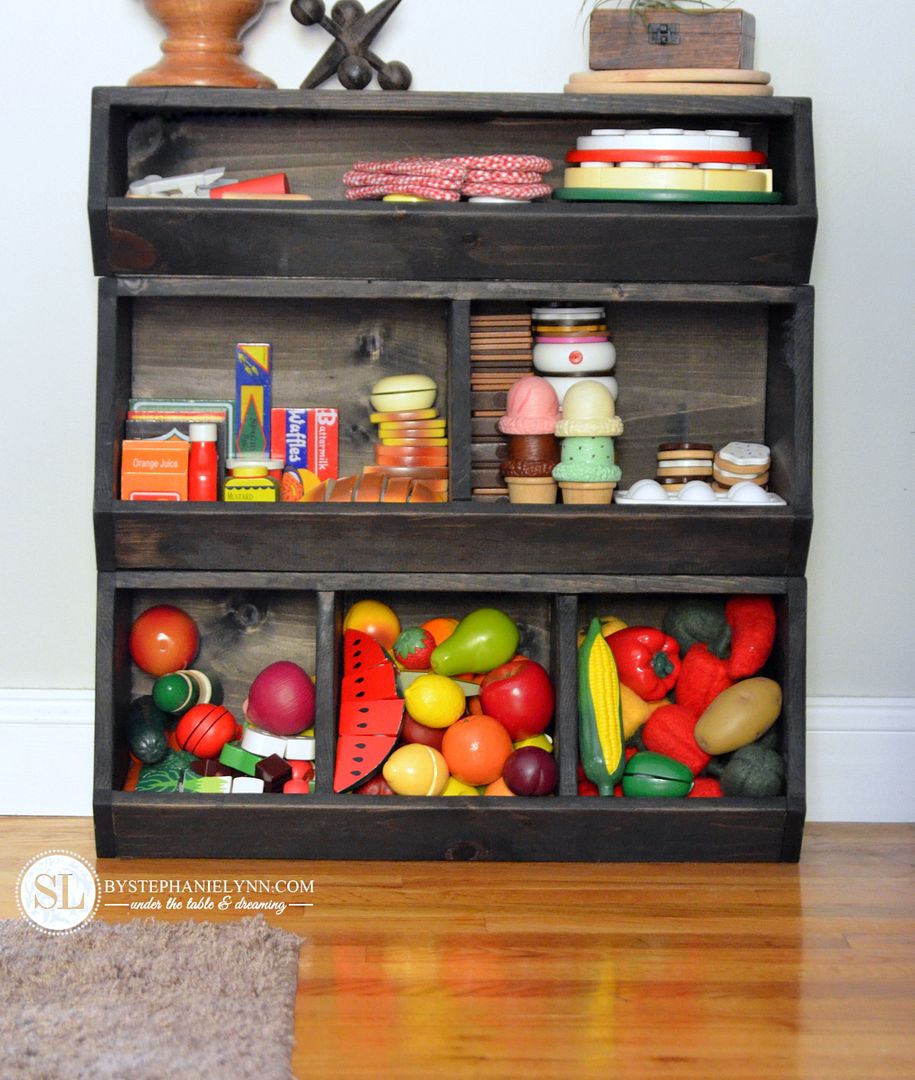 We have been collecting these pieces now for a few years and my little guy gets pretty excited when we find out a new set has been released.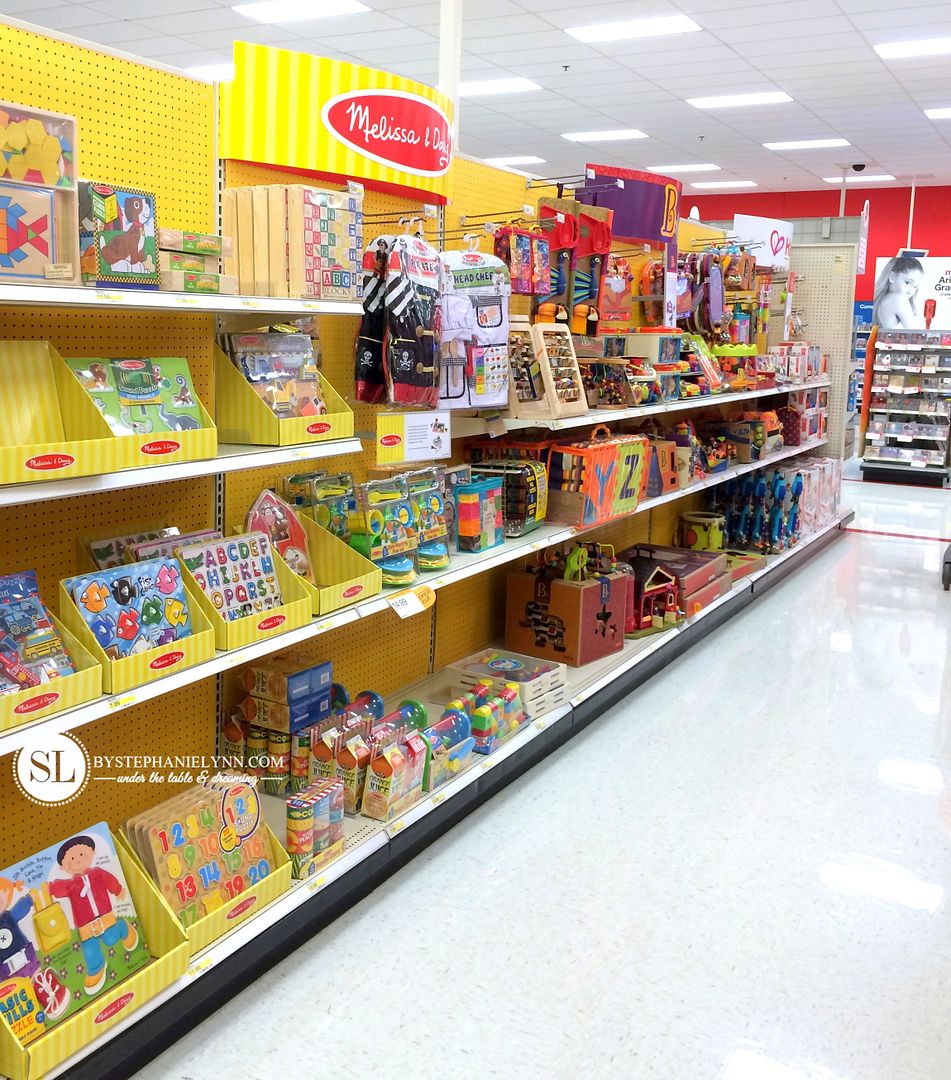 Imagine our surprise when we recently found a whole Melissa and Doug section right in our local Target. While there is limited selection in store I found even more Melissa and Doug goodies available online at the Target Toy Emporium.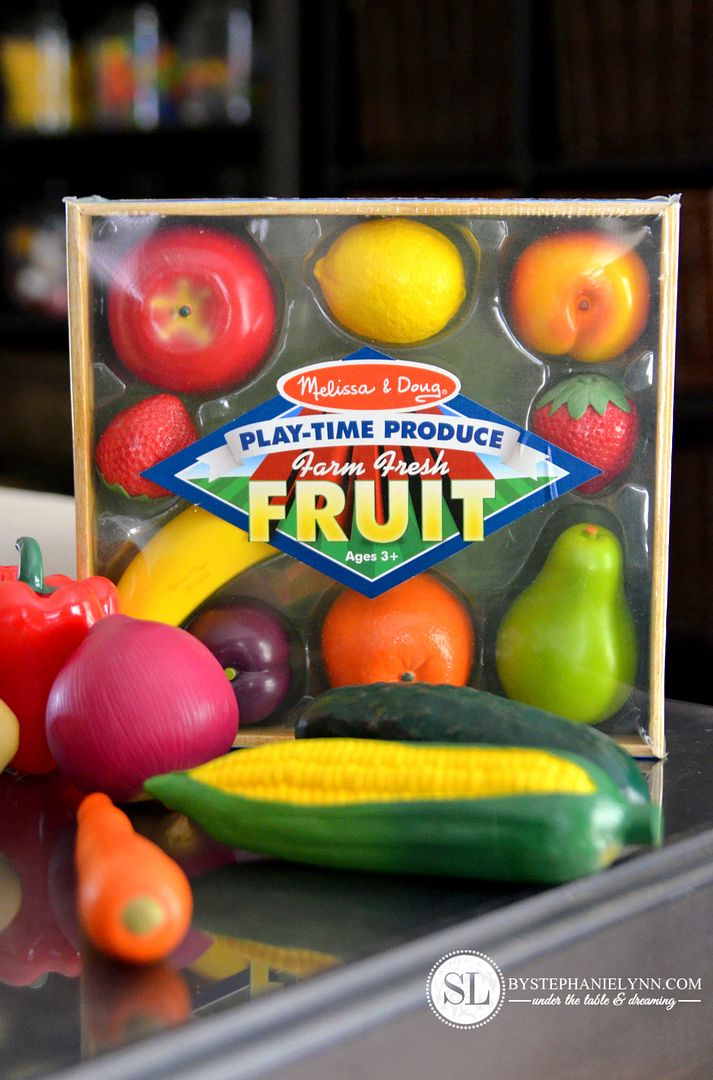 We couldn't help but pick up some farm fresh fruit to go along with our veggies.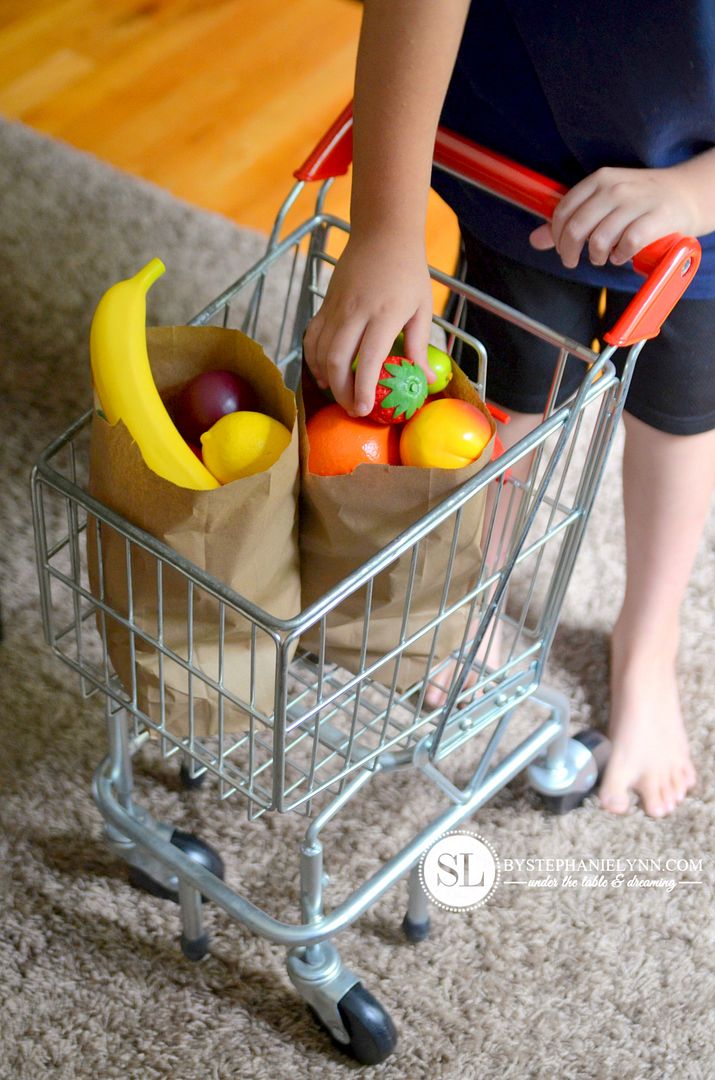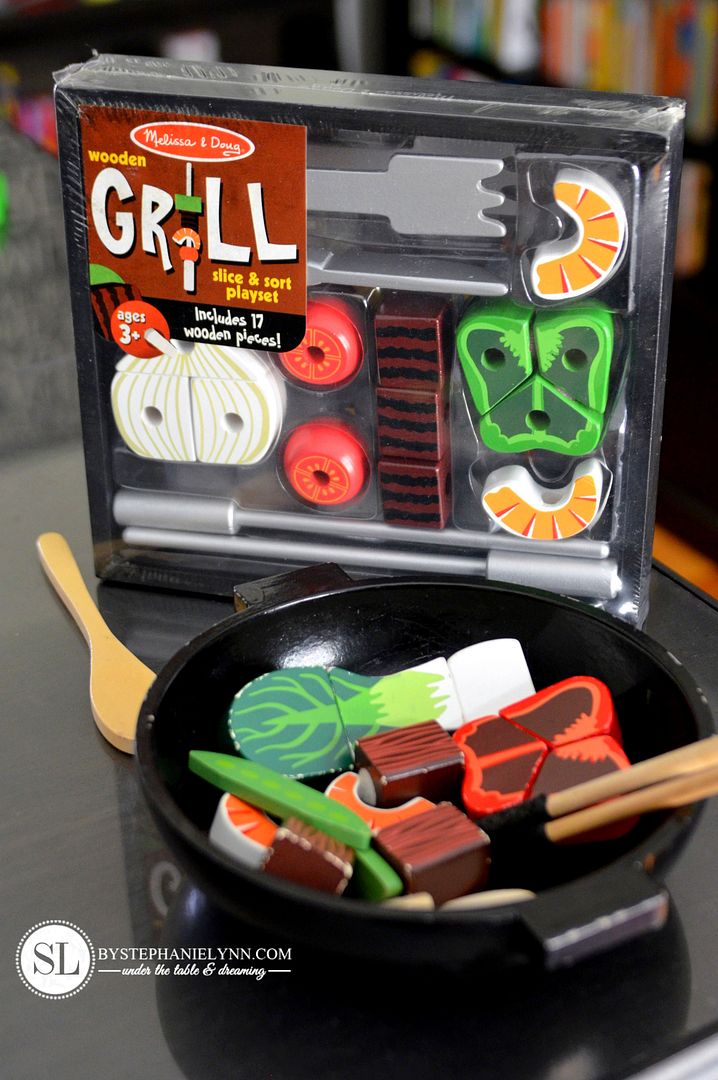 And the wooden grill set to go along with our stir fry!