Homemade Fire Starters – backyard fire pit safety reminders | During the fall we get to experience our outdoor living area with a whole new set of eyes. It's that time of year when the yard work slows down and the majority of any outdoor projects plans have finally come to a close. The time of year we like to take advantage of the early sunsets and cool crisp evening air. Honestly, the time of year we are usually ready to finally sit down and enjoy and our wonderful surroundings.
While we have begun to prepare the rest of the outdoors for the cooler months ahead, one area of our yard that we will continue to enjoy for the next several weeks is the fire pit.  There is nothing cozier than relaxing or entertaining by the ambiance of a nice warm fire.
To help start a reliable fire without much work we rely on homemade fire starters. Homemade fire starters are incredibly simple to put together and the best part is a majority – if not all – of the materials are things you already have right around your home.
Homemade fire starters make starting a fire extremely easy. You just light the edge of the carton and once the wax/lint catches on fire it will give off a nice solid flame for about 10 minutes. This, in return, is enough time for the fire wood to actually catch without any unnecessary smoke or flying paper debris.
They can be made plain and simple or embellished with natural elements and spices for a finished look. The embellished ones not only smell good but make great hostess gifts this time of year!
Materials Needed:
Cardboard Egg Carton (do not use plastic or styrofoam)
Dryer Lint
Gulf Wax or Old Candles
Collected Natural Elements & Spices (see below)
Other Needed Supplies: Knife, Empty Aluminum Can, Pot for the Stovetop, Scissors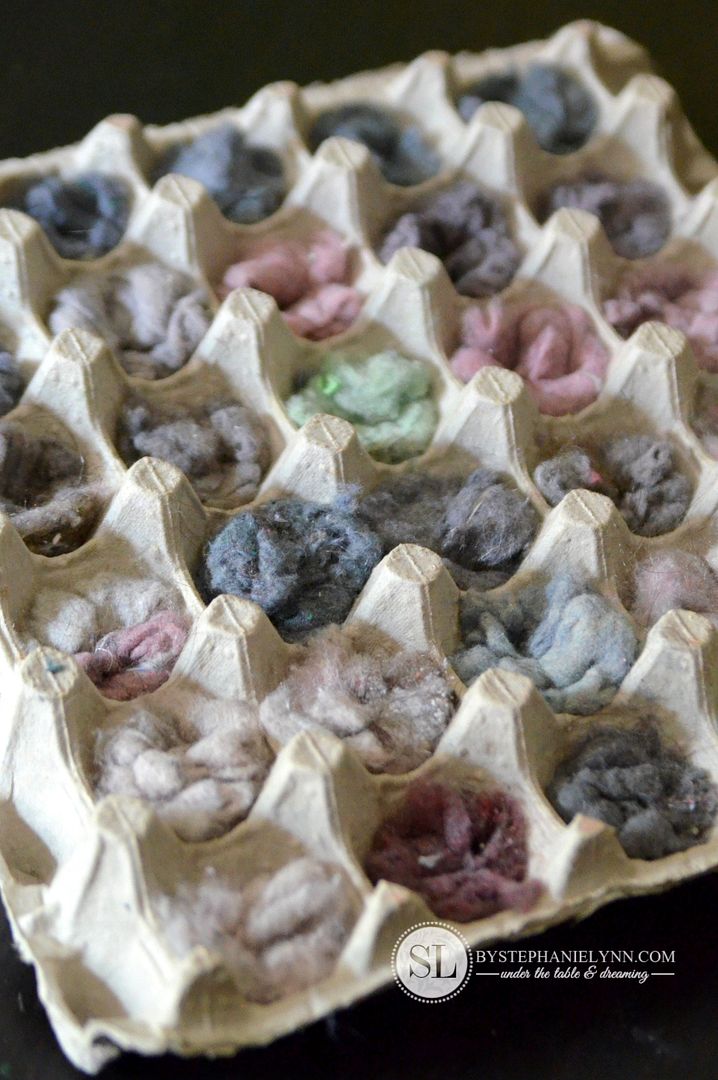 Step One: Pack the dryer lint into the egg carton cavities. Remember only use egg cartons made from paper – not the styrofoam or plastic cartons.
Step Two: Cut the wax into smaller pieces using a knife and place in an empty aluminum can. This is a great way to use up wax from old candles or votives. Gulf wax, a paraffin wax typically found near the canning supplies, can also be used.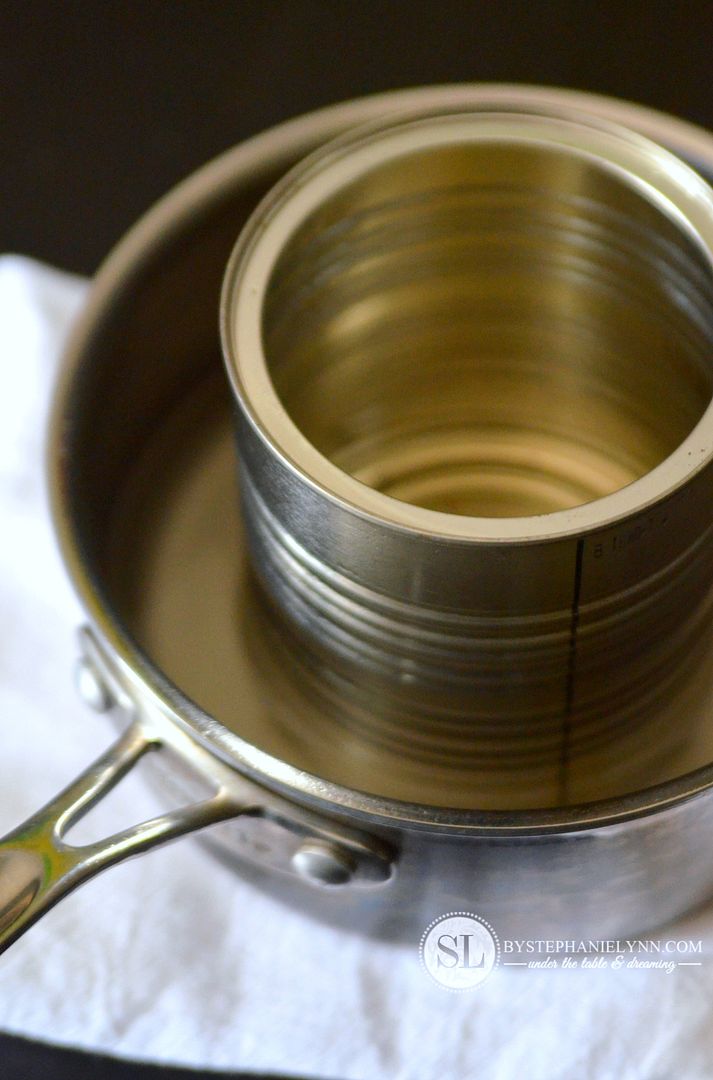 Step Three: Melt the wax on the stove top using a double broiler type method. This is done by bringing a pot, halfway full of water, to a boil on the stovetop. Once the water starts to boil, reduce the heat to low and place the tin can inside the pot – as shown above.  The wax will only take a few minutes to completely melt.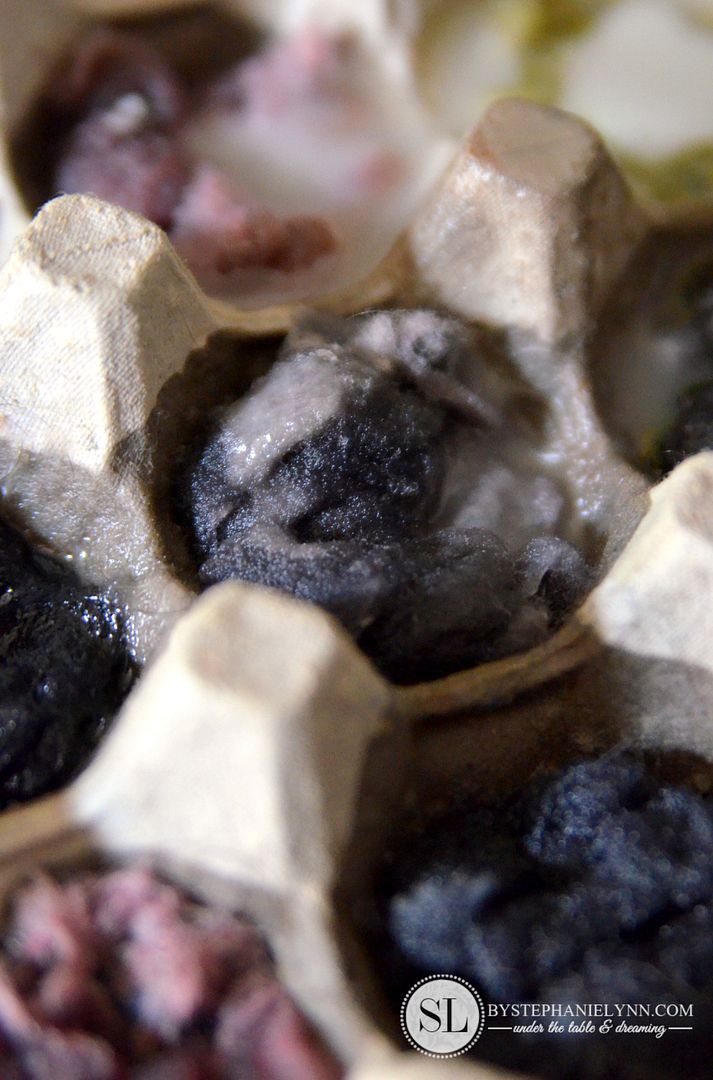 Step Four: Remove the can from the pot and carefully pour the wax into the egg carton. Make sure each cavity is filled with enough melted wax to saturate the lint. It's a good idea to lay a sheet of wax paper down underneath the egg carton to prevent any damage from the wax residue.
Step Five: Once the wax begins to harden embellish the fire starters with natural elements and spices. You will only want to use natural materials for this step – many of which can be found right in your own back yard.
The embellishments are not necessary but mainly for decorative purposes.
Here are a few of our favorites:
Pinecones
Wood Shavings or Cedar Bedding (found in the pet department)
Star Anise

Curly Pods
Cinnamon Sticks
Calendula Petals

Dried Pine Cuttings
Putka Pods

Dried Moss
Canella Berries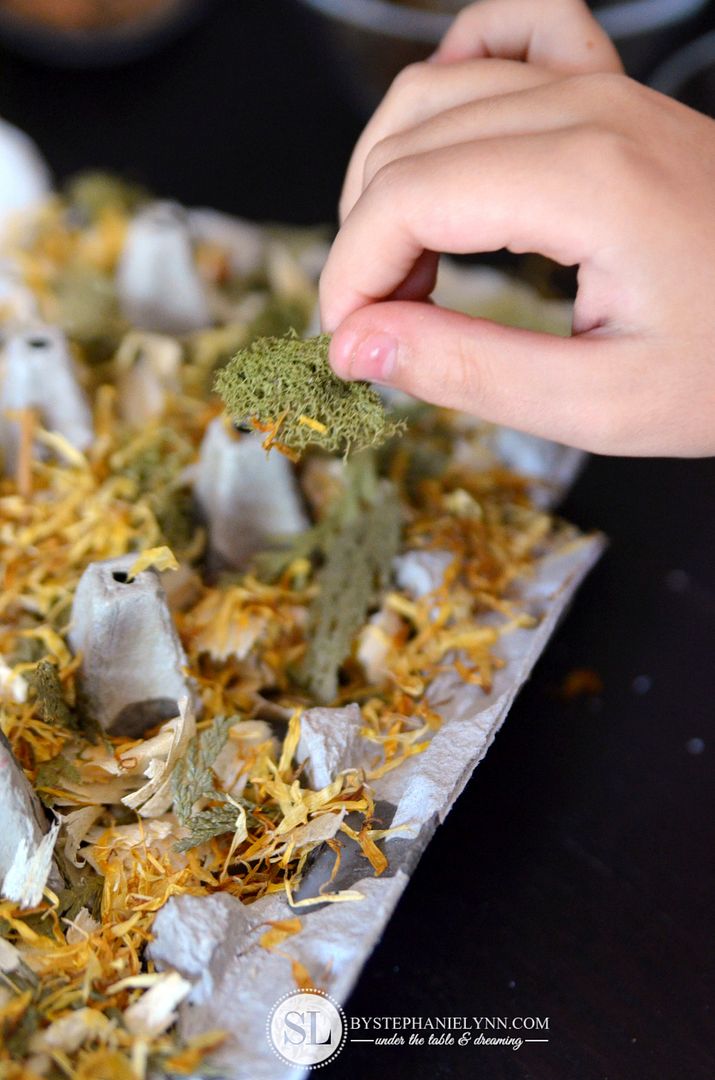 For us it's a great way to get our little guy involved and once they are decorated they make fantastic hostess gifts this time of year.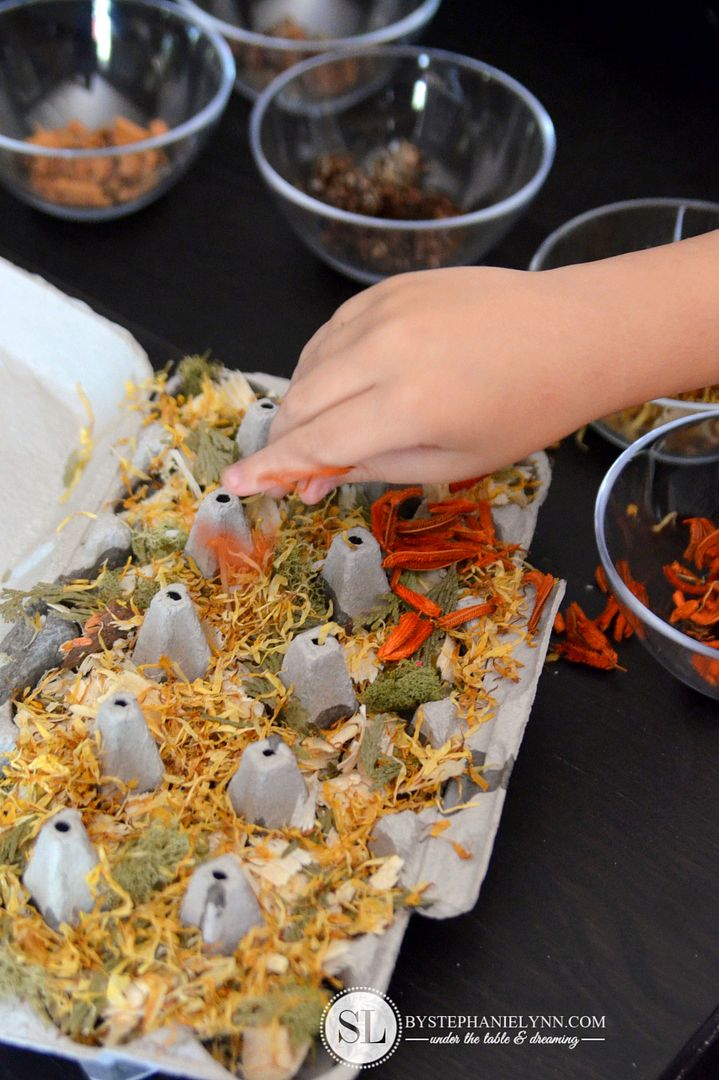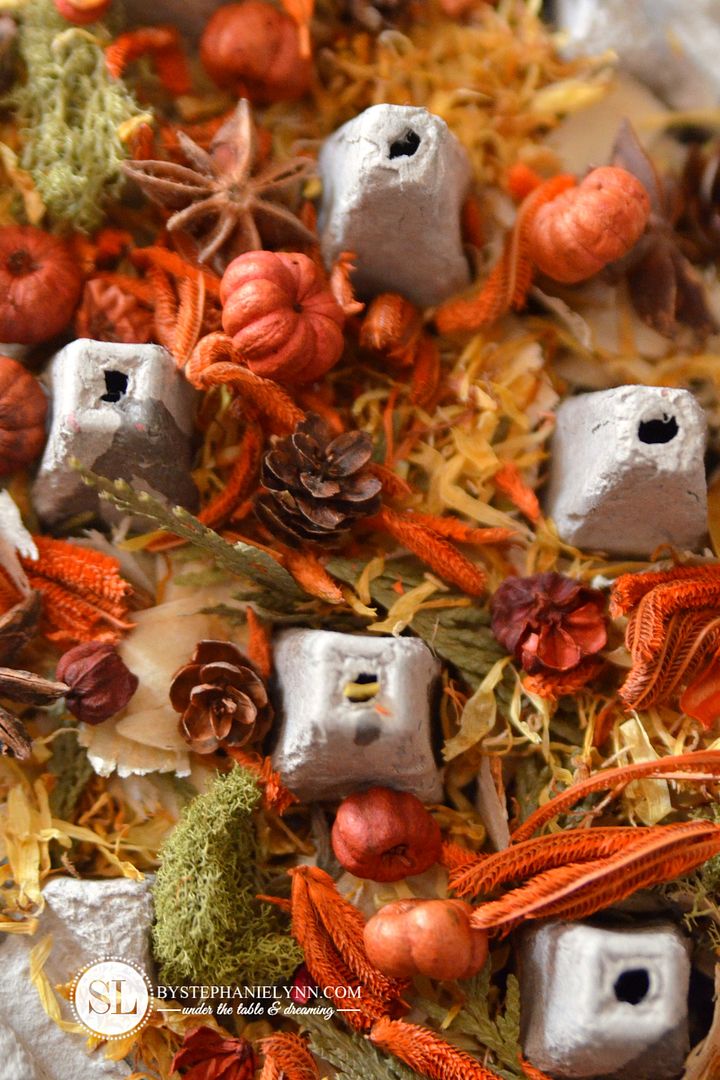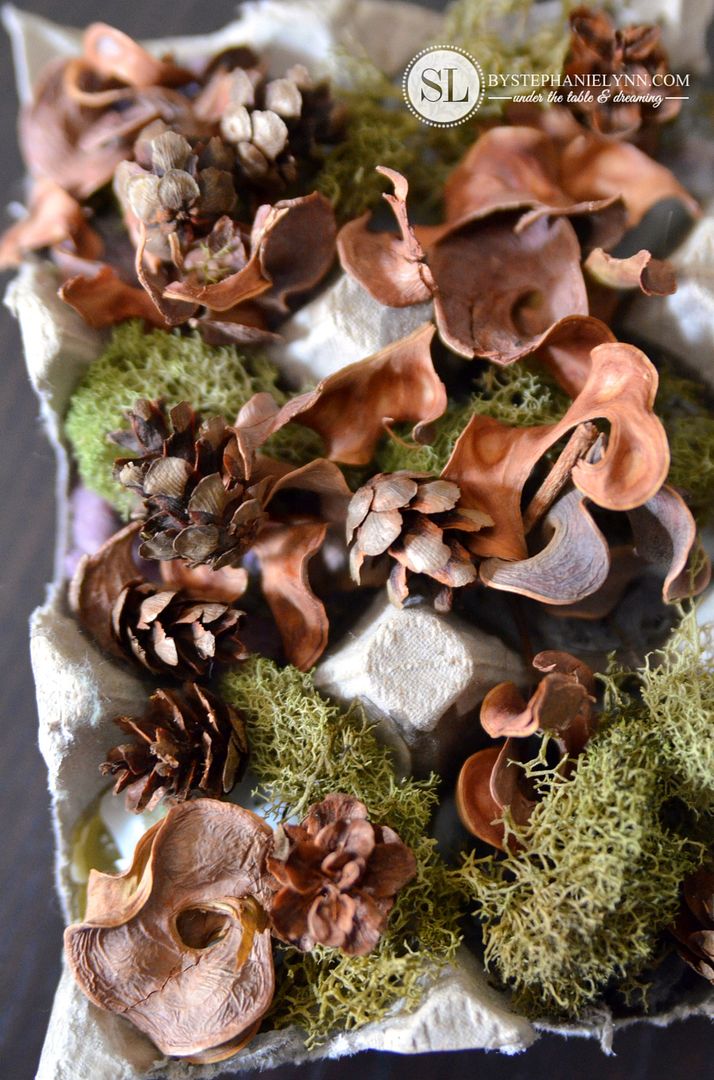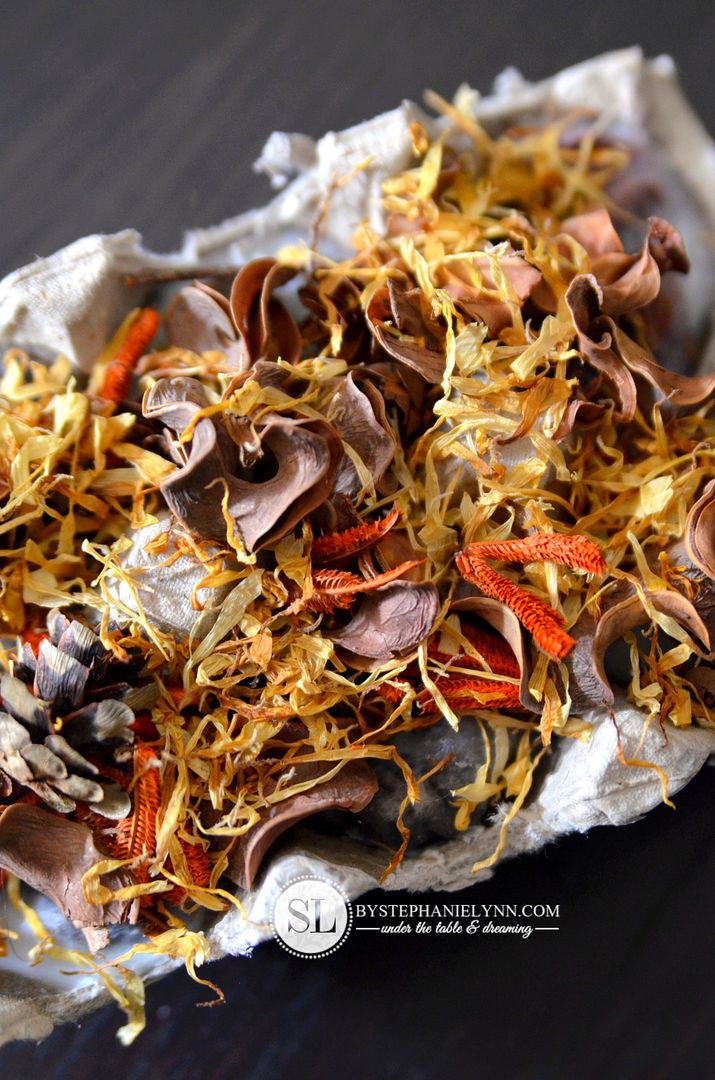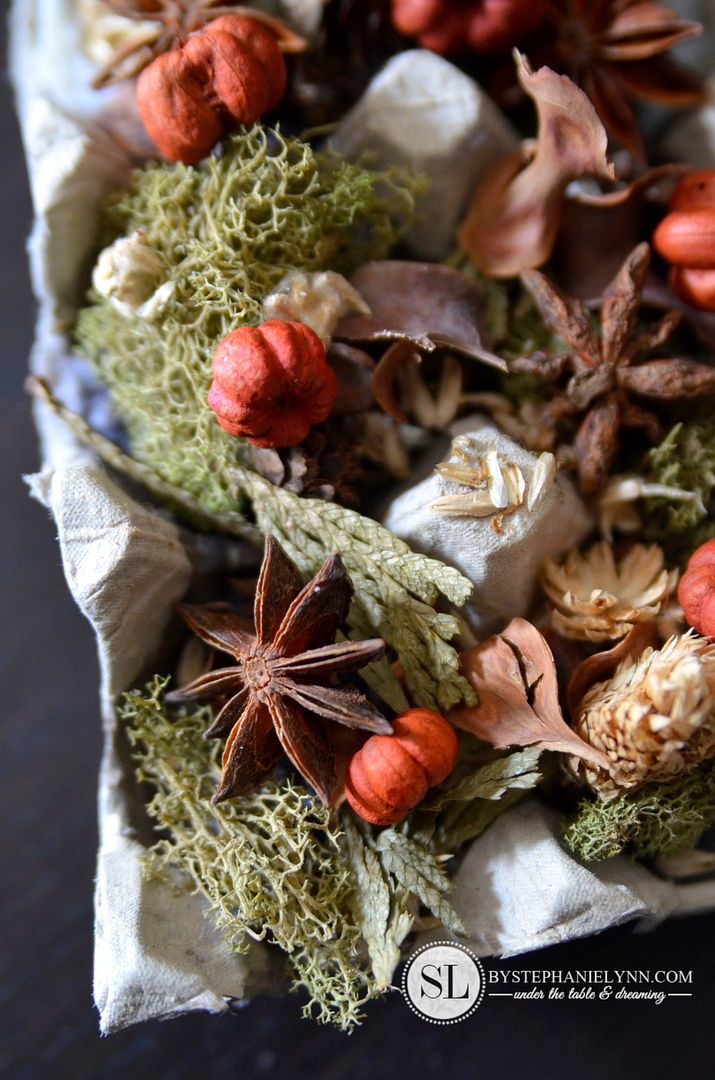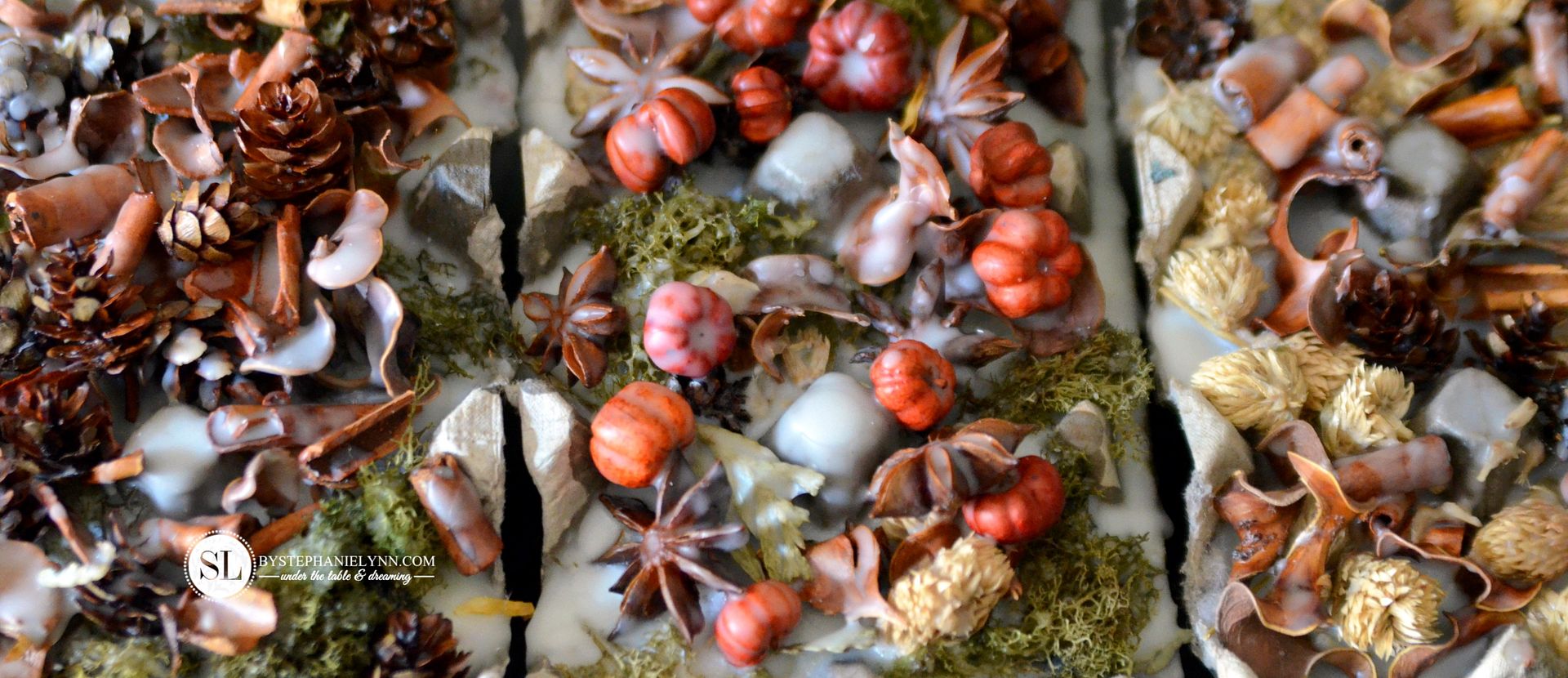 Step Six: Pour another layer of wax on top the cartons – ensuring each individual cavity is filled.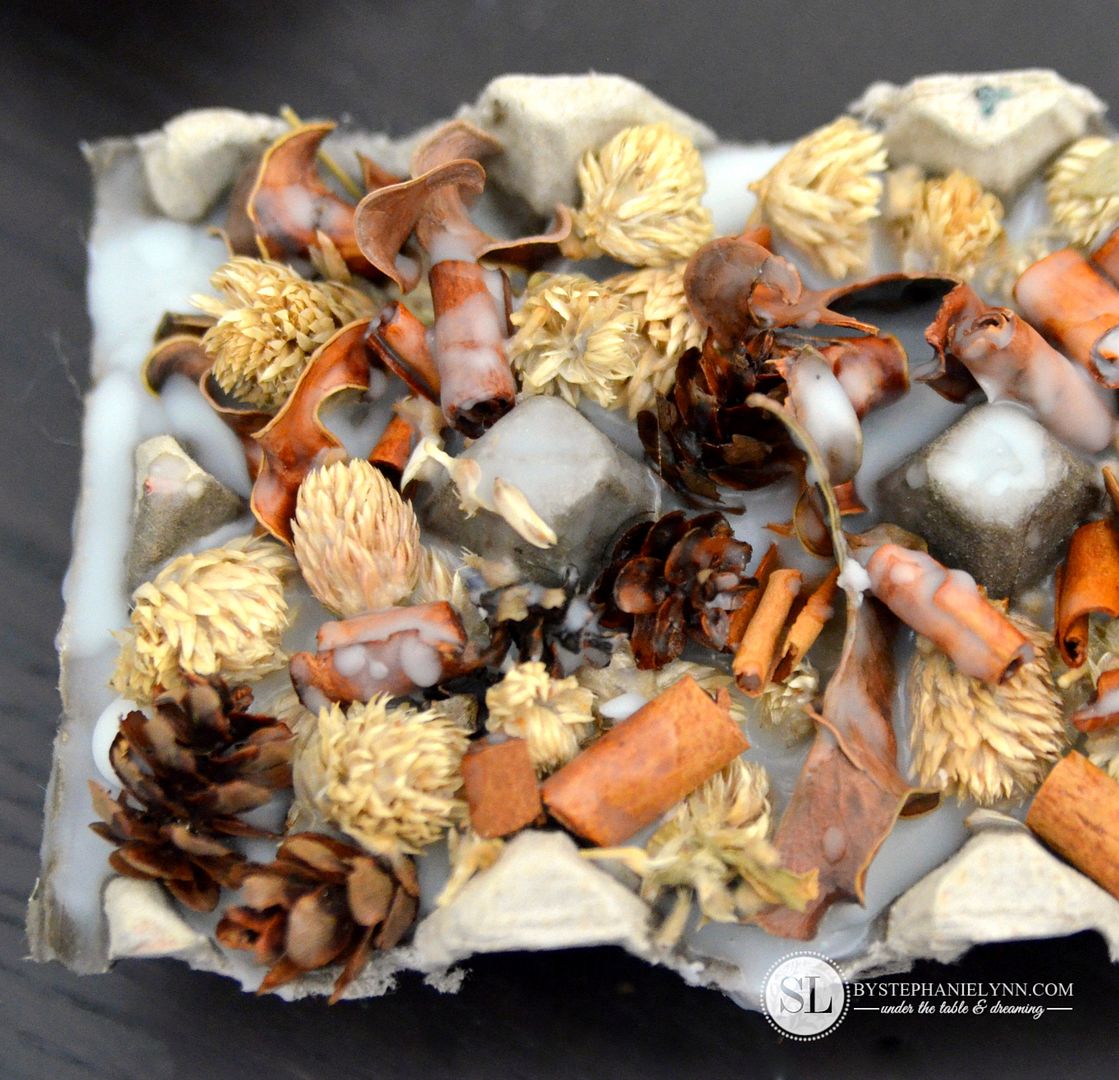 Make sure to drizzle the wax over all of the natural elements on top.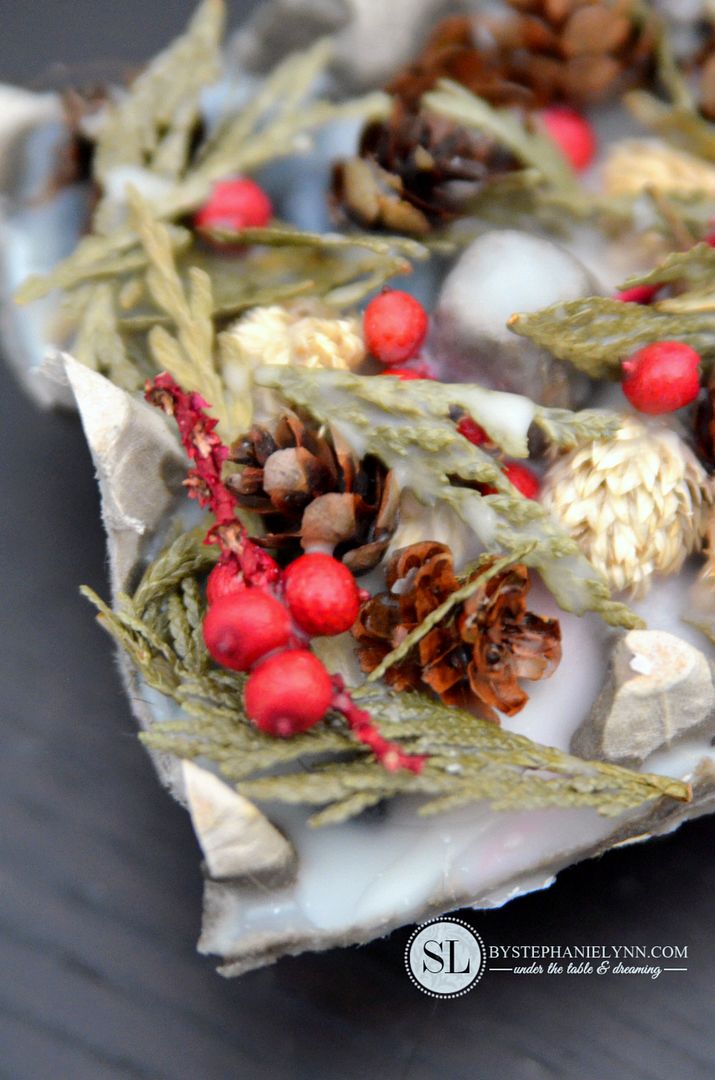 To ensure everything is covered I drizzle one layer – let it harden – then drizzle a second layer.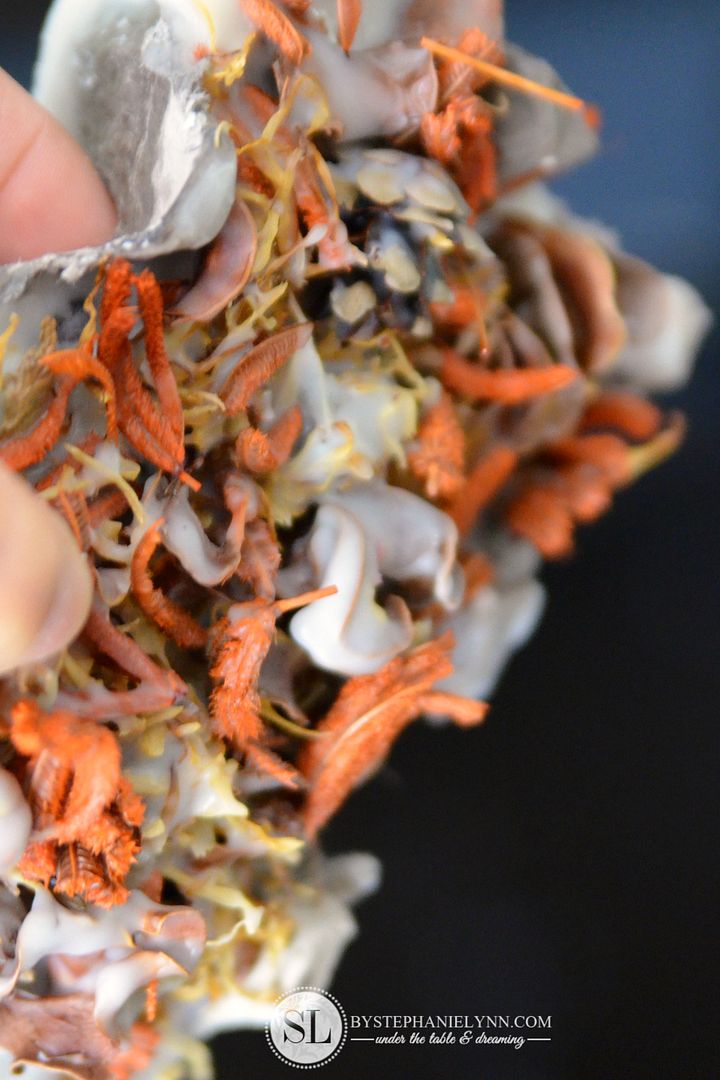 Once the final layer of wax sets and hardens – it will hold all of the natural elements in place.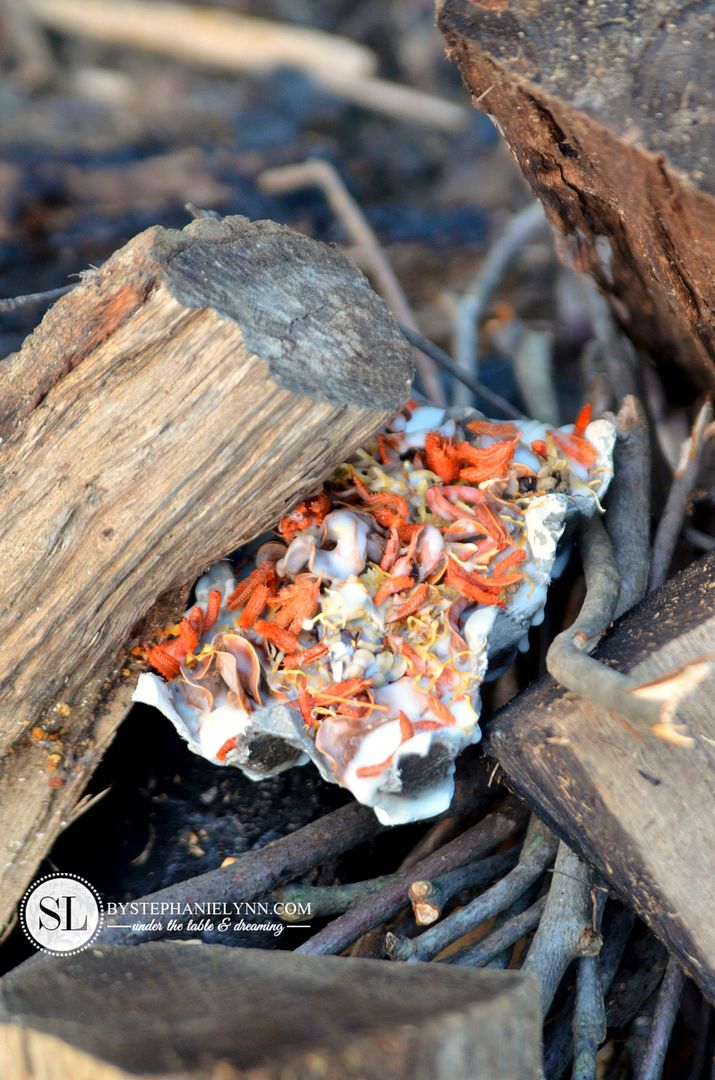 When you are ready to light the fire – set a few of the homemade fire starters in the center of the wood pile. Cover with seasoned wood, extra sticks or kindling and light the edge of the egg carton.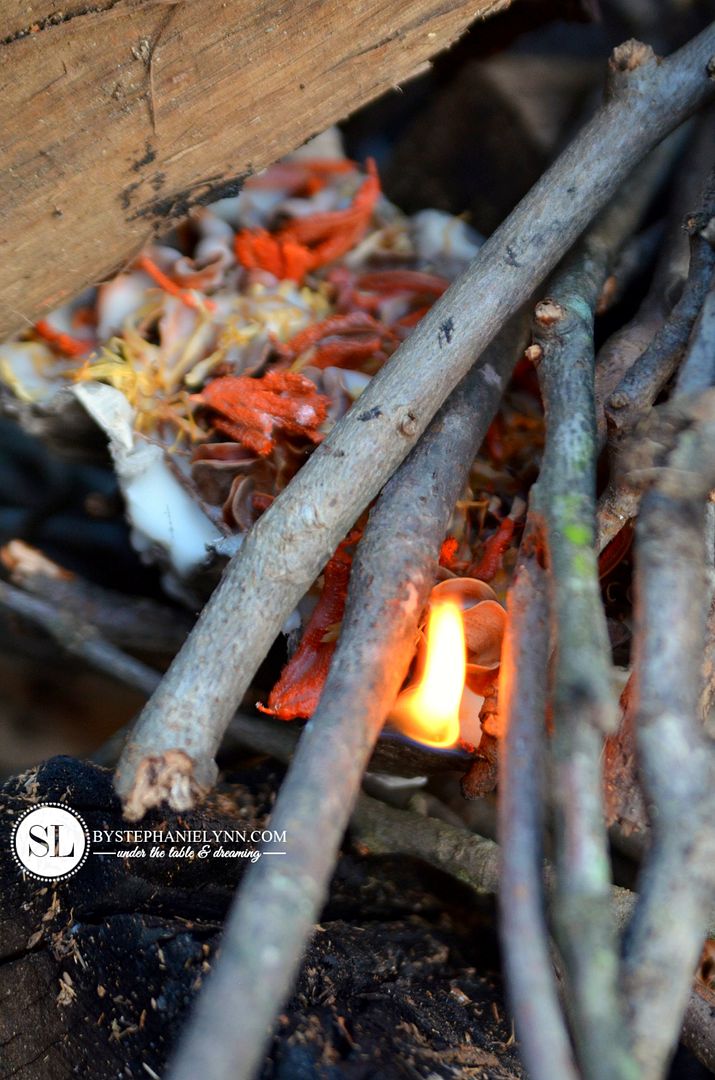 Note: These fire starters are made for outdoor wood burning fires and should not be used indoors or with gas. Never leave a fire unattended. Keep out of reach of children.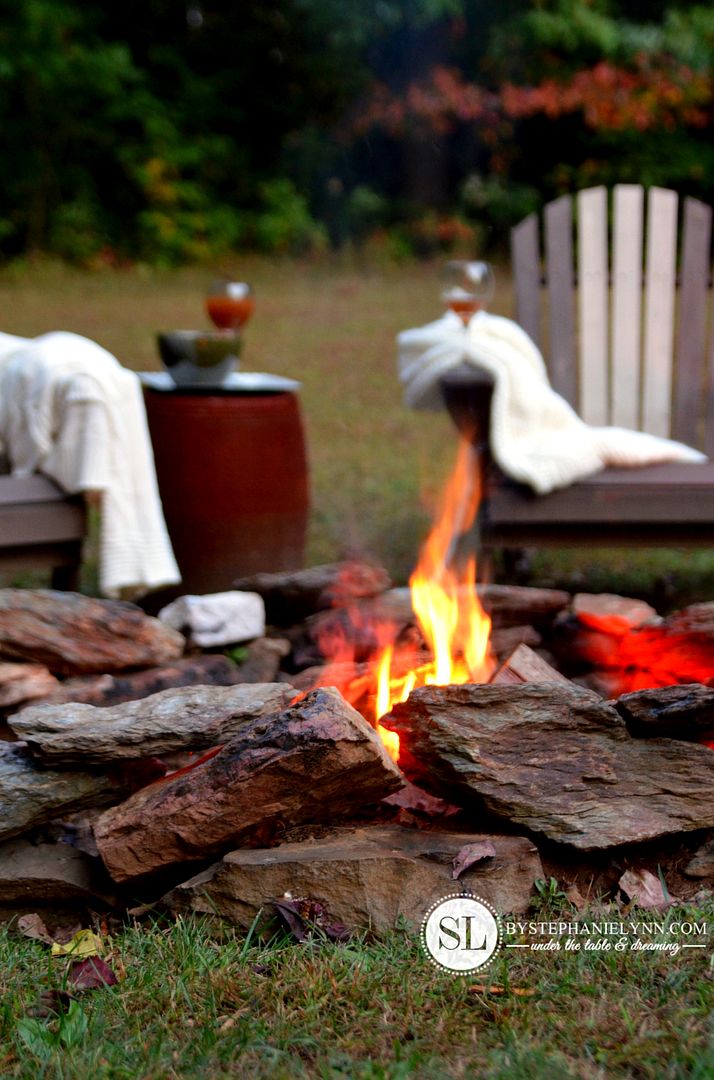 As you enjoy the warm and ambiance of a fire pit this season, here are a few things to keep in mind to ensure the safety of yourself, your family and your guests.
Check with the city, town, or home owners association to see if there are ordinances in your area regarding fire pits.
Verify with your county if there are any fire danger warnings or fire bans declared in the area. These are days in which the county places certain restrictions against any burning as the fire could spread at a rapid pace and quickly grow out of control.
Set up the fire pit on a firm, flat surface in an open area.
Keep the fire pit at least 20 -25 feet away from building structures. There should also be at least a 7 foot clearance between the pit and any above trees.
Keep 3 feet surrounding the pit clear of any combustable materials – including mulch and plants.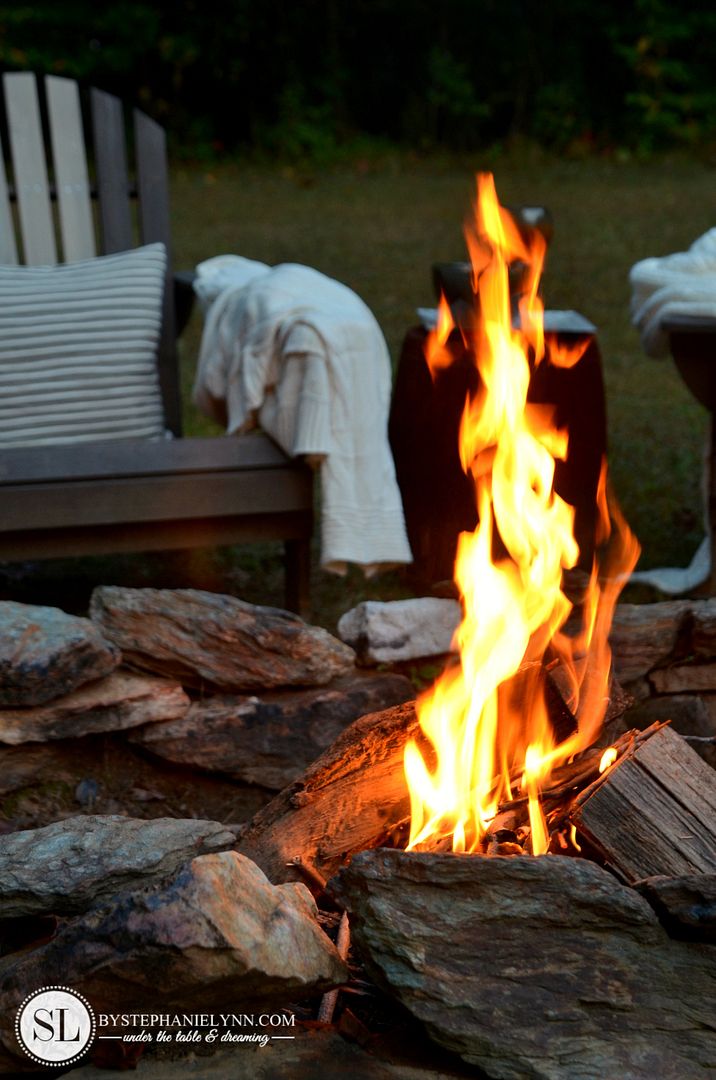 Do not use flammable liquids to light the fire.
Burn seasoned fire wood, or wood that has been left out to dry for an extended period of time. Softwoods, like cedar and pine, are more resinous and good to use to get the fire going. Though they ignite quickly, softwoods give off less heat, tend to be smoky, pop and throw sparks. Hardwoods – like oak, hickory, beech, birch, maple and ash – are dense, fairly easy to burn, and the best types of firewood for heat.
Do not burn pressure treated wood as it emits toxic gases.
Mesh fire screens offer extra protection and keep flying embers under control.
Never leave a fire unattended.
Have a fire extinguisher handy for emergencies.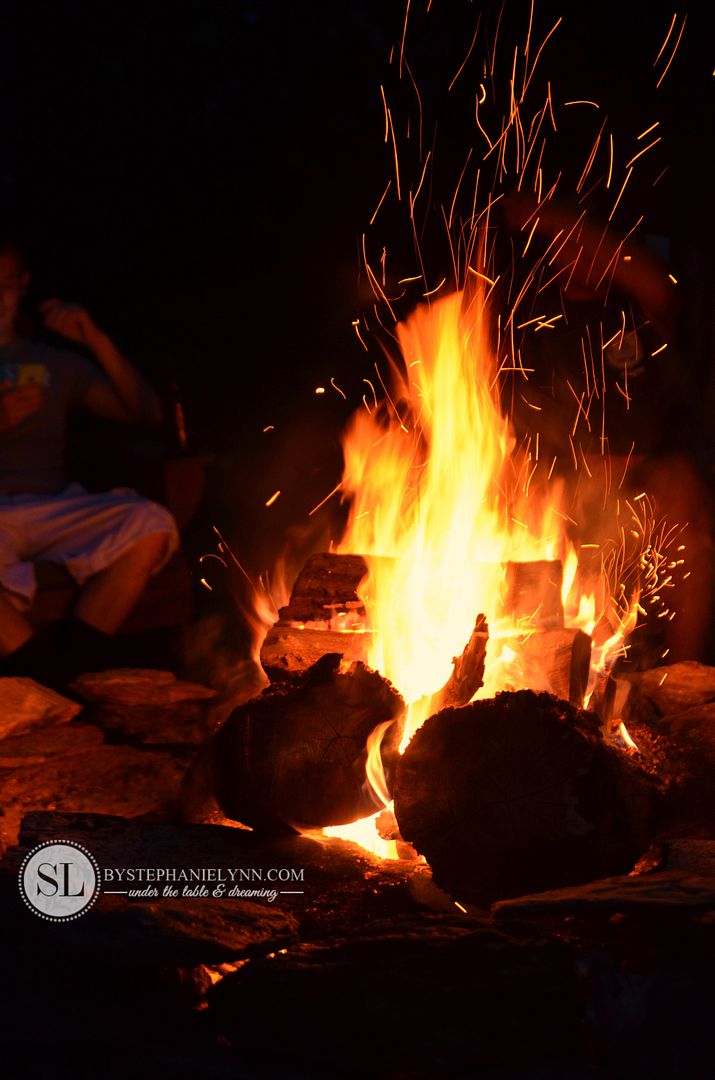 Allow the fire to completely die out or smother embers with sand prior to leaving the fire pit unattended.
Safely dispose of wood ashes as they retain heat and could possibly ignite other combustible material. Placing the cooled ashes in an ash bucket not only prevents other items from coming in contact, but robs the ashes of oxygen, needed to ignite.

I was one of the bloggers selected by True Value to work on the DIY Squad. I have been compensated for my time commitment to the program as well as writing about my experience. I have also been compensated for the materials needed for my DIY project. However, the opinions read here are entirely my own and I have not been paid to publish positive comments.