Fresh Baked Nachos – appetizer recipe | This post brought to you by Sargento. The content and opinions expressed below are that of Under the Table and Dreaming.
Our fresh pico de gallo recipe is one of our all time favorites for entertaining. It takes just minutes to prepare and is made completely with fresh ingredients. While the salsa is a real crowd pleaser served all on its own – I was inspired to incorporate it into a tasty nacho appetizer with some warm baked chips.
These fresh baked nachos are quick to put together and make a perfect south-of-the-border snack
when guests drop by.
Pre-packaged chips can be used – though it's incredibly easy to bake a 'lower fat' version, right in your own oven, using corn tortillas.
Tip: Stack up to four tortillas together and use a pizza cutter to cut them into quarters.
The homemade salsa can be prepared in advanced, covered tightly, and stored in the refrigerator
for up to two days.
To save even more time, top the nachos with Sargento® Fine Cut Shredded 4 Cheese Mexican or Fine Cut Shredded Cheddar Jack Cheese. Both of these innovative blends are quick-melting and cut from blocks of 100% real, natural cheese.
The Cheddar Jack blends Monterey Jack with natural Mild Cheddar in one convenient package – while the 4 Cheese Mexican combines the creamy, smooth flavor of Monterey Jack, Mild Cheddar, Queso Quesadilla and Asadero cheeses.
You can't go wrong with either blend as they both add a touch of Mexican flavor to the
fresh baked nachos.
If you're preparing the chips yourself, they will need to be baked prior to adding the toppings. This takes just about 15 minutes per batch.
Baking your own chips not only reduces the fat, but means you can control the sodium content as well, for guests with special diets.
Fresh Baked Nachos | appetizer recipe
Author:
www.bystephanielynn.com
Ingredients
Chips
8 Corn Tortillas
Cooking Spray
Salt (optional)
Salsa
1 Medium Onion
6 Green Onions (about a ¼ cup)
1 Clove of Fresh Garlic
½ Bunch of Fresh Cilantro
3 Large Tomatoes, chopped (about 2 cups)
1 Tablespoon of Lime Juice
Salt & Fresh Ground Pepper to Taste (optional)
Nachos
32 Baked Tortilla Chips
½ Cup of Sargento® Fine Cut Shredded 4 Cheese Mexican or Shredded Cheddar Jack Cheese
Instructions
To prepare the chips, cut 8 corn tortillas into quarters. Place in a single layer on a baking sheet. Bake at 350° until crisp, about 8-15 minutes.
To prepare the salsa mince the onion, green onions, garlic clove, and fresh cilantro in a food processor or chopper. Set Aside. Place the chopped tomatoes in a medium bowl and add in the minced onions, garlic and cilantro. Squeeze in the fresh lime juice and season with salt and pepper (to taste). Stir until evenly combined.
Preheat the broiler. Line a baking sheet with a piece of parchment paper and place the chips on the pan in a single layer. Top each chip with 2 teaspoons of salsa and sprinkle with shredded cheese. Place the baking sheet in the oven and broil until the cheese melts, about 1 to 2 minutes.
Place the nachos on a platter and serve immediately, with the remaining salsa on the side.
Notes
Makes 32 chips - approximately 4 servings.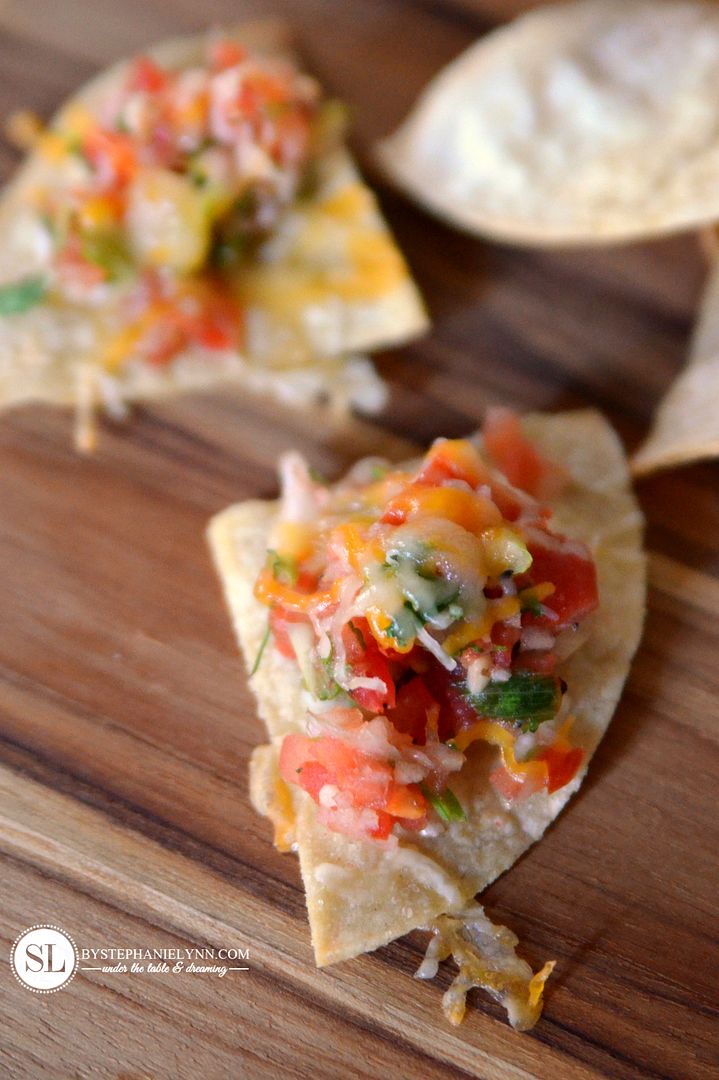 Do you like using real fresh-tasting ingredients – like Sargento Shredded Cheese – to make amazing recipes even better? Well Sargento is calling on home cooks to share their original recipes just in time for the busy holiday entertaining season. Simply submit a photo, along with a recipe featuring a Sargento Shredded Natural Cheese variety, to Sargento on Facebook . One lucky winner will receive $2,000 toward kitchen supplies and ingredients for the perfect holiday meal, plus a year's supply of Sargento Shredded Natural Cheese. For some recipe inspiration to get you going,
check out Sargento on Pinterest.