Autism Day at the Races | Dover International Speedway #Fedex400 – As I mentioned a couple weeks ago, we had the amazing opportunity to travel to Dover International Speedway for the FedEx 400 benefiting Autism Speaks.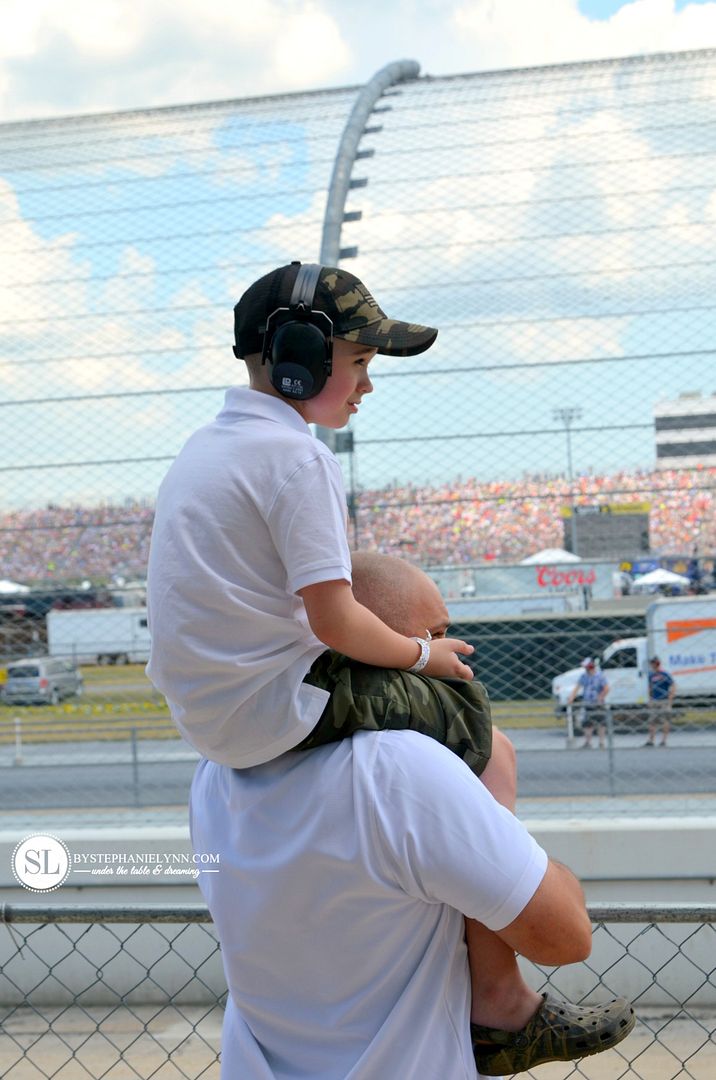 This year our little guy has developed a new obsession with NASCAR. Ever since watching his first race with his Ciocia and Uncle Mike he has been hooked. He has the drivers' names and numbers down pat, along with their top sponsors, and can even tell you who has placed in the past couple of races we have watched. It's something that brings Lightning McQueen to a whole other level – in real life.
As with all of his interests, I immediately went searching online for some autism-friendly activities involving racing. With CJ's anxiety and sensitivities we are always a little apprehensive with attending events in fear of putting him in a situation he would not be able to handle. It's also pretty hard not to worry about ruining the experience for other families and individuals that we may impact around us.
Autism impacts the entire family in so many different ways and each family faces their own set of unique challenges. For us, it enormously impacts everything we do. Autism-friendly events alleviate some of these fears for parents and enable the entire family to be together in a safe, controlled environment – with easy 'escapes'.
Through my searches I was beyond thrilled to find that Dover International Speedway hosts an annual "Autism Speaks Day at the Races" program.
This is the fourth year NASCAR and Autism Speaks have collaborated together to make car racing accessible to children with autism and their families. We had the pleasure of attending this family-friendly event and brought Ciocia and Uncle Mike along with us for the festivities. We were pretty excited to have the chance to see some of NASCAR's top drivers such as Dale Earnhardt Jr., Jeff Gordon and of course, CJ and Ciocia's favorite, Jimmie Johnson….
picking up his record 10th career win!


For us, knowing the plan of events and what exactly is going to happen is a huge benefit. This allows us to explain to CJ in detail what comes next and significantly calms his anxiety. Since my husband or I had never been to a race we had no idea what to expect – which made me a little nervous, to say the least, going into such a big day.
We arrived early to the speedway as the schedule was jam packed with a lot of family friendly activities set prior to the race. To be honest, I was personally very anxious to get in, see where we would be sitting (if it was even going to work) and get CJ acclimated.
I have to say from the moment we got out of the Suburban, and mentioned we were there for the Autism Day at the Races, the whole entire process was seamless. We showed our tickets to the staff and every single person we came across was more than willing to help.
We started the day in the air-conditioned grandstands on the backside of the track. As soon as we stepped off the elevators we were greeted by staffed volunteers from Autism Speaks. This is where our seats were located and the whole floor of the grandstands was autism-friendly.

In one of the conference rooms a NASCAR Q & A was held with special presentations from a series of notable speakers. The kids, along with their family members, were able to meet NASCAR drivers, like Justin Allgaier and Brad Keselowski, as well as Coach Joe Gibbs and Rodney Wise – in a casual meet and greet type of setting.
We also checked out the designated quiet zones, located on the same floor, right above the grandstands. These areas were a series of conference rooms that were set up to offer families a safe-place to go should the need arise. The rooms had muted lighted, reduced sound and contained lots of comfortable bean bag seating. Games, toys and refreshments were also available. Each child was also able to choose their very own special toy to take home.
Prior to the drop of the green flag we made our way over to the other side of the track, which is home to a series of family friendly activities hosted all morning long.

Our first stop was Miles the monster – the iconic mascot of Dover International Speedway – standing over 46 feet tall and weighing over 20 tons.

We wandered through the eight-acre FanZone, located outside Turn 4 of the track, which hosted a number of activities – including driving simulators, a live concert by Jerrod Niemann, and countless informational stands with product sampling and complimentary promotional items.

We also checked out the Monster FunZone, a designated area within the FanZone, home to continuous fun activities for all ages – including a rock climbing wall, RC car racing, moon bounce, obstacle courses, rides, games, face painting and even a DJ.
Admission to both the Fanzone and the Monster Funzone is free – and with all of the activities going on, it is easy to see why a NASCAR weekend at Dover is so much more than just the race.

While in the Monster FunZone, we had the opportunity to visit the Special VIP area for a brand new kids club called the "Monster Mile Youth Nation." This club is exclusively for race fans ages 14 and under and provides opportunities for young fans to explore the sport of NASCAR with exclusive access to race weekend activities. The Annual membership costs $20 and includes Free FanVision rental on one race weekend, along with a welcome gift package that includes items like a water bottle, merchandise coupon and diecast car.

As we headed back to the grandstands we took a stroll through the Souvenir Midway for NASCAR memorabilia and race day shopping. Driver specific trailers are lined up in this area, back to back, and of course we had to make pit stops at each of CJ's favorites.
Back inside the venue the Autism Day at the Races festivities continued with a fully catered lunch service before the Sprint Cup Race began.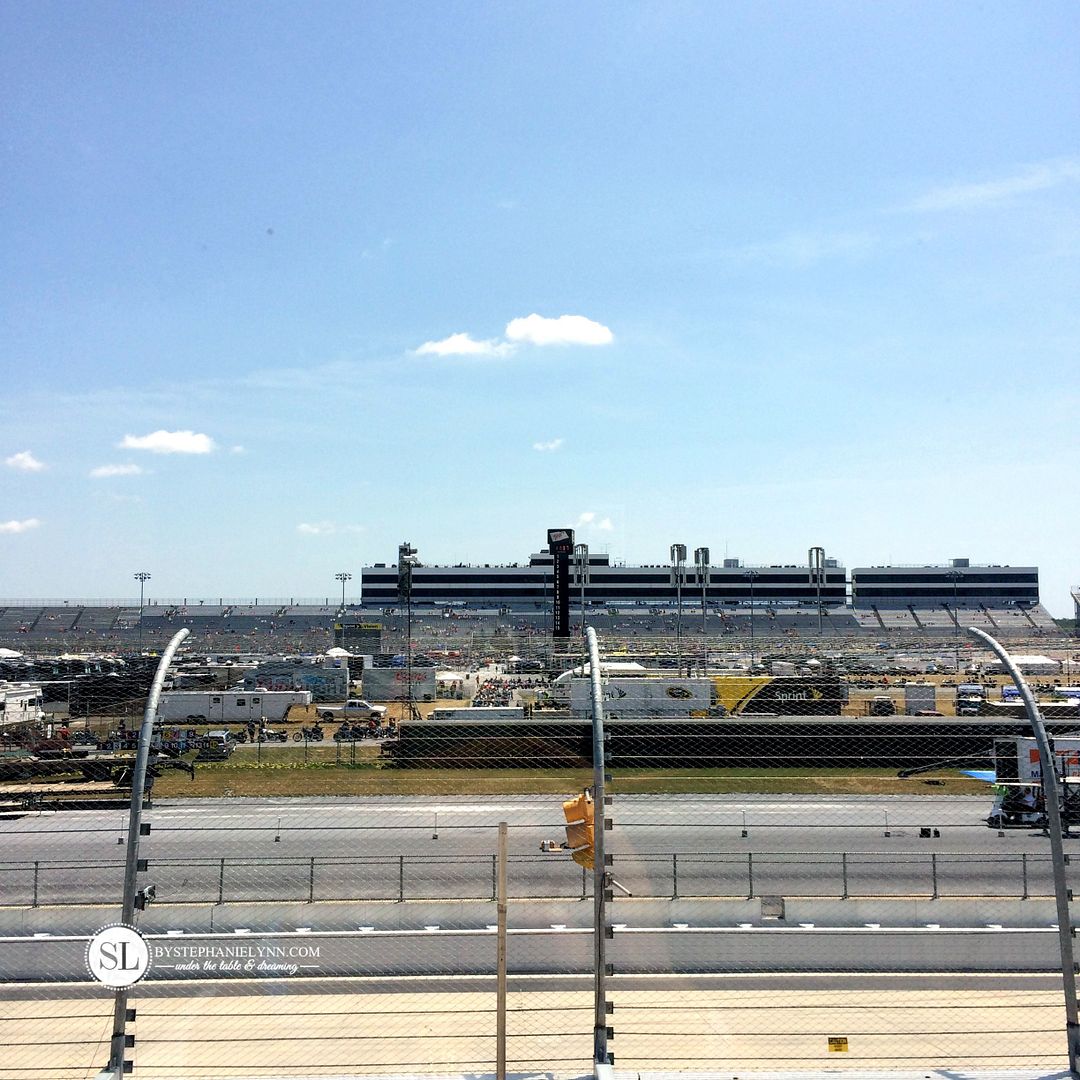 The special Autism Day seating  is located in the air conditioned grandstands, attached to Dover Downs, between turns 2 and 3. The grandstands offer a nice view of  the tracks back stretch and the area is noise-controlled, so CJ was able to tolerate watching the race without his headsets. I really liked the fact that the grandstands contained individual seating as well, opposed to bench-type seating. This worked out perfectly for our little guy and we didn't have to worry too much about him moving around and disturbing the surrounding guests.

Below the grandstands is an outdoor access area that is literally steps away from the actual racetrack. CJ loved being able to sit and watch the trackside action, up close and personal, before the start of the race.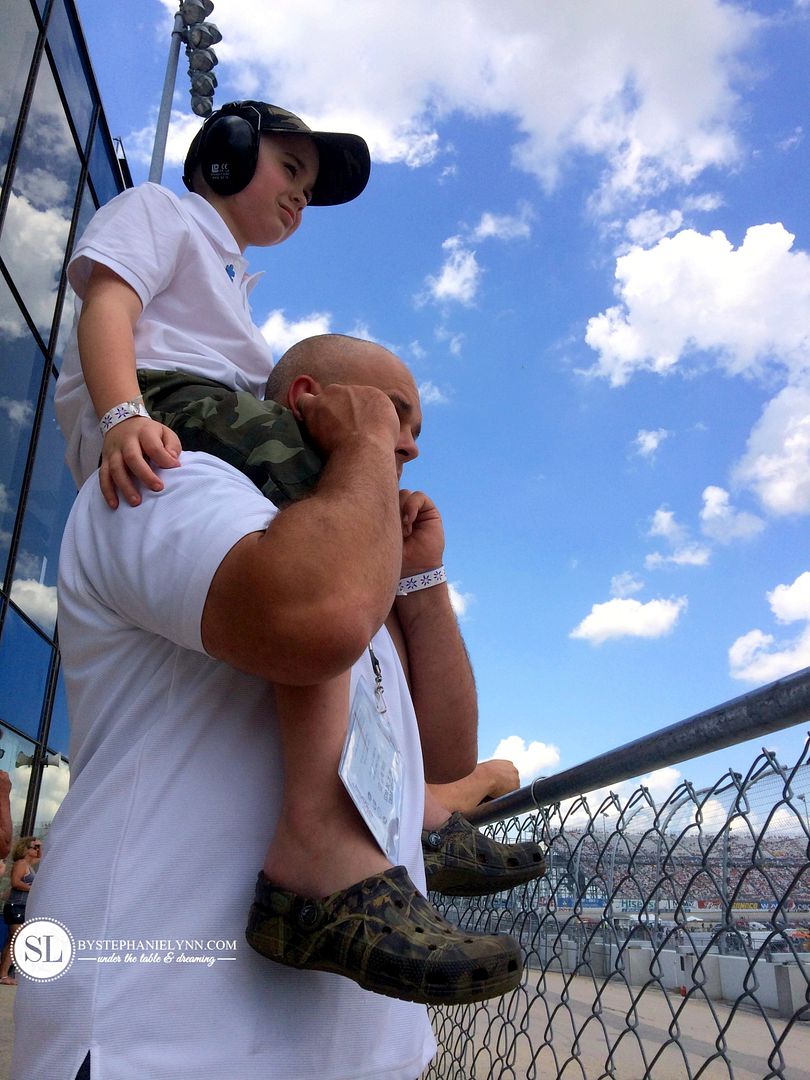 Much to our surprise he wanted to go out during the race as well. The noise, action, excitement and feel of being that close to the actual race was beyond amazing! To see our boy feel comfortable enough to hurdle past some of his fears and have the chance to experience first hand something he is truly passionate about is such an incredible feeling. It's something we thought we would never be able to do and we are so grateful for the opportunity.

This is definitely a family event we would attend again. I hope by sharing our experiences it may alleviate some fears for other families impacted by autism and put their mind at rest if they plan to take advantage of this annual event in the future.

Families, Start Your Engines! Are you ready to win some great prizes and access to the October 4, 2015 "AAA 400" NASCAR Sprint Cup Series race at Dover International Speedway?
Enter here for a chance to receive:  * A Family Four Pack of Tickets for the October 4, 2015 Race  * Pit Passes  * Trackside Access Passes  *Catered Lunch and Breakfast  * FanVision Rental  * Driver Appearances by Danica Patrick and Jeff Gordon, and much, much more!
I participated in an Ambassador Activation on behalf of Influence Central for Dover International Speedway. I received complimentary tickets to facilitate my post and promotional items to thank me for my participation at the conclusion of the program.