Tie Dye Party | tie dyed kitchen towel crafting party #tiedyeyoursummer #michaelsmakers – Add a splash of color to your summer and kick off the season with a Tie Dye Crafting Party!
Although tie dye has been around for ages, it is one trend that will never get old. Creating the colorful designs and unique patterns is much easier than you think and the perfect outdoor craft for a sunny afternoon.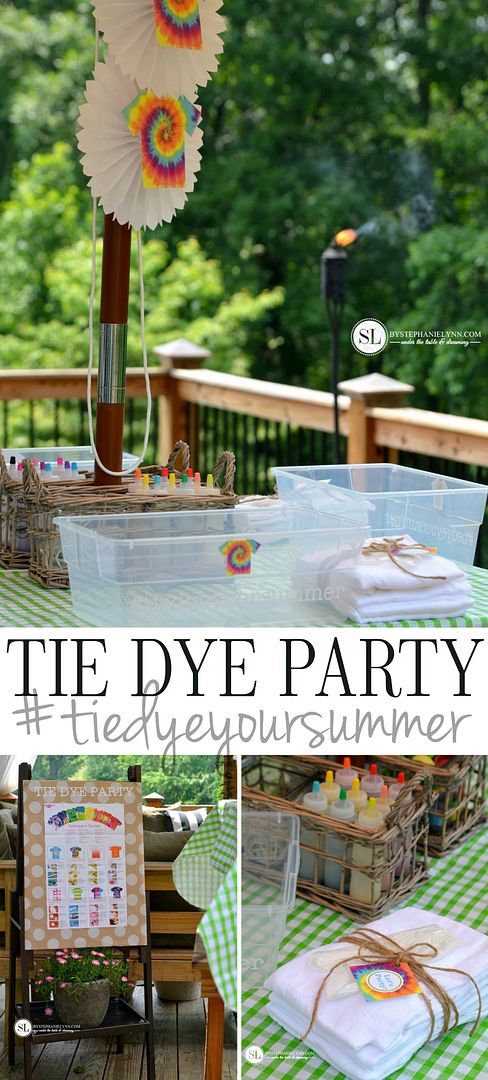 This month I'm gathering the girls and moving our crafting day to the backyard for a fun Tie Dye Party!
We will be setting the t-shirts aside this time around and bringing a touch of color to our decor with some tie dyed kitchen towels.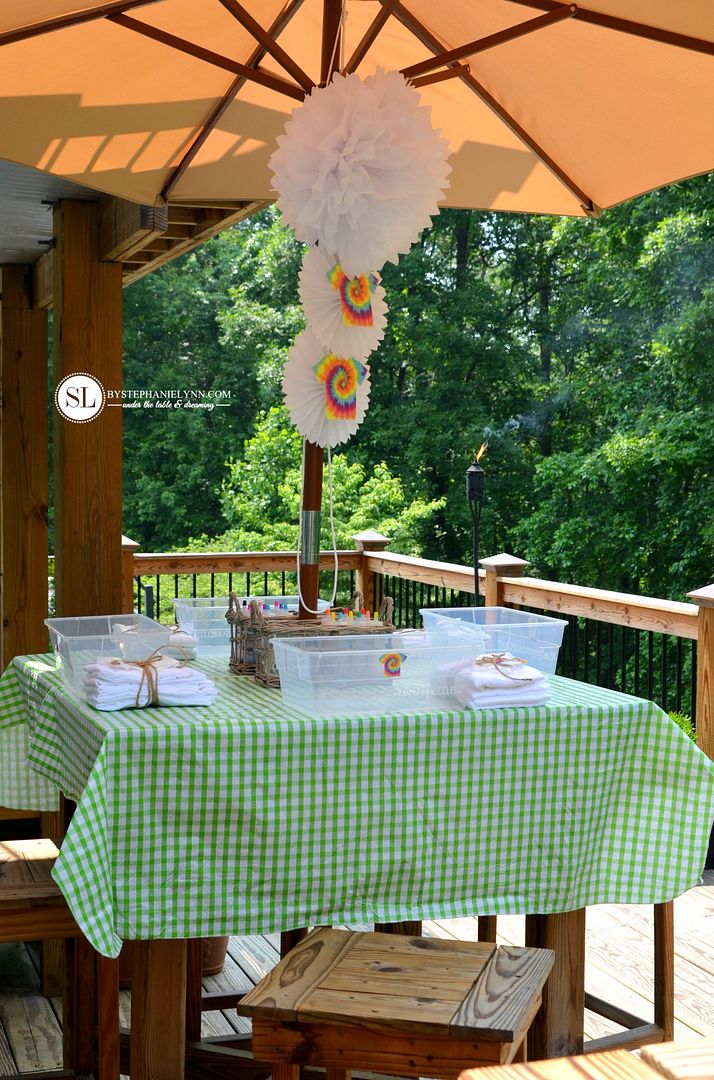 The best tie dye creations are made in a fun, relaxed, care-free environment.
This tie dye activity table was set up for a worry free party, with just a little prep.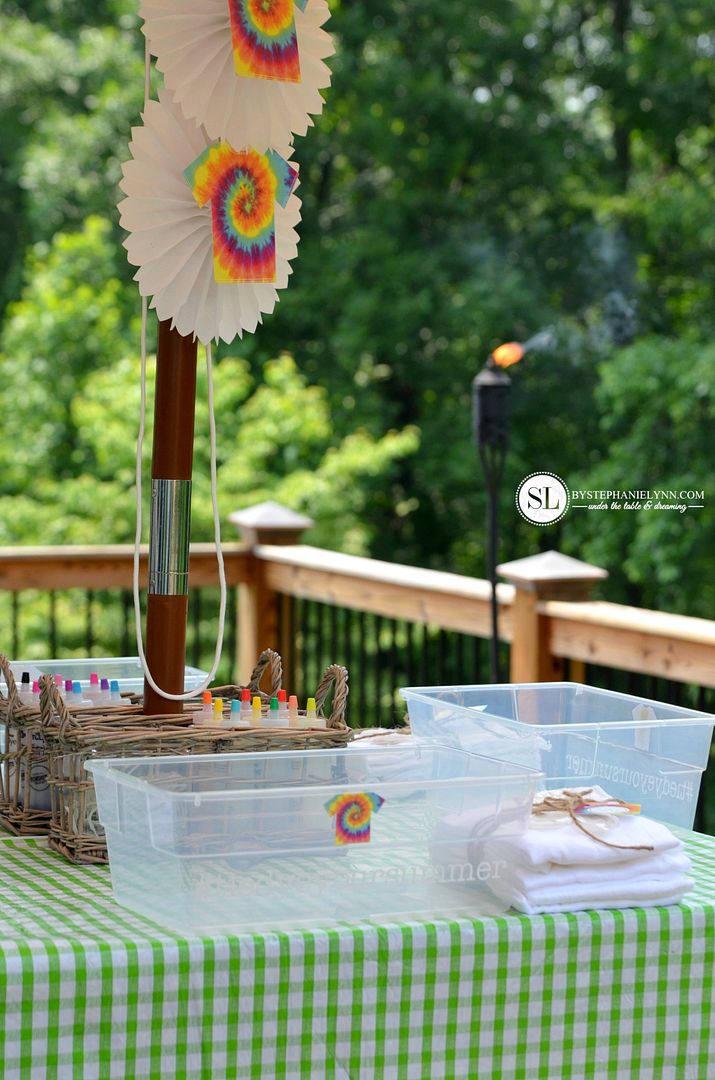 Plastic tablecloths, along with personal dye bins, were used to protect the tabletops.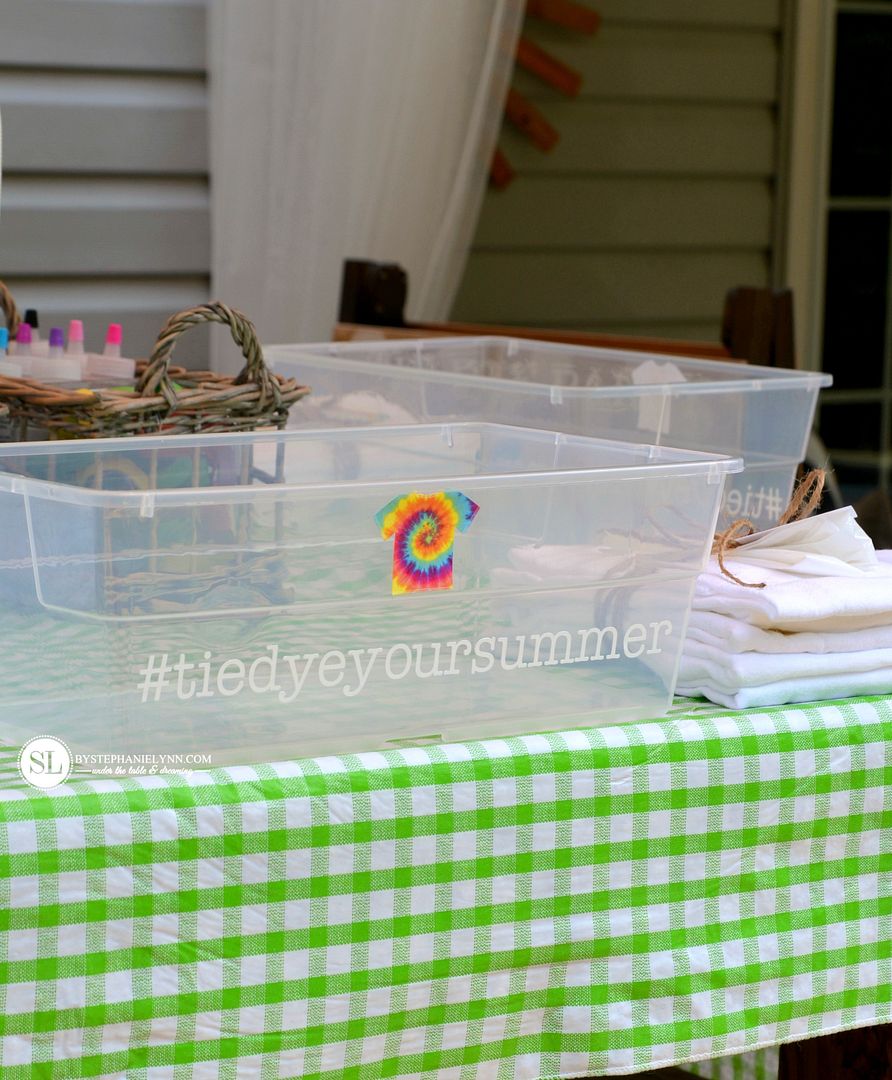 The 'personal dye bins' are simply inexpensive plastic shoe boxes. They work perfectly to contain the excess dye as it is applied to the fabric – plus they can easily be rinsed out between projects.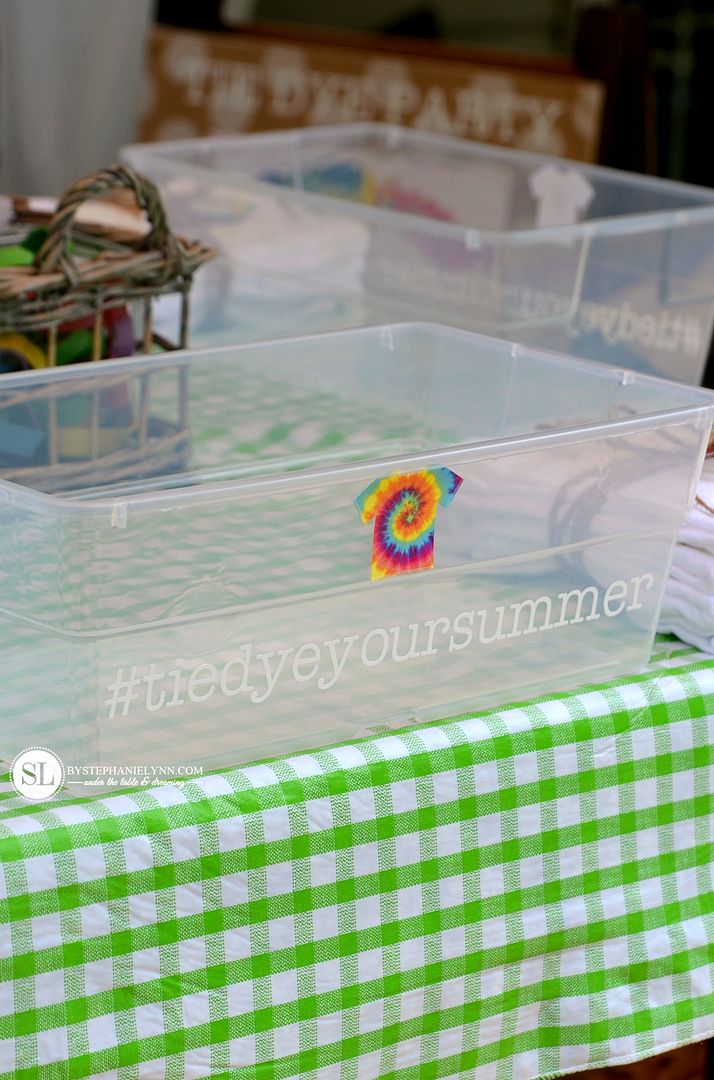 The bins were decorated with some tie dye shirt cut outs and the party hashtag, #tiedyeyoursummer, so everyone could share and tag their creations online.
The vinyl was cut with my Silhouette and the free tie dye printables can be found here.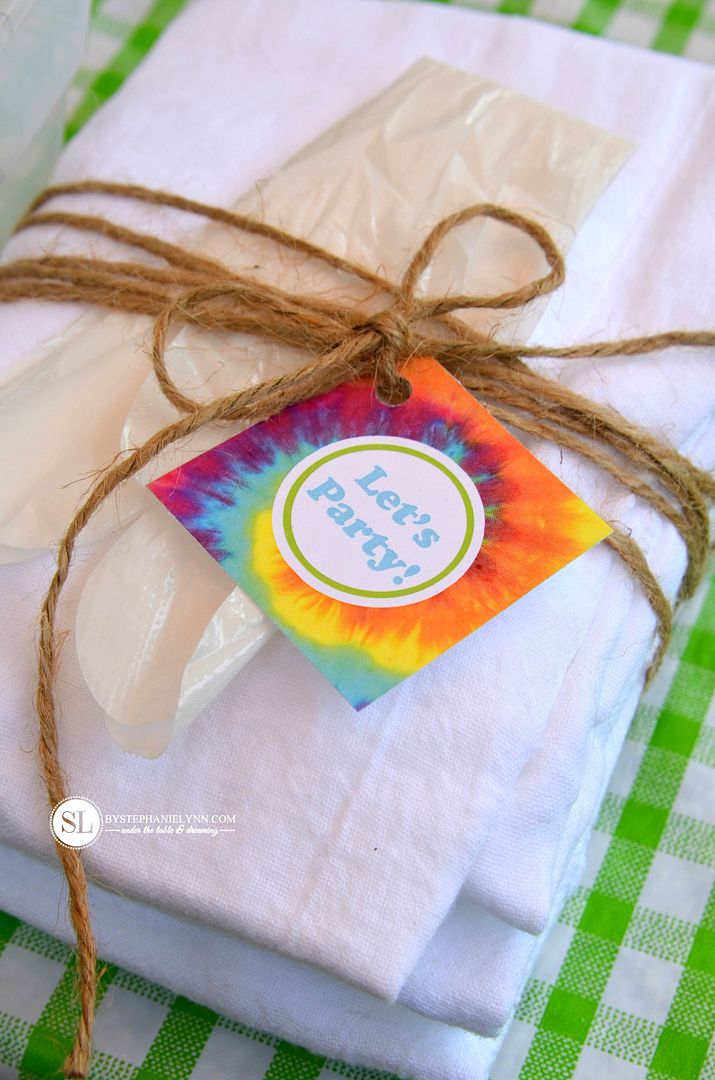 Tie dye works best with natural fabrics, like 100% cotton.
I picked up a couple packs of these Flour Sacks . They are perfectly sized for the kitchen and large enough to create some amazing tie dye patterns.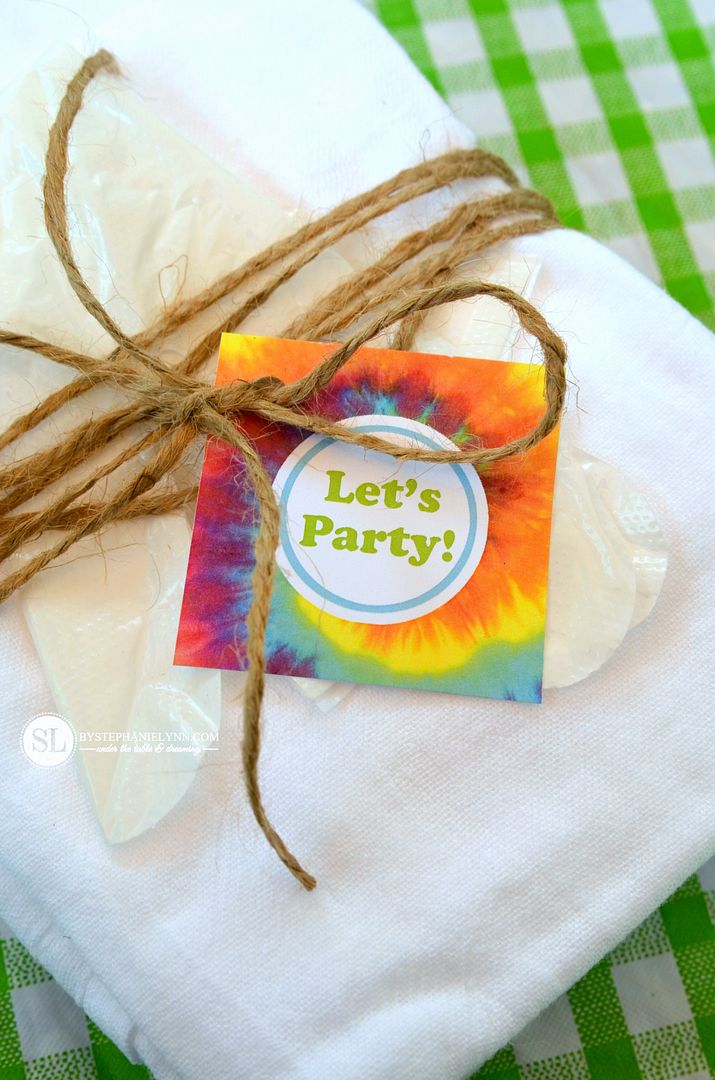 A stack of towels, along with a pair of gloves, were set out for each guest.
The stacks were tied with a piece of jute twine and adorned with a party logo (free printable found here).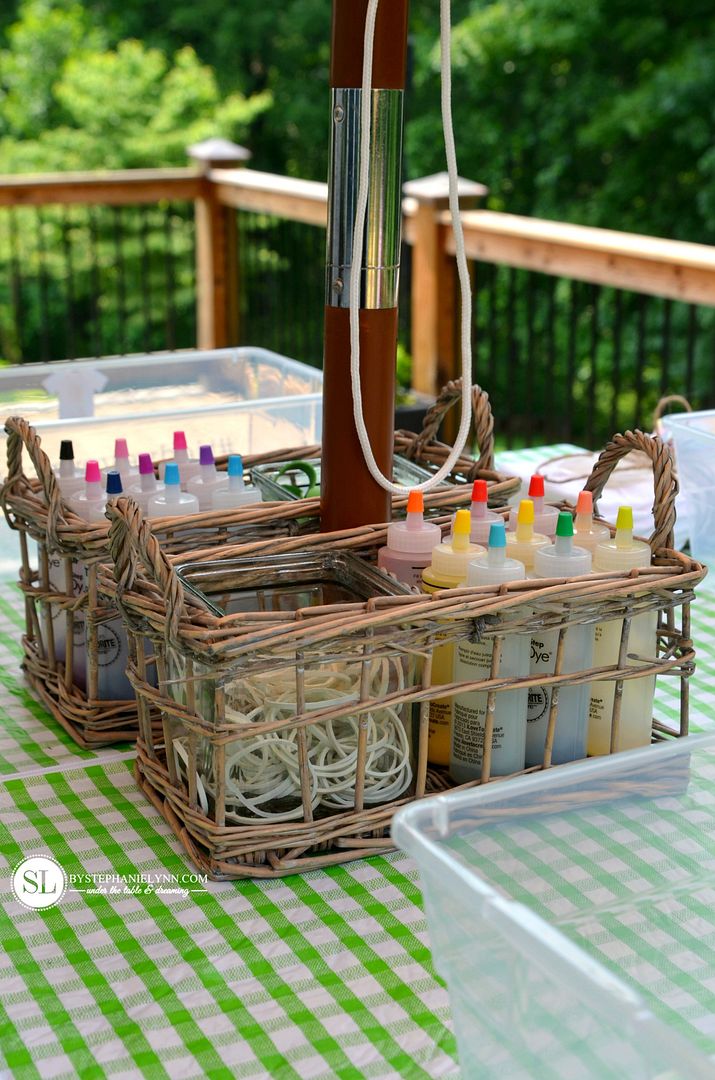 The dyes and rubber bands were conveniently placed in the center of the table.
The willow baskets and glass containers were found at Michaels.

The Tulip® One-Step Tie-Dye Party Kit includes all of the 'actual dye supplies' you need
– one-step dye powders, rubber bands, gloves, and more.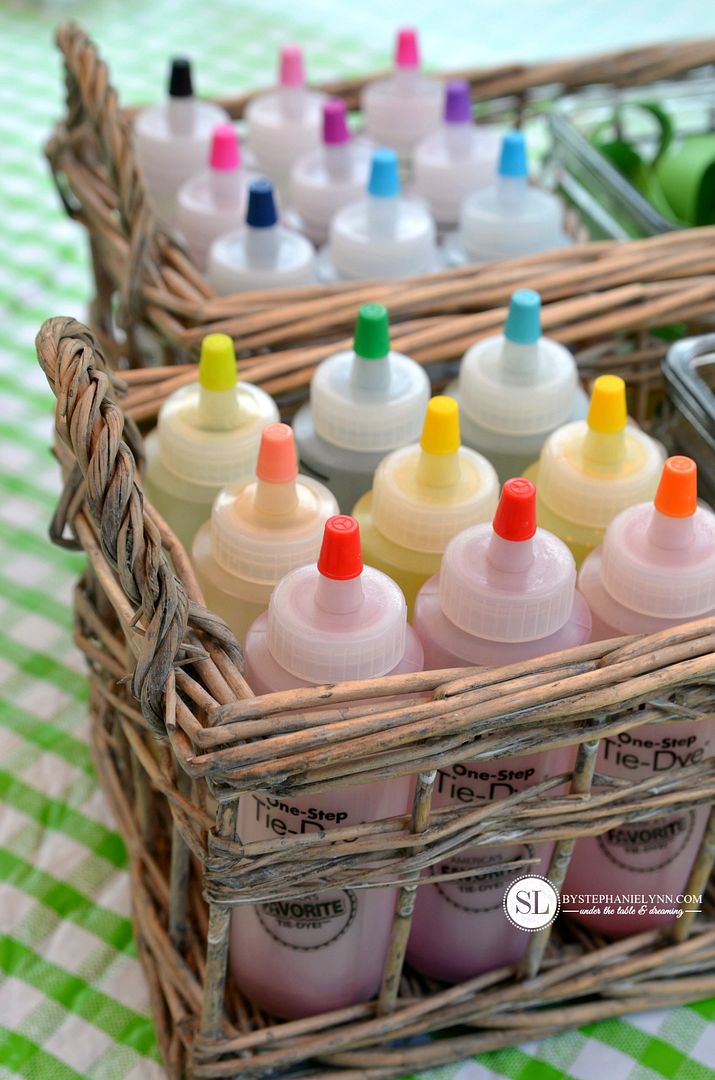 The kit is stocked with 18 bottles of vibrant One-Step Dye.
When the party is ready to begin, the dye powder is activated by simply filling each squeeze bottle with water.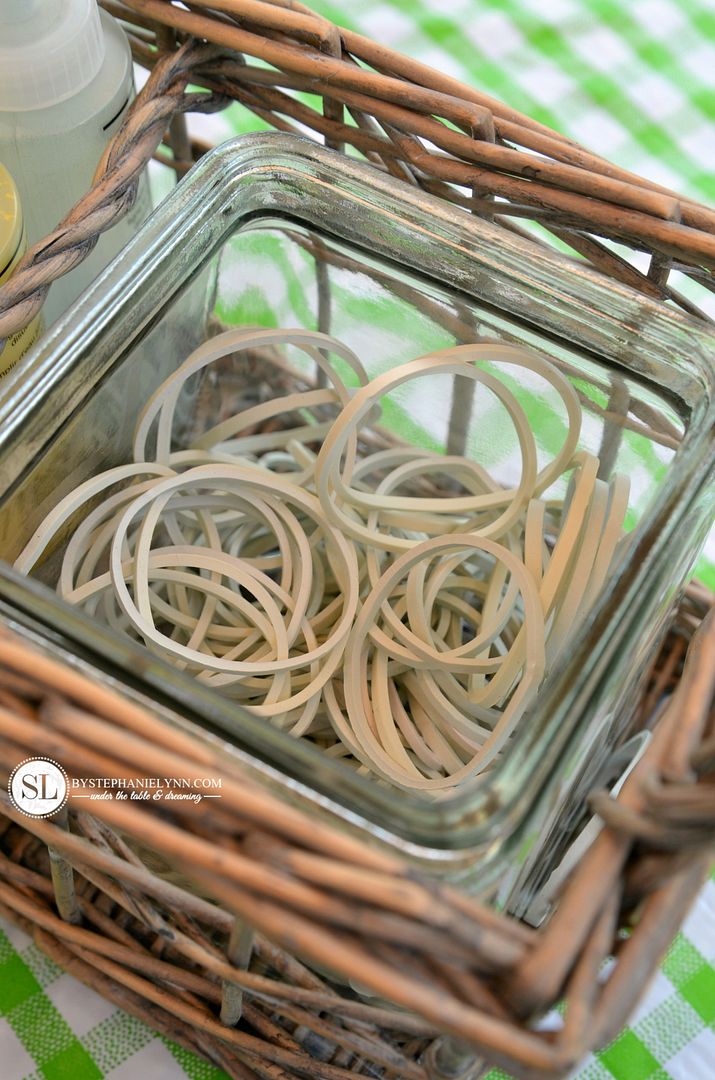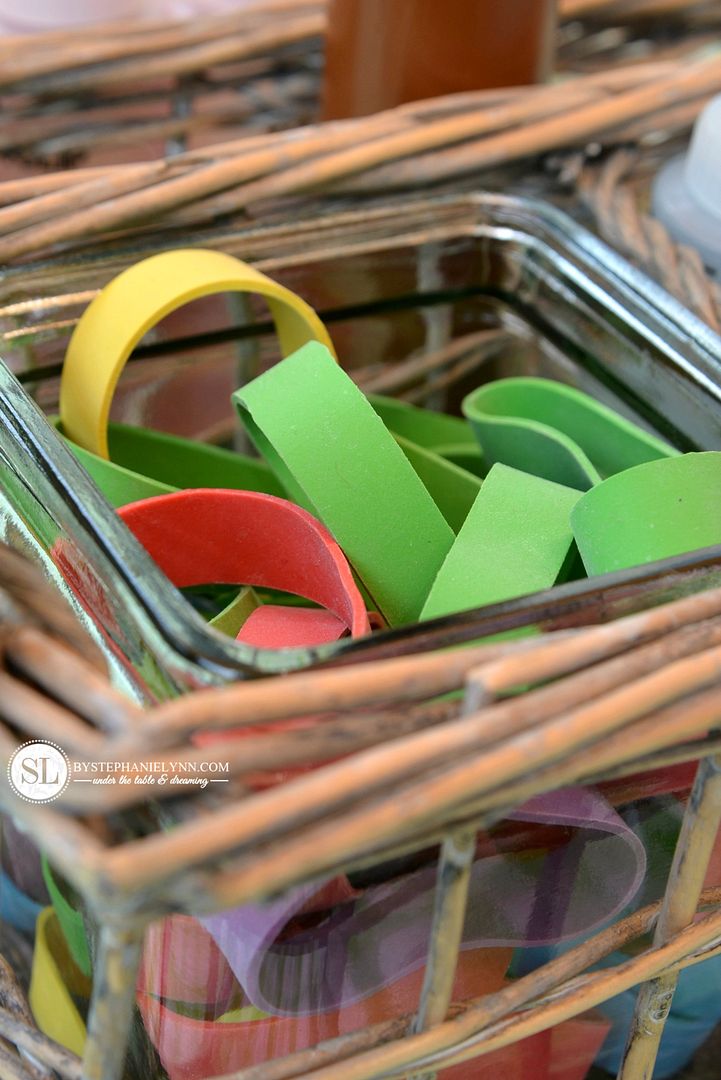 Along with the rubber bands that are included in the kit, I also picked up a separate bag of Tulip® Rubber Bands in assorted sizes. The larger and wider bands are great for creating various resist patterns and tightly binding thick folded materials.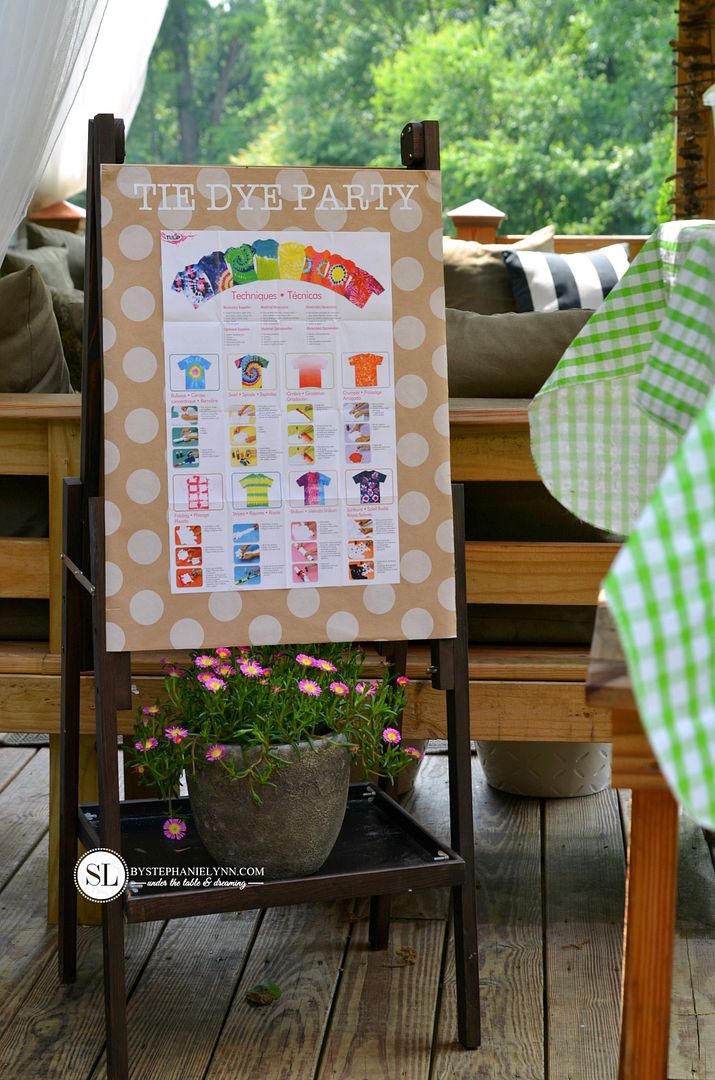 The how-to project poster included in the kit was displayed for easy reference.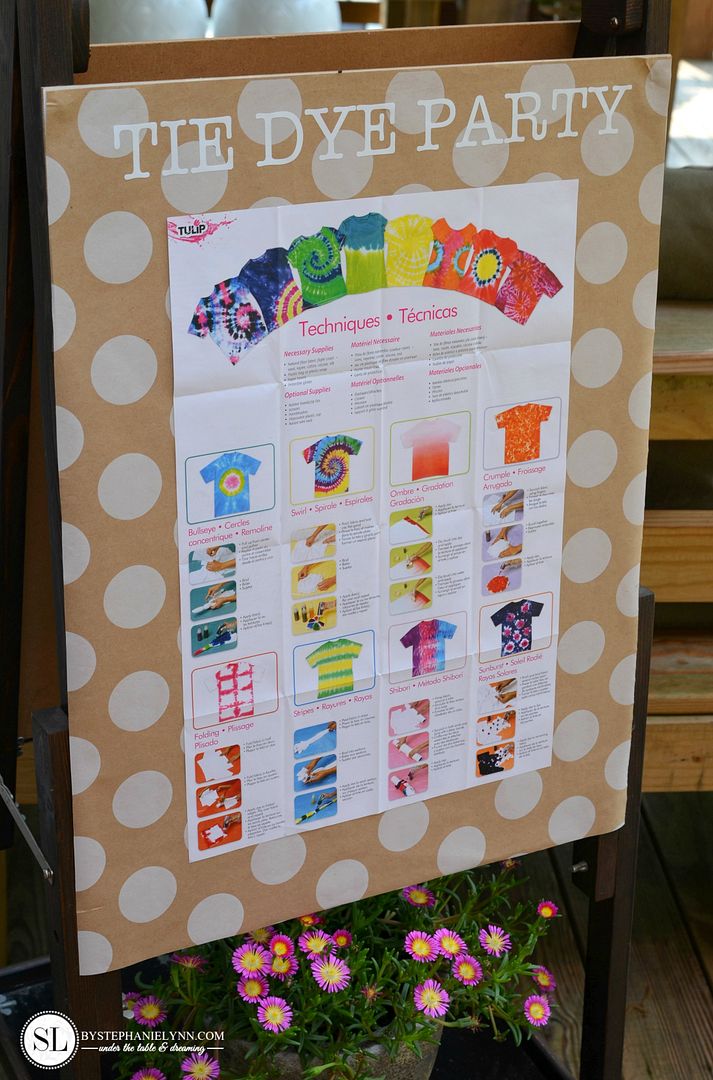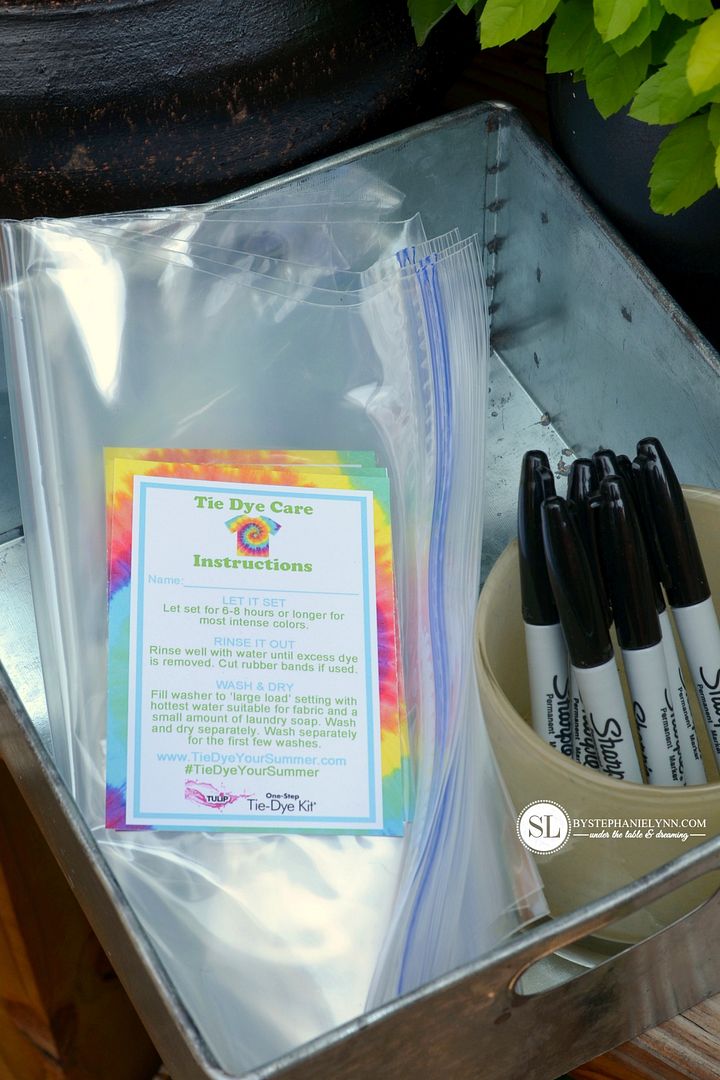 The only sad thing about hosting a Tie Dye Party is not being able to see everyone's creations at the end of the day. Since the wet tie dye needs to sit for up to 24 hours, plastic bags provide a safe and easy way for guests to transport their wet tie dye projects.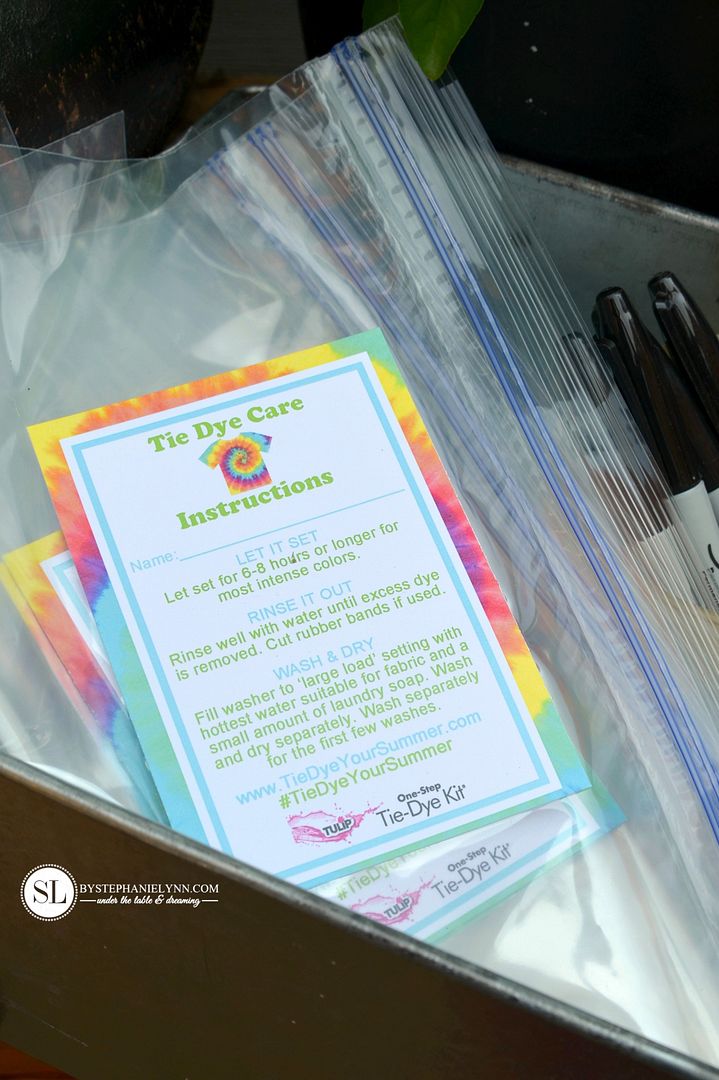 Don't forget to share the care instructions so guests know exactly what to do once they get home.
The washing and care instructions, (free printable found here), makes a great label to attach to the front of the bag.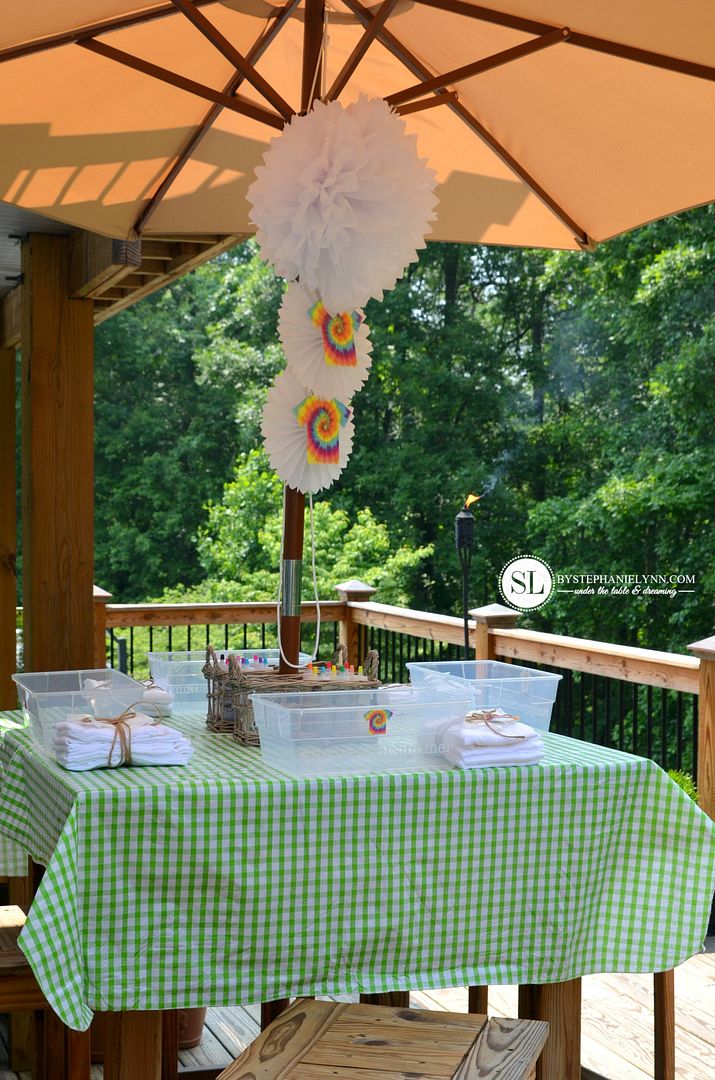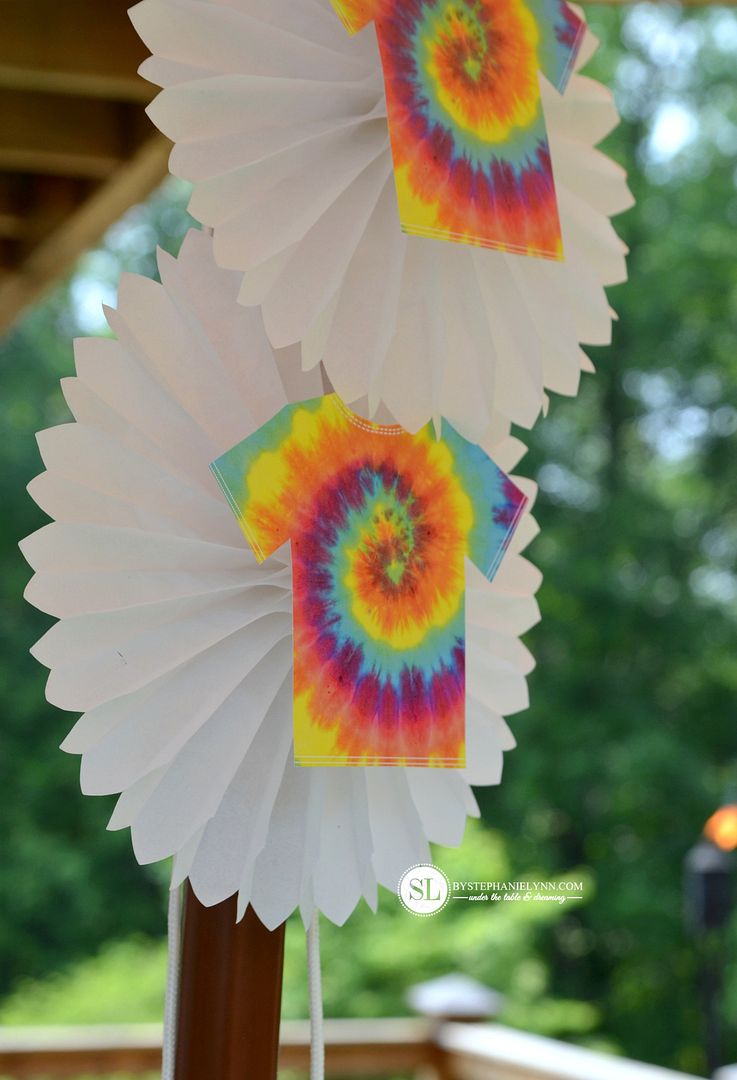 A few inexpensive tissue paper decorations add a festive touch to the table without a lot of work or effort.
Large tie dye shirt cutouts, ( free printable found here) , were added to the paper pinwheels to keep with the Tie Dye Party theme. 
The full line of free Lillian Hope Designs Tie Dye Party Printables can exclusively be found here.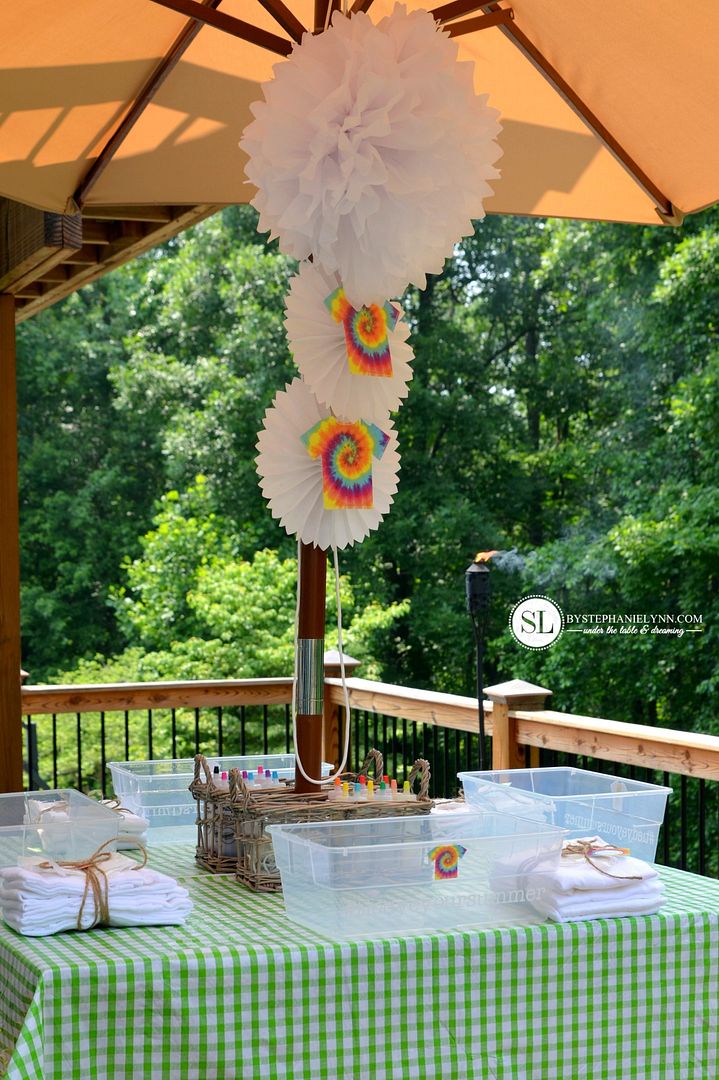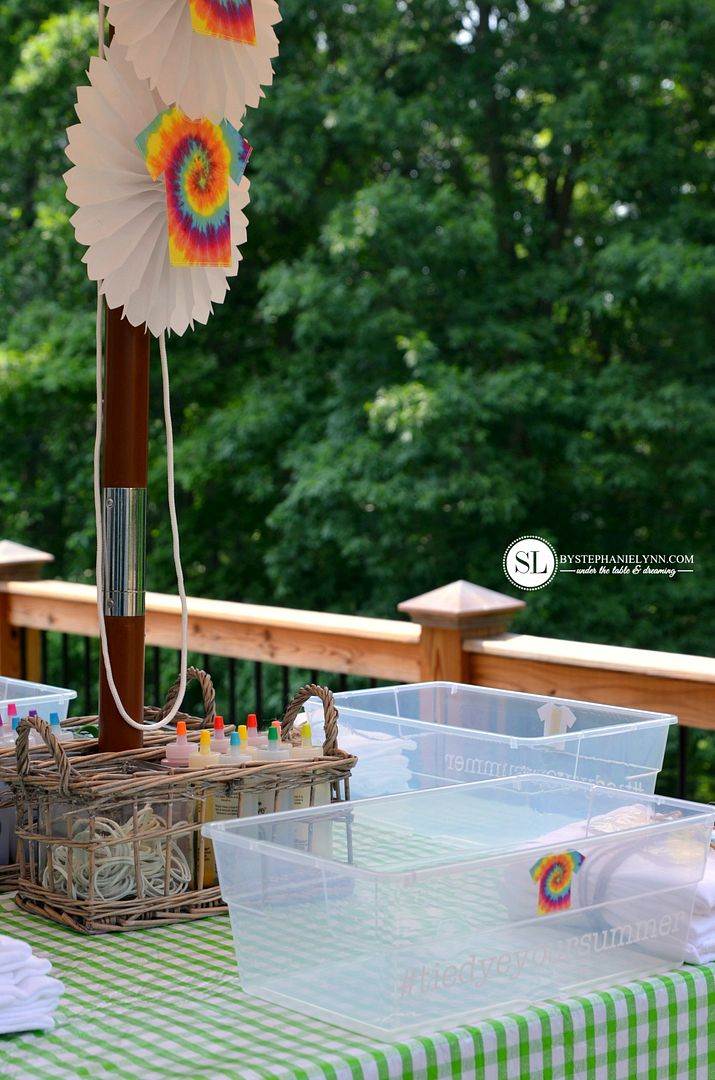 If you decide to host your very own tie dye party this summer, don't forget to remind your guests to share their creations using #TieDyeYourSummer.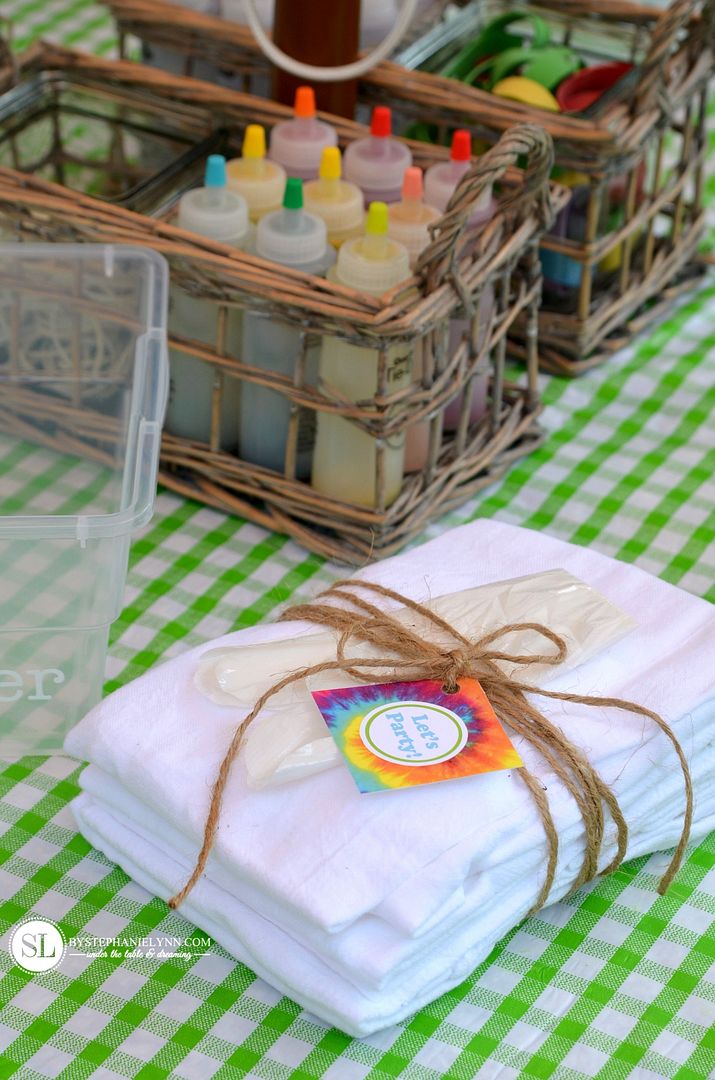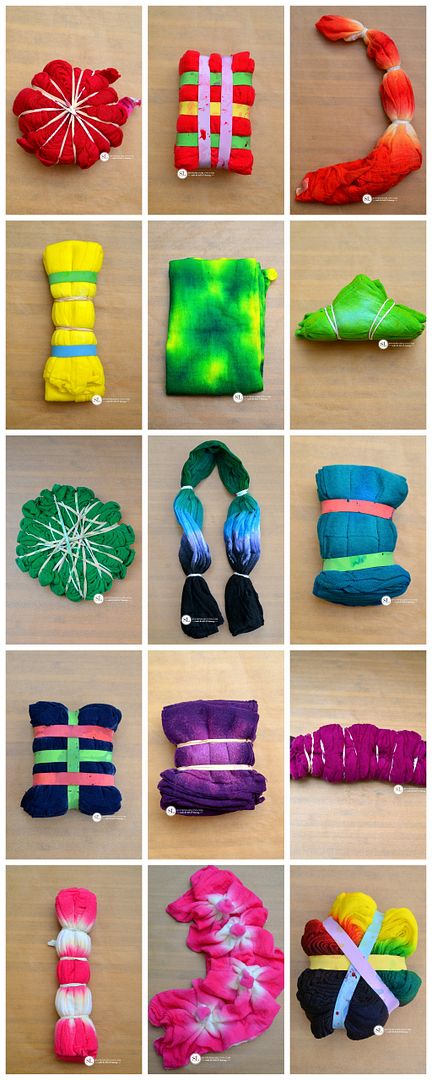 In preparation for our Tie Dye Party, I tested out sixteen different tie dye design techniques on our kitchen towels.


Check out all of the results and step by step instructions here:
Tie Dye Folding Techniques

This post is brought to you by Michaels
. The opinions read here are entirely my own. Join Michaels as they kick off summer – with the Tulip One-Step Tie Dye Party Kit! Throw a full tie dye party, tie dye t-shirts, or simply tie die your own creations! The full kit is available in stores and additional tie dye products can be found on Michaels.com. This season don't forget to share your very own tie dye party creations on social using #TieDyeYourSummer. We can't wait to see what you come up with!