Custom Photo Candle Holders – DIY packing tape transfers #michaelsmakers | Hello August! I'm pretty excited as the girls and I were able to get together over the weekend and begin the month with an impromptu crafting night.
I love the thrill of learning new art & craft techniques. Even more so when I have the opportunity to pass along the information to others.
This new technique is not only incredibly easy, but pretty genius – to say the least. It requires just a few inexpensive supplies and left all of our heads spinning with a variety of different project ideas.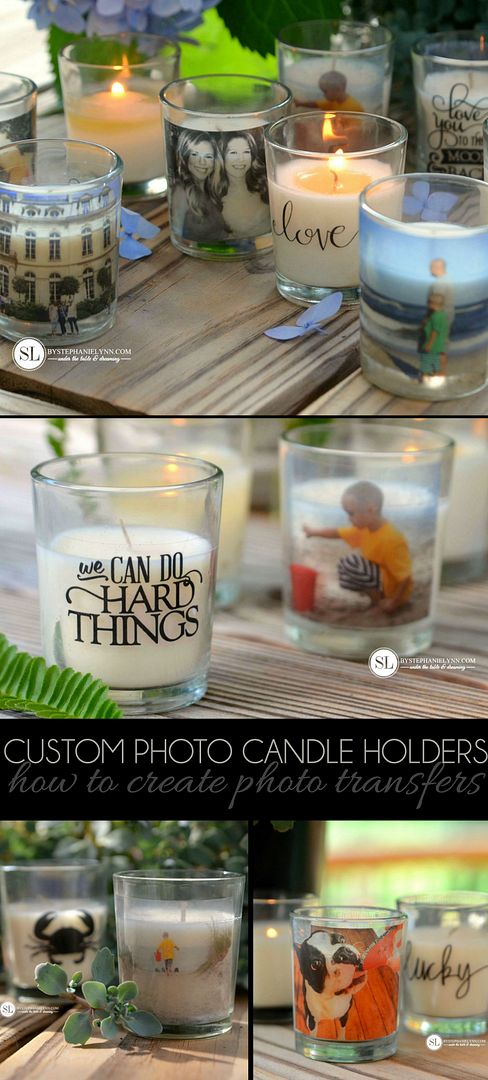 The Courtney Cerruti Image Transfer Technique is just one of many online classes offered by
Michaels Educational Partner, Creativebug.
I had the chance to get a peek into the Creativebug world of watercolors, weaving, paper flowers and image transfers as part of the kickoff to the Michaels Makers 2015 campaign.
I am so honored and excited, once again, to be chosen to be a part of this year's amazing team!
Michaels graciously invited all 50 Makers to a hilltop estate in California last week for the first Michaels Makers Summit. Unfortunately I was not able to attend, due to previous engagements; however, I was able to experience the project sessions offered, online with Creativebug.
**you can check out the classes too ~ at Michaels.com ~ available until August 22nd free of charge**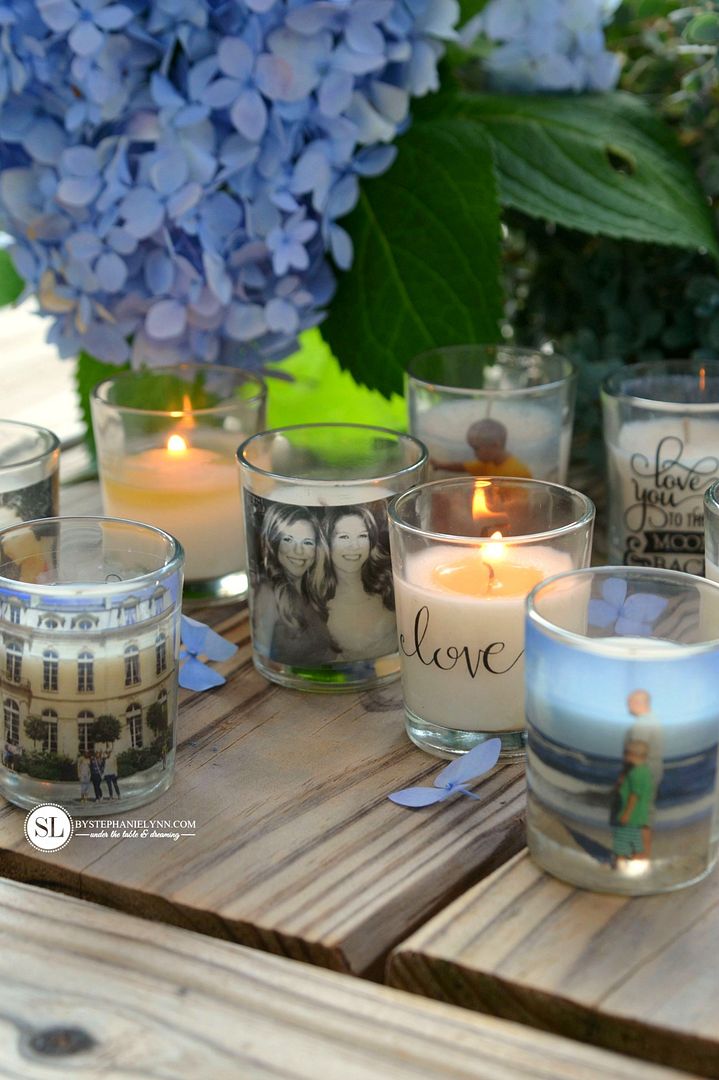 These Custom Photo Candle Holders were created using one of the easiest image transfer methods.
They were simply made with clear packing tape!
It takes just a few minutes to turn black and white, or even full color, images and text into creative transfers that resemble transparent stickers.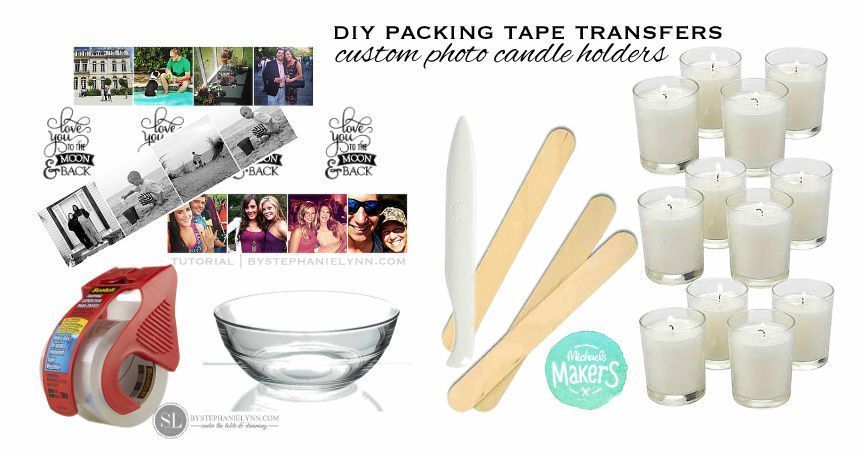 Custom Photo Candle Holders | DIY Packing Tape Transfers
Materials Needed:
Photos or Text – color or black and white – printed on a Laser Printer or Toner Copier
Heavy Duty Packing Tape
Glass Votive Candles
Additional Supplies Needed: Bone Folder or Wooden Craft Sticks, Bowl of Warm Water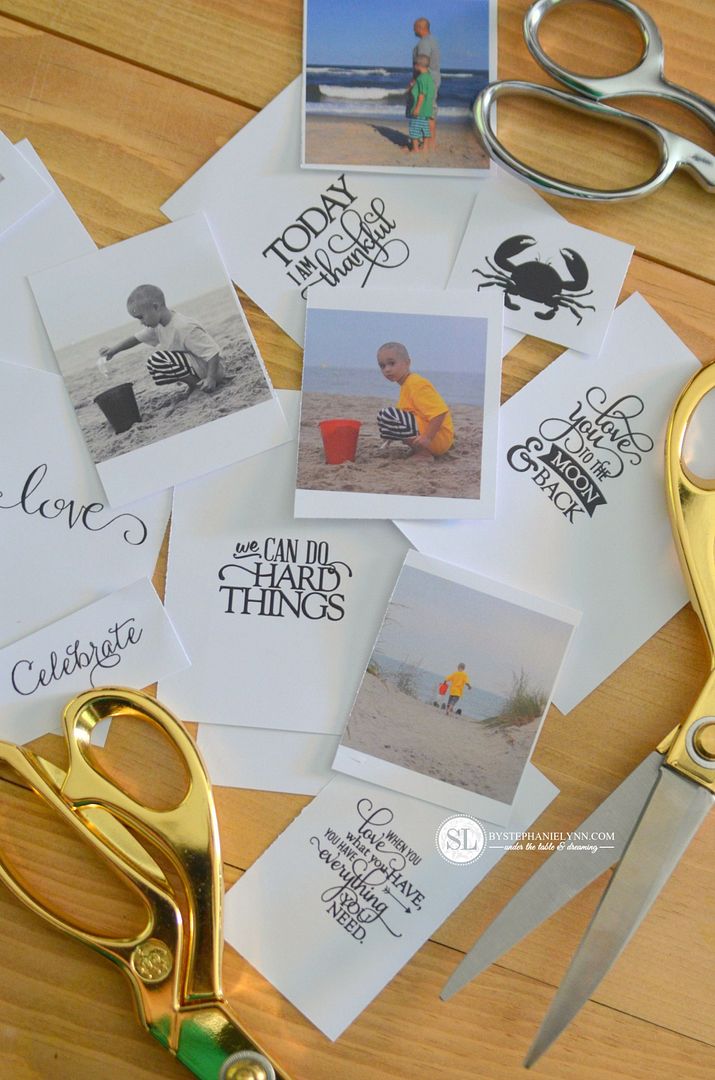 Step One: Select and print photos or text.
Any color or black and white text or image can be used for packing tape transfers. If using your own photos and text – they must be printed or copied on a laser printer or toner based copier in order for the transfer to work.
For our craft night I simply pulled some photos from the girls' Instagram accounts, resized them to fit the candles, and sent the files to our local Copy Center for printing – since my home printer only prints inkjet copies. I was able to fit eight different images on one sheet of paper.
Black and white copies from our local Staples are less than 10¢ a piece and color copies are less than 50¢ a piece. Keep in mind this process also works with images and text from magazines and catalogs as well. 
*A set of free printables can be found below for the text and sayings used in this tutorial.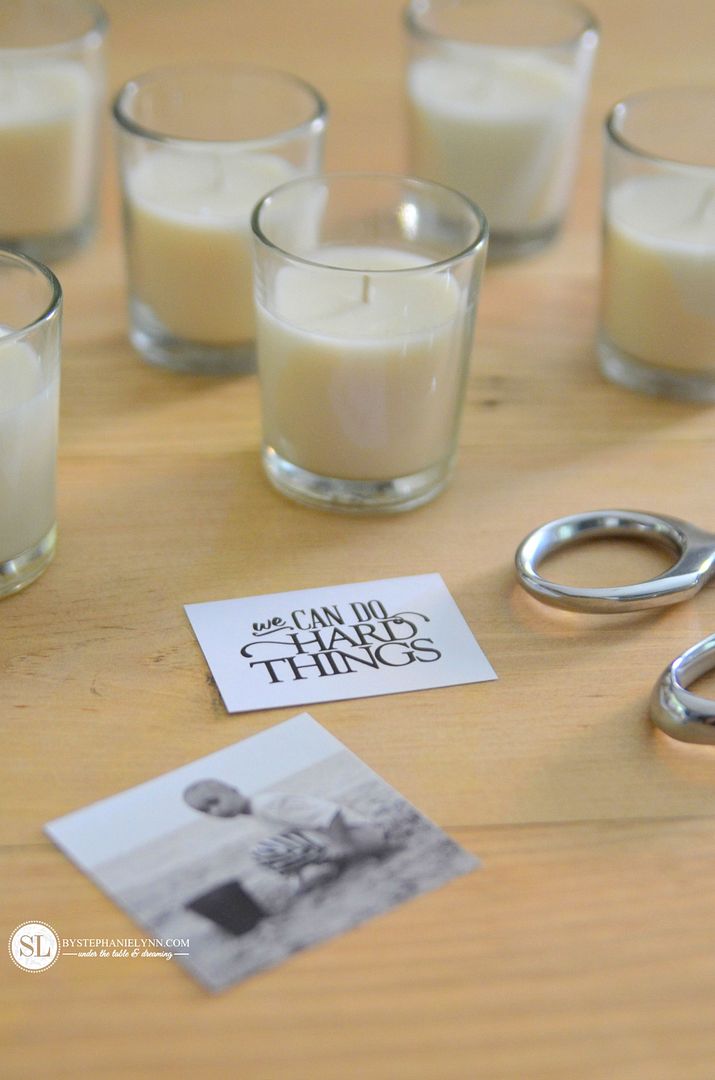 Step Two: Trim down the copied image or text.
Our images were trimmed to fit the glass candle holders.
Keep in mind any 'white' spaces will become transparent once the transfer is complete.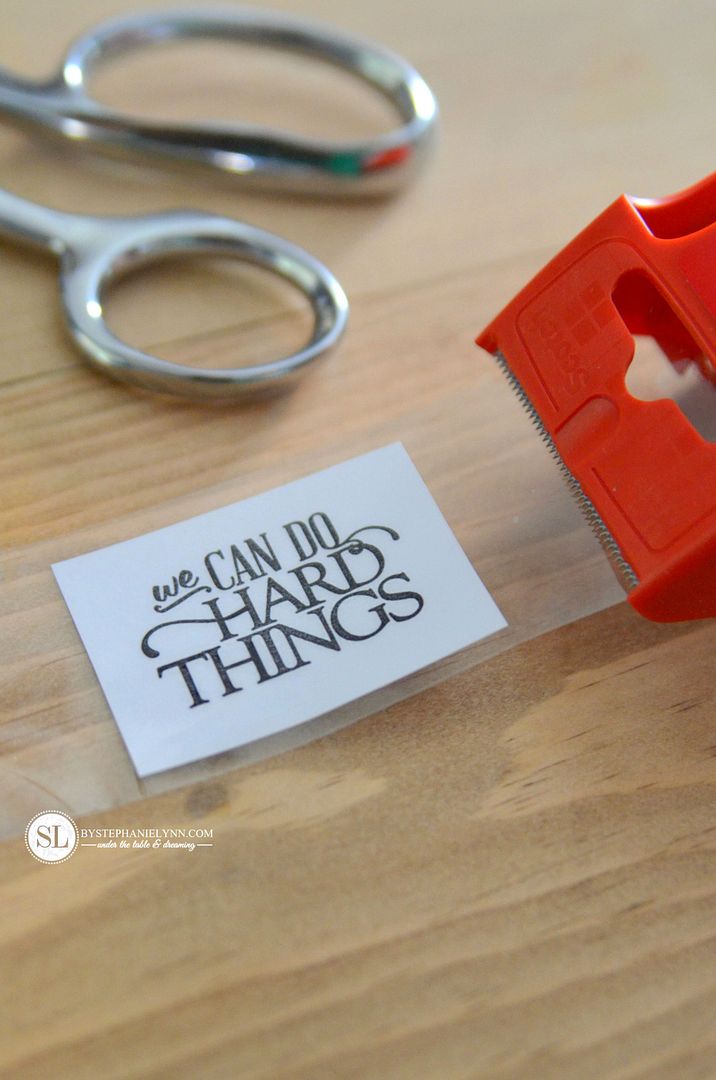 Step Three: Apply the packing tape.
We used this Heavy Duty Shipping Packaging Tape however, any brand should work just as well for this process.
Lay a strip of packing tape directly on your image and lightly press the tape in place. Make sure there are no air bubbles or ripples in the tape – as this will prevent the image from transferring correctly.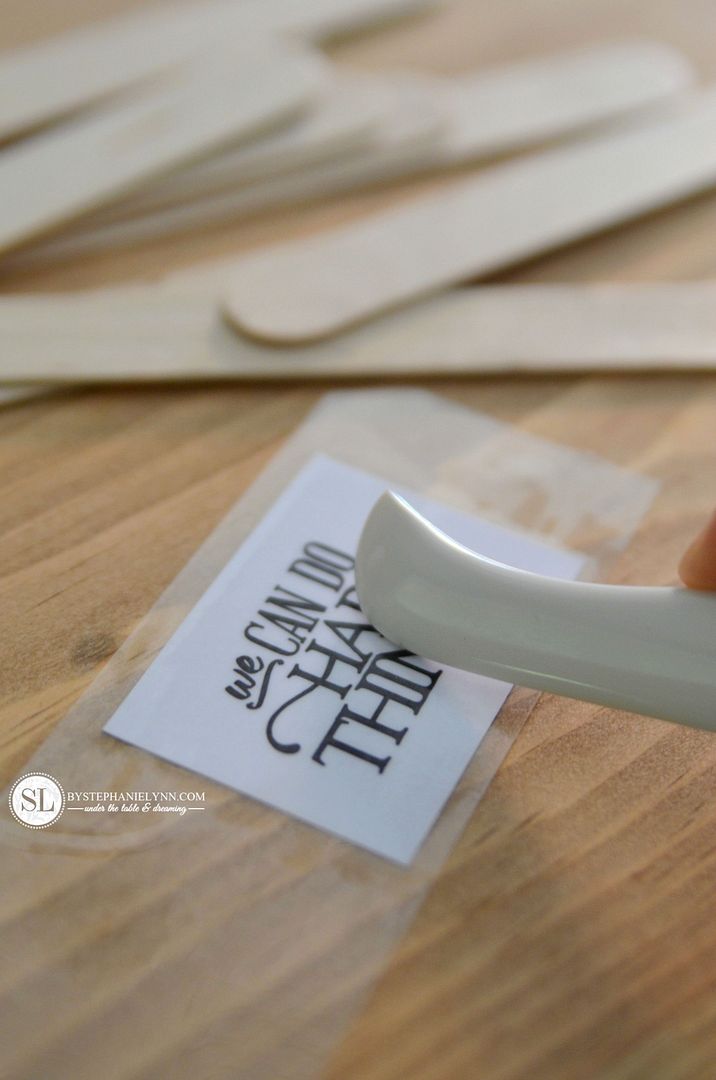 Step Four: Actively burnish the packing tape.
'Burnish' simply means rub real hard. This allows the packing tape to come in good contact with the image.
A bone folder can be used, as shown above, or even wooden craft sticks – like we used during our craft night.
Once the packing tape is completely burnished, the excess packing tape can be trimmed off.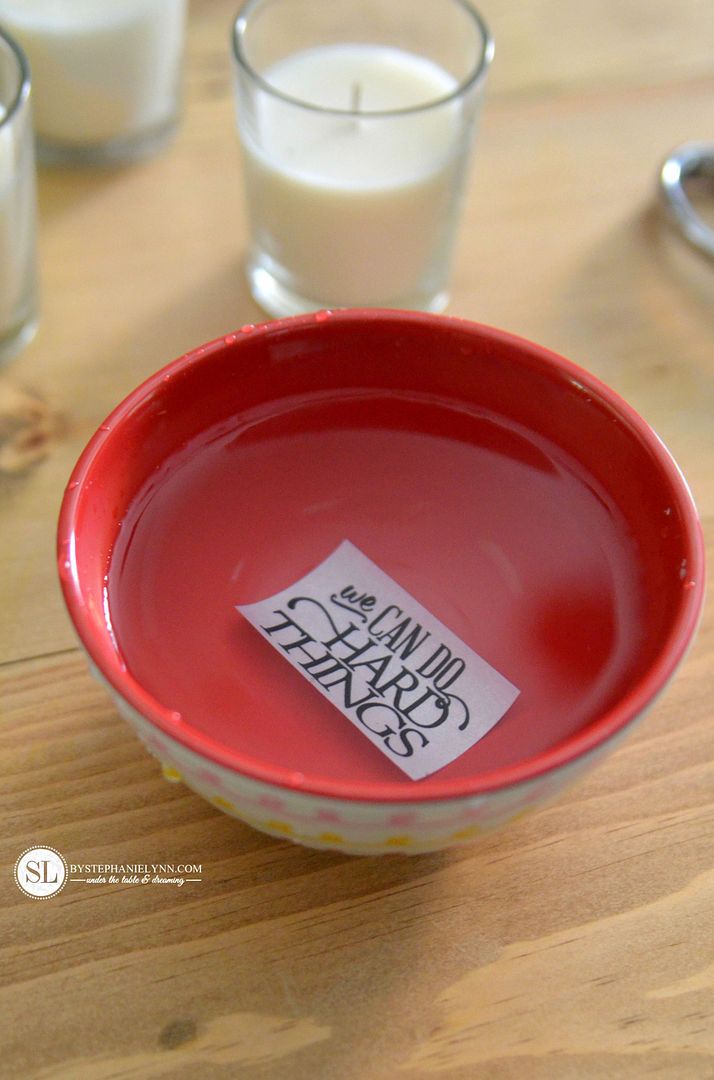 Step Five: Place the transfer into a bowl of warm water.
Let the transfer sit for a few minutes – until the paper is completely saturated.
Note: The transfer will not be damaged if it is left sitting in the water.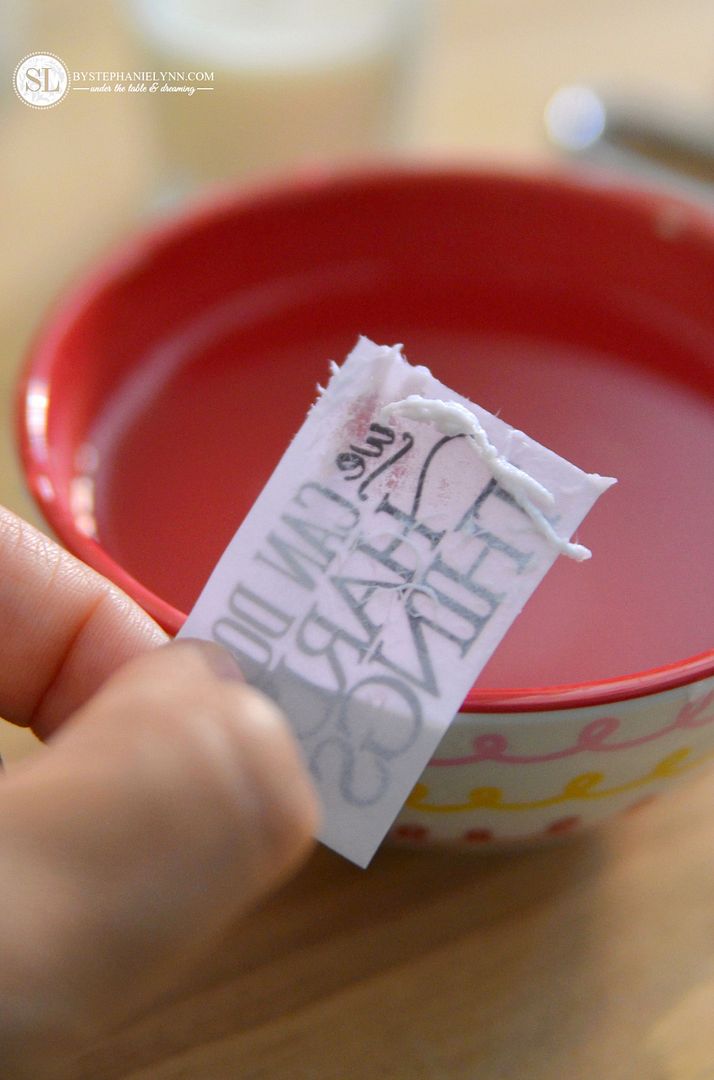 Step Six: Remove the paper backing from the transfer.
Gently rub your thumbs, in a circular motion, over the paper backing.
This process will take a few minutes as the paper 'gums' up.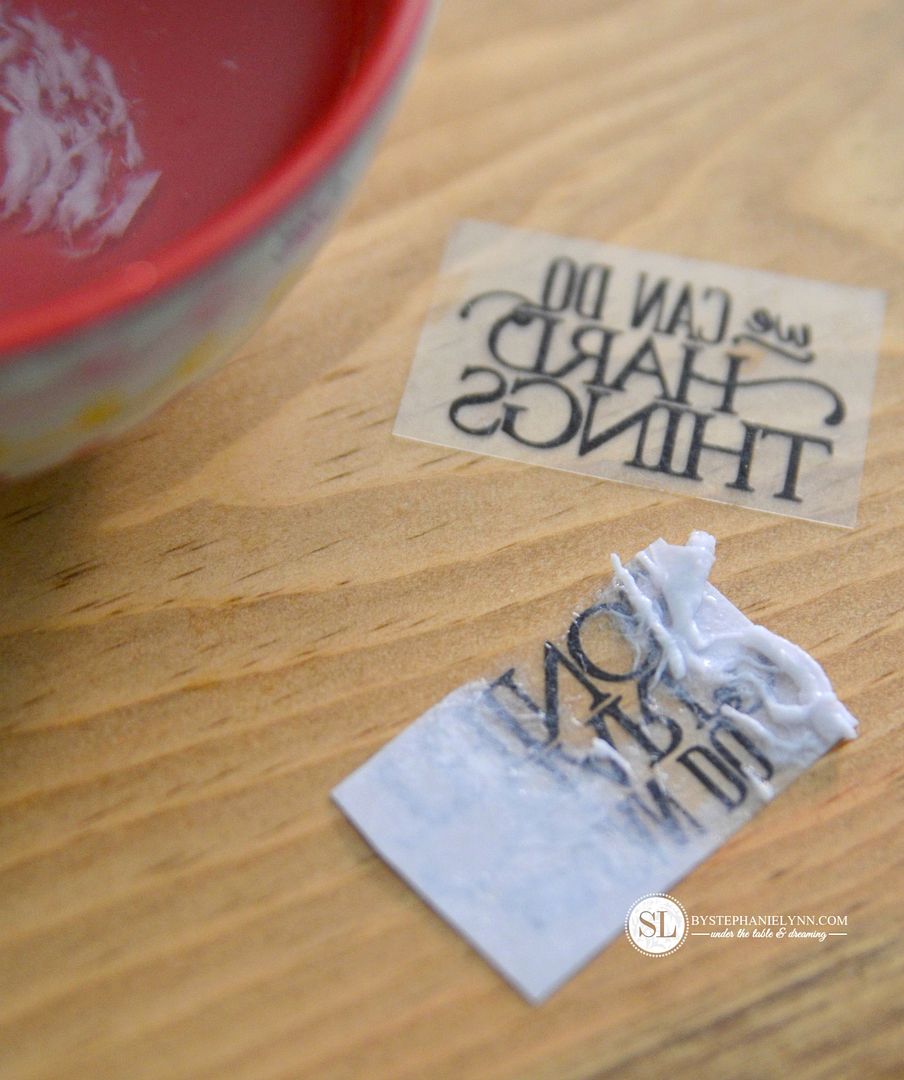 Continue rubbing until all of the paper backing is removed.
You may need to continue to dip the transfer back into the water throughout this process.
The photo above shows two transfers – one is the during paper removal process and the second is what the transfer will look like once all of the paper backing is removed.
Step Seven: Lay the transfer on a clean flat surface to dry.
Depending on the brand of packing tape you use – once the transfer dries, the tape will become sticky again. So the transfer can be used just like a sticker.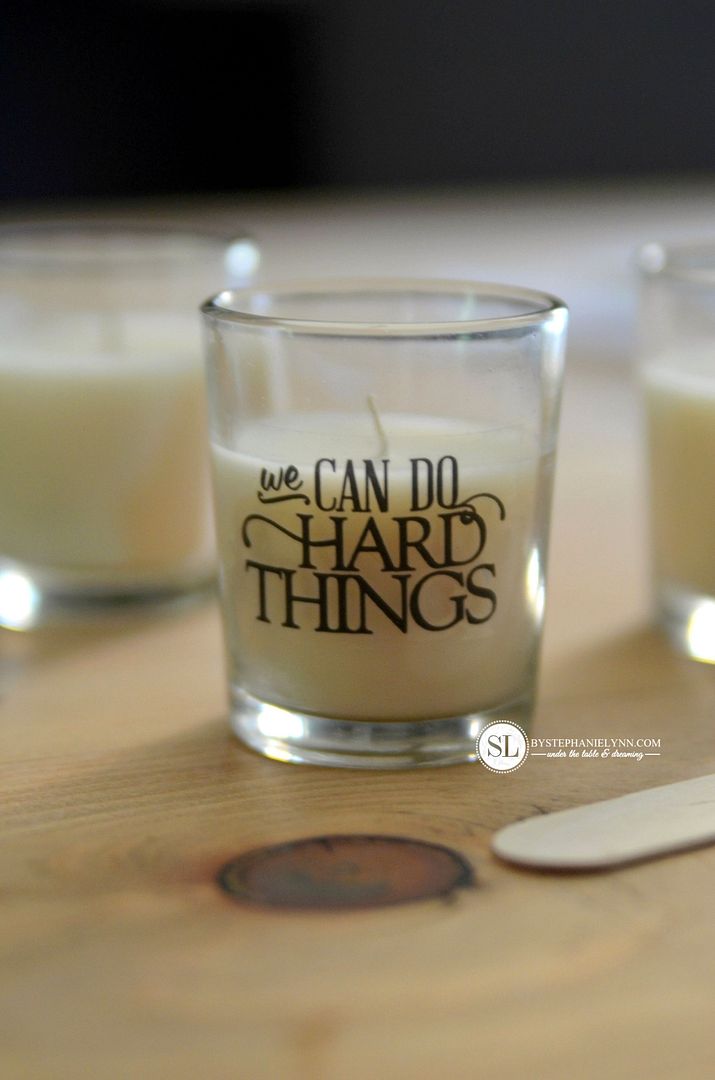 Step Eight: Adhere the finished transfer.
We stuck our transfers right onto the glass votives. I love this set of votives, especially for illuminating casual dinner tables. They come in sets of 12 and are fairly inexpensive – especially with a store coupon.
If you are not going to be using the transfers right away, they can be stored on a sheet of wax paper.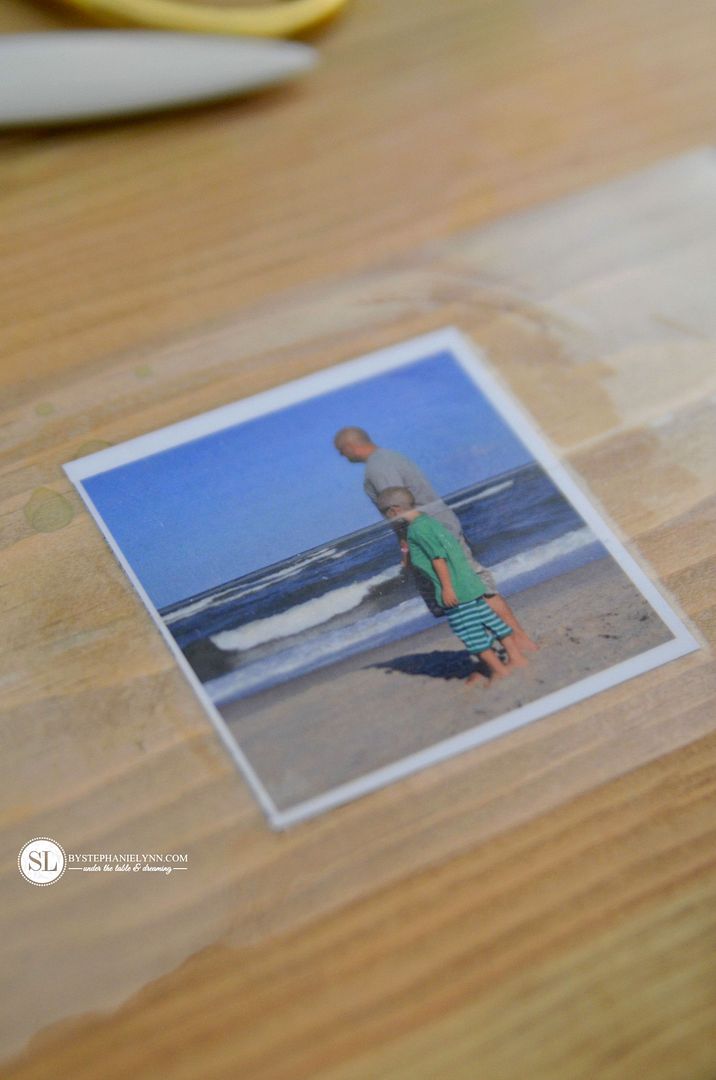 The color photo transfers work the same exact way.
Remember the photos must be printed from a laser printer or toner copier in order for the image to transfer.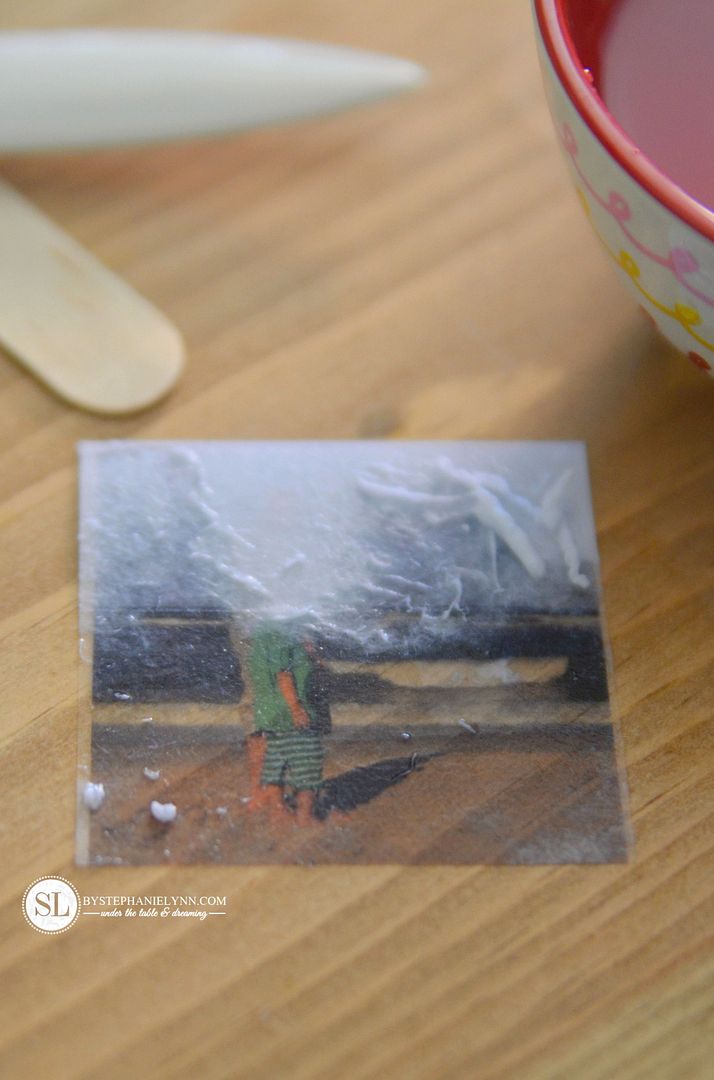 Once the paper backing is removed the image becomes transparent.
When selecting images keep in mind the 'white' spaces of the photo will be completely clear (like the waves in the photo above).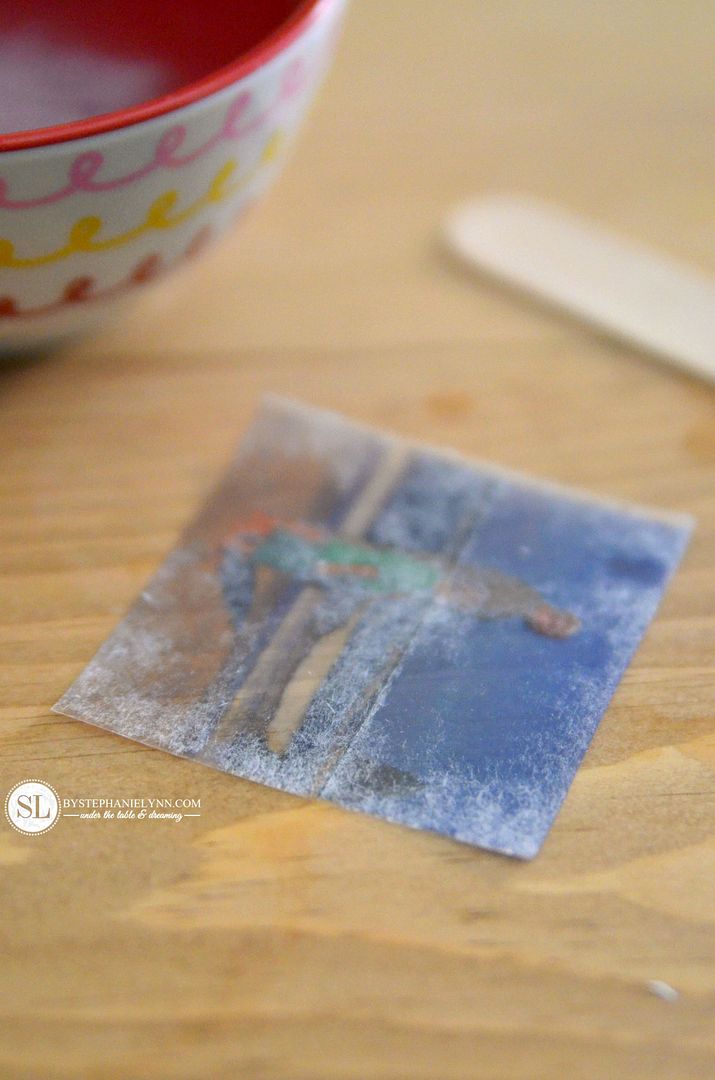 Also note: once the transfers are done drying, there should not be any paper pulp left on the packing tape, as shown in the image above.
If you do see any traces of paper pulp simply place the transfer back into a bowl of warm water and continue rubbing off the paper backing, as noted in Step Six.
This occurred more when we were transferring the color photos.
*We also noticed some of the color photo transfers were not as sticky, as the black and white transfers, once they dried.
To get them to stick we simply patted the back of the color transfer with warm water – then placed them on the votives. This worked perfectly!
Below is a sample of our Custom Photo Candle Holders from Craft Night
~ along with the free typography printables at the bottom ~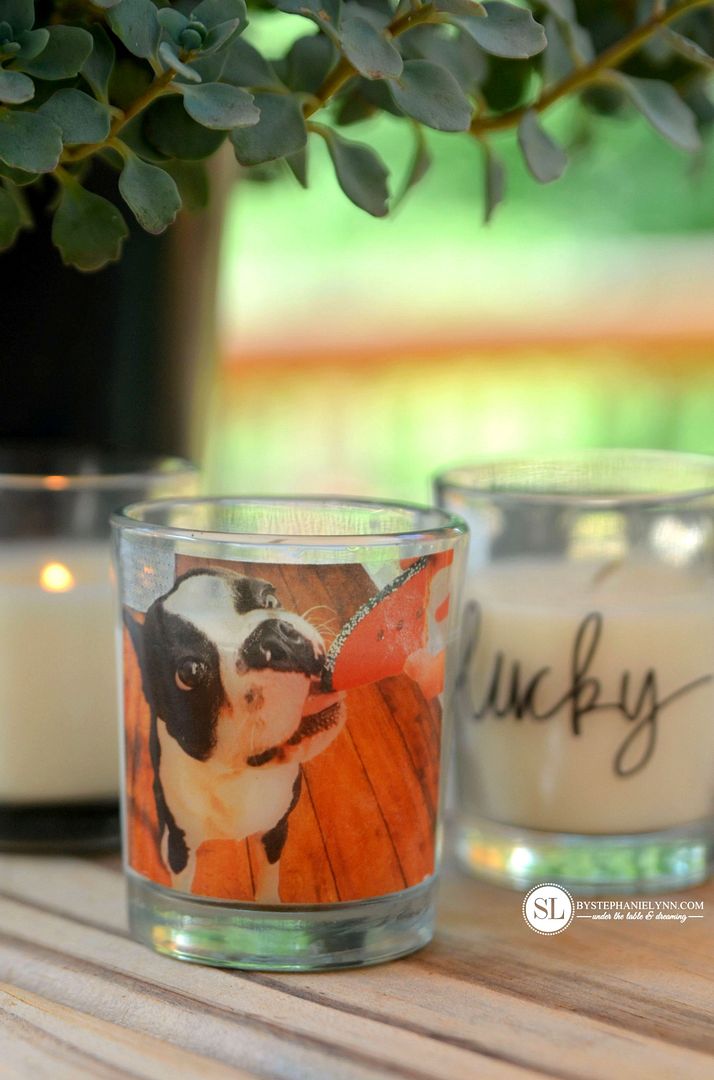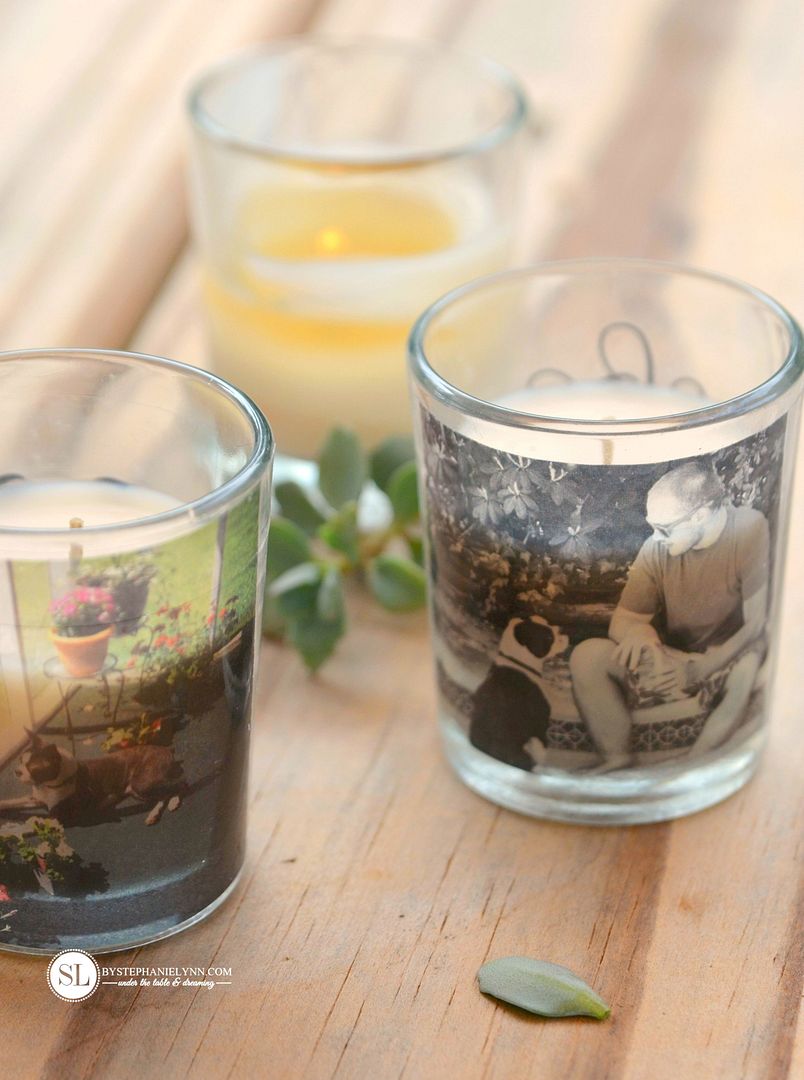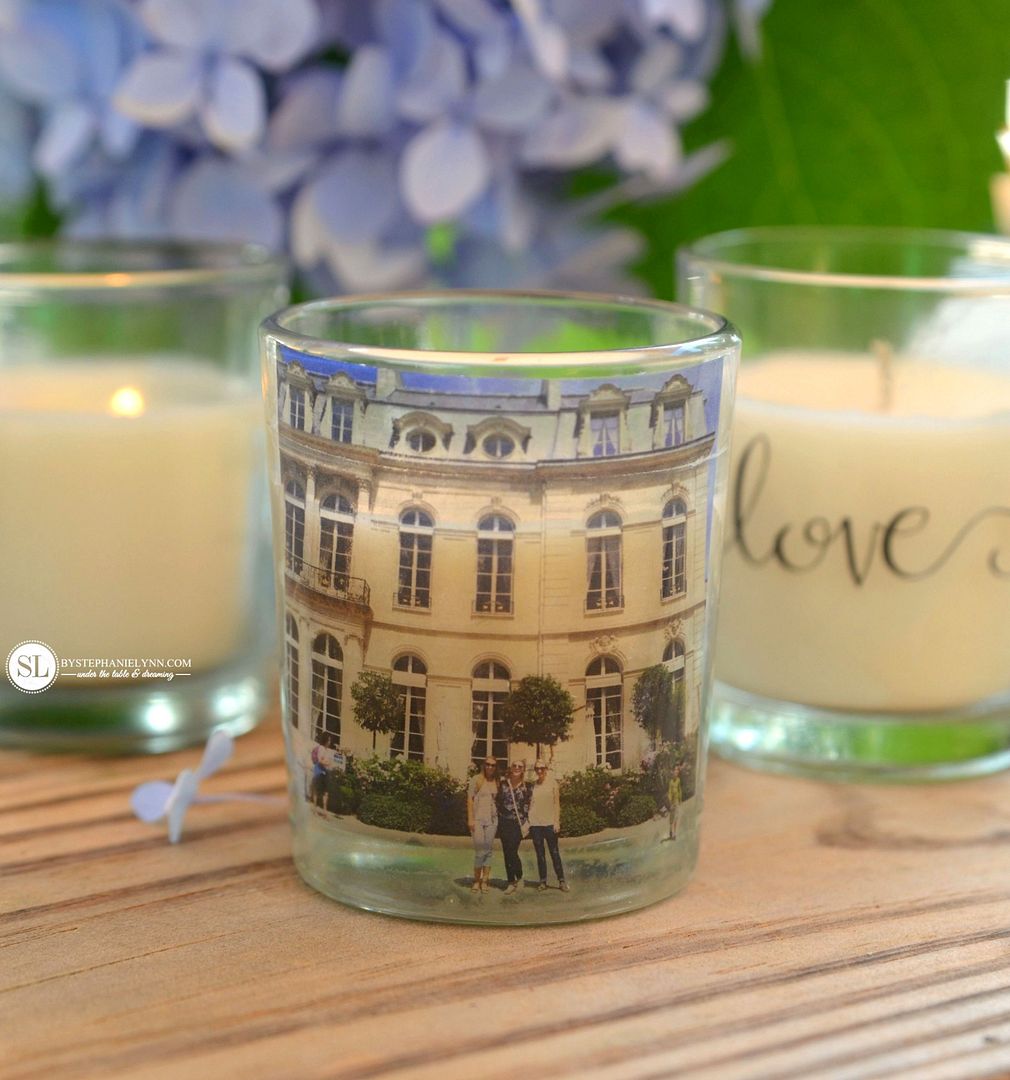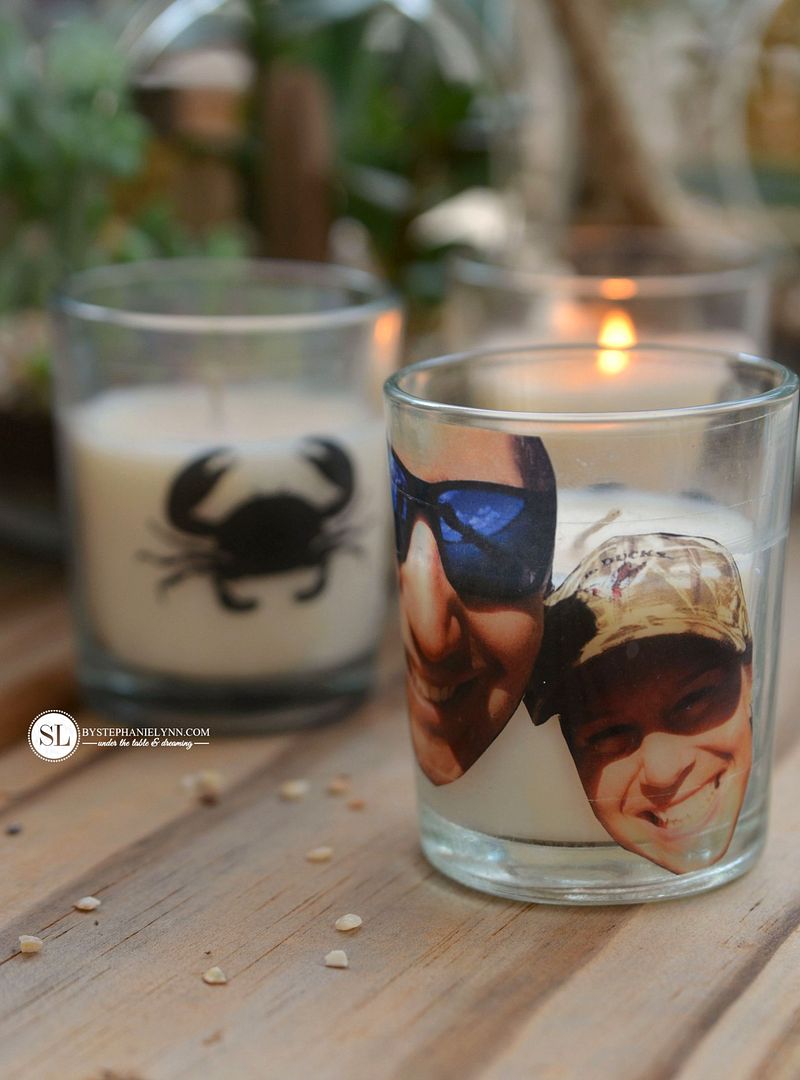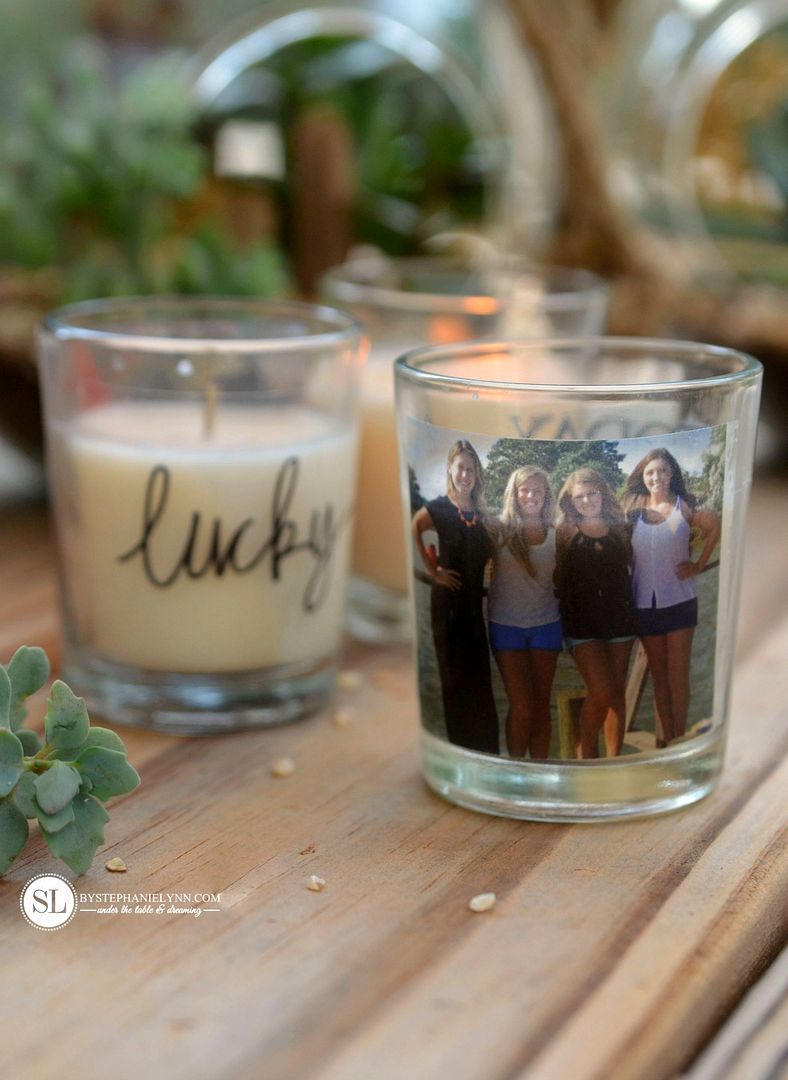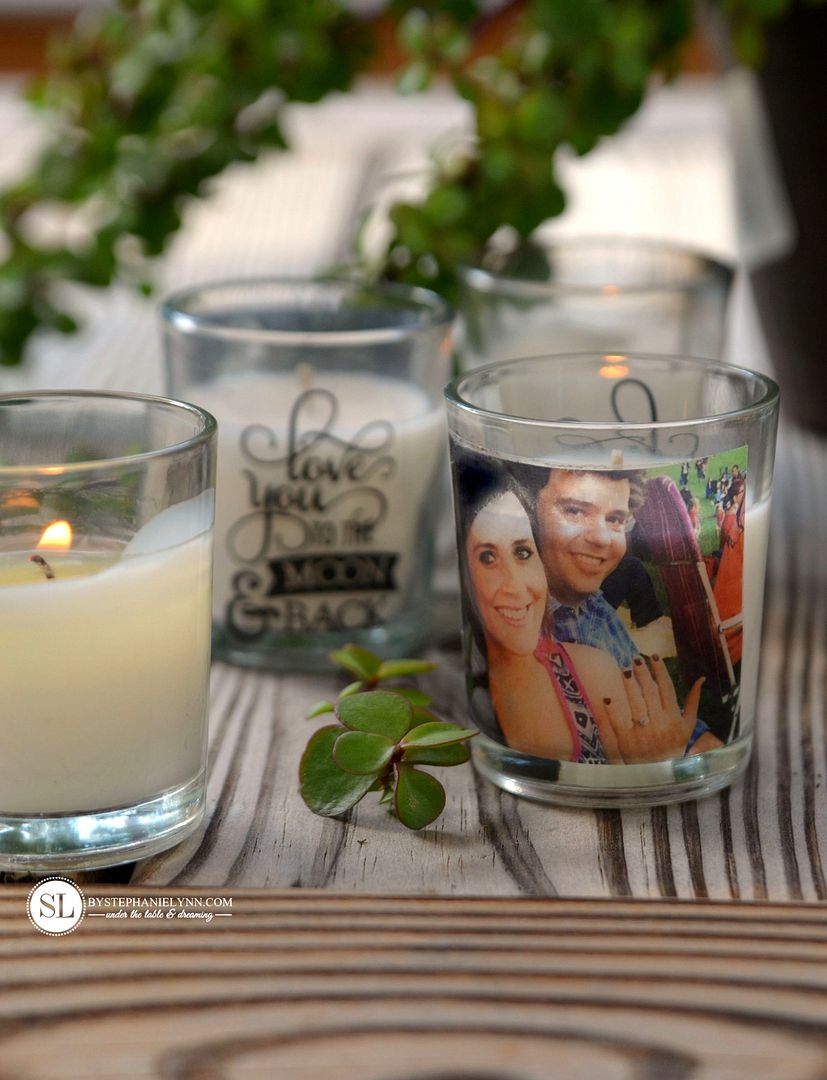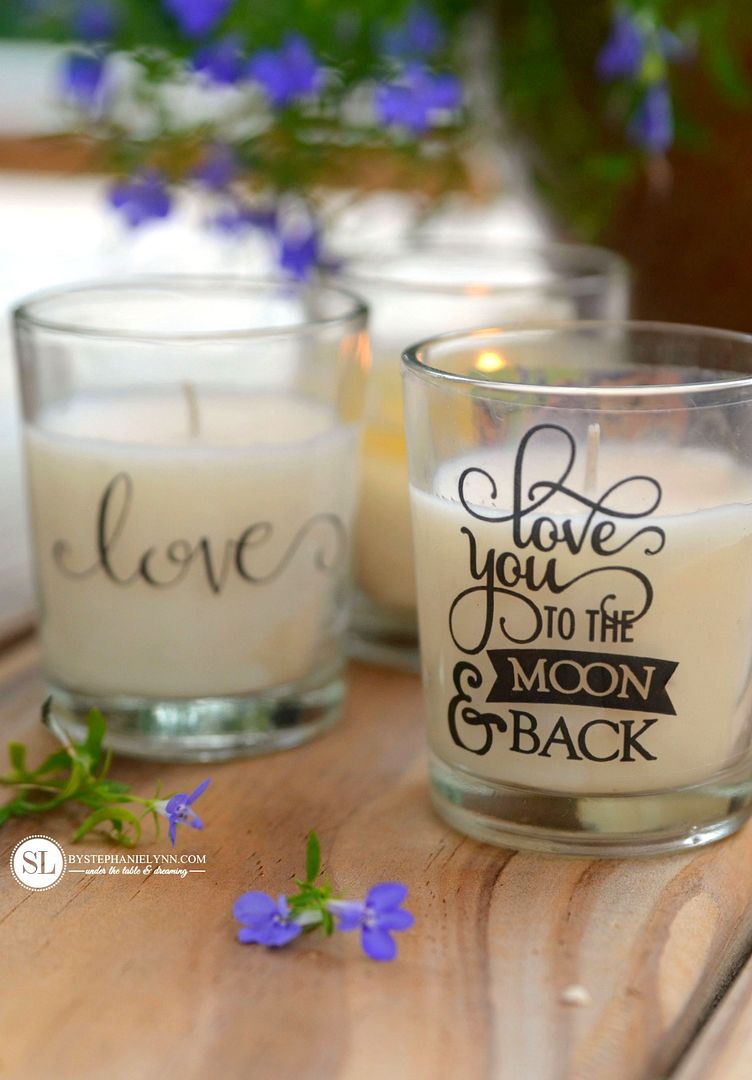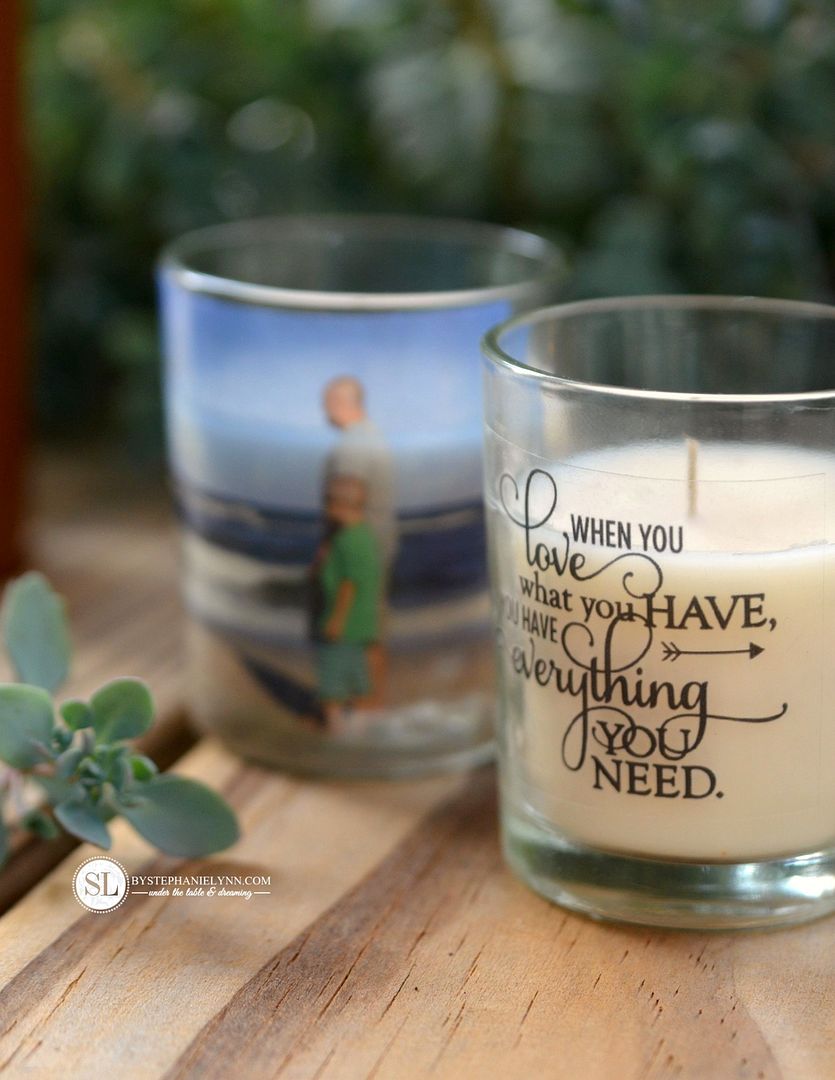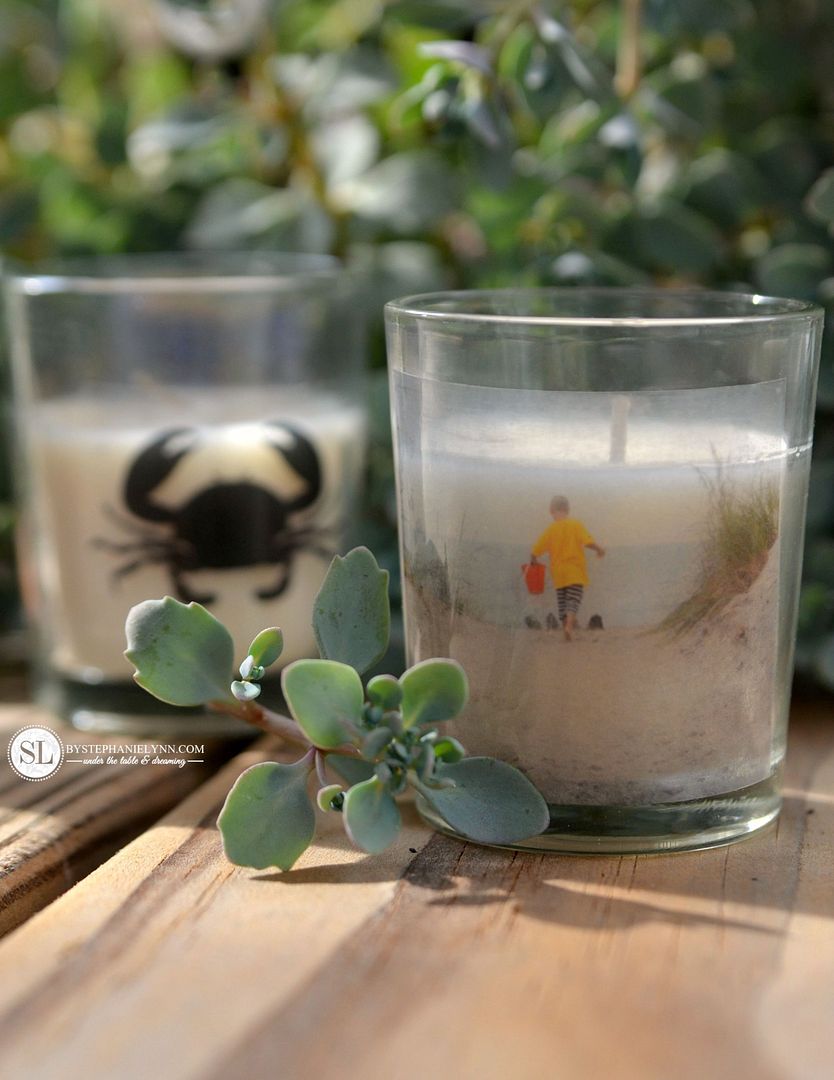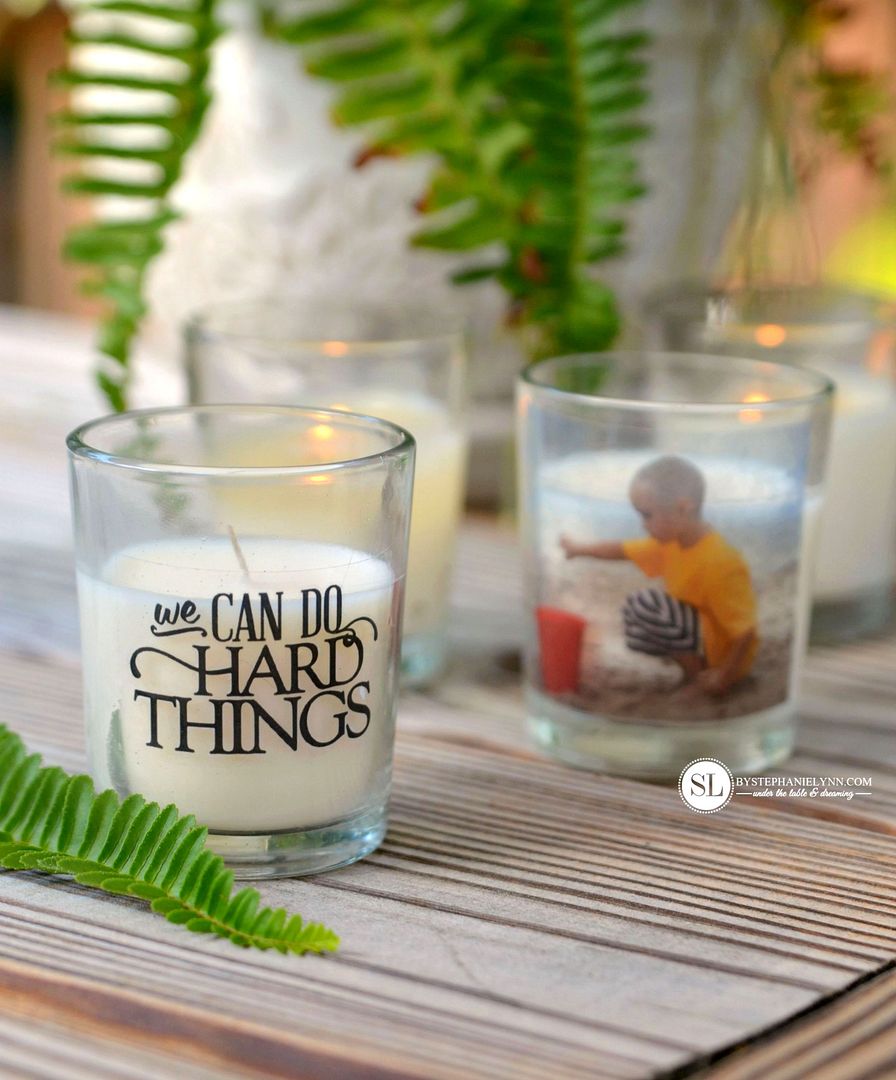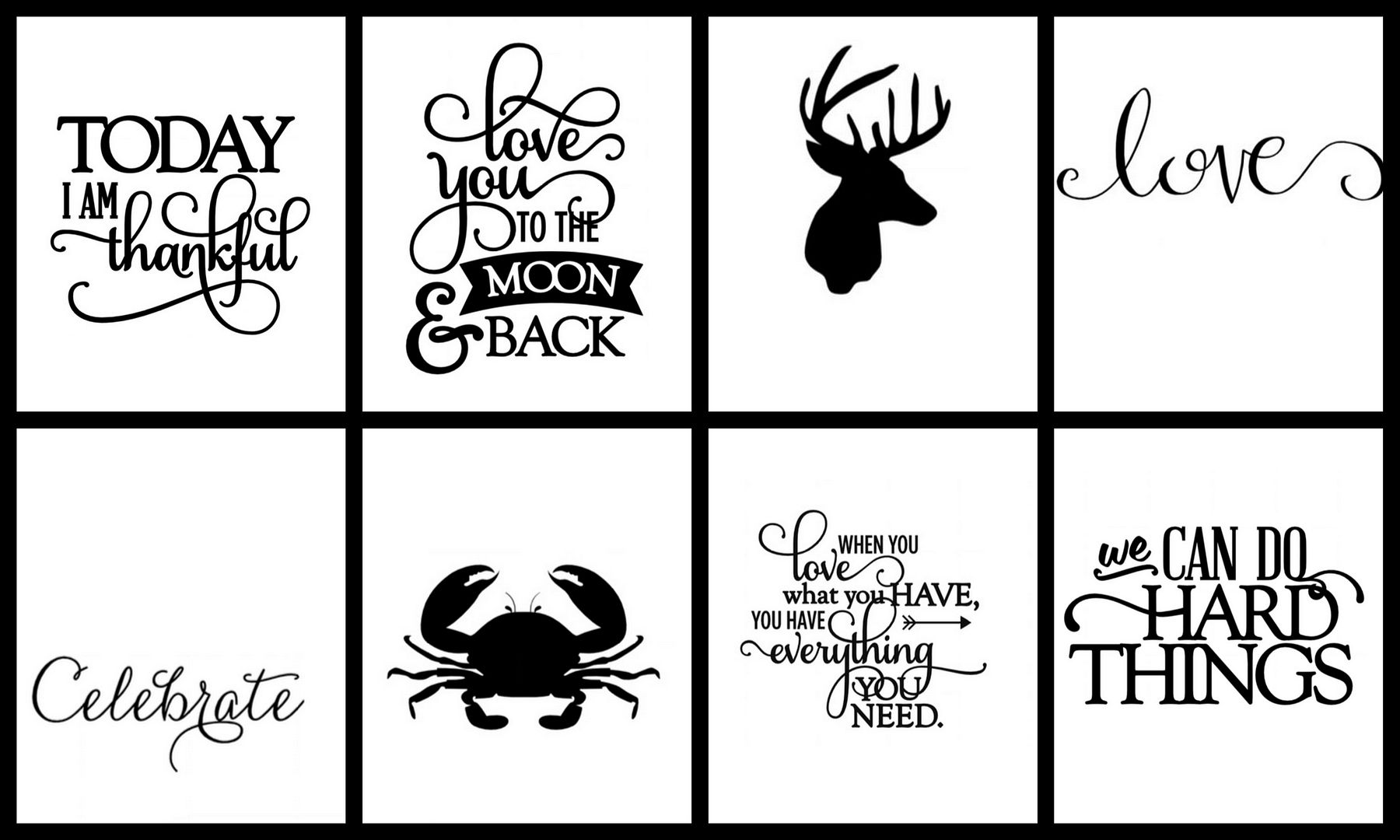 Free Typography Printables:
Page 1 – When you love what you have & Today I'm Thankful
Page 2 – We can do hard things & Love you to the moon & back
Page 3 – Celebrate & Love
Page 4 – Crab & Deer
This post is brought to you by Michaels
. The opinions read here are entirely my own. Michaels has recently teamed up with Creativebug to bring you four amazing classes ~ weaving, watercolor, paper flowers and image transfer ~ for free! Each class is available online at Michaels.com until 8/22. If you haven't met all 50 of this year's Makers, be sure to visit The Gluestring to check out their bios and blogs. Follow along throughout the year and feel free to create projects with us by sharing on Instagram using #MadeWithMichaels.. Let's celebrate!