Pie and Ice Cream Bar – mason jar pie à la mode | This shop is #sponsored by #CollectiveBias and its advertiser. The story and opinions read here are entirely my own ~ #ShareTheJoyOfPie
From casual holiday gatherings to formal sit down dinners,
desserts are an essential part of any party menu this time year.
With a deep love for dessert bars, this party set up puts a fun twist
on one of America's quintessential desserts – Pies!

This Pie and Ice Cream Bar serves up some of our favorite old school varieties, à la mode.
Flaky crust and warm fruit paired with creamy cold ice cream are comforting crowd pleasers.
Not to mention the cuteness level of any dessert packed in a mason jar.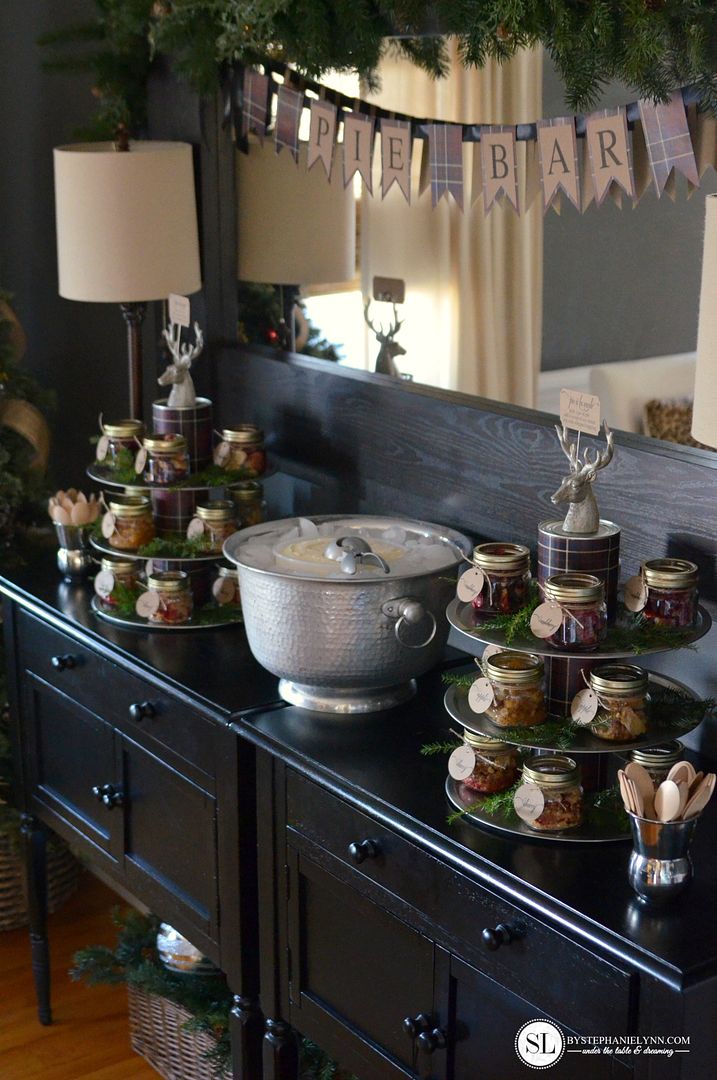 Take the guesswork out desserts this holiday with the easy-to-follow
Pie and Ice Cream Bar party plan below.
There are also some free printables, at the bottom of the post,
to help you create your own Pie Bar this season.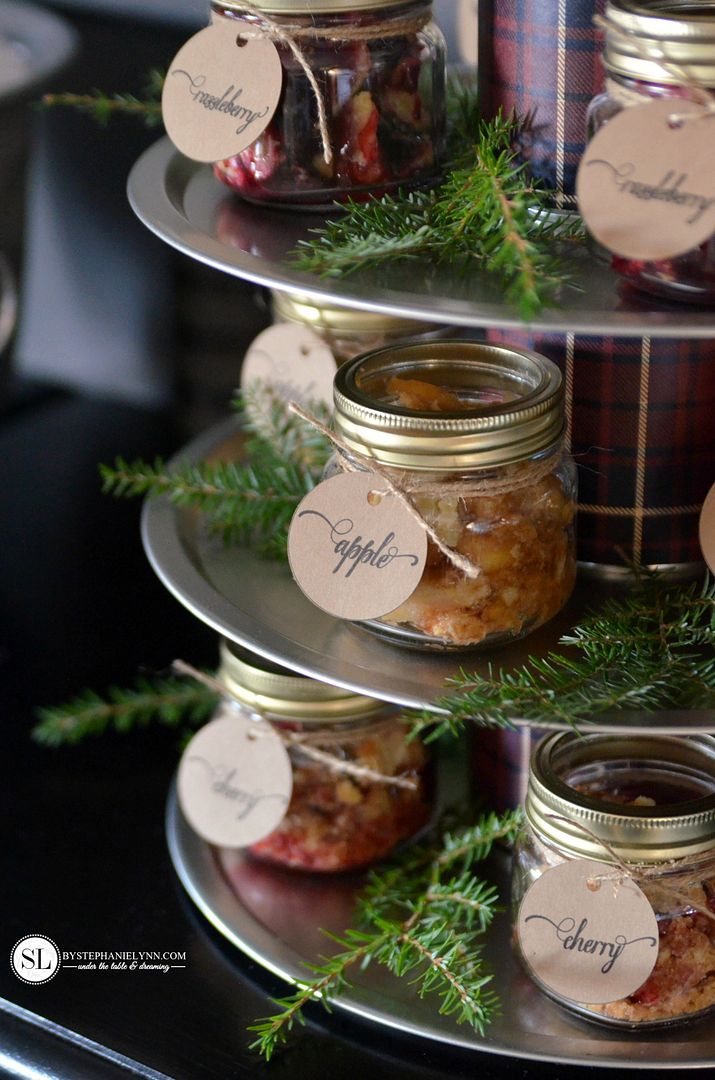 Don't worry about spending the day in the kitchen for this dessert bar – Marie Callender's® Dessert Pies have some great options for preparing all of those pies in a flash!
Our bar included Razzleberry, Dutch Apple and Cherry Crunch.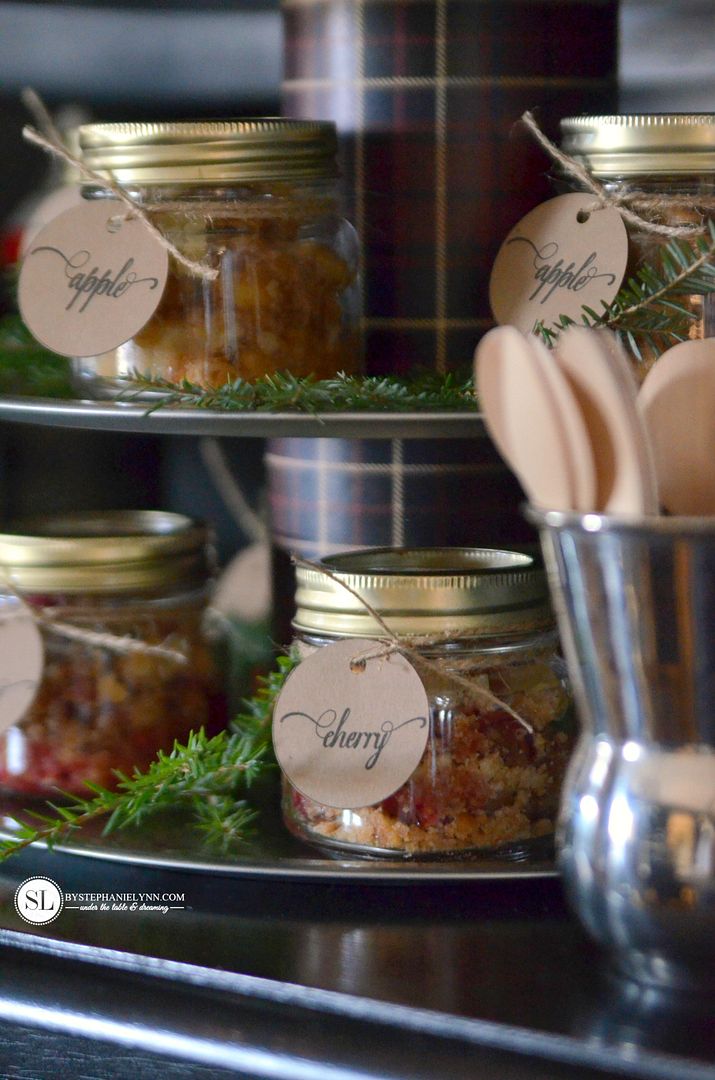 The deconstructed pies were placed in single serve half pint mason jars.
Each jar adorned a kraft paper pie label to differentiate the flavors.
*A free set of printable labels can be found at the bottom of this post*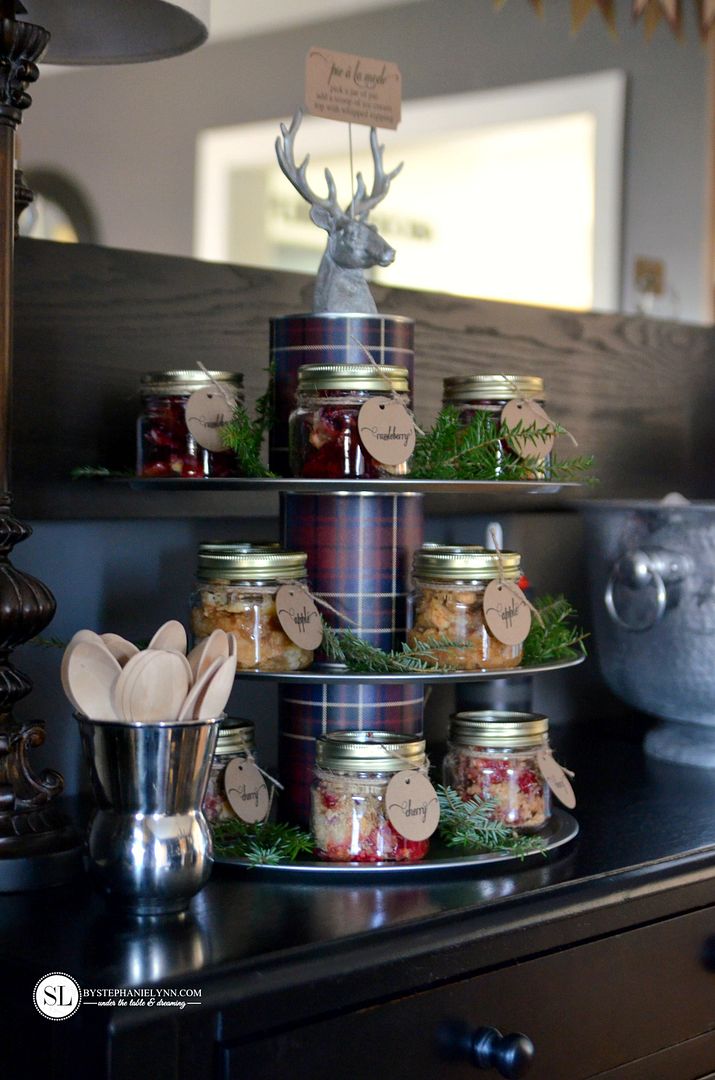 If you do not have a variety of dessert stands or cake plates, it is incredibly easy to make your own.
The dessert stands used for this Pie Bar were created with inexpensive pizza pans and large can goods!
*The simple tutorial is detailed at the bottom of this post*
I love the fact that the stands are sized perfectly for the half pint mason jars. Plus they add some height and interest to the display.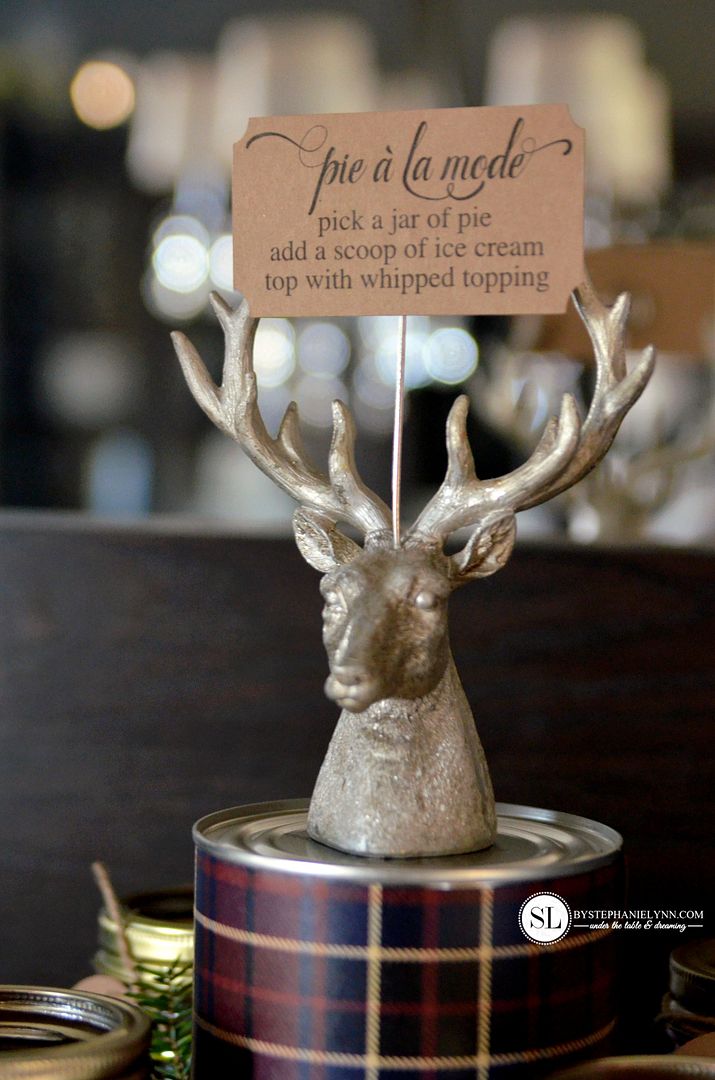 A place-card holder was add to the top can to hold the Pie and Ice Cream Bar details.
*This free printable can be found at the bottom of the post*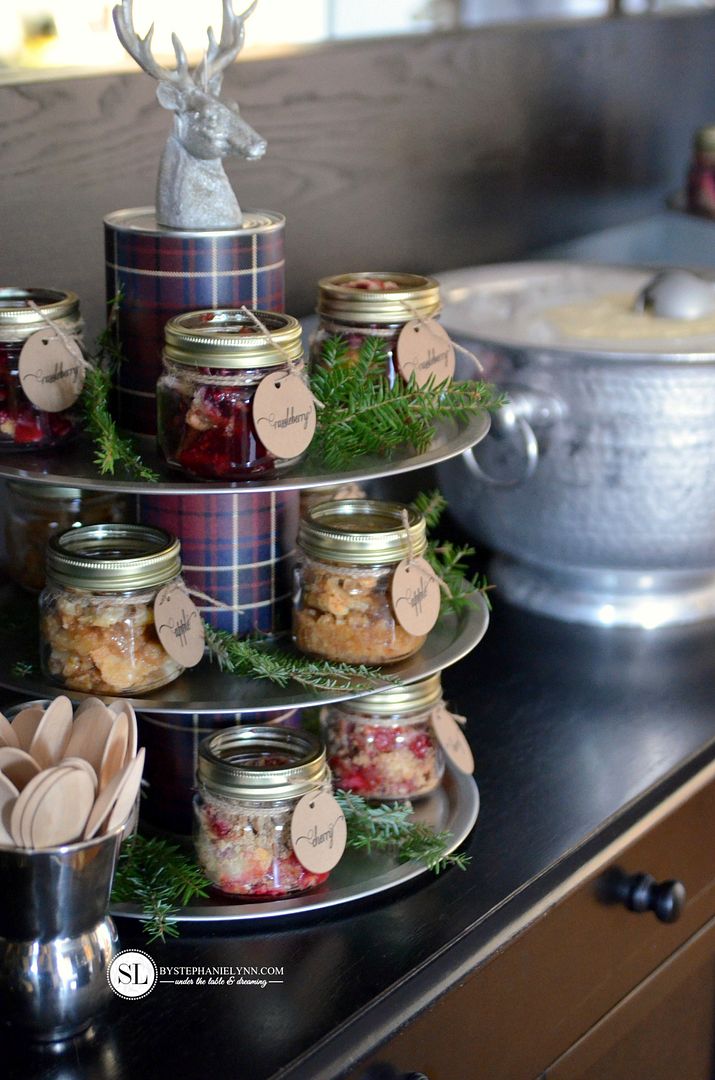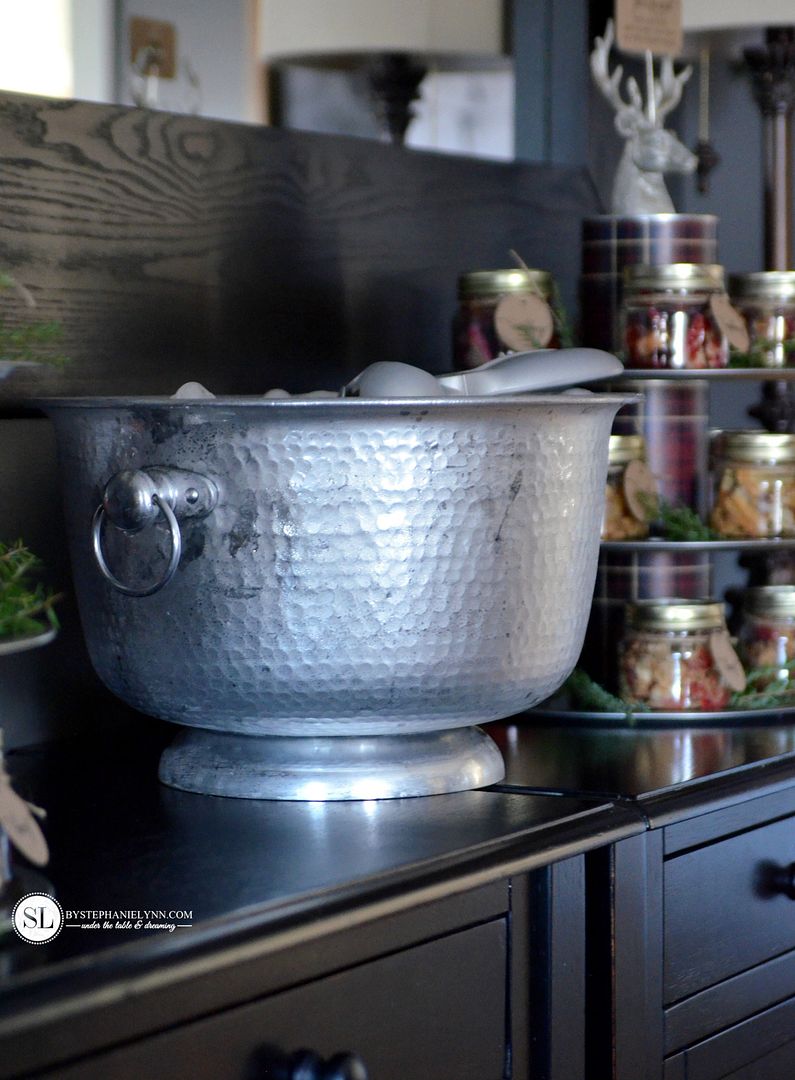 Over the years we have found the best way to serve ice cream is in an ice bucket.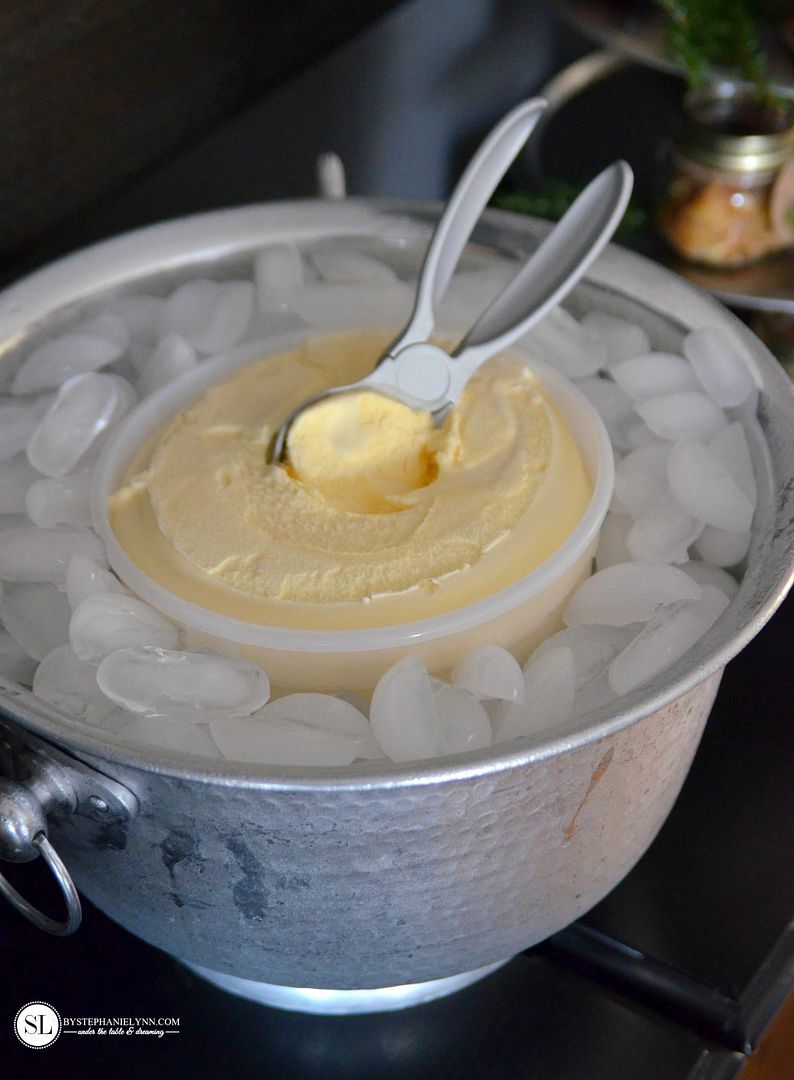 Choose an ice cream that comes in a plastic container and nestle it in a bed of ice –
right before it is served.
The large ice bucket not only keeps the ice cream cold, but helps contain any melted mess,
as the guests serve themselves.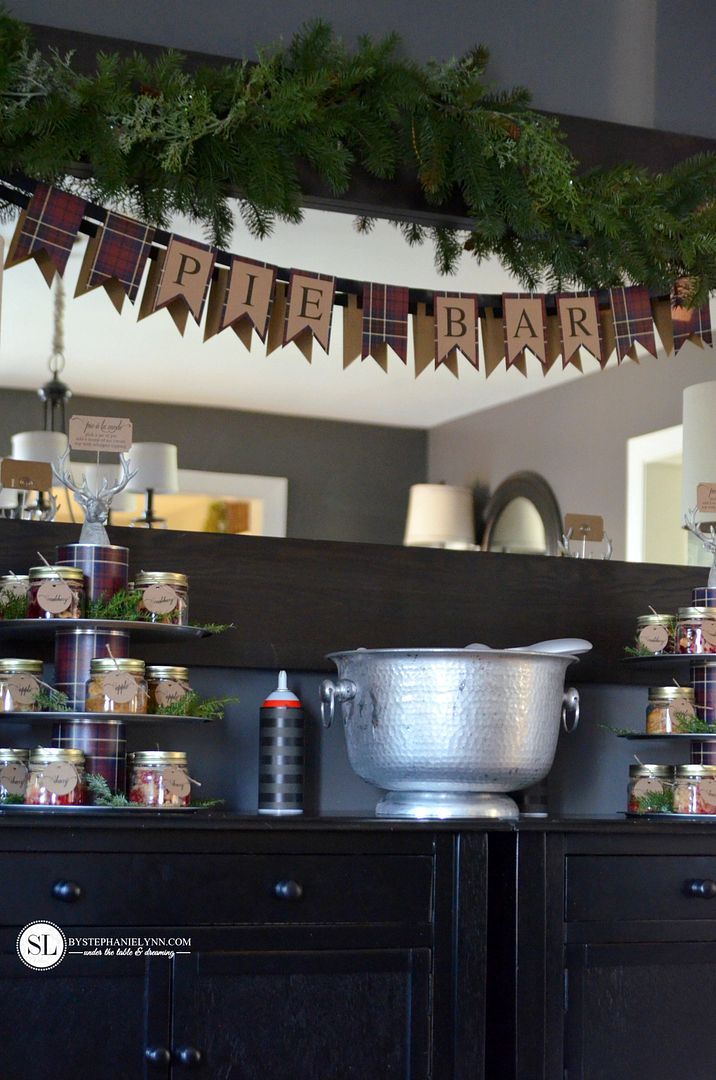 Don't forget the Reddi-Wip®. To add a decorative touch, a piece of coordinating scrapbook paper was wrapped and taped to the can.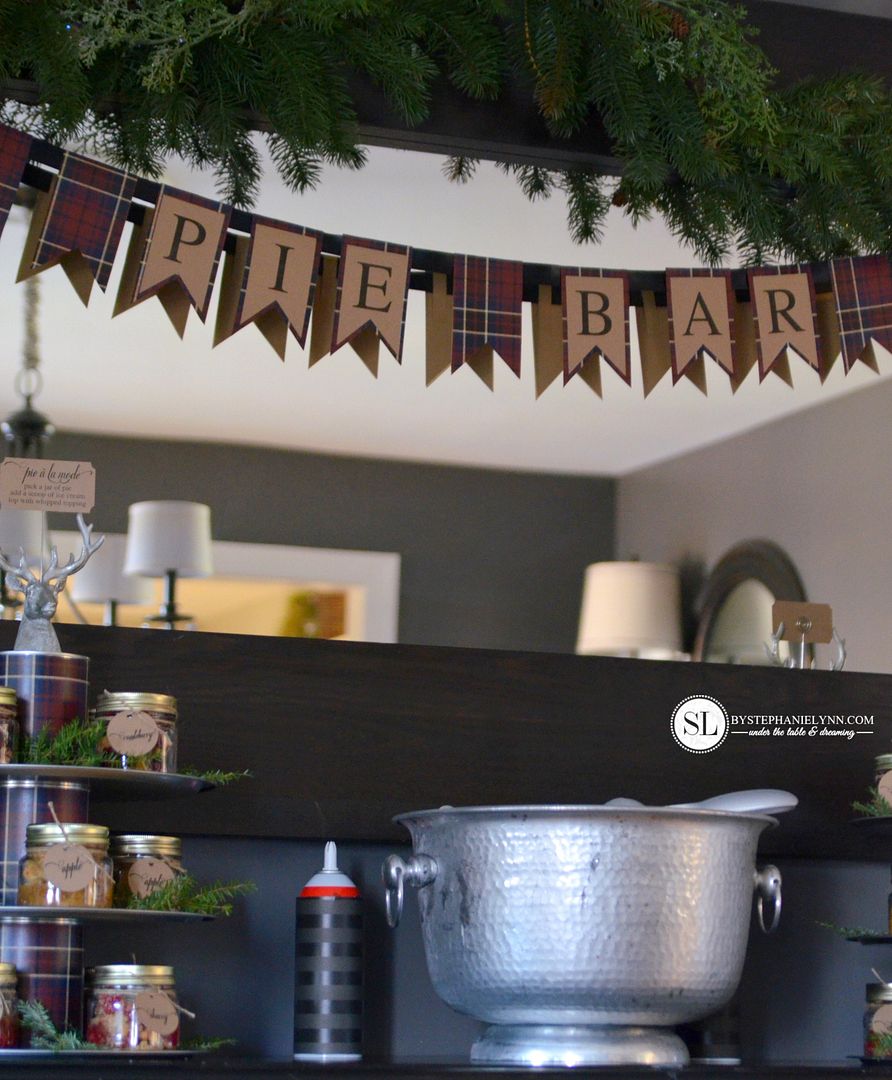 To coordinate with the simplistic decor, a festive Pie Bar banner was hung above the buffet.
*The free printable templates for the banner can be found below*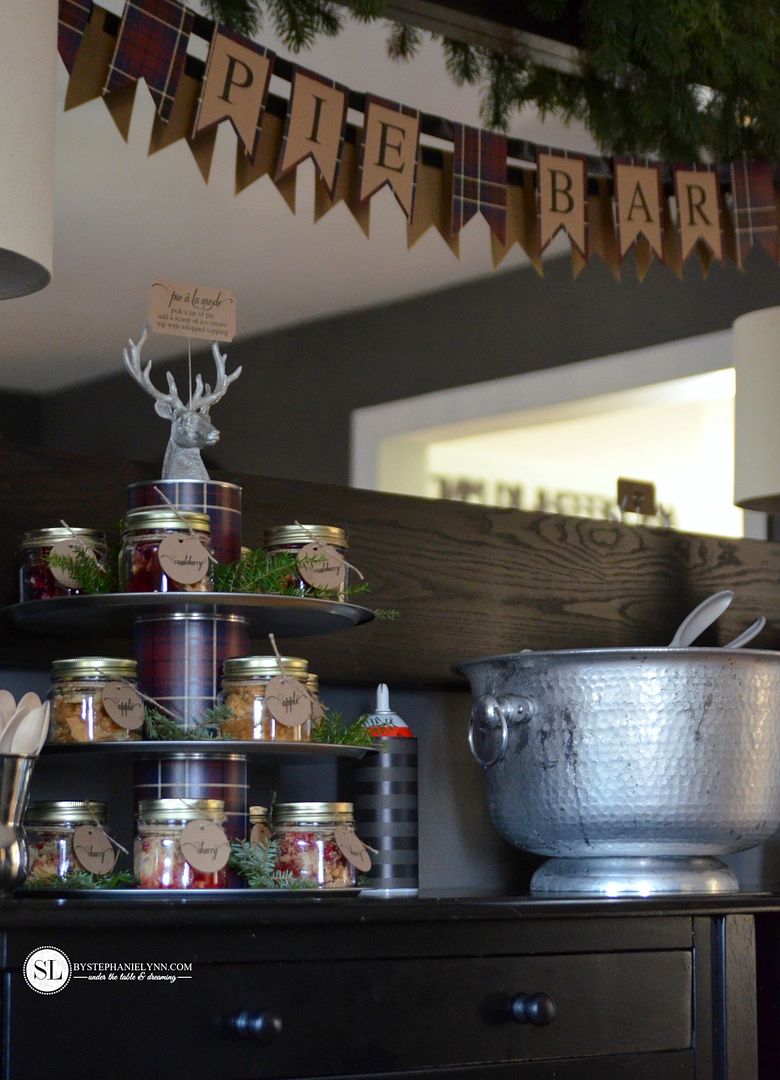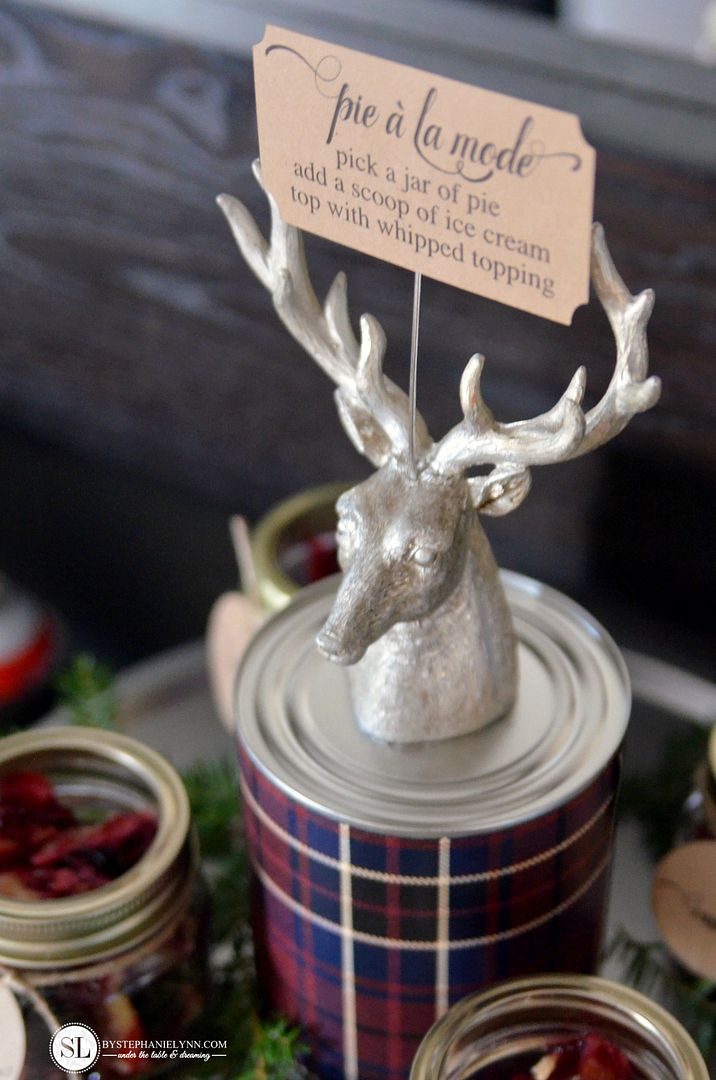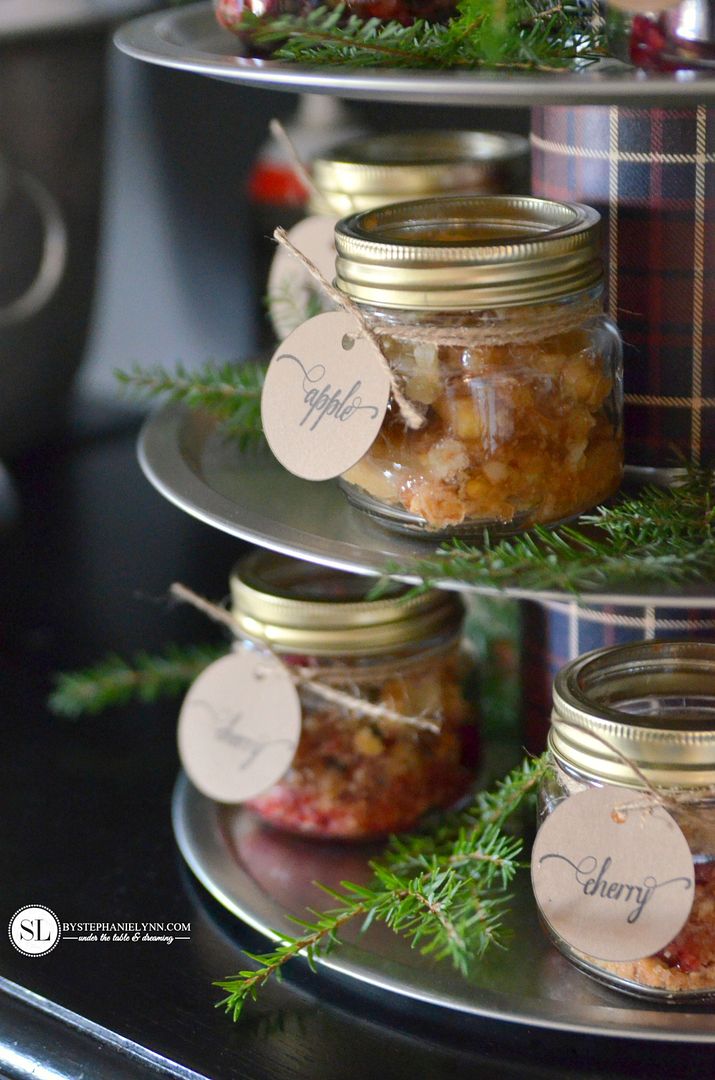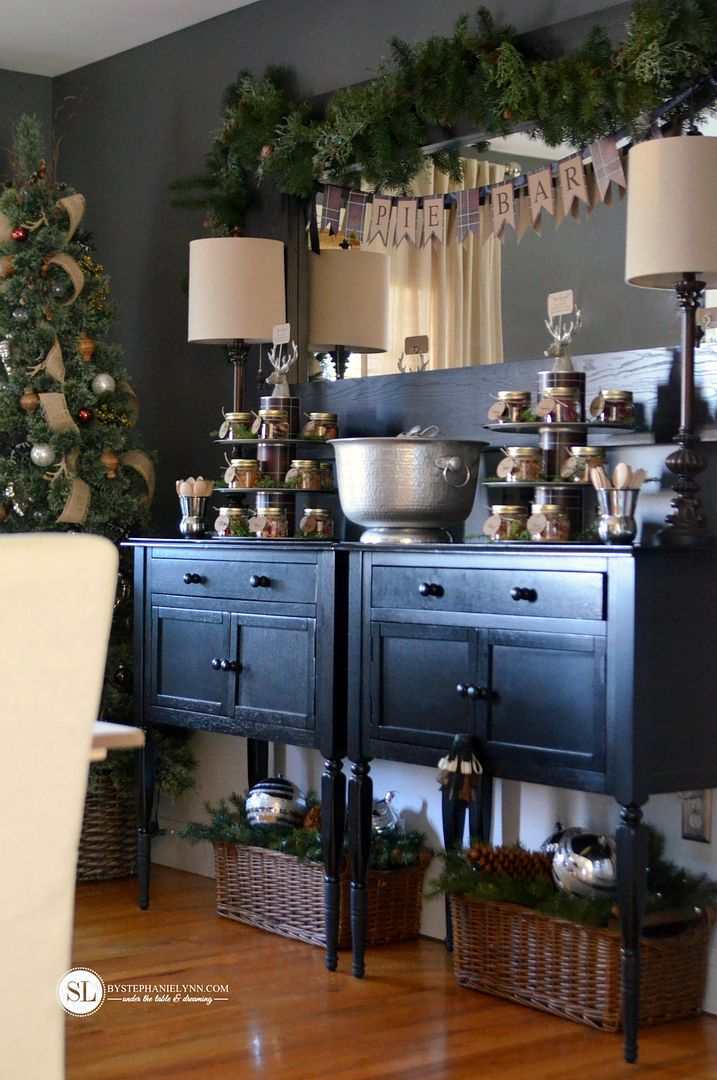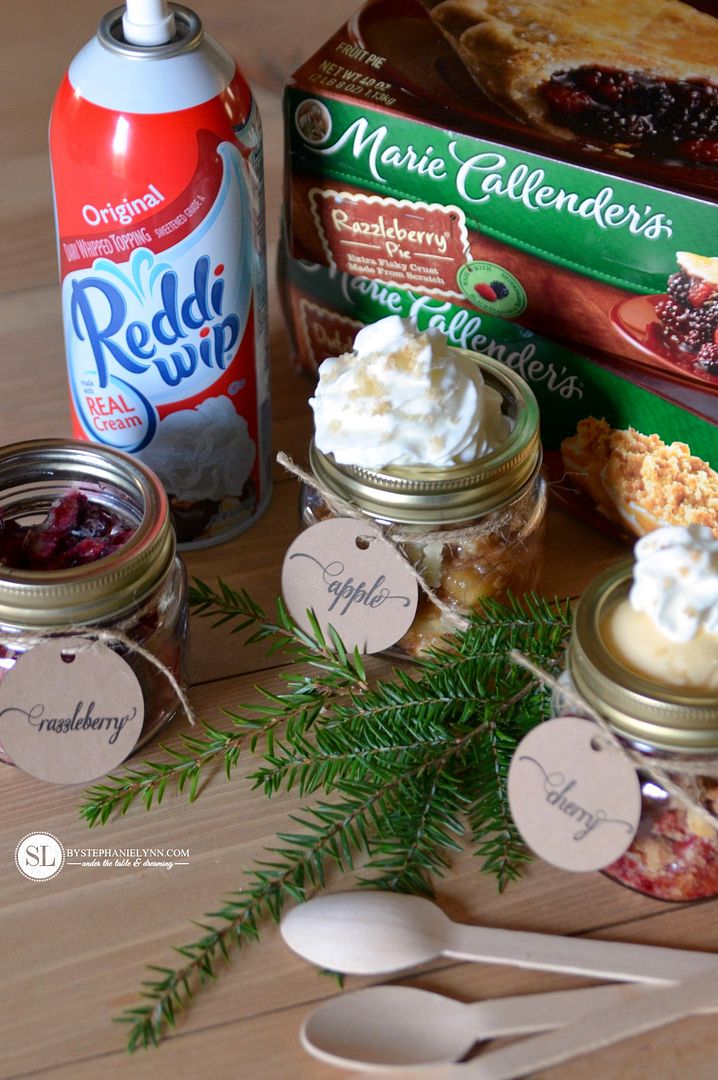 Putting together the pie à la mode mason jars could not be any easier.
All of the details can be found below, along with our favorite pre-baked strudel topping recipe.
We love to add some extra strudel topping to each jar!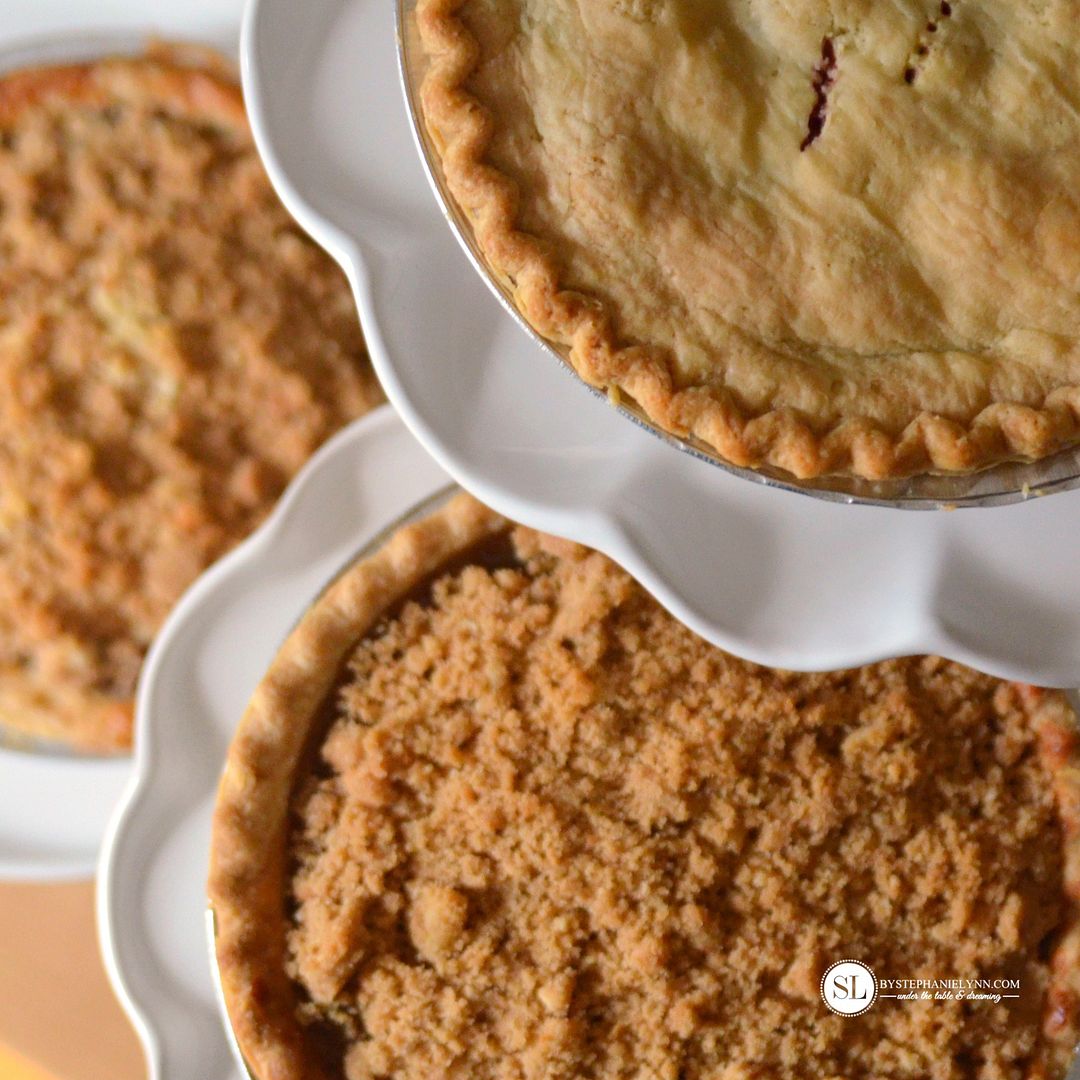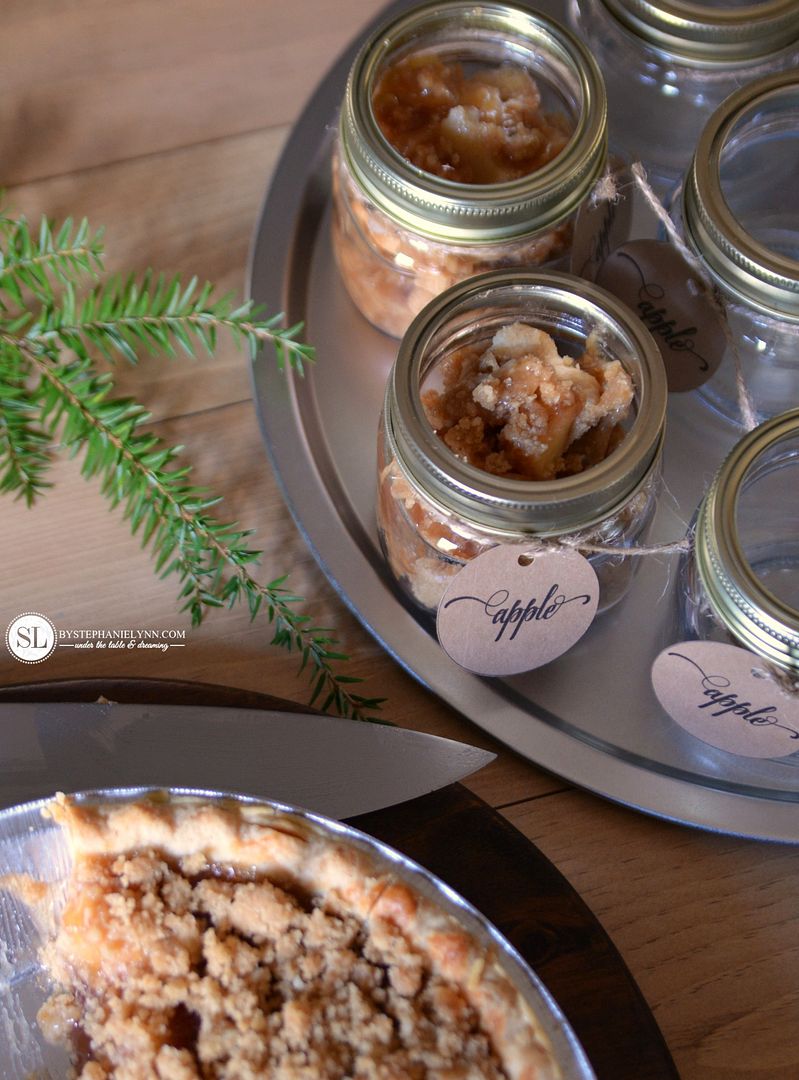 Pie and Ice Cream Bar | mason jar pie à la mode - Pre-baked Strudel Pie Topping
Author:
www.bystephanielynn.com
Ingredients
1 Cup of Brown Sugar, packed
1 Cup of Flour
½ Cup of Butter
Instructions
Preheat the oven to 350°.
In a medium bowl combine the brown sugar and flour.
Add in the butter and mix with a fork until crumbs begin to form.
Spread the topping evenly on a baking sheet lined with parchment paper.
Bake for 15-20 minutes.
Allow the topping to cool, crumbling any large pieces.
To assemble the Pie in a Jar:
Bake the Marie Callender's® Dessert Pies as directed on the packaging.
Generally, one large dessert fruit pie will fill approximately eight half pint (8oz.) mason jars.
The pies that come with the strudel topping, like the Cherry Crunch and Dutch Apple, will fill seven half pint mason jars.
If adding additional strudel topping, prepare and bake separately, following the recipe above. 
Once the pie has cooled, as directed, cut and spoon into the mason jars, adding in random spoonfuls of the pre-baked strudel topping, if desired.
The jars should only be filled to the bottom of the bands, leaving enough room for the ice cream and Reddi-Wip®




Pie a la Mode Printable Pie Bar Sign
Pie Bar Printable Banner
Bunting Banner Printable Template
Printable Mason Jar Pie Labels – Apple, Cherry Razzleberry
Printbale Mason Jar Pie Labels – Blackberry, Pecan, Pumpkin
The pie bar banner is created using the two templates above.
The 'PIE BAR' letters are made to fit inside the larger bunting.
It's shown above printed on plain kraft paper cardstock.
There are a few ways to design the larger bunting. The template can be traced on a variety of decorative papers or simply printed directly on cardstock.
For the banner above, the template was printed on plain kraft paper cardstock. One copy of the template was traced onto plaid wrapping paper, cut out, then attached to the cardstock – using a glue stick. The PIE BAR letters were than attached to the front, using a glue stick as well.
The banner is assembled by folding the tabs over a piece of twine or ribbon, and securing the ends with a touch of hot glue.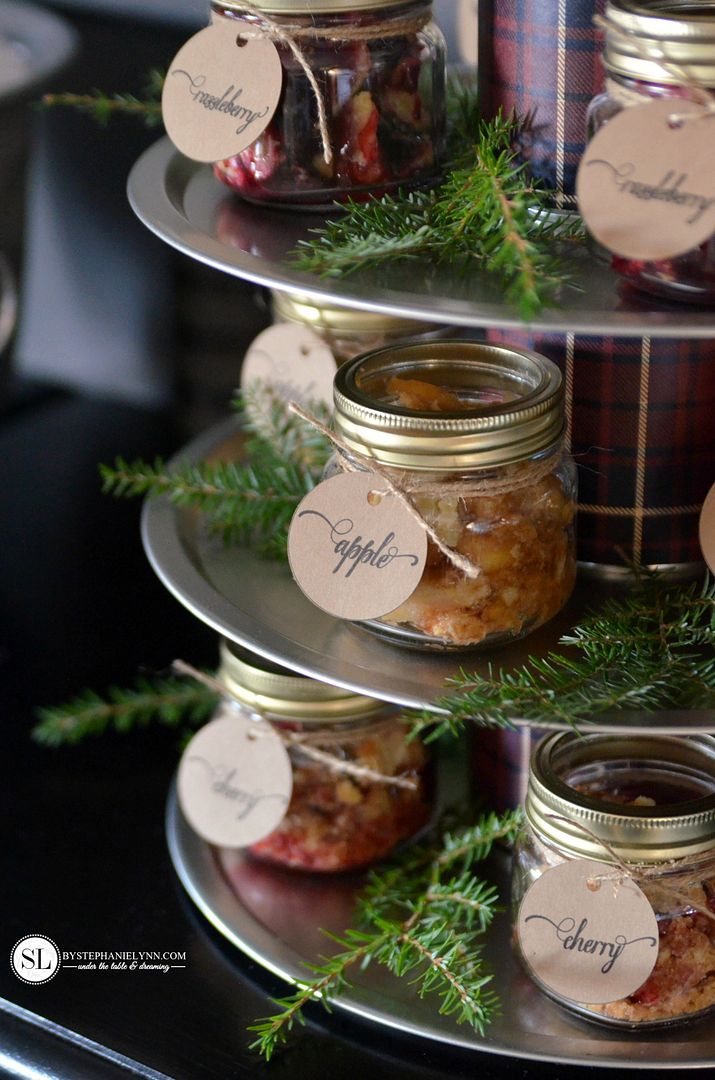 Once the pie labels are printed, a 1.75-Inch circle punch
can be used to punch them out – or they can be cut by hand.
Using a standard hole puncher, punch a hole near the top. Twine or ribbon can then be used to tie the labels in place.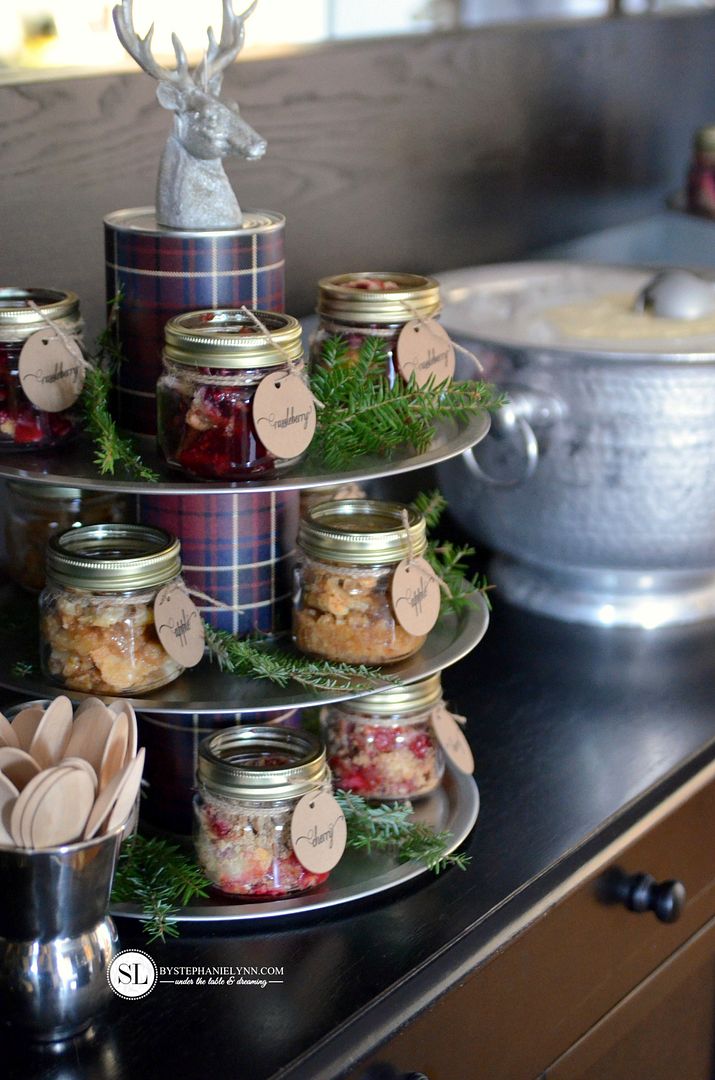 Pizza Pan Dessert Stand
Materials Needed:
2 – 3 Large Can Goods
2 – 3 Round Pizza Pans
Wrapping Paper or Decorative Scrapbook Paper
Additional Materials Needed: Scissors, Double Sided Tape, Hot Glue Gun and Glue Sticks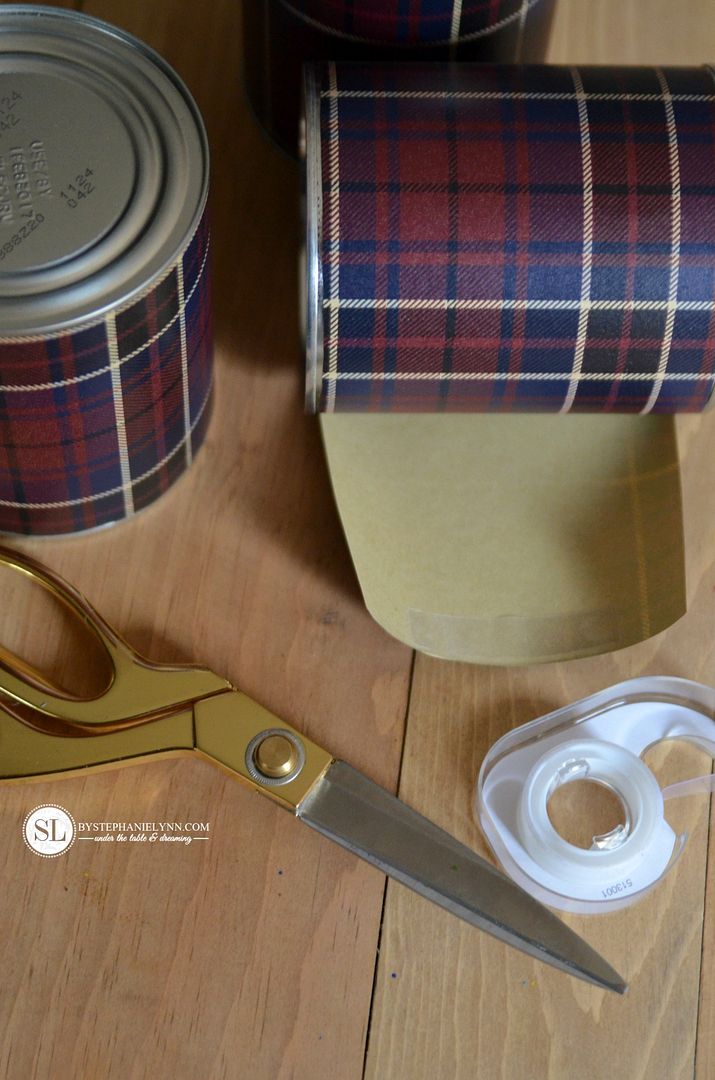 For added stability, leave the cans full and unopened, if possible.
Simply wrap each can with a piece of paper – using a piece of double sided tape to secure the paper in place.
Center the cans on the pans and secure with hot glue.
When you are ready to disassemble, the hot glue can easily be scraped off.


All of the items included in this Pie and Ice Cream Bar were conveniently picked up at our local Walmart. Bring a sense of ease to your holiday entertaining this year with one stop shopping combined with an array of dessert options from Marie Callender's. For more inspiration and product information, check out Marie Callender's and ConAgra Foods on instagram, pinterest, and facebook. How will you #ShareTheJoyOfPie this season?