Cleaning Cart Caddy | organized housekeeping supplies #michaelsmakers
It's a new year – all about new beginnings – so start fresh, clean, and organize.
The beginning of January is always filled with exciting opportunities for a fresh, promising start to the new year.
Feeling naturally optimistic, this year we are all about
thinking positive, keeping it simple and being productive.
As many of us consider making New Years Resolutions this time of year,
personally, we like to focus on a list of plans and goals for our home.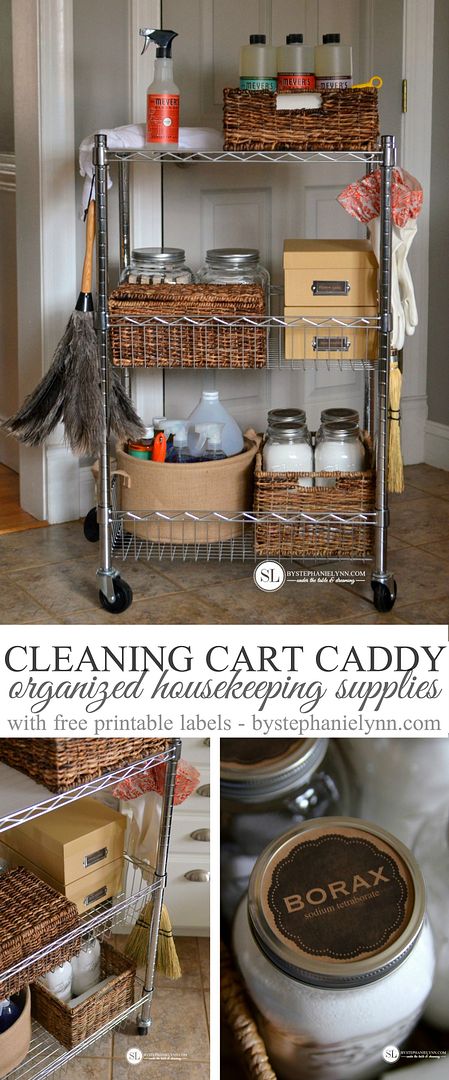 One of the most positive ways to start the new year is by cleaning and organizing your home.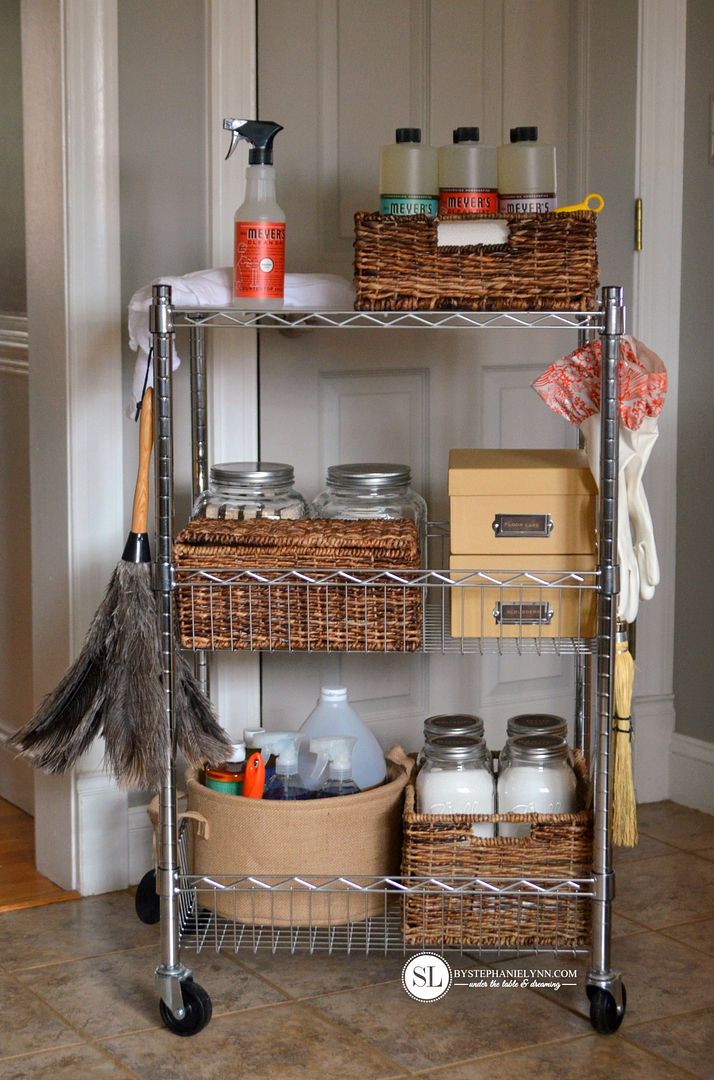 Keeping it simple, I began by tackling the cleaning products themselves.
I usually do well with a Make it pretty, Keep it pretty philosophy –
so I put together a Cleaning Cart Caddy to house all of our cleaning supplies.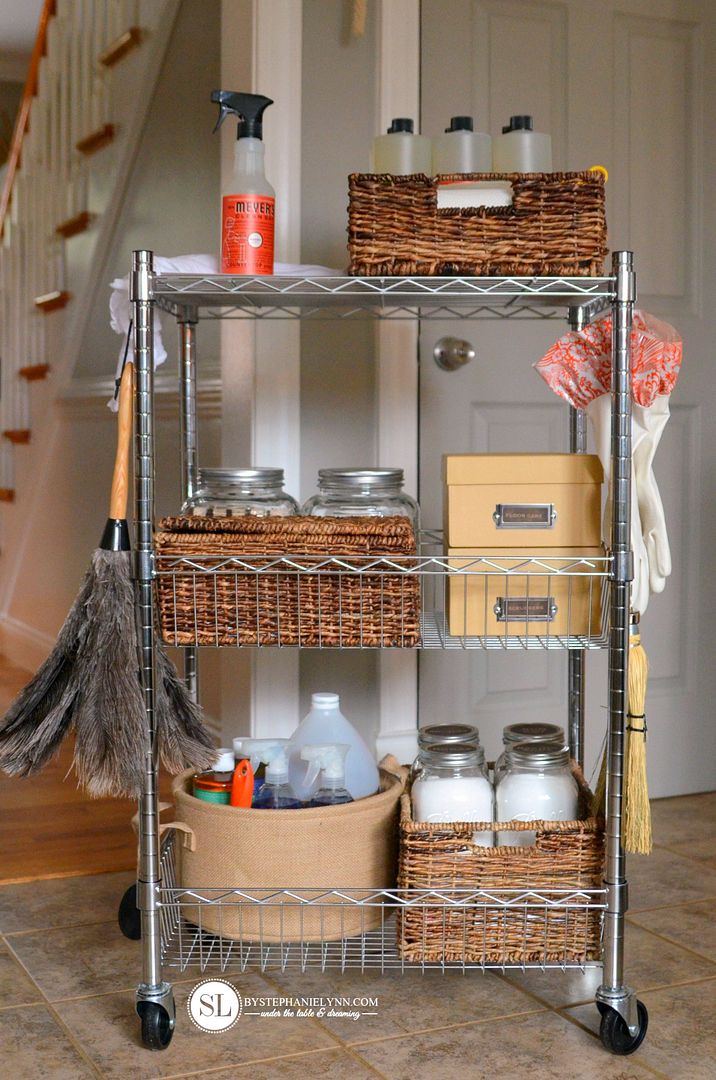 Putting together the Cleaning Cart Caddy seemed perfectly fitting for the new year
and this months Michaels Makers DIY Organization Challenge.
Having all of our cleaning supplies in one place, organized, and within an arms reach when needed
was my goal.
The 3 Tier Utility Cart  was found at Michaels. It is part of the Recollections Craft Storage Collection however this cart is so versatile.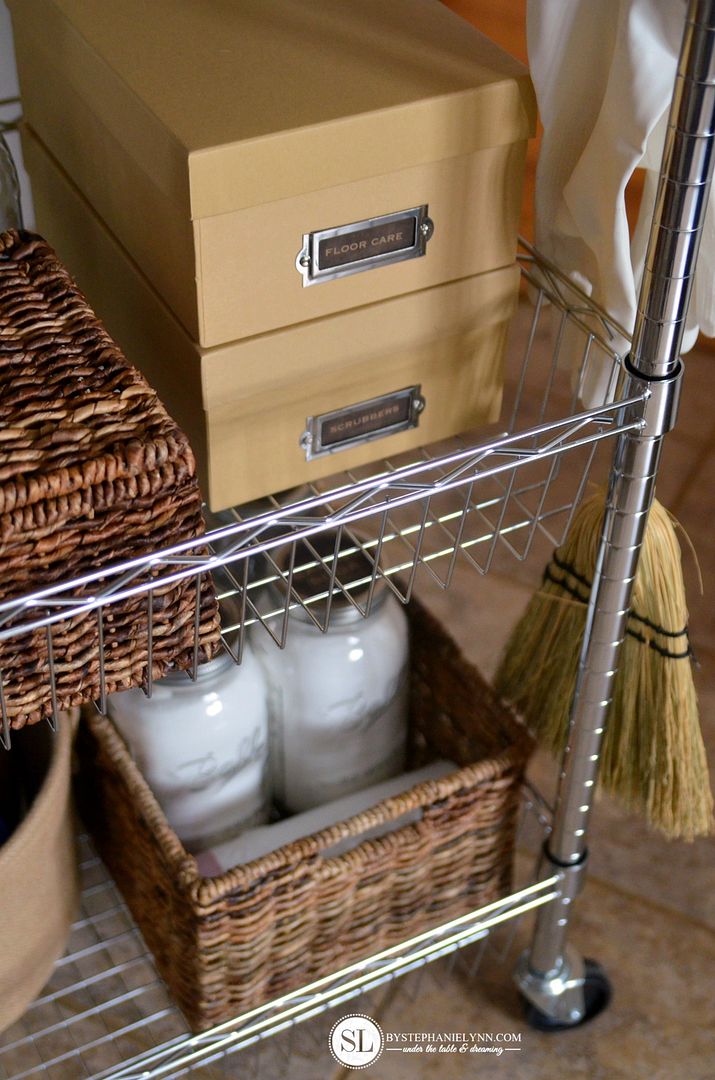 I am always a little apprehensive when purchasing pieces that I intend to load with lots of storage items. Especially any piece I have to assemble myself.
This cart is so well made, very sturdy and was a cinch to put together.
Plus, I love the heavy duty rolling wheels!
The two baskets are deep enough to keep the supplies secure on the cart, and the height of both baskets can be fully adjusted.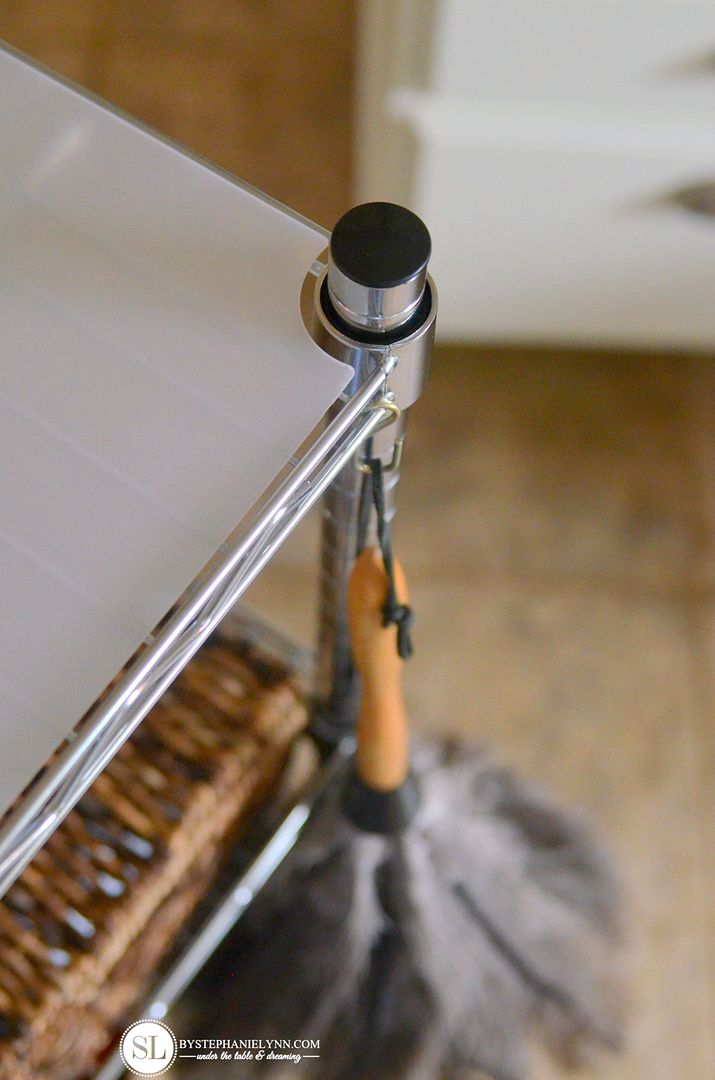 The top of cart also doubles as a shelf and comes with a removable plastic liner.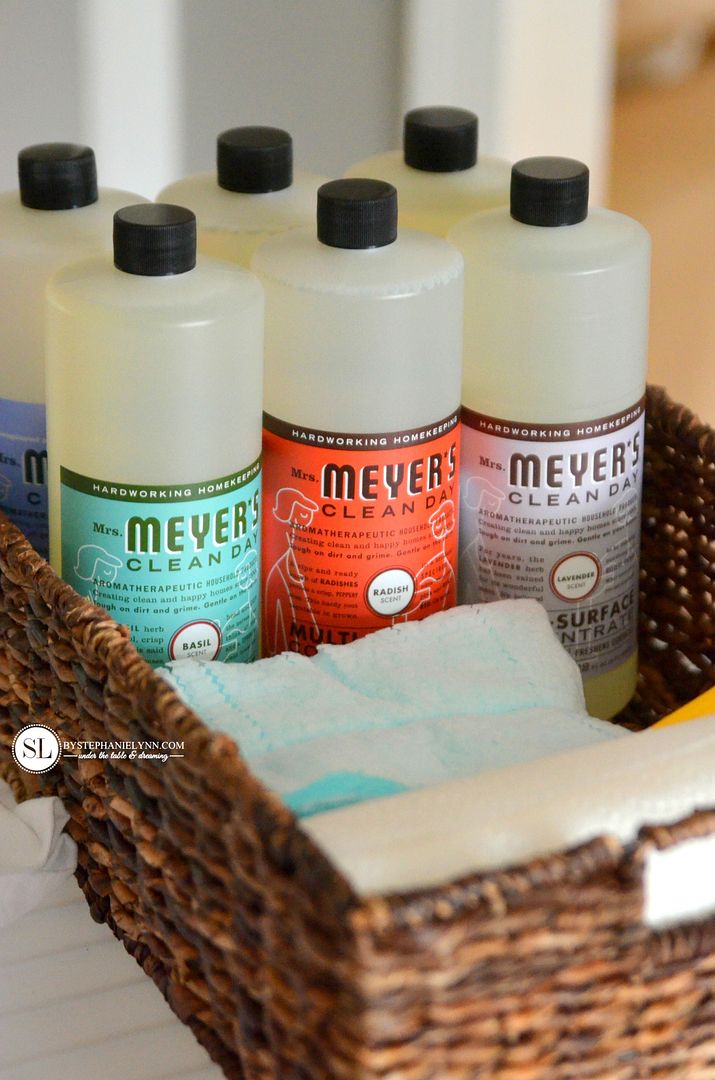 Taking full advantage of the top shelf, a basket was added to corral some of our most used multipurpose cleaning solutions.
I find it so refreshing to often change up the scents, so I like to keep a variety of concentrates on hand.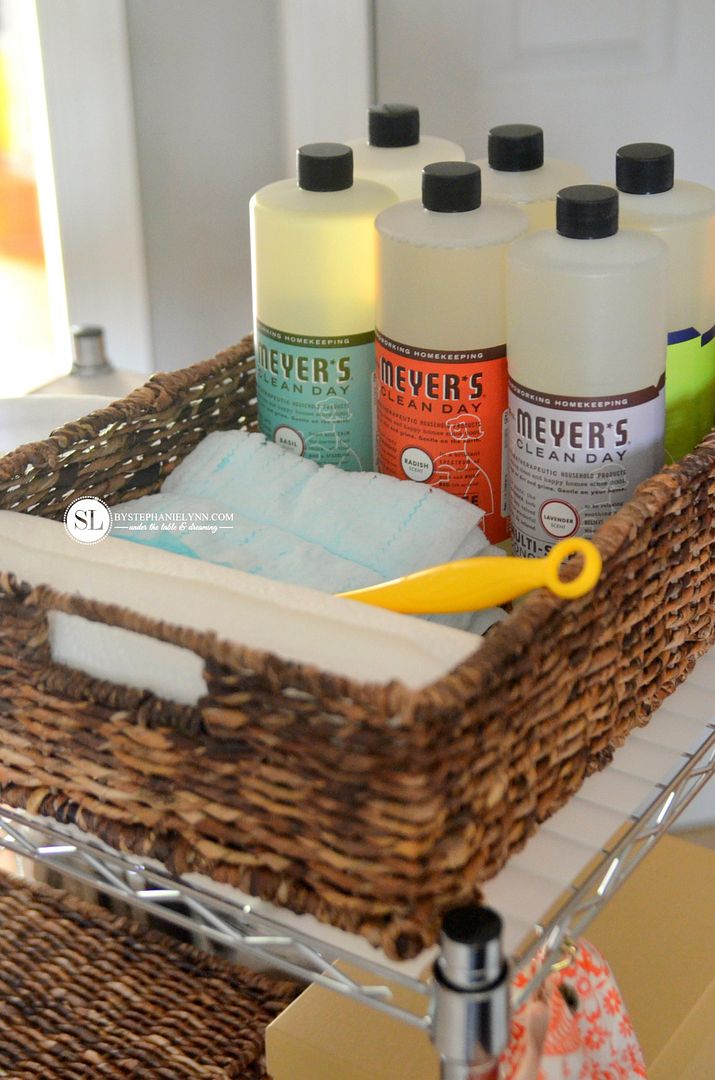 The basket also holds some Swiffer dusters and a roll of paper towels.
The opposite side of the shelf was left open to use as a mini work space – prefect for refilling our cleaning bottles or mixing natural cleaning solutions.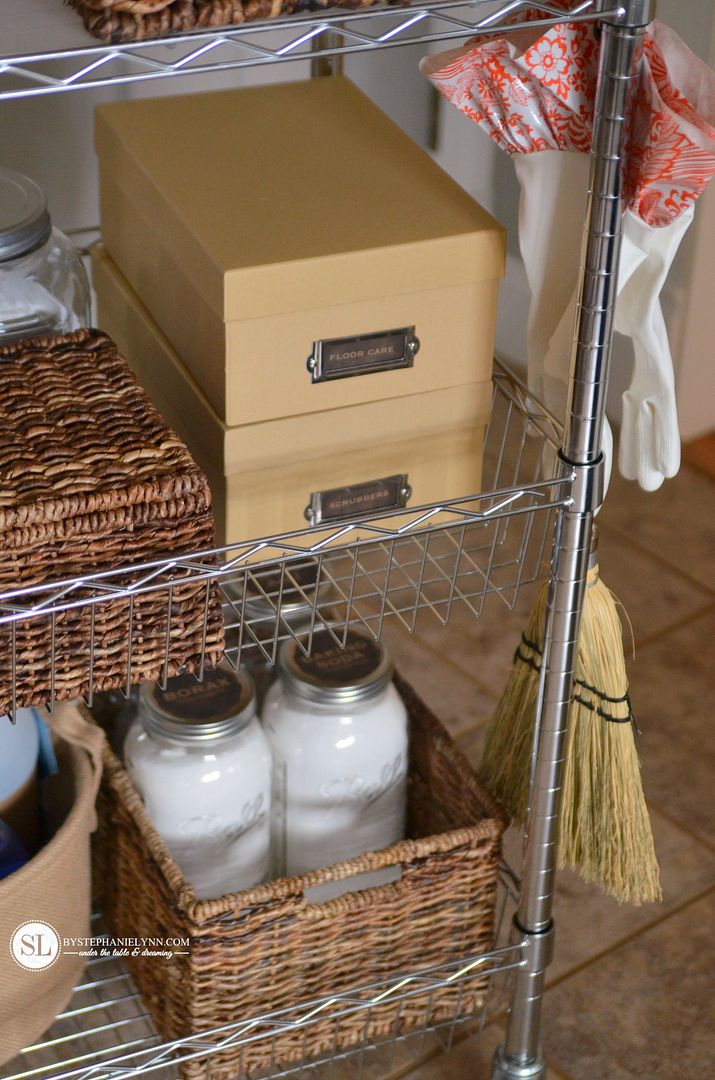 The second tier of the cart holds two boxes for miscellaneous supplies.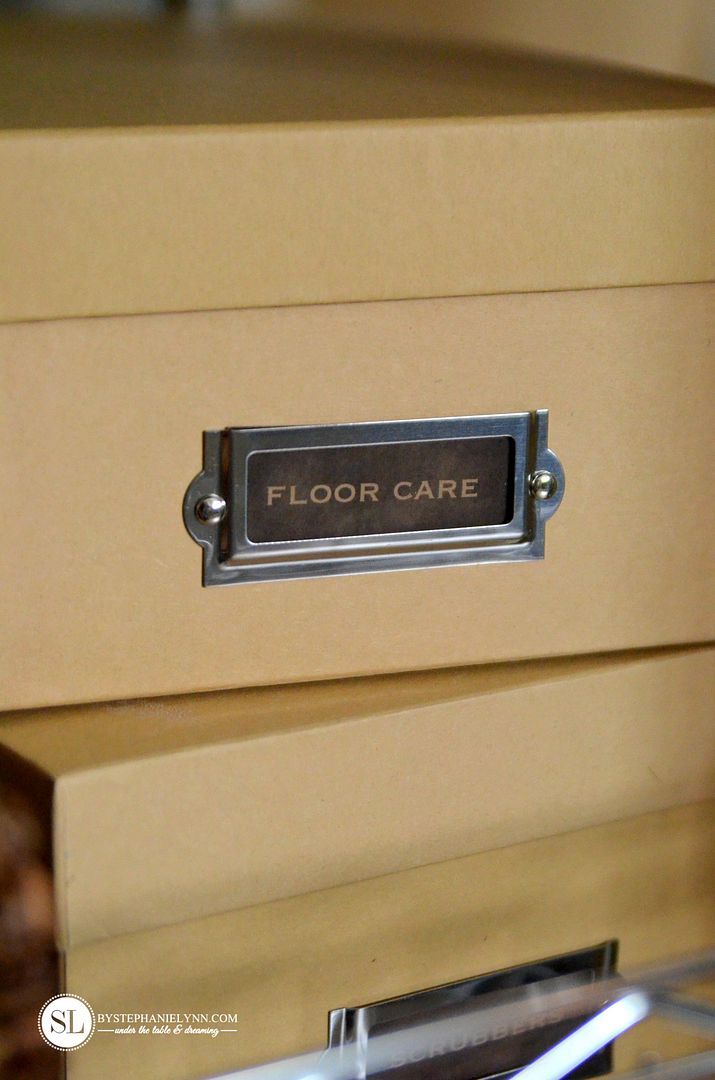 The boxes are actually memory boxes from the Recollections collection.
They are a great, inexpensive storage solutions – and I just love the classic metal label holders on each box.
*A free set of printable labels can be found at the bottom of this post*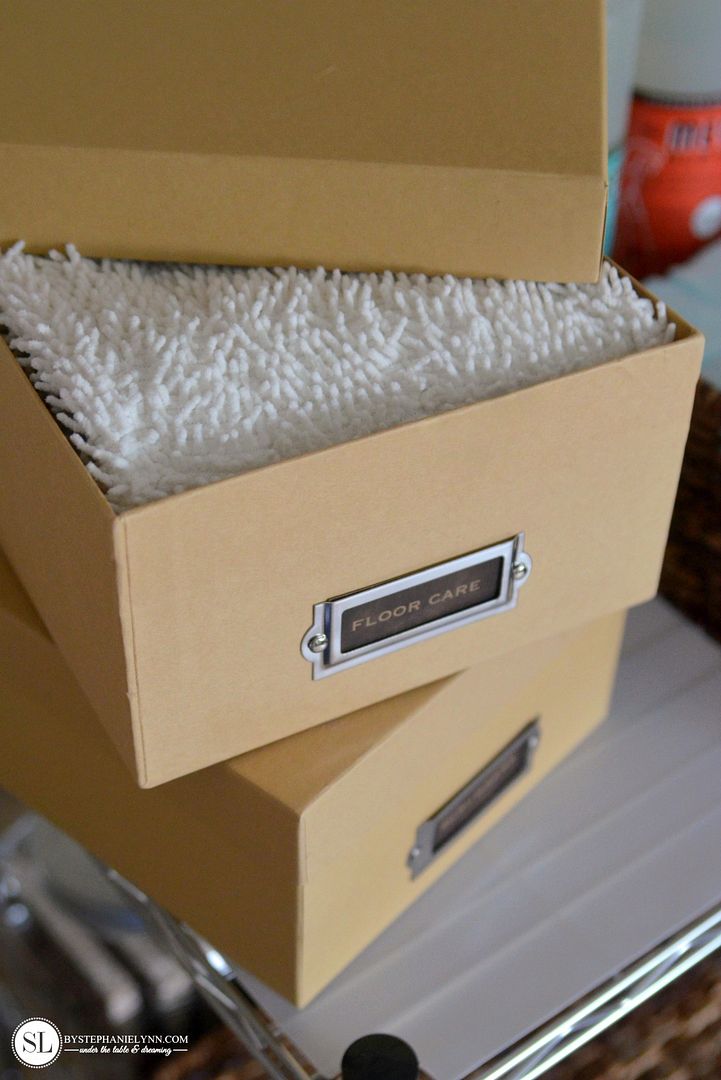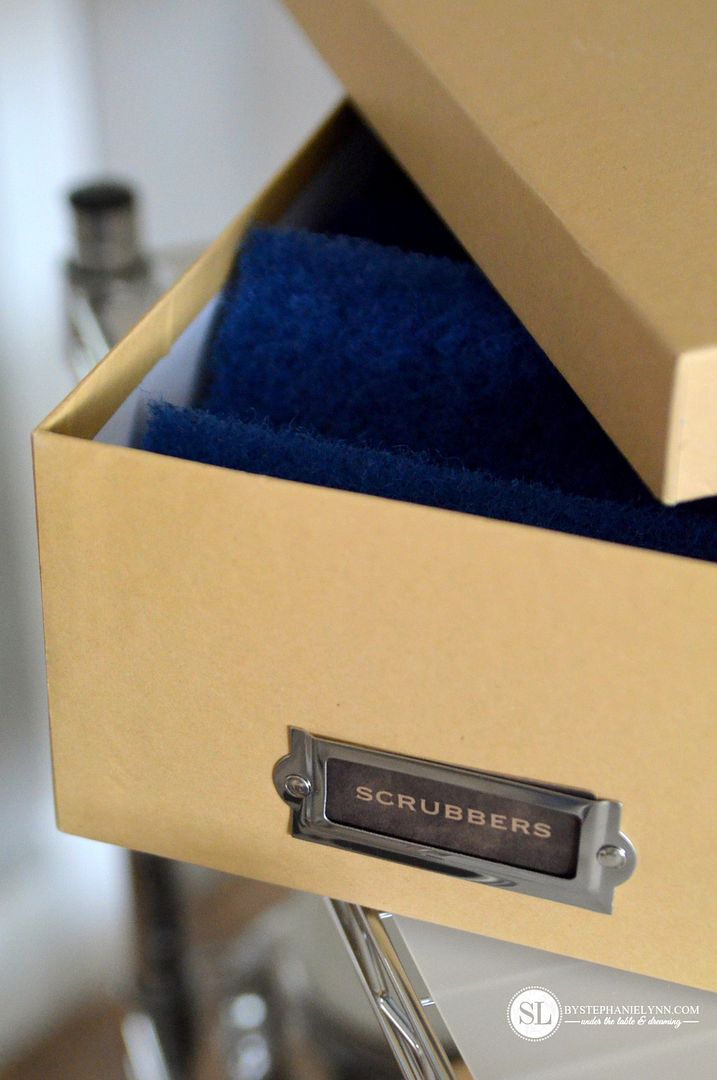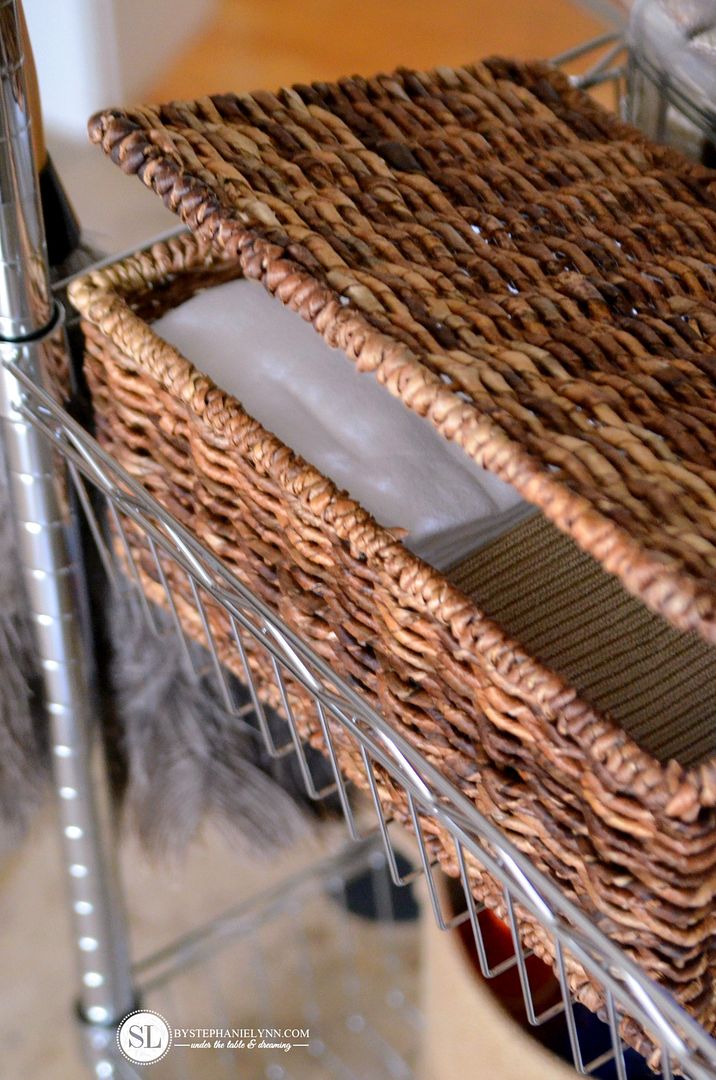 A hinged lid storage basket was also added to the second tier of the cart to hold cotton cleaning rags and microfiber cloths.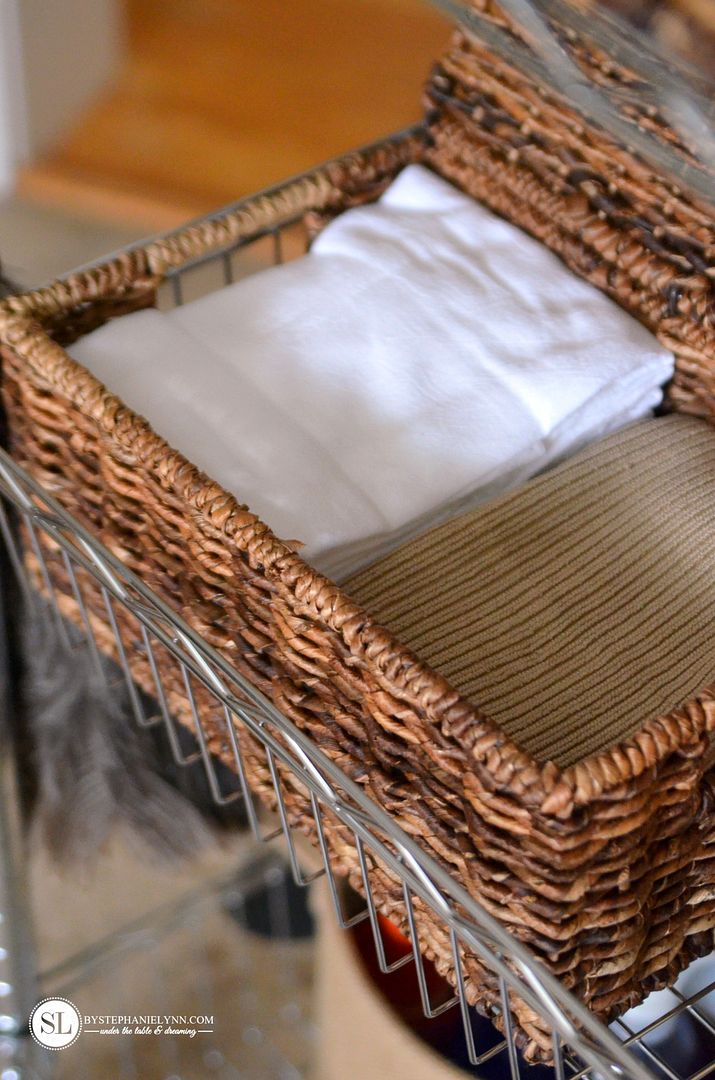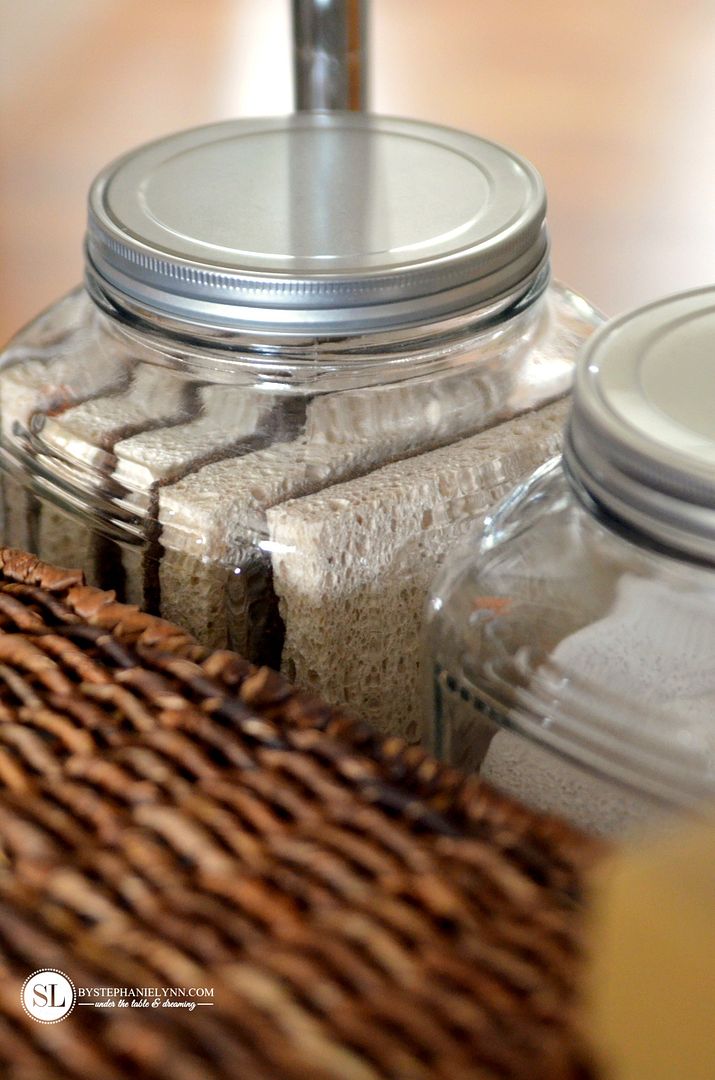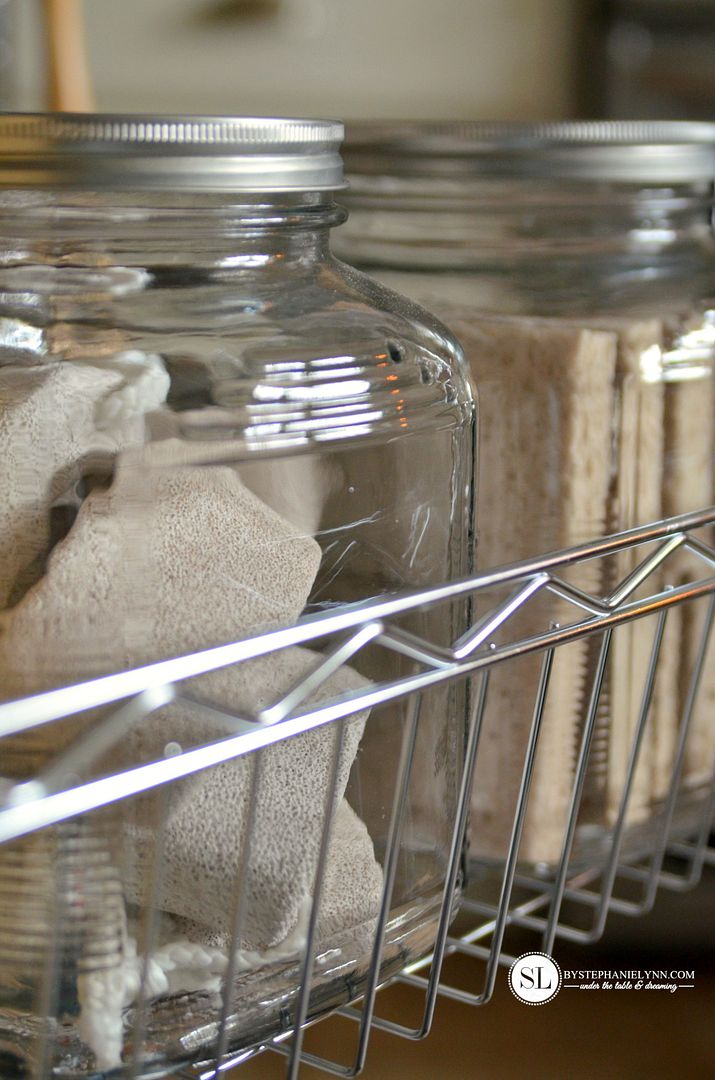 Behind the basket was enough room to tuck in two large glass storage jars.
These hold scrub sponges and pumice stones.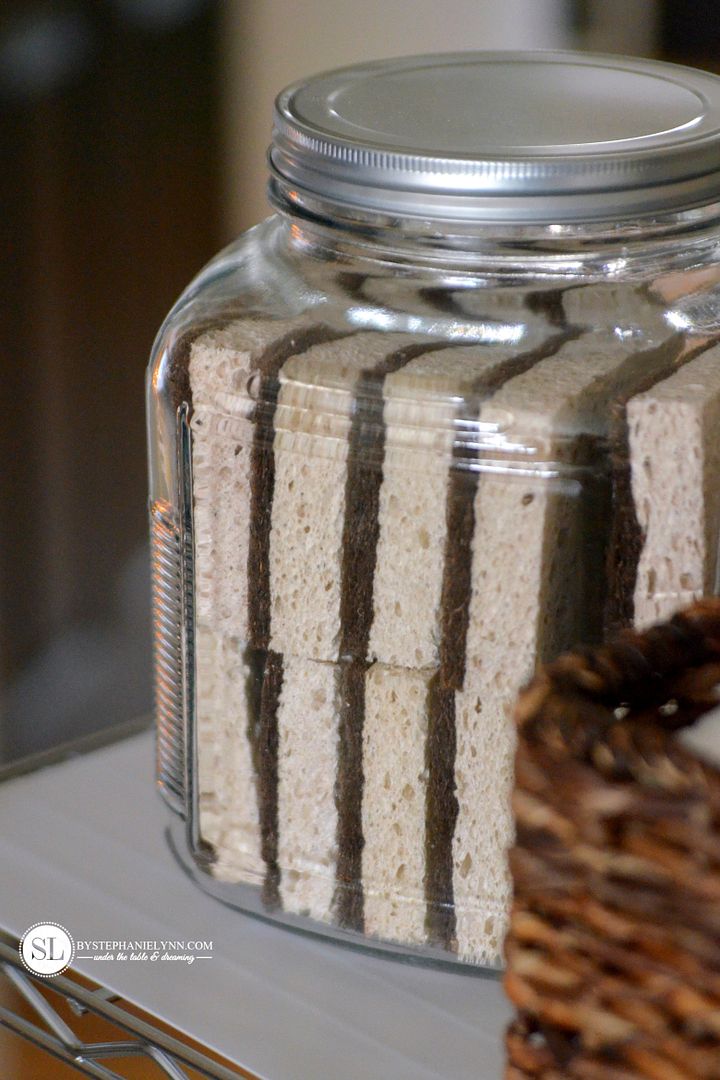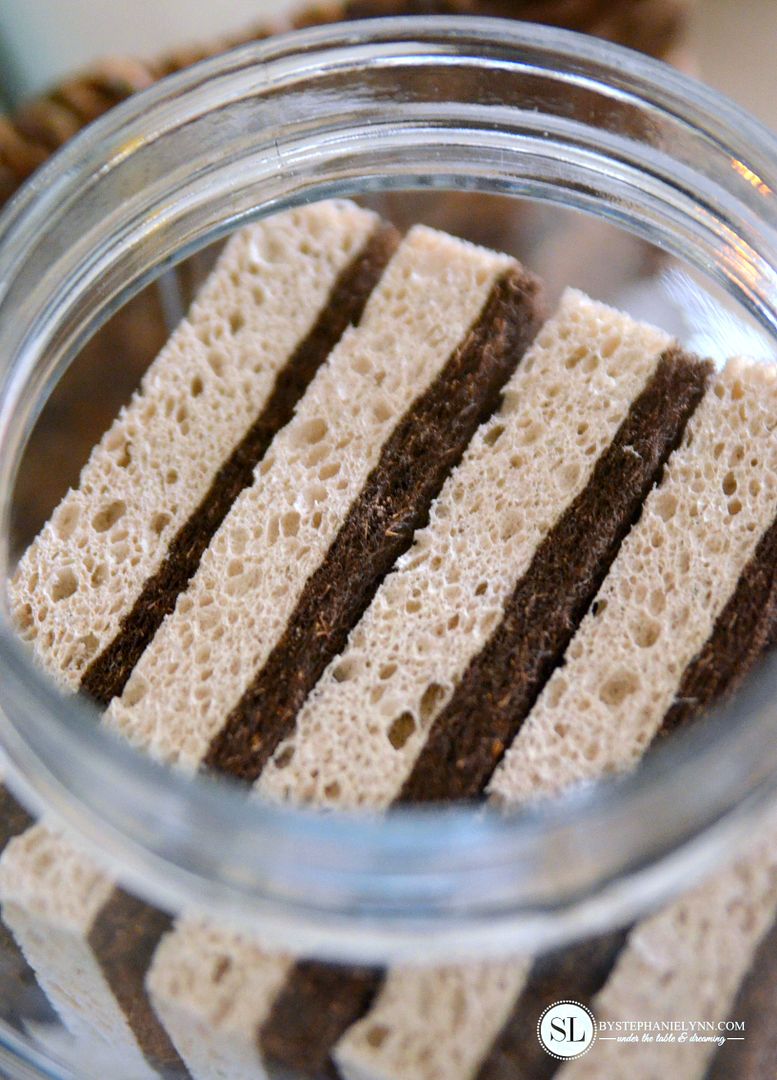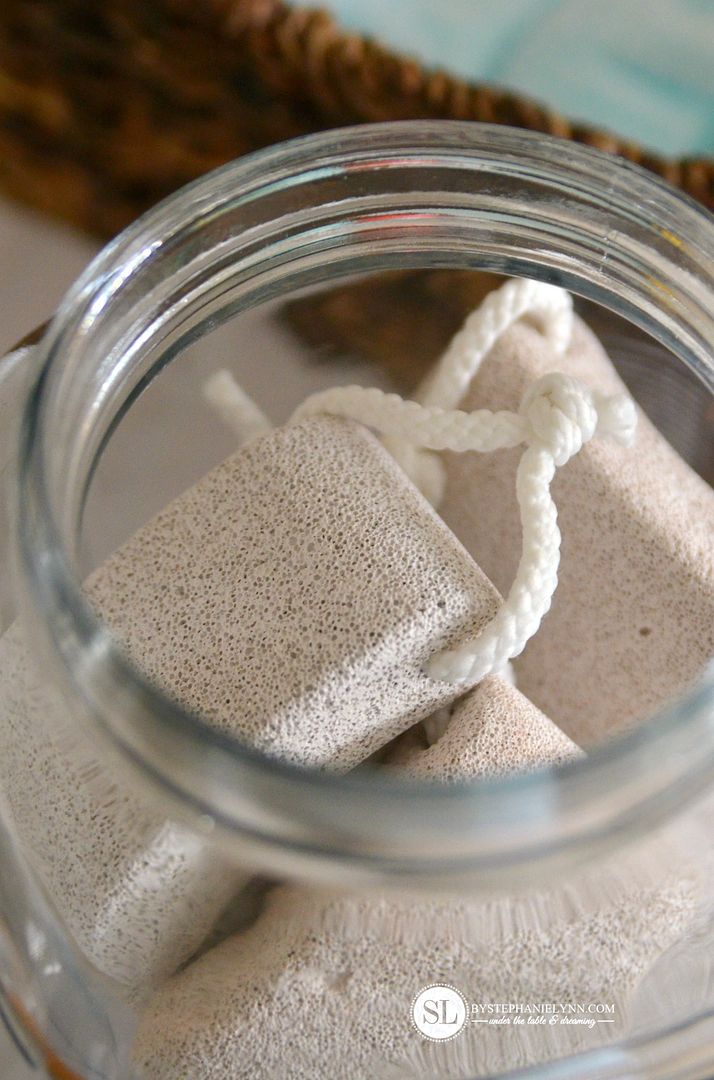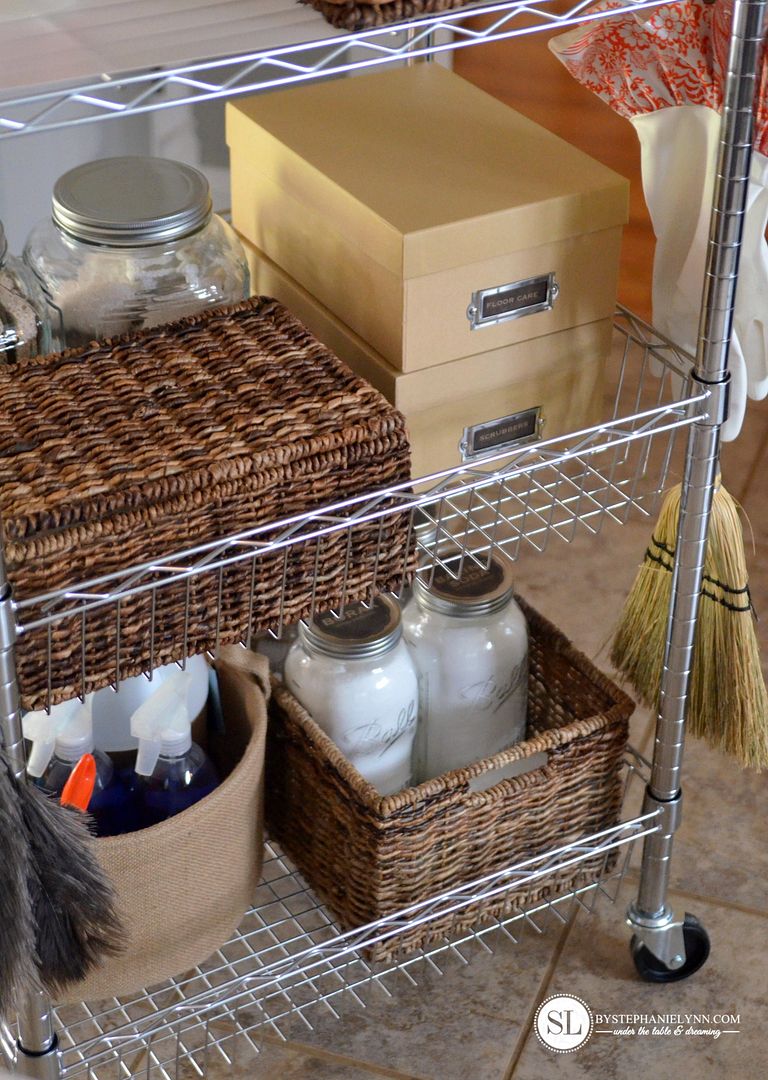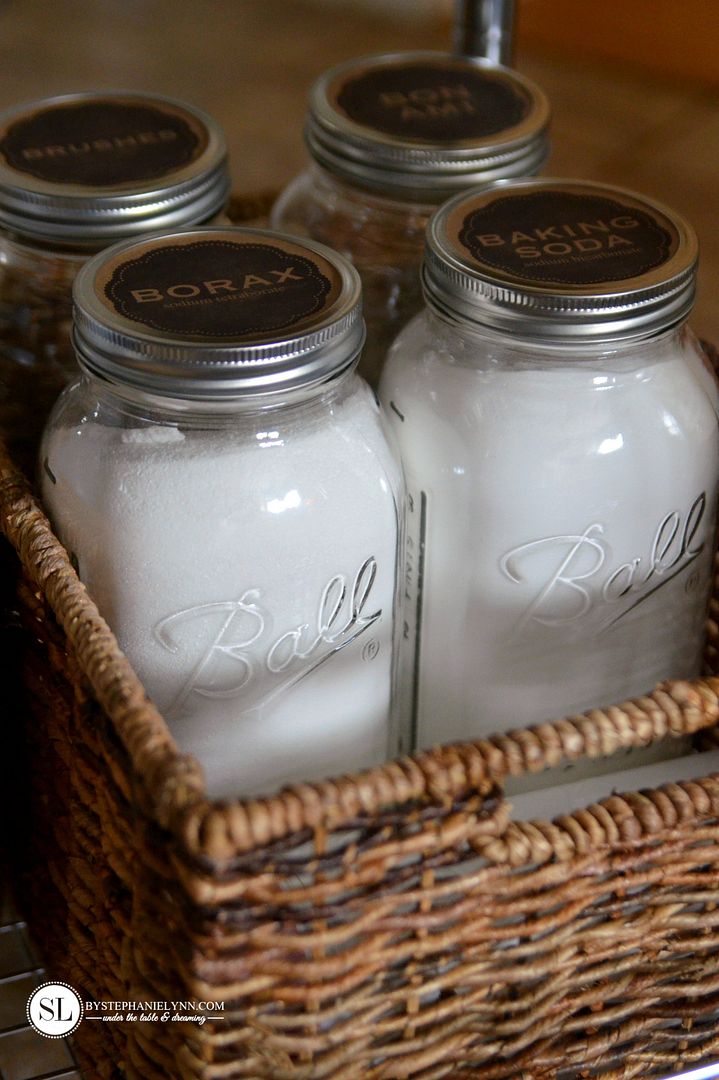 The last tier of the cart holds a basket containing some of our natural cleaning products and miscellaneous supplies.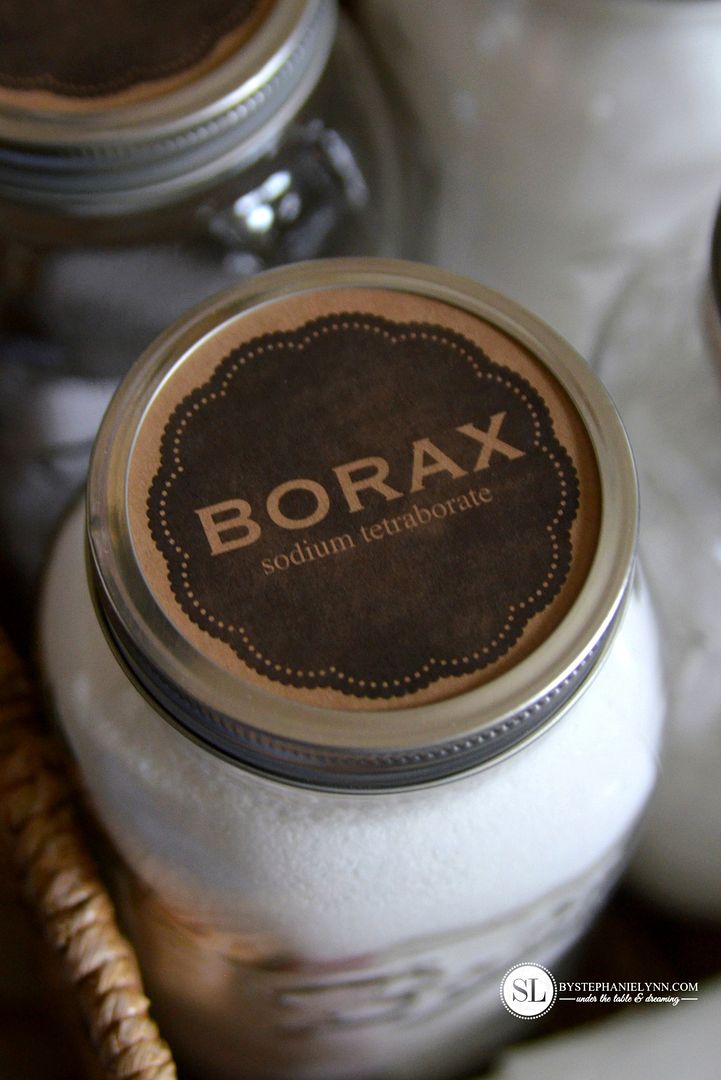 There are a few homemade cleaning solutions we have grown to love and seem to work wonders.
I stored a few of the pantry items used to create these solutions in large half-gallon mason jars for easy access.
*A free set of printable labels can be found at the bottom of this post*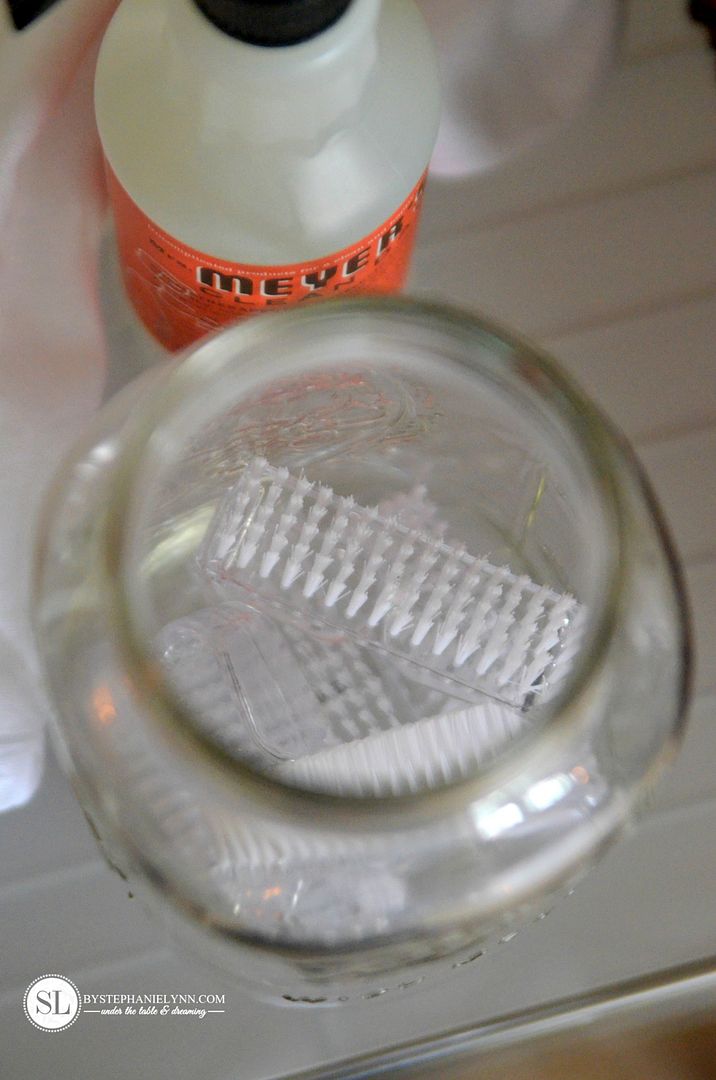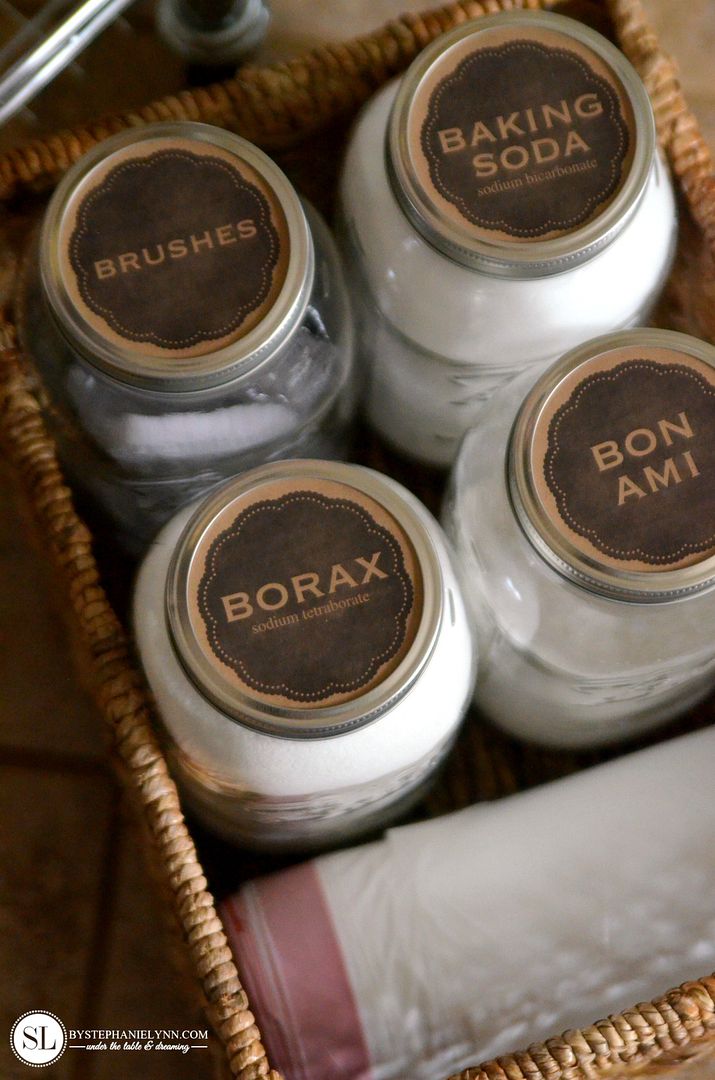 A roll of trash bags was also tucked into the front of this basket.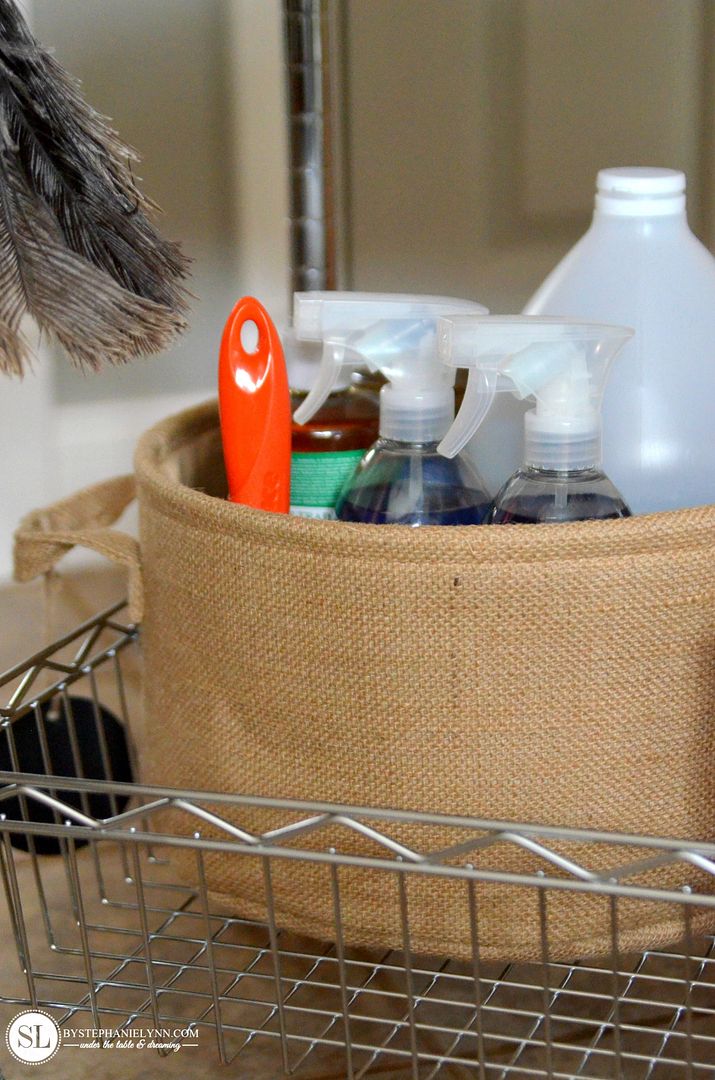 In addition, the third tier of the cart contains a round burlap tote, from the Ashland Storage Essentials Collection.
This tote holds some additional miscellaneous cleaners, vinegar and a lint roller.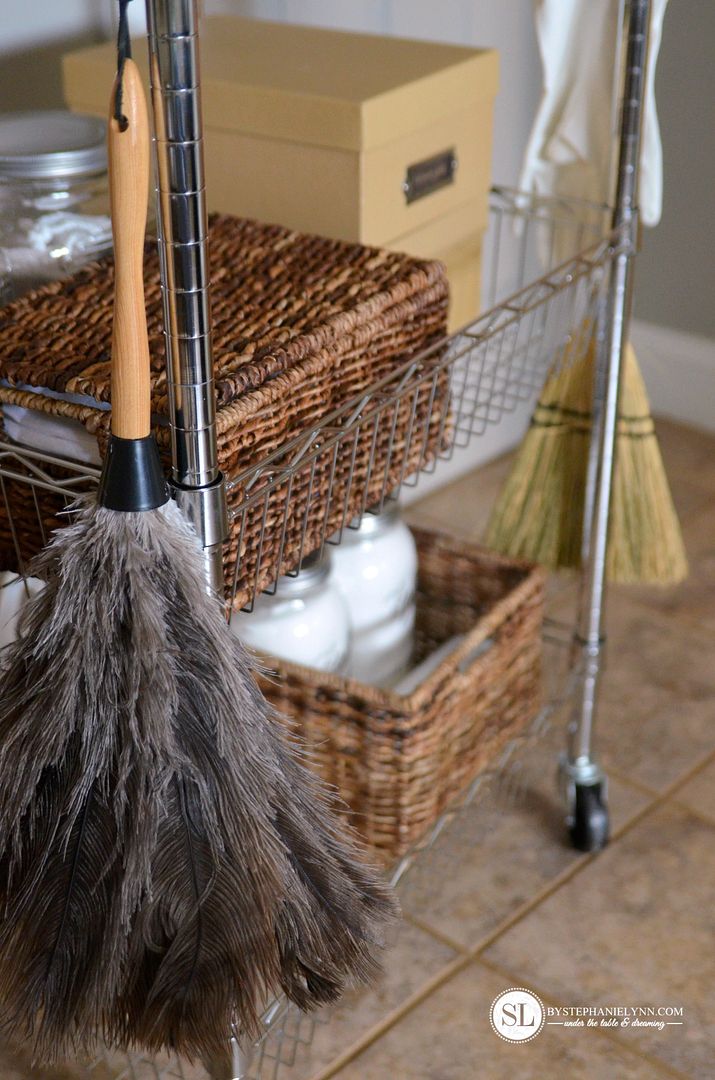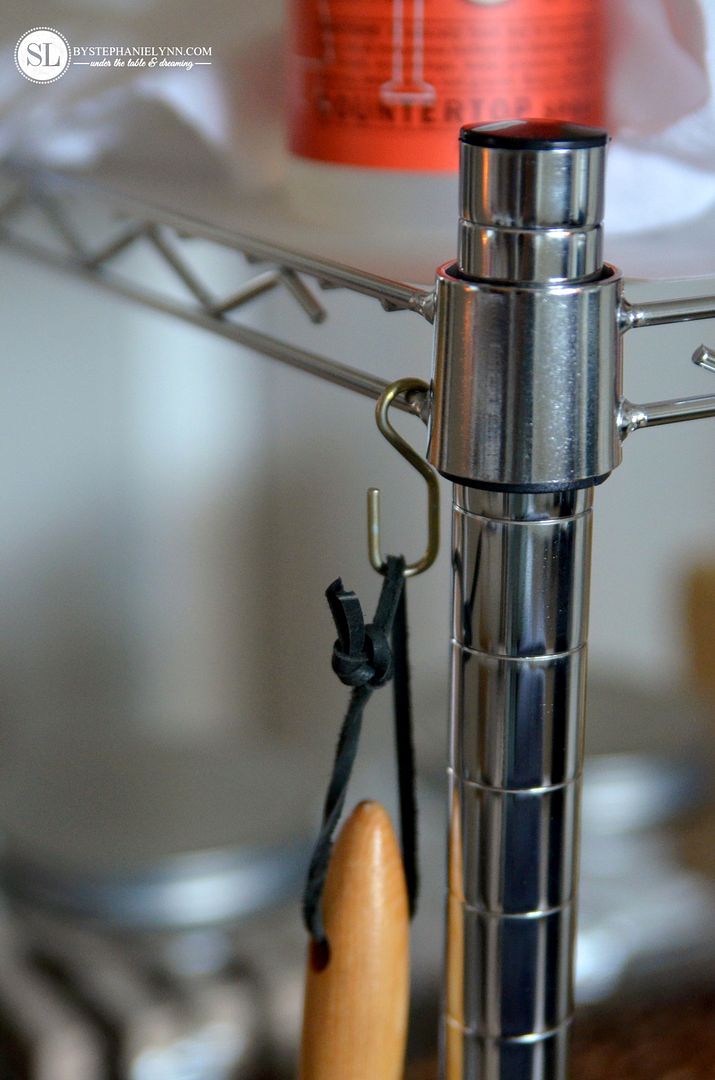 The sides of the cart were utilized as well using a couple of S-hooks found at our local hardware store.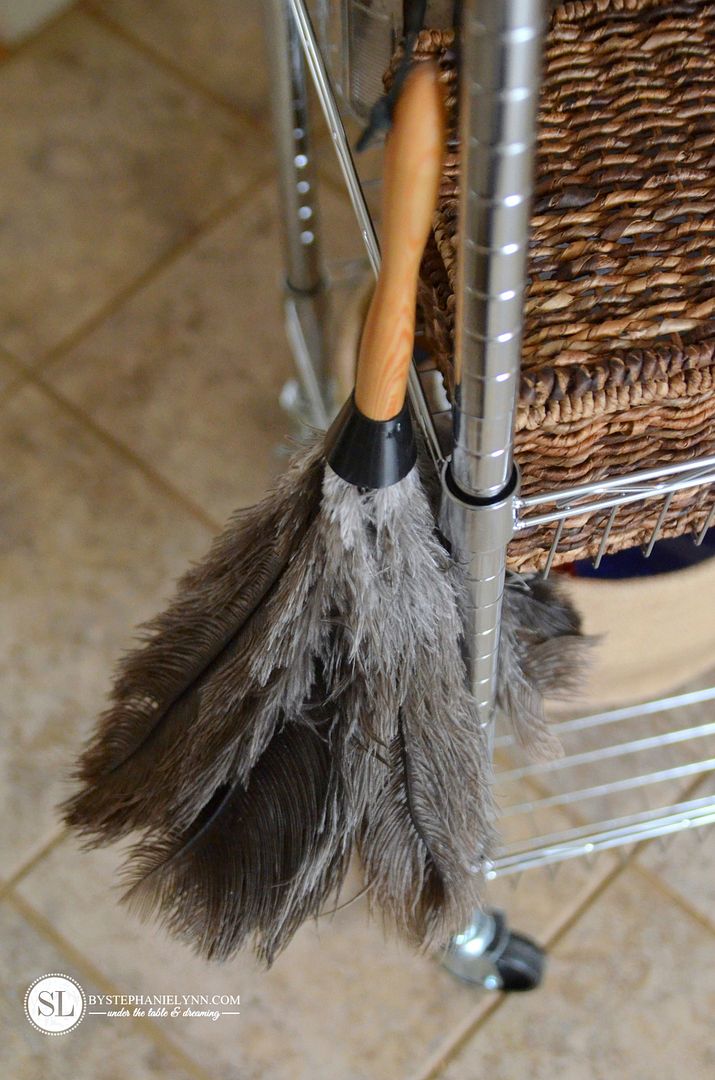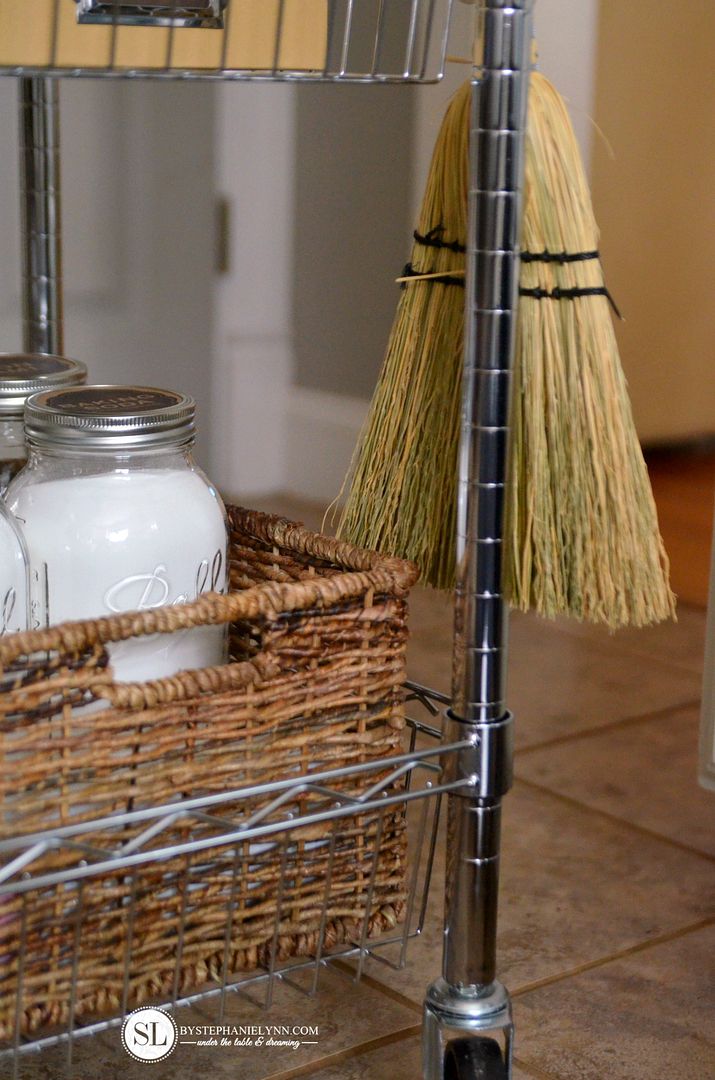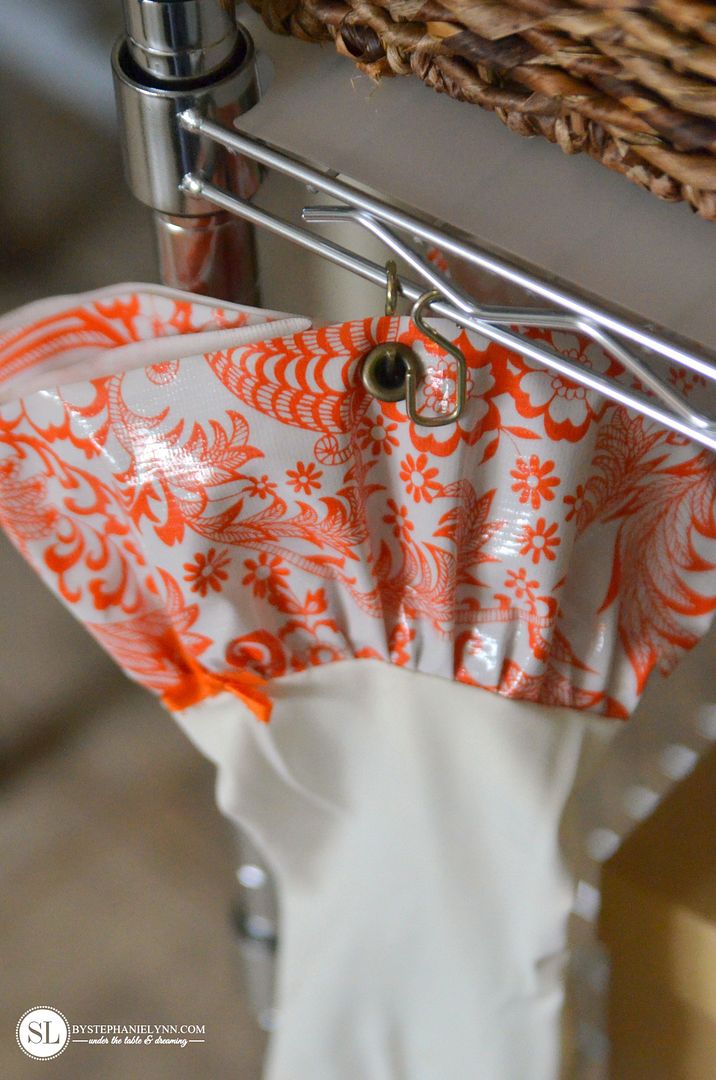 Grommets can easily be added to items for hanging using a grommet plier kit.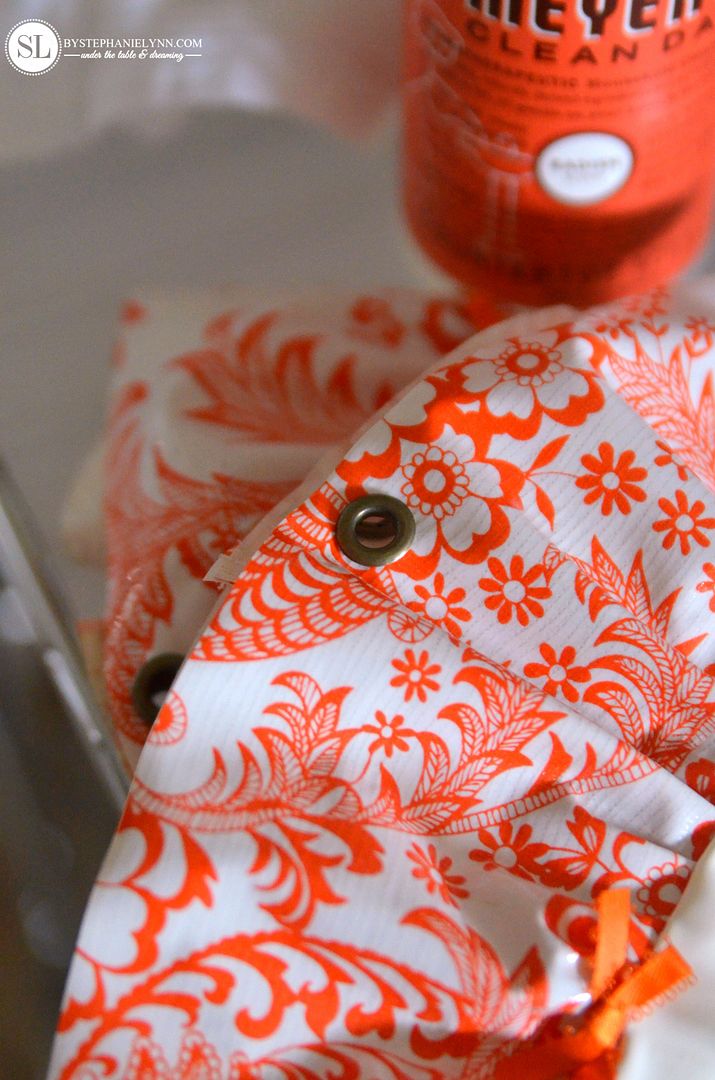 I added a set of four to my cleaning gloves and a few to some of our microfiber cloths.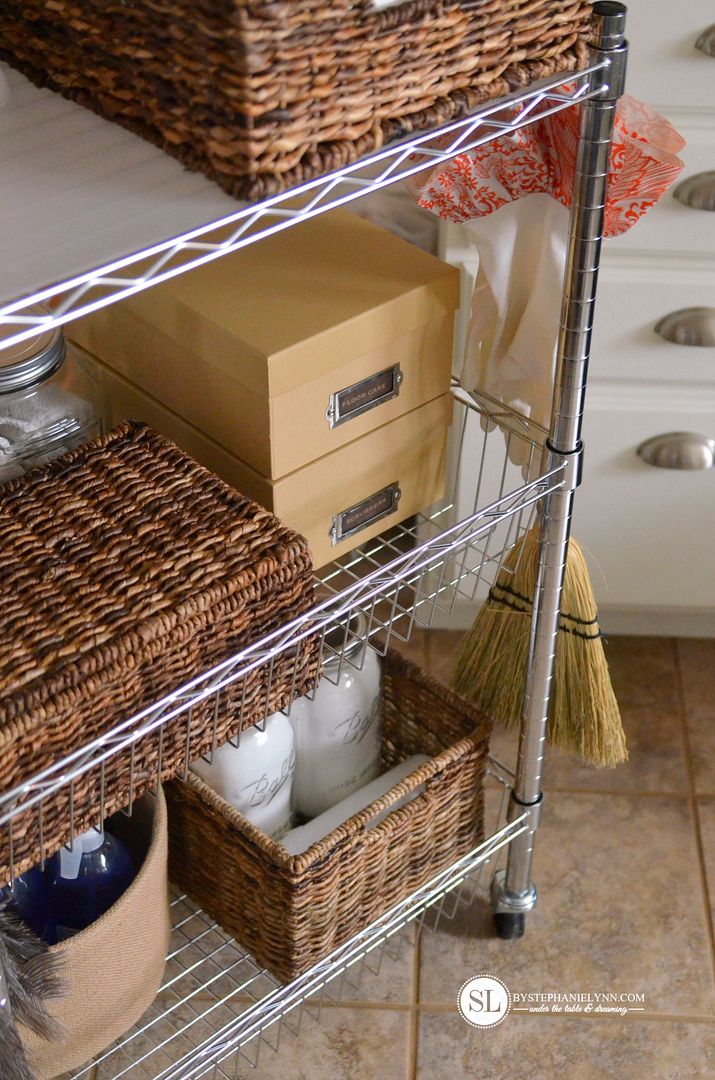 Cleaning is not my favorite, but this cheerful set up sure is motivating.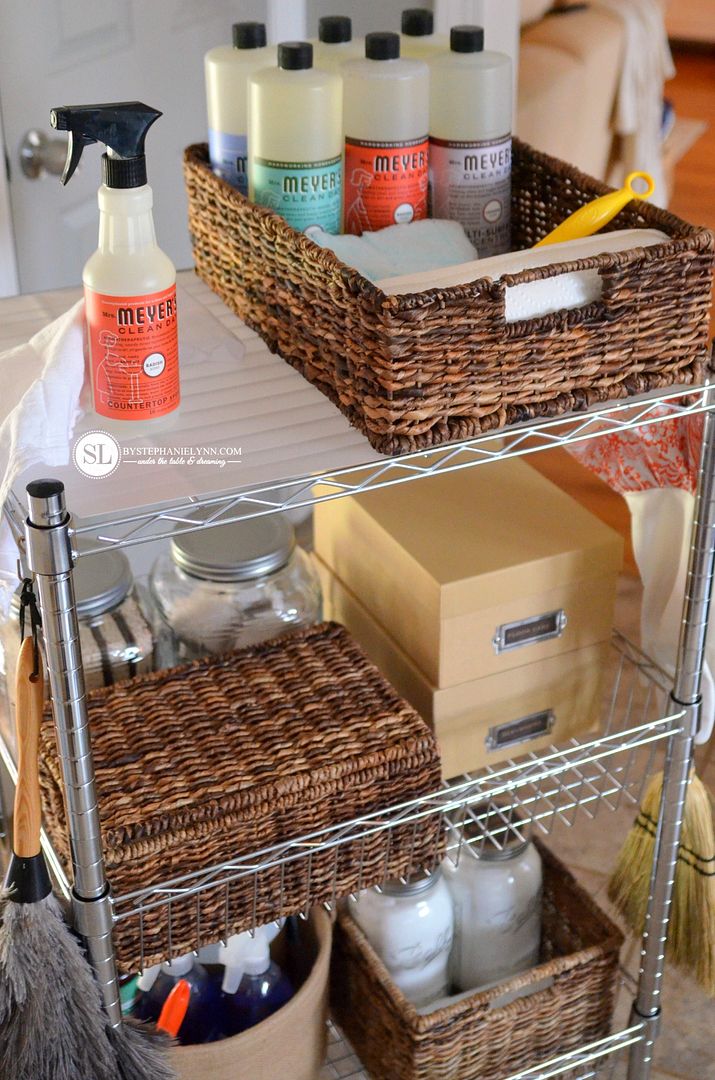 Have you started any organizational plans for the new year?


Mason Jar Cleaning Labels – Page 1
Mason Jar Cleaning Labels – page 2
Cleaning Supply Box Storage Labels
 2015 Michaels Makers Craft Resolutions | Craft Supply Storage Dresser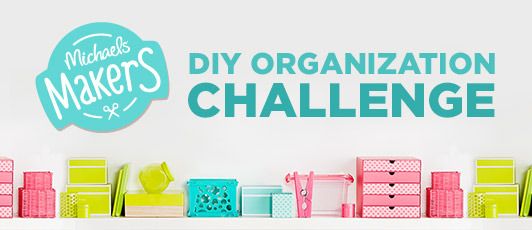 This post is brought to you by Michaels
. The opinions read here are entirely my own. Inspired to organize your own space? Start the year off right! Michaels has tons of products and storage supplies that can be used to decorate and inspire creativity in any room of your house or office. Michaels new line of storage and organization products, Cre8ted Spaces, are available in stores now. With more than 300 new items the line incorporates 4 coordinating colors of organizers, bins and office supplies! If you don't know where to begin, you can always take a look at some of the fun storage projects on Michaels.com or the other 49 makers' ideas on The Glue String for tips on designing, organizing and decorating their favorite places! Happy Organizing!